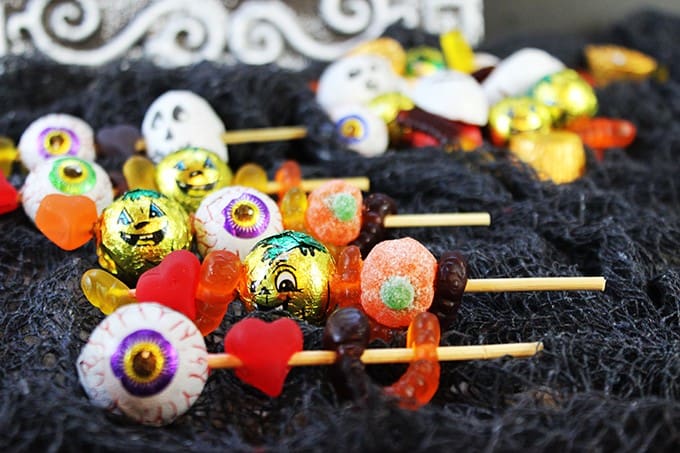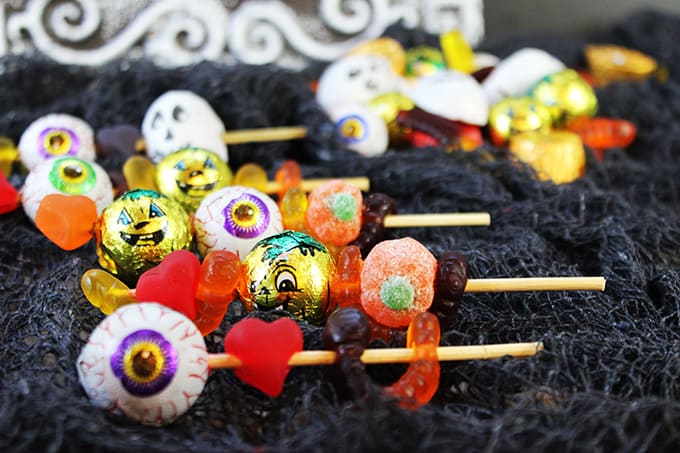 Yep, I love you guys. There I said it. I really honestly do and that is the only reason I am posting today. There has been a truly awful bout of who knows what kind of illness that has raged through our house this week, taking down one victim at a time. I unfortunately was patient zero, but only by a couple of hours. Then my husband followed suit and finally the kids. So while I had originally meant to have this Chicken Tamale Bake in my mind for today's post: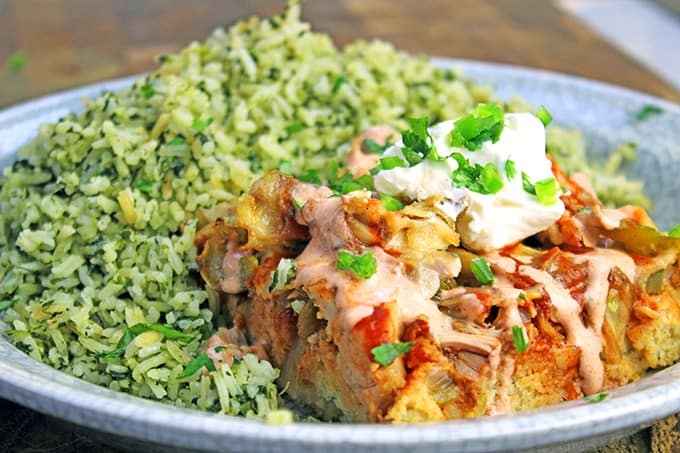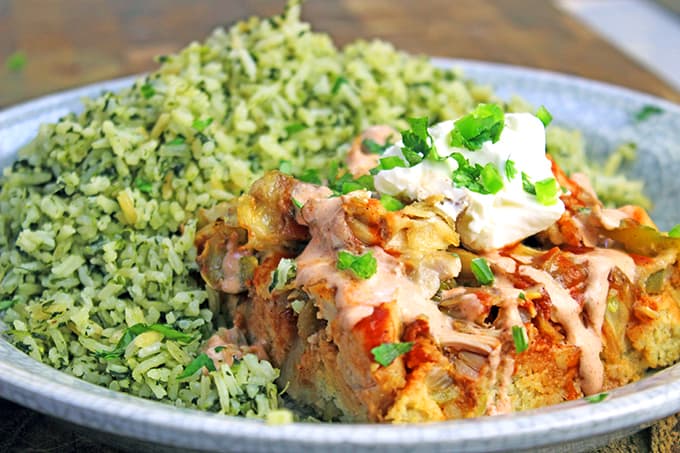 and this Halloween Candy Skewer post was due to be party of a set of Halloween posts in a couple of weeks it got bumped in the name of "I can only handle a few minutes of working on the computer before needing a nap." So lets get to it!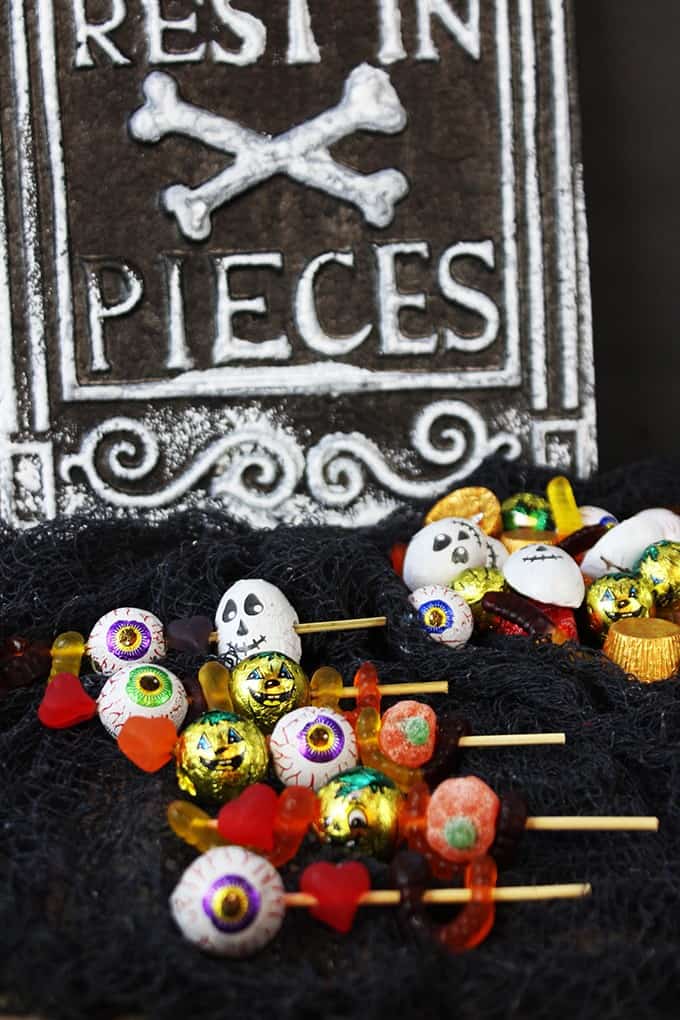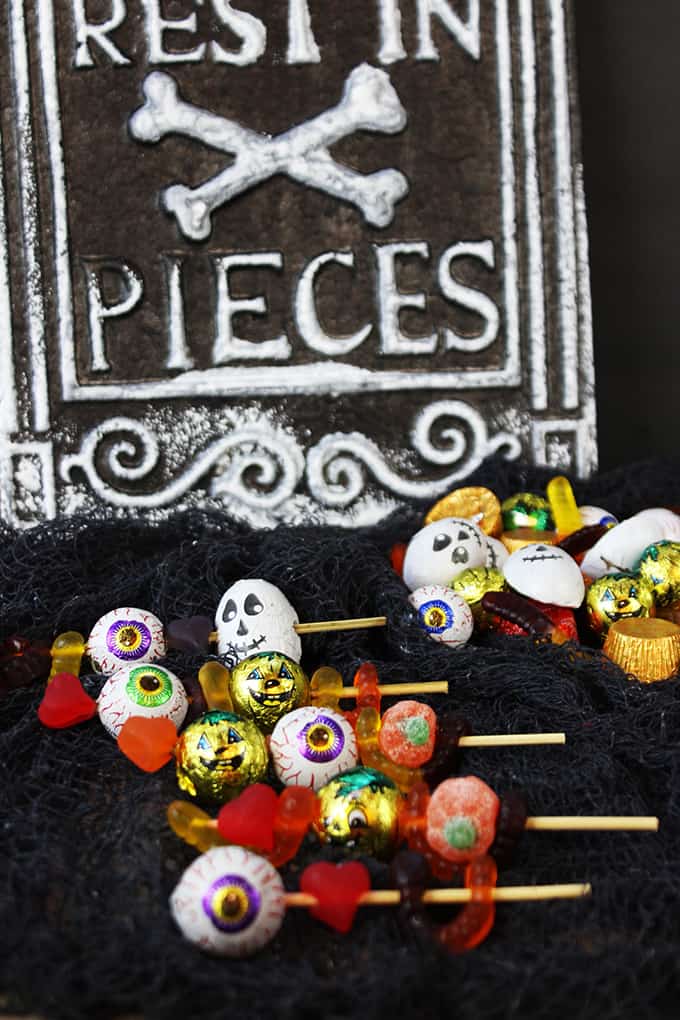 Okay so the black netting and the headstone? Dollar Store. Yup, super inexpensive and actually surprisingly cool. I love heading there for holiday party props! The candies I got from my local grocery store, but really the only one I would say you should totally seek out are the eyeballs. I mean how cute is the eye heart u?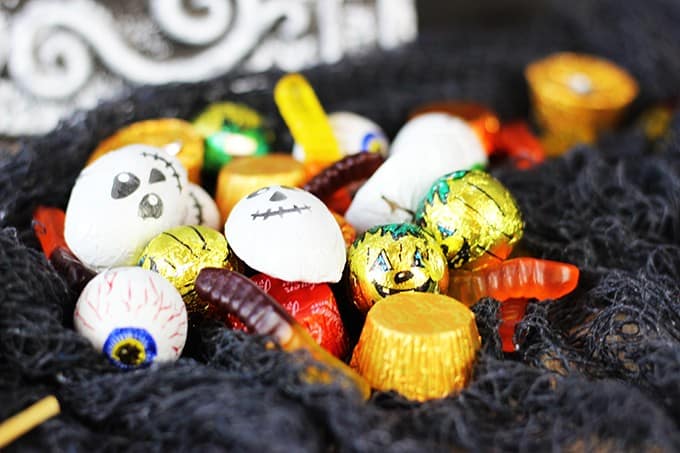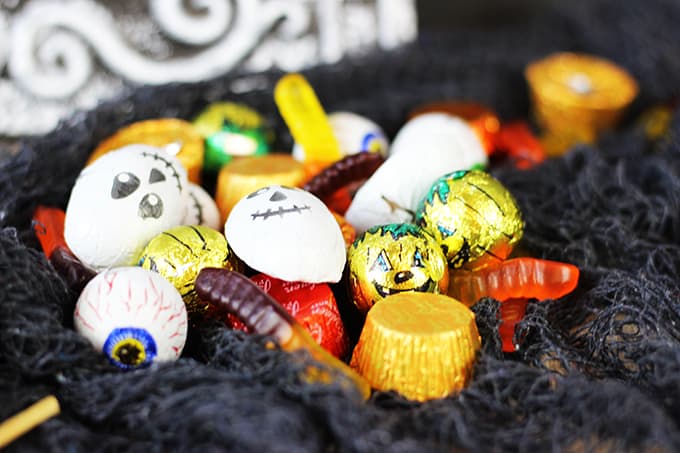 Okay, so gather the spookiest candies you can (and do a better job of keeping them from your toddler than I did) and cut some regular food skewers in half. Since the "serving size" seemed to be 3-4 pieces of candy on each bag I sort of aimed for that on the skewers so I wouldn't feel so guilty loading them up.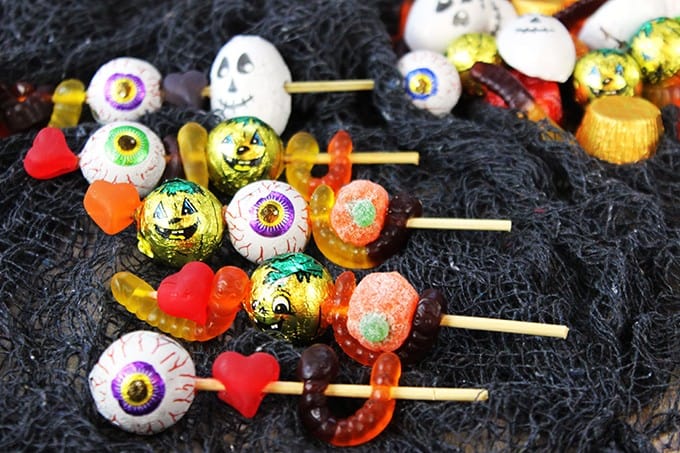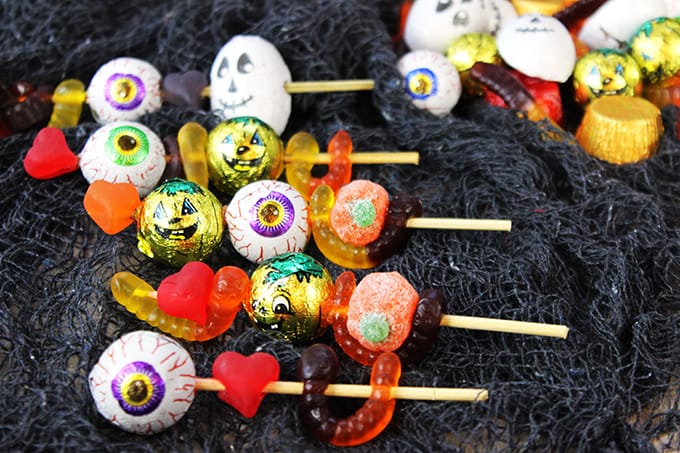 I pretty much used all the pointy skewers for this recipe because I was nervous the gummies would tear/break if I used the dull half, so I saved those for some holiday antipasto skewers I was going to make.
I've served this skewers on fake cobwebs, on the black netting, on the gravestone or even poked into the sides of Styrofoam characters and they are ALWAYS a hit. So easy and cute.
Also, this was the first year I found those gummy worms in Halloween colors, so of course I had to include them. The sugary looking little pumpkins are actually sour candy which I totally am obsessed with so those definitely had to be included.
Do's:
Use gummy candy!
Foil wrapped chocolates are easy to skewer and have built in safeguards against cracking apart!
Be sure to keep the skewers saran wrapped or in a closed container until you are ready to serve or the gummy candy will harden.
Don'ts:
Don't use candies whose textures are similar to candy corn. I tried it a half dozen different times and it ALWAYS cracks.
Try to stay away from unwrapped chocolates, they crack or may bloom from exposure.
I tend to avoid marshmallows because they seem to be messier (especially Peep type marshmallows with sanding sugar.
Make these while hungry. I had way more sour pumpkins when I started than I had on skewers when I was done. Oops.
Any plans yet for Halloween? Our little ones are going as characters from Frozen. I'm so excited I can't wait. Okay back to bed. Wish us luck surviving today.