Halloween Bark with semisweet chocolate, vanilla, and your favorite Halloween candies is the ultimate kid-friendly treat to get you in the spooky spirit!
Just like Candy Corn Bark, this Homemade Candy Recipe is about as easy as it gets. All you have to do is add some of your favorite candy to melted chocolate then put it in the refrigerator. Once it's set, you'll have the perfect dessert to serve at your next Halloween party, give as gifts, or just enjoy at home.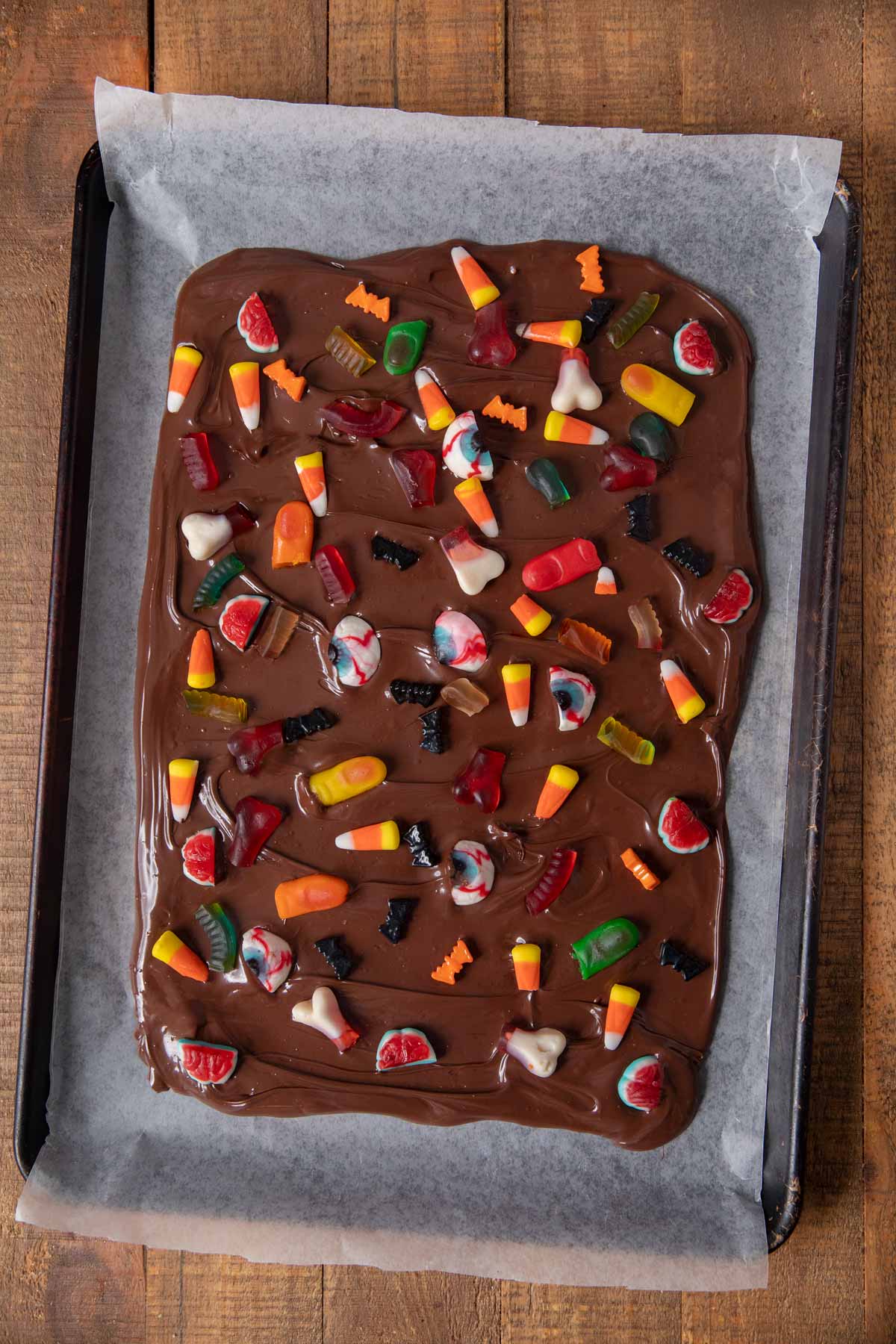 HALLOWEEN BARK
When we think of bark recipes, a lot of us jump straight to classic holiday candies like Peppermint Bark. We aren't here to bash peppermint bark. It's undeniably delicious. But why should Christmas get all the delicious chocolate bark? It's high time we spread the bark love to all the holidays, and that's precisely what this recipe does, making the perfect treat to enjoy all through October.
Now, we all know Halloween already has plenty of candy. Still, something about sharing homemade chocolate with your family feels so different than chowing down on a store-bought bag of candy. Plus, you can make this candy bark to enjoy all season long instead of waiting until after trick or treating.
If you want to limit how many sweets your family is eating at a time, keep the Halloween Bark in the freezer and only take small amounts out at a time. This way, you can make the goodness last all season long.
KID-FRIENDLY
On top of being delicious, this candy recipe is easy and fun to make. If you have any young, aspiring chefs in your kitchen, this is a great recipe to let them help out with. Once you've melted your chocolate and mixed in the vanilla, all you have to do is pour the chocolate into the baking dish, then the fun begins.
Sprinkle the cut up gummy worms, Halloween gummies, and candy corn over the smoothed out chocolate. This part especially great for kids to help out with, and you can add as many different decorations and fun candies as you want. The gummies make the Halloween Bark delicious, fun, and festive looking!
MORE CANDY RECIPES
HOW TO CUT HALLOWEEN BARK
After the bark sets for about a half-hour, you can break it apart to enjoy the candy pieces. Here are a few easy ways you can go about breaking your Halloween Bark up.
To make it into perfect squares, run a butter knife under hot water. Dry your knife, then use it to score the bark. The hot knife helps to melt a deeper line into the bark. Once you've partially cut the chocolate, you can break it into squares like a candy bar.
If you don't care about having uniform pieces, you can use a kitchen mallet to break it up into small, uneven pieces.
Or if you don't want to bother with any of that, just use your hands to break off pieces of bark.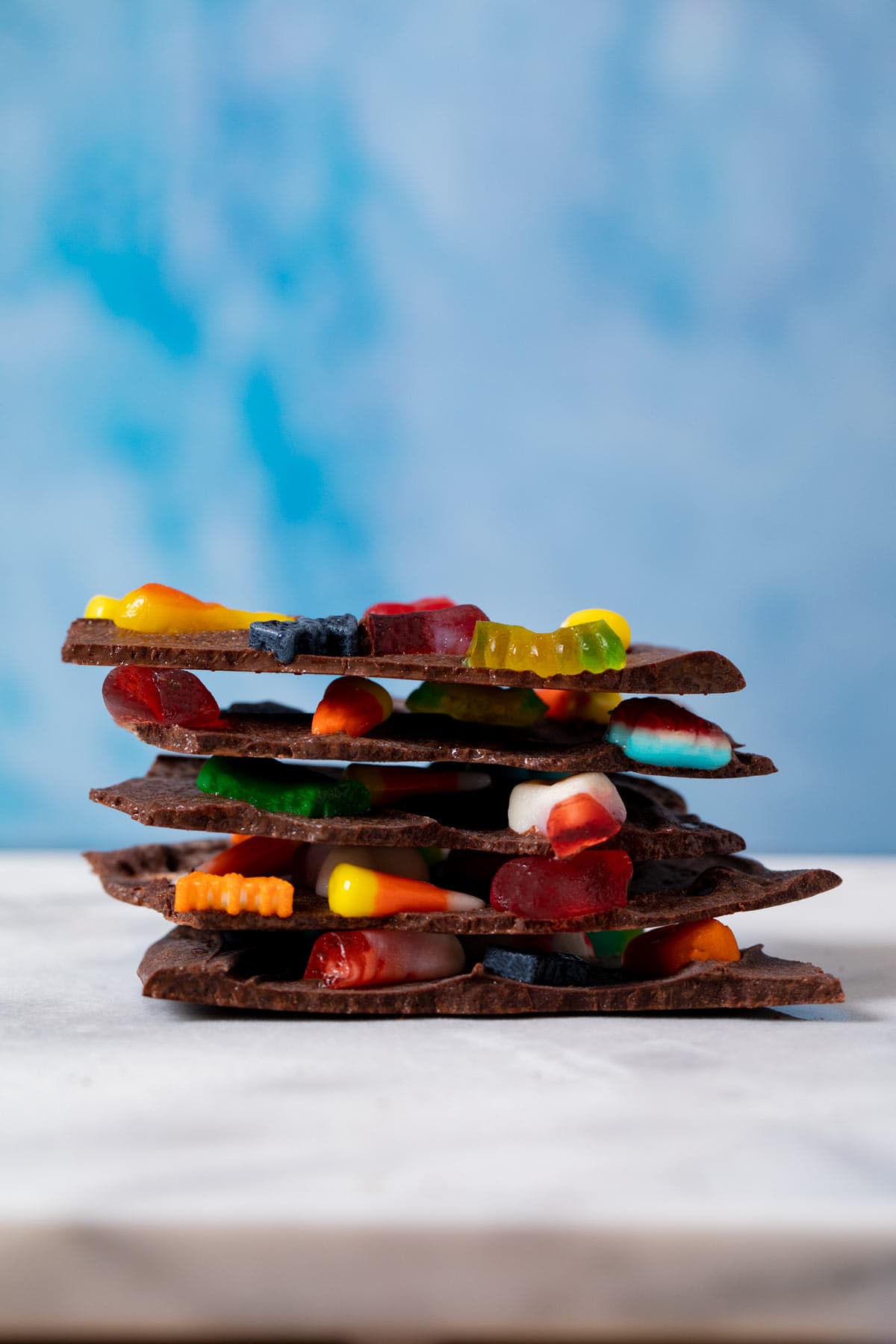 Create a free account to Save Recipes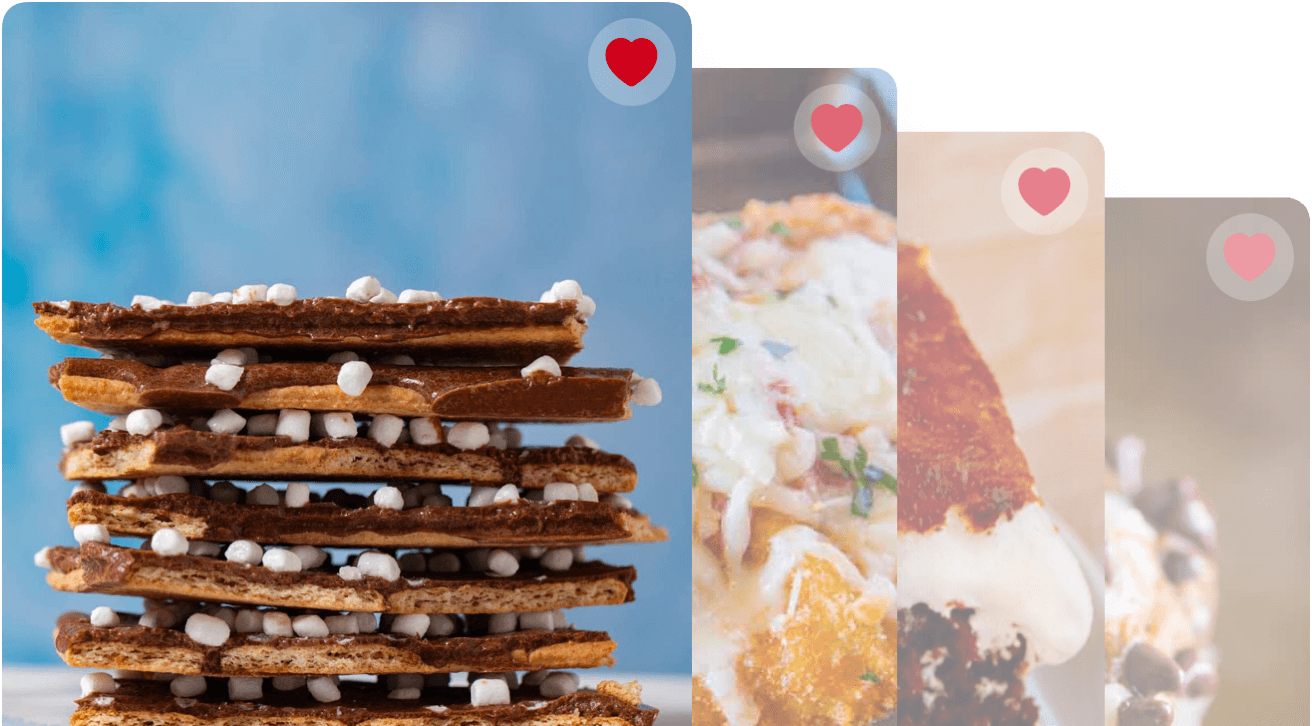 VARIATIONS ON HALLOWEEN BARK
Chocolate: Change up the taste of your Halloween Bark by using white chocolate, milk chocolate, or dark chocolate instead of semisweet chocolate chips. If you use white chocolate, you can add food coloring to make it look more festive.
Oreo: For an extra layer, add an Oreo crust. Blend up Oreos in a food processor. Mix it with some unsalted butter to get the right consistency, then press the cook crumbs into the baking sheet, and pour the chocolate over the top.
Add-ins: There are plenty of other candies and decorations you can add to the top of your bark. Try adding some Halloween sprinkles or broken up pieces of chocolate like Reese's, Snickers, or Butterfingers. You can also add M&M's or Reese's Pieces over the chocolate.
MORE BARK CANDY RECIPES
HOW TO STORE HALLOWEEN BARK
Serve: You can keep Halloween Bark in an airtight container at room temperature for up to 2 weeks. Make sure to keep it in a relatively cool place, so the chocolate doesn't melt.
Store: Kept in an airtight container, the bark will keep well for up to 3 weeks.
Freeze: Store the candy bark in a freezer bag separated by parchment paper, so they don't freeze together. It'll keep well for up to 6 months.


Instructions
Line a half sheet pan with parchment paper.

Add the chocolate to a large glass bowl.

Microwave the chocolate chips on half power (very important) until melted, stirring every

30 seconds

.

Stir in the vanilla until smooth.

Pour chocolate evenly into the baking sheet and spread gently.

Sprinkle the candies over the chocolate.

Refrigerate until set, about

30 minutes

.

Break into chunks to serve.
Nutrition
Calories:
293
kcal
|
Carbohydrates:
33
g
|
Protein:
4
g
|
Fat:
16
g
|
Saturated Fat:
9
g
|
Cholesterol:
3
mg
|
Sodium:
14
mg
|
Potassium:
241
mg
|
Fiber:
3
g
|
Sugar:
22
g
|
Vitamin A:
21
IU
|
Calcium:
26
mg
|
Iron:
3
mg