Candy Corn Bark is the perfect homemade Halloween candy dessert. Made with a white chocolate base, crunchy pretzel sticks, and candy corn topping.
Peppermint Bark is a classic Christmas Dessert Recipe, this candy corn version of it makes it perfect for Halloween. The simple base for candy bark makes it an easy dessert to adjust for any season.
CANDY CORN BARK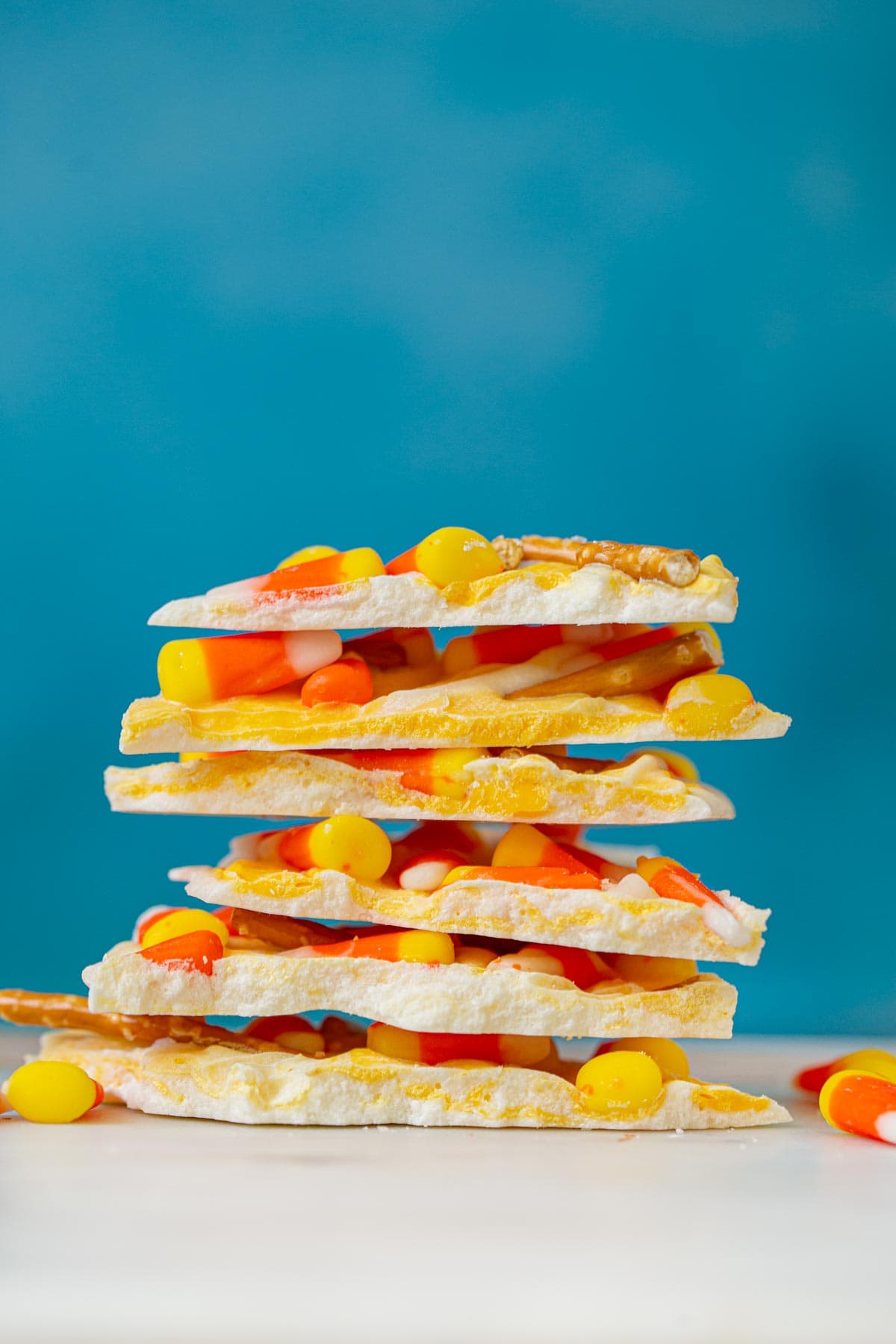 This recipe for Candy Corn Bark is one of the most simple homemade treats that you can make. It only takes 4 ingredients. Just combine a white chocolate base, buttery candy corn, crunchy pretzels, and some food coloring, and you'll have a cute, festive, and delicious dessert.
Halloween is the ultimate candy holiday. Why not make some of your own homemade treats to add to the holiday desserts? Candy Corn Bark is great to serve at parties, wrap up as gifts, or just have around the house as a sweet treat during October. You can always put out little bits of the candy at a time, and leave the rest in the freezer so it doesn't get eaten too fast.
If there's one thing to love about candy bark recipes, it's how versatile they are. Whether it's pretzels and candy corn, like in this recipe, or Oreos, like in our Oreo Bark Recipe, there are so many different mix-ins you can add to this easy treat. Top your candy corn bark with as many of your favorite Halloween candies as you like. You can also add sprinkles or swirl melted dark chocolate over the top.
Candy Corn Bark is a fun, festive treat that you can experiment with. Plus, if you have any kids they'll love helping add different colors and toppings to the homemade candy.
MORE BARK CANDY RECIPES
HOW TO MAKE CANDY CORN BARK
Start by lining your baking sheet with tin foil and spray it with a non-stick cooking spray so the candy bark doesn't stick to the pan.
Put the white chocolate melting disks in a microwave-safe bowl, and microwave for 1 minute.
If not smooth, microwave for an additional 15 seconds.
Split the melted white chocolate into 2 separate bowls. Add 2 drops of yellow food coloring to one of the bowls and mix it into the chocolate.
Pour the white chocolate into your prepared pan, then dot it with the yellow white chocolate over the top.
Spread the the 2 colors together using an offset spatula or butter knife to swirl them together.
Add the pretzel sticks and candy corn to the top of the candy bark.
Put the pan in the fridge for 20 minutes so the white chocolate can harden, then break it into bark pieces before serving.
HOW TO CUT CANDY CORN BARK
Once the bark has had time to harden in the fridge, break it apart before eating it. There are a few different ways you can break the bark depending on how uniform you want the pieces to be.
To make the Candy Corn Bark into perfect squares, run a knife under hot water. Dry the knife, then use it to score the bark. The hot knife will help melt a line into the bark. You can then break it into even squares like a candy bar.
Another option is using a kitchen mallet to break the bark into smaller uneven pieces.
Lastly, you can just use your hands to break apart the bark into uneven chunks.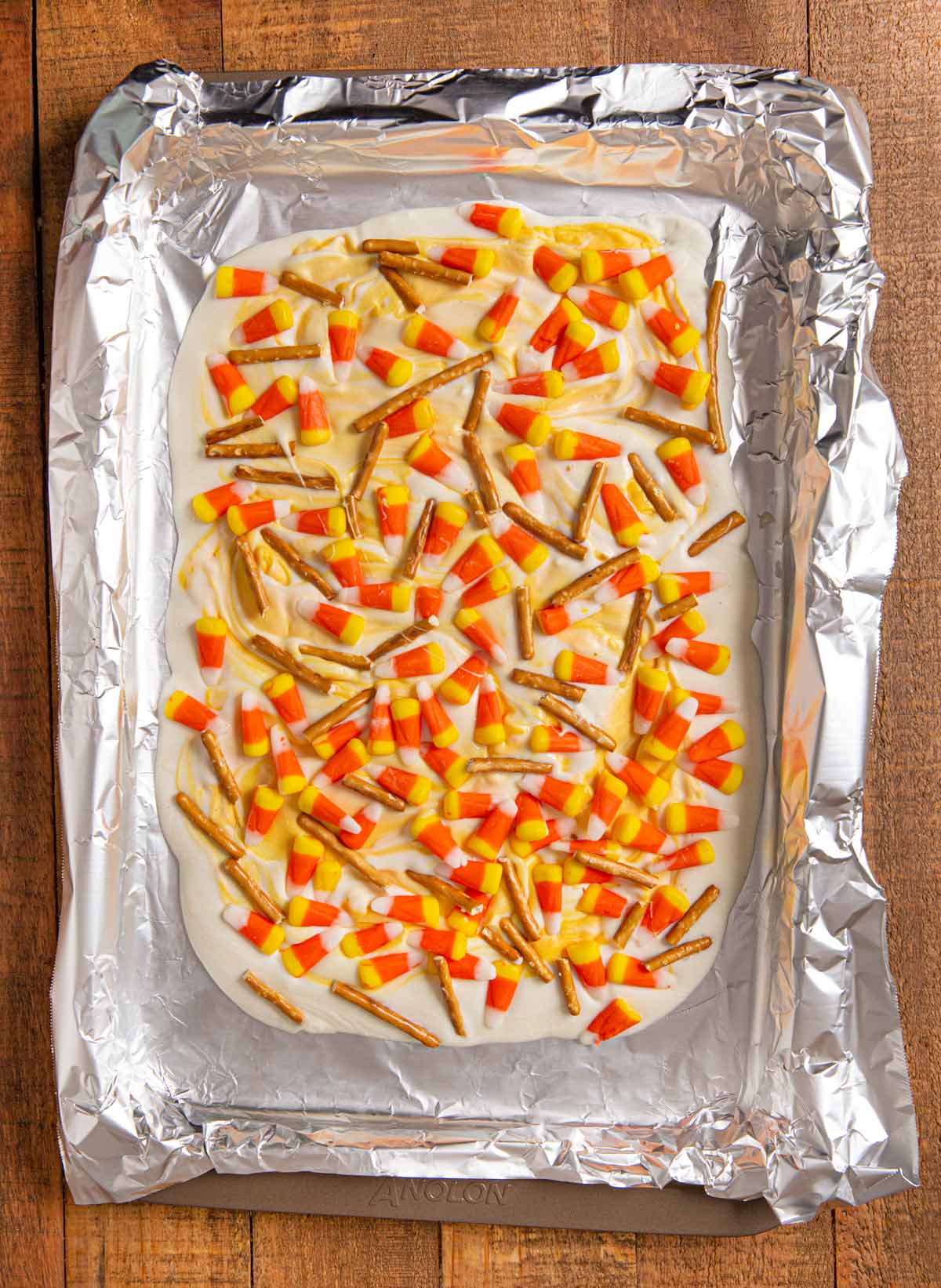 Create a free account to Save Recipes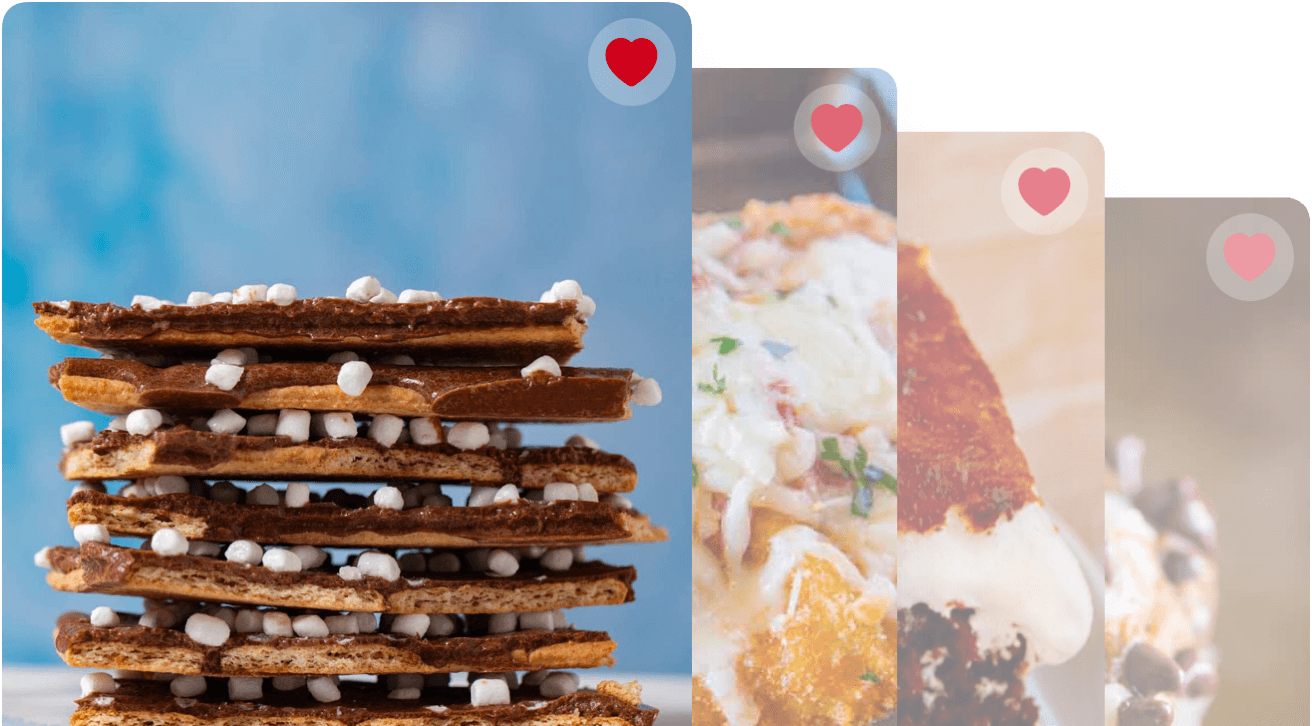 VARIATIONS ON CANDY CORN BARK
Chocolate: Along with the melted white chocolate you can add in milk chocolate or dark chocolate. Use a spatula to swirl the two kinds of chocolate together the same way you would the white chocolate and the chocolate with yellow food coloring.
Candy: Try adding some of your other favorite Halloween candies along with the candy corn. Chopped Reese's cups, Snickers, KitKats, M&Ms, and Reese's Pieces would make great add ins.
Nuts: For some extra crunch along with the pretzels try adding some chopped nuts. Pecans, almonds, walnuts, or peanuts would add a lot of good texture to the recipe.
Oreos: Another good topping to mix into the candy corn bark are some Oreos. Break your Oreos into quarters and sprinkle them over the top of the candy bark before it has hardened.
MORE CANDY RECIPES
HOW TO STORE CANDY CORN BARK
Serve: Chocolate bark is good in an airtight container kept at room temperature for up to 2 weeks. It'll be best kept in a cool place to make sure the chocolate doesn't melt.
Store: If you're worried about the Candy Corn Bark melting, you can store it in the fridge. Put the broken up pieces of bark in an airtight container or sealed plastic bag. The bark will stay good in the fridge for up to 3 weeks.
Freeze: You can also freeze the bark for up to 6 months. To keep the pieces of bark from sticking together separate them with parchment paper.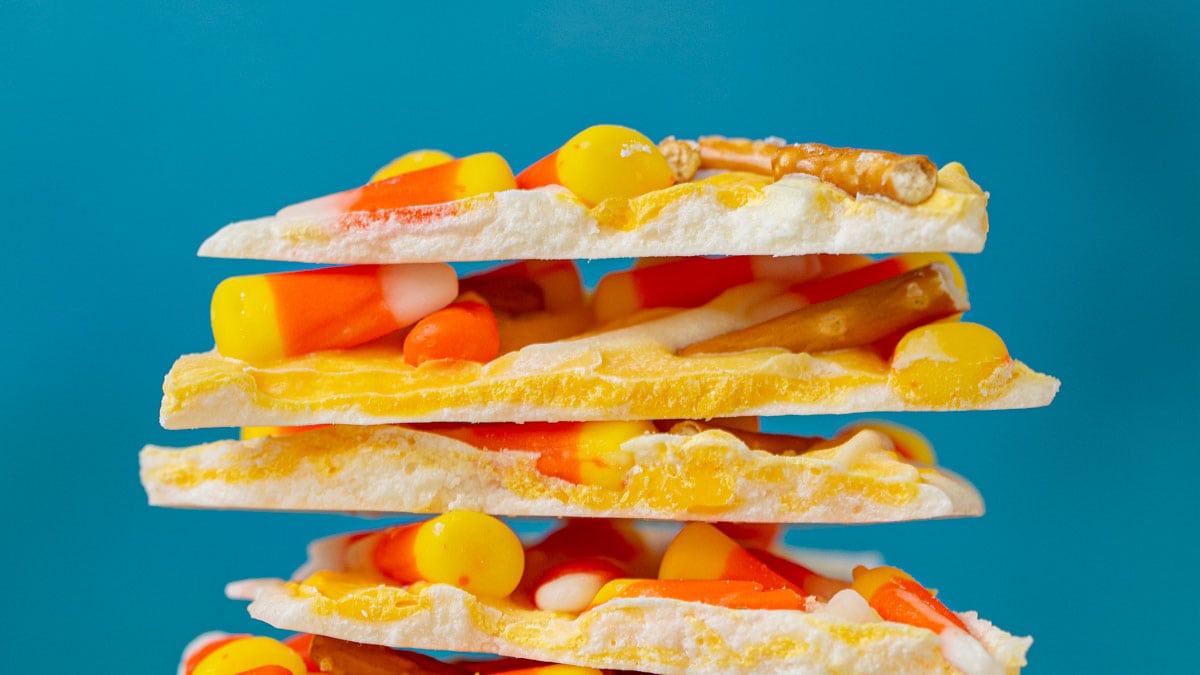 Instructions
Line a baking sheet with foil or parchment paper.

Add the white chocolate melting disks to the microwave for

1 minute

and stir until smooth.

If not melted add to microwave for additonal

15 seconds

.

If adding yellow color, remove ½ cup white chocolate to another bowl and add in 2 drops of yellow food coloring.

Stir the colored white chocolate until well mixed.

Add the white chocolate to the pan and dot with yellow colored white chocolate.

Using an offset spatula or butter knife, spread the colors together.

Top with pretzel sticks and candy corn.

Refrigerate for

20 minutes

or until white chocolate has hardened before breaking apart.
Nutrition
Calories:
300
kcal
|
Carbohydrates:
42
g
|
Protein:
3
g
|
Fat:
14
g
|
Saturated Fat:
8
g
|
Cholesterol:
9
mg
|
Sodium:
136
mg
|
Potassium:
128
mg
|
Fiber:
1
g
|
Sugar:
37
g
|
Vitamin A:
13
IU
|
Vitamin C:
1
mg
|
Calcium:
85
mg
|
Iron:
1
mg