Gingerbread House Candy Bark is exactly what it sounds like! It's a classic chocolate base topped with gingerbread house treats for an easy holiday dessert.
This is a new take on other Homemade Candy Recipes like Peppermint Bark or Fruit Cake Bark. It's just as easy but topped with ginger snap cookies, gumdrops, fruit slices, cherry sours, and holiday M&M's for a fun look inspired by a gingerbread house.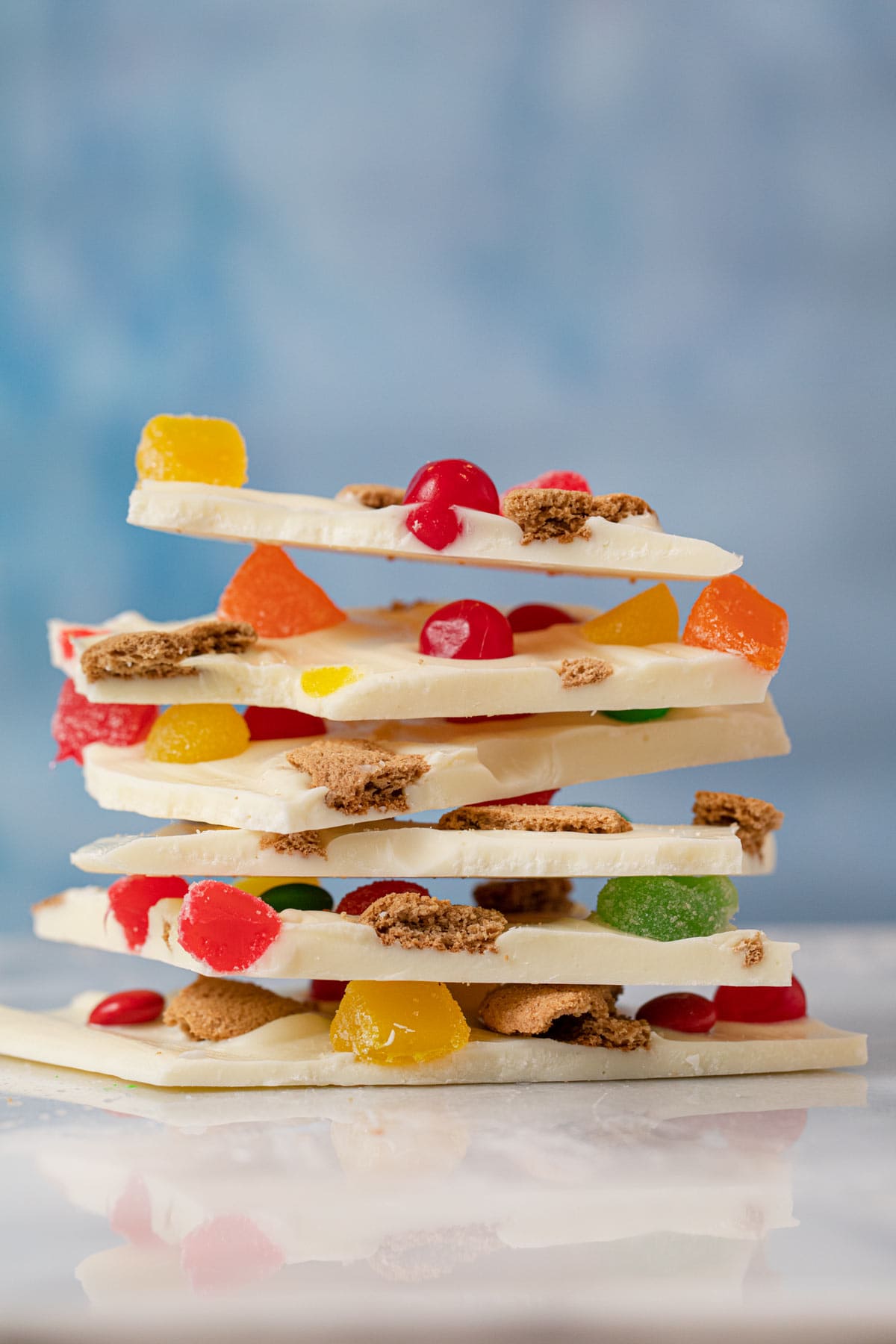 Gingerbread House Candy Bark
Gingerbread House Candy Bark might be the most fun bark candy we've come up with so far. All the delicious and colorful candy toppings make this treat a huge hit with kids. Plus, you can be as creative with how you arrange them as you want. I usually just sprinkle them over at random, but you could also spend time arranging them like you would on an actual gingerbread house.
They aren't just good for kids either. This is always a favorite at holiday get-togethers. The gingersnaps bring a lot of classic holiday flavors and the ginger spices balance out the rich, sweet taste of the white chocolate. It's a combination everyone's sure to love.
Whether you're hosting or throwing a holiday party, Gingerbread Candy Bark is an easy, no-bake dessert to put out or bring along with you. It also makes an easy homemade gift that you can wrap up in cellophane to give to neighbors, friends, family, and teachers this holiday season.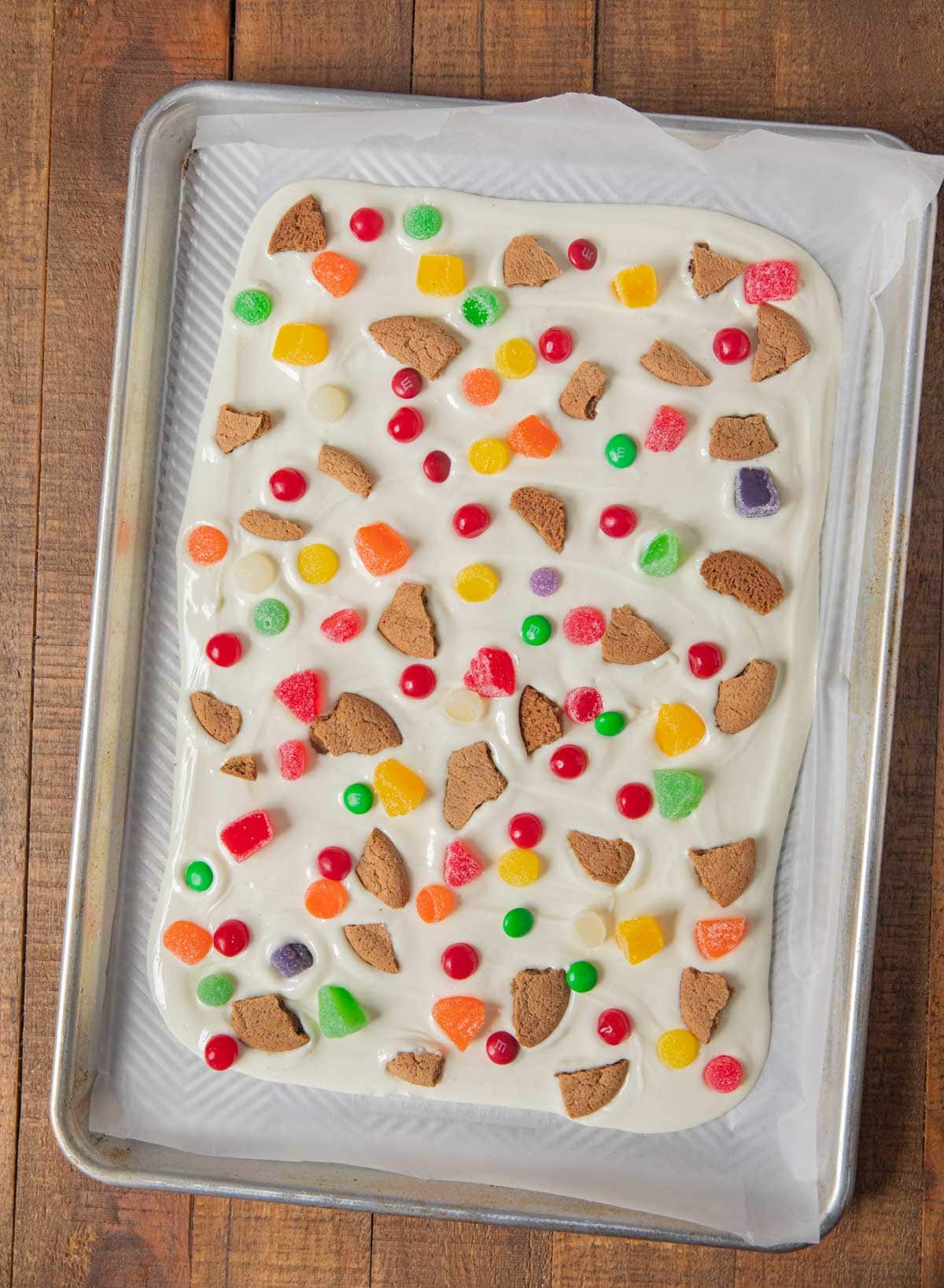 If you love this recipe as much as we're sure you will, then you have to try the classic Christmas cookies that inspired it. The recipe for Gingerbread Cookies that are on the blog is one our family makes every single year. It's always at the top of the holiday baking list.
They're the perfect combination of chewy and crunchy and sweet with some spice. If you make them before you make the Candy Bark you can even crumble some up to put on top instead of gingersnap cookies.
MORE CHOCOLATE BARK RECIPES
HOW TO CUT GINGERBREAD HOUSE CANDY BARK
Once you've let the Gingerbread Bark cool in the fridge, you'll have to break it apart in order to enjoy the candy. Often with Bark Candy, the easiest way to break it is doing just that. Use a kitchen mallet or your hands to break apart the bark into uneven pieces as small as you want.
The only problem with that method is that it's not very neat. If you don't want the toppings to break apart or you want the candy in neat squares for presentation there's another option.
Run a hot knife under hot water until the blade is heated.
Dry the knife off then use it to cut straight lines halfway through the Gingerbread House Bark.
If you make the lines deep enough you should be able to break the chocolate along those lines.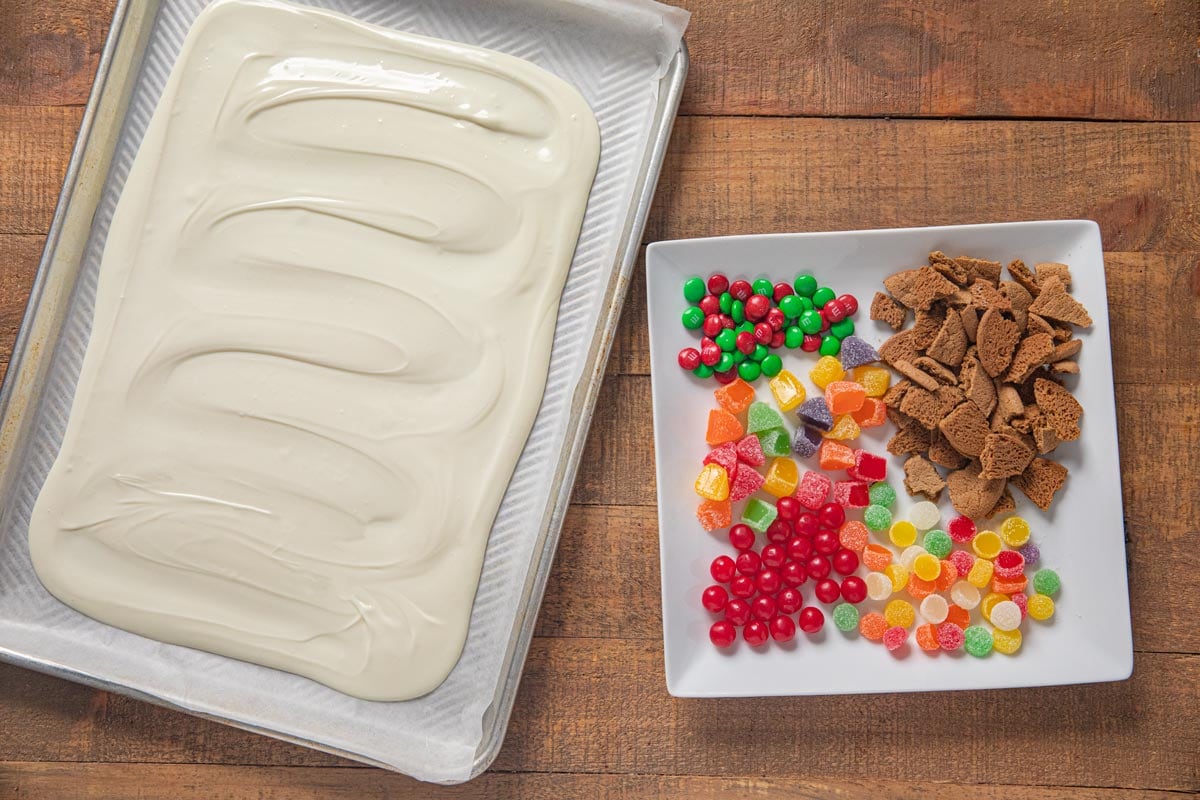 Create a free account to

Save Recipes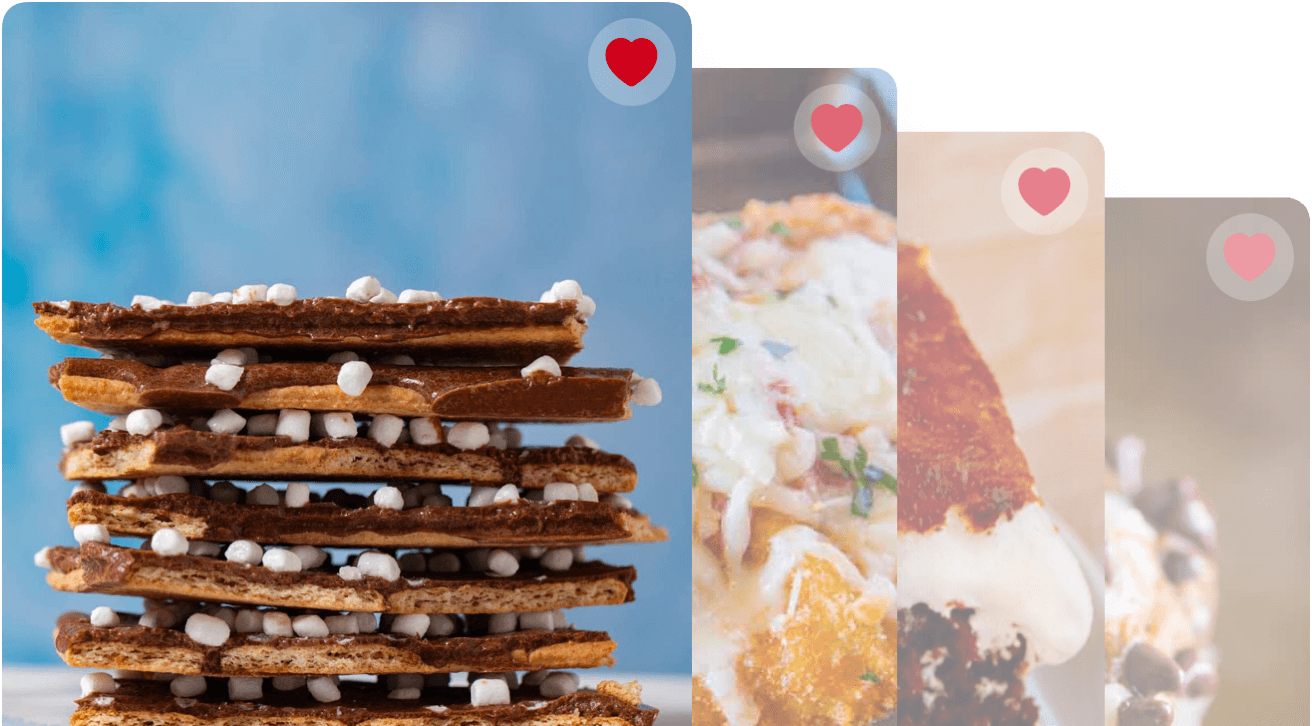 VARIATIONS ON GINGERBREAD HOUSE BARK
Chocolate: If you want a more classic chocolate taste you can swap out the white chocolate for milk chocolate, dark chocolate, or semi-sweet chocolate. You can also do one layer of white chocolate topped by one layer of different chocolate to change things up.
Flavorings: Instead of mixing in the vanilla extract with the chocolate you could mix in another flavor like peppermint extract, mint extract, or almond extract.
More Toppings: Just like with actual gingerbread houses, you can add as many different toppings and decorations as you want to your Gingerbread House Bark. Try sprinkling on some mini marshmallows, peppermint pieces, sprinkles, nuts, or red cinnamon candies.
MORE HOLIDAY DESSERTS
HOW TO STORE GINGERBREAD HOUSE CANDY BARK
Serve: Once, it's hardened you can leave Gingerbread Candy Bark at room temperature for up to 10 days. Keep the pieces in an airtight container in a cool place so the chocolate doesn't melt.
Store: To keep the Chocolate Bark longer store it in the refrigerator. Put it in a ziplock bag or other airtight container, and it will stay good in the fridge for up to 3 weeks.
Freeze: This is also a great holiday dessert to make ahead of time and freeze. For best results keep the pieces in a freezer bag with the layers separated by parchment paper. The bark will keep well for up to 6 months.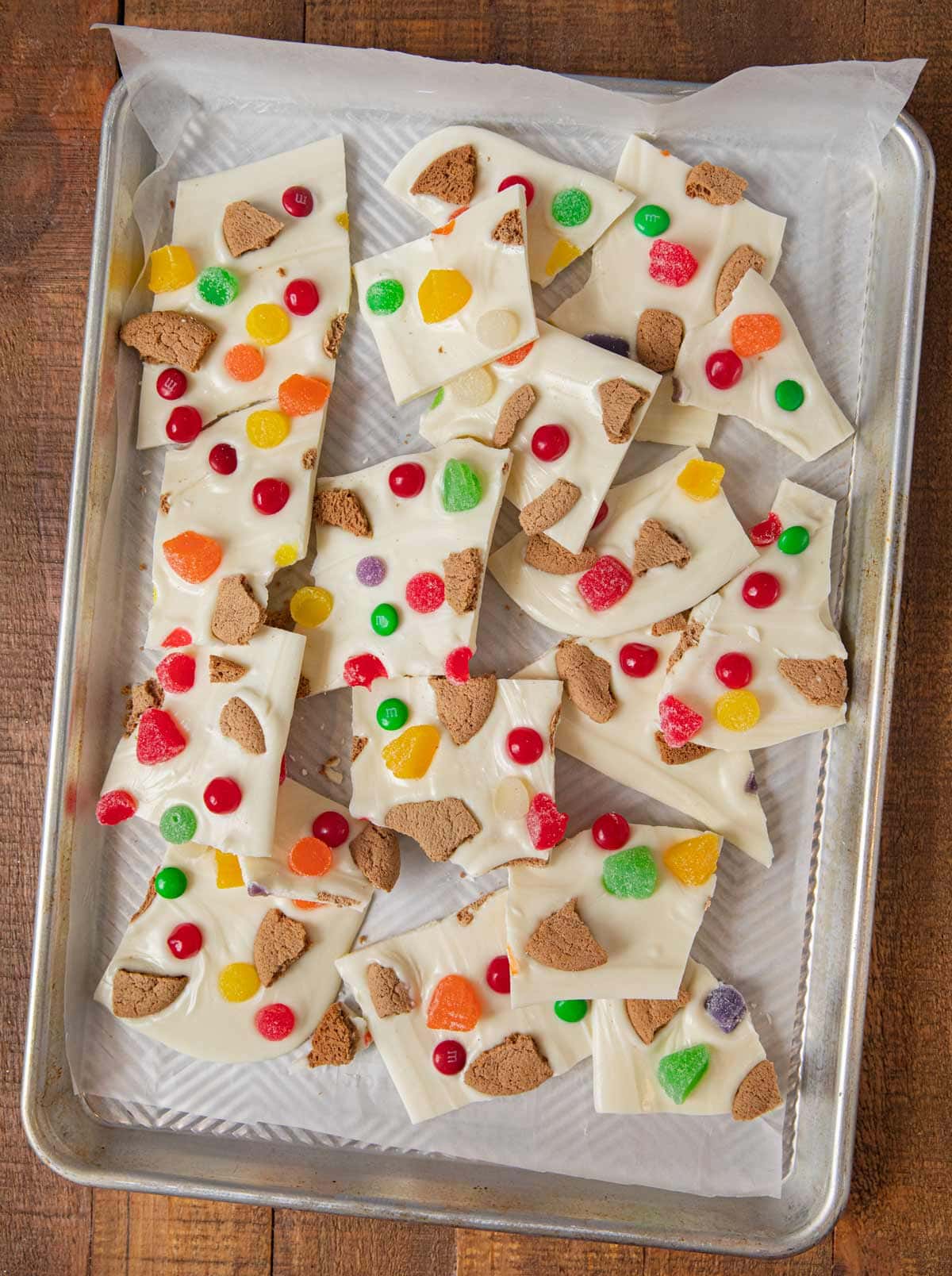 Ingredients
18

ounces

white chocolate chips

, or melting disks

2

teaspoons

vanilla extract

12

ginger snaps

, broken into thirds

6

gumdrops

, halved

4

fruit slices

, cut into thirds

10

cherry sours

12

m&ms

, green and red
Instructions
Line a half sheet pan with parchment paper.

Add the white chocolate to a large glass bowl.

Microwave the white chocolate chips on half power (very important) until melted, stirring every

30 seconds

.

Stir in the vanilla until smooth.

Pour chocolate evenly into the baking sheet and spread gently.

Sprinkle the broken cookies and candies over the chocolate.

Refrigerate until set, about

30 minutes.

Break into chunks to serve.
Nutrition
Calories:
271
kcal
|
Carbohydrates:
33
g
|
Protein:
3
g
|
Fat:
15
g
|
Saturated Fat:
9
g
|
Cholesterol:
9
mg
|
Sodium:
74
mg
|
Potassium:
146
mg
|
Fiber:
1
g
|
Sugar:
28
g
|
Vitamin A:
13
IU
|
Vitamin C:
1
mg
|
Calcium:
91
mg
|
Iron:
1
mg