Chubby Hubby Bark is a no-bake goodie inspired by a popular ice cream that you can make with pretzels, white chocolate, peanut butter and chocolate chips.
Chocolate barks like Oreo Bark and Chubby Hubby Bark are so easy to make and stay good for a while, so they make a perfect treat for holiday parties. I've made a lot of sweet recipes that you can check out on my Dessert Recipe Page if you're looking for some more Christmas desserts or homemade candy to try out this holiday season.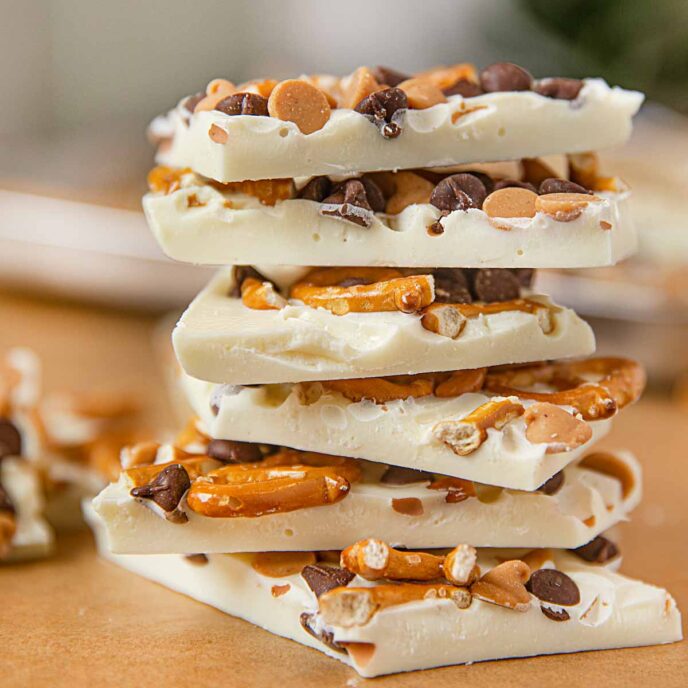 CHUBBY HUBBY BARK
Making homemade candy is part of holiday tradition in our house and many others. We love making easy, no bake treats but just because it's the holidays doesn't mean they have to be peppermint or fudge flavored. This bark was inspired by Ben & Jerry's Chubby Hubby ice cream. I love this ice cream flavor partly because of how tasty it is, but also because of the story behind it.
The story goes that three guys were working together and one always talked about how much he loved Ben & Jerry's. The other two created a pretend flavor and told him it was called Chubby Hubby. He looked everywhere for it with no success. His friends decided to make him a real batch after seeing how excited he was to try it. Ben & Jerry's caught wind of this new flavor idea and now we all get to enjoy it!
Chubby Hubby Bark is a treat for the ice cream lovers in your life, all the flavor and none of the brain freeze. Get even more ice cream inspiration the next time you are in the frozen aisle and try your hand at recreating your family favorites. Just add the ingredients in your favorite ice cream flavors to the top of a white chocolate bark base.
You can make Chubby Hubby Clusters by putting some of toppings into each well of a muffin tin. Pour your white chocolate over your topping ingredients and allow to set. Make sure to use muffin liners to make removing easier. Use decorative liners if you are planning on giving the clusters as gifts.
MORE TASTY HOLIDAY SNACK RECIPES
HOW TO MAKE CHUBBY HUBBY BARK
Melt the white chocolate.
Line a jelly roll pan, 11×9 with parchment paper.
Pour the white chocolate into the pan and spread evenly.
Allow to cool for 3-4 minutes.
Top with pretzels, peanut butter chips and chocolate chips.
Allow to cool completely and harden at room temperature before breaking it apart.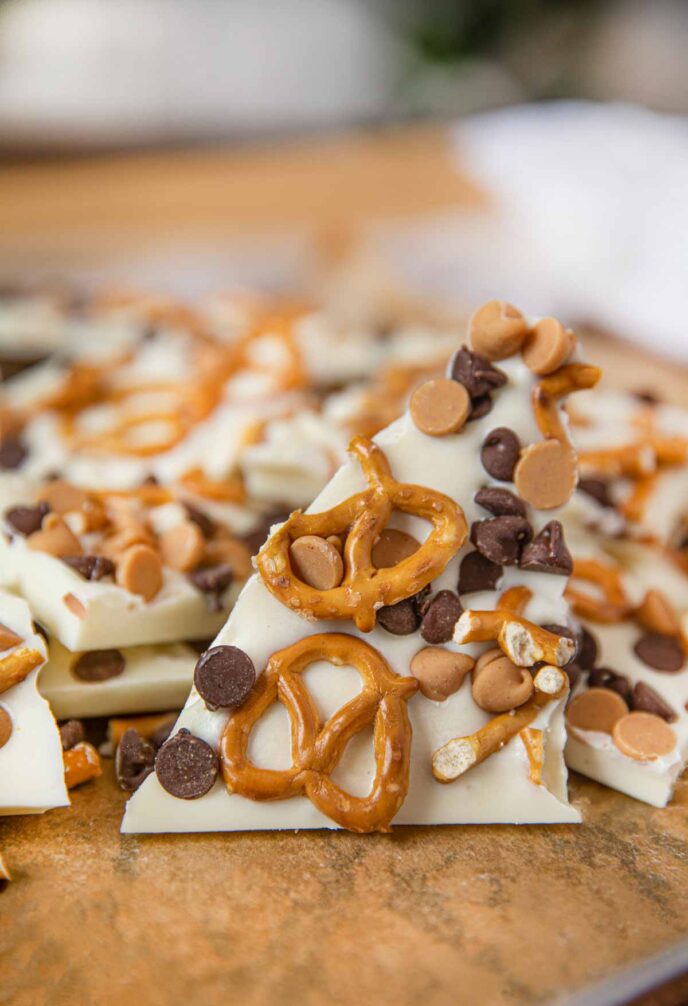 Create a free account to

Save Recipes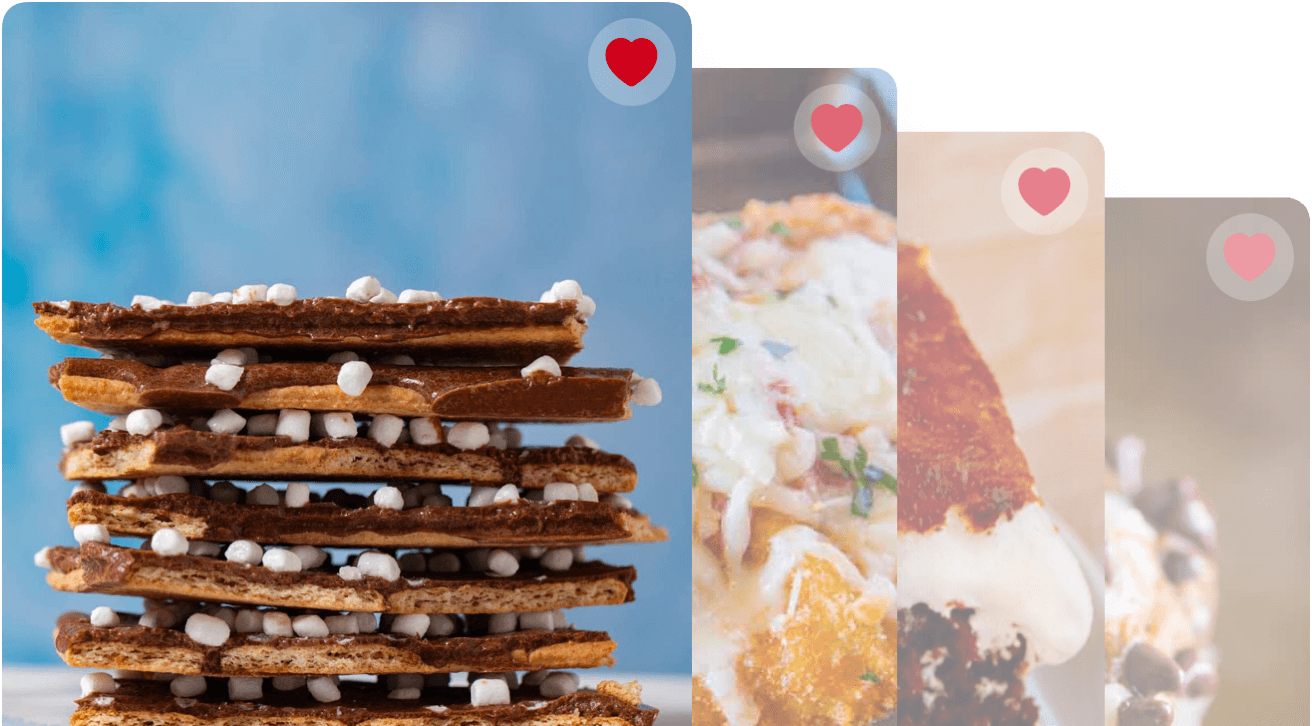 VARIATIONS ON CHUBBY HUBBY BARK
Add ins: The beauty of chocolate bark is that you can mix in pretty much anything you would like based on what you're craving. Some yummy add-ins are fudge, chunks of brownie, caramel, truffles, pecans, marshmallows, toffee, cashews, or drizzle with Chocolate Ganache.
Flavoring: To give your bark some extra flavor, you can add a few drops of liquid extract. Chocolate, Vanilla, and Almond extracts would taste really good with the toppings of Chubby Hubby Bark.
Gluten free: To make a gluten free version of Chubby Hubby Bark, use pretzels that are marked gluten free.
Chocolate: You don't have to use white chocolate, you can also make this delicious treat using milk chocolate, or dark chocolate instead. If you end up going with a darker chocolate, you may want to choose a lighter chocolate chip, like white chocolate, or chocolate caramel, to mix in to keep the flavor from becoming overpowering.
CHUBBY HUBBY BARK FAQS
What is Chubby Hubby? Chubby Hubby is an ice cream flavor that Ben & Jerry's developed in 1994 and is based off of a joke.
What is bark chocolate? Bark chocolate is chocolate melted into a flat sheet with goodies like nuts or pretzels mixed into it to give it a bumpy, bark-like texture.
What is the difference between almond bark and melting chocolate? Almond bark is not actually chocolate. It is a flavored mixture of vegetable oils, sugar, and other ingredients. However, is does not contain cocoa butter therefore it's not chocolate. Almond bark is designed to melt easier but I prefer using real chocolate or white chocolate melting disks.
MORE DELICIOUS HOLIDAY CANDY!
HOW LONG IS CHUBBY HUBBY BARK GOOD?
Serve: Chubby Hubby Bark is fine at room temperature for up to 2 weeks, as long as you keep it in an airtight container and store it in a cool dry place.
Store: You can keep Chubby Hubby Bark in the fridge for about 3 weeks in a sealable bag or an airtight container.
Freeze: Chubby Hubby Bark is good in the freezer for about 3 months before it's time to make some more.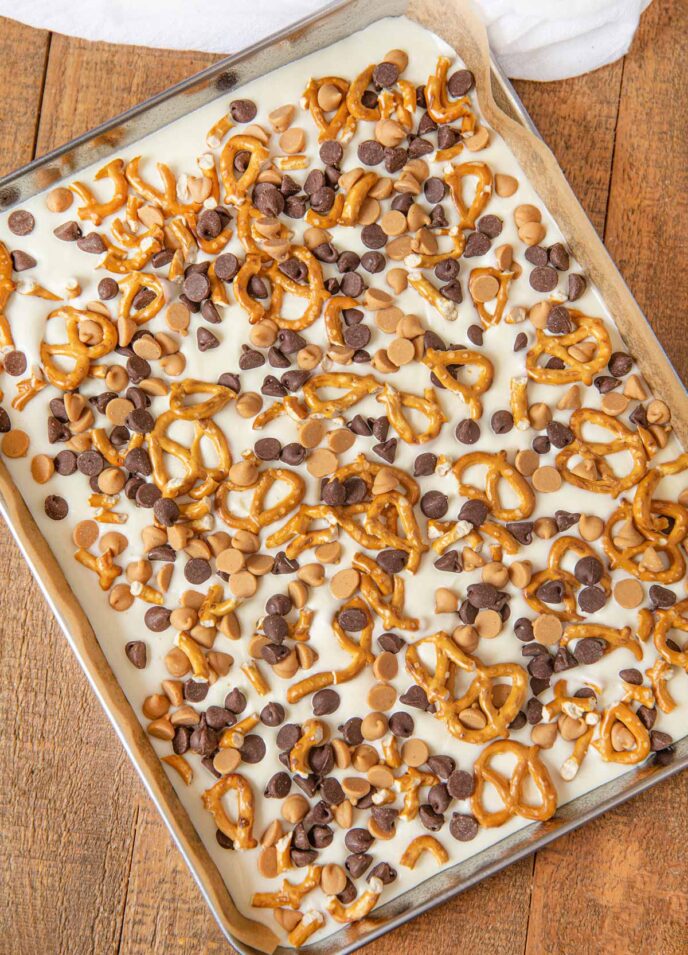 Instructions
Melt the chocolate in

30 second

increments until fully melted, stirring each time.

Line a jelly roll pan, 11x9 with parchment paper.

Pour the white chocolate into the pan and spread evenly.

Allow to cool for

3-4 minutes

.

Top with pretzels, peanut butter chips and chocolate chips.

Allow to cool completely and harden at room temperature for one hour or in the fridge for

20 minutes

before breaking apart and serving.
Nutrition
Calories:
366
kcal
|
Carbohydrates:
43
g
|
Protein:
7
g
|
Fat:
19
g
|
Saturated Fat:
12
g
|
Cholesterol:
10
mg
|
Sodium:
224
mg
|
Potassium:
184
mg
|
Fiber:
2
g
|
Sugar:
28
g
|
Vitamin A:
16
IU
|
Vitamin C:
1
mg
|
Calcium:
68
mg
|
Iron:
2
mg