No Bake Peanut Butter Cookies are made with rolled oats, peanut butter, milk, sugar and butter, these are part cookie, part energy bar and part candy!
There are so many no-bake cookie recipes, like Avalanche Cookies, Haystack Cookies or Classic No-Bake Cookies that you'd be eating them for months if you made them all (actually, that doesn't sound so bad.) This is a rich, peanut butter version that is quick and tasty.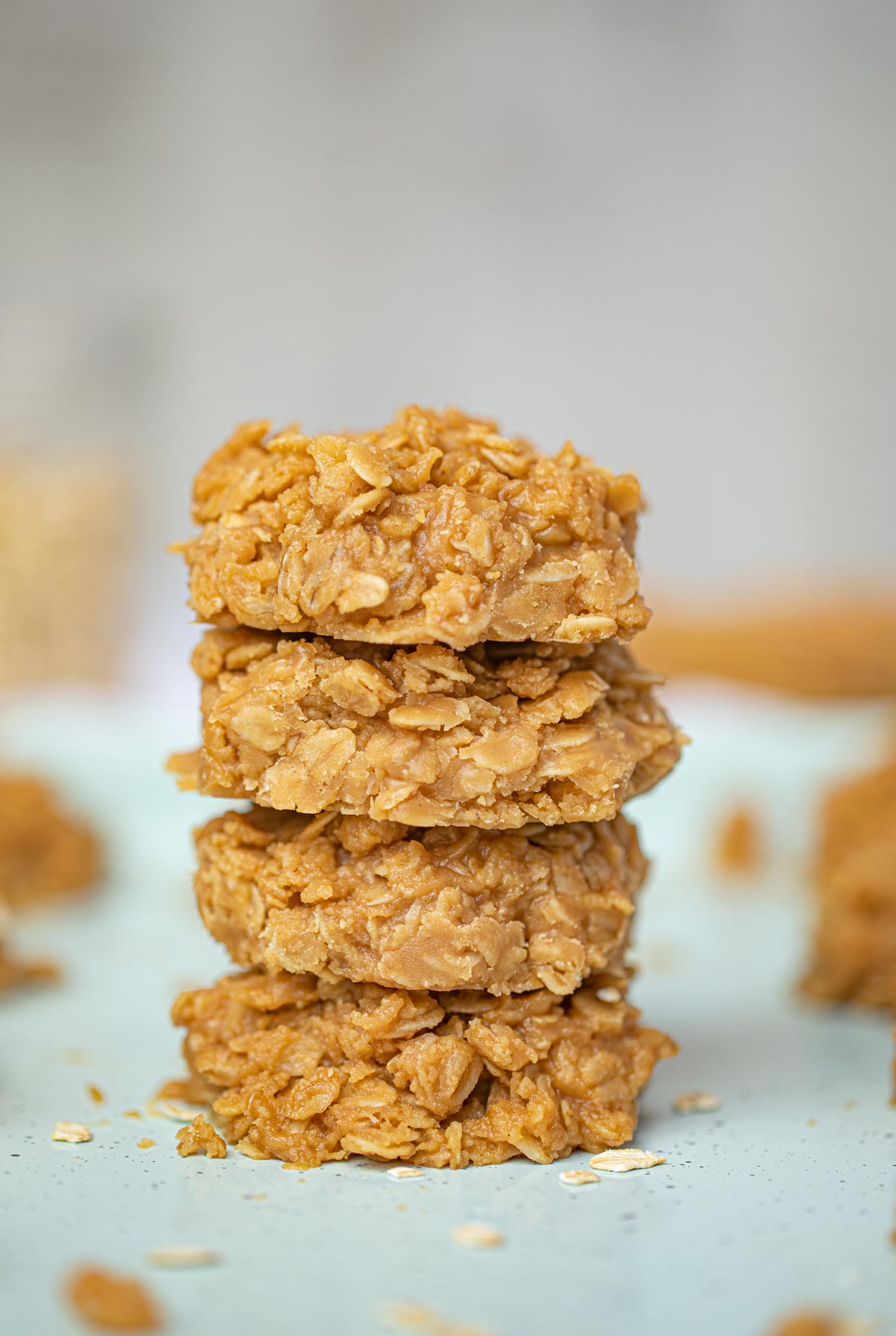 PEANUT BUTTER NO BAKE COOKIES
These No-Bake Peanut Butter Cookies are like the perfect blend of candy, peanut butter sandwich, oatmeal cookie, granola bar and fudge all rolled into one easy recipe. I couldn't love this recipe any more unless it was covered in bacon (I don't think bacon would work here, I just really love bacon).
January 24th is National Butter Day and, even better, March 1st is National Peanut Butter Lover's Day, so you have two more reasons to try out this recipe (plus, you don't have to worry about a long cook time.) You can alter this recipe easily to account for personal tastes, like using natural peanut butter or dairy substitutes, and you don't have to worry about them going stale.
If you love the idea but prefer your cookies a little more traditional, try my recipe for Peanut Butter Cookies, Oatmeal Cookies or Snickerdoodle Cookies.
HOW DO YOU MAKE NO BAKE COOKIES?
Line a large baking sheet with parchment paper.
Stir together both kinds of sugar, butter and milk in a medium saucepan over medium heat.
Bring it to a rolling boil for about 1 minute.
Take the pan off the heat and mix in the peanut butter, vanilla, and salt.
Once they're well combined, add the oats and stir.
You can use a regular spoon or a cookie scoop to drop tablespoons of the batter onto a baking sheet.
Let the cookies sit until they have cooled and hardened.
No Bake Peanut Butter Cookie Flavor Variations:
Chocolate chips: for a chocolate peanut butter version, you can either chop up chocolate chips in a food processor or stir them into the batter whole.
Whipped cream: make some Homemade Whipped Cream and serve the cookies with a little dollop on top.
Ice cream: serve your no bake cookies with a side of Homemade Vanilla Ice Cream to wow your friends and family.
Vegan: you can make this recipe vegan friendly fairly easily by replacing the milk with coconut milk and the butter with margarine.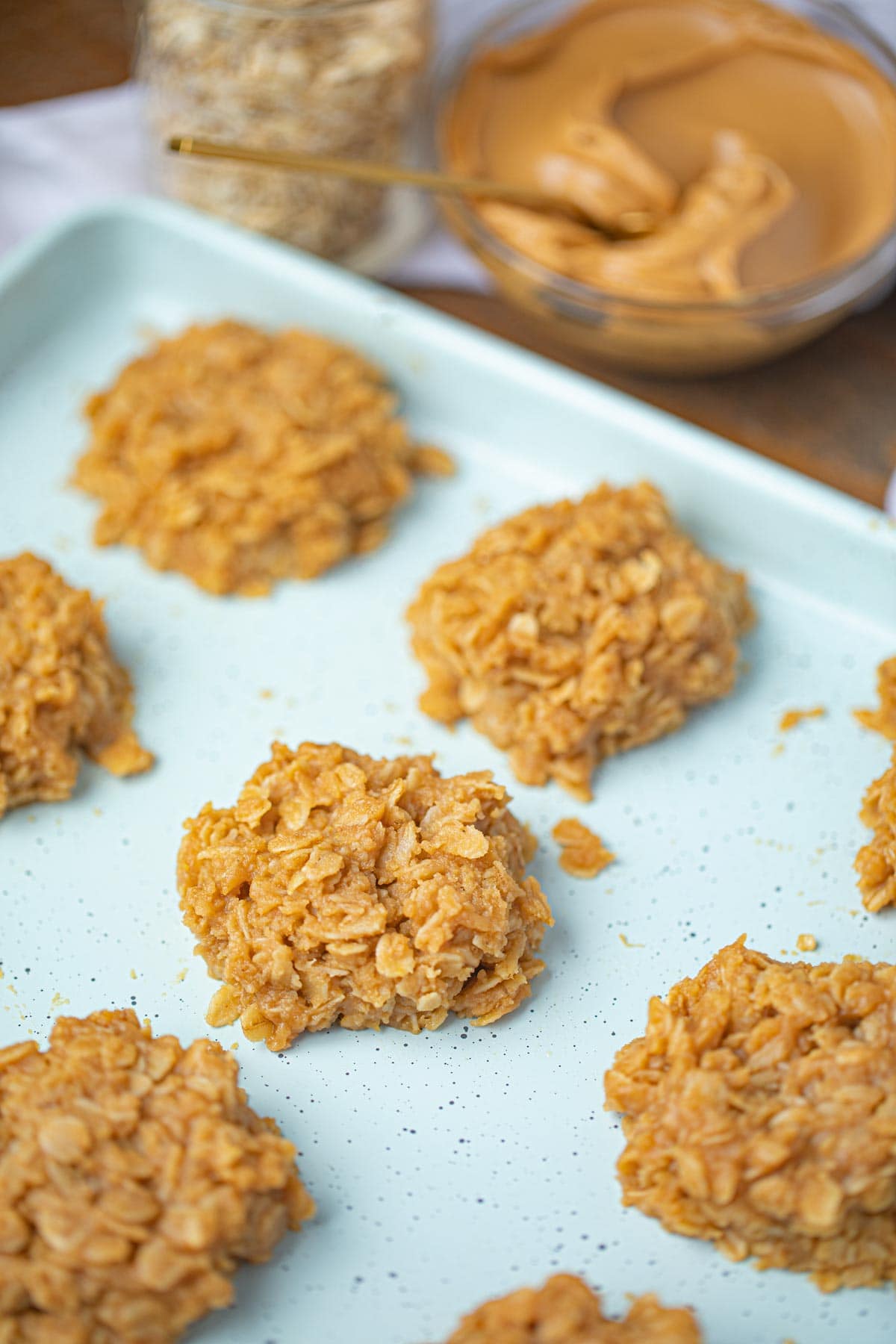 Create a free account to

Save Recipes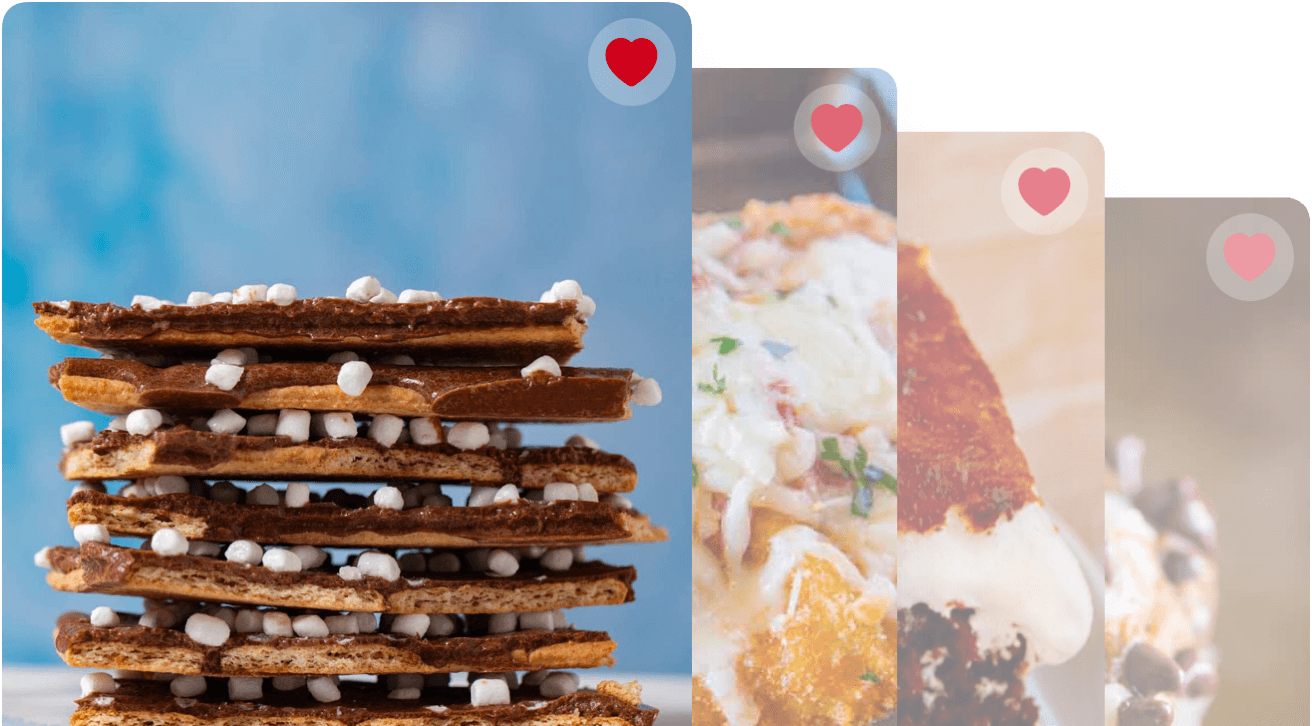 Complete the meal!
HELPFUL TIPS
For easy serving or if the cookies have to travel, lay down a pice of wax paper onto a plate or plastic container and stack the cookies in a single layer on top for easy serving. Put wax paper in between layers, but avoid stacking too many on top of each other to keep them from being crushed.
If your cookies dry out, it may be because the sugar, butter and milk combination boiled for too long, this can happen. Make sure to account for the heat of your stove and the elevation you're at when you make this recipe.
PEANUT BUTTER FACTS
Here are some fun things about peanut butter that you probably didn't know.
Peanut butter origins: it was originally called "peanut paste," and it first appeared in Boston Cooking School Magazine of Culinary Science and Domestic Economics, which was published in 1901. You may now understand why they changed the name to "peanut butter," it sounds way more appetizing.
At this very moment, about ¾ of all American households have a jar of peanut butter in their cupboard. If you don't believe me, you should walk to every house and ask (don't actually do this.)
The National Peanut Board regulates the quality and trade of peanuts. Their employees also have the added benefit of having to be very patient and answer a lot of strange recipe related questions.
How to Store No Bake Peanut Butter Cookies:
Serve: in an airtight container they can be good for about a week.
Store: your leftover cookies will be good in the fridge for 2 weeks, but I recommend eating them sooner than that.
Freeze: no bake cookies are good for 3 months in the freezer.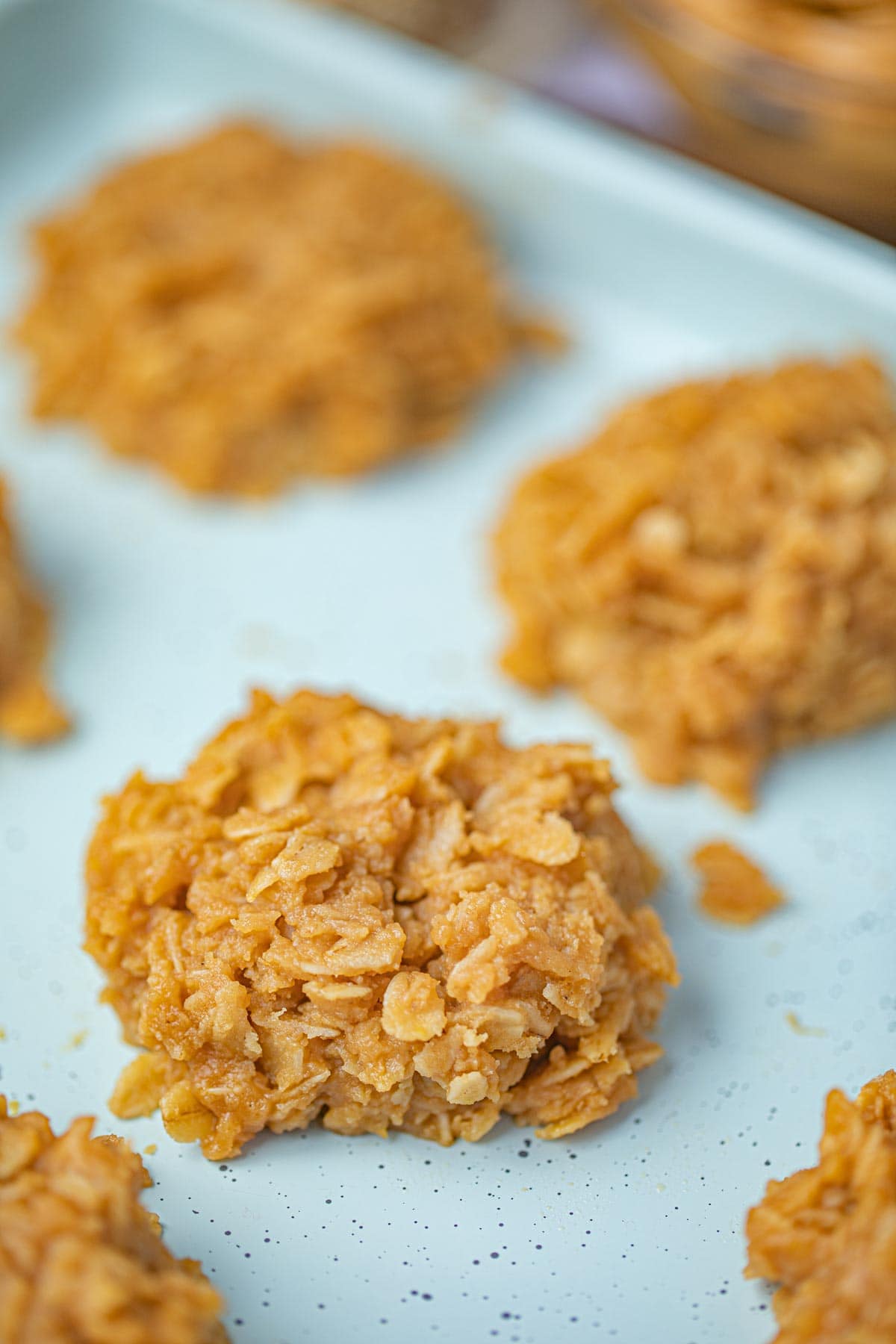 Ingredients
1

cup

granulated sugar

3/4

cup

packed brown sugar

1/2

cup

butter

(1 stick), cut into cubes

1/2

cup

milk

1

cup

smooth peanut butter

2

teaspoon

pure vanilla extract

1/2

teaspoon

kosher salt

2 1/2

cup

old-fashioned oats
Instructions
Line a large baking sheet with parchment paper. In a medium saucepan over medium heat, combine sugars, butter, and milk. Bring mixture to a boil and boil

1 minute

.

Remove from heat and stir in peanut butter, vanilla, and salt until combined, then stir in oats.

Drop tablespoonfuls of mixture onto prepared baking sheet and let set until cooled and hardened, about

30 minutes

.
Nutrition
Calories:
183
kcal
|
Carbohydrates:
25
g
|
Protein:
4
g
|
Fat:
8
g
|
Saturated Fat:
3
g
|
Cholesterol:
10
mg
|
Sodium:
145
mg
|
Potassium:
119
mg
|
Fiber:
1
g
|
Sugar:
16
g
|
Vitamin A:
128
IU
|
Calcium:
21
mg
|
Iron:
1
mg