Leftover Candy Bar Bark is the perfect way to use up your trick or treat candy. It's an easy mix of chocolate chips, vanilla, and your favorite candy bars!
Halloween Bark is the perfect Homemade Candy to get you in the mood for the season, but this equally delicious recipe is exactly what you need after October 31.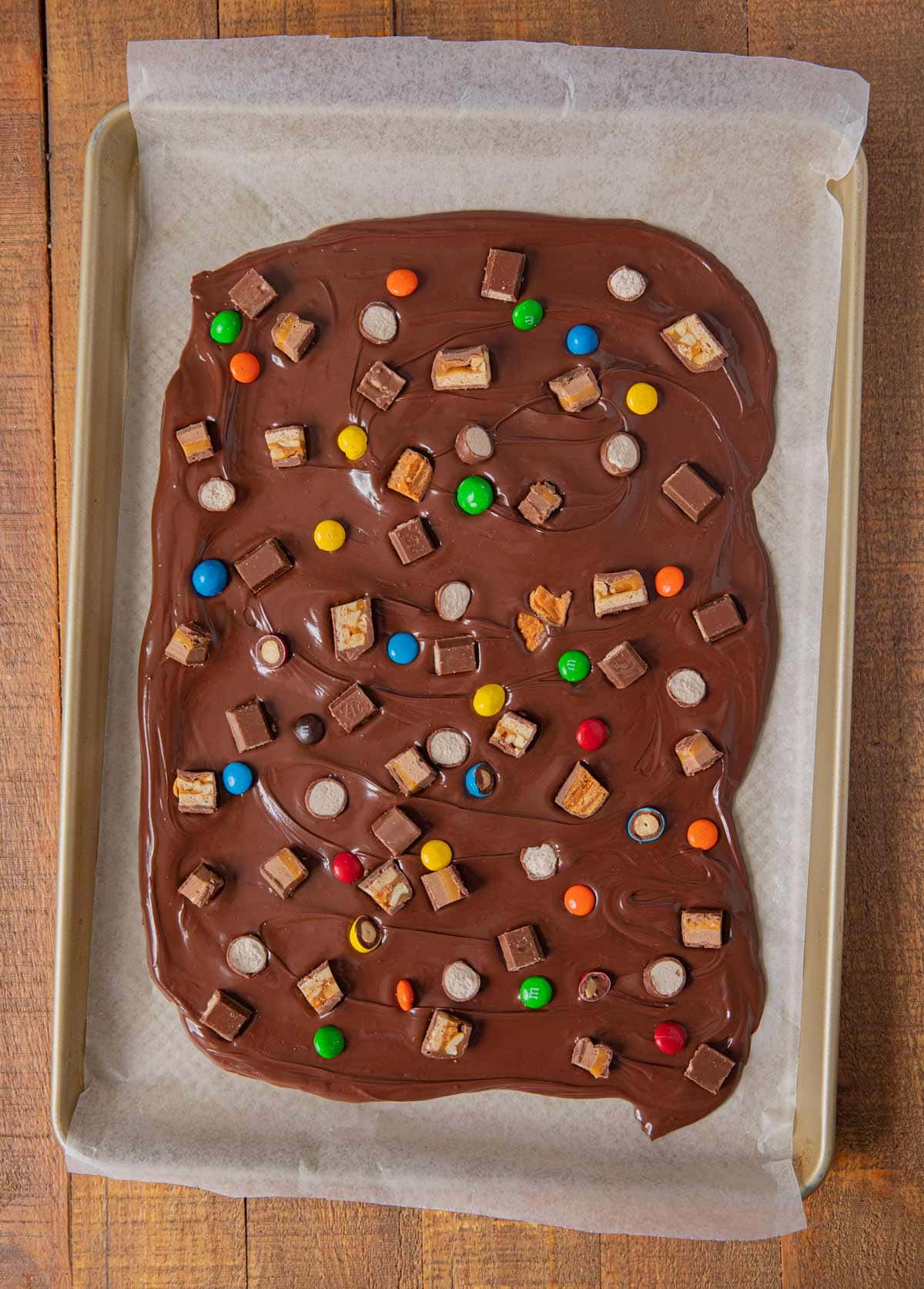 LEFTOVER CANDY BAR BARK
We used some of our favorite chocolate candies in this recipe including Mars Bars, Whoppers, M&M's, Kit Kats, and Butterfingers. But the thing that's so great about this bark is you don't have to strictly stick to that. If you don't have one of the candies we used, there's no need to run out to the store. Just use what you have laying around from Halloween. You can also experiment with adding pieces of candy to your other favorite bark recipes like Oreo Bark or Chubby Hubby Bark.
Right after Halloween, there's always a frenzy to get to the candy bars. It's a struggle to keep kids from eating candy for every meal, but it only takes a few days for the candy to lose some of its excitement. We always end up with our big bowl of candy still ¼ full just sitting out on the table.
I came up with this recipe as a way to repurpose that remaining candy. It's like candy recycling, and the best part is that you can store it in the freezer for months at a time so your family can take a break from candy before you bust them out.
MAKE-AHEAD LEFTOVER CANDY BAR BARK
This simple, no-bake treat is ideal to make and freeze for later. It will last for 6 months in the freezer. If you want to make it last for a long time, you can even take small amounts out at a time while leaving the rest in the freezer for later.
Melt the chocolate, pour it into the pan, and sprinkle the leftover candy over the top as usual.
Let the bark set in the fridge for a half-hour. Once it's hardened, break it into pieces with a kitchen mallet or your hands.
Put the pieces in a freezer bag with the layers separated by parchment paper.
When you're ready to defrost the candy, you can put it in the fridge or leave it uncovered at room temperature.
MORE BARK CANDY RECIPES

Create a free account to

Save Recipes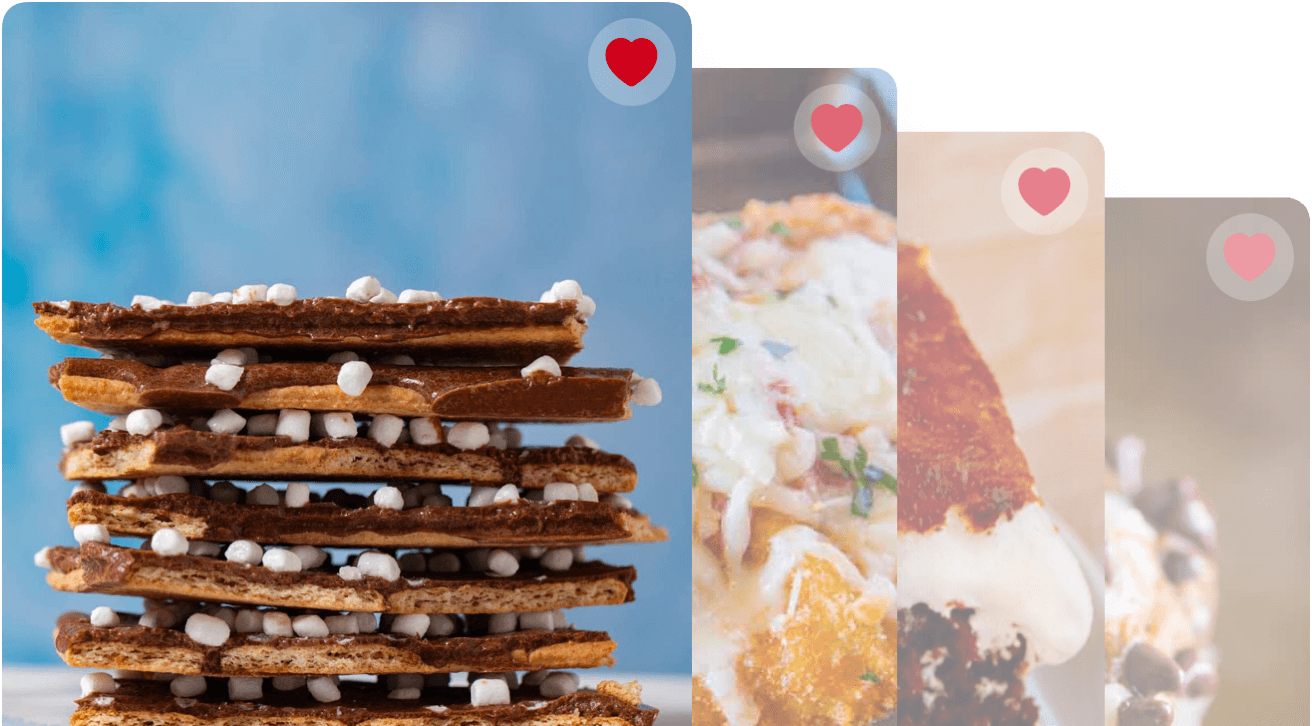 VARIATIONS ON LEFTOVER CANDY BAR BARK
Chocolate Chips: Instead of using regular semi-sweet chocolate chips, you can change the bark base by using dark chocolate chips, milk chocolate chips, or white chocolate chips. You could even melt some peanut butter chocolate chips and drizzle it over your chocolate layer.
Candies: There are plenty of other kinds of candy bars and candy pieces you can use to top your Chocolate Candy Bark. Reese's Cups, Reese's Pieces, Milky Ways, 100 Grand Bars, or Milky Ways would all make great additions. Essentially any chocolates will work great, but you probably don't want to try gummy or sour candies.
Oreo Crust: To make an Oreo base to candy bark blend up Oreo cookies in a food processor. Once they're blended into crumbs mix them with softened butter. Press the Oreo crust into the base of the pan then pour the chocolate over the top.
More Toppings: There are plenty of other mix-ins you can try with this homemade bark instead of leftover candies. For a mixture of crunchy textures and salty taste add pieces of pretzel or salted nuts. You could also break up pieces of cookies to sprinkle over the top.
MORE HOMEMADE CANDY RECIPES
HOW TO STORE LEFTOVER CANDY BAR BARK
Serve: After setting, Leftover Candy Bar Bark can be kept at room temperature for up to 10 days. Seal it in a ziplock bag or other airtight container. Keep it in a cool place so the chocolate doesn't melt.
Store: Another option, is storing your bark in the fridge for up to 3 weeks.
Freeze: As long as it's sealed properly you can keep candy bark in the freezer for 6 months.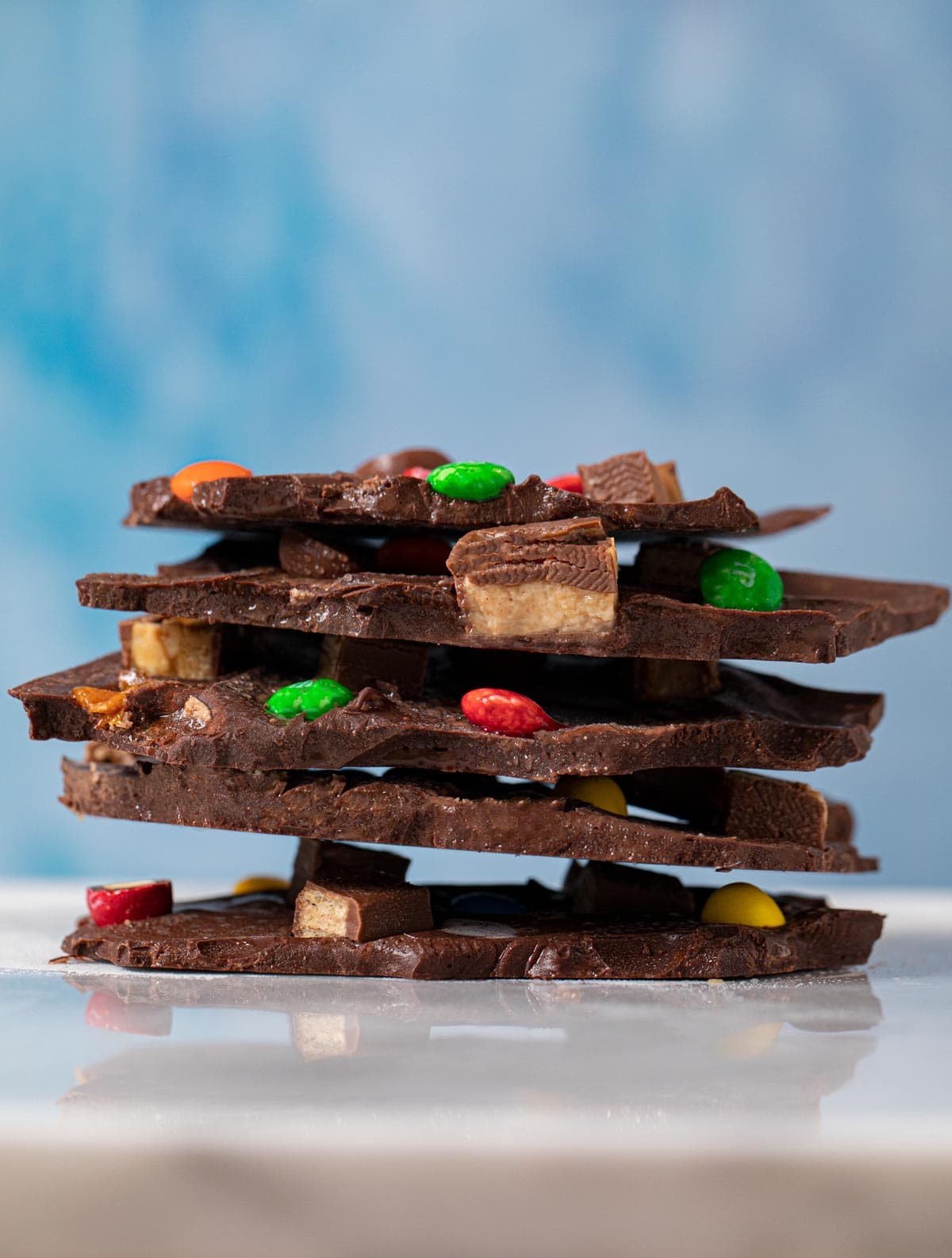 Instructions
Line a half sheet pan with parchment paper.





Add the chocolate chips to a large glass bowl.

Microwave the chocolate chips on half power (very important) until melted, stirring every

30 seconds

.


Stir in the vanilla extract until smooth.


Pour chocolate evenly into the baking sheet and spread gently.

Sprinkle the chopped and broken candy bars over the chocolate.

Refrigerate until set, about

30 minutes

.


Break into chunks to serve.
Notes
candies used include: Snickers, Mars, Whoppers, M&Ms, Kit Kats, Butterfingers
for leftover Halloween candy
Nutrition
Calories:
247
kcal
|
Carbohydrates:
22
g
|
Protein:
3
g
|
Fat:
16
g
|
Saturated Fat:
9
g
|
Cholesterol:
3
mg
|
Sodium:
4
mg
|
Potassium:
241
mg
|
Fiber:
3
g
|
Sugar:
16
g
|
Vitamin A:
21
IU
|
Calcium:
26
mg
|
Iron:
3
mg