Pumpkin Spice Bark is the perfect Autumn treat to serve around Halloween or Thanksgiving. Made with white chocolate, pumpkin spice, and delicious caramel.
Bark recipes are some of the easiest Homemade Candies that you can make. Plus, they're easy to change up and make perfect for any occasion. For more seasonal bark recipes try Candy Corn Bark, and Halloween Bark next.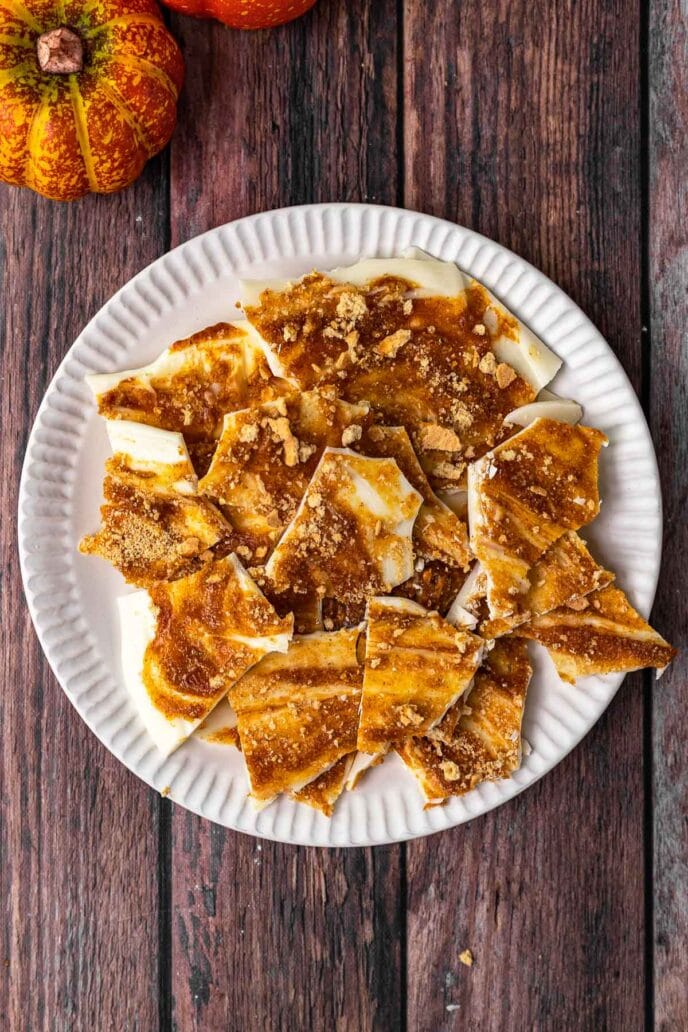 This Pumpkin Bark is the perfect treat to get you in the Thanksgiving spirit! The Autumn snack is made with a layer of white chocolate topped off with a caramel and pumpkin mixture. It gets its pumpkin spice flavor from Pumpkin Puree and Pumpkin Spice. The white chocolate bark makes the perfect sweet base for the delicious spiced top layer.
Homemade pumpkin spice treats are great to make during the fall. So, the next time you need that pumpkin fix, this bark candy is the perfect recipe to use. It only takes a few minutes to prep the Pumpkin White Chocolate Bark, and then all you have to do is let it set in the fridge.
You can serve the candy at parties, give them as gifts, enjoy them for the holidays, or just have them in your kitchen to satisfy a sweet tooth. If you're giving the Pumpkin Spice Bark as a gift, it's easy to divide the bark pieces into cellophane bags. Then just top them off with a festive bow. The simple packaging looks as good as the homemade candy tastes.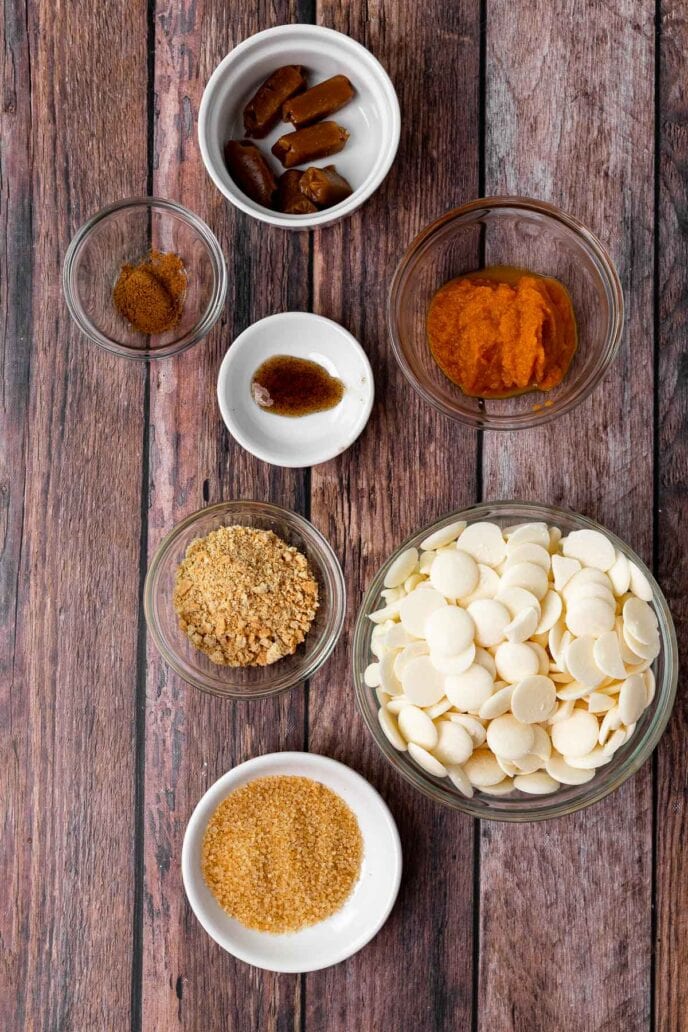 Key Ingredients
Caramel Squares: Caramel will add such a nice autumn flavor to your Pumpkin Bark. It will also help the pumpkin mixture set once placed in the fridge.
Pumpkin Puree: Of course you're going to need some delicious Pumpkin flavor in this Pumpkin Spice Bark. There's no better way than to use this Pumpkin Puree recipe. If need be then you can go ahead and use canned Pumpkin.
Vanilla Bean Paste: If you're looking for a great way to add the warm, sweet flavor of vanilla to a recipe without thinning out the recipe with vanilla extract, you're going to want to use Vanilla Bean Paste.
Pumpkin Pie Spice: This classic spice mix is integral to the overall flavor of Pumpkin Spice Bark. You can make it yourself with this Pumpkin Pie Spice recipe, or use one you purchased from the store.
White Chocolate Disks: These white disks make the perfect base for the Bark recipe. They are super easy to melt and create a great texture for your finished product.
Graham Crackers: Break your favorite graham crackers into crumbs to top off the Bark. You can place them in a bag and use a rolling pin or mallet to make the crumbs. Adding them to the Bark gives the candy a nice crunchy layer. If you break them into crumbs that vary a little in size, the texture and crunch will be all the more appealing.
Coarse Sanding Sugar: The thick grains of Sanding Sugar will add sweetness, a bit of crunch, and even a little bit of a decorative finish to the Pumpkin Spice Bark, almost like pretty sprinkles.
More Pumpkin Recipes
How to Make Pumpkin Spice Bark
Prep Time: Line a cookie sheet with parchment paper so that the bark doesn't get stuck to the pan.
Pumpkin Mixture: Put the caramel in a microwave-safe bowl to melt it. Mix the caramel with the pumpkin puree, vanilla bean paste, and pumpkin spice. Stir the mixture together until it's smooth.
White Chocolate: Melt the white chocolate disks in the microwave, and stir the melted chocolate until smooth. Pour the melted chocolate into the baking dish and spread it into a rectangle with an offset spatula.
Combine: Add the pumpkin mixture and graham cracker crumbs over the top, and swirl it with a toothpick or butter knife. Sprinkle sanding sugar on top and put the Pumpkin White Chocolate Bark in the refrigerator to harden.
Break: To break the Pumpkin Spice Bark, either cut part way through with a butter knife and then break it apart by hand, or use a kitchen mallet to break it into irregular pieces. Once the Pumpkin Spice Chips are broken apart you can serve them right away or continue storing them in the fridge.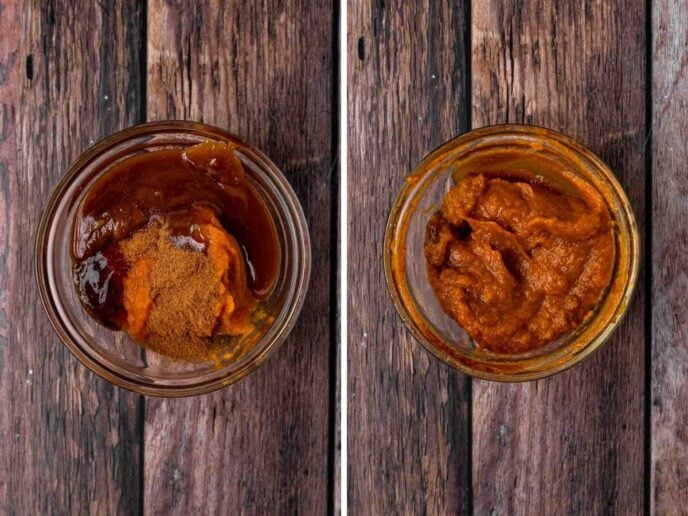 Create a free account to Save Recipes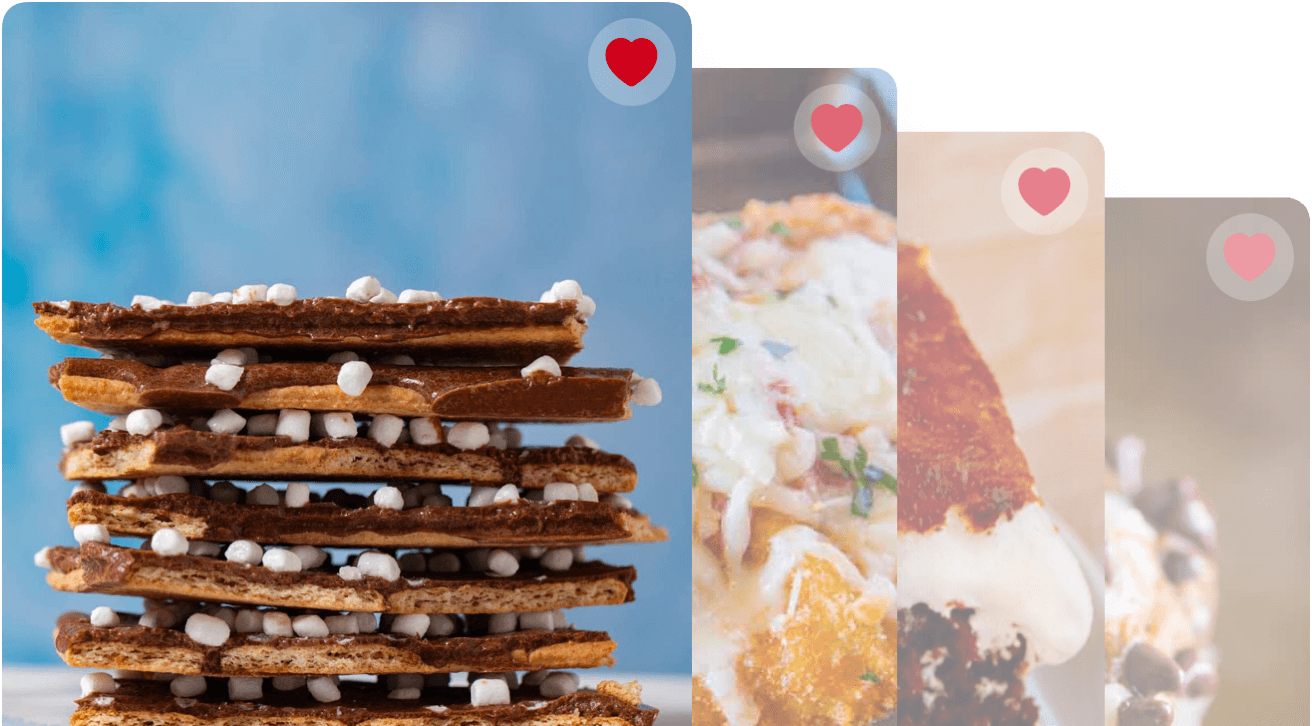 FAQs for Pumpkin Spice Bark
What is the difference between brittle and bark?
Brittle is a hard sugar candy broken into pieces, usually containing nuts of some kind. Bark candy is made with a chocolate base therefore it is softer than brittle. It contains a variety of toppings, and is broken or cut into pieces the same way as brittle.
Can I substitute vanilla extract for vanilla bean paste?
Vanilla extract can be used as a vanilla bean paste substitute, however it might affect the overall texture of the candy bark. Vanilla extract is liquid and will thin out your recipe, whereas the vanilla bean paste is thicker. However the change in the final product will be minimal.
Variations on Pumpkin Spice Bark
Chocolate: Instead of making white chocolate bark, you can use different kinds of chocolate. Try making a semi-sweet chocolate, dark chocolate, or milk chocolate bark base.
Maple Pumpkin Chocolate Bark: Along with the caramel and pumpkin mixture try adding in a couple of tablespoons of maple syrup. It will give a darker, sweet taste.
Mix-ins: For some extra add-ins mix toasted pumpkin seeds, sunflower seeds, pretzel pieces, and pecan pieces. You can also add some festive sprinkles to the top.
Topping Party: For a really fun activity with family or friends, make this Bark candy and set aside several small bowls of toppings. Let each member of the family top their own section of Bark before you put it in the refrigerator to set. Kids especially will enjoy this tasty activity.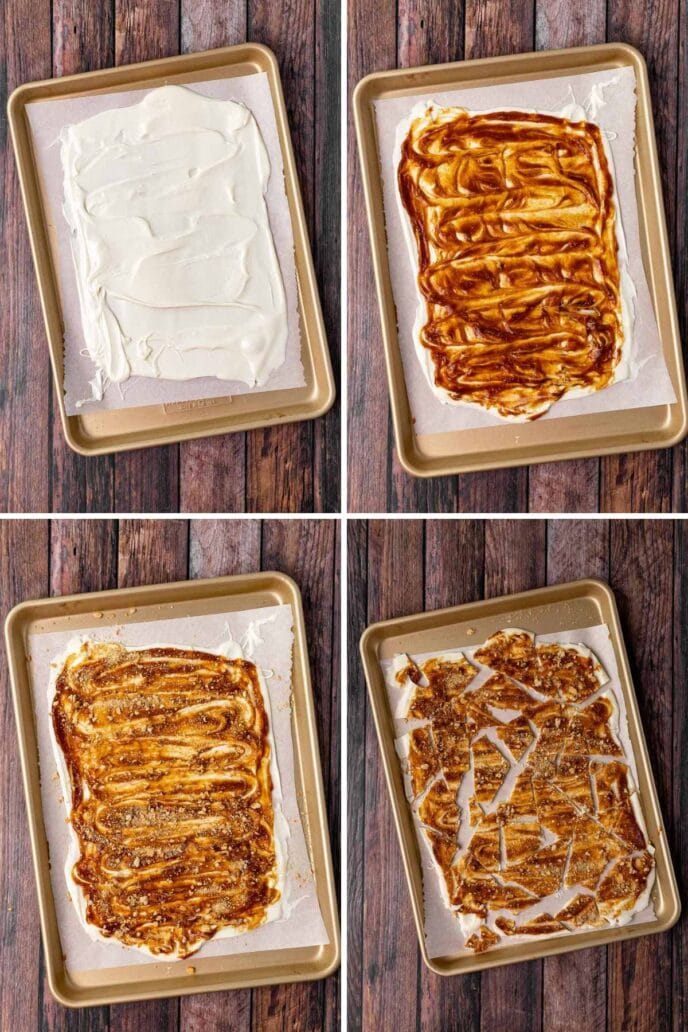 More Autumn Recipes
Can Pumpkin Spice Bark be made ahead?
Pumpkin Spice Bark is the perfect recipe to be made ahead, especially because it takes time in the fridge to set. You can make the recipe, then put it in the fridge and forget about it for a few days or even a couple of weeks until you are ready to eat it, serve it, or give it away as a yummy gift.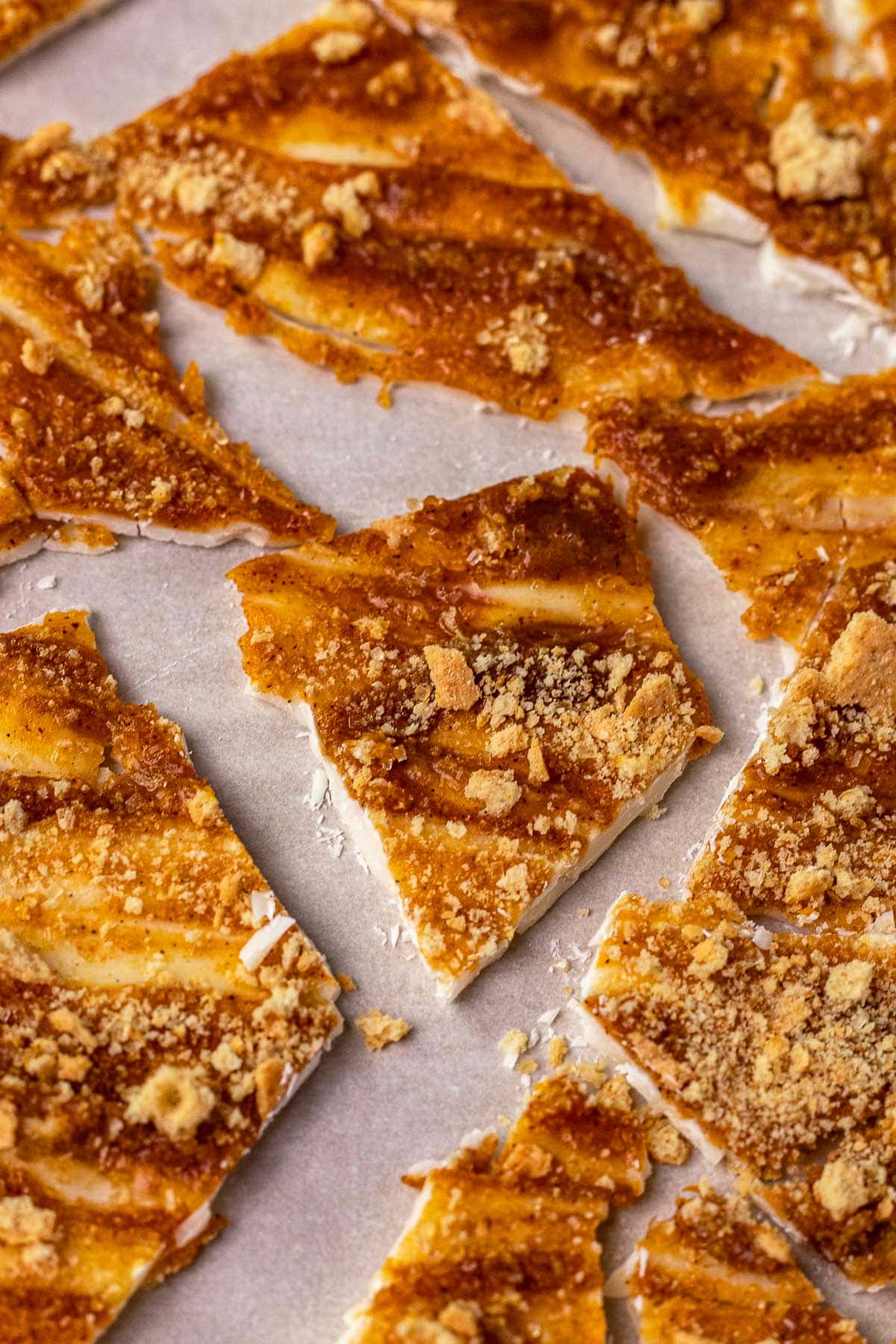 How to Store Pumpkin Spice Bark
Serve: Seal Pumpkin White Chocolate Bark in a Ziploc bag or another airtight container. It will stay good at room temperature for up to 2 weeks.
Store: You can also keep the sealed bark in the fridge for up to 3 weeks.
Freeze: Put the pieces of bark in your freezer bag with the layers separated by parchment paper so that they don't stick together. The bark will be good for 6 months.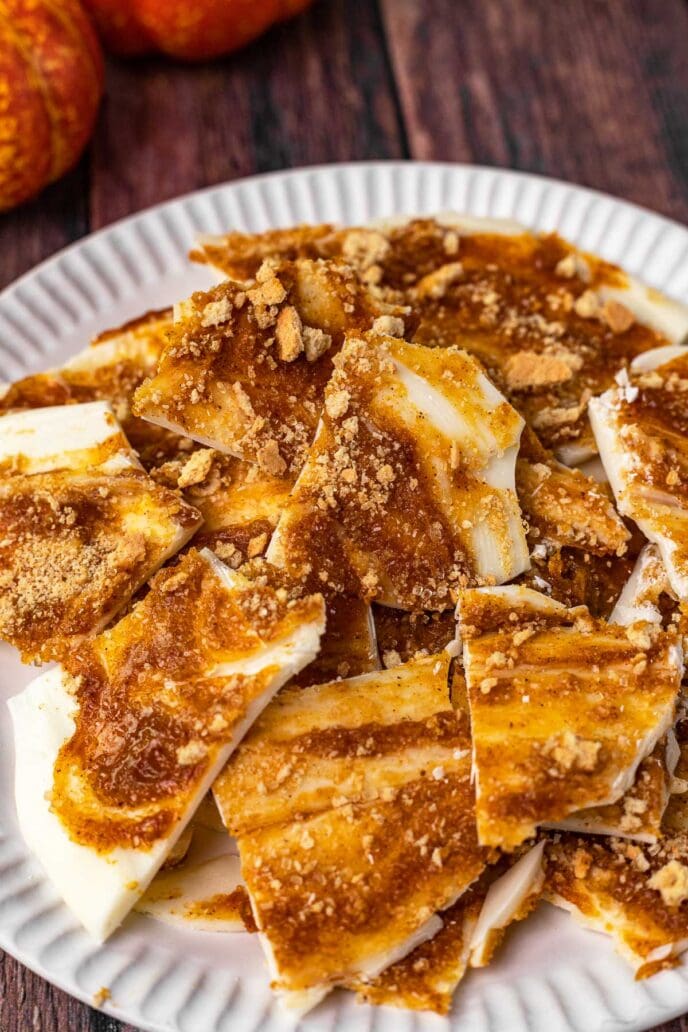 Ingredients
6

chewy caramel squares

, unwrapped and melted

3

tablespoons

pumpkin purée

(Recipe)

1/2

teaspoon

vanilla bean paste

1/2

teaspoon

pumpkin pie spice

12

ounces

white chocolate disks

, melted

2

tablespoons

graham cracker crumbs

2

tablespoons

coarse sanding sugar
Instructions
Line a baking sheet with parchment paper. Set aside.

Combine melted caramels, pumpkin purée, vanilla bean paste, and pumpkin spice until smooth.

Add in the vanilla bean seeds and pumpkin pie spice and stir until smooth.

Add white chocolate to the baking sheet and spread it into a large rectangle, about 10×14 inches.

Add the pumpkin mixture evenly, top with graham cracker crumbs and swirl gently with a toothpick or butter knife.

Top with coarse sanding sugar evenly, then refrigerate for

10 minutes

to harden before breaking into pieces.
Nutrition
Calories:
189
kcal
|
Carbohydrates:
24
g
|
Protein:
2
g
|
Fat:
10
g
|
Saturated Fat:
6
g
|
Polyunsaturated Fat:
0.5
g
|
Monounsaturated Fat:
3
g
|
Cholesterol:
6
mg
|
Sodium:
49
mg
|
Potassium:
103
mg
|
Fiber:
0.2
g
|
Sugar:
23
g
|
Vitamin A:
594
IU
|
Vitamin C:
0.3
mg
|
Calcium:
66
mg
|
Iron:
0.2
mg