Unicorn Bark is a fun treat with sweet pastel rainbow colors and sprinkles perfect for birthday parties. Super easy to make with 4 colors marbled together.
This easy Candy Recipe is wonderfully kid-friendly and great for special occasions. Often desserts like Peppermint Bark are made for Christmas, but this pastel bark is fitting for any time of year.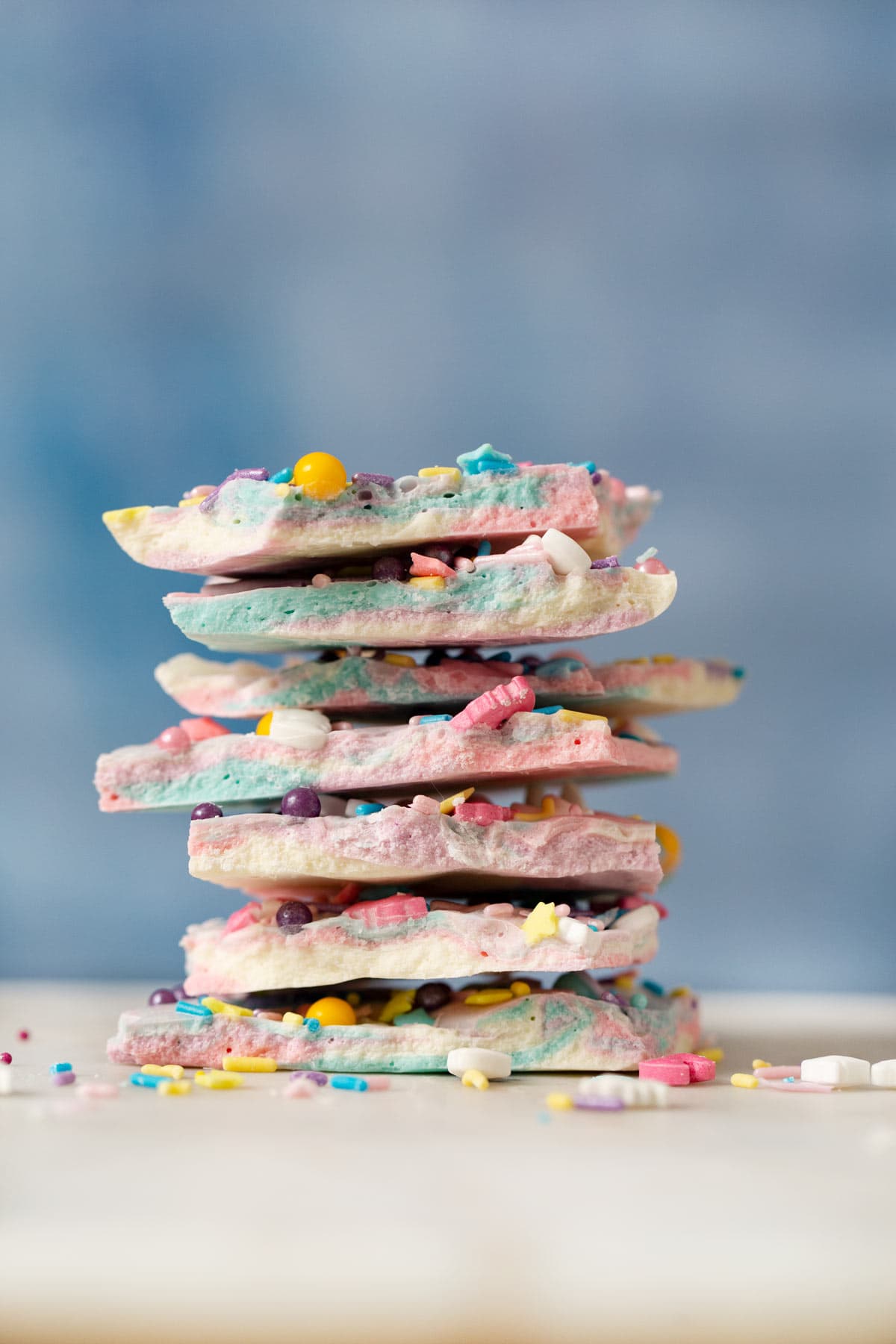 UNICORN BARK
This colorful treat is perfect for parties or to wrap up in gift bags and give them as an easy present. Sweet, pastel bark is made with purple, pink, and blue chocolate or almond bark marbled in a baking sheet. Then it's all topped with fun, festive sprinkles. You can add as many decorations as you want to this celebratory treat.
If you do make this treat for a Birthday party, serve it along with other fun, colorful desserts. Rainbow Cupcakes with Vanilla Cloud Frosting and M&M's Stuffed Easy Vanilla Cupcakes are both great desserts for a kid's party. You can also use Unicorn Bark as decorations for your birthday cake. After you've frosted your cake break apart the Unicorn Bark and place it over the cake for pastel decorations.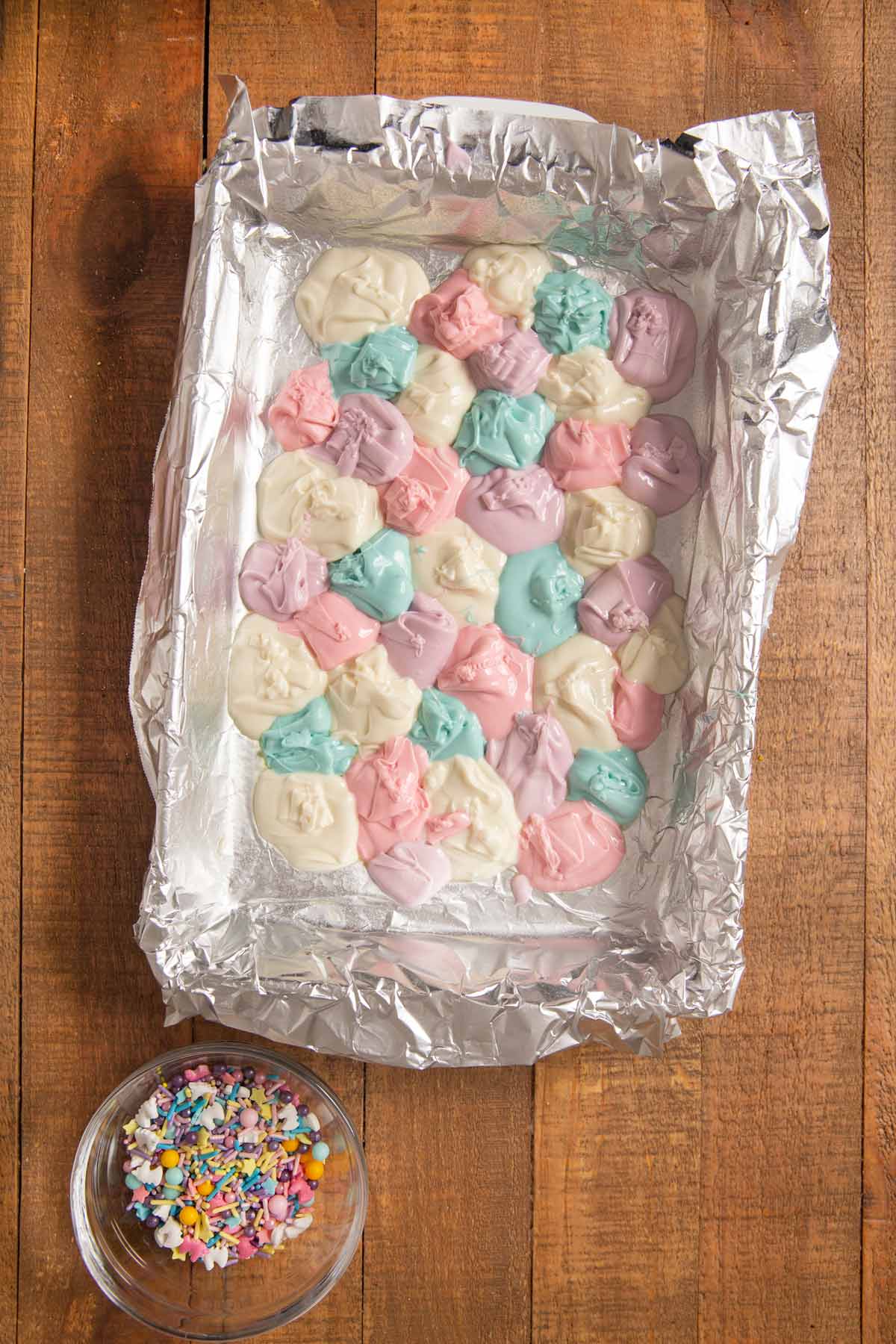 KID-FRIENDLY
This dessert is so bright and fun, it's sure to be a favorite with your kids. Along with them loving the end result, it's a great dessert for them to help make. This candy recipe is so simple that even younger kids can help to make it. All you have to do is melt the chocolate or almond bark in the microwave, then divide the melted chocolate into three separate bowls.
Probably the most fun part of making the Unicorn Bark is adding the food coloring. Once the chocolate is separated you just add a few drops of food coloring and mix it in. This is an especially great part for kids to help out with, and enjoy making the beautiful colors. The only other steps are adding the three colors to your baking sheet, putting on sprinkles, and refrigerating. All the steps are fun and easy!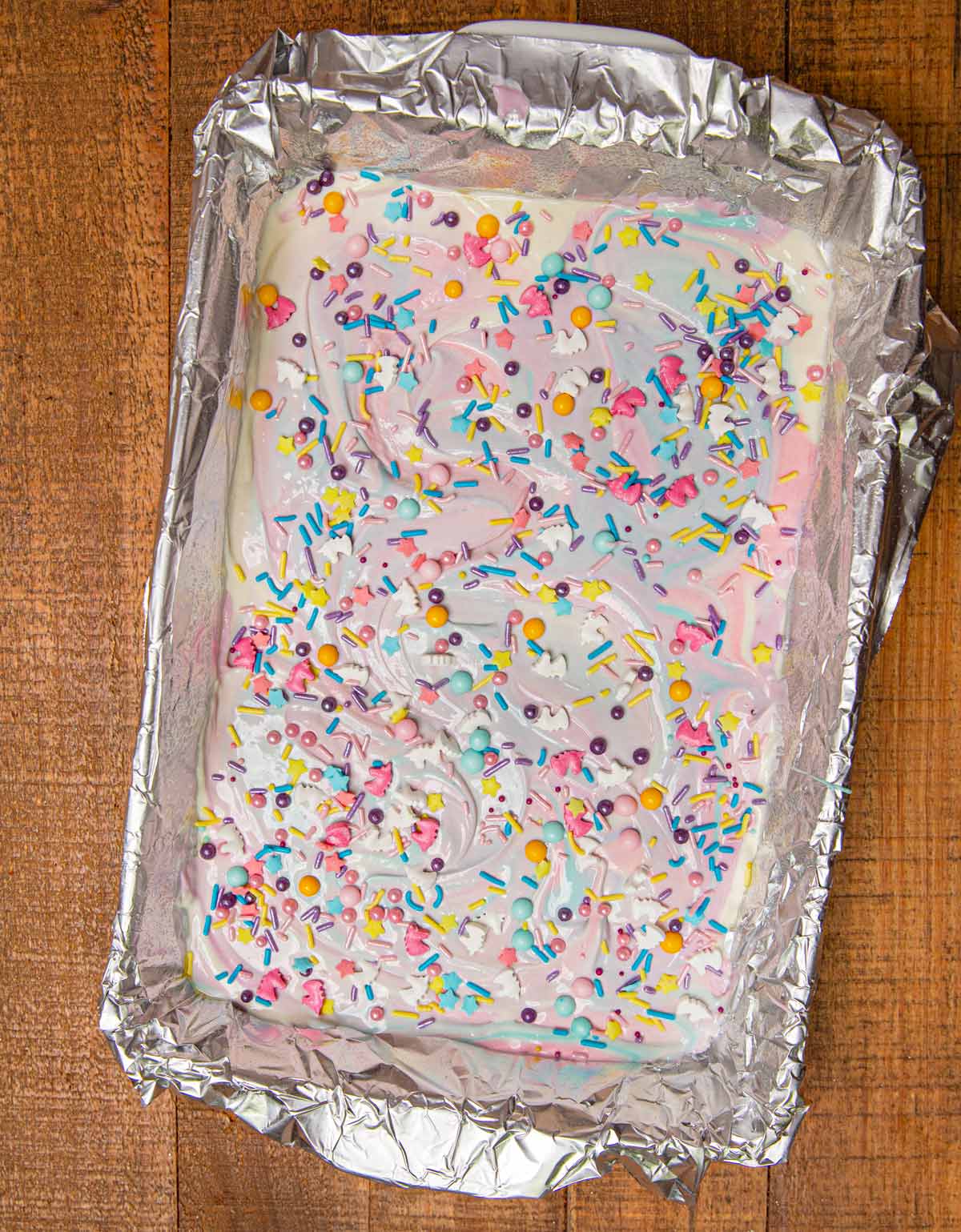 DECORATING IDEAS
Decorating the Unicorn Bark is one of the things that makes this recipe such a delight. There's no limit to how many sprinkles you can put on. Try adding rainbow sprinkles, colored sanding sugar, or metallic sprinkles. Whatever sprinkles you can find, you can put on this bark! You can also drizzle some extra melted chocolate over the bark.
To make your Unicorn Bark into individual chocolate pieces, pick up some chocolate molds. Once the chocolate is melted and colored just pour it into the molds. Using a chocolate mold, you can shape this candy however you like!
MORE BARK RECIPES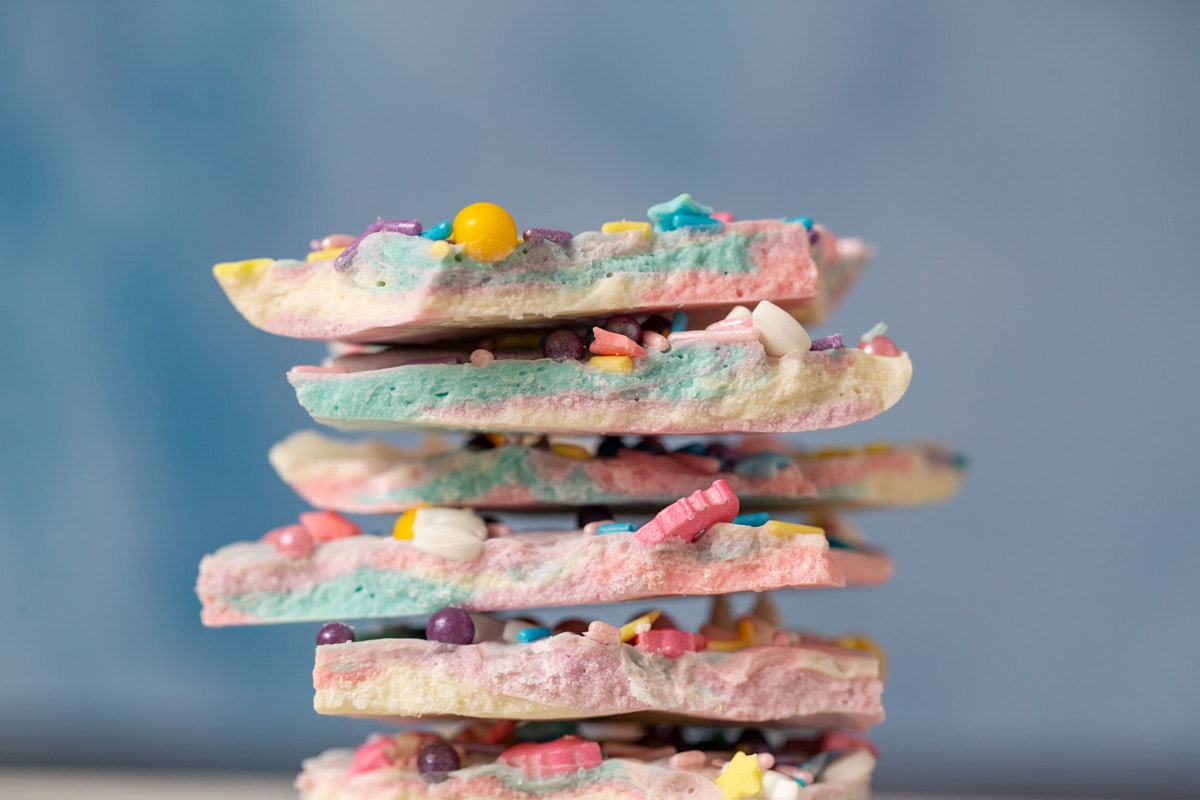 Create a free account to

Save Recipes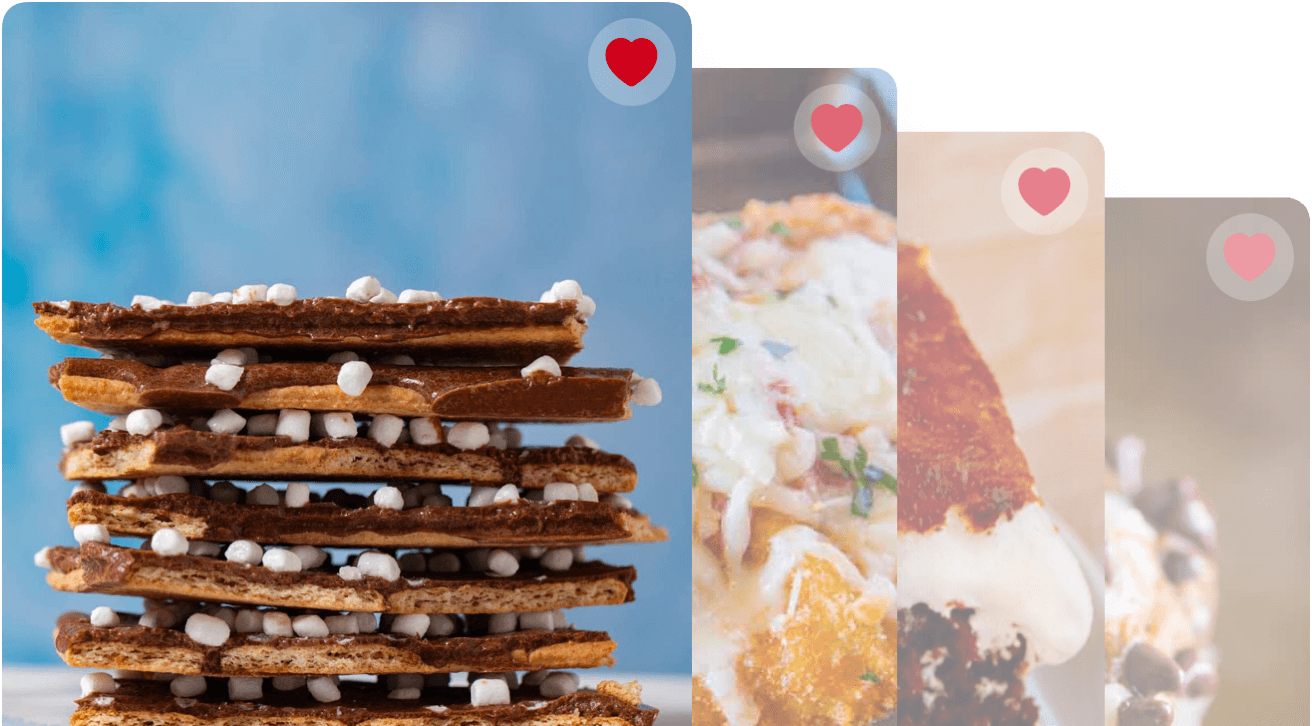 VARIATIONS ON UNICORN BARK
Chocolate: Instead of just using white chocolate you can melt some dark or milk chocolate to put in. You could also just drizzle chocolate over the top of white chocolate bark.
Themes: The great thing about this simple white chocolate bark is that you can use different food coloring and decorations to make it match the occasion you make it for. Try using red and green food coloring for some Christmas Bark. You could do red, white, and blue for the 4th. Orange and yellow would make a cute combination for Halloween.
Oreos: You can mix some Oreos into your Unicorn Bark. Break the Oreos apart and put them over the melted chocolate after adding it to the baking dish.
Nuts: For some extra crunch mix some chopped nuts into the melted chocolate. Pecans, walnuts, almonds, or peanuts are all great options.
MORE FUN RAINBOW TREATS
HOW TO STORE UNICORN BARK
Serve: You can keep Unicorn Bark at room temperature for up to 10 days. Keep it sealed in a plastic bag or other airtight container. It's best kept in a cool, dry place so it doesn't melt.
Store: If you're worried about your bark melting, wrap it up and store it in the fridge. It will keep well for up to 3 weeks.
Freeze: You can freeze candy bark for up to a full year as long as it's sealed. Put the pieces in a freezer bag separated by parchment paper for the best results.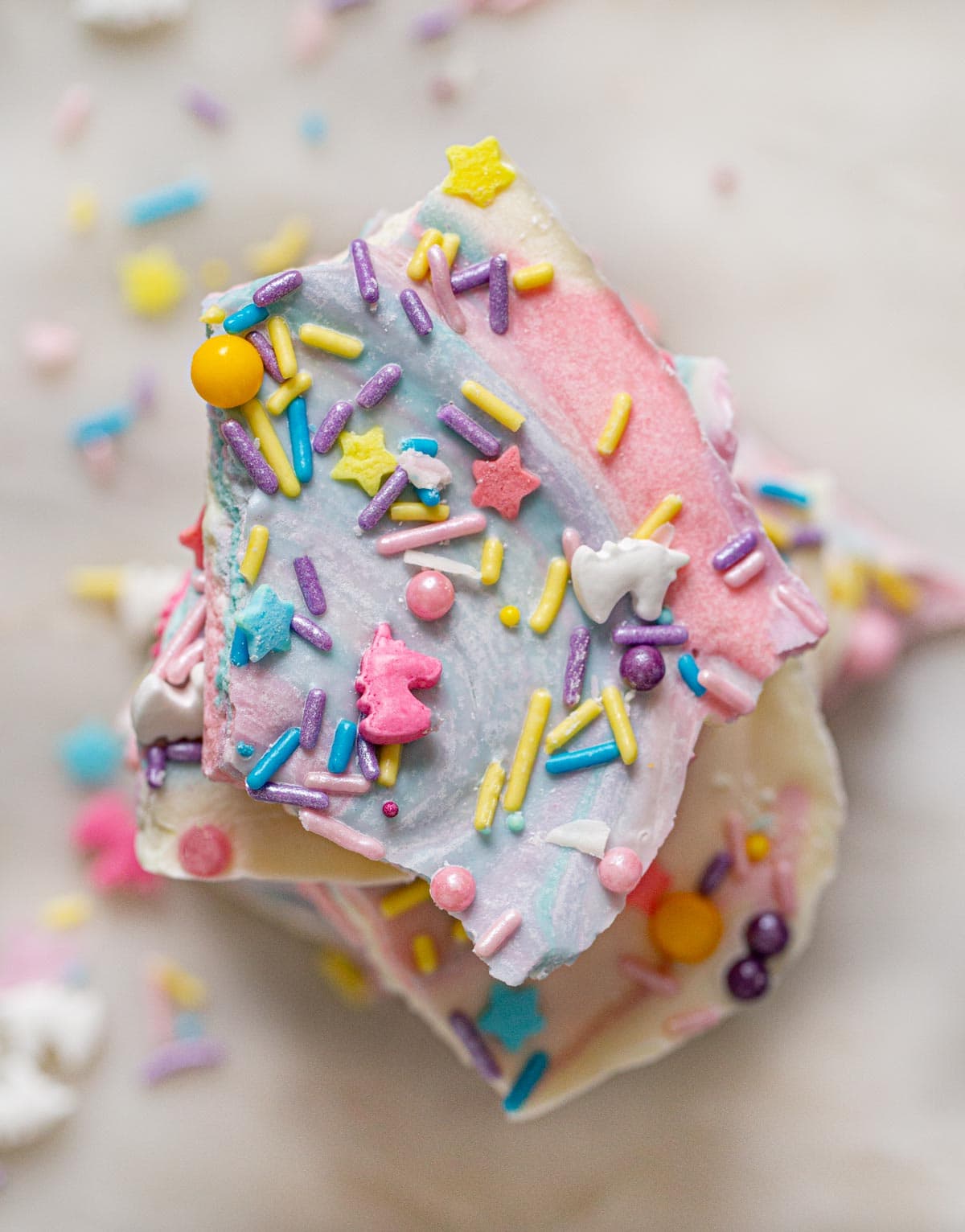 Instructions
Line a baking sheet with foil and spray with vegetable oil spray.

Add the white chocolate melting disks to the microwave for

1 minute

and stir until smooth.

If not melted add to microwave for additional

15 seconds

.

Split the bark into four bowls evenly.

Add the food coloring to each bowl and leave one bowl uncolored.

Stir the colored white chocolate until well mixed.

Add each bowl of white chocolate to the pan, dotting spoonfuls of alternate colors near each other.

Using an offset spatula or butter knife, spread the colors together.

Top with unicorn sprinkles.

Refrigerate for

20 minutes

or until white chocolate has hardened before breaking apart.
Nutrition
Calories:
243
kcal
|
Carbohydrates:
28
g
|
Protein:
2
g
|
Fat:
14
g
|
Saturated Fat:
8
g
|
Cholesterol:
9
mg
|
Sodium:
38
mg
|
Potassium:
122
mg
|
Fiber:
1
g
|
Sugar:
28
g
|
Vitamin A:
13
IU
|
Vitamin C:
1
mg
|
Calcium:
85
mg
|
Iron:
1
mg