Banana Bundt Cake is an easy beautiful and moist banana cake with ripe bananas, ginger, nutmeg, and cinnamon, topped with cream cheese icing.
Do you have any ripe bananas that you need to use up or are you just craving a delicious banana Dessert? Instead of reaching for your favorite Banana Bread recipe, why not try this stunning, yet super easy Cake!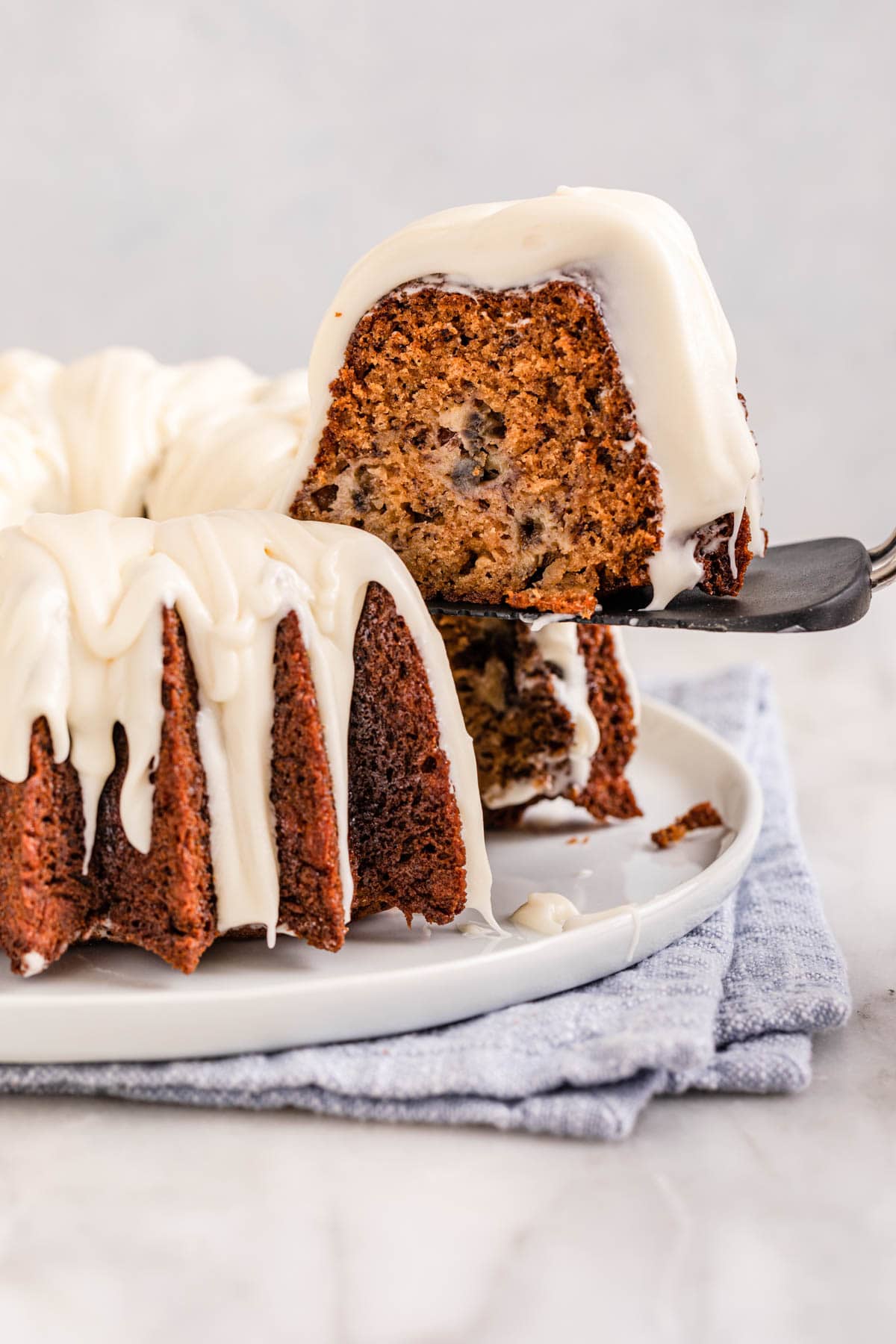 This delicious, showstopping Banana Bundt Cake is sure to be a new favorite cake recipe. The mashed banana makes it ultra moist and tender, and gives it tons of sweet banana flavor. Along with the bananas, it is filled with warm spices for a comforting flavor that makes any banana recipe absolutely perfect.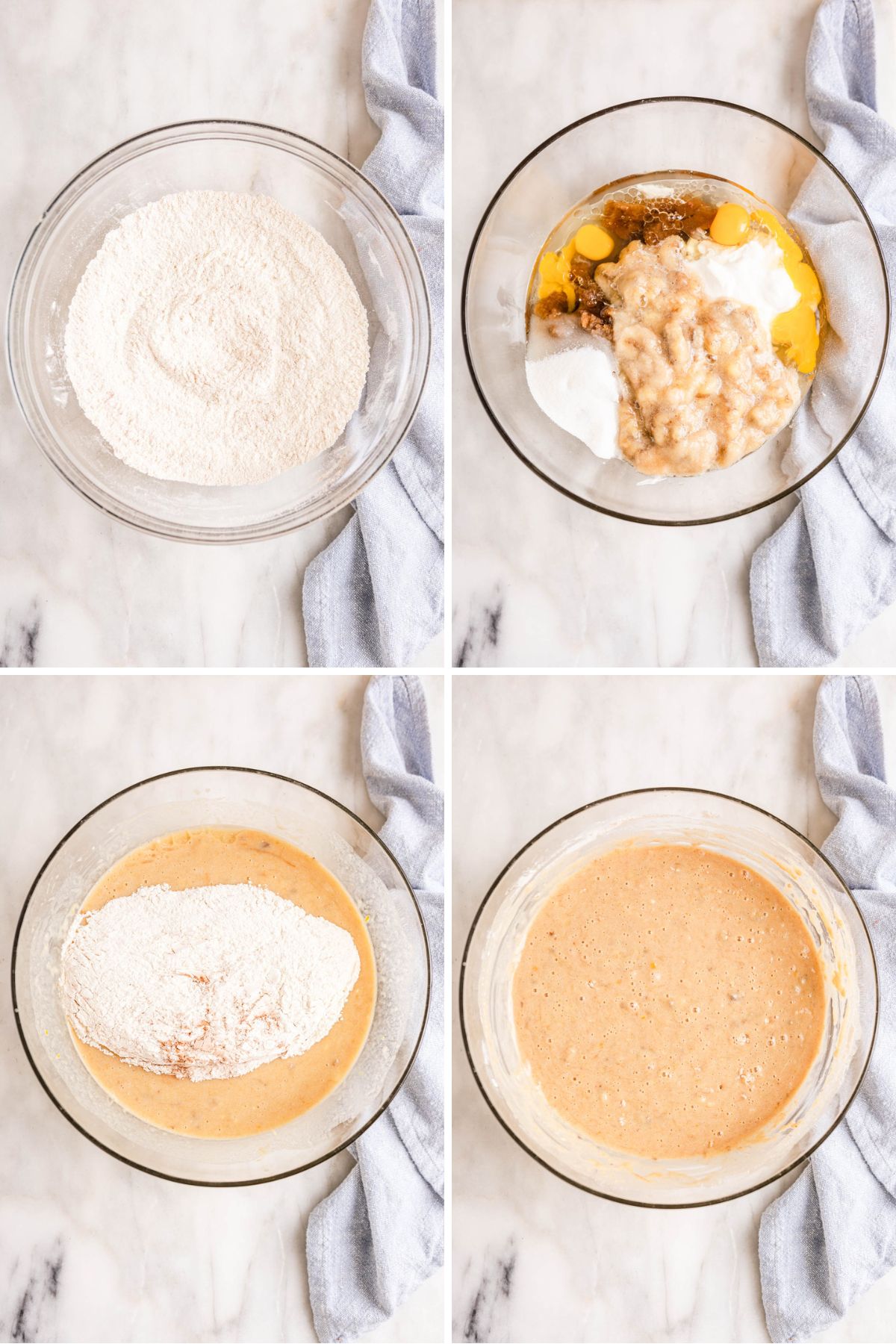 You can whip up this Banana Bunt Cake any time you have a sweet tooth and some ripe bananas ready to go. The prep time is super easy. Honestly, the hardest part of the whole recipe is being patient through the hour bake time. But, once it's finished baking, you'll have a delicious banana cake that looks stunning right out of the pan. The sweet and tangy Cream Cheese Frosting makes it even more beautiful and tastes amazing with all the warm spices and sweet banana flavor.
You can honestly serve this gorgeous but easy Banana Bundt Cake for so many occasions. It's a casual enough dessert that you can just bake it for you and your family to eat after dinner. Pop the leftovers in the fridge and enjoy them for later (maybe even for breakfast in the morning). You could also dress it up by adding a dusting of cinnamon or a drizzle of Caramel Sauce to serve during the holidays.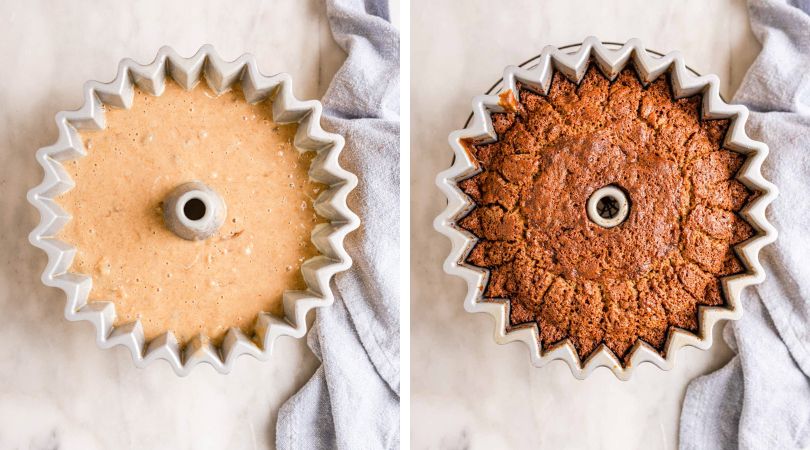 How to Make Banana Bundt Cake
Prep: Preheat the oven. Spray the bundt pan with nonstick cooking spray. You can also brush with oil or use cooking spray, then lightly dust the entire inside of the pan with flour.
Batter: Whisk together the mashed bananas, both sugars, sour cream, vegetable oil, and eggs, until they're smooth. Sift the dry ingredients into a separate bowl. Whisk the flour mixture into the wet ingredients until just combined, careful not to over-mix.
Bake: Pour the cake batter into the bundt pan, shaking a little to even. Bake for 60-65 minutes. Use a toothpick to test if it's done when you take the cake from the oven. It should come out clean with moist crumbs.
Remove Cake: Rest on a wire rack to cool for 15 minutes before placing a plate top side down over the cake pan. Holding together, invert the plate and pan then let the cake naturally slide out. Gently jiggle the pan little if needed, but don't shake too hard or the cake may break apart.
Icing: Add the softened butter, softened cream cheese, and vanilla to your stand mixer. Whip them together for 2-3 minutes at medium speed. Lower mixer speed to add powdered sugar. Once just combined raise the speed again for 30 seconds.
Frost: Pour the icing over the cooled, baked cake, using a rubber spatula to spread it if necessary. Make sure some of the icing goes down the sides and into the center tube. Slice and serve.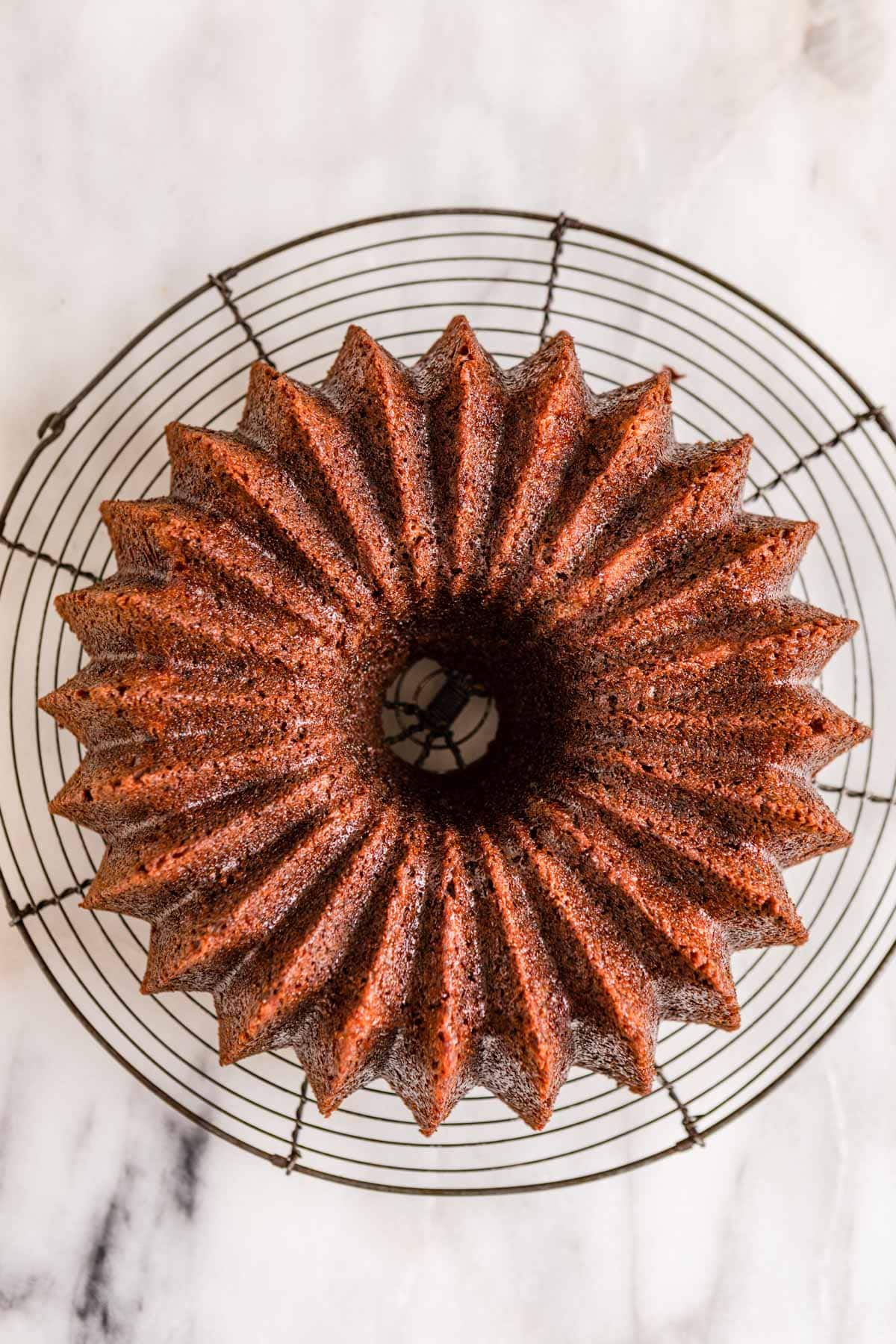 FAQs for
Banana Bundt Cake
What makes a bundt cake different from regular cake?
A bundt cake is different from a regular cake in that it is baked in a bundt pan that has a distinctive ring shape, deep well for a taller cake, and varying decorative designs that bake into the side of the cake. While it is baked longer because of the deeper pan, the hollow center allows for even heat distribution resulting in a moist and tender cake.
What is the point of bundt cake pan?
The tube-shaped center of a bundt pan allows for even distribution of heat and the shape of the pan allows for a greater surface area to be exposed to the oven's heat, resulting in a cake that bakes evenly and stays moist, tender throughout. Additionally, the hole in the center allows for a more even distribution of glazes or other toppings.
What is the trick to getting cake out of a bundt pan?
To get a cake out of a bundt pan, it is important to thoroughly grease and flour the pan before pouring in the batter, and then let the cake cool in the pan for about 10 minutes before carefully running a knife around the edges and inverting the pan onto a wire rack.
Can I use frozen bananas in this cake?
Yes, you can use frozen bananas in this banana cake recipe if you have them on hand. You will need to thaw them first and then mash them well, and drain off any excess liquid before adding to the batter so its not too runny.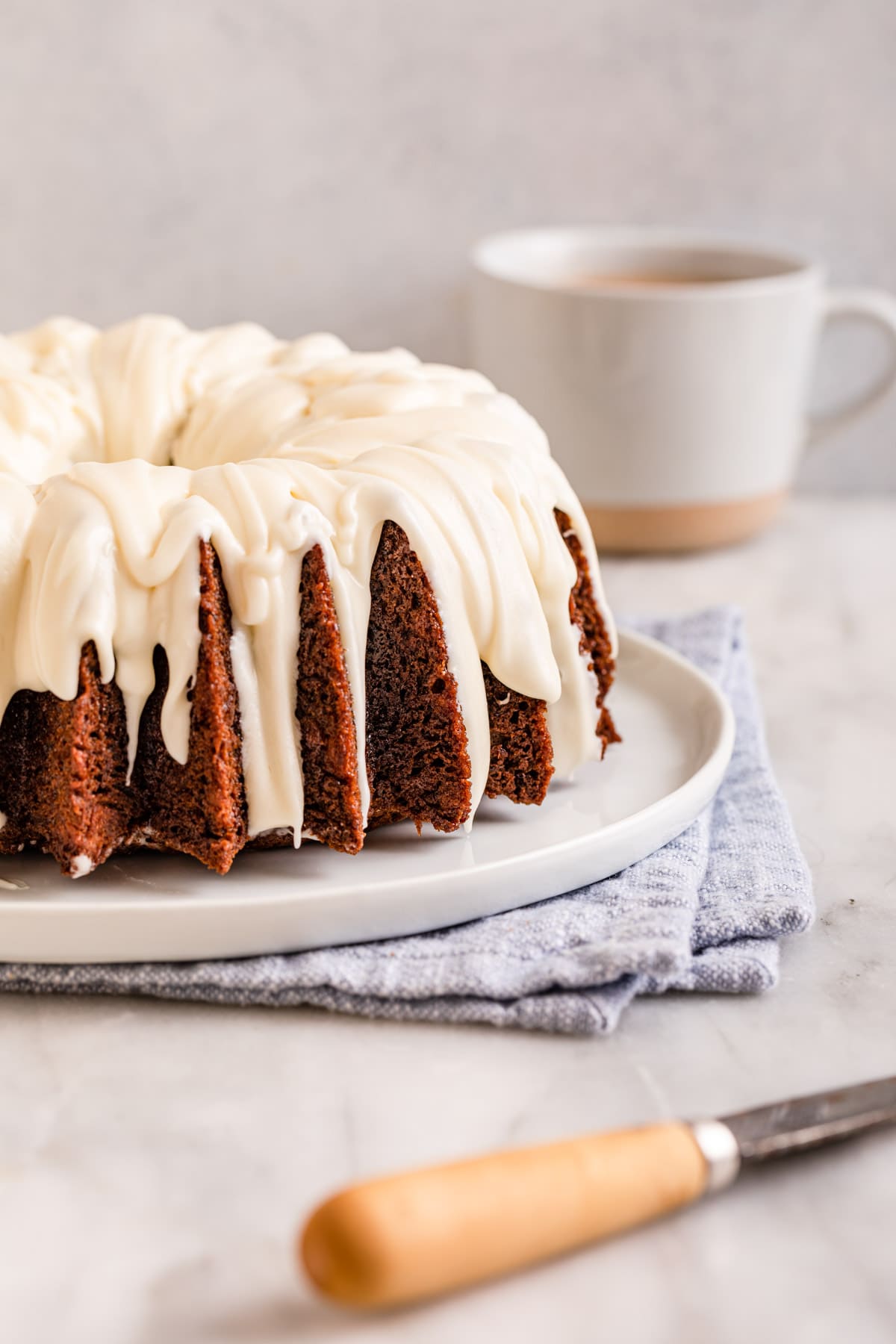 Create a free account to

Save Recipes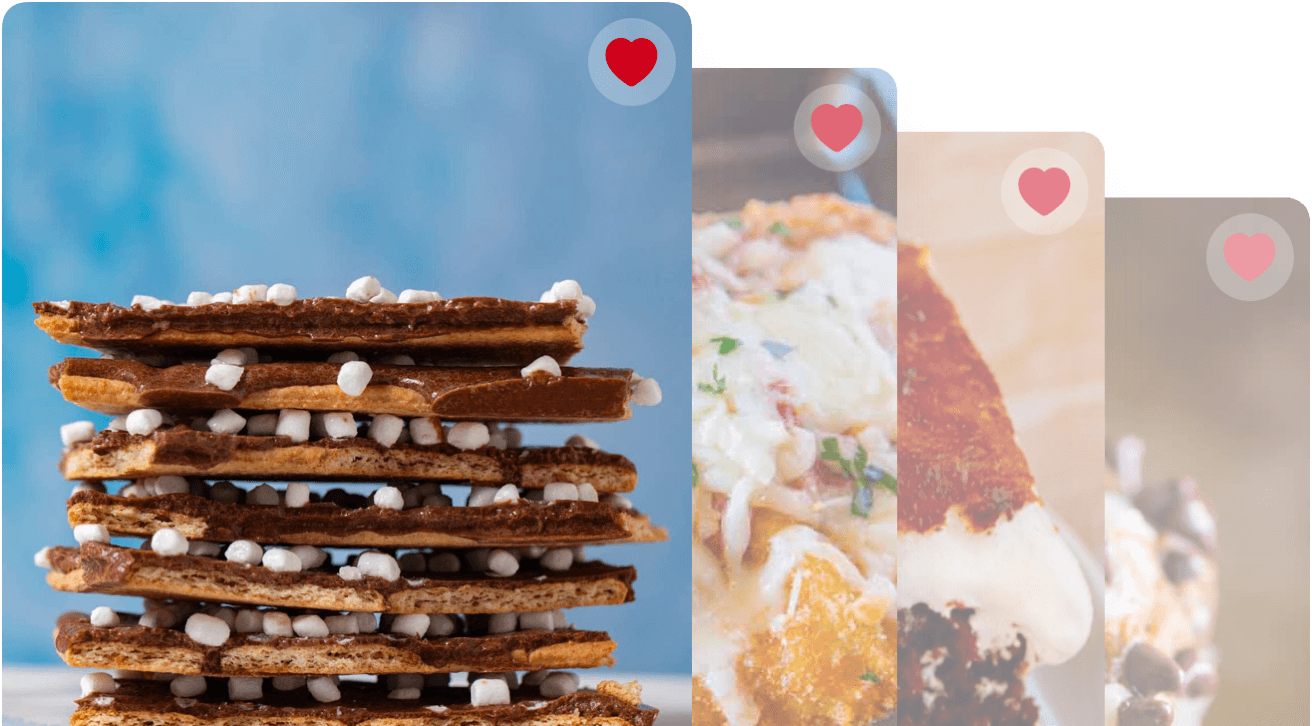 Key Ingredients
Bananas: You want to make sure you use ripe to almost overripe bananas to get the ultimate sweetness and banana flavor. The bananas should be soft with peels that have lots of brown spots without being completely brown or black.
Sour cream: Along with the banana, the sour cream helps make this an amazingly tender cake. Plus, the sour cream also adds a slight tang that goes perfectly with the cream cheese glaze.
Sugar: You want to use a combination of granulated sugar and brown sugar for this cake batter. Brown sugar adds more moisture, while the white sugar gives it some structure. Brown sugar also adds a rich, caramel flavor from the molasses.
Spices: Adding warm baking spices like ginger, nutmeg, and cinnamon is the perfect way to offset the sweet flavors. These flavors are a classic pairing for banana and pumpkin desserts.
Icing: For the cream cheese icing all you need is butter, cream cheese, vanilla, and powdered sugar. Cream cheese adds a tangy flavor that balances out all the sweetness in the cake and tastes delicious with banana.
Variations
Mix-ins: You can add your favorite mix-ins to experiment with the flavor and texture. Try folding in some chocolate chips or butterscotch chips. Or, make a banana-nut cake by folding in chopped pecans, almonds, or walnuts.
Eggnog: To make a banana cake perfect for the holidays, add ½ cup Eggnog to the cake batter. This may make the recipe too runny. If that's the case, add in a little extra flour until it reaches the right consistency, then bake as usual. Add some nutmeg to the frosting for more eggnog flavor.
Vanilla Glaze: Instead of the cream cheese icing, you could make the cake with vanilla glaze. For a simple vanilla glaze, use 2 cups sifted confectioners' sugar, ¼ cup melted butter, 2 tablespoons milk, and 1 ½ teaspoons vanilla extract. Combine the wet ingredients. Add the sugar at a low mixing speed until well combined. Once it's smooth, top the cake with glaze to finish.
Mini Banana Cakes: You can use a mini bundt cake pan or a cupcake pan to make mini banana cakes instead. Make the batter as usual, and distribute evenly, filling the wells about 2/3 full. They should take about 18-22 minutes to bake, depending on the size of your pans.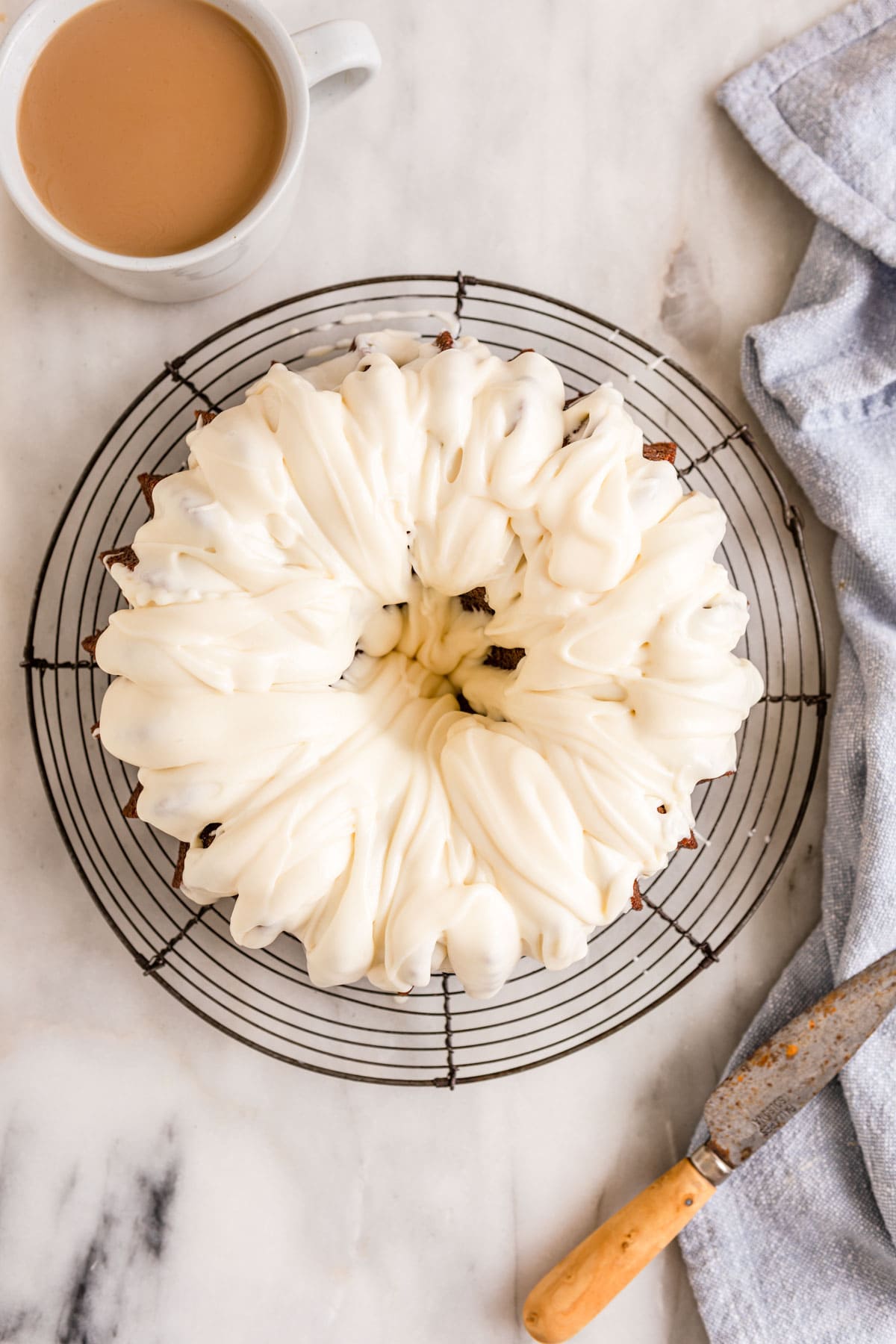 More Easy and Tasty Banana Cakes!
How to Store
Serve: Due to the cream cheese in the icing, this cake can be at room temperature for up to 2 hours max before it should be chilled. However, a naked Banana Bundt Cake can be kept covered for up to 3 days at room temperature.
Store: Cover the frosted cake loosely with foil or plastic wrap, or transfer to a storage container. This cake will keep for about a week in the fridge. Set it out at room temp for a little bit to soften the cake and frosting before serving.
Freeze: You can freeze the whole cake or individual slices for up to 6 months. Freeze cake on a tray or plate until the frosting is solid, then wrap tightly in plastic wrap and a layer of foil. Thaw the cake unwrapped at room temp before serving.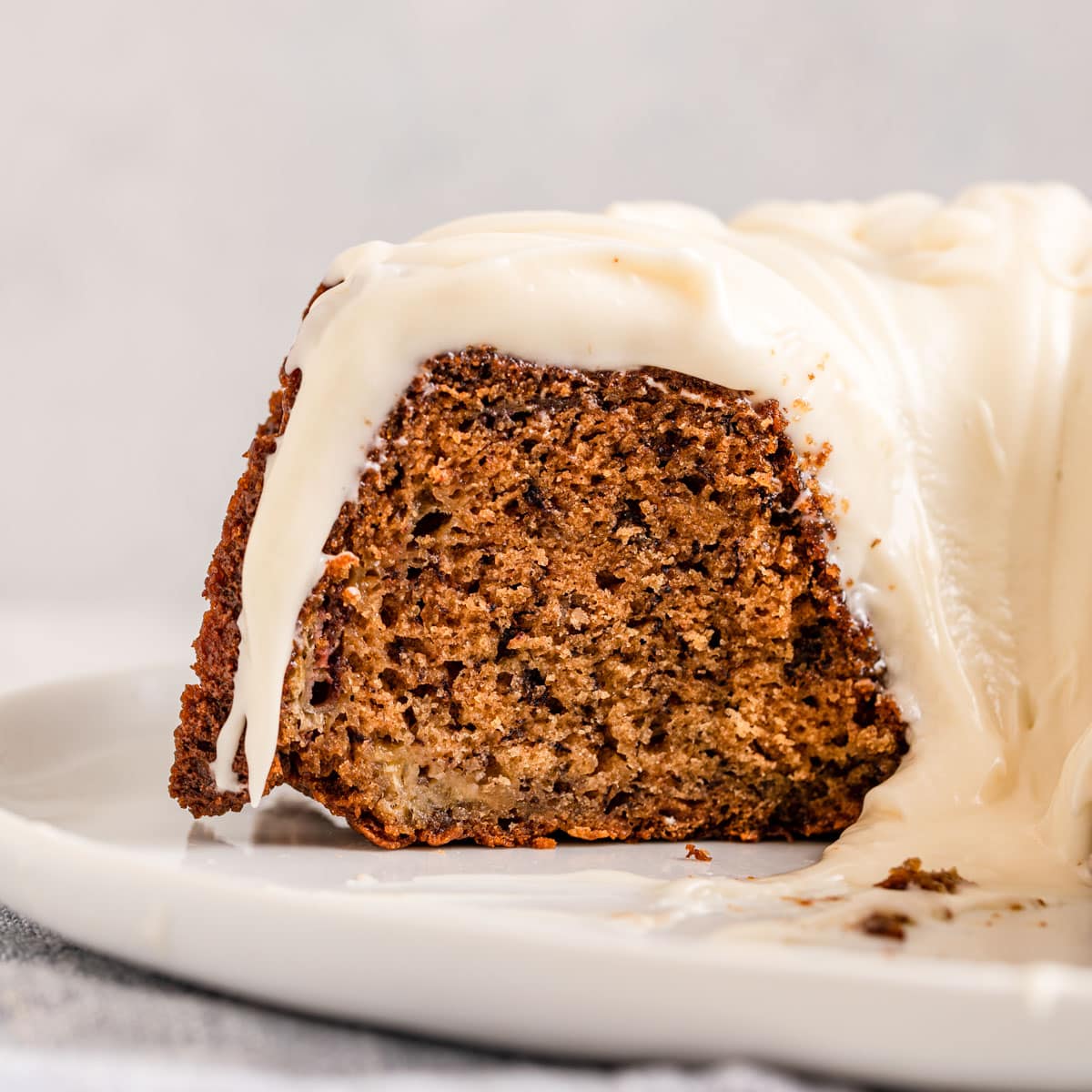 Ingredients
Banana Bundt Cake:
2

cups

very ripe bananas

, (about 4 bananas) mashed

1

cup

dark brown sugar

, packed

3/4

sugar

2/3

cup

sour cream

1/2

cup

vegetable oil

3

large

eggs

2

cups

flour

2

teaspoons

baking soda

1

teaspoon

cinnamon

1/4

teaspoon

nutmeg

1/4

teaspoon

ground ginger

1/2

teaspoon

salt
Cream Cheese Icing:
4

tablespoons

unsalted butter

, softened

4

ounces

cream cheese

, softened

1/2

teaspoon

vanilla extract

3

cups

powdered sugar
Instructions
Banana Bundt Cake:
Preheat oven to 350 degrees, spray bundt pan with baking spray.

Whisk together the bananas, dark brown sugar, sugar, sour cream, vegetable oil and eggs until smooth.

Sift together flour, baking soda, cinnamon, nutmeg, ginger and salt.

Whisk the dry ingredients into the wet ingredients.

Spray a 10″ bundt pan well with baking spray.

Add the batter evenly to your bundt pan.

Bake for

60-65 minutes

or until a toothpick comes out clean.
Cream Cheese Icing:
To your stand mixer add the butter, cream cheese and vanilla extract on medium high speed and whip for

2-3 minutes

until light and fluffy.

Lower the speed to the lowest setting and add in the powdered sugar until just combined.

Raise speed to medium until fluffy for

30 seconds.

Pour over the cooled cake.
Nutrition
Calories:
344
kcal
|
Carbohydrates:
53
g
|
Protein:
4
g
|
Fat:
14
g
|
Saturated Fat:
9
g
|
Polyunsaturated Fat:
1
g
|
Monounsaturated Fat:
3
g
|
Trans Fat:
1
g
|
Cholesterol:
51
mg
|
Sodium:
269
mg
|
Potassium:
149
mg
|
Fiber:
1
g
|
Sugar:
38
g
|
Vitamin A:
249
IU
|
Vitamin C:
2
mg
|
Calcium:
43
mg
|
Iron:
1
mg