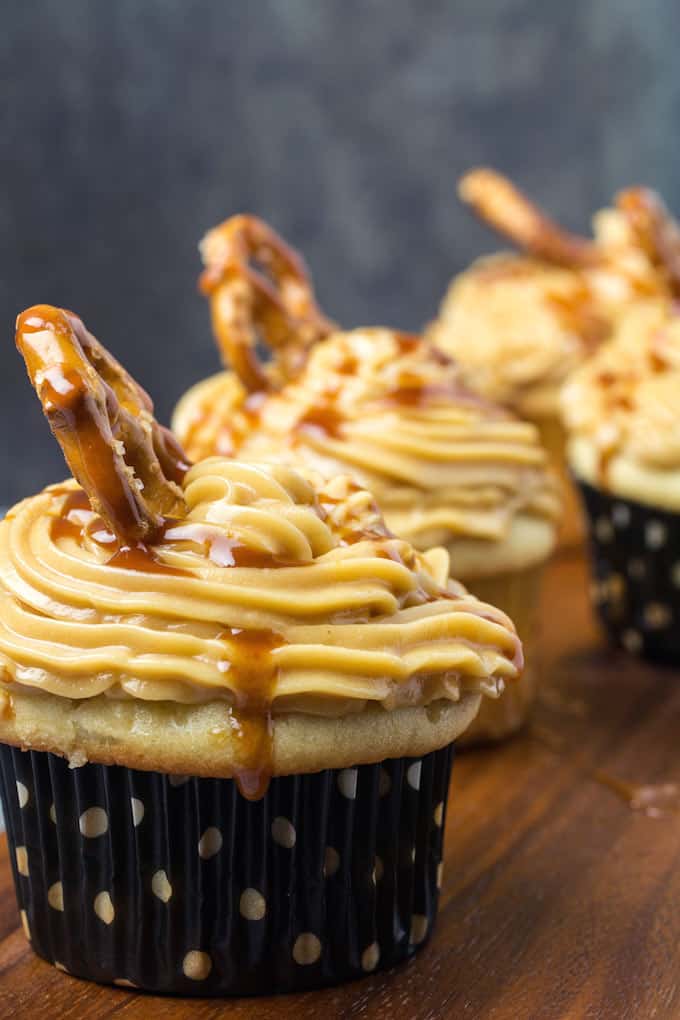 If you love the combination of sweet and salty, then these Gluten Free Salted Caramel Cupcakes are definitely for you. The decadent flavors of buttercream frosting combined with homemade salted caramel sauce on top of a vanilla cupcake come together to form a sweet and buttery treat. It just doesn't get any better than this.
These cakes are light, fluffy, and full of flavor. Best of all? They're gluten free, but you'd never guess it by the texture or flavor!
In case you are thinking, "hey Sabrina, this is your first gluten free treat for us"… yes! You are right! And it is courtesy of my close blogging friend Jacqui, whose blog is an amazing display of gluten-free deliciousness. Since I have been traveling non-stop recently she offered to pop in and share these AMAZING cupcakes and I jumped at the chance to have them share them with all of you! So without further ado….
Hello, I'm Jacqui from DishingDelish.com! I'm a fun-loving gluten free cook who's passionate about sharing easy homemade recipes. During the day I work as a full-time food scientist in New York City, but at night I'm a chef, food photographer, and writer.  I hope you stop by and visit me at Dishing Delish, where you'll find recipes of all kinds that I know you're going to love!
I'm so happy my friend Sabrina has been nice enough to let me come over here today. I love browsing through Dinner, Then Dessert (so many recipes, so little time!), and can't wait to share one of my all-time favorite cupcake recipes with you today, the Gluten Free Salted Caramel Cupcake. Thank you, Sabrina!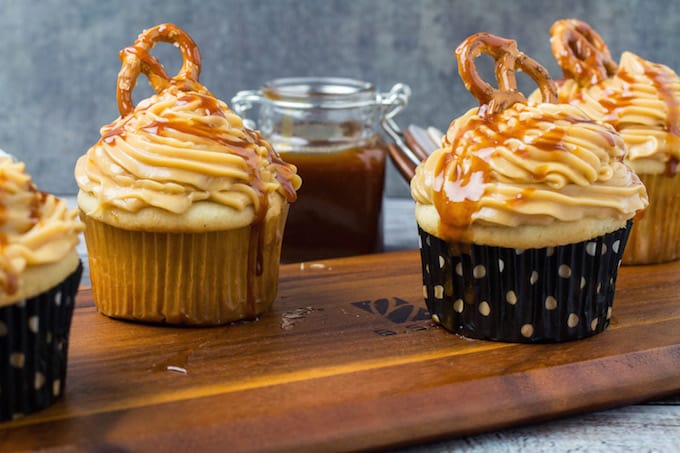 Let's talk about the caramel sauce first. It's surprisingly easy to make! You won't even need a candy thermometer.
In the first step you need to melt the sugar. I highly recommend using a bigger pot than you think you need for this one. When you add the butter and cream, the liquid sugar will bubble and rise, and the last thing you want is for it to boil over. I also recommend using a long spoon to keep your hand further from the hot sugar.
The great thing about this sauce is that it will last for up to two weeks in the refrigerator, and you can even give it as a gift. Attach a recipe or a bag of pretzels to a cute little jar for a treat everyone is going to ask for over and over again.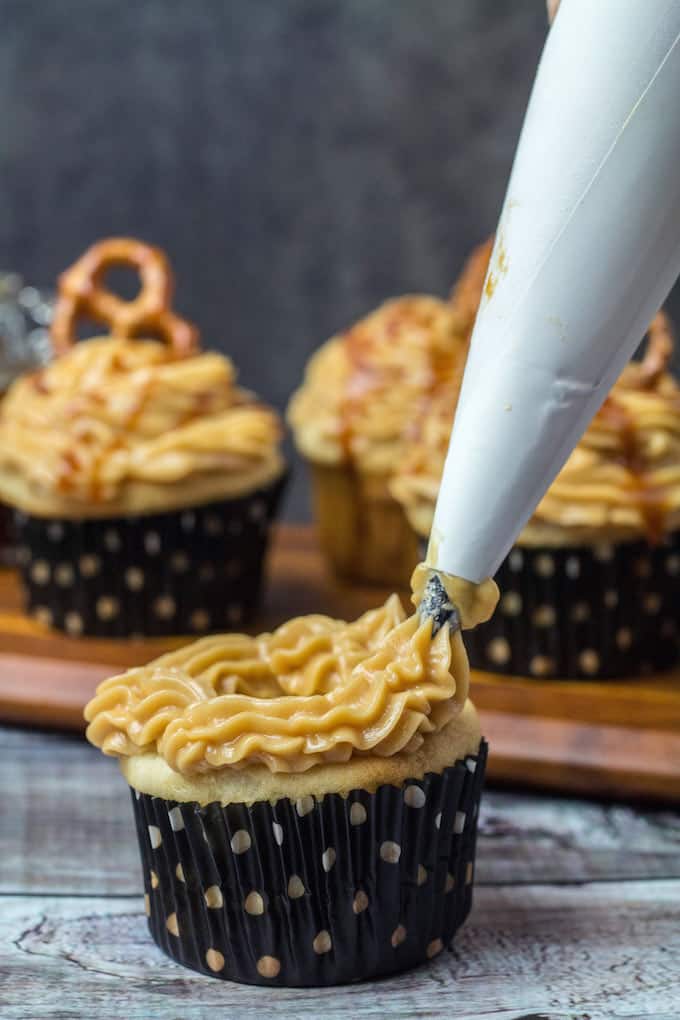 Now it's time to eat talk about buttercream frosting. Ok, first we'll talk, then we'll eat. Deal?
This is a pretty basic recipe for buttercream frosting, with a few special additions (like caramel and cream cheese).
I have a few simple tips to help you make amazing buttercream frosting:
It's important to let the butter soften to room temperature before working with it. This will ensure that your ingredients will mix together nicely, and you won't have big pieces of butter throughout your frosting.
If your frosting is too warm after you make it, you can refrigerate it for a half hour to an hour to get it cold enough to work with. Any more than that (like overnight) and you'll have to leave it on the counter to come back to room temperature.
Never frost warm cakes. Your icing will melt if your cakes haven't cooled completely.
Now it's time for the good stuff, decorating! You can top these salted caramel cupcakes with anything that goes well with salted caramel. I used gluten free pretzels here, but you can also add chocolate, caramel candies, or other salty snacks like nuts.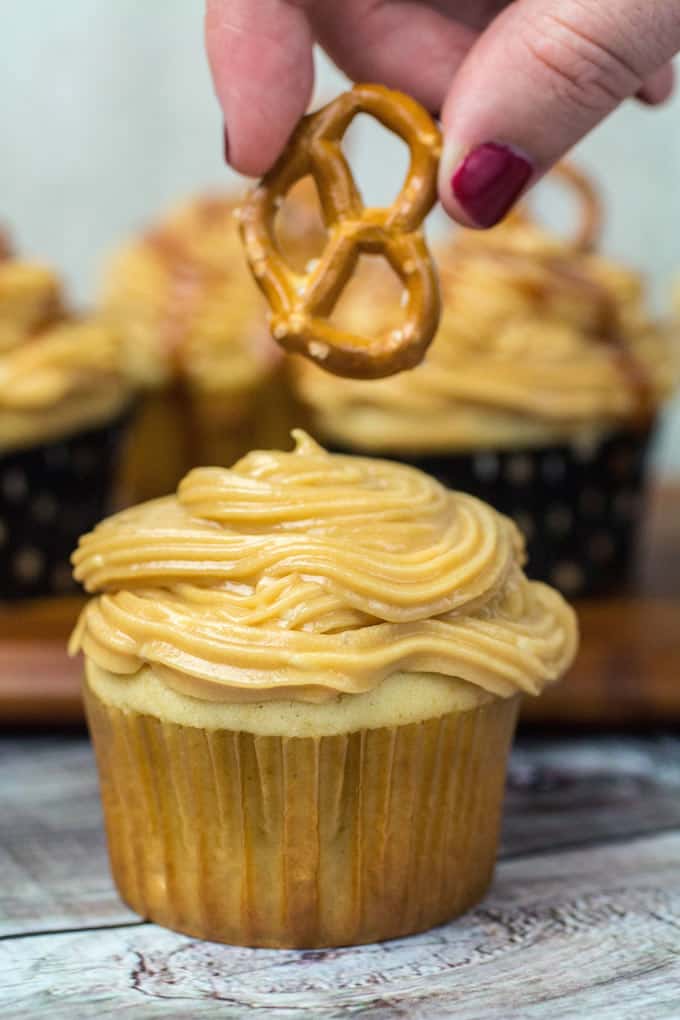 Then drizzle with as much caramel sauce as you'd like! Add a little drizzle, or a big ole' spoonful. It's up to you.
Personally, I'm on team Big Spoonful anytime it comes to Salted Caramel Cupcakes.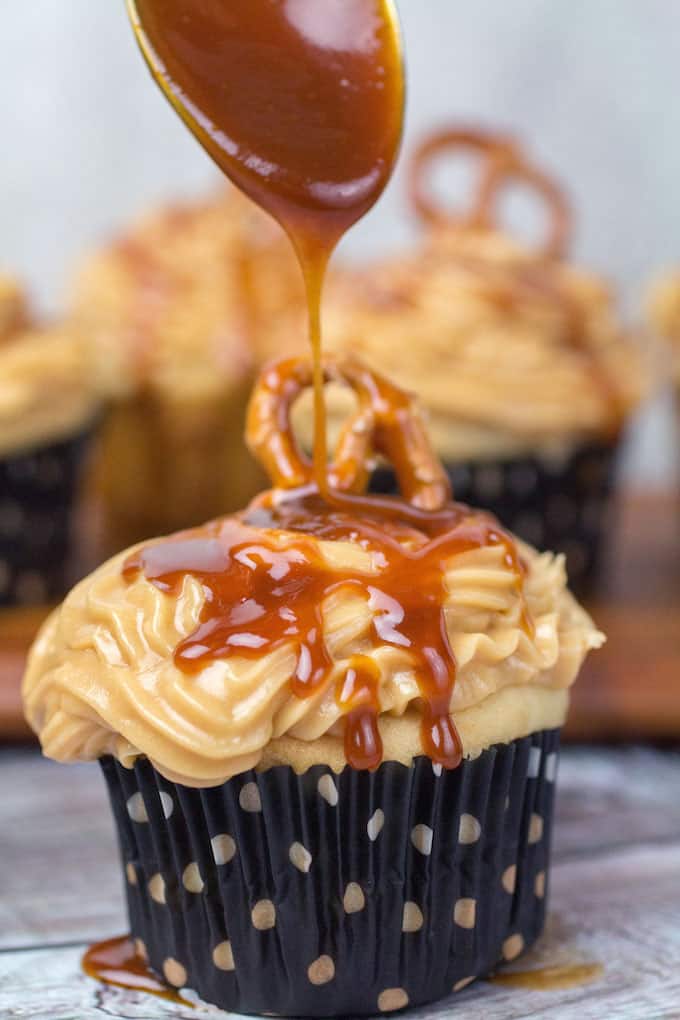 Jacqui is a New York-based author, food stylist, food photographer, and recipe developer. For more great recipes like this, visit her at DishingDelish.com, a food blog that focuses on easy gluten free recipes for the home cook.  She also loves to connect on Pinterest, Facebook and Twitter!


Ingredients
For the Cupcakes
210

grams

Gluten Free All Purpose Flour

(about 1 ¼ cup, depending on your flour blend)

1

cup

white sugar

1/2

cup

unsalted butter

2

eggs

3/4

cup

light cream

1

tbsp

. vanilla extract

1 1/2

tsp

. baking powder

1/4

tsp

. kosher salt
For the Caramel Sauce
1

cup

white sugar

6

tbsp

. unsalted butter

, at room temperature, cut into pieces

1/2

cup

heavy cream

1/2

tsp

. kosher salt

1/2

tsp

. vanilla extract
For the Buttercream Frosting
Additional Topping
Gluten Free Pretzels

(optional)
Instructions
For the Cupcakes
Preheat oven to 350°F. Grease or add liners to cupcake pan and set aside.

Using a stand mixer or electric hand mixer, beat together butter, sugar, and vanilla.

Then beat in eggs until combined.

In a separate bowl, combine flour, baking powder, and salt.

Add flour mixture to butter mixture slowly until fully incorporated.

Slowly add cream until all ingredients are fully mixed together.

Add batter to cupcake pan evenly. Bake for

20-25 minutes,

or until a toothpick comes out clean.

Remove cakes from oven and allow to cool completely before frosting.

When cupcakes are completely cool, pipe frosting on top and garnish with a gluten free pretzel (optional) and an additional drizzle of salted caramel.
For the Caramel Sauce
In a large pot, add sugar and cook over medium-low heat.

When sugar begins to melt, stir constantly until completely liquid and it begins to turn caramel-brown.

Carefully add butter and continue to stir. This will rapidly bubble and rise slightly.

Once butter is melted, slowly add cream and vanilla extract.

Stir in kosher salt and remove from heat to cool to room temperature before using in buttercream.
For the Buttercream Frosting
In a stand mixer (or with an electric hand mixer) beat together butter, cream cheese, and vanilla extract. Slowly sift in sugar while still mixing.

When sugar is fully incorporated, add (cooled) caramel sauce. Beat for a few additional seconds to fully incorporate caramel sauce.
Notes
Be very careful when working with hot sugar. For the caramel sauce, use a bigger pot and long spoon.
Nutrition
Calories:
722
kcal
|
Carbohydrates:
98
g
|
Protein:
3
g
|
Fat:
37
g
|
Saturated Fat:
22
g
|
Cholesterol:
129
mg
|
Sodium:
245
mg
|
Potassium:
113
mg
|
Fiber:
1
g
|
Sugar:
73
g
|
Vitamin A:
1215
IU
|
Calcium:
75
mg
|
Iron:
0.8
mg