Pumpkin Cupcakes are the perfect Fall treat! Moist, rich, bursting with pumpkin and spice flavor and topped with tangy cream cheese frosting.
There's no denying that Pumpkin Pie is the reigning champion when it comes to classic harvest time Dessert Recipes. When you want to mix things up you can get the same pumpkin flavor in a sweeter treat with these easy mini cakes!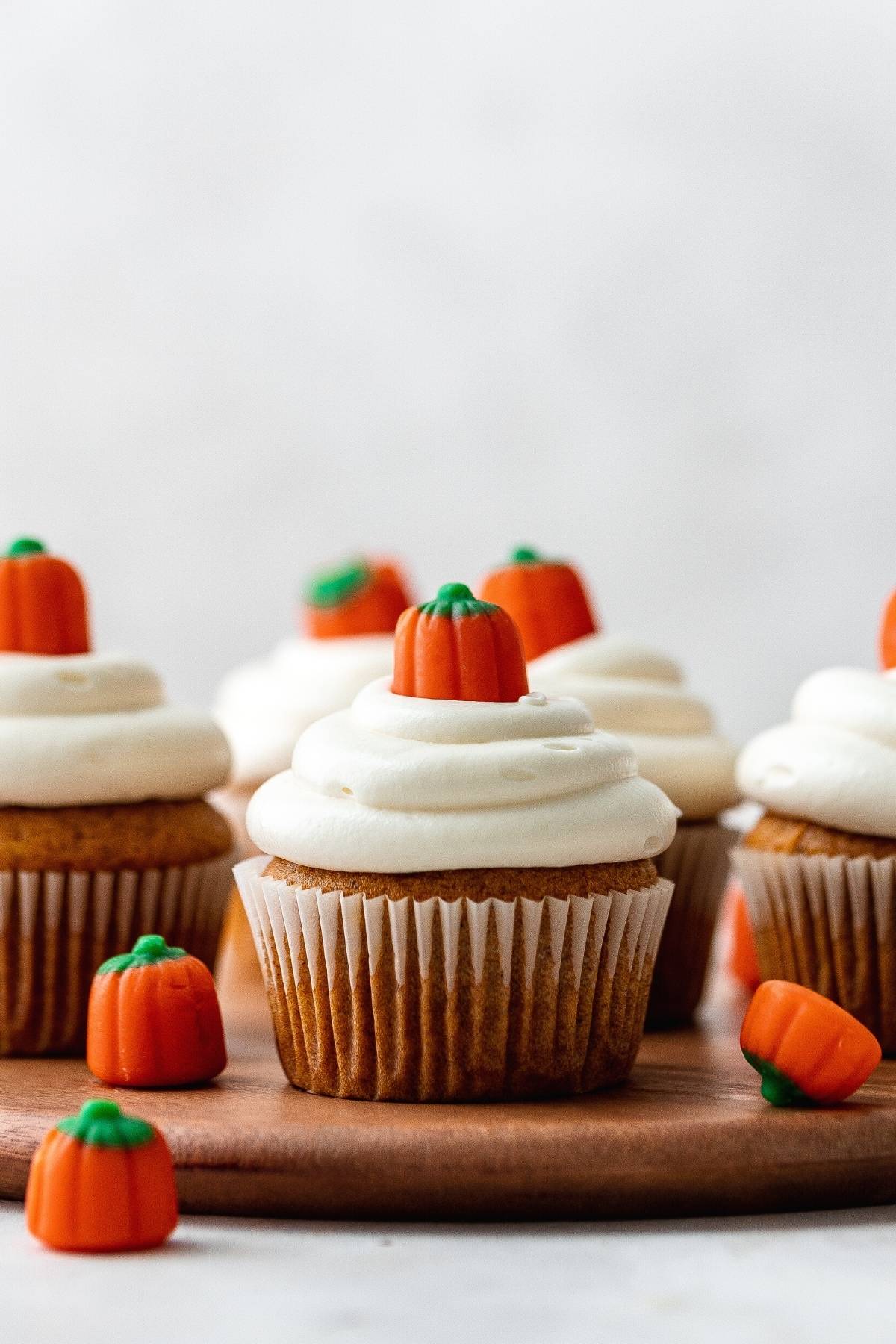 These cupcakes with creamy icing are sure to become the best pumpkin cupcake recipe you've ever tried! They get real pumpkin flavor and their moist texture from canned pumpkin puree. The recipe is seasoned with Pumpkin Spice flavors and topped with homemade cream cheese icing.
During the holidays, there are plenty of favorite recipes that require pumpkin spice. The spice blend is easy to make with ginger, nutmeg, cloves, and ground allspice. The warm spices go perfectly with pumpkin pie filling and other desserts like these moist Pumpkin Cupcakes. It only takes 3 teaspoons pumpkin pie spice to flavor the dessert and balance out the tangy and delicious cream cheese icing.
Autumn is easily pumpkin season in any kitchen. It's just not complete without plenty of pumpkin desserts. That's why you'll find all kinds of recipes using Pumpkin Puree from Pumpkin Cookies to Pumpkin Cheesecake. Whipping up a batch of pumpkin goodies is the perfect way to get in the mood for the season.
Homemade Pumpkin Cupcakes are perfect to bring to a bake sale or serve at a party because, unlike pie, there's no need to cut up slices when you serve them. The paper muffin liners already have them in serving sizes so they're easy pumpkin cakes for people to grab and go. They're great to serve a crowd and kid-friendly!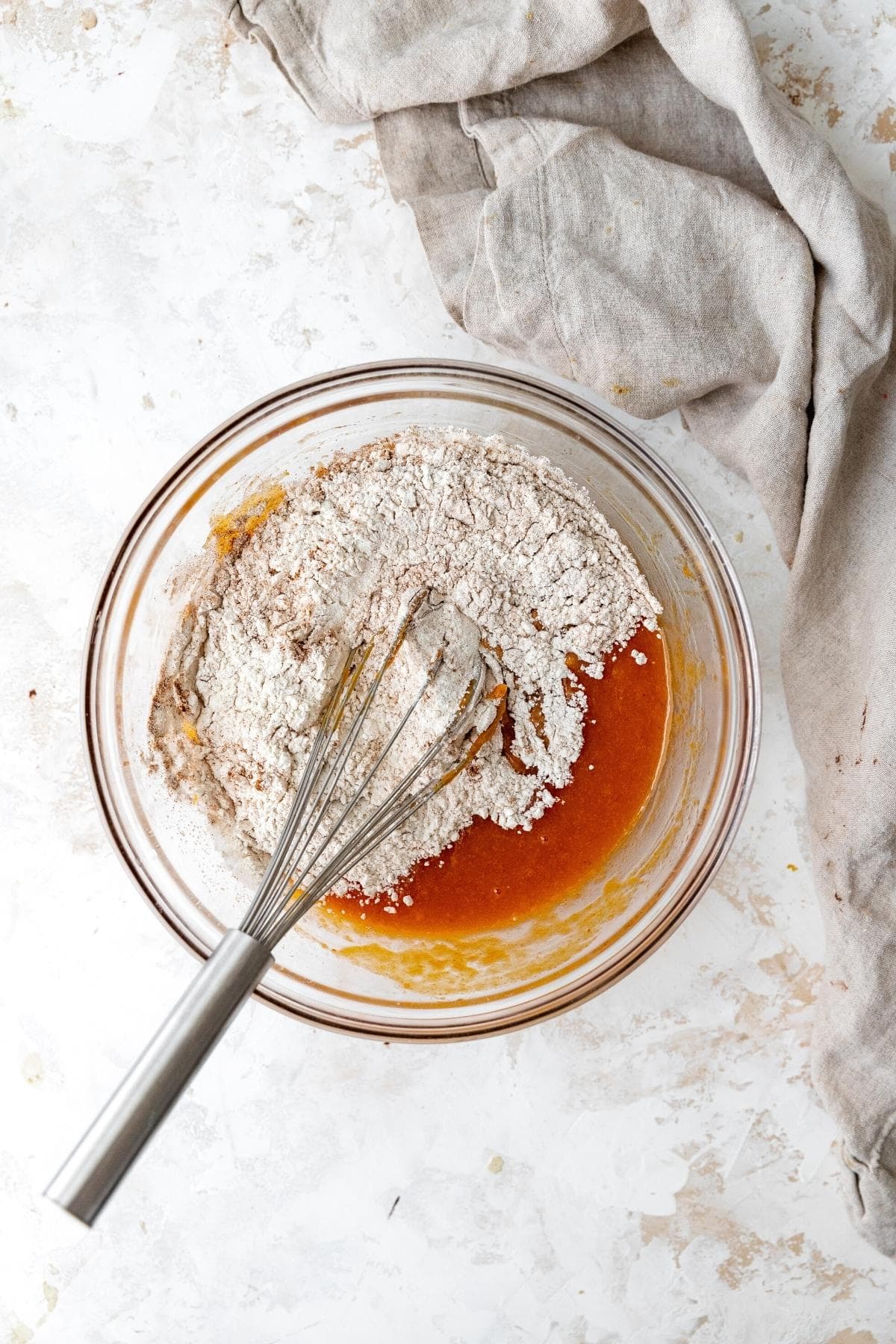 How to Make Pumpkin Pancakes
Prep: This recipe comes together quickly if you follow a few easy directions. Start by preheating the oven, and lining a 12-cup muffin pan with paper liners.
Batter: Add the pumpkin puree, eggs, oil, and white sugar to a large bowl. Whisk the wet ingredients until well combined. Sift the dry ingredients directly into the bowl. Mix the flour mixture into the batter until just combined. Be careful not to overmix the batter.
Bake: Scoop ¼ cup batter per cupcake liner. Pop in the preheated oven for 22-25 minutes. Stick a toothpick or butter knife in the center of one to check if they're done baking. Put the cupcakes on a cooling rack to cool completely before frosting them.
Icing: While the cupcakes are baking, take the cold cream cheese and butter from the fridge so that they have time to soften. As the cakes cool, add the cream cheese, butter, sour cream, and vanilla extract to a medium mixing bowl. Whisk the ingredients together. Add the powdered sugar 1 cup at a time with the electric mixer at its lowest speed. It should take about 2 minutes to blend in. Move the icing from the bowl with a spatula into a piping bag. Swirl the frosting over the cooled cupcakes and enjoy.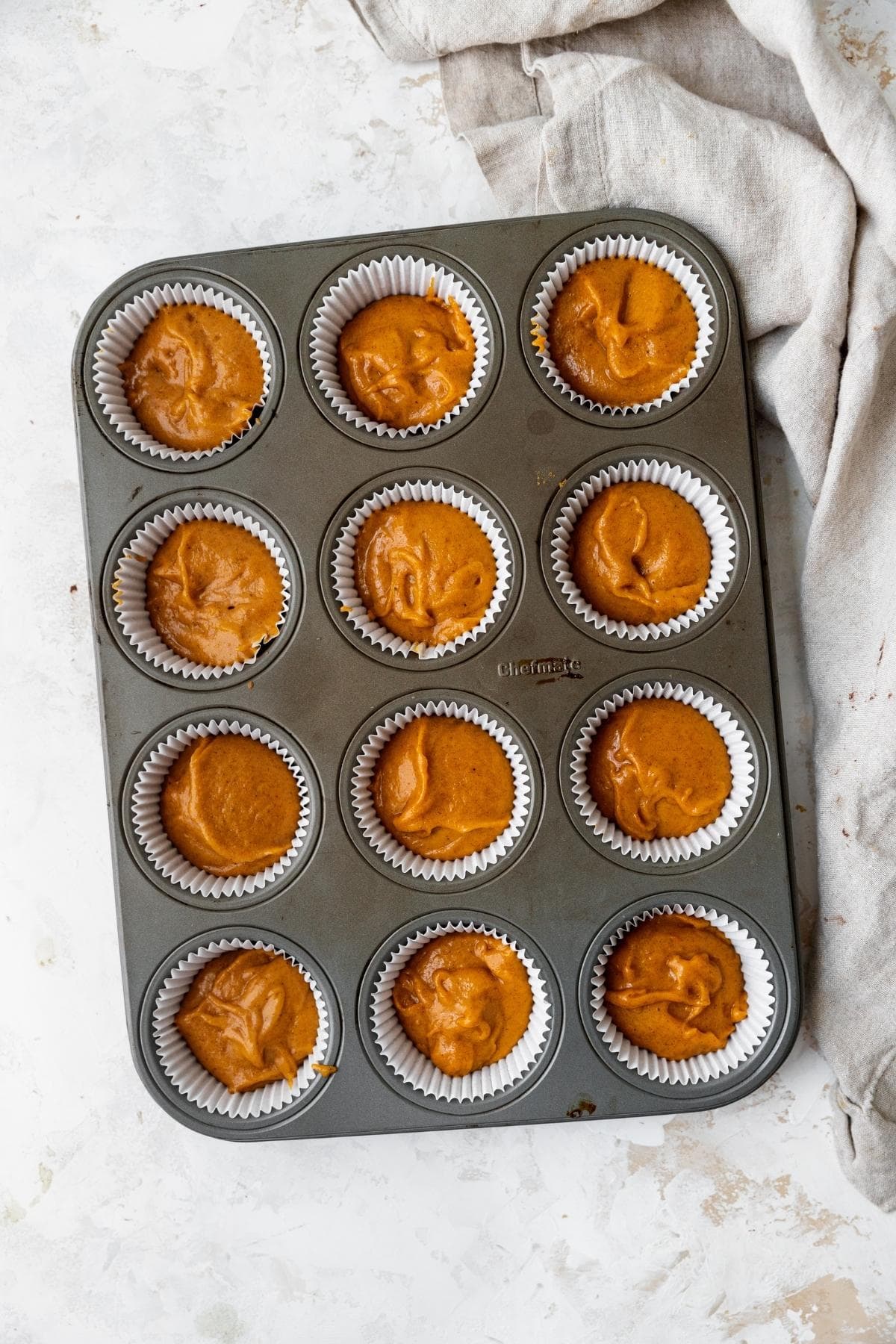 More Classic Cupcake Recipes
Frequently Asked Questions
What kind of pumpkin is used to make Pumpkin Cupcakes?
Make sure you buy pure pumpkin in the can, not pumpkin pie filling. Pumpkin pie filling already contains spices and other ingredients and will have a thinner consistency that you are not looking for. Pure pumpkin is just cooked and puréed pumpkin flesh.
Can I use this recipe to make a large Pumpkin Cake?
Absolutely! Double the recipe and bake in two 9 inch cake pans for a layer cake, or in a 9×13 baking dish for a sheet cake. The cream cheese frosting will still be delicious on top, and you can decorate it for any holiday or occasion!
Why did my cupcakes turn out dry?
If your cupcakes are turning out too dry, you could be measuring your flour incorrectly and using too much. To correctly measure flour for baking, fluff the flour with a measuring cup so it is not compacted, before spooning flour into the measuring cup, then leveling it off with a flat knife. This way you are not using additional flour from it being compacted in the bag. Your oven could also be too hot. Use an oven safe thermometer to check that your oven set temperature is correct. If it is off, adjust the dial accordingly until the thermometer reads the correct temperature.
How do I keep cupcakes moist?
In addition to the tricks above for measuring flour and checking your oven temperature, there are other ways to keep cupcakes delicious and moist. You can brush the tops with a simple syrup, try flavoring it with cinnamon, vanilla, or another flavor that enhances the recipe. Adding a filling keeps cupcakes nice and moist inside, too. Use a piping bag fitted with a thin tip to pierce the top of the cupcake and pipe in some whipped cream or custard before frosting.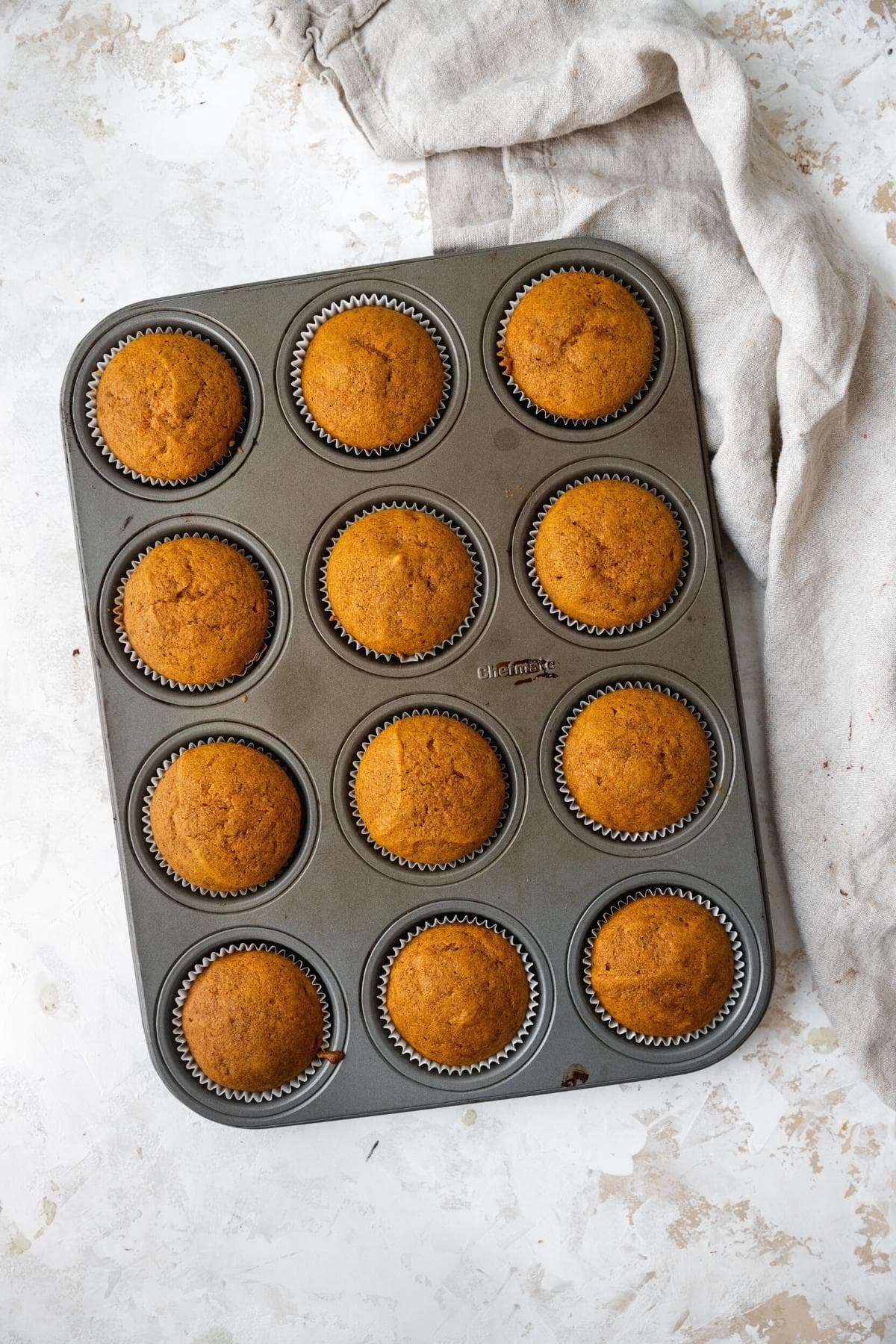 Create a free account to Save Recipes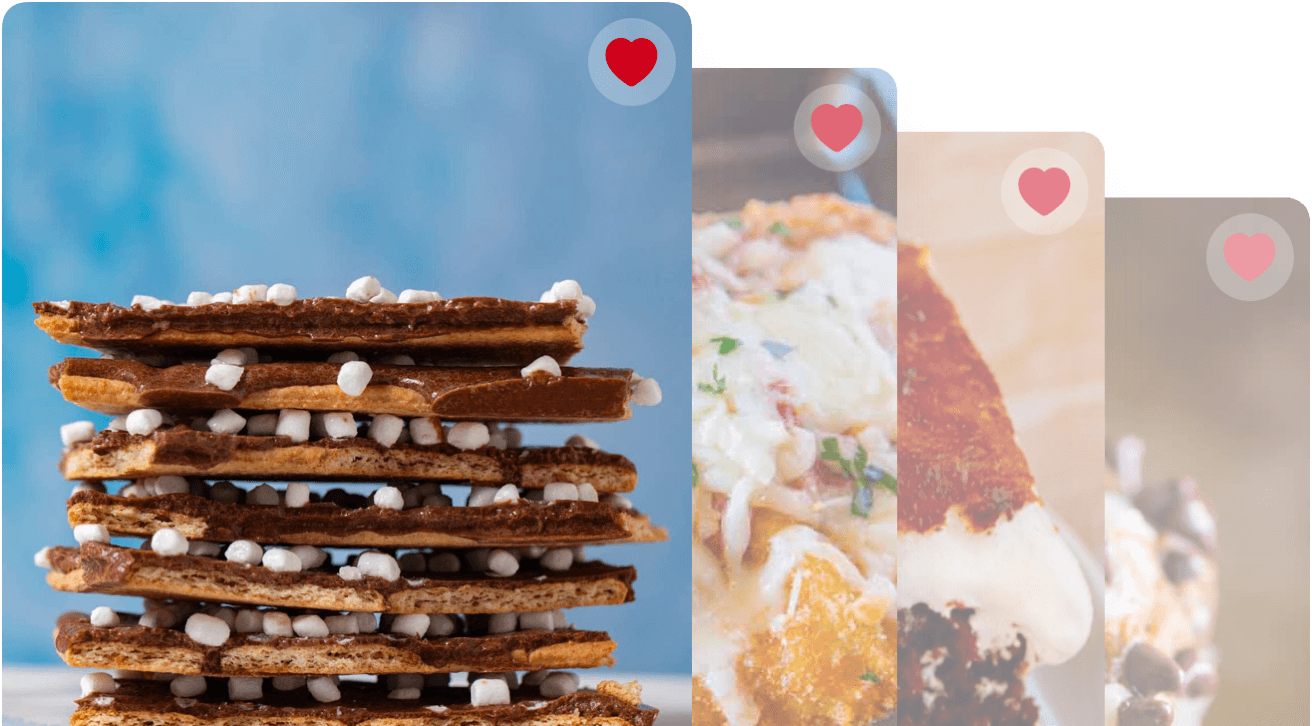 Key Ingredients in Pumpkin Pancakes
Cake Batter: The base of this cake batter is a simple white cake made with pantry ingredients like flour, sugar, baking powder, baking soda, salt, eggs, and oil.
Pumpkin: Using pure pumpkin purée along with the wet ingredients in your batter, you will add lots of flavor and give the cupcakes a soft crumb. It also gives them a golden orange color that is unmistakably pumpkin.
Spices: Cinnamon, nutmeg, ginger, and ground allspice are warm spices that bring out the pumpkin flavor and add a cozy fall scent to your home while baking. You can use a store bought pumpkin pie spice blend, or make your own with the recipe below.
Cream Cheese Frosting: This frosting uses butter, cream cheese, sour cream and vanilla mixed together before adding powdered sugar. This gives the frosting a balanced creamy tangy flavor, and a perfect texture for piping or spreading with a spatula. Make sure to sift the powdered sugar before adding it to the cream cheese mixture so there are no lumps.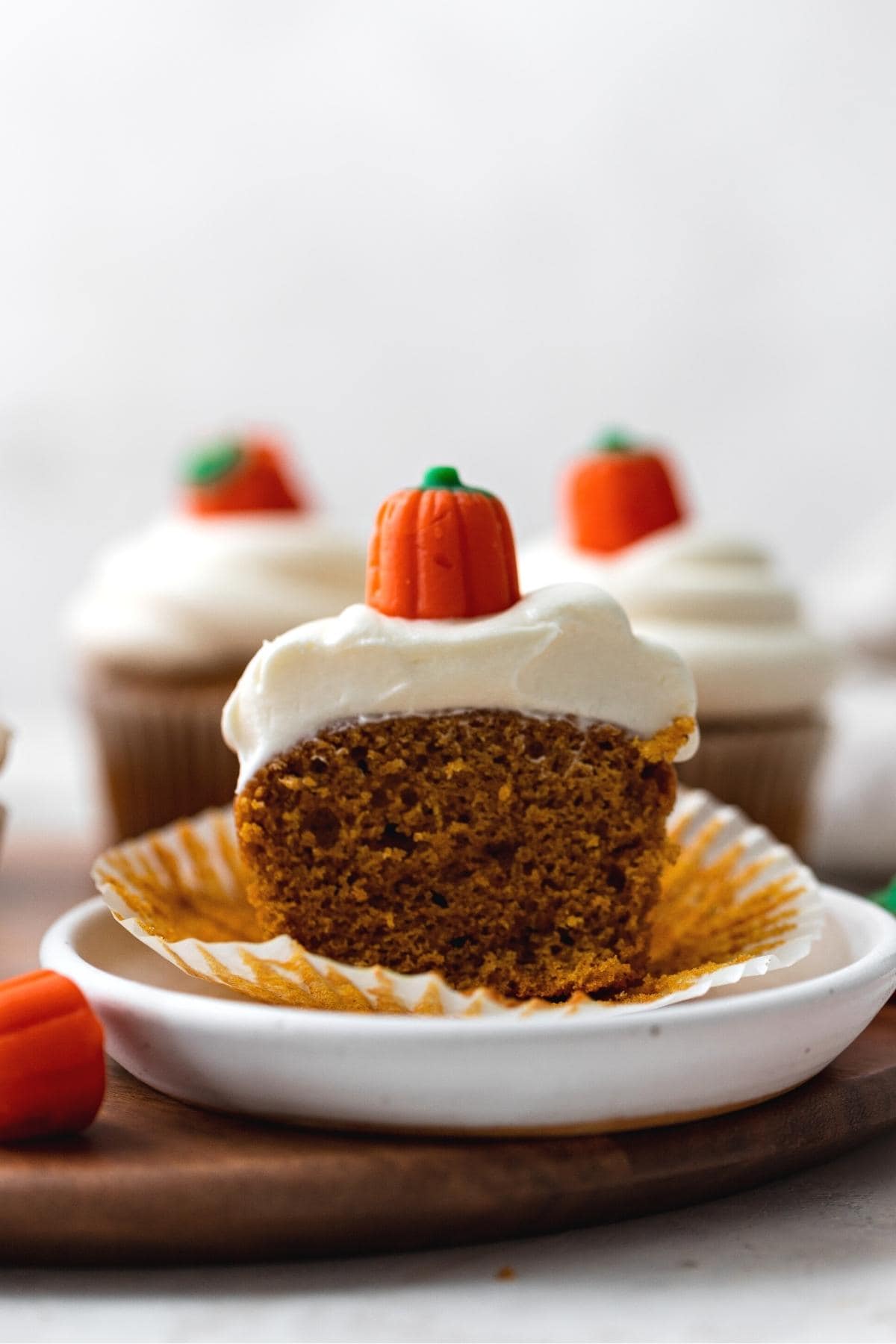 Variations on Pumpkin Pancakes
Sweetener: If you don't want to use granulated sugar in the recipe, you can replace it with brown sugar, coconut sugar, or maple syrup.
Cinnamon-Cream Cheese Frosting: You can add some extra flavor to your icing by making a cinnamon cream cheese blend. Just mix ½ tablespoon ground cinnamon with the other ingredients. You could also try maple cream cheese by adding 4 tablespoon maple syrup.
Vanilla Buttercream: You can also replace the cream cheese icing completely with Vanilla Buttercream. Make the buttercream easily with butter, confectioners sugar, heavy cream, and vanilla.
Decorations: There are plenty of toppings you can add for fun decorations. Sprinkle some crushed pecans or cinnamon-sugar over the top. You can also use cute pumpkin decorating toppers like pumpkin candy or pumpkin sprinkles. Or, for some extra color, mix orange food coloring into the icing.
Chocolate Chips: Pumpkin and chocolate taste amazing together. Mix in 1 cup semi-sweet chocolate chips to add a chunky, chocolatey bite to these delicious Pumpkin Cupcakes.
Nuts: If you're looking for some nice crunchy texture in your Pumpkin Cupcakes, mix 1 cup of chopped pecans into the batter. Pecans and pumpkin go together naturally. If you'd prefer, you can also use chopped almonds, walnuts, or peanuts.
Halloween Candy Cupcakes: Make your Pumpkin Cupcakes even more festive for spooky season by mixing in M&Ms, Reese's Pieces, chopped peanut butter cups, Snickers, Kit Kat, Crunch bars, or Butterfinger candies. Decorate the frosting by topping it with a big piece of whatever candy is inside the cakes. This is a fun way to use up extra trick-or-treat candy, too.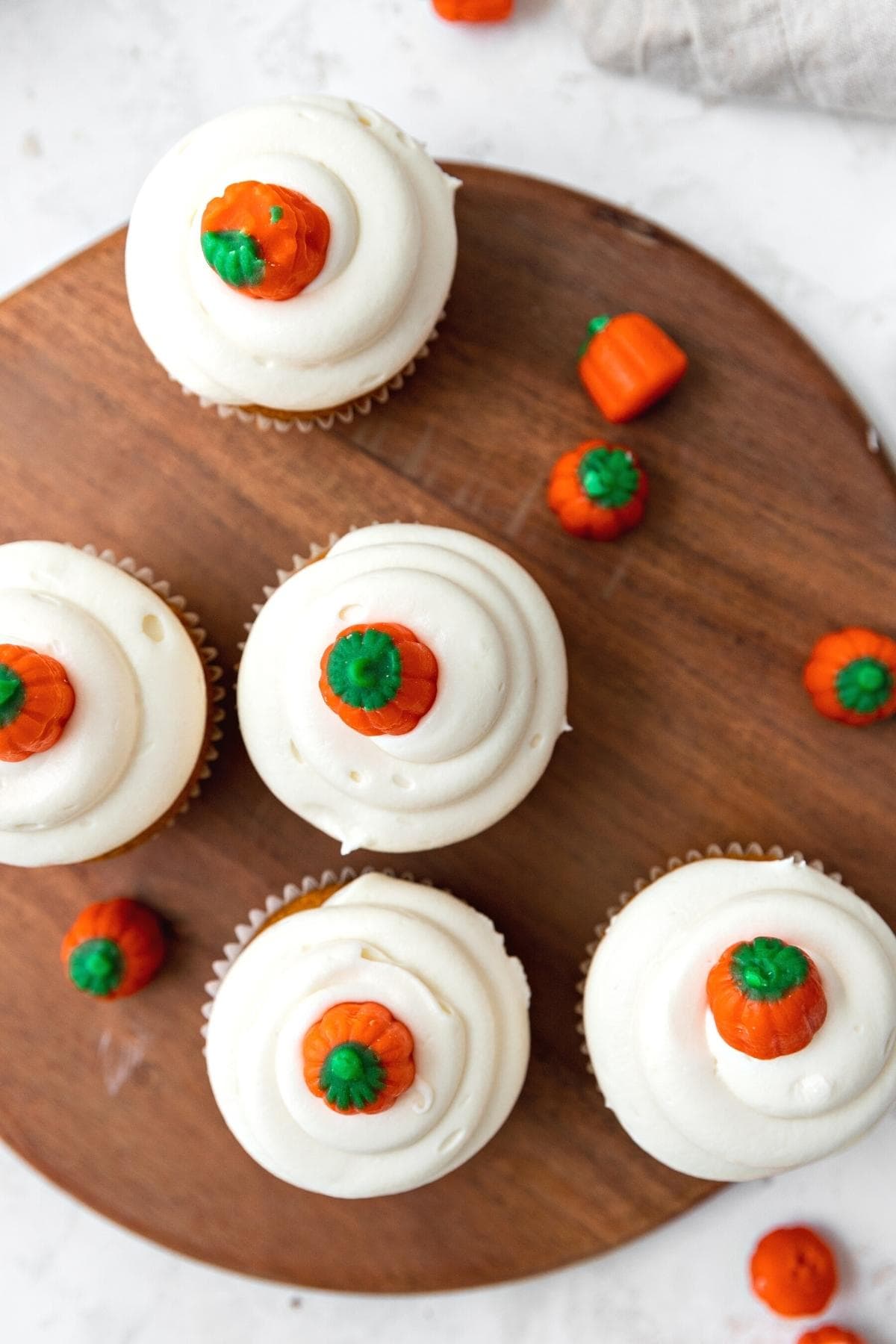 Even More Cupcake Recipes
How to Store Pumpkin Pancakes
Serve: Because of the icing, you shouldn't leave these cupcakes at room temperature for more than 8 hours. Unfrosted cupcakes can be kept at room temperature for up to 2 days, covered in plastic wrap.
Store: Store frosted cupcakes in an airtight container in the refrigerator for up to 1 week.
Freeze: You can also freeze cupcakes without frosting for up to 3 months. Keep them sealed in an airtight container, and move them to the fridge to defrost. Once thawed, frost and serve as normal.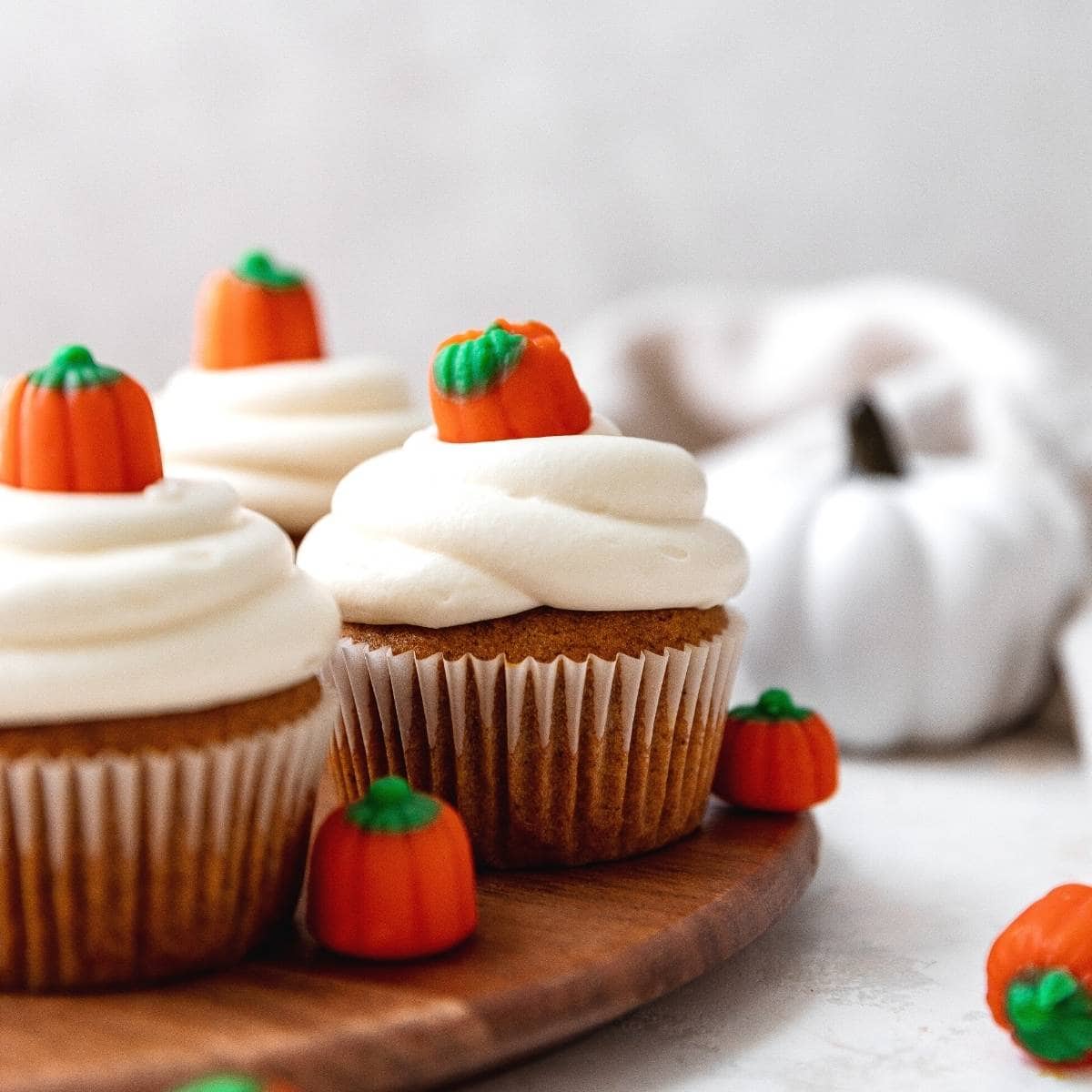 Ingredients
Pumpkin Cupcakes:
3/4

cup

pumpkin puree

2

large

eggs

1/3

cup

vegetable oil

1

cups

sugar

1 1/4

cups

flour

1

teaspoon

baking powder

1/2

teaspoon

baking soda

1

tablespoon

pumpkin pie spice

1/4

teaspoon

salt
Cream Cheese Frosting:
8

ounces

cream cheese

, softened

1/4

cup

unsalted butter

, softened

2

tablespoons

sour cream

1

tablespoon

vanilla extract

4

cups

powdered sugar
Instructions
Preheat the oven to 350 degrees.

Line the 12 cup muffin tin with muffin liners.

In a large bowl add the pumpkin puree, eggs, oil, and sugar, and whisk until fully combined.

Into your bowl sift the flour, baking powder, baking soda, pumpkin spice, and salt, and whisk until just combined.

Using a ¼ cup ice cream scoop, scoop the batter into each liner.

Bake for

22-25 minutes

or until a toothpick comes out clean.

Cool completely.
Cream Cheese Frosting:
Add the cream cheese, butter, sour cream, and vanilla to a stand mixer and beat until light and fluffy, about

1 minute

.

Add in the powdered sugar one cup at a time on the lowest speed setting until smooth and fluffy, about

2 minutes

.

Add frosting to a piping bag and frost your cooled cupcakes.
Nutrition
Calories:
418
kcal
|
Carbohydrates:
70
g
|
Protein:
4
g
|
Fat:
14
g
|
Saturated Fat:
10
g
|
Trans Fat:
1
g
|
Cholesterol:
52
mg
|
Sodium:
199
mg
|
Potassium:
147
mg
|
Fiber:
1
g
|
Sugar:
58
g
|
Vitamin A:
2664
IU
|
Vitamin C:
1
mg
|
Calcium:
60
mg
|
Iron:
1
mg