Snickerdoodle Bundt Cake is wonderfully moist vanilla, cinnamon cake with cinnamon sugar syrup, and cinnamon cream cheese frosting.
This delicious Cake Recipe takes all the classic cinnamon flavors from Snickerdoodle Cookies and bakes them into a moist, dense cake perfect to share.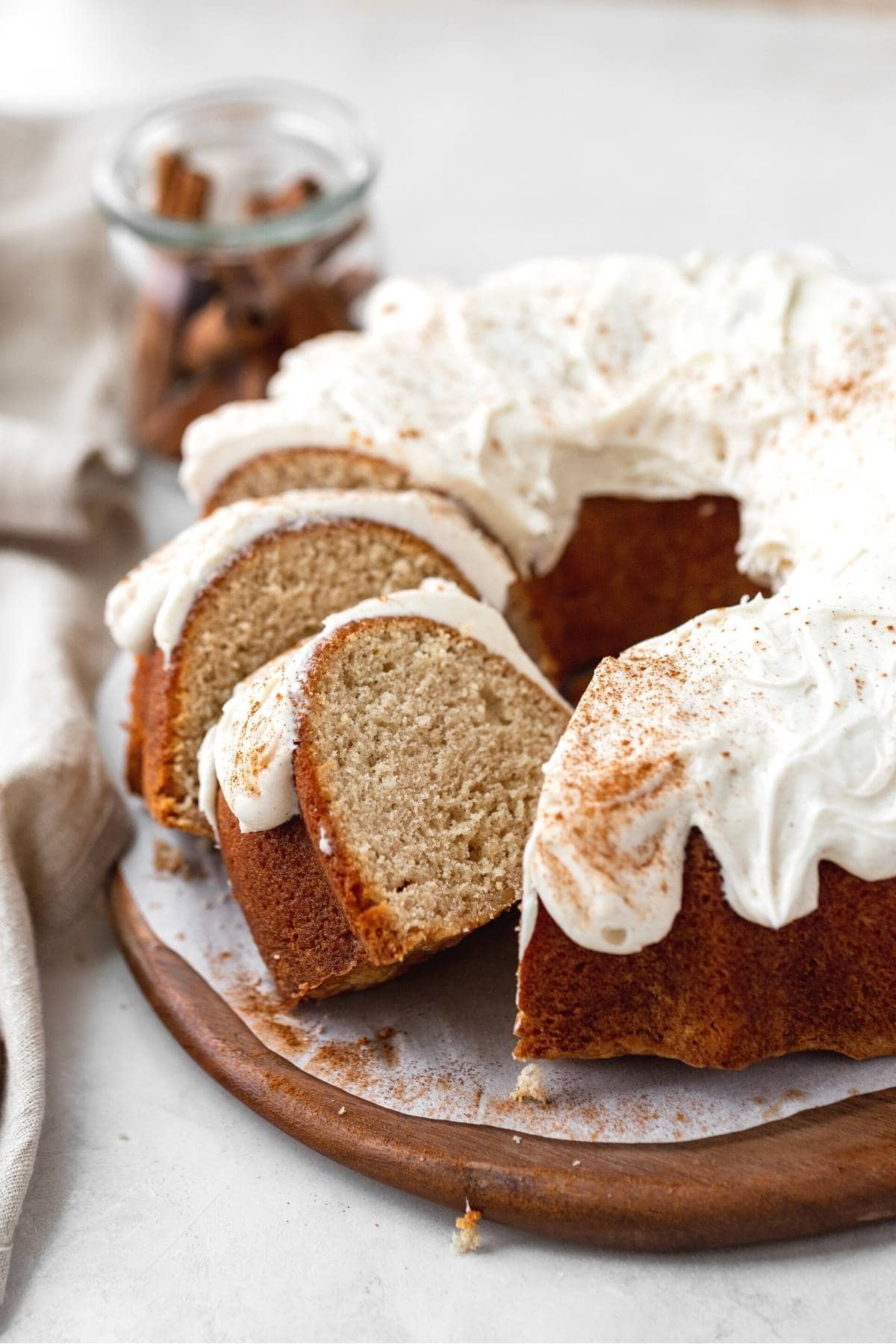 Snickerdoodle Bundt Cake is the perfect alternative to a classic vanilla Bundt cake. You get the same simple and delicious cake base, but with the addition of warm cinnamon to the cake flavor. Not only is cinnamon mixed in with the cake batter, but it's also added with an easy cinnamon syrup that's brushed over the cake to make it extra moist. Then the finished cake is topped off with cinnamon sugar cream cheese frosting. The whole recipe is a cinnamon lover's dream come true!
This recipe has a fairly simple cake baking process. The only part that's a bit time-consuming is the cinnamon sugar syrup. After you make the syrup, you just have to brush it over the cake and give it a full hour to soak in. It does make the recipe more time-consuming, but it's totally worth it for the rich cinnamon flavor you get.
For more amazing cinnamon desserts inspired by snickerdoodles, you can try our Snickerdoodle Sheet Cake or Snickerdoodle Cupcakes. Any of the recipes are amazing, soft, cake versions of a favorite treat.
What are Snickerdoodle Cookies?
This Bundt cake recipe is inspired by the popular and delicious cookie that is rolled in cinnamon sugar before baking. Snickerdoodle cookies are made with a light fluffy dough that contains cream of tartar to give it a tangy flavor and helps them rise to be chewy and tender. Cream of tartar is the key difference between sugar cookies and snickerdoodles because it inhibits sugar crystallization. This creates the chewier, puffier and softer texture of the snickerdoodle cookie, which is mimicked in this Snickerdoodle Bundt Cake recipe.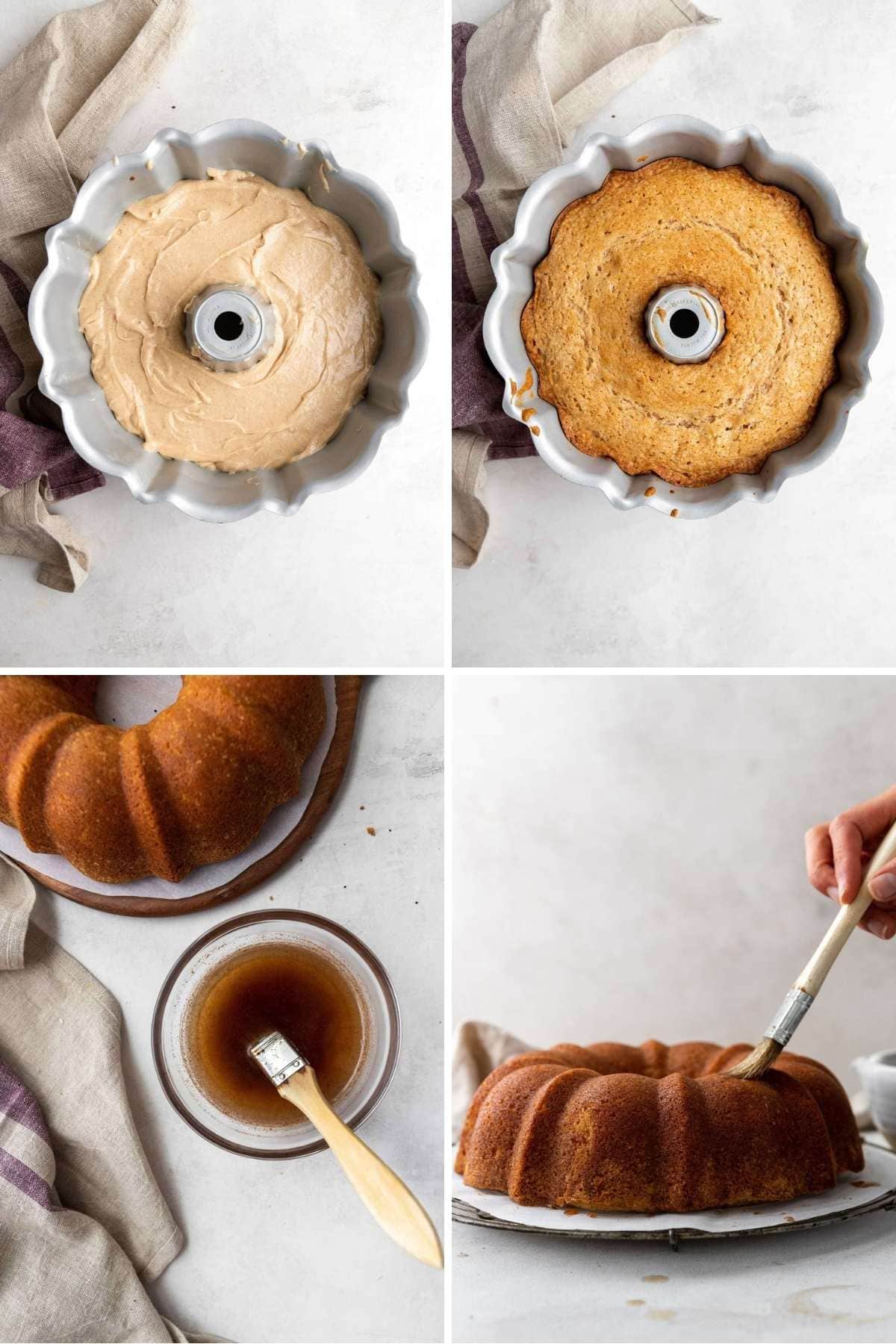 How to Make Snickerdoodle Bundt Cake
Prep time: Start the recipe by preheating the oven. Then grease the Bundt pan with butter or nonstick spray.
Cake batter: Add the butter and sugar to your stand mixer, and use the paddle attachment to cream them for 2 minutes until light and fluffy. Add the eggs and vanilla extract and set the electric mixer to medium speed until well combined. In a separate bowl, sift the flour, baking powder, cinnamon, salt, and cream of tartar together. Alternate between adding the dry ingredients and the milk to the cake mix. Continue mixing until the flour is combined with the liquid ingredients.
Bake time: Pour from the batter bowl into the prepared Bundt pan. Bake for 50-55 minutes until the cake is golden brown and a toothpick inserted in it comes out clean.
Cinnamon Sugar Syrup: Add sugar, water, and cinnamon to a small saucepan. Cook the cinnamon mixture over medium heat, stirring throughout the cooking time until the sugar is dissolved. Remove the cinnamon-sugar mixture from heat. Add an upside-down plate to the Bundt pan and carefully flip the pan to remove the cake. Brush the cinnamon syrup over the cake and leave it to cool for 1 hour.
Cinnamon Cream Cheese Frosting: Add the butter, cream cheese, and cinnamon to your stand mixer. Combine at medium-high speed for 2-3 minutes until light and fluffy. Then lower the speed and add powdered sugar to the mixing bowl. Once combined raise the speed again for 30 seconds. Once it reaches a nice fluffy consistency, spread the cream cheese frosting over the Snickerdoodle Bundt Cake.
More Cinnamon Recipes
Frequently Asked Questions
How do you keep cake from sticking to a Bundt pan?
Make sure to thoroughly coat your Bundt pan with baking spray, which contains a mixture of oil and flour to keep the cake from sticking to the pan. You can also brush the pan with oil or melted butter to get all the crevices, then sprinkle some flour and tap it around to stick to the entire pan. It is also important to let the cake completely cool before gently loosening the sides with a butter knife and overturning onto a plate.
Can I use cake mix for Snickerdoodle Bundt Cake?
If you'd like to make this cake recipe even easier, begin with a box of vanilla cake mix. Before preparing, add the ¼ teaspoon cream of tartar and 2 teaspoons cinnamon to the dry mix. You can make a box cake taste more like homemade by increasing the eggs by 1 and using whole milk instead of water and melted butter instead of oil. Once the cake mix is baked, brush with cinnamon syrup and top with homemade cream cheese frosting for an incredible and easy Snickerdoodle Bundt Cake.
Why brush a cake with syrup before frosting?
Brushing a cake with simple syrup helps to make the cake extra moist and stay fresh longer, and it also adds an additional punch of flavor. The cinnamon sugar syrup in this Snickerdoodle Bundt Cake is one way to achieve both a moist tender crumb and infuse more cinnamon flavor into your cake. Next time you bake, try adding a vanilla, almond, or lemon flavored simple syrup to enhance your cake.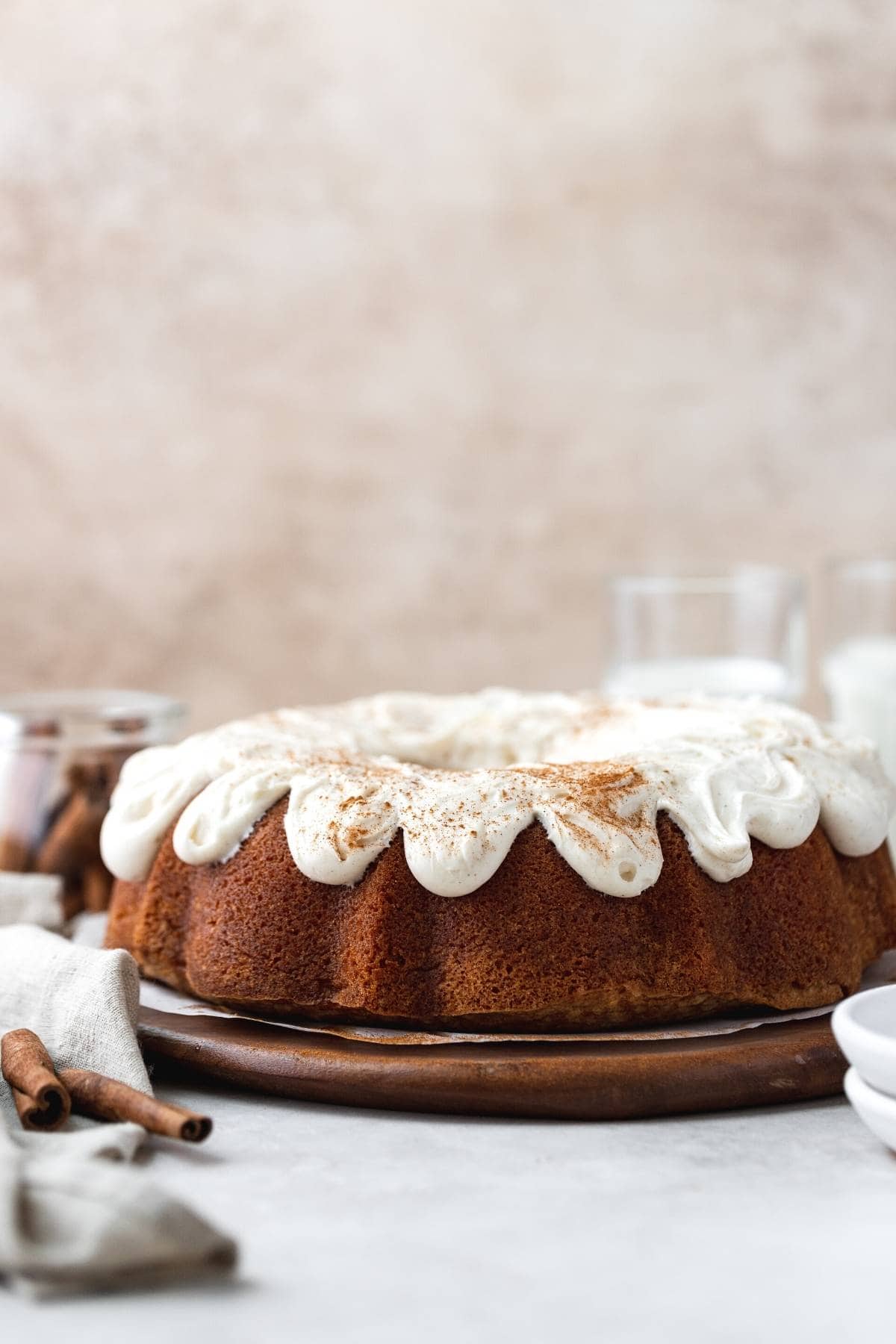 Create a free account to Save Recipes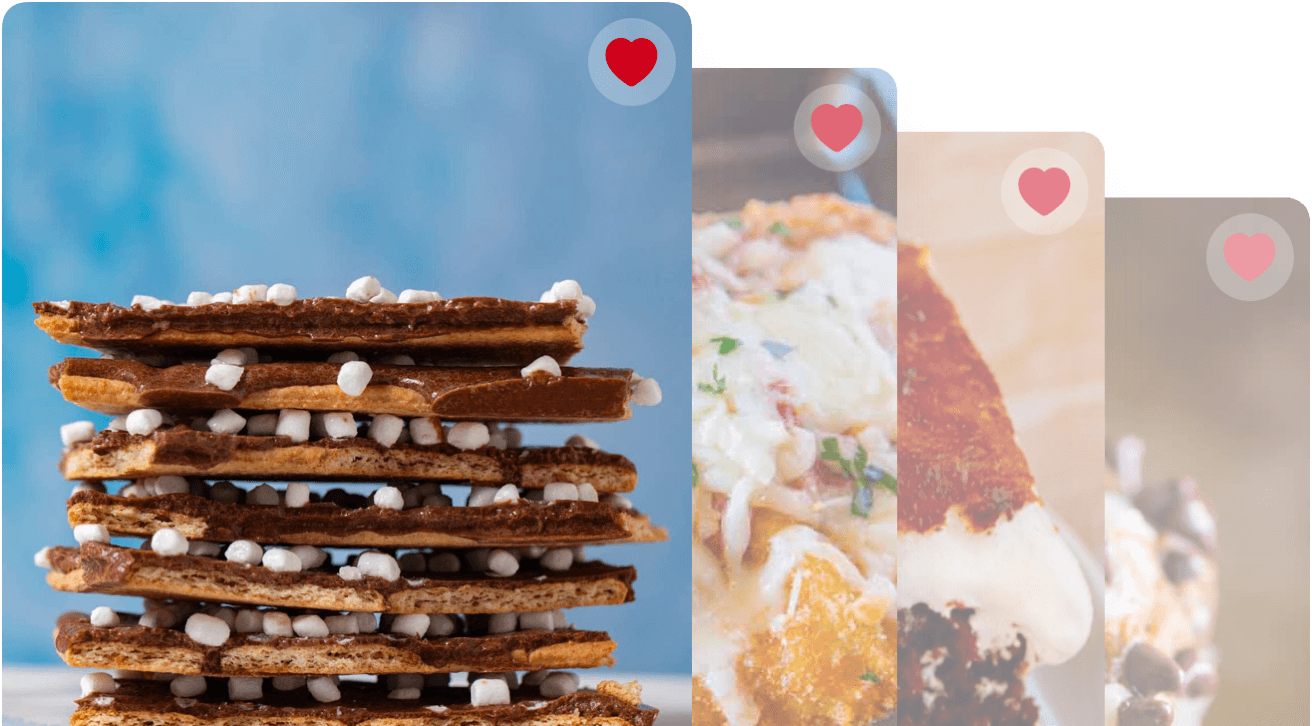 Key Ingredients in Snickerdoodle Bundt Cake
Bundt Cake: For the most part, the base cake recipe is made with super simple pantry ingredients, along with cinnamon and cream of tartar to add a more unique flavor inspired by snickerdoodles. One thing to keep in mind is to use room temperature ingredients for an easy creamy vanilla batter.
Cinnamon Syrup: The simple cinnamon syrup not only adds flavor, but also makes the cake moist. All you need is a blend of ground cinnamon, water, and white sugar. The cinnamon mixture all cooks together easily into a sweet and sticky syrup. Then you can brush it over the cake to soak in.
Cream Cheese Frosting: Of course, the cream cheese frosting is made with fairly standard ingredients like cream cheese, vanilla butter, and sugar. Then the sweet and tangy frosting gets extra warm, rich flavor from the ground cinnamon to make it absolutely delicious.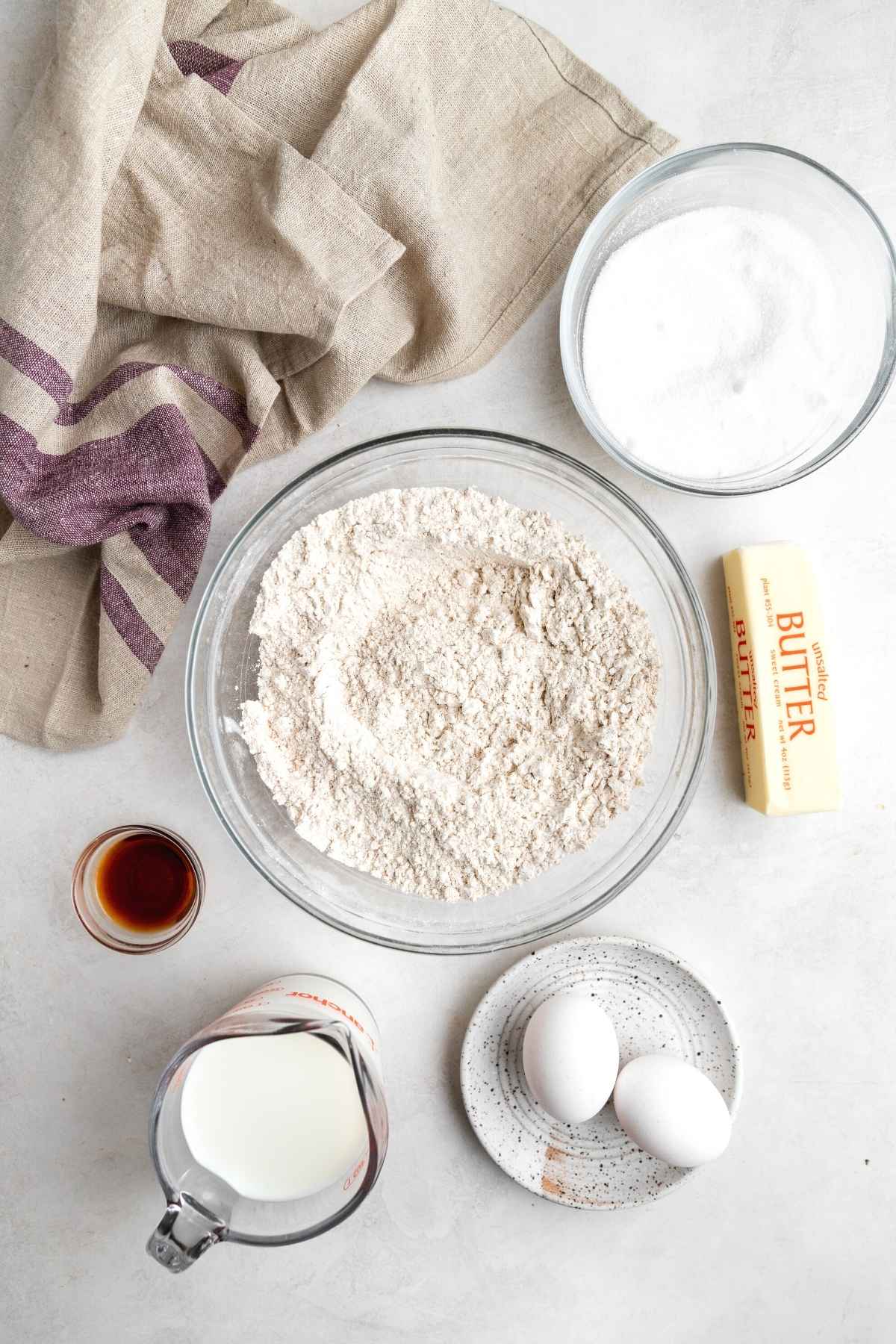 Variations on Snickerdoodle Bundt Cake
Brown sugar: For a richer, more caramelly flavor, you can replace the white sugar in the recipe with brown sugar.
Chocolate cake: To make this cake for chocolate lovers, you can add 2/3 cup cocoa powder to give it a cinnamon and chocolate flavor. Just keep in mind that you'll also want to decrease the amount of flour so that the cake isn't too dry.
Mini Bundt cake: If you have miniature Bundt pans, you can use this recipe to make a few mini Bundt cakes. The mini Snickerdoodle Bundt Cakes are not only adorable, but they enable you to make multiple cakes with the same amount of batter. You can serve one fresh and freeze the other for later.
Cinnamon streusel: To make a cake for breakfast replace the cream cheese frosting with a cinnamon streusel topping. Just add ½ cup brown sugar, ½ cup granulated sugar, ½ cup all-purpose flour 1 ½ teaspoon cinnamon, and ¼ cup cold butter. Then, use a pastry cutter or fork to combine the streusel before adding it to the Bundt cake.
Add-ins: You can also try fun add-ins like cinnamon chips, almonds, pecans, white chocolate chips, or top the Bundt cake off with flake salt.
More Easy and Fun Bundt Cake Recipes
How to Store Snickerdoodle Bundt Cake
Serve: To keep the Snickerdoodle Cake fresh, don't leave it at room temperature for more than a few hours.
Store: If you have leftovers, you can cover the cake or put the cake slices in an airtight container. Then, you can store it in the fridge for 3-4 days.
Freeze: Frozen Snickerdoodle Bundt Cake can stay good for up to 3 months.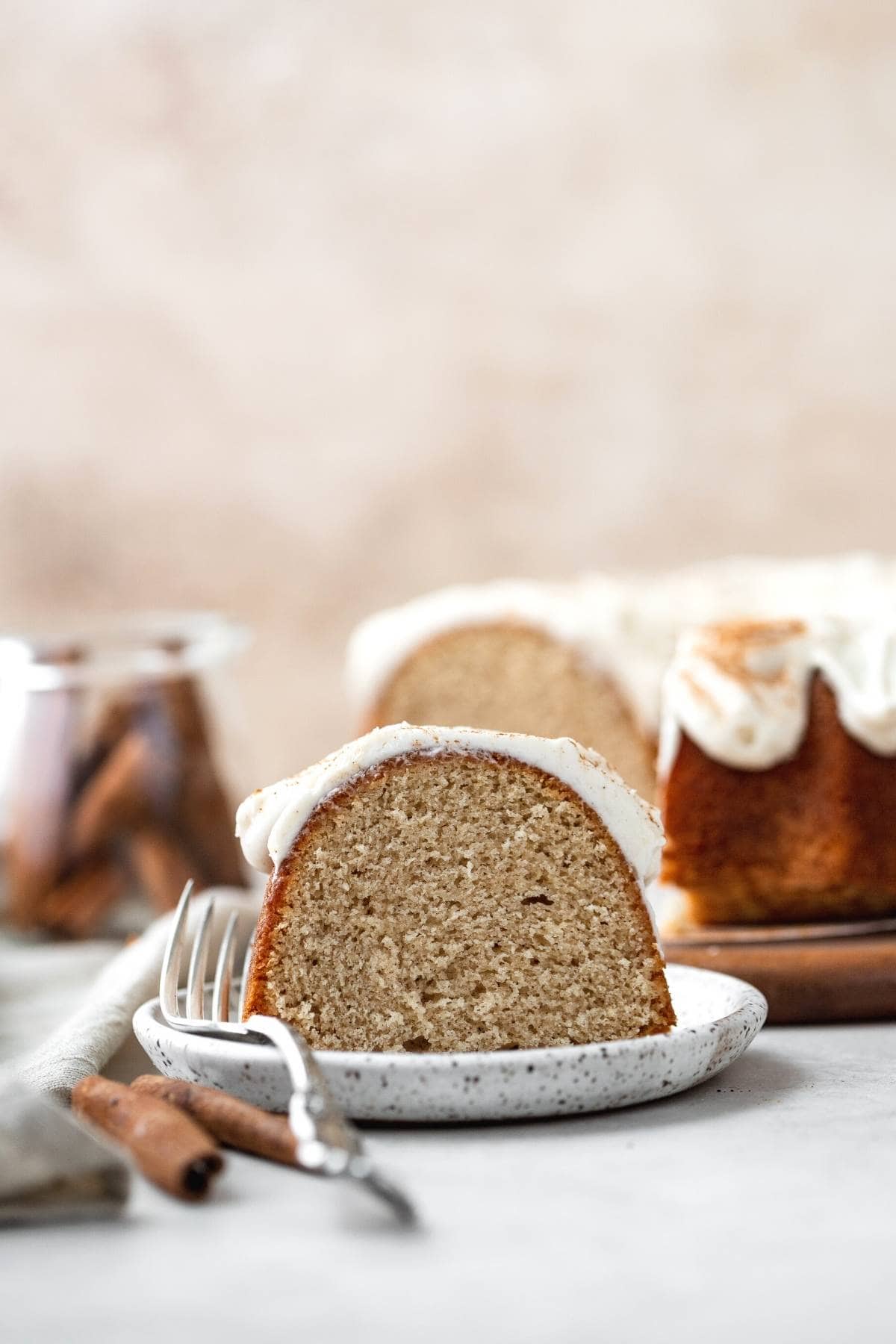 Ingredients
Snickerdoodle Bundt Cake:
1/2

cup

unsalted butter

, softened

2

cups

sugar

2

large

eggs

2

teaspoons

vanilla extract

2 1/2

cups

flour

2

teaspoons

baking powder

2

teaspoons

cinnamon

1/2

teaspoon

salt

1/4

teaspoon

cream of tartar

1

cup

whole milk
Cinnamon Sugar Syrup:
1/2

cup

sugar

1/4

cup

water

1/2

teaspoon

ground cinnamon
Cinnamon Cream Cheese Frosting:
4

tablespoons

unsalted butter

, softened

4

ounces

cream cheese

, softened

1

teaspoon

ground cinnamon

3

cups

powdered sugar
Instructions
Snickerdoodle Bundt Cake:
Preheat oven to 350 degrees.

To your stand mixer add butter and sugar on medium-high speed and cream for

2 minutes

until light and fluffy.

Add in eggs and vanilla extract on medium speed until well combined.

Sift together flour, baking powder, cinnamon, salt and cream of tartar.

Alternate adding in the flour mixture and milk, ⅓ of each at a time, until it's all combined.

Spray a 10" Bundt pan well with baking spray.

Add the batter evenly and bake for

50-55 minutes

until a toothpick comes out clean.
Cinnamon Sugar Syrup:
To make the cinnamon sugar syrup add the sugar, water and cinnamon to a small saucepan.

Cook on medium heat, stirring until sugar is dissolved.

Remove from heat.

Add a plate upside down to the Bundt pan and carefully flip over to remove from the pan.

Brush the Cinnamon Sugar syrup over the Bundt cake and let it cool for 1 hour.
Cinnamon Cream Cheese Frosting:
To your stand mixer add the butter, cream cheese and cinnamon on medium high speed and whip for

2-3 minutes

until light and fluffy.

Lower the speed to the lowest setting and add in the powdered sugar until just combined.

Raise speed to medium until fluffy for

30 seconds

.

Pour over the cooled cake.

Sprinkle some cinnamon sugar over the cake if desired (4 parts sugar, 1 part cinnamon).
Nutrition
Calories:
391
kcal
|
Carbohydrates:
71
g
|
Protein:
4
g
|
Fat:
11
g
|
Saturated Fat:
7
g
|
Polyunsaturated Fat:
1
g
|
Monounsaturated Fat:
3
g
|
Trans Fat:
1
g
|
Cholesterol:
51
mg
|
Sodium:
124
mg
|
Potassium:
132
mg
|
Fiber:
1
g
|
Sugar:
55
g
|
Vitamin A:
364
IU
|
Vitamin C:
1
mg
|
Calcium:
63
mg
|
Iron:
1
mg