Gingerbread Bundt Cake is the perfect spiced cake for the holidays made with molasses, ginger and warm spices for true gingerbread flavor.
You can serve this delicious Bundt Cake for a Dessert or rich festive Breakfast. If you've tried our recipes for Classic Gingerbread Cake or Traditional Gingerbread Loaf Cake, this recipe makes a buttery, soft Bundt version that you're sure to love!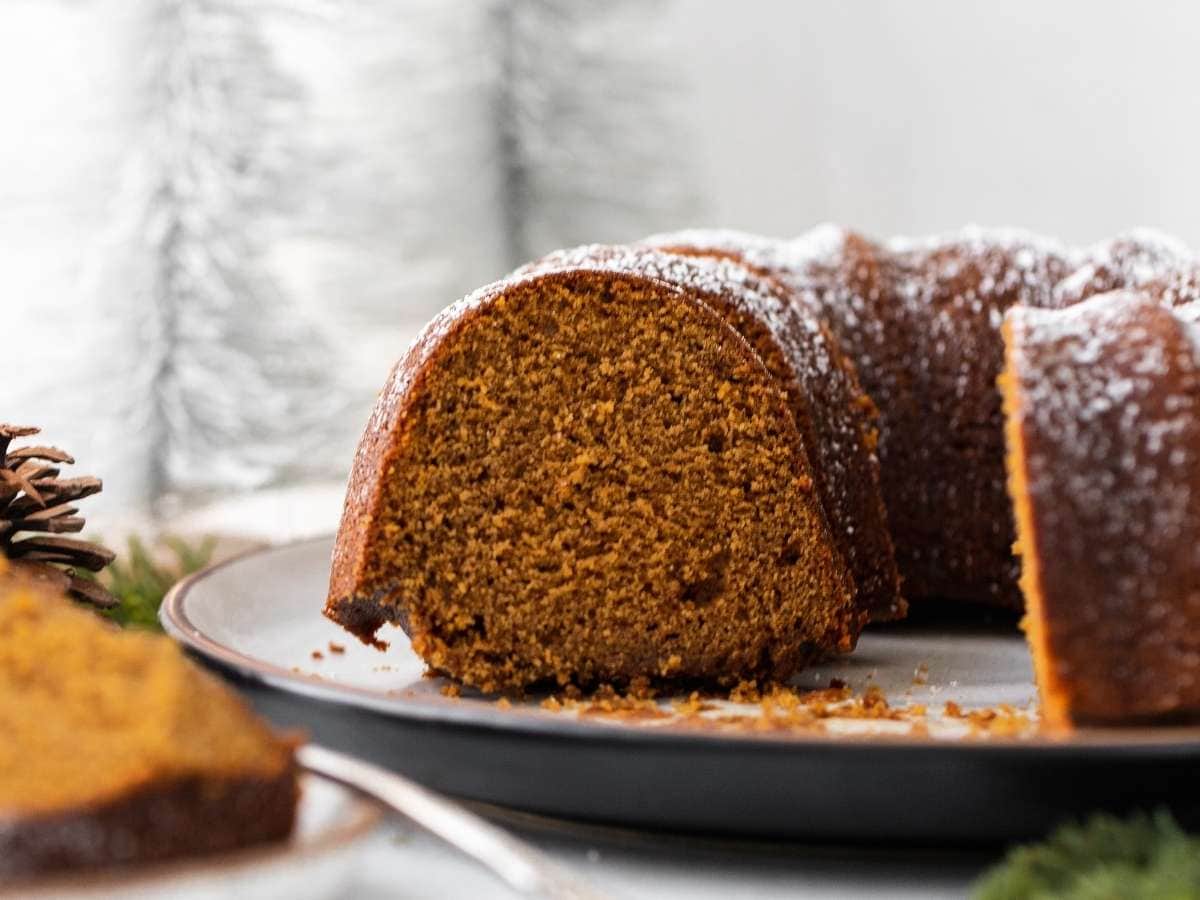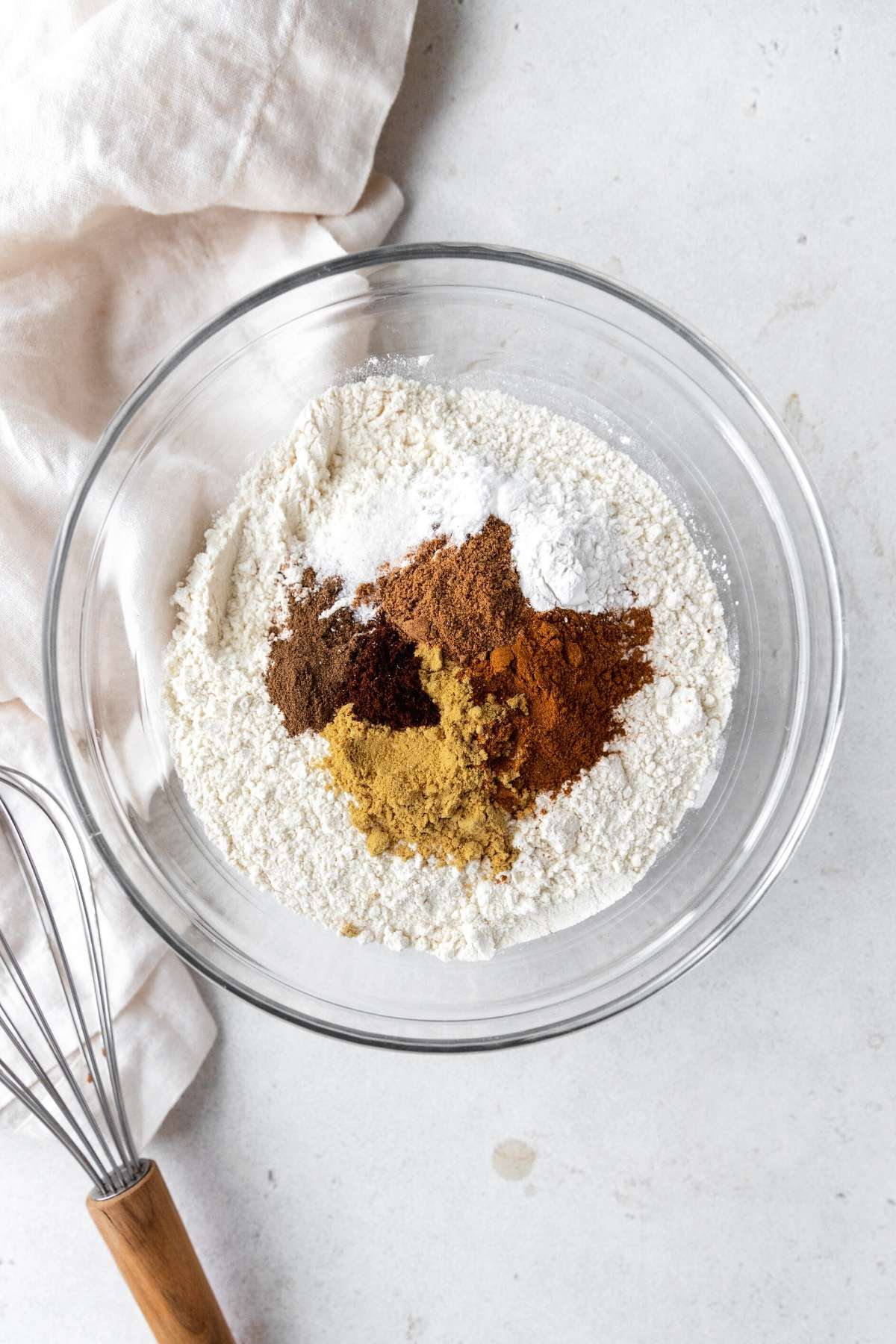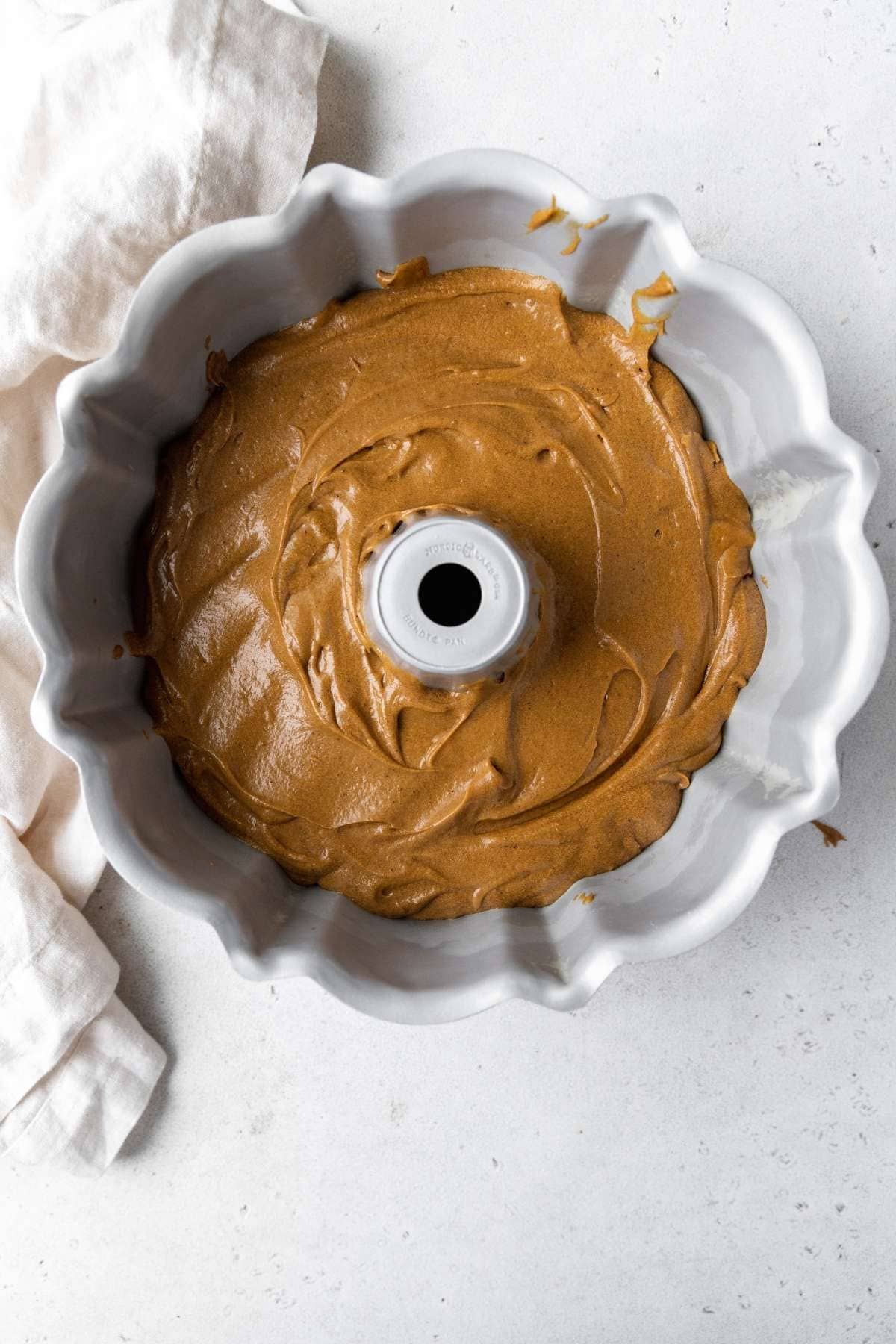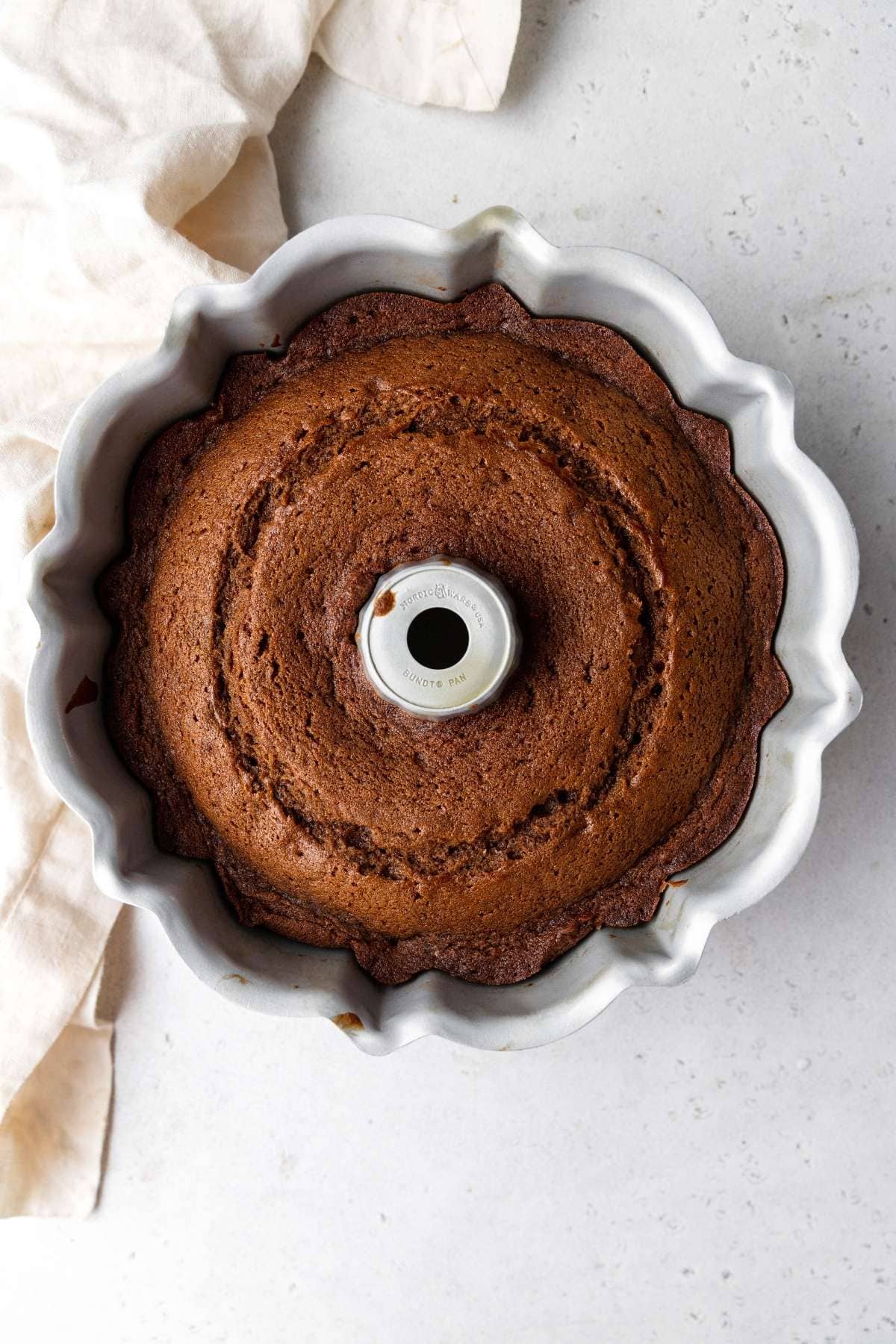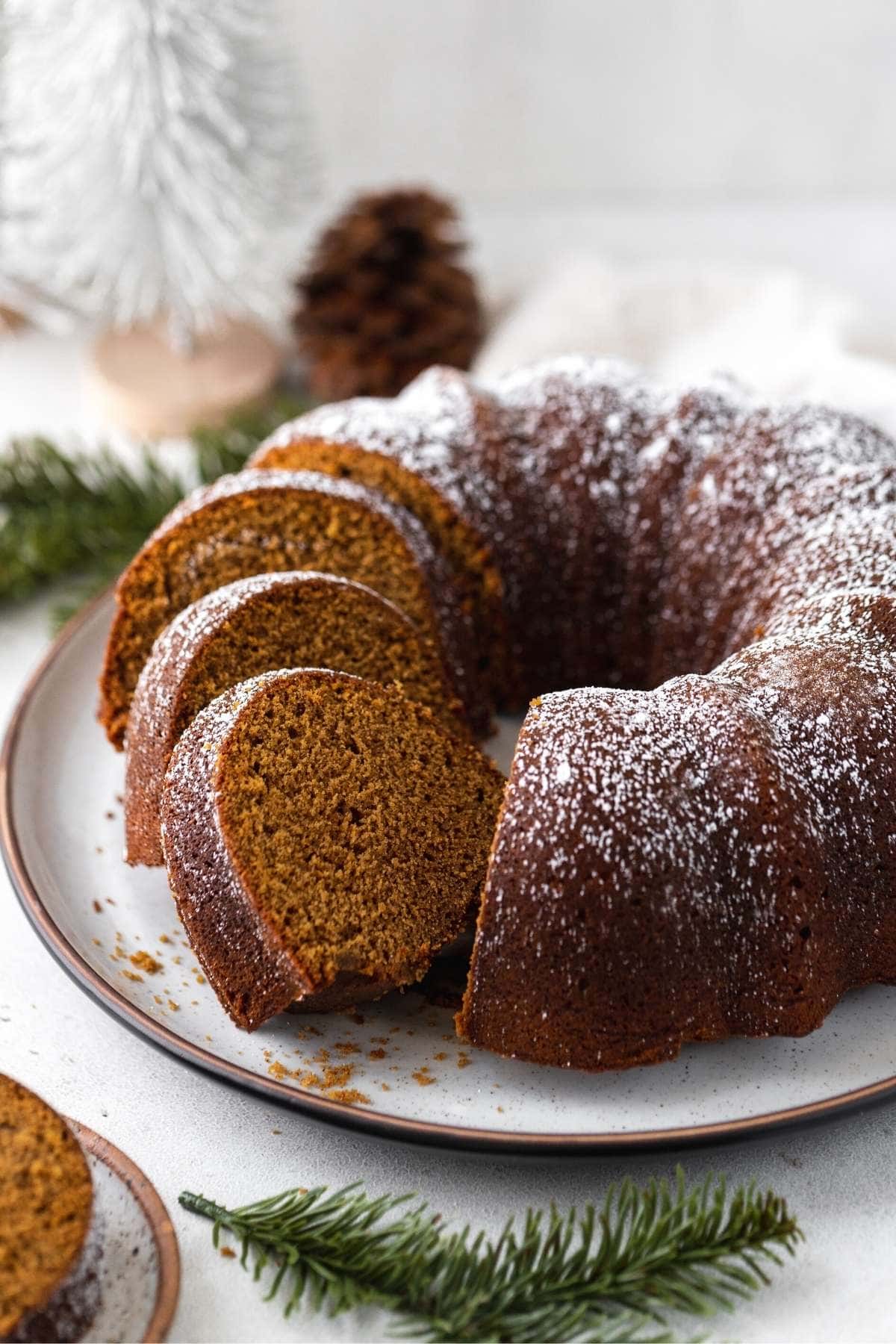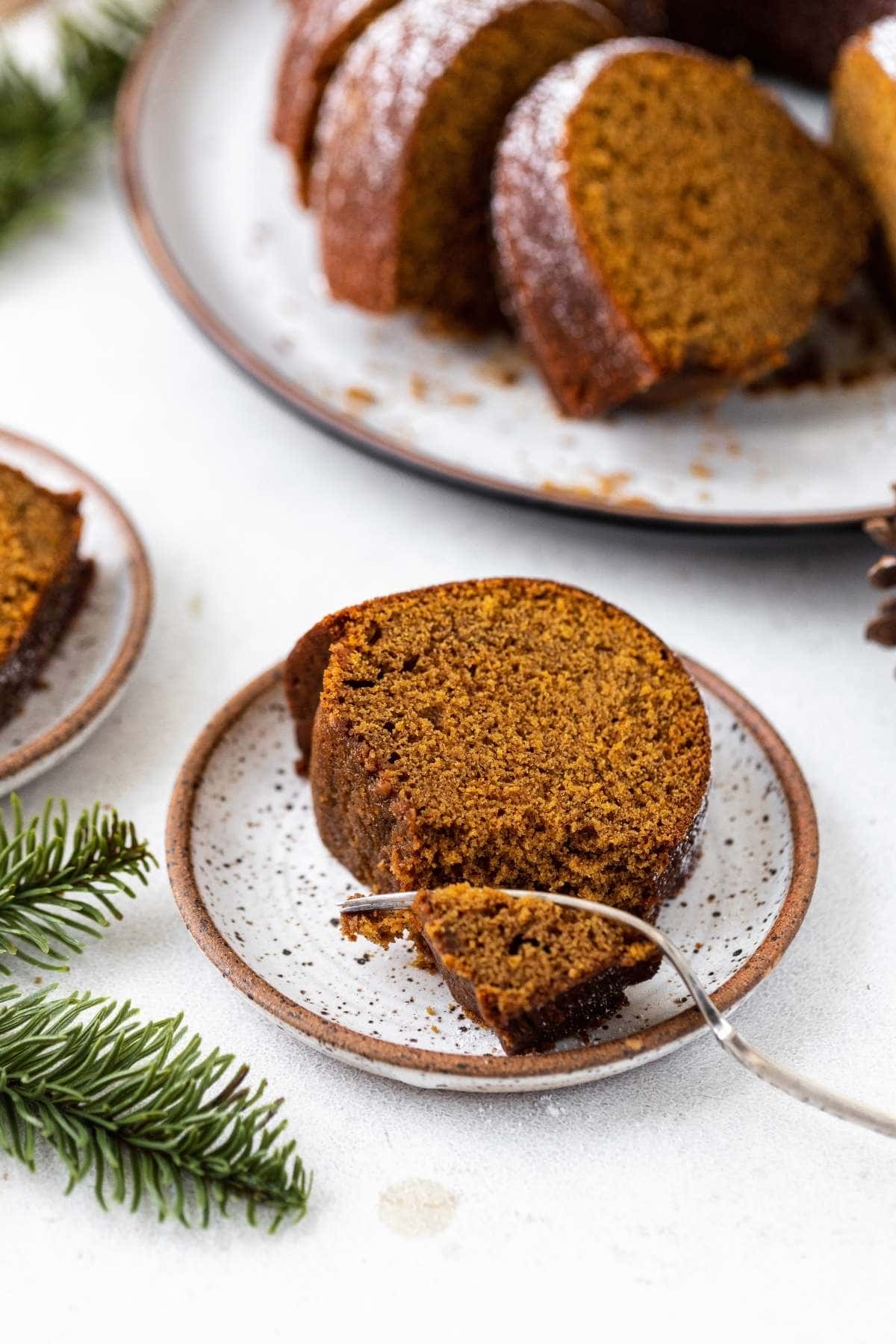 About our Gingerbread Bundt Cake Recipe
When you think of gingerbread the first thing to come to mind is probably Gingerbread Cookies or gingerbread houses. While those are fantastic, this delicious cake version of gingerbread is a recipe that has to be added to your traditional holiday baking! The gingerbread spice combines with the rich, buttery cake for a Christmas dessert that no one will be able to resist.
Gingerbread Cake is the perfect holiday dessert for beginning and expert bakers alike. The recipe is straightforward with a secret ingredient to take your holiday cake to the next level. Adding 1 cup of brewed coffee to the Bundt Cake batter brings out the natural smoky molasses taste for an incredibly flavored cake and it gives it an extra moist crumb.
Gingerbread Bundt Cake Ingredients
Butter: The 12 tablespoons, or 1 ½ sticks of unsalted butter help balance out the sticky sweetness from the brown sugar and molasses. It also adds extra fat to help bind the moisture without making the cake dense like oil might.
Eggs: After you cream the butter sugar, you mix in 2 large eggs to help keep the mixture fluffy and bind the air for a fluffy, soft cake. Make sure your eggs are at room temperature so they whip up easily.
Molasses: One of the ingredients that gives gingerbread its unique sweet spiced flavor is molasses. This cake has ½ cup molasses so it's full of the warm, rich and smoky flavor.
Brown Sugar: The cake gets a little extra smoky sweet molasses flavor with 1 ½ cups dark brown sugar instead of regular sugar. The brown sugar also adds a little extra moisture to the cake.
Spices: Of course a gingerbread cake has to have plenty of ginger, so this cake has a full tablespoon of ground ginger. It also has more warm winter spice flavor with 2 teaspoons cinnamon, 1 teaspoon ground nutmeg, ½ teaspoon ground cloves, and ½ teaspoon ground allspice.
Leavening Agents: The cake gets both 1 teaspoon of baking powder and ¼ teaspoon of baking soda to make sure the cake rises and the crumb is soft and tender.
Coffee: A cup of coffee takes the place of milk in the cake to lighten it up but still add moisture. It also adds a dark roasted flavor that brings out the deep smoky caramel flavor in the molasses.
Kitchen Tools & Equipment
Bundt Pan: A bundt pan is an easy way to make a showstopping cake without a lot of extra work. You can use a regular bundt pan or since this cake isn't frosted, use a pan with a design on it. There are festive holiday pans that would be perfect for this cake recipe.
Stand Mixer: Use a paddle attachment or whisk attachment to cream the butter until fluffy and make the rest of the batter. If you don't have a stand mixer, put the ingredients in a mixing bowl and use a handheld electric mixer to get the desired consistency.
How to Make Gingerbread Bundt Cake
Time needed: 1 hour and 30 minutes.
Prep Work

Start by preheating your oven, and grease the Bundt pan with baking spray so the cake doesn't get stuck to the pan. Bring the butter and eggs to room temperature.

Combine the Wet Batter Ingredients

Add the brown sugar, and softened butter to your stand mixer and cream until fluffy, about 2 minutes. Add in the eggs and molasses, and combine further with your electric mixer.

Sift the Dry Ingredients

In a separate bowl sift together the flour, ginger, cinnamon, nutmeg, cloves, allspice, salt, baking powder, and baking soda. Combine them in a medium bowl.

Combine the Wet and Dry Ingredients

Add ½ of the dry ingredients to the stand mixer with the wet ingredients and turn the speed to low. After combining the batter add ½ cup of coffee. Add the remaining flour mixture, then the remaining coffee, and continue mixing the cake batter.

Bake the Cake

Pour the batter into the prepared Bundt pan. Use a rubber spatula to get any remaining batter from the mixing bowl and smooth it over the prepared pan. Bake in the preheated oven for 55-60 minutes. To test if the Gingerbread Bundt Cake is done, stick a toothpick in the cake and if it comes out clean the cake is finished.

Cool and Serve

Allow the cake to cool at room temperature while still in the Bundt pan for 20 minutes. After 20 minutes you can flip the cooled cake over on a wire rack and it should come out easily. Leave the cake on the cooling rack or serve right away.
Nutritional Facts
Nutrition Facts
Gingerbread Bundt Cake
Amount Per Serving
Calories 356
Calories from Fat 117
% Daily Value*
Fat 13g20%
Cholesterol 61mg20%
Sodium 183mg8%
Potassium 303mg9%
Carbohydrates 58g19%
Protein 4g8%
Vitamin A 397IU8%
Vitamin C 1mg1%
Calcium 89mg9%
Iron 2mg11%
* Percent Daily Values are based on a 2000 calorie diet.
What to Pair With Gingerbread Bundt Cake
Drinks: This delicious holiday cake would taste great with Hot Chocolate. If you really love holiday flavors, try some Peppermint Hot Chocolate. A hot cup of coffee with a slice of cake at breakfast would be a special morning treat.
Ice Cream: You can also enjoy the Bundt Cake warm and scoop some Vanilla Ice Cream over the top. The ice cream will melt into the cake as you enjoy it for a wonderful creamy combo. You could even top the ice cream off with Caramel Sauce if you have a serious sugar craving.
How to Store Gingerbread Bundt Cake
Serve: Let the Bundt Cake cool to room temperature, then you can cover it in plastic wrap to store in the pantry for 1-2 days. You can store leftovers in an airtight container in the fridge for up to 5 days.
Freeze: To freeze the Gingerbread Bundt Cake keep it in an airtight container or freezer bag. It will keep well for up to 4 months. For an easy frozen treat, slice the cake, and wrap them in separate serving-size pieces. Then you can take out one or a few pieces at a time to defrost and enjoy.
Ideas to Serve Gingerbread Bundt Cake
Whipped Cream: You can make your own Whipped Cream using heavy whipping cream, powdered sugar, and vanilla extract. For even more holiday cheer, make homemade eggnog whipped cream. To make eggnog whipped cream, just slightly decrease the heavy whipping cream and add eggnog to taste.
Frosting: This is a great cake to use up some leftover frosting that you have in the freezer or to whip some up fresh. A regular Buttercream Frosting or Cinnamon Cream Cheese Frosting would both taste amazing!
FAQ for Gingerbread Bundt Cake
What kind of molasses do you use for gingerbread recipes?
It's best to use dark molasses for that strong molasses flavor that makes gingerbread stand out. You can also use light molasses or dark corn syrup, but do not use blackstrap molasses. Blackstrap molasses is too bitter for baked goods like cake.
What is special about baking cake in a bundt pan?
Not only do bundt pans make your cake look pretty without any frosting, it also has a practical function. The width around the entire cake is even so more of the cake is close to the heat source. This even baking surface around the entire cake ensures consistent baking.
Recipe Card


Ingredients
12

tablespoons

unsalted butter

, softened

1 1/2

cups

dark brown sugar

, packed

2

large

eggs

1/2

cup

molasses

2 1/2

cups

flour

1

tablespoon

ground ginger

2

teaspoons

cinnamon

1

teaspoon

ground nutmeg

1/2

teaspoon

ground cloves

1/2

teaspoon

ground allspice

1/2

teaspoon

salt

1

teaspoon

baking powder

1/4

teaspoon

baking soda

1

cup

coffee

, room temperature
Instructions
Preheat the oven to 350 degrees and spray a 10-cup Bundt pan with baking spray.

Add butter and dark brown sugar to a stand mixer on medium speed until light and fluffy, about

2 minutes

.

Add in the eggs and molasses until smooth, about

20 seconds

.

Sift together flour, ginger, cinnamon, nutmeg, cloves, allspice, salt, baking powder, and baking soda into a large bowl.

Add ½ of the flour mixture to the stand mixer on low speed, then add ½ cup of coffee.

Add the remaining flour mixture, then the remaining coffee.

Add the batter evenly to your Bundt pan and bake for

55-60 minutes

or until a toothpick comes out clean (this will differ slightly depending on your Bundt pan).

Let cool

20 minutes

before removing from the bundt pan.
Nutrition
Calories:
356
kcal
|
Carbohydrates:
58
g
|
Protein:
4
g
|
Fat:
13
g
|
Saturated Fat:
8
g
|
Polyunsaturated Fat:
1
g
|
Monounsaturated Fat:
3
g
|
Trans Fat:
1
g
|
Cholesterol:
61
mg
|
Sodium:
183
mg
|
Potassium:
303
mg
|
Fiber:
1
g
|
Sugar:
37
g
|
Vitamin A:
397
IU
|
Vitamin C:
1
mg
|
Calcium:
89
mg
|
Iron:
2
mg
Gingerbread Bundt Cake Variations
Mix-ins: For some extra texture and taste, try adding chopped pecans, almonds, walnuts, toffee bits, or dried currants. You can also add flavors to the batter like pure vanilla extract and extra fresh ginger. Both pure vanilla extract and ginger have a strong taste, so make sure to add them slowly.
Moist: To make the cake moist and extra soft, try mixing some buttermilk into the batter. The buttermilk will also add some nice tang. You could also add some sour cream for the same effect.
Sweeteners: If you're out of dark brown sugar you could try using granulated sugar, maple syrup, or coconut sugar for your brown sugar substitute. If you want to decrease the amount of sugar in the recipe use stevia instead of real sugar.
Related Recipes
More Festive Gingerbread Recipes