Cinnamon Cream Cheese Frosting is fluffy, sweet, and tangy, made with just 4 ingredients, and perfect to top off a variety of desserts.
This homemade frosting recipe makes the perfect topping for any number of your favorite Dessert Recipes, especially during the fall and winter. Adding cinnamon to Cream Cheese Frosting gives it a slightly more comforting, spiced flavor, which makes it ideal for holiday baked goods.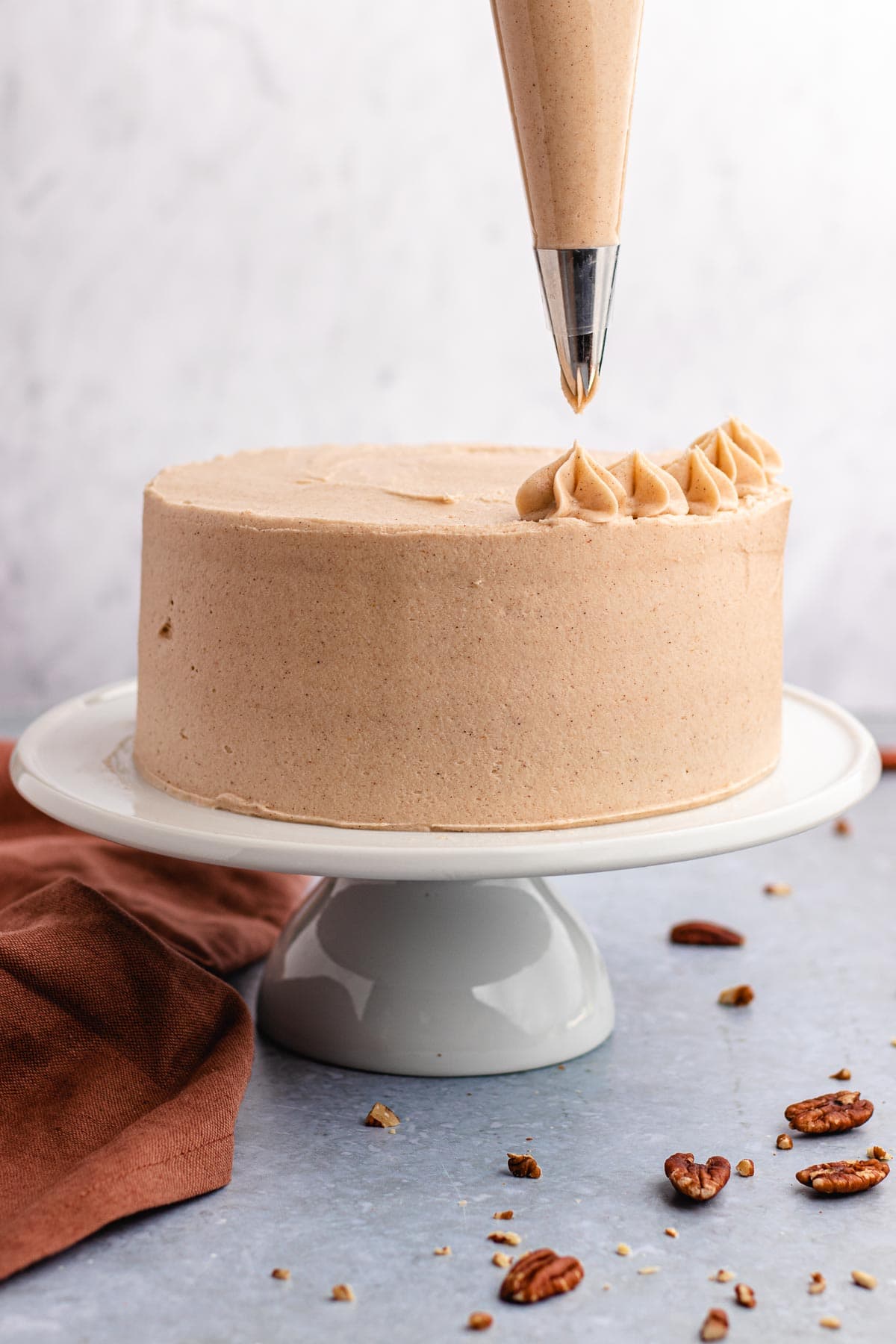 You can make this delicious Cinnamon Cream Cheese Frosting with just 4 ingredients in a few basic steps. It's a simple matter of whipping together the cream cheese, butter, and cinnamon, then adding the powdered sugar. The whole recipe is done in a matter of minutes, so you can easily make it while your dessert is in the oven.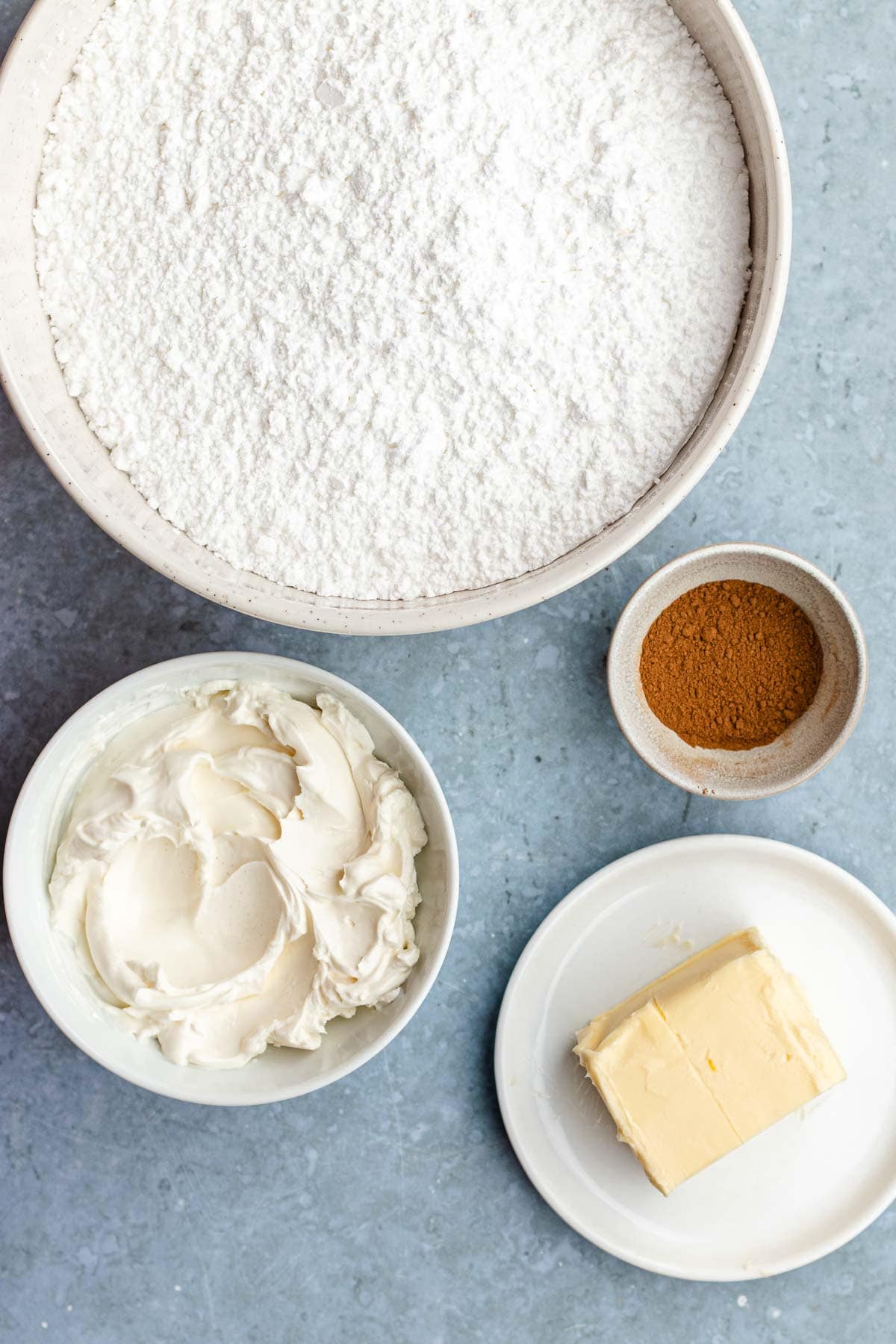 You can make cream cheese frosting while your cake or other dessert is baking, or a little after the cook time. It's important to give the dessert time to cool before adding the frosting. A good routine is to bake your cakes or desserts, then make the frosting after they are out of the oven and cooling. But, you can really make this sweet topping any time that you have a few minutes to spare during the process because it's so easy and quick.
If you're using the frosting for cupcakes or a muffin recipe, you can make the cupcakes in advance. Most unfrosted cupcakes can be at room temperature so bake them the night before. This ensures they will be cooled completely when you are ready to start decorating. Chocolate, Vanilla, or Carrot Cupcakes with Cinnamon Cream Cheese Frosting would all taste amazing. Pipe the frosting on top in a swirl pattern, and let the cream cheese frosting firm for a couple minutes before eating them.
Apart from cupcakes, this frosting would also taste amazing over a classic Cake, Sheet Cake, Bundt Cake, or Sugar Cookies. There's really no end to the delicious desserts that you can swirl and pipe this amazing frosting all over.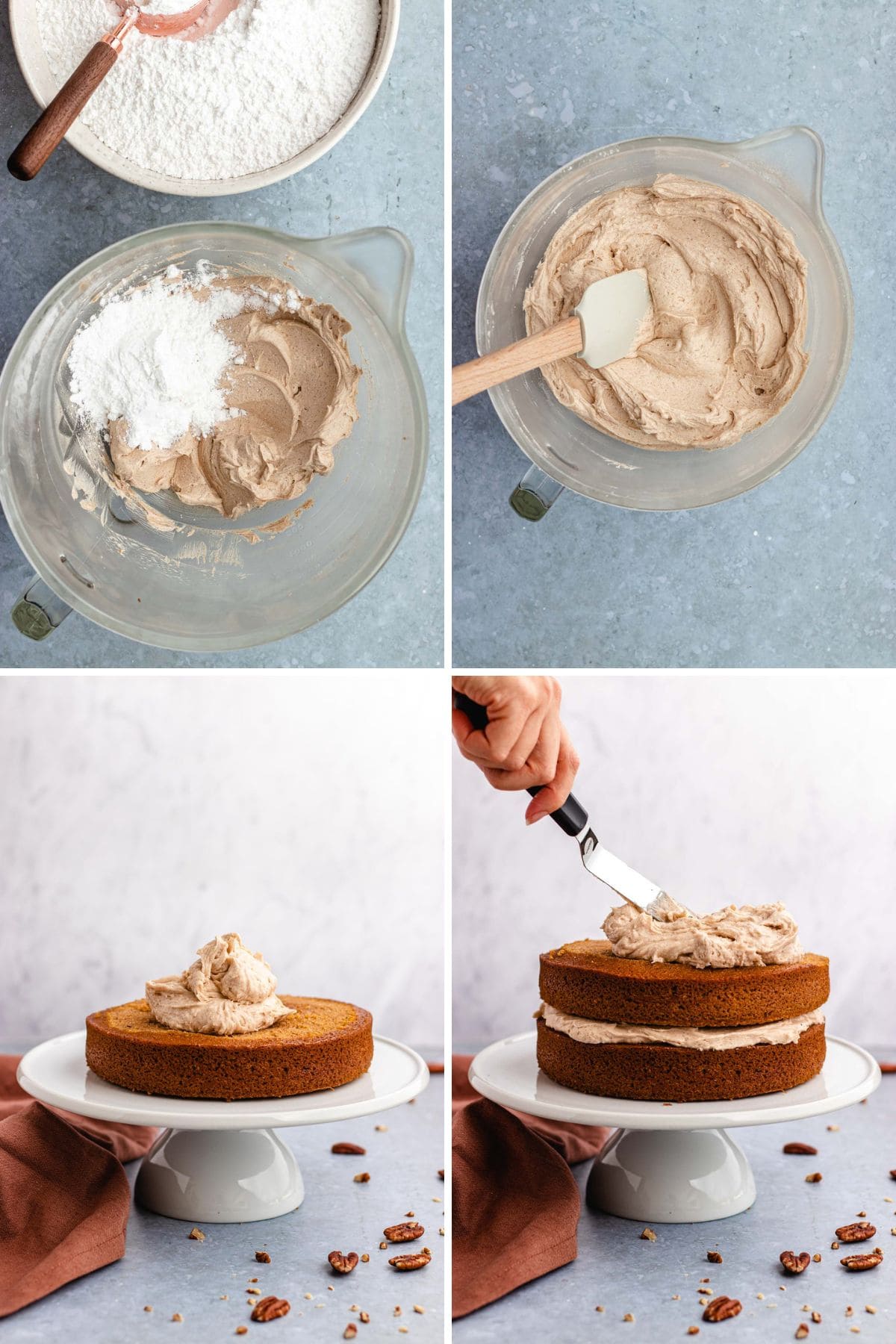 How to Make Cinnamon Cream Cheese Frosting
Prep time: Before even starting the recipe, take the cream cheese and butter from the fridge to give them time to warm up a bit. Room temperature ingredients are a lot easier to mix than cold cream cheese and butter, plus it adds air for fluffier frosting!
Cream cheese and butter mixture: Add the softened cream cheese, butter, and cinnamon to your electric stand mixer. Then turn the electric mixer to medium-high speed, using the whisk attachment to beat cream cheese and butter for 2-3 minutes into a light, fluffy consistency.
Powdered sugar: Lower the mixer speed to it's lowest setting. Then add the powdered sugar to the cream mixture. Continue to mix until just combined.
Finish: Once the sugar is worked in, raise the mixer to medium-high speed again to whip it into a fluffy cream cheese frosting. Transfer the frosting into a piping bag, or use an offset spatula to spread it over the dessert of your choice. Then you can serve right away or give the frosting a few minutes to set so it's a little more firm.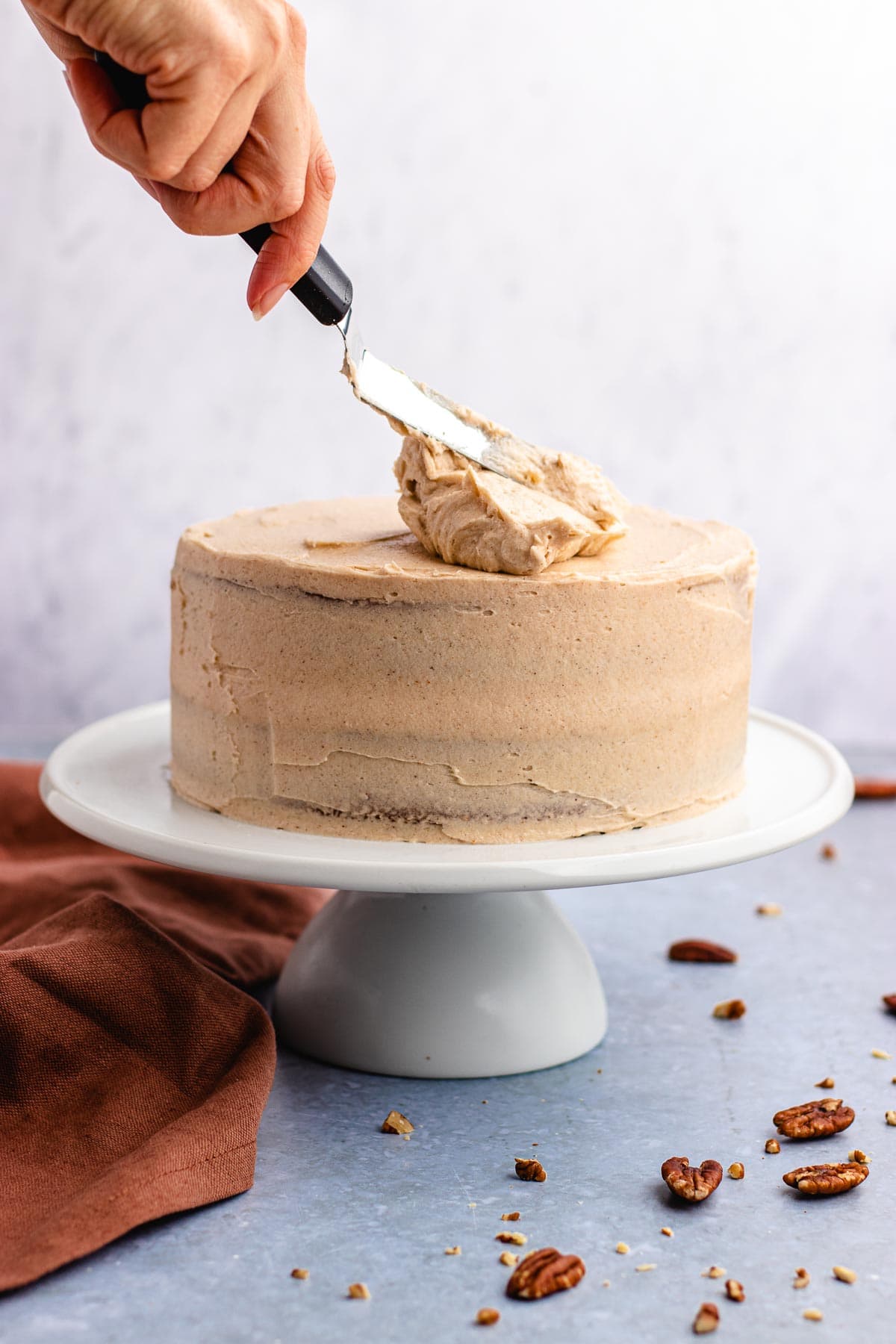 Treats that NEED Cinnamon Cream Cheese Frosting!
FAQs for Cinnamon Cream Cheese Frosting
What temperature should the butter be to make frosting?
You want your butter to be room temperature and softened so that it will whip easily and create a lot of air. However, you don't want the butter to be melted or liquid, otherwise your frosting won't hold together well and could get greasy.
Why is my cream cheese frosting runny?
Since there is no milk added to this frosting, it really shouldn't get runny at all, however if the room temperature is too warm, or you add it to hot baked goods, it could melt and get runny. Also if your butter is melted or your cream cheese is too warm, it might also make your frosting loose.
How much frosting will this recipe make?
This Cinnamon Cream Cheese Frosting recipe should make enough to generously frost 12 cupcakes or a 9×13 sheet cake. If you want to make a layer cake or 24 cupcakes, you will want to double the recipe, or do 2 ½ times the amount. There is a tool on the recipe card to increase the servings that will do the calculations for you.

Create a free account to

Save Recipes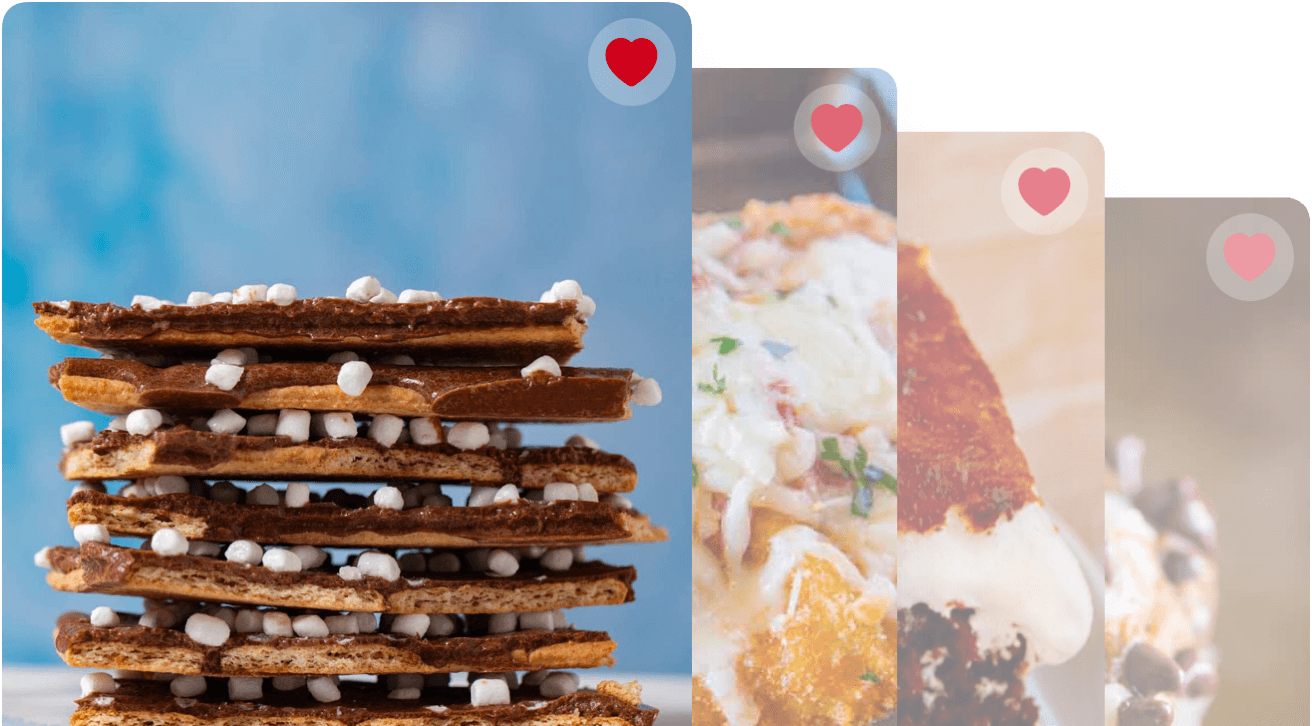 Key Ingredients
Cream Cheese: Make the base of this Cinnamon Cream Cheese Frosting with a combination of cream cheese and butter. By beating the two together, you get a light and fluffy mixture. Plus, the cream cheese gives frosting a tangy flavor, which is always a delicious contrast to bring to sweet desserts.
Butter: The softened butter adds a delicious velvety smooth texture to the frosting and balances some of the tangy flavor with the buttery richness. You want it to be room temperature, but you don't want it melted. The soft butter will whip up much easier and adds air to the frosting so it's light and fluffy.
Powdered sugar: By using confectioners sugar instead of regular sugar, you help to maintain that fluffy consistency. The fine powdery sugar absorbs easily into the creamy ingredients so your frosting isn't grainy or dense.
Cinnamon: The last ingredient is ground cinnamon, which is what sets this frosting recipe apart from others. The warm, woodsy spice packs a big punch so you don't need too much to get a good flavor. If you want an intense cinnamon flavor, try grating your own cinnamon powder with cinnamon sticks and a microplane grater or spice grinder!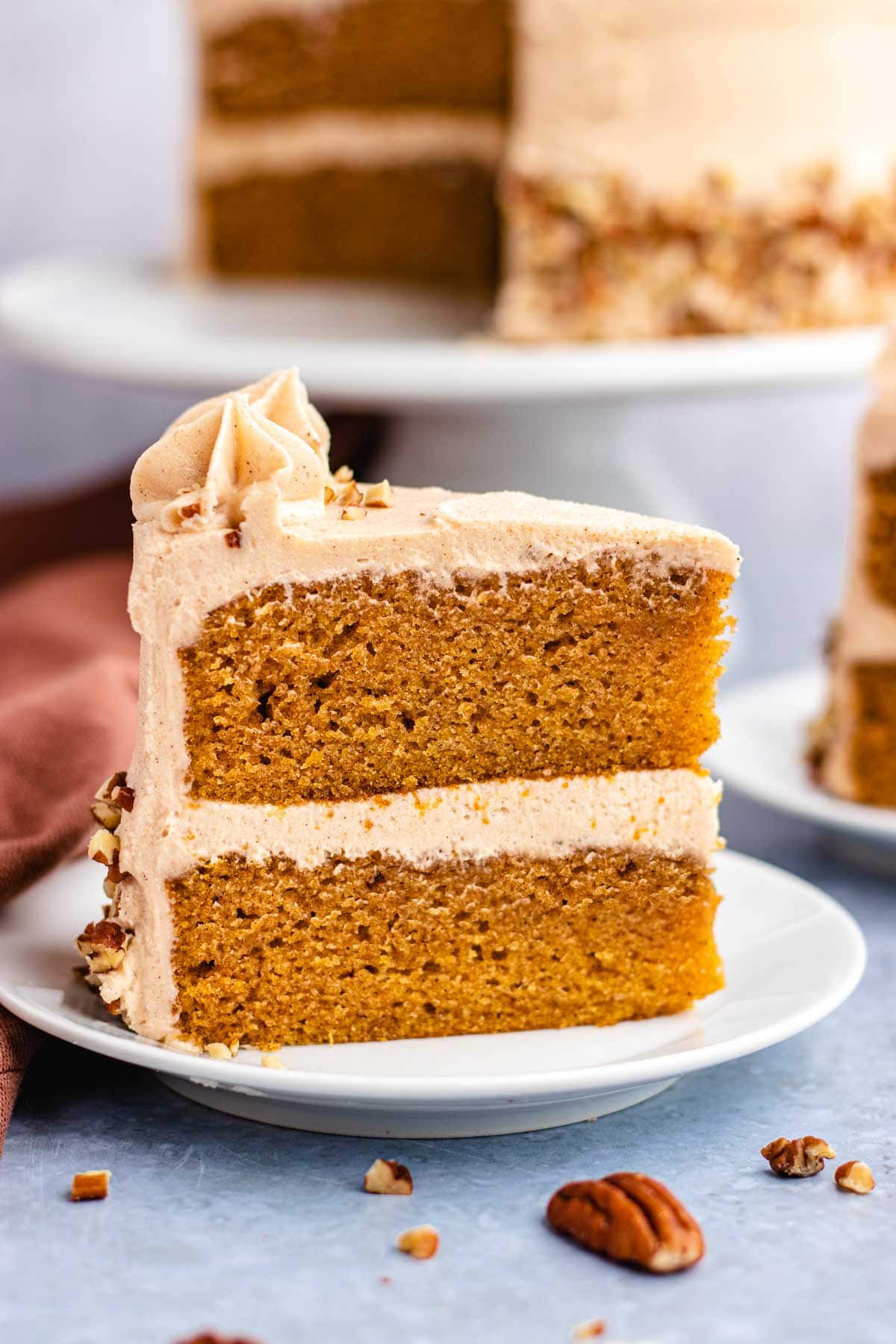 Can you make Cinnamon Cream Cheese Frosting ahead of time?
You can make Cinnamon Cream Cheese Frosting a couple of days before you want to frost your baked goods. The texture will start to change after about 2 days, but also as it sits, the cinnamon flavor intensifies a bit, so really the ideal time to make it would be the night before you want to use it.
Variations
Pumpkin Cream Cheese Frosting: To make this frosting recipe even more fitting for pumpkin desserts, you can make it with a seasonal pumpkin spice flavor. Instead of just cinnamon, mix a teaspoon of pumpkin pie spice in with the cream cheese frosting. It'll give it a delicious pumpkin cinnamon flavor. Then use the pumpkin frosting as a topping for Pumpkin Cupcakes, Moist Pumpkin Cake or any other pumpkin dessert you like. The cinnamon and pumpkin mixture makes the perfect blend of flavors for a fall dessert.
Spices: For more flavorful spices to mix into Cream Cheese Frosting try ground nutmeg, ginger, or allspice. You could try some ground ginger for some zing or try some cayenne pepper for a little heat too.
Brown Sugar Frosting: To add a sweet, slightly caramelized flavor, mix 2-4 tablespoons of brown sugar into the frosting mixture. A teaspoon of vanilla extract would also make a delicious addition to the comforting flavors.
Buttercream Frosting: Adding cinnamon is a great way to bring some extra pep to cream cheese frosting, but you can also add it to average Buttercream Frosting as a way to give it a bit of spice. Just skip the cream cheese and increase the butter to a full cup, adding a little milk if to thin out the frosting.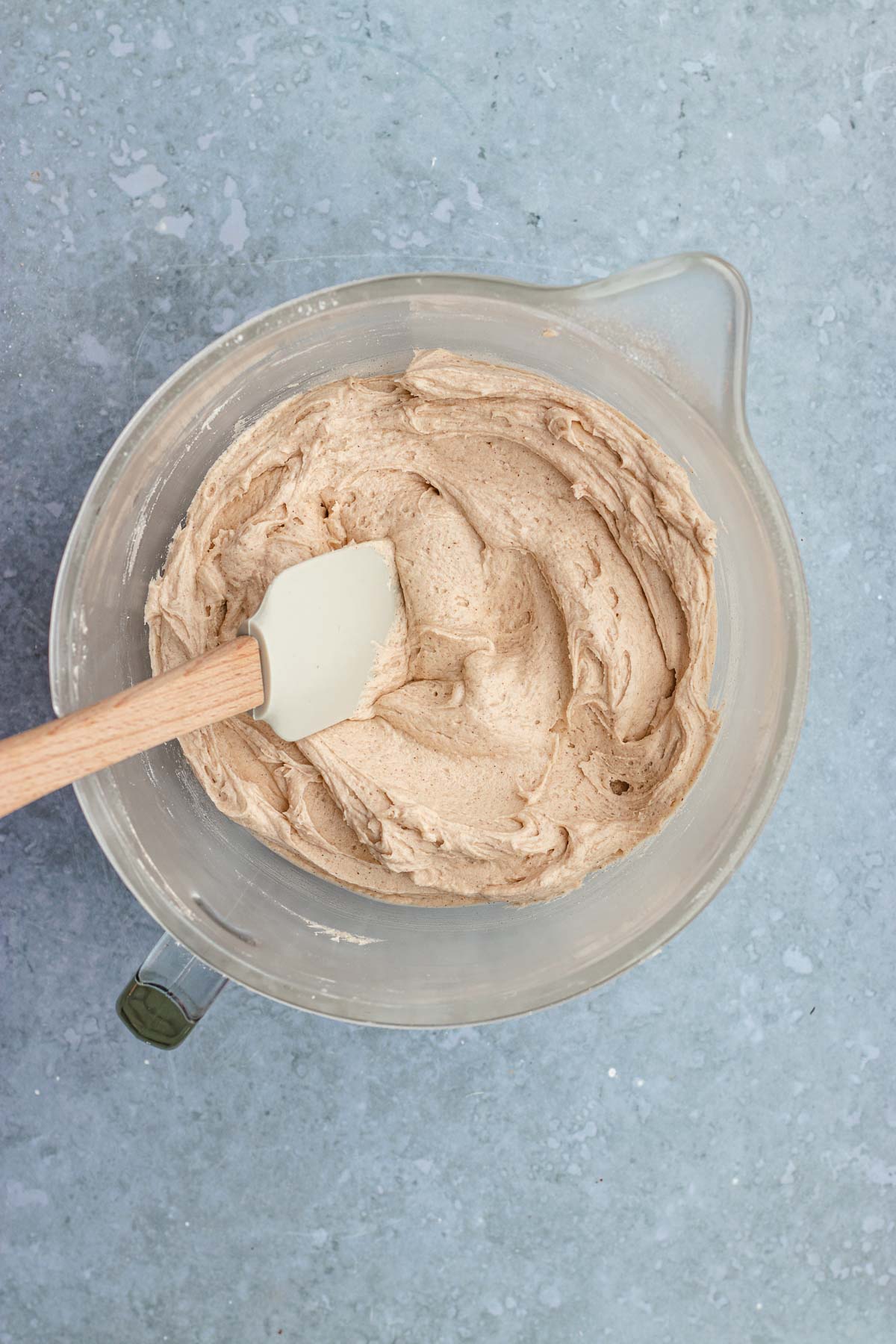 More Delicious Homemade Frosting Recipes
How to Store
Serve: After whipping together the Cinnamon Cream Cheese Frosting, you can spread or pipe it onto your cake or cookie recipe. Make sure the dessert is cooled before adding the frosting to the top, and don't leave it at room temperature for more than a couple of hours.
Store: If you don't want to use the frosting right away, cover the bowl in plastic wrap or put it in an airtight container in refrigerator for up to 3 days. Then when you're ready to use it, take the cold cream cheese frosting out of the fridge so that it has time to warm up to room temperature before you add it to a dessert.
Freeze: You could also freeze cream cheese frosting for up to 1 month. Then let it thaw in the fridge, and stir it before serving.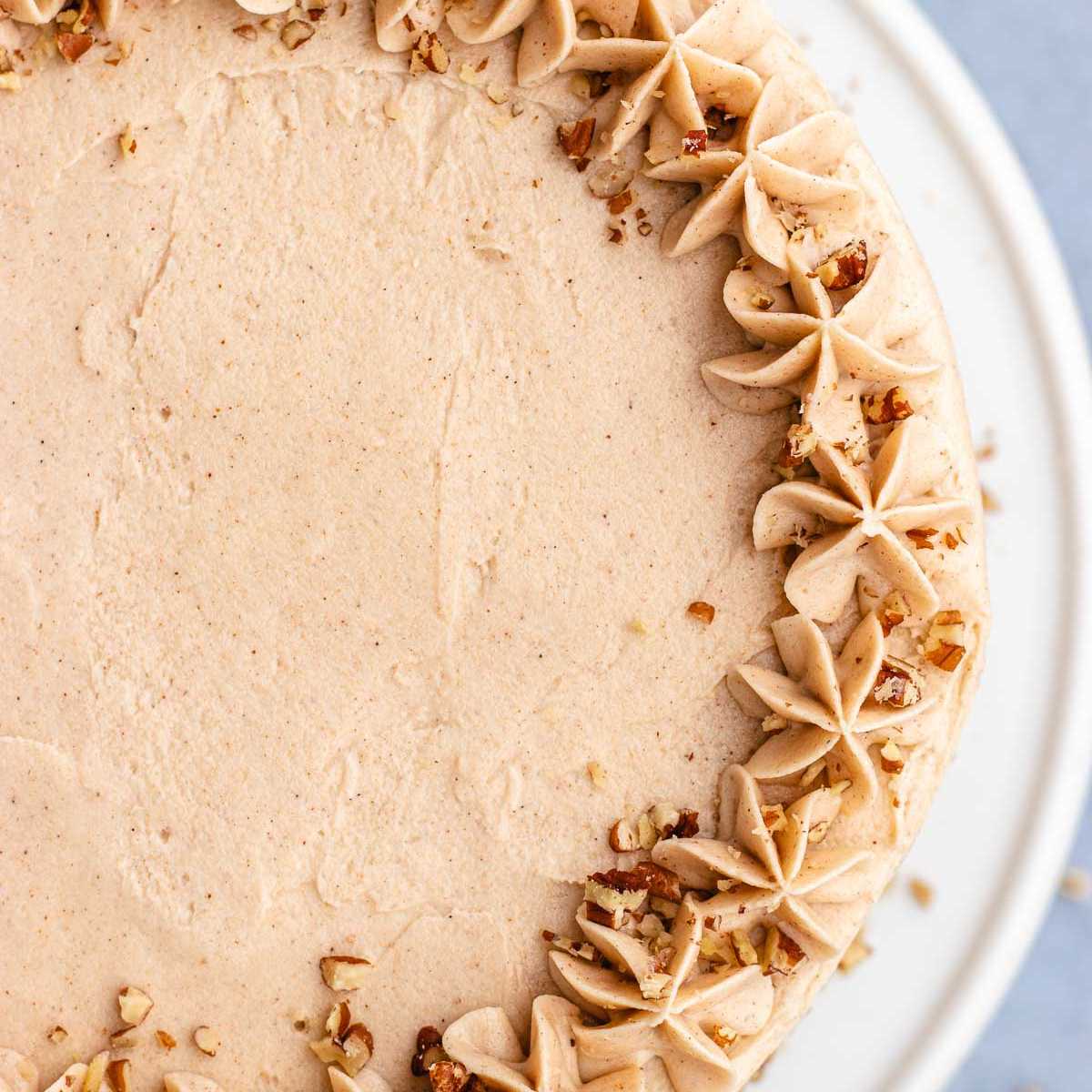 Ingredients
4

tablespoons

unsalted butter

, softened

4

ounces

cream cheese

, softened

1 1/2

teaspoons

ground cinnamon

4

cups

powdered sugar
Instructions
To your stand mixer add the butter, cream cheese and cinnamon on medium high speed and whip for

2-3 minutes

until light and fluffy.

Lower the speed to the lowest setting and add in the powdered sugar until just combined.

Raise speed to medium until fluffy for

30 seconds

.
Nutrition
Calories:
223
kcal
|
Carbohydrates:
41
g
|
Protein:
1
g
|
Fat:
7
g
|
Saturated Fat:
4
g
|
Polyunsaturated Fat:
0.3
g
|
Monounsaturated Fat:
2
g
|
Trans Fat:
0.2
g
|
Cholesterol:
20
mg
|
Sodium:
31
mg
|
Potassium:
15
mg
|
Fiber:
0.1
g
|
Sugar:
39
g
|
Vitamin A:
244
IU
|
Vitamin C:
0.01
mg
|
Calcium:
13
mg
|
Iron:
0.1
mg