Dark Chocolate Frosting is the best fluffy chocolate buttercream recipe. Easy decadent frosting and perfect topping for chocolate desserts!
This easy recipe is sure to become your favorite chocolate frosting. Easy Homemade Buttercream is mixed with dark cocoa powder for a sweet topping for Cakes, Cookies, and other Desserts.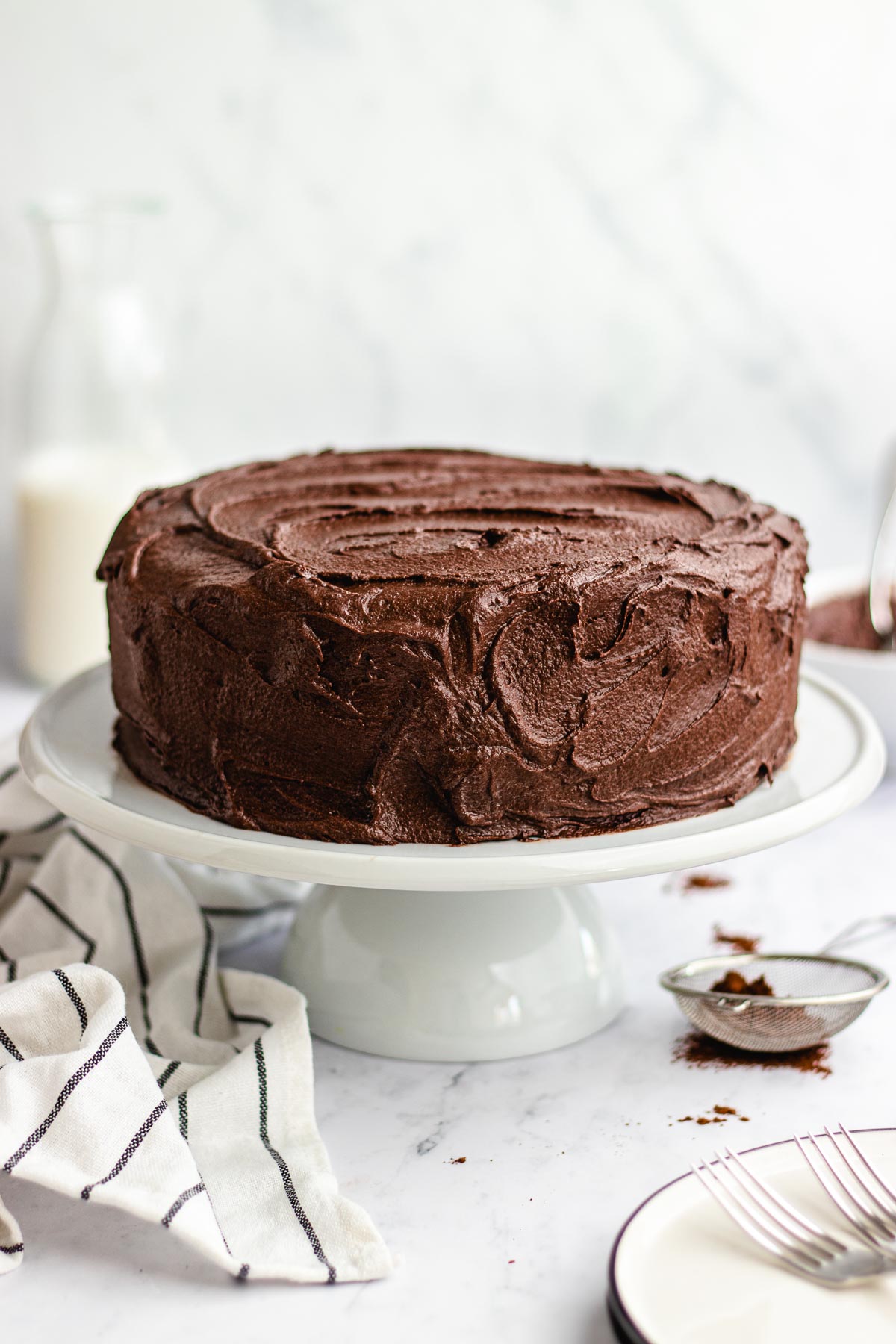 When it comes to toppings for all your favorite chocolate desserts, this decadent and rich Dark Chocolate Frosting simply can't be beat. It has an intense chocolate flavor thanks to dark unsweetened cocoa powder and lots of butter to give it the ultimate creamy consistency. You'll be creating reasons to bake your favorite Chocolate Cake recipes just to enjoy this amazing, fudgy, Dark Chocolate Buttercream.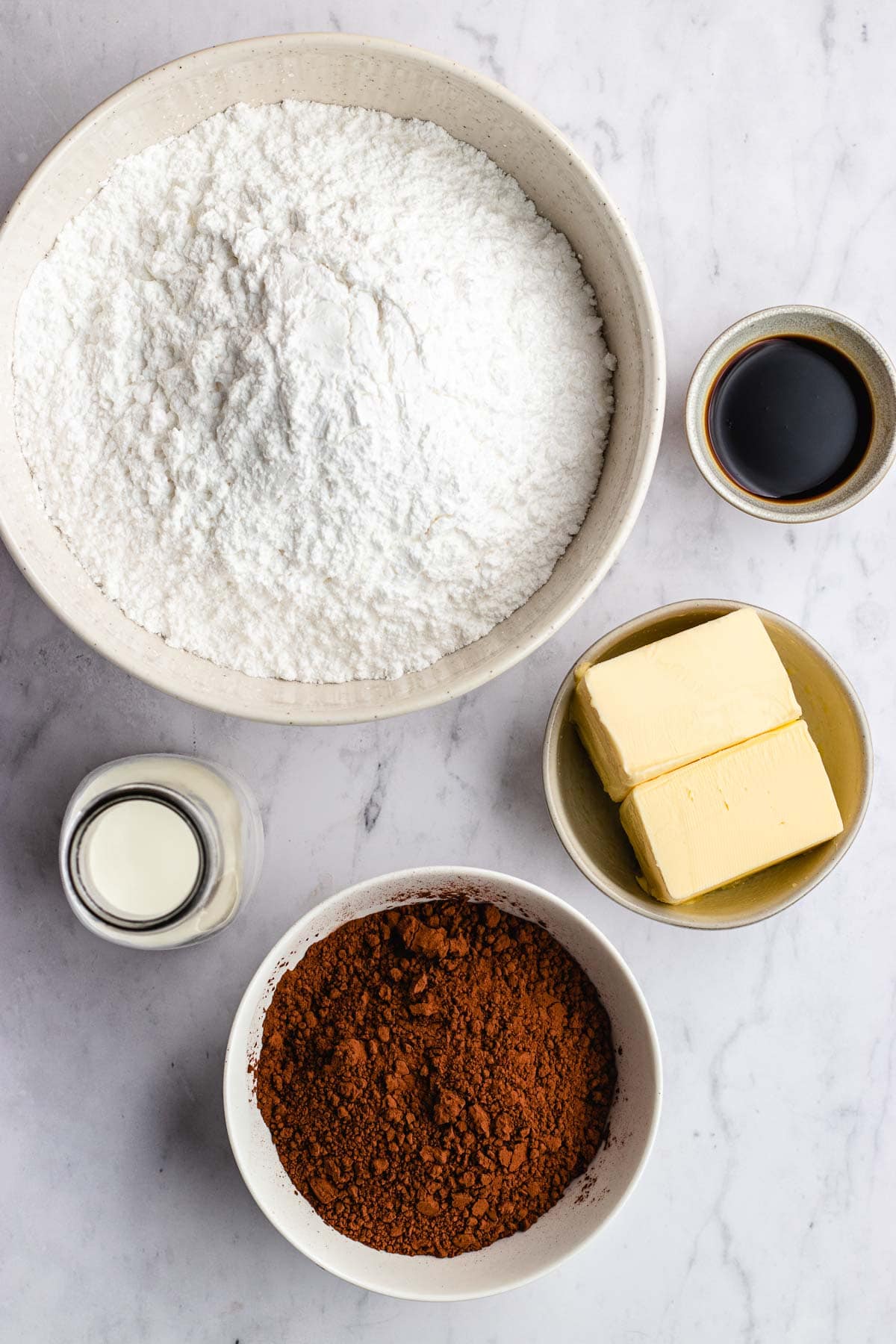 Apart from cakes, you can also use this Dark Chocolate Buttercream Frosting recipe for desserts like Sugar Cookies, Brownies, or Shortbread Cookies. If you don't have a baked good you want to frost but are still craving this creamy, sweet chocolate topping, you can use it as a dip. Serve up Chocolate Frosting in a bowl and enjoy it with dippers like animal crackers, pretzels, or graham crackers for an easy and crowd pleasing treat!
This wonderful frosting has a rich, and dark chocolate flavor. You only need a handful of ingredients and a few minutes to make this perfect topping. The homemade frosting is an easy combination of butter, dark cocoa powder, powdered sugar, milk, and a little vanilla extract. But, the simple pantry ingredients make an easy recipe that tastes so much more rich and creamy than store-bought icing.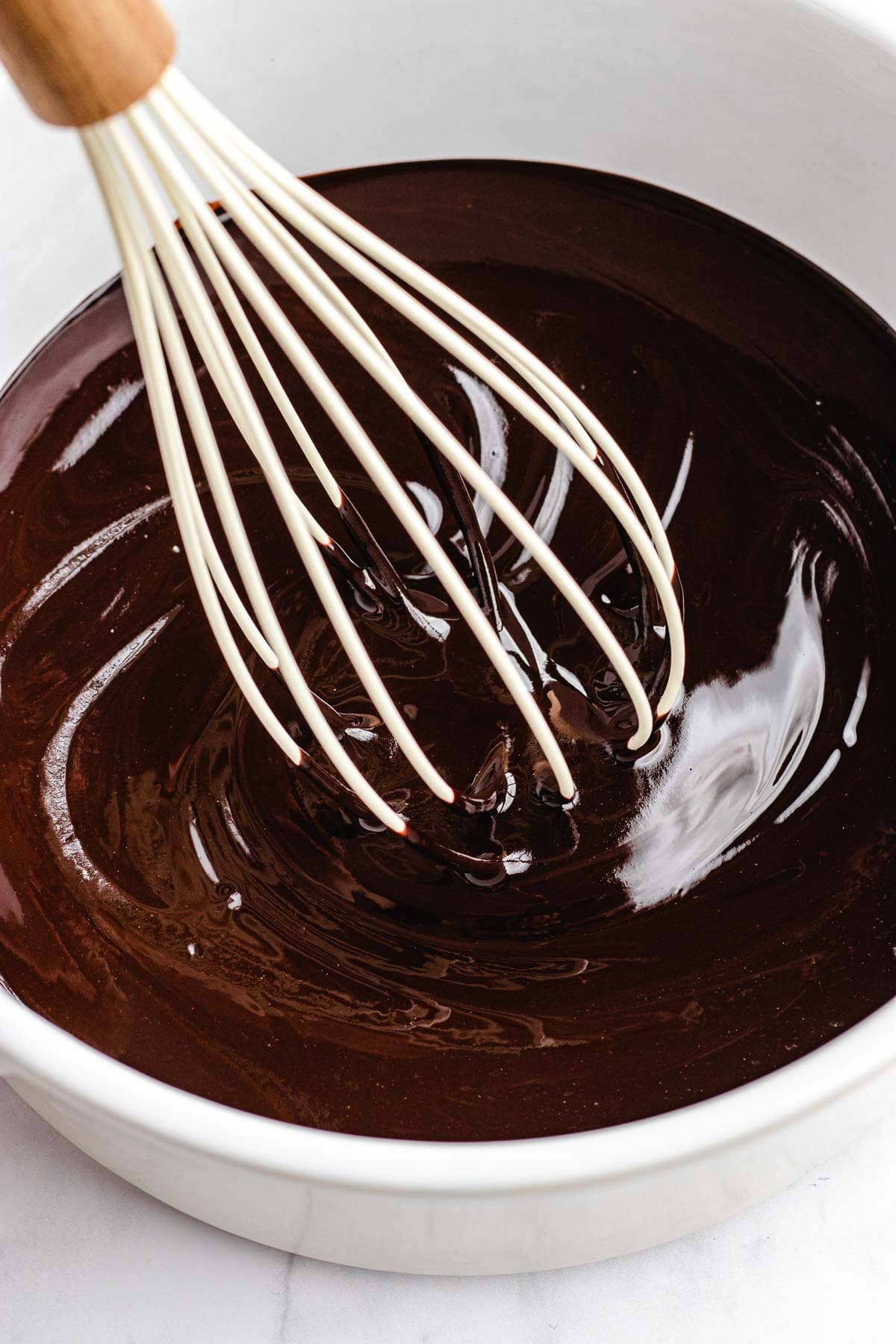 What is the difference between Frosting and Icing?
The terms "frosting" and "icing" are often used interchangeably, but there are subtle differences between them. Frosting is typically thicker, creamier, and more spreadable, making it ideal for decorating cakes and cupcakes. It has a softer texture and is often made with butter or shortening, along with powdered sugar and flavorings.
On the other hand, icing tends to be thinner and glossier, used for creating a smooth and shiny coating on baked goods. It is commonly made with confectioners' sugar, water or milk, and flavorings. Icing is often poured or drizzled over pastries, cookies, or cinnamon rolls, creating a glaze-like finish.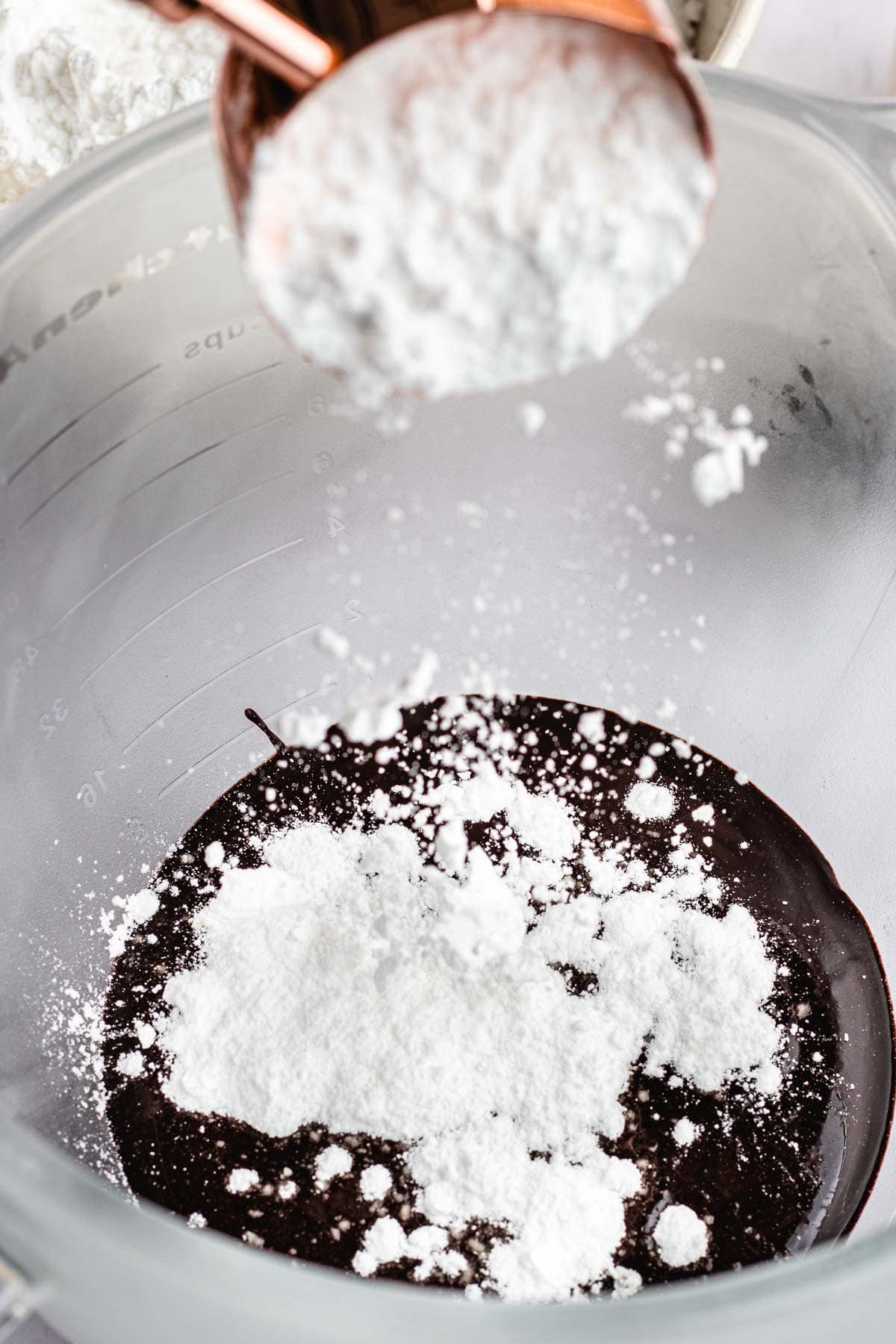 How to Make Dark Chocolate Frosting
Baking Tip: If you're making the frosting at the same time you're baking a fresh cake or cupcake recipe, try starting the frosting after the cake is baked. That gives the cake plenty of time to cool because to frost a warm cake will melt the frosting and your cake will probably crumble.
Chocolate Mixture: Put a large saucepan over medium heat and melt the butter. Add in the dark cocoa powder and whisk it into the butter. Give the cocoa mixture a few minutes to cool before moving on to the next step.
Whip: Pour the chocolate mixture into your stand mixer. Use the whip or paddle attachment to begin whipping it at medium speed. If you don't have a stand mixer, pour the frosting into a mixing bowl and use a handheld electric mixer.
Finish: Add in powdered sugar and milk ¼ cup at a time alternating between the two. Once the milk and dry ingredients are mixed in add a teaspoon vanilla extract. If the frosting seems too thick add additional milk until you reach your desired consistency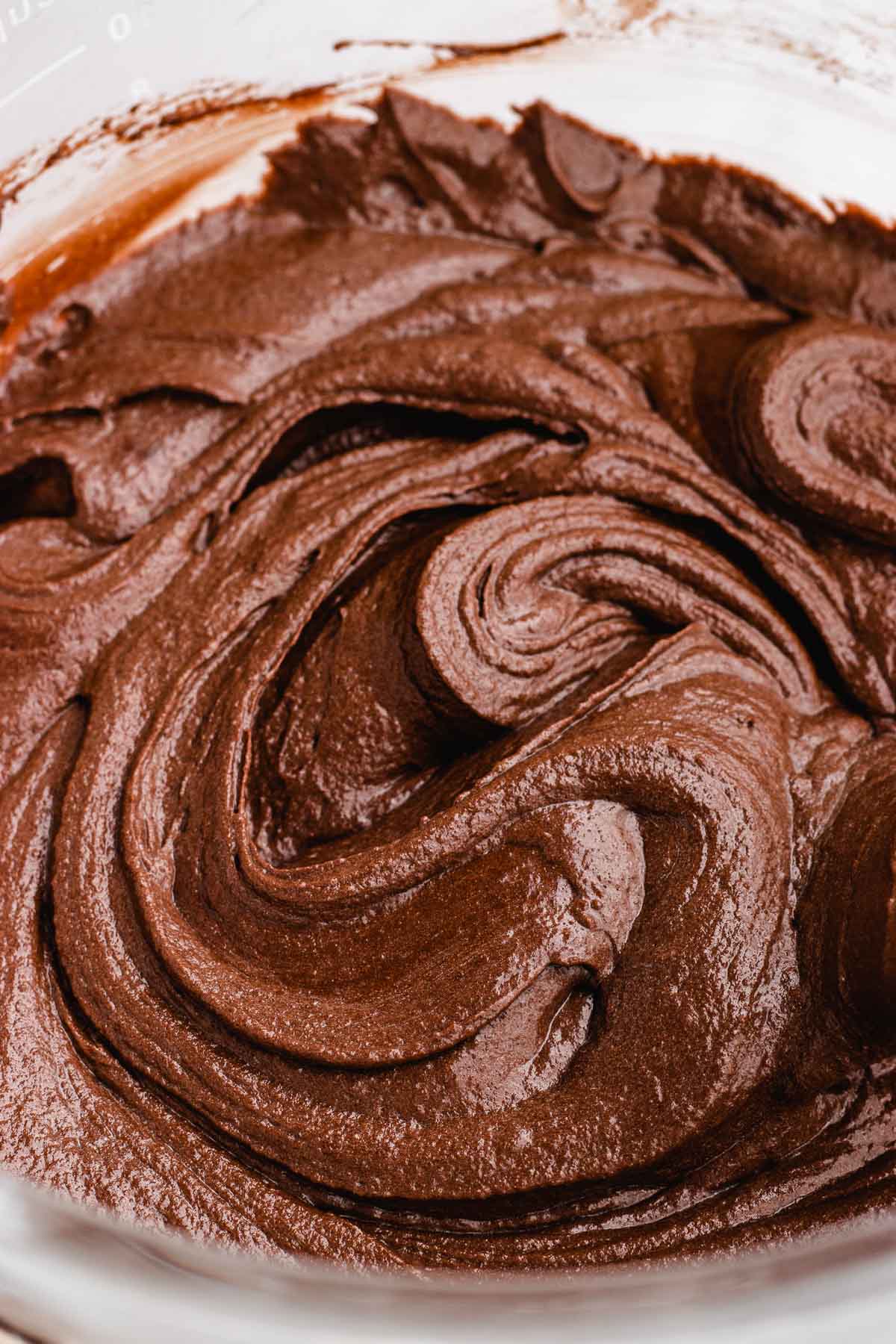 Delicious Chocolate Cake and Cupcake Recipes
FAQs for Dark Chocolate Frosting
What if my frosting is too runny?
If your frosting is too runny, there are a few steps you can take to thicken it up. One option is to gradually add more powdered sugar, a tablespoon at a time, until you reach the right consistency. Alternatively, you can refrigerate the frosting for a short period of time to allow it to firm up.
What if my frosting is too stiff?
If you are mixing the frosting and it's too stiff, gradually add a small amount of milk or cream, a teaspoon at a time, until the frosting thins out. If you have refrigerated your frosting and it's too stiff, just let it sit at room temperature for a few minutes to soften and beat again, adding a little milk as needed.
How do you make perfect dark frosting?
To make perfect dark frosting, start by using high-quality unsweetened dark cocoa powder for a rich chocolate flavor. Gradually add the powdered sugar and milk to achieve the desired consistency, alternating between the two and mixing well. Be sure to taste and adjust the sweetness or cocoa intensity as needed.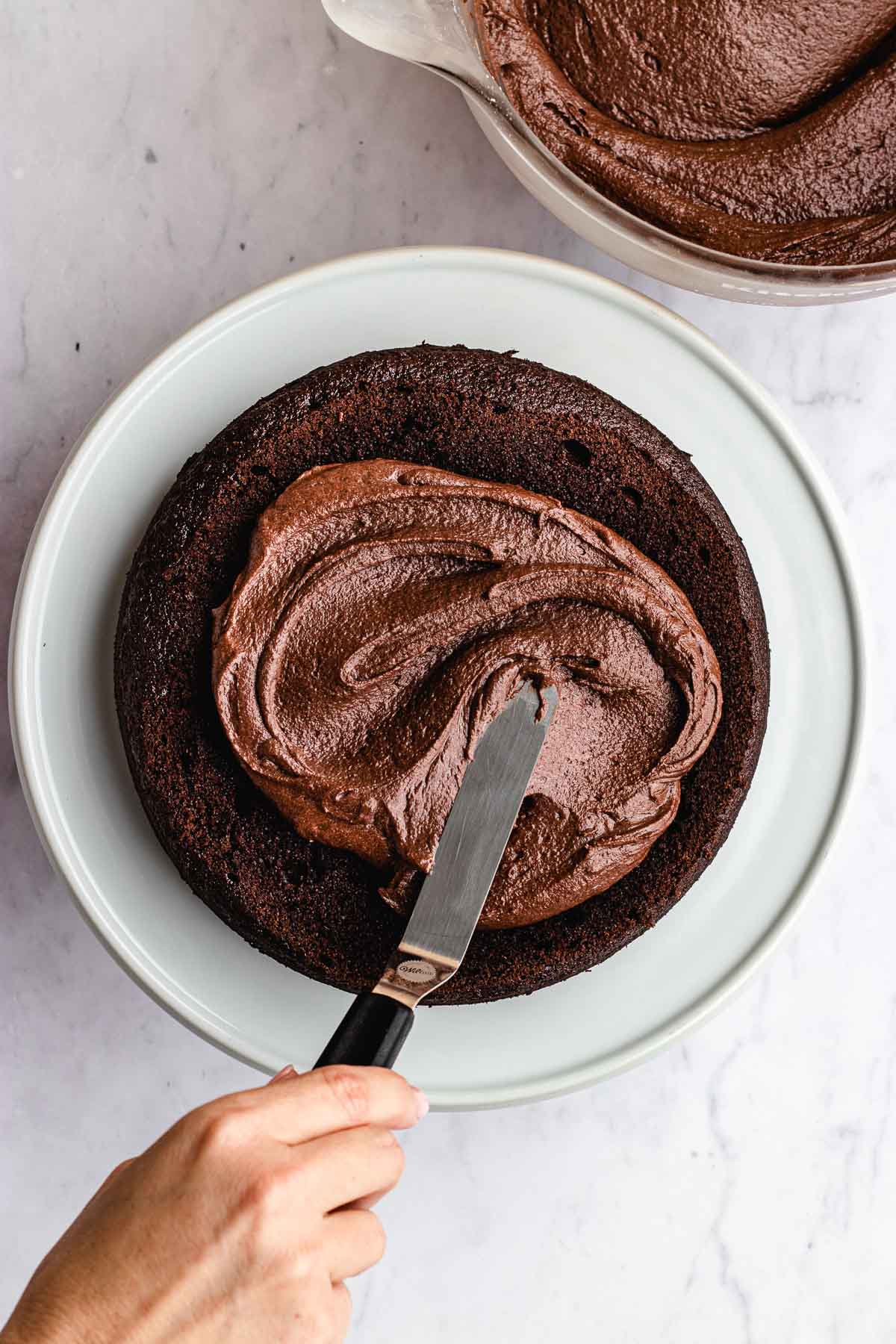 Create a free account to

Save Recipes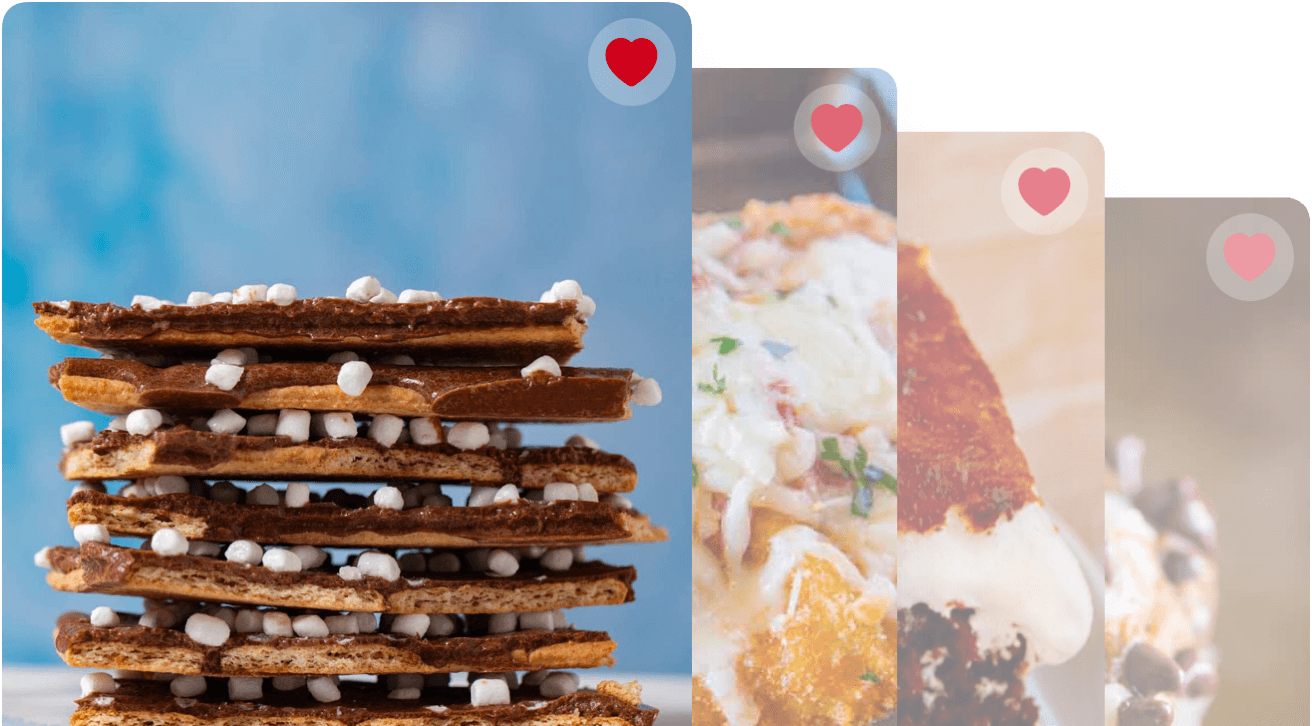 Key Ingredients
Butter: The unsalted butter provides the creamy texture for buttercream frosting. It adds a richer flavor and helps create the smooth texture in this decadent dark chocolate frosting.
Cocoa Powder: The dark unsweetened cocoa powder gives this frosting an intense chocolate flavor and the deep brown coloring. Dark cocoa powder is often used in chocolate desserts to provide a bittersweet chocolate taste to balance out the sugar mixture.
Powdered Sugar: Powdered sugar, also known as confectioners sugar, is used to sweeten the frosting and give it a smooth texture. It dissolves easily and helps create a light and fluffy consistency. The powdered sugar also contributes to the overall sweetness of the frosting, balancing the intense unsweetened cocoa powder.
Milk: Milk is added to the frosting for a creamy consistency. It helps thin out the mixture and makes it easier to spread or pipe onto desserts. Additionally, milk adds a touch of moisture to the frosting, enhancing its creamy texture.
Vanilla: Vanilla extract actually enhances the chocolate frosting taste by bringing out the natural flavors in the cocoa beans. It also adds a subtle yet aromatic sweetness that complements the unsweetened chocolate.
Can Dark Chocolate Frosting be made ahead of time?
Yes, Dark Chocolate Frosting can be made ahead of time. You can prepare the frosting in advance and store it in an airtight container in the refrigerator for up to several days or freeze it for up to 3 months. Before using, let the frosting come to room temperature and give it a good stir or re-whip to restore its smooth and fluffy consistency.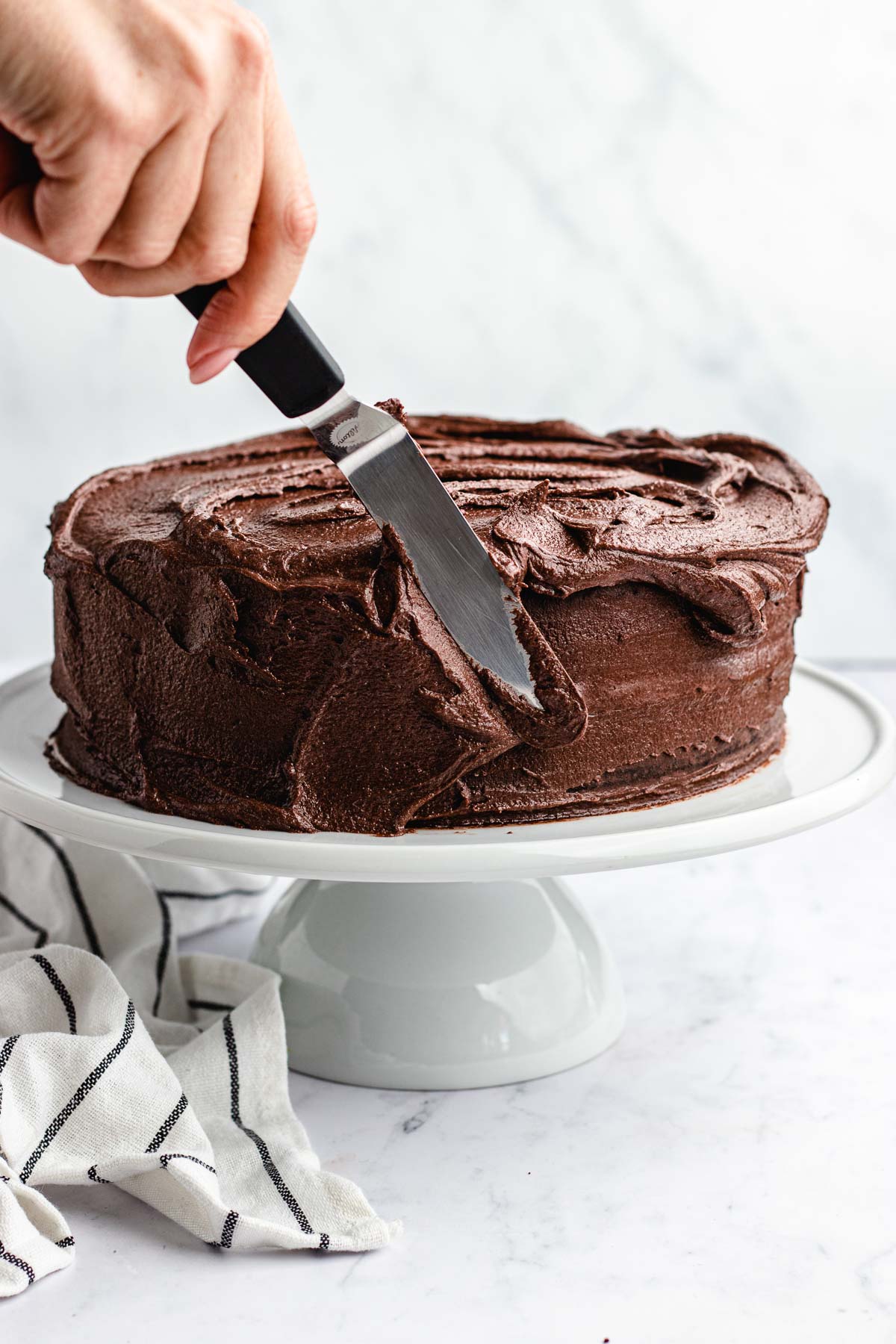 Variations
Chocolate: Instead of cocoa powder, you can use melted chocolate chips. This allows you to use milk chocolate chips or semi-sweet chocolate chips for a slightly lighter frosting. Melt the chocolate chips with the butter and make the recipe as usual.
Heavy Cream: For a creamy, amazing Chocolate Fudge Frosting, use heavy cream instead of the whole milk. The cream has a higher fat content and richer flavor so it will mimic a chocolate fudge flavor.
Coffee: For some coffee flavor in your frosting use instant coffee or freshly brewed coffee to mix into it. 1-2 tablespoons should give you plenty of the coffee taste. The coffee will also highlight the roasted cocoa beans in the dark unsweetened chocolate.
How to Use Dark Chocolate Frosting
Cupcakes: Whether you're making Chocolate Cupcakes, Vanilla Cupcakes, or any other flavor, this rich chocolate frosting recipe is guaranteed to make them more delicious! Spread a generous amount on top, or add a sweet chocolaty surprise by piping some frosting in the center.
Cookies: Use two Peanut Butter Cookies and fill with a layer of frosting in between to create cookie sandwiches in a tasty choco-peanut butter combo. Add more milk until it's a thin glaze consistency and pour over cooled cookies, or keep it slightly thicker and use as a decorative icing.
Brownies: Once your favorite Chocolate Brownies are cooled, you can spread a thick layer of Chocolate Frosting on top to give them extra chocolaty goodness. The creamy frosting pairs perfectly with the dense and fudgy texture of brownies, for heavenly decadent bite.
Snack: You can also use it as a dip for fruits, spread it on bread or toast, or even enjoy it straight from the spoon for a quick and indulgent chocolate fix.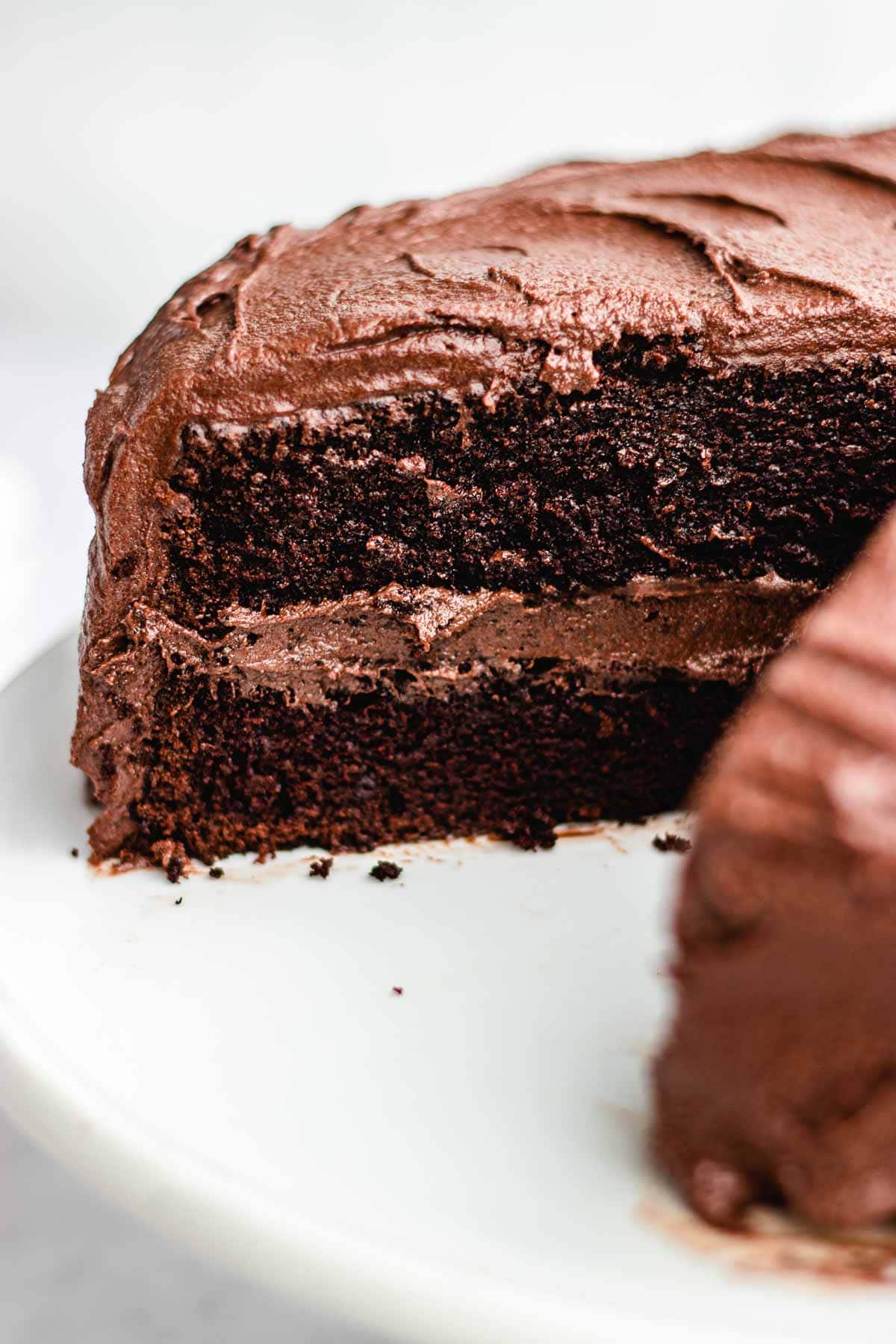 More Classic Frosting Recipes
How to Store
Serve: Once you've made the Dark Chocolate Buttercream Frosting, you can either spread it over your dessert right away or store it for later.
Store: Kept at room temperature homemade buttercream frosting can stay good for up to 2 days. To extend the storage time put the frosting in an airtight container to store in the refrigerator. It will keep well in the refrigerator for up to 3 days.
Freeze: You can freeze this chocolate frosting recipe for up to 3 months. Let the frosting thaw to room temperature, then whip it to get the right texture back.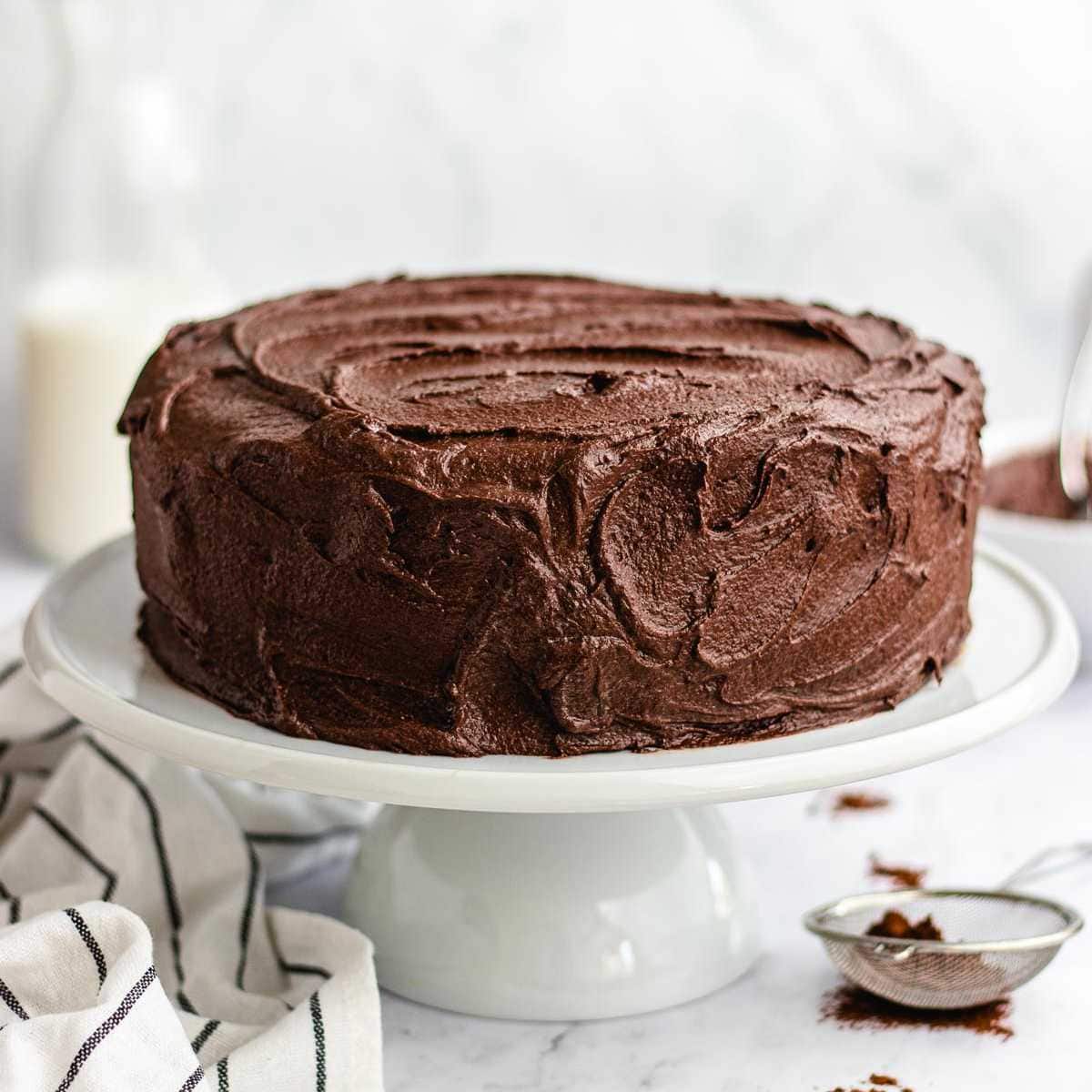 Ingredients
1 1/2

cups

unsalted butter

1

cup

unsweetened dark cocoa powder

5

cups

powdered sugar

2/3

cups

milk

1

teaspoon

vanilla
Instructions
Melt the butter in a large saucepan and whisk in the cocoa powder then remove from the heat and let cool.

Add the cooled chocolate mixer to your stand mixer and whip on medium speed adding the powdered sugar and milk, alternating them ⅓ at a time, and finally add the vanilla in last.

If the frosting is too thick, add a bit more milk.
Nutrition
Calories:
210
kcal
|
Carbohydrates:
27
g
|
Protein:
1
g
|
Fat:
12
g
|
Saturated Fat:
8
g
|
Cholesterol:
31
mg
|
Sodium:
6
mg
|
Potassium:
68
mg
|
Fiber:
1
g
|
Sugar:
25
g
|
Vitamin A:
367
IU
|
Calcium:
16
mg
|
Iron:
1
mg