Oreo Bundt Cake is the ultimate cookies and cream dessert. Enjoy vanilla cake with delicious Oreo chunks mixed in and sweet Oreo icing.
This is the perfect Dessert Recipe for Oreo and cake lovers alike. For more Oreo inspiration try our Chocolate Oreo Cobbler or Magic Oreo Layer Bars next.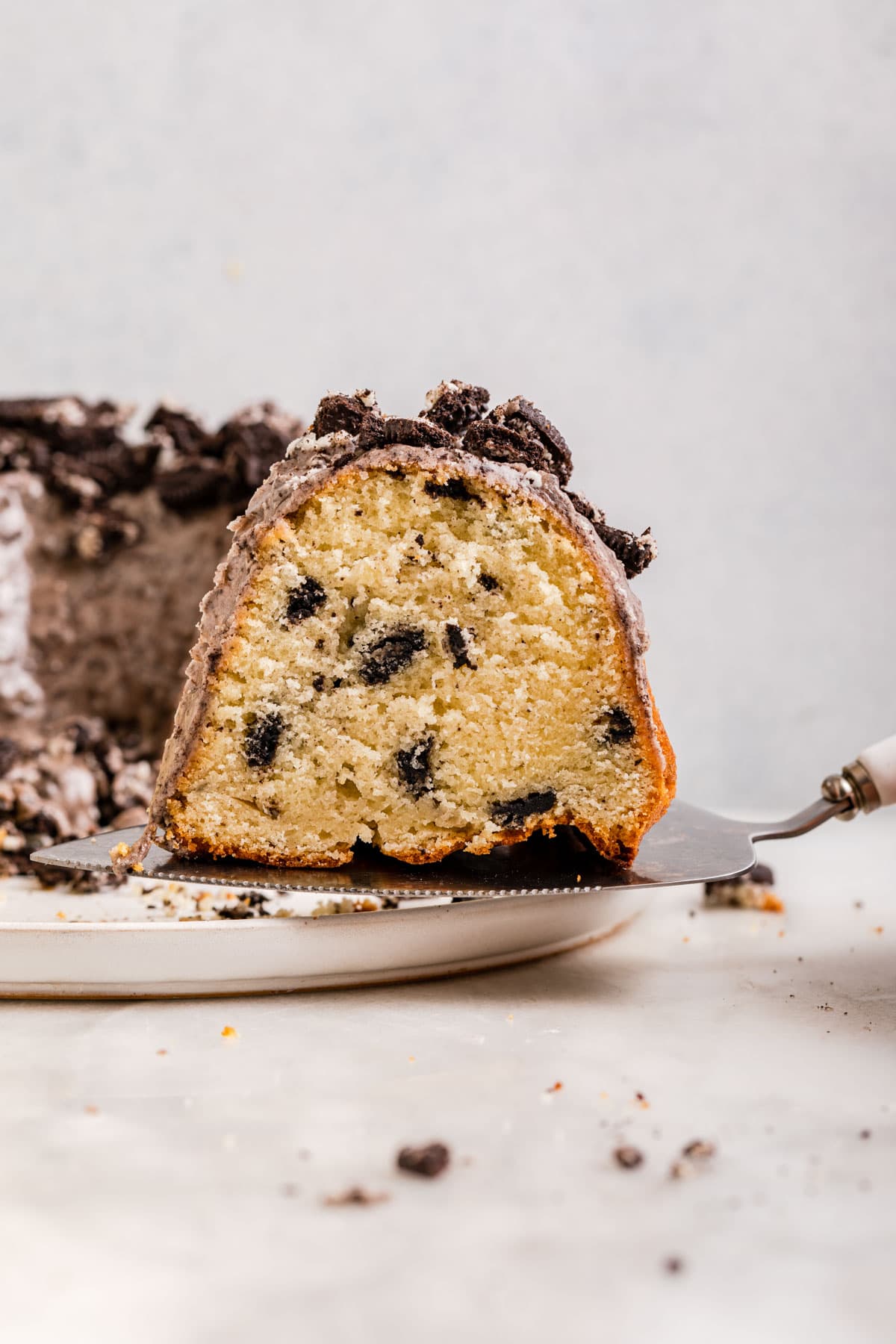 When it comes to classic cake recipes, it's hard to beat the simple deliciousness of a Bundt cake. They're an easy, versatile, moist cake recipe that you can serve for a variety of occasions. Whether you're hosting a party where you need decadent desserts or just have a sweet tooth, a Bundt Cake recipe can work perfectly.
Some of my favorite Bundt cake recipes we've posted so far have been the Triple Chocolate Bundt Cake, and Orange Bundt Cake. This new version is shooting straight to the top. It takes that classic cake base and adds the classic chocolate sandwich cookie, Oreos, to the mix. What could be better?
Oreos are always a favorite cookie with my whole family, so whenever I find new ways to incorporate them into classic dessert recipes it's always a win. This one got rave reviews all around! The kids will have fun in the kitchen helping out with this recipe, too. Let them crush the Oreo cookies by sealing them in a zip top bag and crushing them with a rolling pin. Try serving slices of this delicious cake topped with Homemade Vanilla Ice Cream, Easy Hot Fudge Sauce, or Whipped Cream.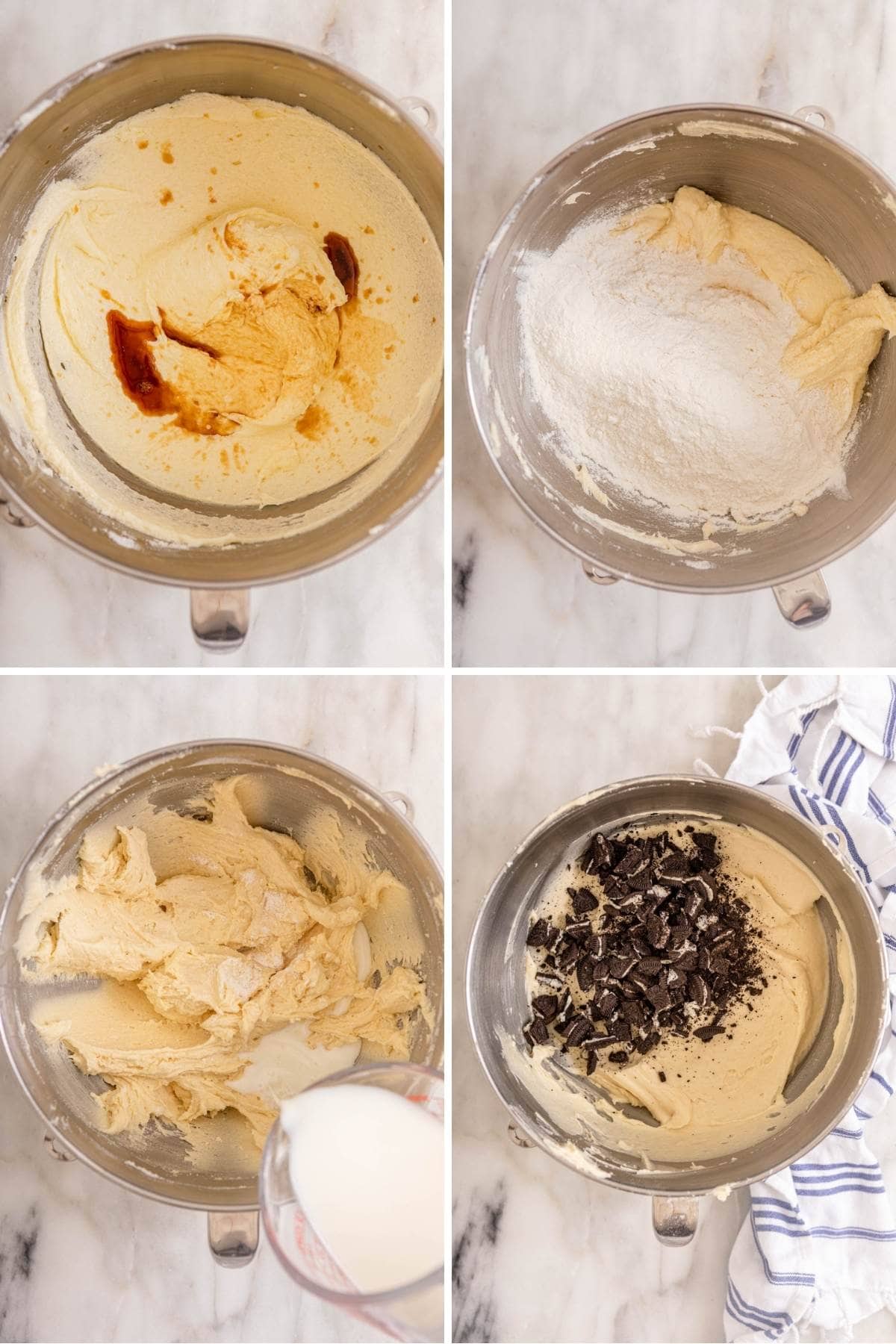 How to Make an Oreo Bundt Cake
Prep time: start by preheating the oven to 350 degrees. Then prep the Bundt pan with nonstick baking spray.
Cake batter: Sift the flour, baking soda, and salt into a mixing bowl and set it to the side. Then add the butter and white sugar to a stand mixer. Use the paddle attachment to cream the butter mixture until light and fluffy. It should only take 2 minutes. Next, add one egg at a time. Make sure to mix each egg into the cake mix, before adding the next. Then stir in the vanilla extract to finish the wet ingredients. Alternate between adding the dry ingredients and the milk until it's all combined. Fold in the Oreo chunks to finish.
Baking time: Pour the Oreo Bundt Cake Batter into the prepared baking pan and pop it into the preheated oven. Continue baking for 50-55 minutes. Once you take it from the oven, use a toothpick to check the cake for doneness. If it comes out clean the cake is done. Then let the cake cool before adding the icing.
Oreo Icing: To make the icing add powdered sugar, milk, and Oreo crumbs to a large bowl. Simply whisk the ingredients together until they're smooth. Then pour the glaze over the cooled cake. Sprinkle roughly chopped Oreos on top. Once it's all cooled, you can slice and serve.
More Oreo Favorites
Frequently Asked Questions
Why did my Bundt Cake stick to the pan?
Make sure you are generously coating the bundt pan with nonstick baking spray. This is different from regular spray oil because it contains particles of flour, which helps to keep the cake from sticking. If you do not have baking spray on hand, you can easily grease and flour the pan yourself. Generously coat the pan with butter, vegetable oil, or shortening, and then sprinkle a few tablespoons of flour into it. Turn the pan while tapping the outside to spread the flour all over the inside, then tap out any excess. This should ensure that your bundt cake easily releases from the pan.
How do I fix a broken bundt cake?
There's nothing frosting can't fix! If pieces of the cake stick to the pan, or even if it comes out in two pieces, you can still salvage it. Use some of the glaze to stick the pieces back together, and cover the cracks with more glaze. Then frost as usual. The extra cookies crumbled on top are perfect for covering any imperfections. The results will be so delicious, nobody will even notice!
What if I don't have a bundt pan?
You can still make this delicious Oreo cookie cake in a 9×13 baking dish! It will just have a different presentation. Prepare the baking dish with nonstick baking spray and bake at 350 and start checking for doneness after about 35-40 minutes. You can also scoop batter into cupcake liners until 2/3 full, then bake for 18-22 minutes until a toothpick comes out clean. Then frost with the Oreo frosting and enjoy!
Why did my cake turn out dry?
If your cake is turning out too dry, your oven could be too hot. Use an oven save thermometer to check that your oven set temperature is correct. If it is off, adjust the dial accordingly until the thermometer reads the correct temperature. You also want to make sure that you are measuring the flour correctly. To correctly measure flour for baking, fluff the flour with a measuring cup so it is not compacted, before spooning flour into the measuring cup, then leveling it off with a flat knife. This way you are not using additional flour from it being compacted in the bag.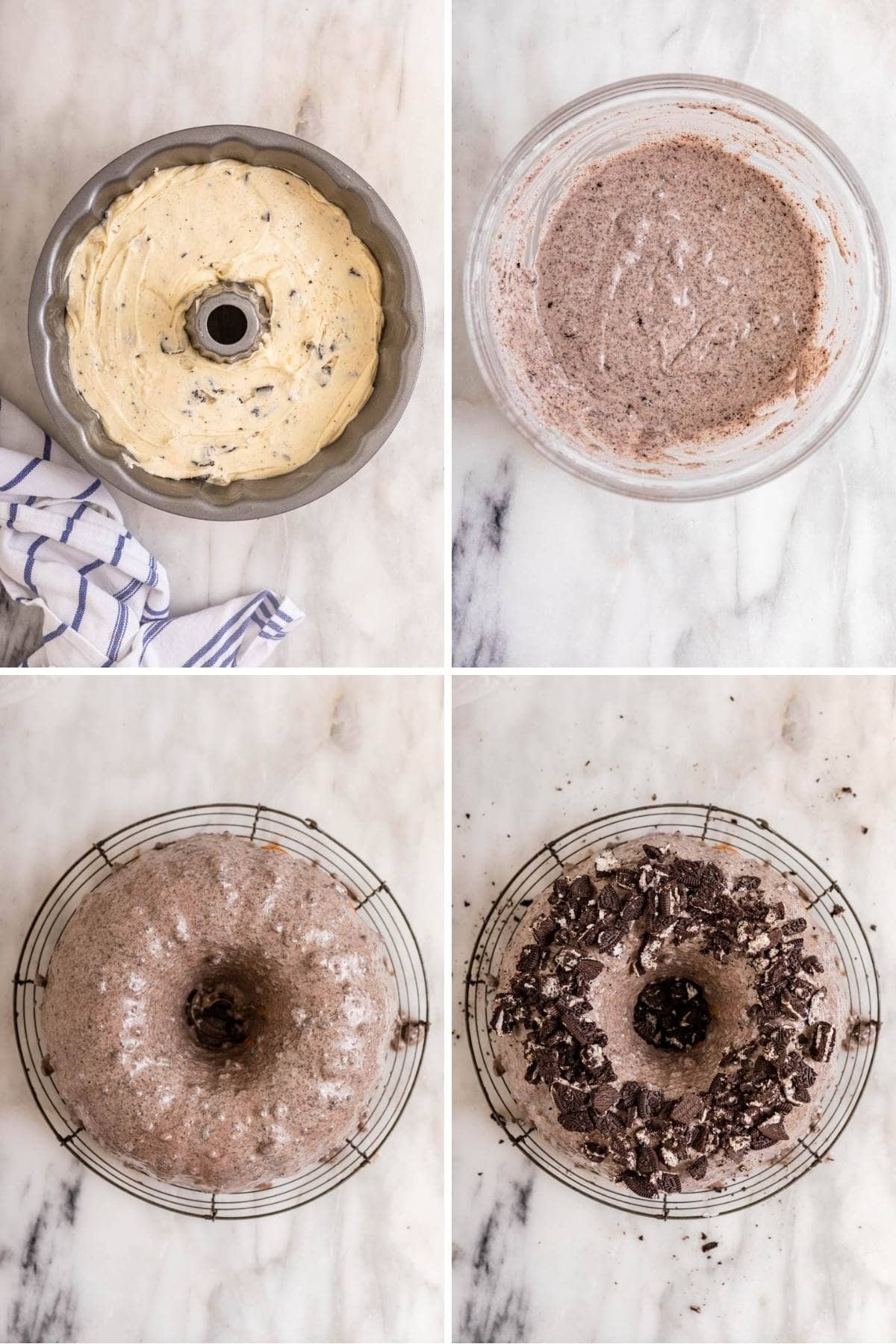 Key Ingredients in Oreo Bundt Cake
Cake batter: You might be expecting chocolate cake for this Oreo dessert, but we decided to go with more of a cookies and cream combo. So, for the simple vanilla cake base, you just need pantry ingredients like flour, butter, granulated sugar, eggs, and a handful of other things to make the cake batter.
Oreos: The vanilla cake gets an upgrade when you mix in crushed Oreos. Cookie pieces add chocolatey flavor and moist crumbs to the cake batter. Then, extra Oreo pieces are also mixed into the icing.
Icing: Apart from the Oreos, all you need for the icing is milk and powdered sugar. They mix together into a glossy consistency that makes an amazing topping.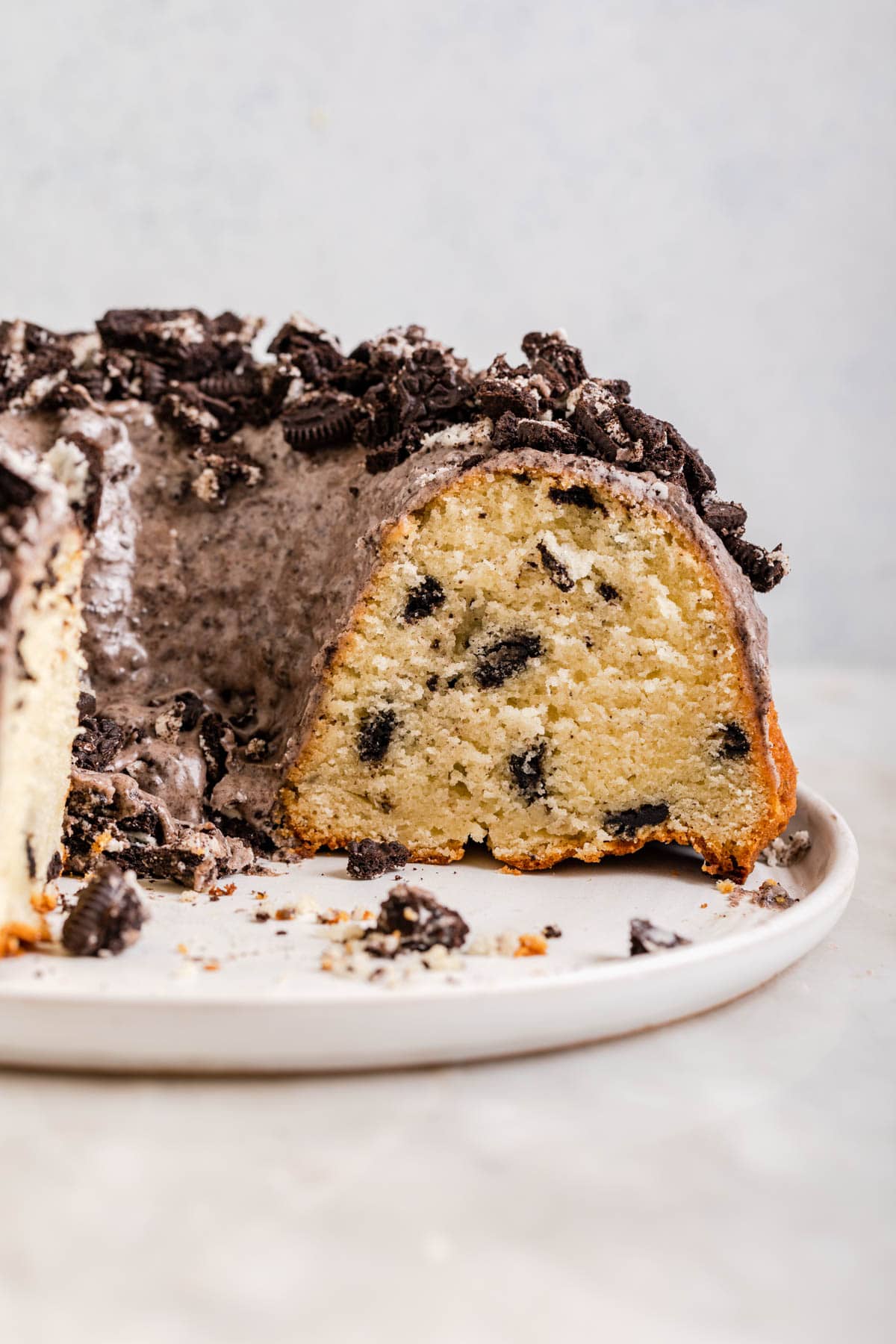 Create a free account to Save Recipes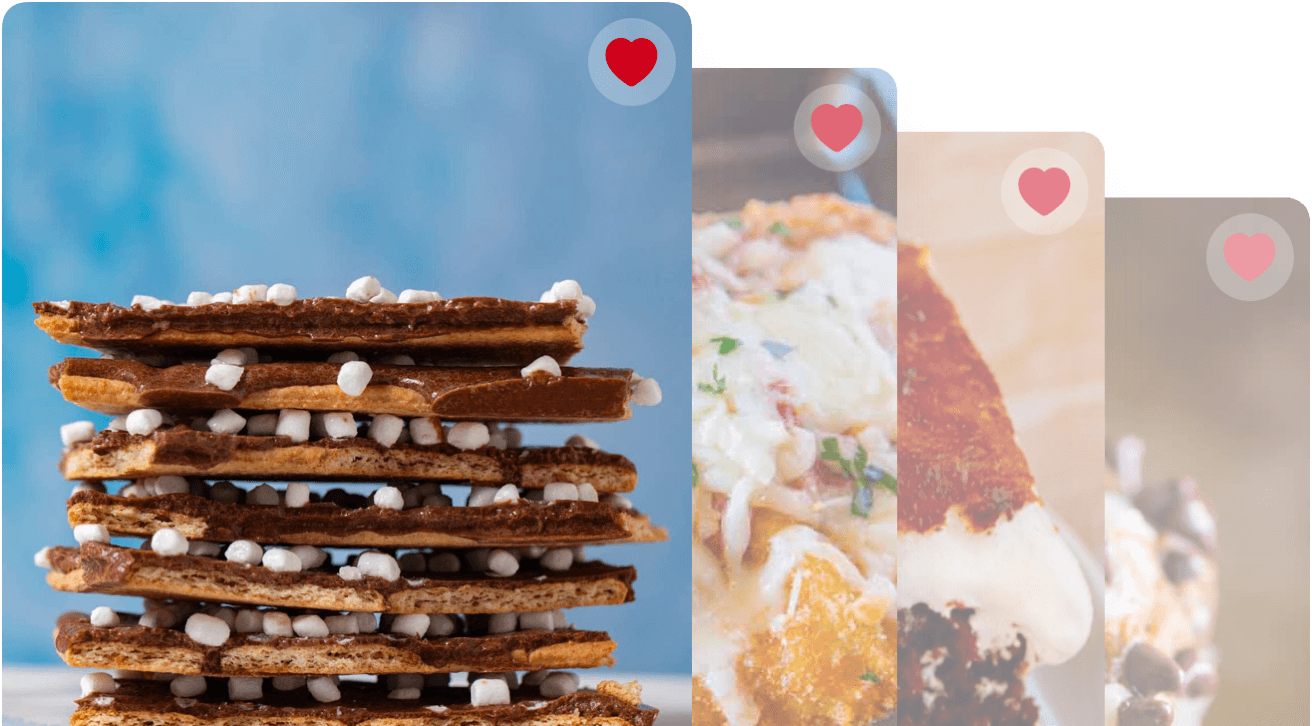 Variations on Oreo Bundt Cake
Cream cheese glaze: Instead of the simple glaze in this recipe, you can try making a cream cheese glaze. It's similar to cream cheese frosting, but with a more glossy consistency. To make this recipe add 4 ounces cream cheese, ¼ cup butter, 1 teaspoon vanilla, and 1 cup powdered sugar to a mixing bowl. Then combine all the ingredients. Once mixed, heat it all in a saucepan until pourable.
Oreos: There are so many different types and flavors of Oreos. For your Oreo Bundt Cake, try using red velvet Oreos, vanilla Oreos, double chocolate Oreos, or double-stuffed Oreos.
Chocolate Oreo cake: If you're more of a chocolate person, you can make this into a moist chocolate Bundt cake. Use 2/3 cup unsweetened cocoa powder to replace part of the flour in the original recipe. Then fold in the Oreo crumbs, and bake the chocolatey Bundt recipe.
Chocolate chips: Another way to add some extra chocolate is by mixing in a cup of chocolate chips. Mini chocolate chips usually work best, and you can use your choice of milk chocolate, dark chocolate, semisweet, or white chocolate chips.
Cookies: You can swap out the Oreos altogether and replace them with any of your favorite store bought crunchy cookies for a fun play on this Cookie Bundt Cake. Try using Chips Ahoy, Circus Animal Cookies, Nilla Wafers, Nutter Butters, Biscoff, or Girl Scout Cookies.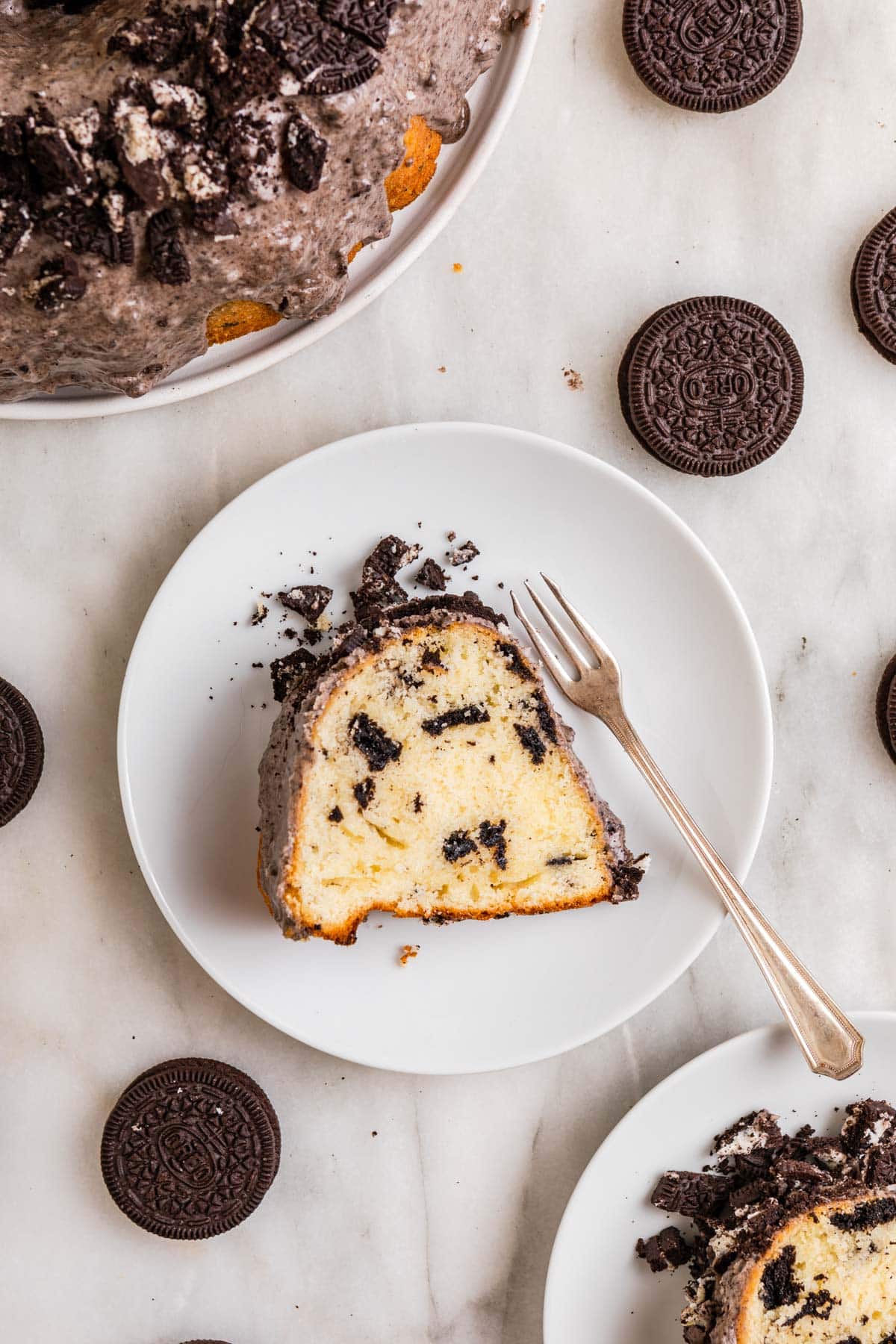 More Bundt Cake Recipes
How to Store Oreo Bundt Cake
Serve: As long as it's covered, the Oreo Bundt Cake can stay good at room temperature for up to 3 days.
Store: You can also keep the cake in the fridge. Seal it in an airtight container or cover it tightly. Then it can stay good for 5 days.
Freeze: For more long-term storage, seal the cake and put it in the freezer for up to 3 months.


Ingredients
Oreo Bundt Cake:
3

cups

flour

2

teaspoons

baking powder

1/2

teaspoon

salt

1

cup

unsalted butter

, softened

2

cups

sugar

3

large

eggs

1

teaspoon

vanilla extract

1

cup

whole milk

8

Oreos

, roughly chopped
Oreo Icing:
2

cups

powdered sugar

1/2

cup

Oreo Cookie Crumbs

1/4

cup

whole milk

8

Oreo cookies

, roughly chopped
Instructions
Oreo Bundt Cake:
Preheat oven to 350 degrees.

Sift the flour, baking soda, and salt and set aside.

In a large stand mixer add the butter and sugar and cream well until fluffy, about

2 minutes

.

Add the eggs one at a time, incorporating fully before adding the next egg.

Add in the vanilla extract.

Add in the flour mixture and the milk in alternating order, about half of each at a time until the mixture is just combined.

Fold in the Oreo cookie chunks.

Spray a 10" Bundt pan well with baking spray.

Add the batter evenly and bake for

50-55 minutes

until a toothpick comes out clean.
Oreo Icing:
Add the powdered sugar, milk, and Oreo cookie crumbs to a large bowl and whisk together well until smooth.

Pour over cooled cake.

Add the roughly chopped Oreos to the top.
Nutrition
Calories:
448
kcal
|
Carbohydrates:
71
g
|
Protein:
5
g
|
Fat:
17
g
|
Saturated Fat:
9
g
|
Polyunsaturated Fat:
1
g
|
Monounsaturated Fat:
5
g
|
Trans Fat:
1
g
|
Cholesterol:
67
mg
|
Sodium:
175
mg
|
Potassium:
155
mg
|
Fiber:
1
g
|
Sugar:
48
g
|
Vitamin A:
436
IU
|
Calcium:
60
mg
|
Iron:
3
mg