Strawberry Upside Down Cake is an easy delicious summer-time cake with a sugary sweet fresh strawberry topping baked on a moist vanilla cake.
Fresh ripe strawberries are an easy way to give Pineapple Upside Down Cake a bright, fruity twist. This sweet berry cake is sure to be one of your new favorite summer Cake Recipes!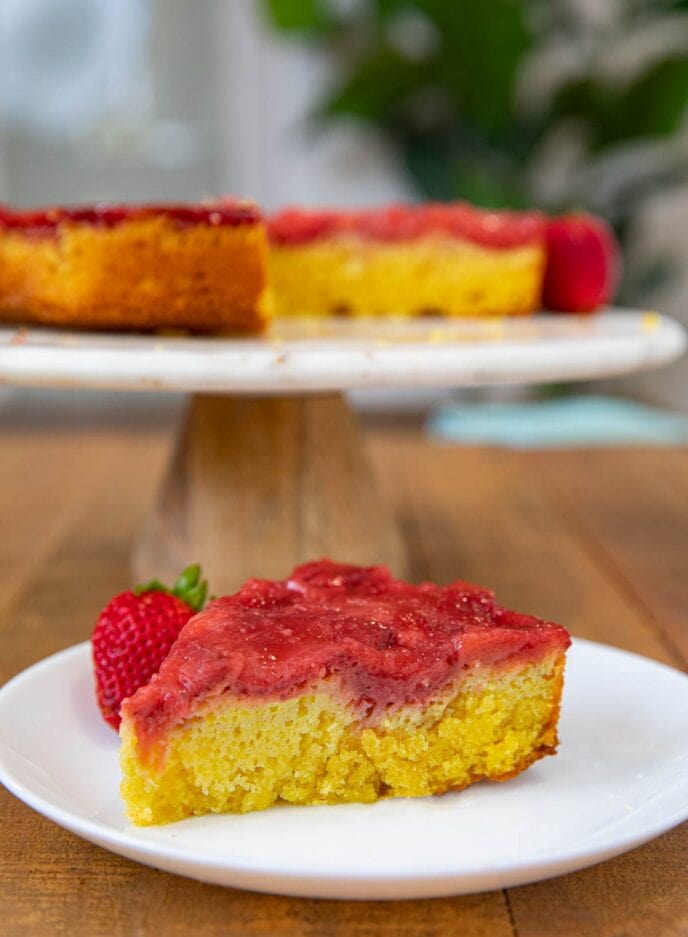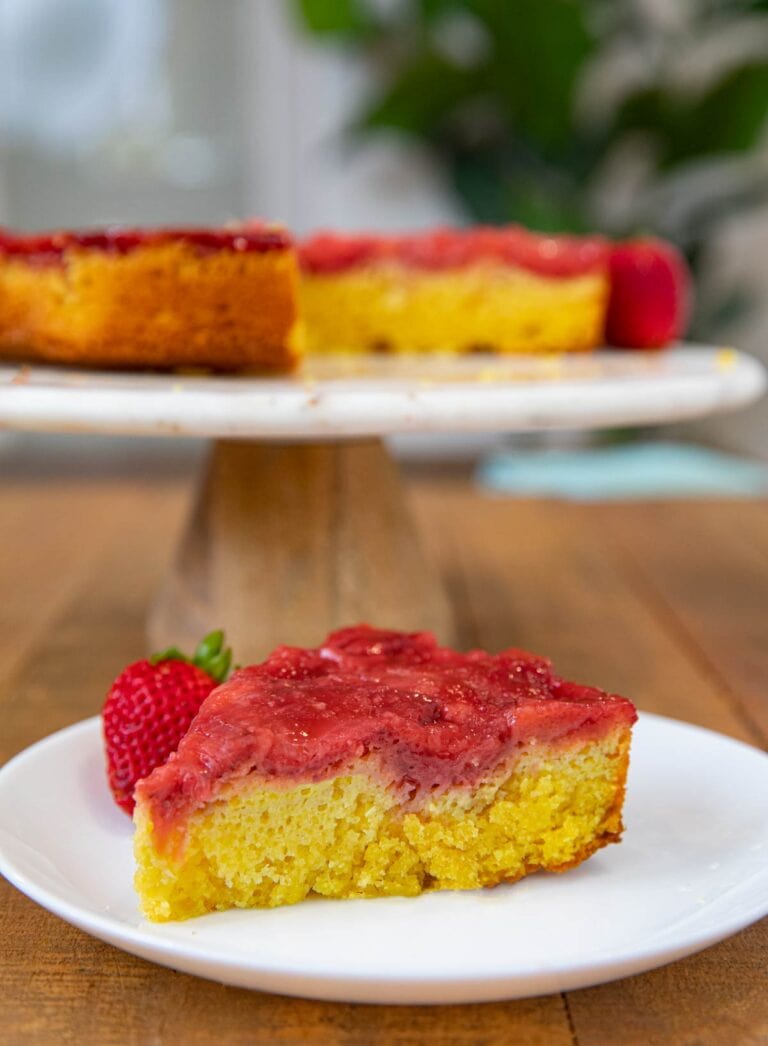 Pineapple Upside Down Cake is probably the most well-known of these old fashioned cakes but upside down cakes, also known as skillet cakes, have been around for centuries. Baking a moist cake over fresh fruit and then inverting it has been an easy way to get a stunning cake long before Dole introduced us to canned pineapple slices.
One of the best things about upside down cakes is that you can make them year round with whatever ripe seasonal fruit you have on hand. This Strawberry Upside Down Cake recipe is perfect for when plump, juicy strawberries on sale all summer long.
This recipe seems like a lot of ingredients and steps, but it's actually very simple. When you break it down, it's basically a quick strawberry topping mixture and a vanilla cake batter layered and baked in the same pan. The total time to make Strawberry Upside Down Cake, from gathering ingredients to enjoying it with a scoop of Vanilla Ice Cream, is about an hour and half. 
This Strawberry Upside Down Cake is gorgeous and tasty on its own, but you can serve it with Whipped Cream or pipe Buttercream Frosting on the edges once it has cooled. For the brightest strawberry topping, serve your cake within 30 minutes of baking. Baked fruit tends to lose color over time, but it definitely won't lose any of the delicious flavor!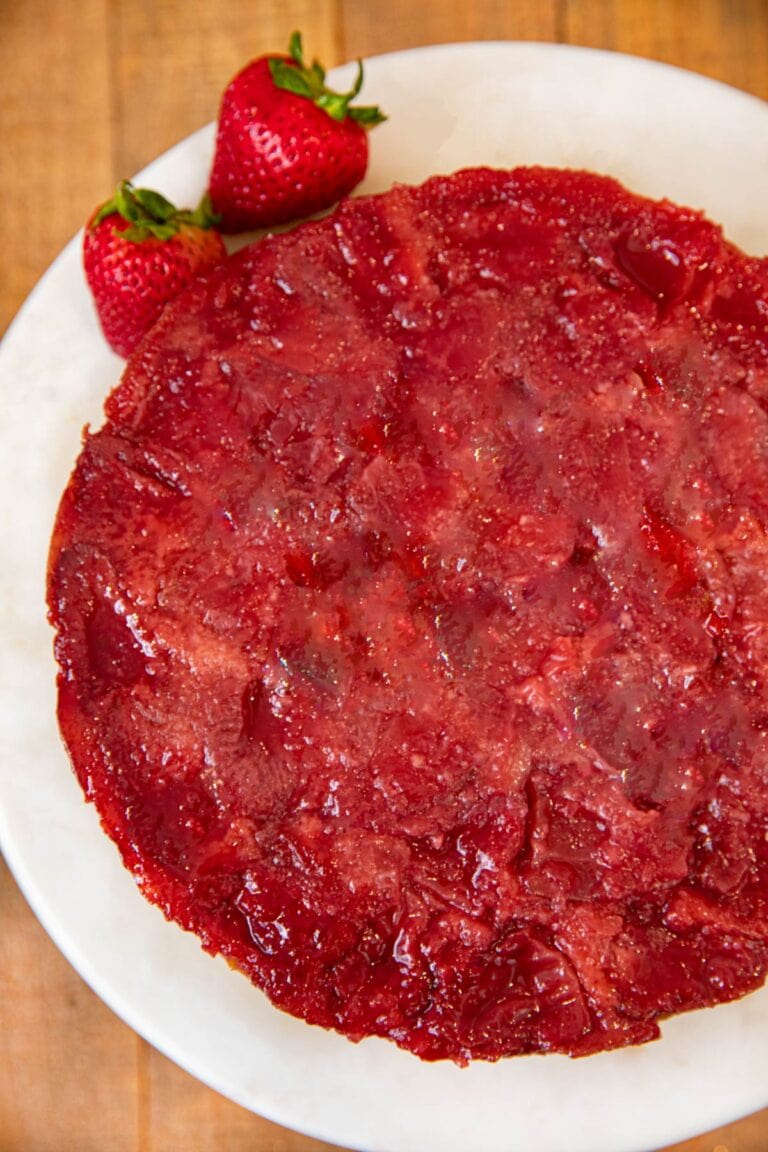 What is an Upside Down Cake?
An upside-down cake is a type of cake that is baked with its toppings at the bottom of the pan. The ingredients for the topping, which often include fruits and a sugar glaze, are layered in the bottom of the cake pan before the batter is poured over them. After the cake is baked, it is inverted onto a serving plate so that the fruit and sugar topping, now caramelized and glossy, is on top. The most well-known version is Pineapple Upside Down Cake, but you can really do it with any kind of fruit you like.
How to Make Strawberry Upside Down Cake
Prep: Preheat the oven. Spray a springform pan really well with baking spray. You can also use regular cooking spray and dust it lightly with flour.
Strawberries: In a large bowl, combined the strawberries, cornstarch, and the sugar for the topping. Mix really well so the berries are completely and evenly coated. Pour the berry mixture in the bottom of the pan, lightly shaking pan to even out if needed.
Batter: Cream the butter in a stand mixer until it's light and fluffy. Begin adding the eggs one at a time until fully incorporated. Whisk the milk, vegetable oil, and vanilla in a large measuring cup. Sift the flour and baking powder in a different bowl. Turn mixer on the lowest setting and begin adding the flour and milk mixtures alternately, ending with the milk, until combined.
Bake: Carefully spoon the batter over the strawberry mixture in the baking pan. Spread with a spatula gently to even out. Bake the cake until golden and an inserted toothpick comes out clean with moist crumbs.
Flip: Let cool for 5 minutes, then invert the pan on a cake plate or serving platter. Let cool another 30 minutes before removing the pan.
More Delicious Strawberry Desserts
FAQs for Strawberry Upside Down Cake
Can I use frozen berries for upside down cake?
If it's not strawberry season, but you are still craving Strawberry Upside Down Cake, you can absolutely use frozen strawberries instead! Make sure to thaw the berries and pat them dry. Too much moisture will make the topping syrupy and not get caramel-like.
When should you flip an upside down cake?
An upside-down cake should be flipped shortly after it is removed from the oven, ideally within the first 5 to 10 minutes. This is because the topping can stick to the pan as it cools and solidifies, making it difficult to remove cleanly. However, ensure to use oven mitts or a towel when flipping the hot cake to avoid burns. 
How do I know when Strawberry Upside Down Cake is done baking?
Strawberry Upside Down Cake is going to be more moist than your normal vanilla sponge cake. To tell when it's done, use the toothpick method. When you insert a toothpick into the center of the cake, about halfway down, it should come out clean with moist crumbs and no wet batter.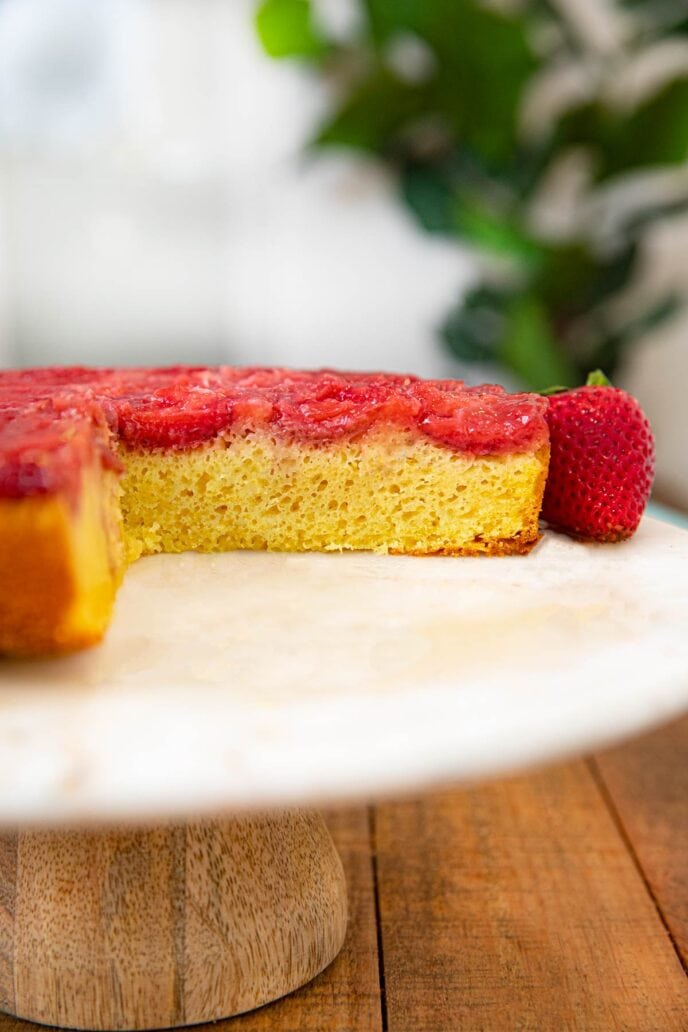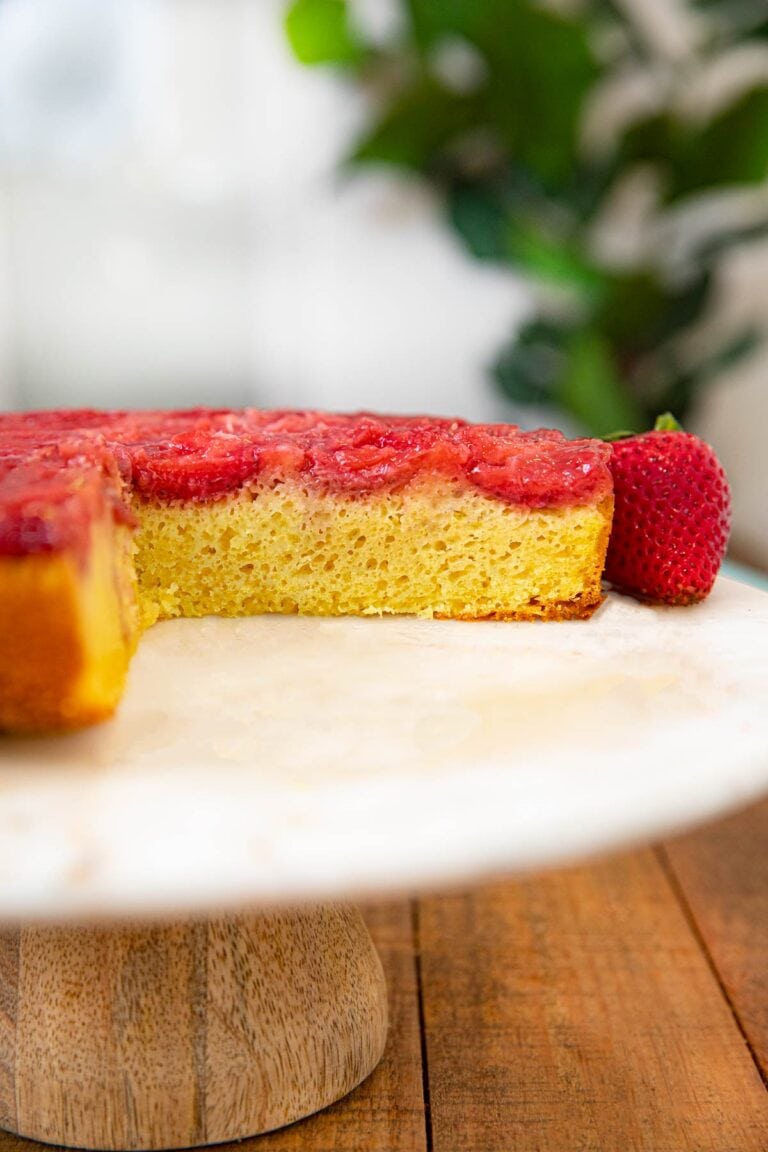 Create a free account to

Save Recipes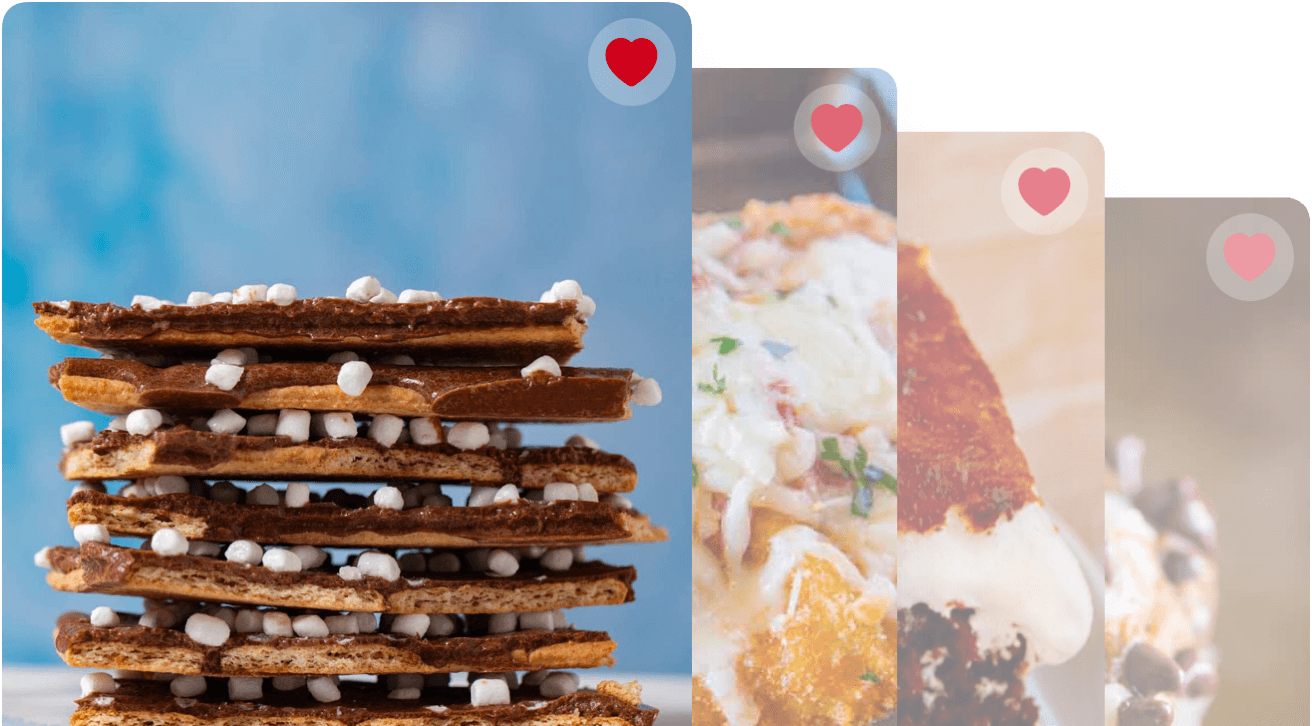 Key Ingredients
Sugar: Sugar plays a double role in this sweet summer cake. It coats the strawberries to draw out the juices and caramelizes as it bakes. It also sweetens and moistens the actual cake.
Corn Starch: Cornstarch is needed to thicken the strawberry juices and sugar to prevent the cake from becoming soggy.
Strawberries: Fresh summer strawberries have a fresh, sweet, and slightly tart flavor that contrasts nicely with the sweetness of the tender sponge cake. Their bright red color is beautiful too!
Eggs and Butter: Creaming the eggs and butter together gives the cake some extra lift and helps it stay soft and moist. They also give the cake a rich, buttery flavor that tastes amazing with the berries.
Vegetable Oil: Using oil along with butter and milk helps your cake stay moist as it cools and will keep it fresh longer.
Vanilla: Vanilla extract adds a subtle sweet, warm flavor to the cake. Vanilla and strawberry is a simple, classic combination and with all the rich, creamy ingredients it makes the cake taste a little like berries and cream.
Flour: It's better to use regular flour for this cake because cake flour is too light to hold up with all the heavy ingredients and will give you a denser cake. Make sure to sift the flour to remove the clumps so it mixes easier.
Baking Powder: There is a lot of moisture happening in this cake from the eggs, butter, milk, oil and the strawberry juices, so you definitely want to use a good amount of baking powder. A full tablespoon makes your cake much lighter and fluffier despite all the rich, heavy ingredients.
Can Strawberry Upside Down Cake be made ahead of time?
Yes, a Strawberry Upside Down Cake can be made ahead of time. After baking and cooling, it can be stored at room temperature for up to 3 days, or refrigerated for up to a week. If refrigerated, allow the cake to reach room temperature before serving for the best flavor and texture. You can also mix the strawberry topping together and keep in the fridge for up to 2 days. Stir it really well before adding to the pan then prepare the rest of the cake as usual.
Variations
Chocolate: Use Chocolate Cake batter instead of vanilla cake for a chocolate covered strawberry taste. You can also fold in a ½ cup milk chocolate, semi-sweet chocolate, or white chocolate chips.
Marshmallows: A layer mini marshmallows over the strawberries will create pockets in the cake as it bakes for the glaze seep into. Use half the sugar in the strawberry mixture if adding marshmallows.
Berries: This upside down cake can be made with all your favorite fresh berries. Try blueberries, raspberries, blackberries, or use 4 cups mixed berries.
Jell-O: Sprinkle a package of dry strawberry jello mix over the strawberries. This not only adds flavor, but keeps the topping bright red for days!
Adjustments for Different Sized Pans
Cupcakes: Grease a 12 cup muffin tin with baking spray. Divide strawberry mixture and cake batter evenly. Bake for 25-28 minutes.
Sheet Cake: Line with parchment paper and grease well with baking spray. Bake for 40-50 minutes.
Cast Iron Skillet: Grease a 10-12 inch skillet, add a parchment paper circle at bottom of pan, and spray paper with baking spray. Bake for 35-40 minutes.
How to Store
Serve: Strawberry Upside Down Cake is best served warm. Cover the cake and keep at room temperature for up to 3 days.
Store: Refrigerate the cake covered in plastic wrap, or in an airtight container, for up to 1 week. Warm in the oven or bring to room temperature to serve.
Freeze: Cool Strawberry Upside Down Cake completely and wrap with plastic wrap and aluminum foil. Freeze for up to 3 months. Defrost in the refrigerator before warming a little in the oven before serving.


Ingredients
1/2

cup

sugar

2

tablespoons

corn starch

4

cups

fresh strawberries

, sliced
Cake Batter:
1/2

cup

unsalted butter

, melted

1 1/2

cups

sugar

4

large

eggs

1

cup

whole milk

1/2

cup

vegetable oil

2

teaspoons

vanilla extract

2

cups

flour

1

tablespoon

baking powder

1/4

teaspoon

salt
Instructions
Preheat oven to 350 degrees and coat a springform pan with baking spray.

Toss strawberries in cornstarch and ½ cup sugar.

Spread strawberry mixture evenly on the bottom of the prepared pan.
Cake Batter:
In a stand mixer, beat butter and sugar until lightened in color, then add in the eggs one at a time.

In a large measuring cup whisk together milk, oil and vegetable oil.

Sift flour, baking powder then add half into the stand mixer on the lowest speed setting.

Add half the milk mixture, then repeat the process with the remaining flour and milk mixtures, until just combined.

Carefully add the cake batter over the sliced strawberries.

Bake for

50-60 minutes

, or until an inserted toothpick comes out clean.

Cool cake for

5 minutes

. Place an inverted cake plate over the top of the pan then holding plate against the pan, quickly flip the cake.

Allow to cool another

10-15 minutes

before carefully removing from the pan. Serve warm.
Nutrition
Calories:
408
kcal
|
Carbohydrates:
56
g
|
Protein:
5
g
|
Fat:
19
g
|
Saturated Fat:
13
g
|
Cholesterol:
77
mg
|
Sodium:
148
mg
|
Potassium:
244
mg
|
Fiber:
2
g
|
Sugar:
37
g
|
Vitamin A:
354
IU
|
Vitamin C:
28
mg
|
Calcium:
88
mg
|
Iron:
2
mg