Coconut Lime Bundt Cake is a summer cake full of tropical flavors. Easy sweet coconut lime cake topped with zesty lime icing and more coconut!
If you've are a fan of tropical, summary cakes like Coconut Pineapple Bundt Cake, you'll love this simple bundt Cake Recipe with amazing coconut and zesty lime.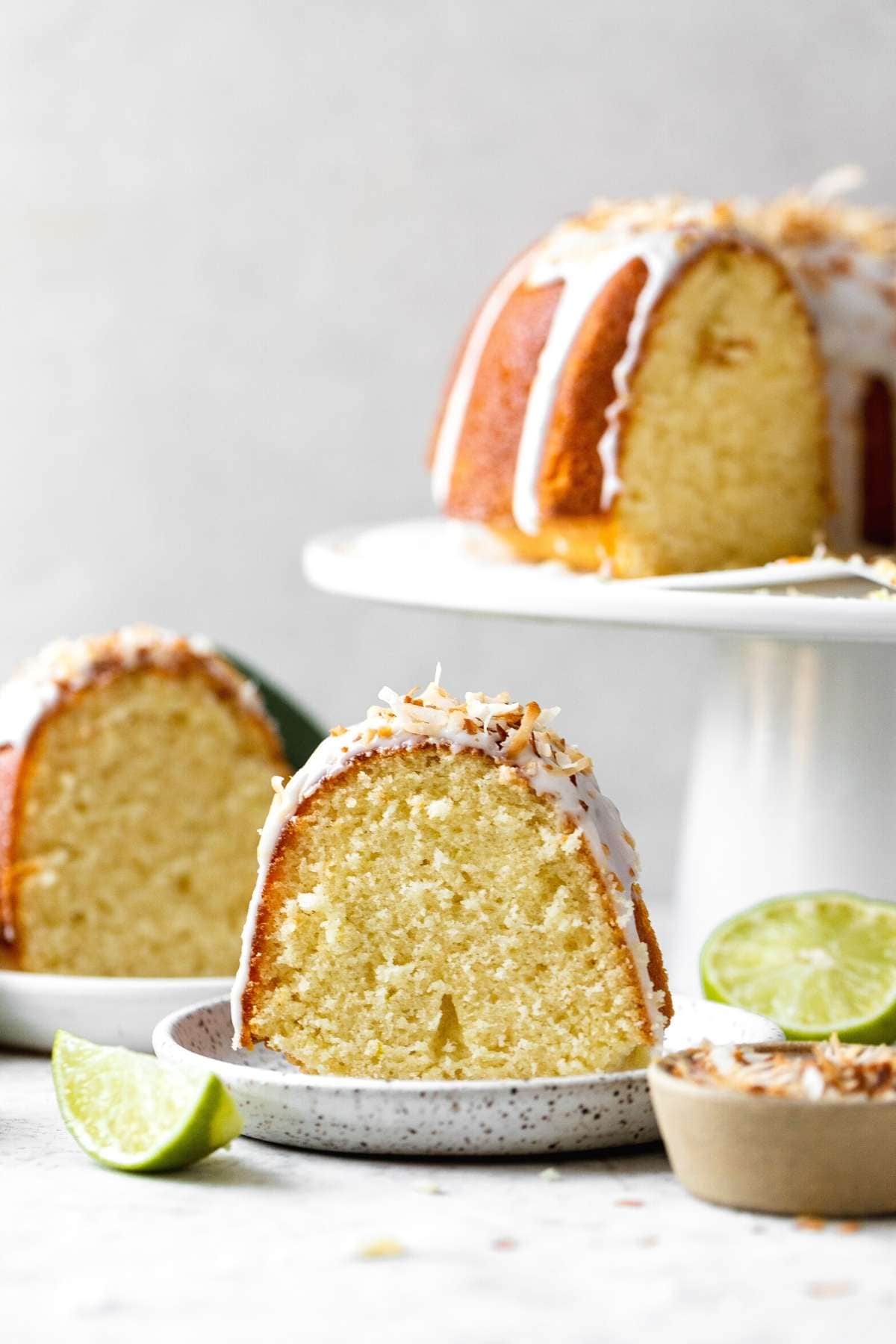 It's so fun to take classic recipes like a simple bundt cake and make it into a more special recipe with just a few additions. The combination of coconut and lime makes this dish completely different from a standard vanilla cake with the incredible sweet and sour flavoring. The lime is a little sourer than other citrus yet the sweet coconut and sugar balances it out for the perfect melt in your mouth tangy and fruity bite.
The amazing lime coconut flavor in this cake will remind you of a tropical paradise. Seriously, the second you take a bite of this sweet and citrusy coconut cake you'll be seeing images of coconut palms and sandy beaches. Plus, it's super easy to do. Transform a classic bundt cake by adding lime juice, coconut extract, brushing with a lime syrup, then topping with more coconut and lime for unbelievable tropical taste.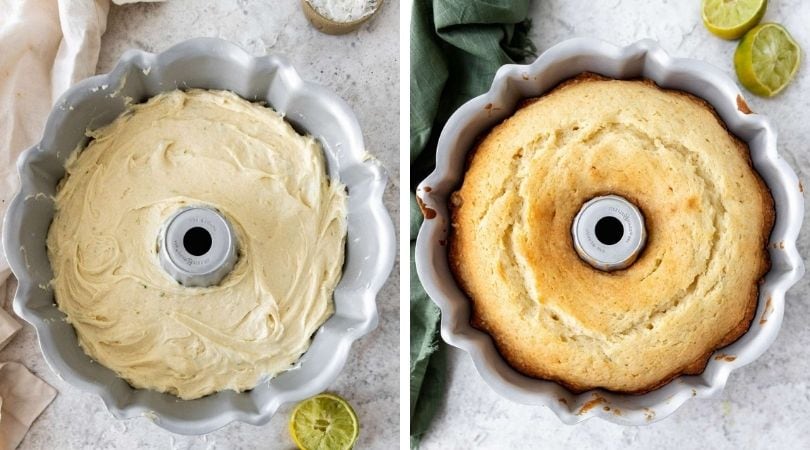 For the ultimate refreshing dessert on a hot summer day, serve this Coconut Bundt Cake chilled from the fridge. You can also enjoy it with a scoop of Vanilla or Strawberry Ice Cream for a summery treat that is cooling and wonderful. If you want to get fancy, add make Lemon Curd with lime instead of lemon or try Whipped Cream with lime zest added.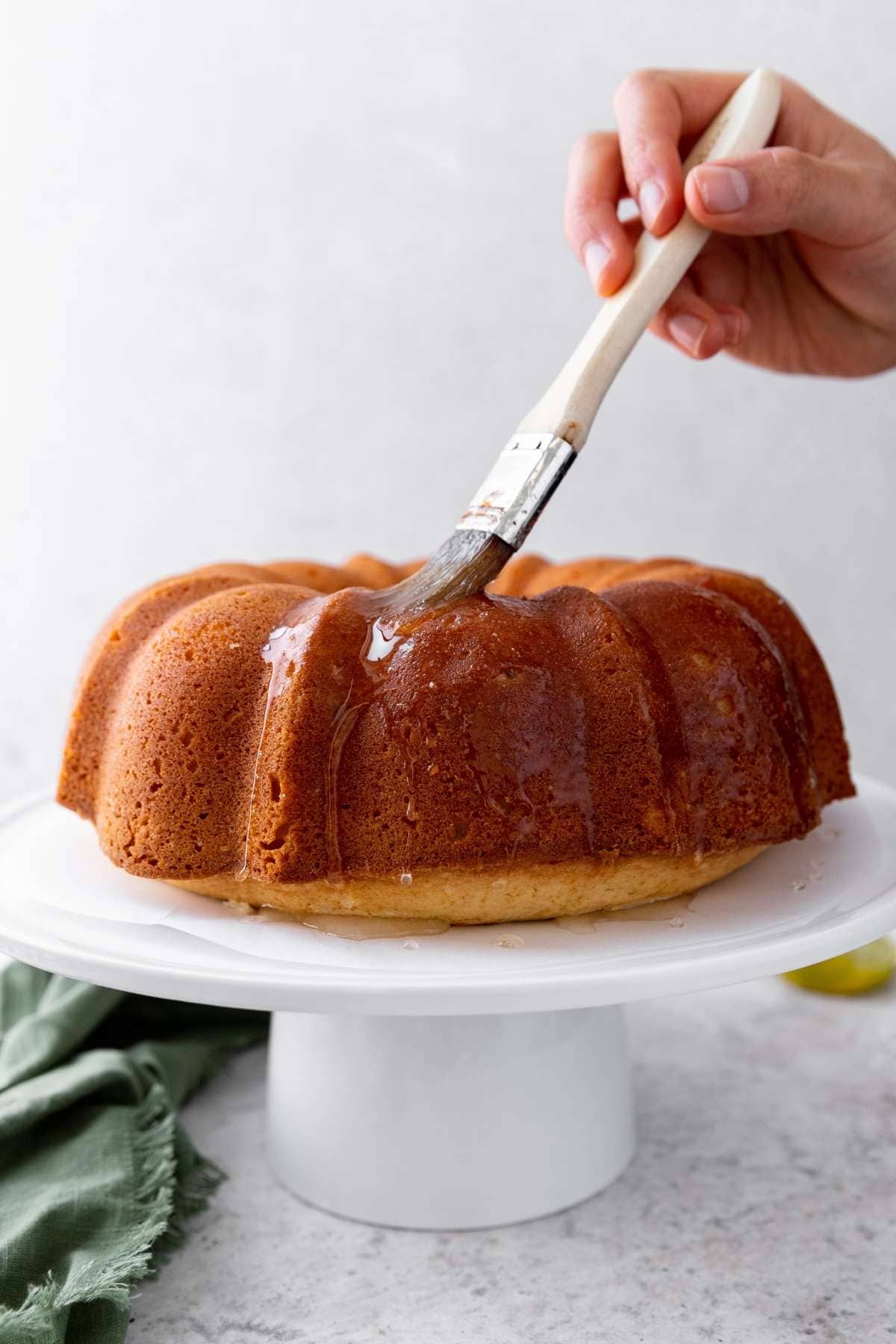 More Easy Bundt Cake Recipes
Key Ingredients
Cake batter: The cake batter itself uses the same key ingredients that you'd find in most bundt cake recipes. Flour, baking powder, butter, granulated sugar, eggs, etc. are all combined for a simple batter. To get the lime and coconut flavor coconut extract, lime juice, and lime zest are added.
Syrup: Along with the ingredients in the batter, the Lime Coconut Bundt Cake gets extra tropical flavor from the syrup. By mixing together sugar, fresh lime juice, and coconut extract, you can make an easy, sweet, and sour syrup. Brush it over the cake so it can soak in to make an extra moist and flavorful bundt cake.
Glaze ingredients: For the most part the icing is the same common ingredient list that you'd use for a plain vanilla glaze. However, instead of vanilla, fresh lime juice and grated lime zest are added to the milk and powdered sugar mixture.
Coconut flakes: Finally it's all finished with toasted coconut for garnish. Just toast flaked coconut and sprinkle them over the top for some texture.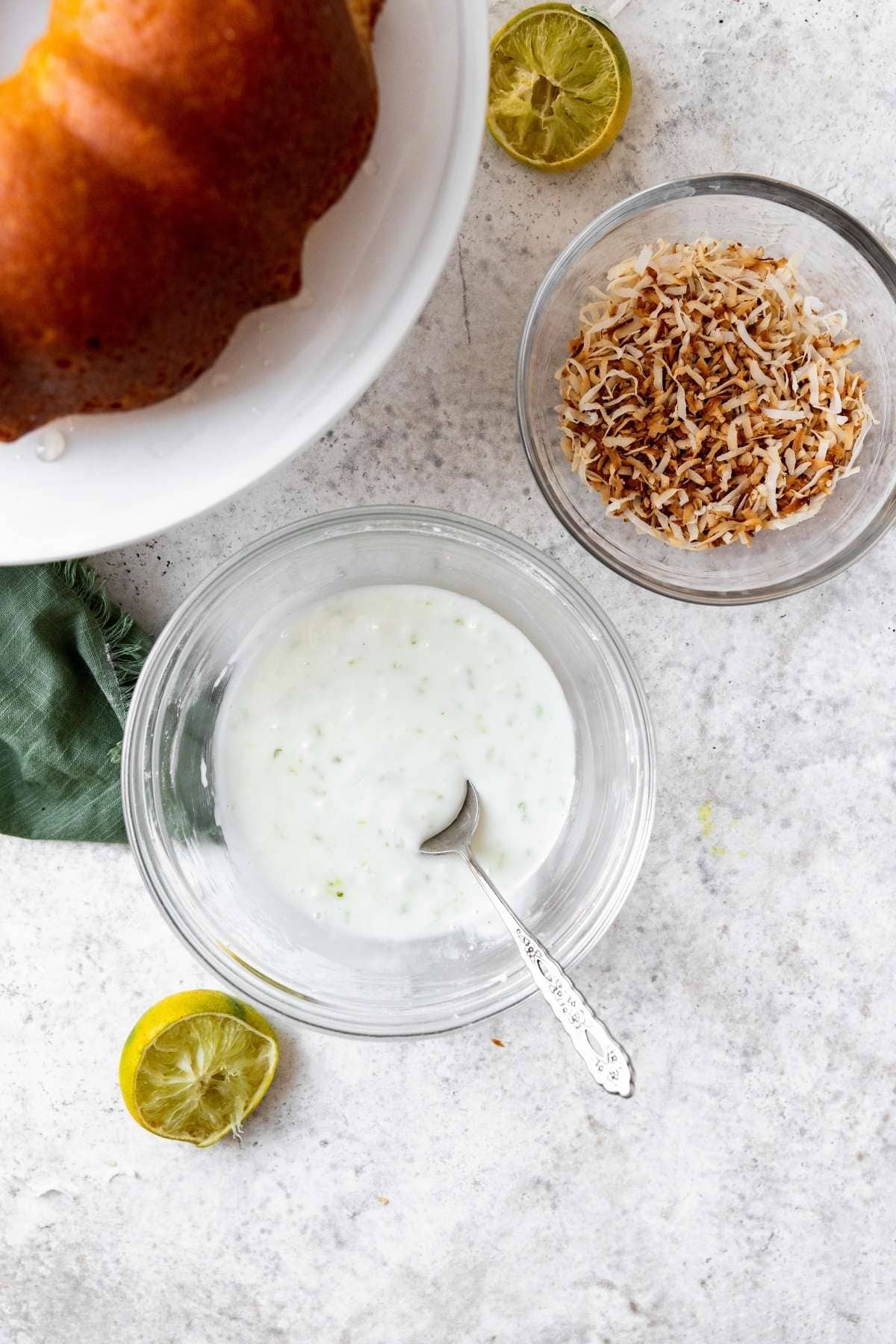 Baking Tips
Prep time: Assemble your ingredients, and set your oven temperature to 350 degrees.
Cake batter: Sift the all-purpose flour, baking soda, and salt into a medium bowl and set the dry ingredients to the side. Add the butter and granulated sugar to an electric stand mixer. Cream butter mixture for about 2 minutes, so that it's light and fluffy. Fold in the eggs individually, and making sure the first is fully mixed in before adding the next. Add the coconut extract, lime juice, and grated lime zest, and mix in the lime coconut flavoring. Add part of the flour mixture from the separate bowl, then add part of the milk. Continue alternating between the two until they're both in the electric mixer, and just combined.
Baking time: Spray your bundt pan with nonstick baking spray. Then pour the batter into the pan evenly, and bake for 50-55 minutes. Use a toothpick to test if the cake is clean. Then let it cool on a wire rack.
Coconut Lime Syrup: Add the sugar and lime juice to a microwave-safe bowl. Then microwave for 30 seconds, stir and microwave again. Continue until the sugar dissolves into the liquid ingredients. Put a plate over the opening of the bundt pan, and flip to remove the cake from the pan. Brush the top of the Coconut Bundt Cake with lime syrup. Let it cool for 1 hour before adding the icing glaze.
Glaze recipe: Add powdered sugar, milk, and lime zest to a mixing bowl. Whisk the ingredients until smooth. Pour it over the cooled cake.
Coconut topping: Add the coconut flakes to a large skillet over medium heat. Stir as the coconut begins to brown. Remove the toasted coconut from heat, and let it cool for 1 minute before sprinkling it over the Coconut Lime Bundt Cake.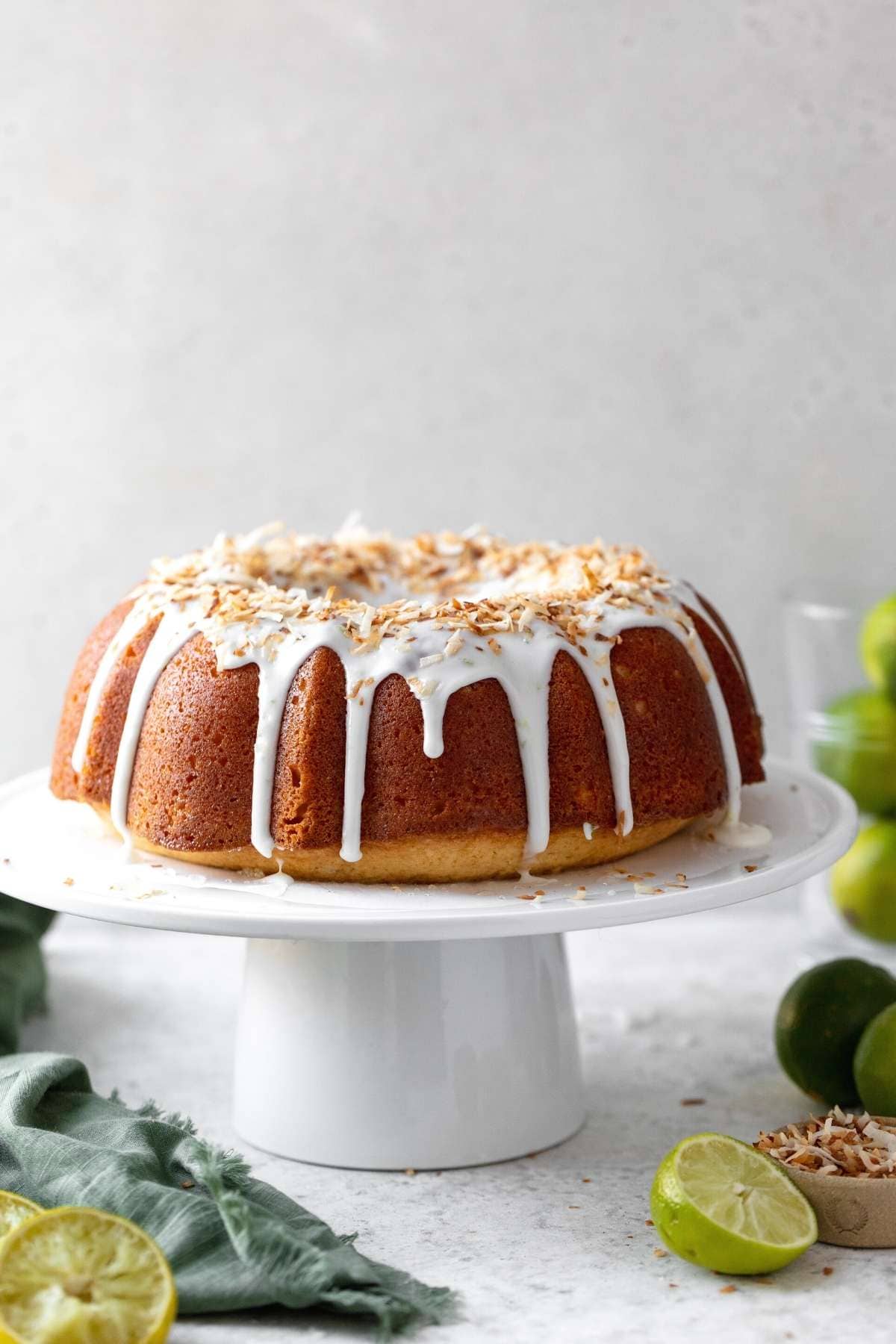 Create a free account to

Save Recipes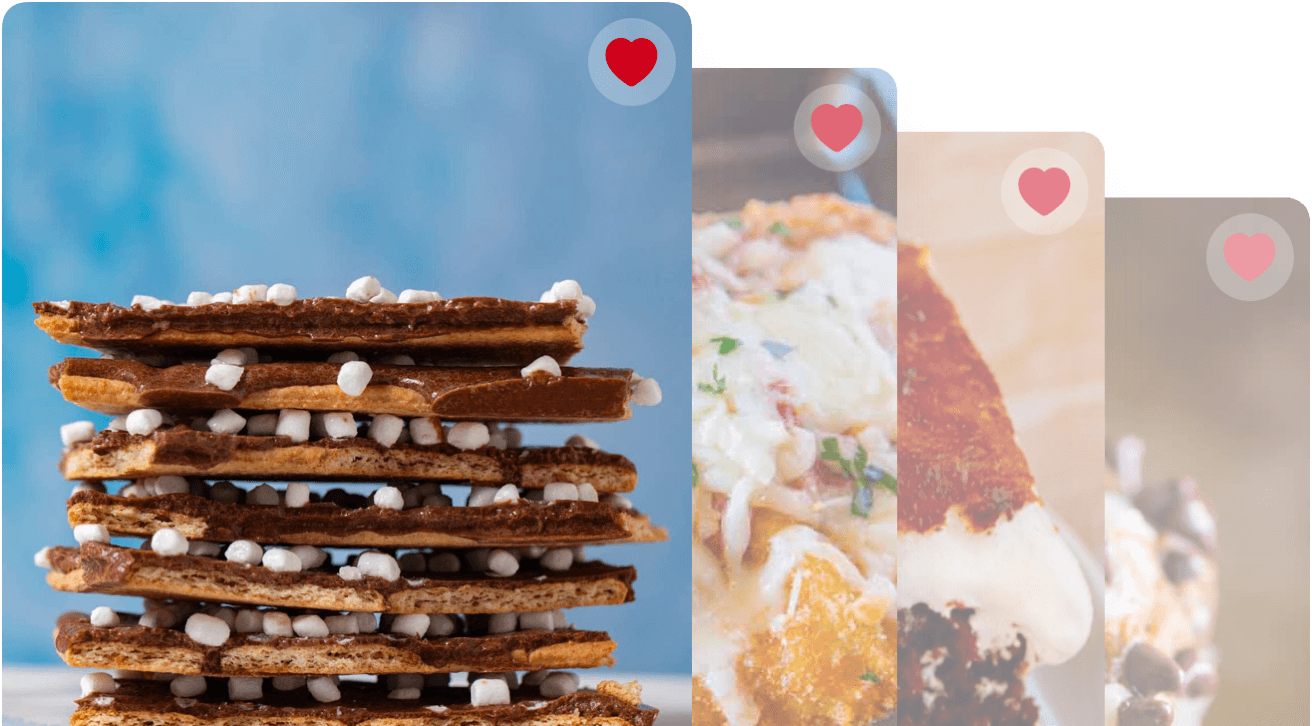 Variations
Flavors: Play with the flavors by mixing in different baking ingredients and flavorings. Try replacing the lime zest with 1 tablespoon almond extract and ½ cup chopped almonds for a Lime Almond Coconut Bundt Cake. Fold in ½ cup semi-sweet chocolate chips or white chocolate chips for a chocolate combo. A drizzle of melted white chocolate would be a great finishing flavor too!
Orange Coconut Bundt Cake: For an easy flavor swap, you can use another citrus ingredient to replace the lime. Instead of lime juice, use orange juice without pulp and orange zest. The coconut and citrus orange flavor will taste amazing together. You could also use lemon or pineapple flavors instead of lime.
Green Food Coloring: If you're serving your Lime Coconut Bundt Cake for a special occasion and want it to look extra bright and fun, you can dye the icing lime green. Just make sure you only add a few small drops of green food color. Otherwise, you'll end up with too dark of a color.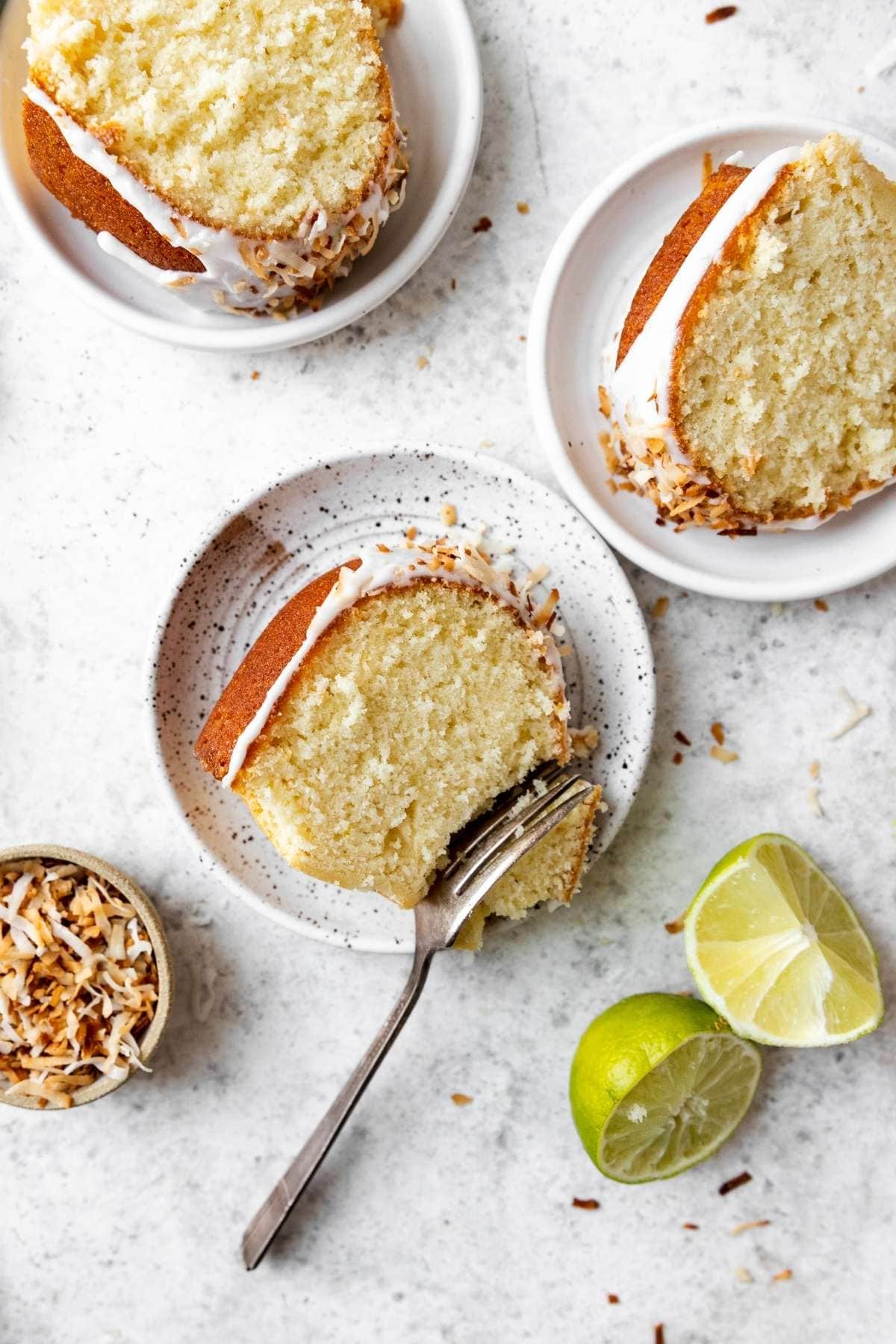 More Coconut Desserts
How to Store
Serve: Let the Coconut Lime Bundt Cake cool completely before adding the icing so that it won't melt into the cake. You can cool at room temperature or pop into the fridge to speed up the process.
Store: Coconut Bundt Cake can be kept covered at room temperature for up to 3 days, with or without icing. Cover with plastic wrap or aluminum foil, or a cake plate dome. You can also store in the fridge for up to 1 week.
Freeze: To keep Lime Coconut Cake longer, carefully wrap it in plastic wrap and aluminum foil, or slice it and seal the pieces in an airtight container. It will keep well for up to 6 months in the freezer and can be thawed at room temperature.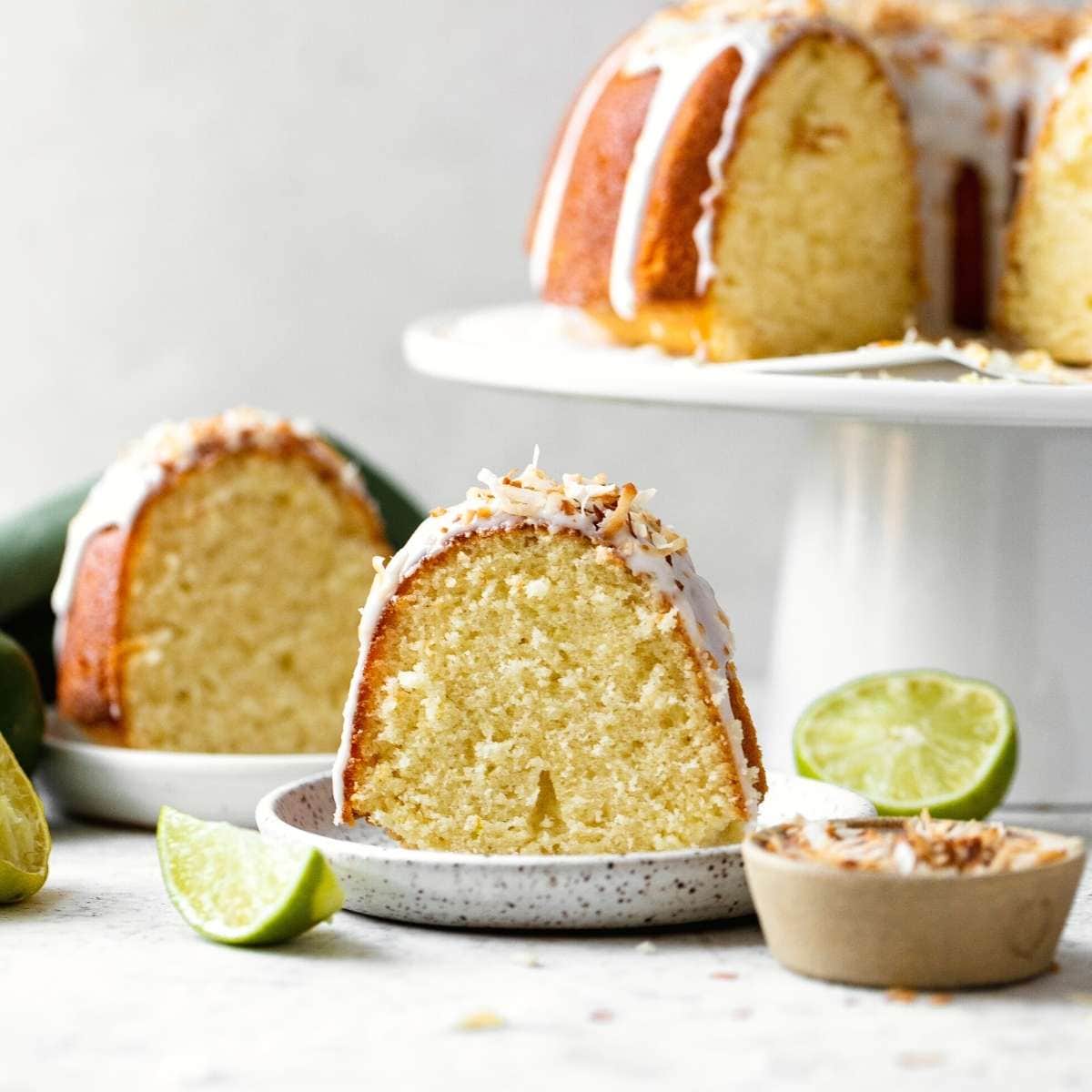 Ingredients
Coconut Lime Bundt Cake:
3

cups

flour

2

teaspoons

baking powder

1/2

teaspoon

salt

1

cup

unsalted butter

, softened

2

cups

sugar

3

large

eggs

1

teaspoon

coconut extract

1/4

cup

lime juice

2

tablespoons

lime zest

1

cup

whole milk
Coconut Lime Syrup:
1/2

cup

sugar

1/4

cup

lime juice

1/4

teaspoon

coconut extract
Coconut Lime Icing:
2

cups

powdered sugar

3

tablespoons

whole milk

1

tablespoon

lime juice

1

teaspoon

lime zest

1

cup

sweetened shredded coconut
Instructions
Coconut Lime Bundt Cake:
Preheat oven to 350 degrees.

Sift the flour, baking soda and salt and set aside.

In a large stand mixer add the butter and sugar and cream well until fluffy, about

2 minutes.

Add the eggs one at a time, incorporating fully before adding the next egg.

Add in the coconut extract, lime juice and lime zest and mix well.

Add in the flour mixture and the milk in alternating order about half of each at a time until the mixture is just combined.

Spray a 10" bundt pan well with baking spray.

Add the batter evenly and bake for

50-55 minutes

until a toothpick comes out clean.
Coconut Lime Syrup:
To make the Coconut lime syrup, add the sugar and lime juice to a small microwave safe bowl.

Microwave for

30 seconds

, stir, and microwave for another 30 seconds until sugar is dissolved.

Add a plate upside down to the bundt pan and carefully flip over to remove from the pan.

Brush the coconut lime syrup over the bundt cake and let it cool for 1 hour.
Coconut Lime Icing:
Add the powdered sugar, milk and lime zest to a large bowl and whisk together well until smooth.

Pour over cooled cake.

Add the coconut to a large dry skillet on medium heat.

Stir occasionally until coconut begins to brown lightly (this will start to happen quickly).

Remove from the pan and let cool for

1 minute

.

Add the toasted coconut to the top.
Nutrition
Calories:
564
kcal
|
Carbohydrates:
92
g
|
Protein:
6
g
|
Fat:
20
g
|
Saturated Fat:
13
g
|
Polyunsaturated Fat:
1
g
|
Monounsaturated Fat:
5
g
|
Trans Fat:
1
g
|
Cholesterol:
90
mg
|
Sodium:
149
mg
|
Potassium:
196
mg
|
Fiber:
1
g
|
Sugar:
66
g
|
Vitamin A:
585
IU
|
Vitamin C:
4
mg
|
Calcium:
76
mg
|
Iron:
2
mg