Tropical Trail Mix is a perfect fruity crunchy summer snack filled with nuts, banana chips, dried pineapple, dried mango and coconut flakes.
Classic Trail Mix a quick and easy recipe that you can throw together for an after-school treat, hiking Snack, or on-the-go food between meals. The great thing about it is you can swap out a few easy ingredients to give a whole new taste just like this Island-Inspired Tropical Trail Mix.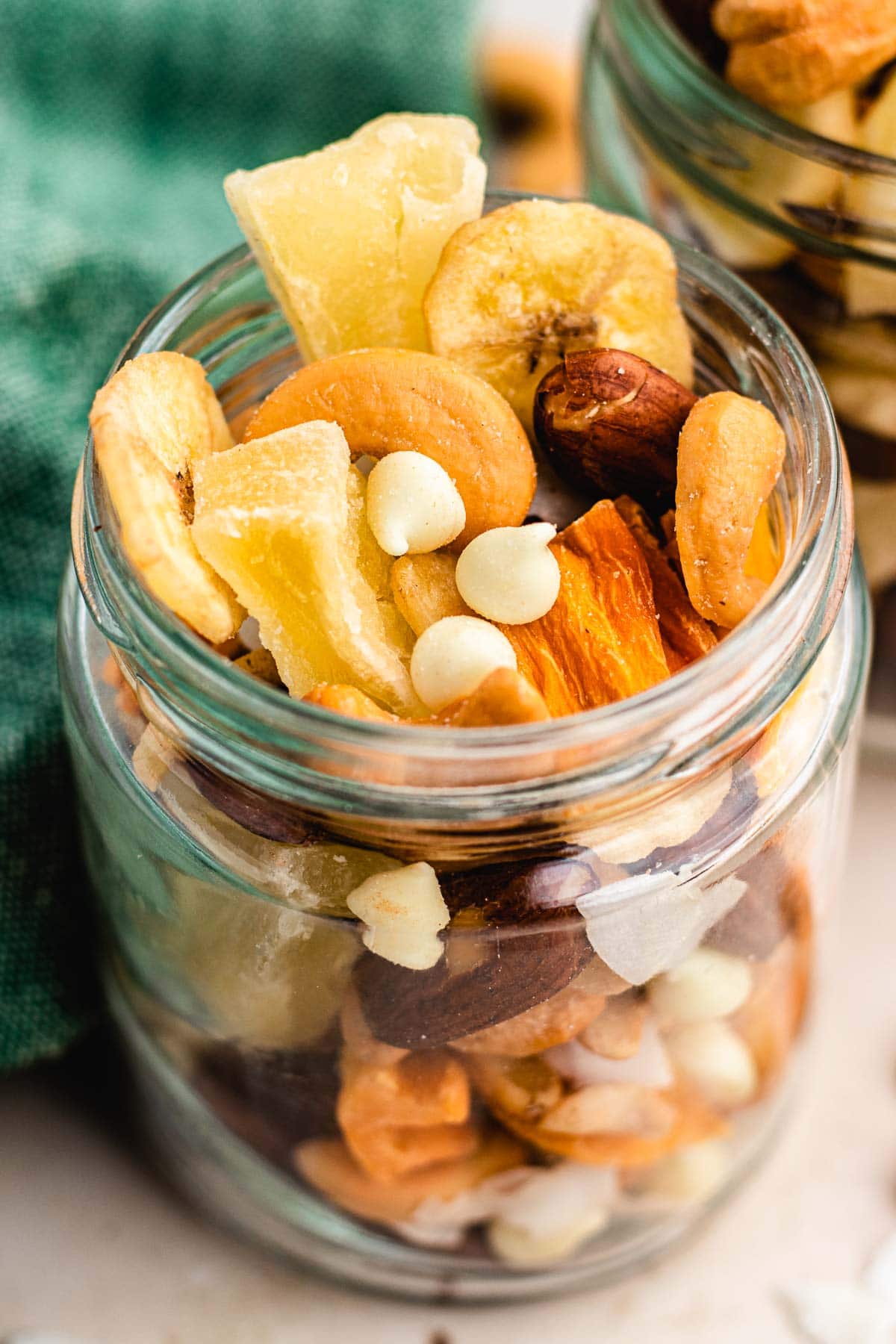 Summer is the perfect time of year to make this sweet snack mix filled with chewy fruit and crunchy roasted nuts! With banana chips, pineapple, coconut chips, and sweetened pineapple, the fruit mix brings lots of tangy, tropical flavors that will remind you of an island vacation. Along with that, you get some nice crunchy ingredients with almonds and cashews. Lastly, white chocolate chips are added to the nut, fruit, and coconut trail mix for a little extra sweet and creamy goodness.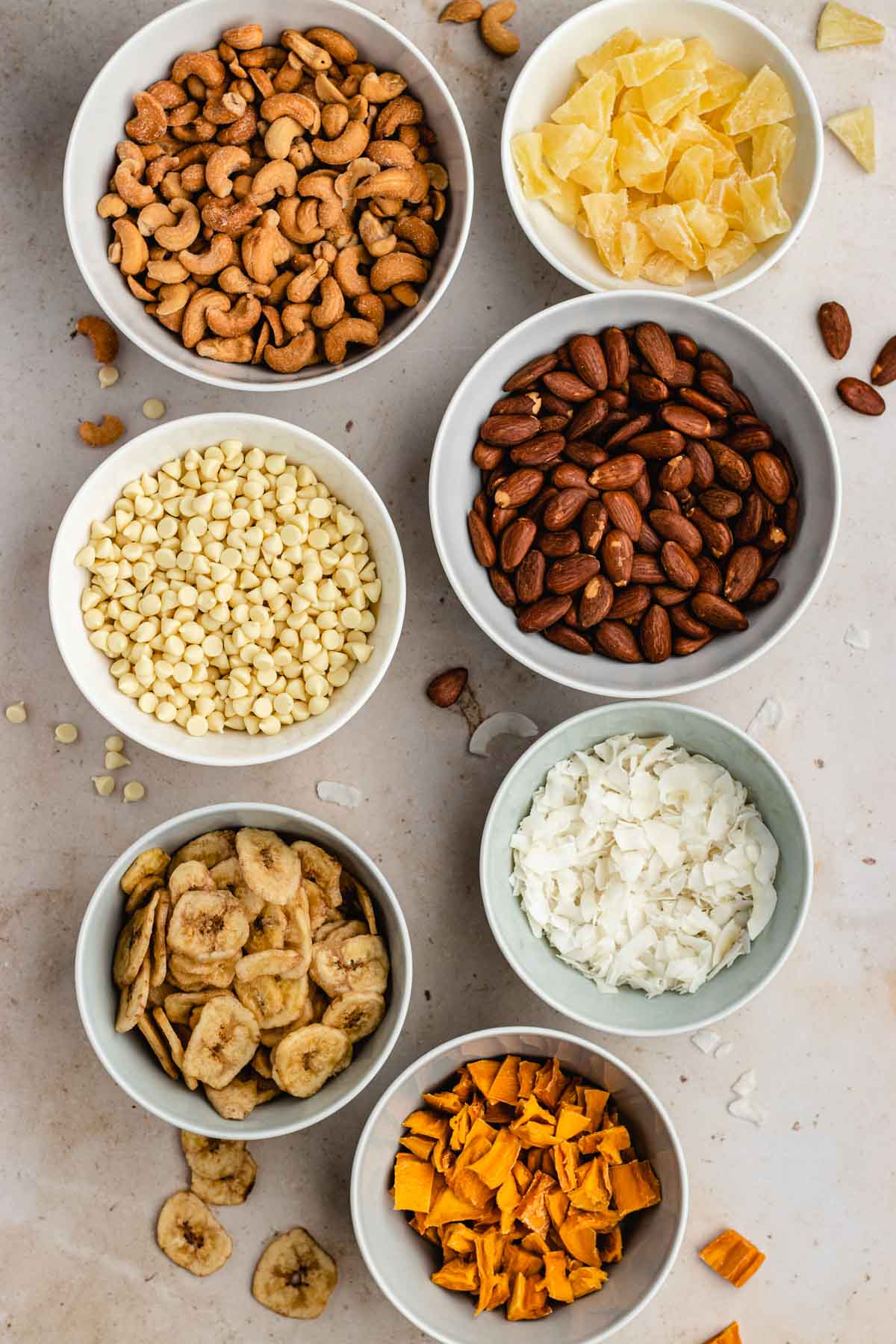 This Tropical Trail Mix is a great snack for all your favorite outdoor activities from camping to hiking to a beach day to lounging by the pool! The crunchy cashews and almonds have healthy fats and protein to keep you full, while the refreshing dried fruit is filled with natural sugars for a boost of energy. The white chocolate chips make it seem like a treat instead of a healthy snack so kids will love having it in their lunch boxes or on road trips too!
Making homemade trail mix means you get to pick exactly what flavor combination you like best, plus it comes together in minutes. Just grab the ingredients you like at the store, mix them together and it's ready to eat. You can eat straight from the bowl, store it for a future hike or use it as a topping for a Yogurt Parfait for a tasty, tropical breakfast!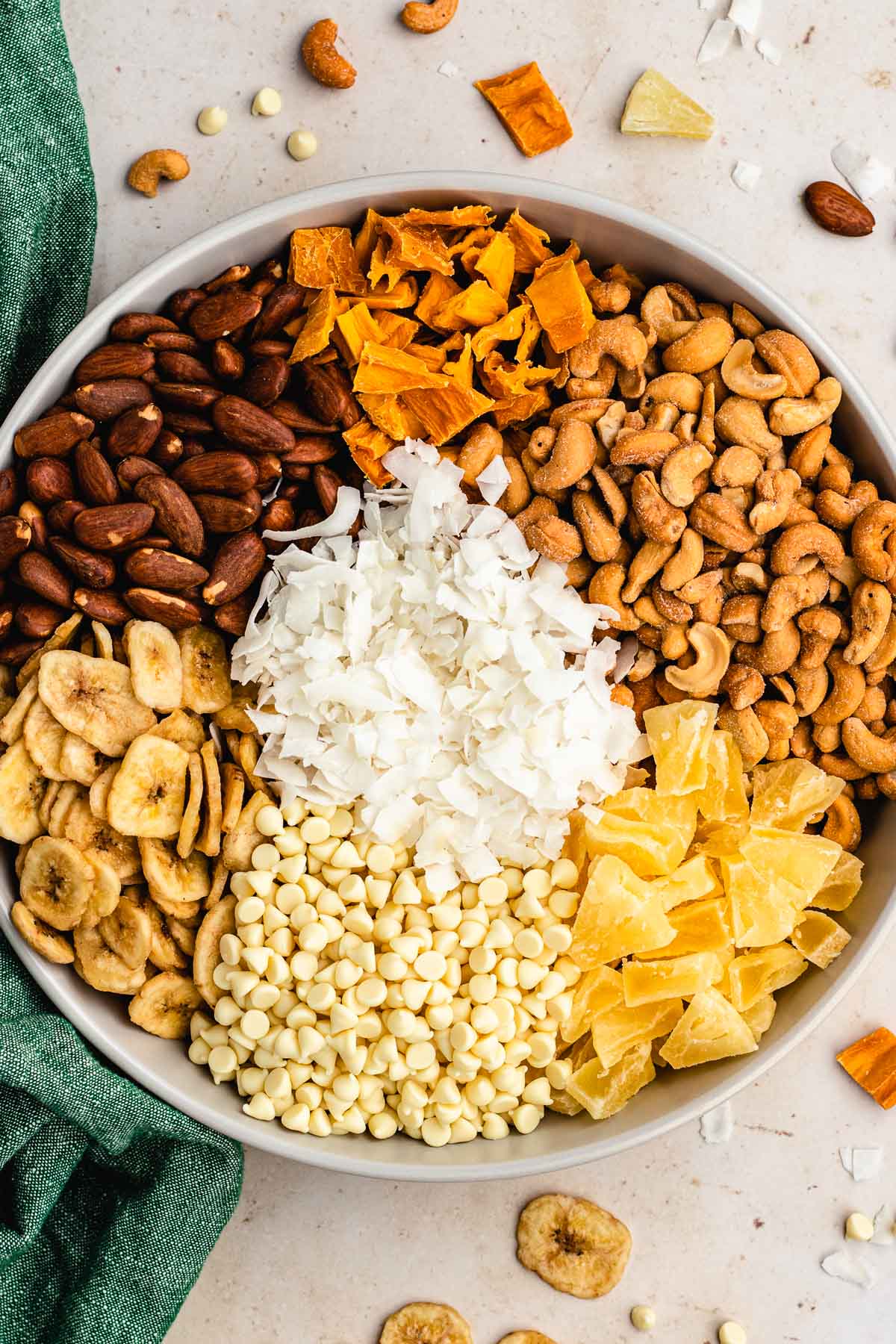 What goes in Trail Mix?
The key to a good trail mix recipe is the right balance of texture and flavors, plus ingredients that you actually want to eat! You want to use shelf-stable ingredients that will stay good for months in the pantry. For a healthier trail mix snack, you want a balance of good fats and protein from nuts or seeds, and some energy boosting carbs from ingredients like dried fruit or pretzels. This Tropical Mix is a great blend of healthy ingredients full of flavors that go together and a delicious balance of creamy, crunchy and chewy textures.
How to Make Tropical Trail Mix
Mix: It couldn't be easier to make trail mix! All you have to do is measure the ingredients, add them to a bowl and give them a good stir.
Storage: Make your snack easy to just grab and go by portioning it out right after you make it. Make sure to store it in sealed containers and keep it in a cool, dry place. The mini snack sized plastic bags are perfect for storing trail mix in individual portions.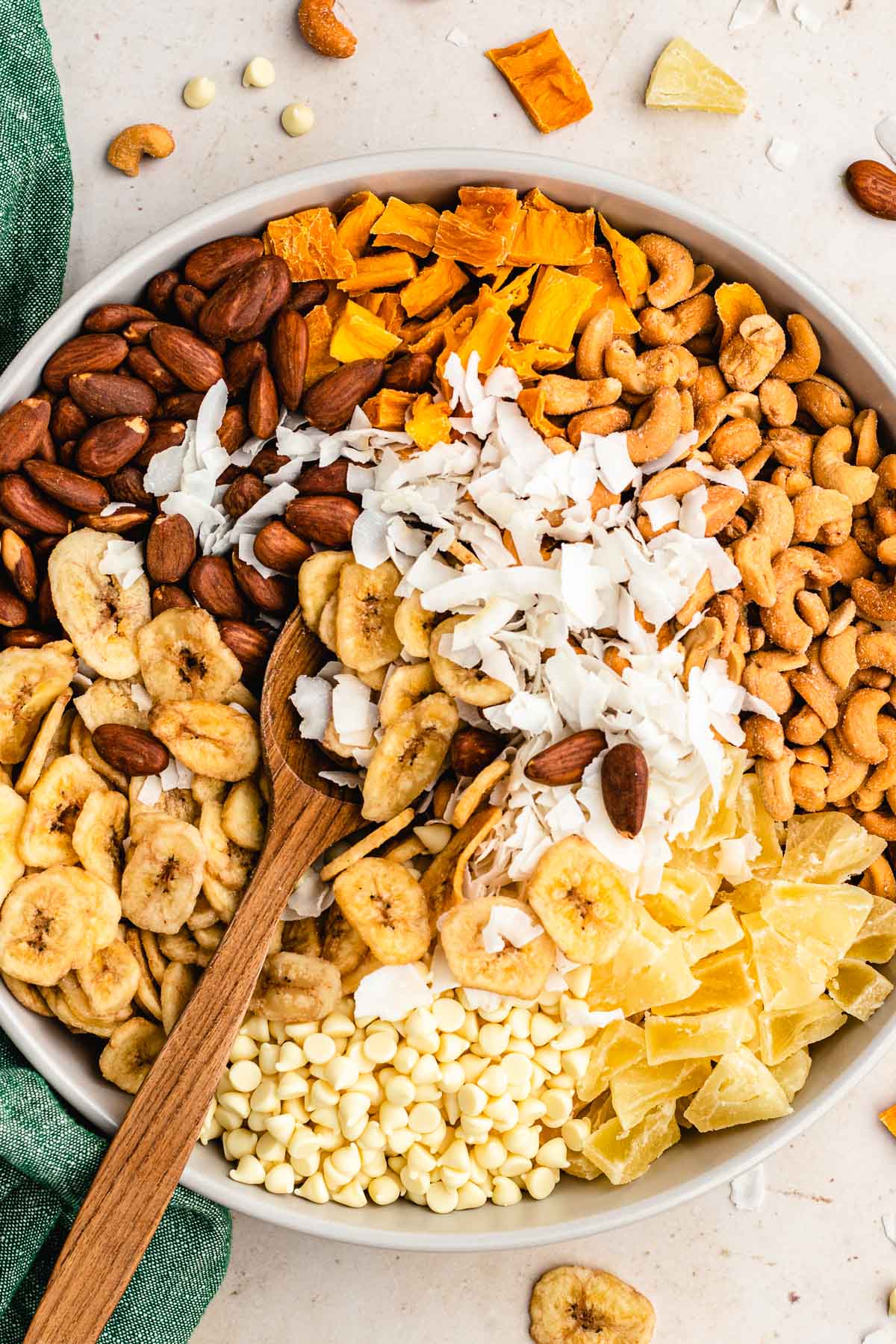 FAQs for Tropical Trail Mix
Why is it called trail mix?
Trail mixes were meant to provide healthy sustenance and energy during extended outdoor activities, usually along a trail, such as hiking, biking, backpacking, and hunting. Nowadays trail mix can be any blend of bite-sized snack ingredients like nuts, pretzels, seeds, dehydrated veggies, dried fruits, and even candy. 
Is trail mix a healthy snack?
Most trail mix recipes are considered healthy snacks because they have heart healthy fats and are a good source of protein. Of course, not all trail mixes are healthy, especially when they are mostly candy and sugary ingredients. Whether it's a healthy mix or a candy heavy blend, it should be eaten in moderation but the great news is trail mixes are generally pretty filling so a little goes a long way.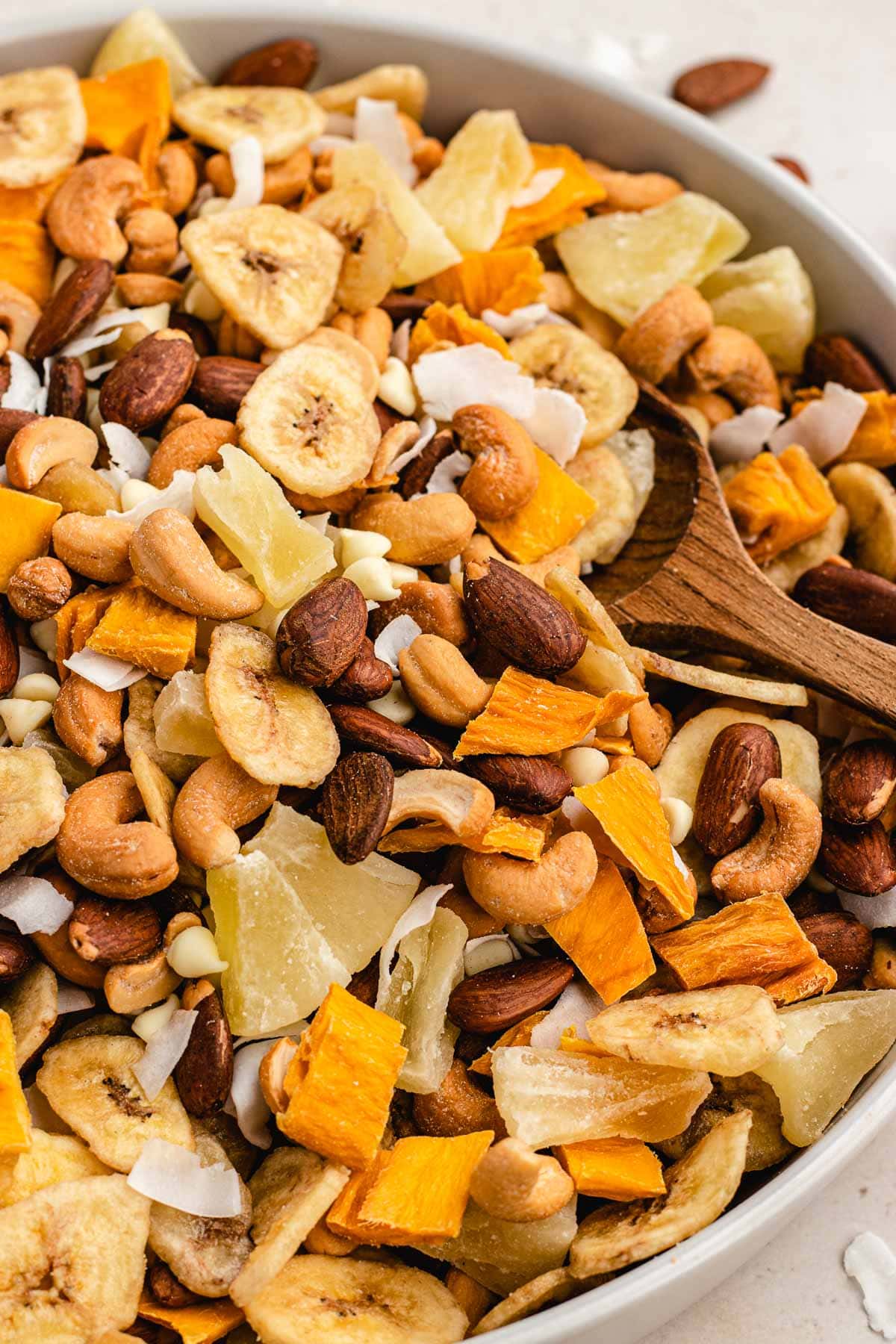 Create a free account to

Save Recipes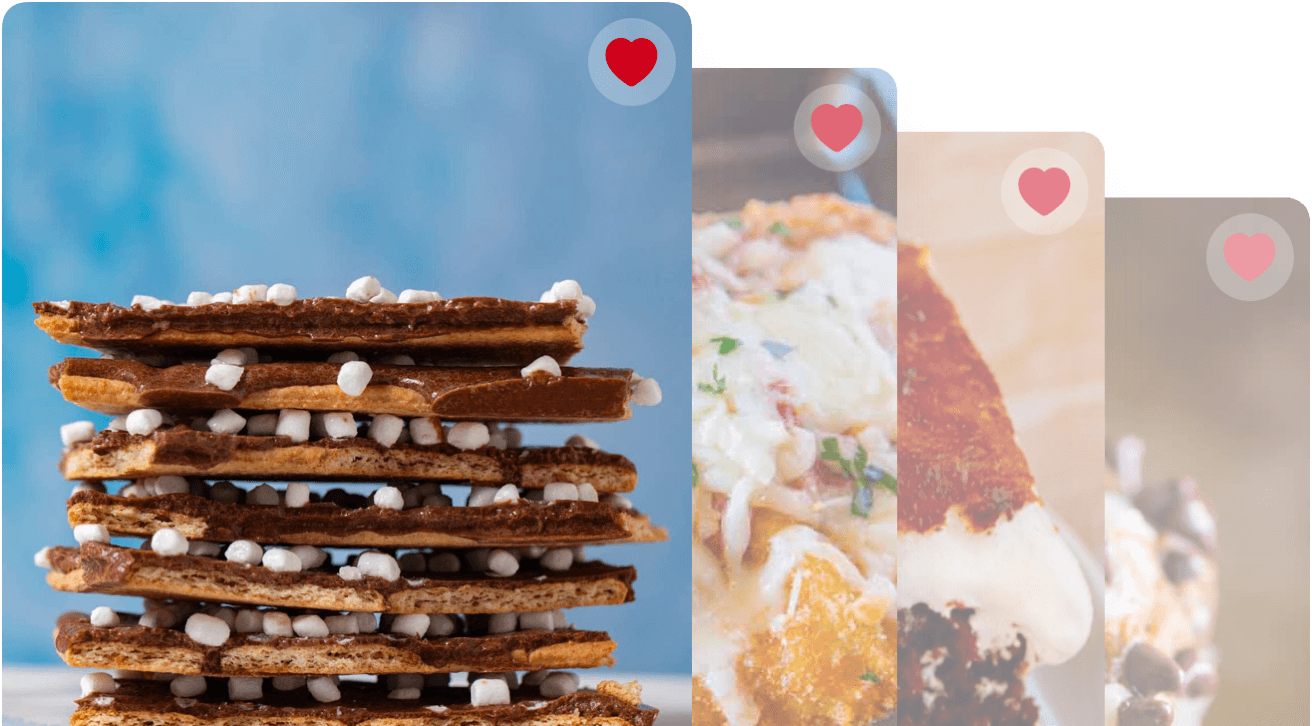 Key Ingredients
Roasted Nuts: This trail mix is made with a delicious blend of creamy cashews and extra crunchy almonds. Roasting the nuts enhances their natural flavors and makes them more savory. You can buy roasted nuts or in this post there are instructions for how to roast them yourself.
Banana Chips: Dehydrated banana chips are not only sweet and flavorful, but they add another crunchy element that also kind of melts in your mouth as you eat them. You can either leave them whole or break them into smaller pieces.
Tropical Fruit: The dried pineapple and dried mango are filled with tons of natural sweetness and have a strong tropical flavor. You want to use sweetened fruit but not candied fruit or it will be too sugary. If your mangoes aren't bite-sized, you can dice them up first if you prefer.
White Chocolate: Creamy white chocolate chips add a tasty vanilla flavor that goes perfectly with all the fruity flavors and toasty nuts. The nice thing about white chocolate chips versus candy bars is that they hold their shape and don't melt as easily.
Coconut: It wouldn't be a Tropical Mix without some delicious, chewy coconut flakes. You want to use unsweetened coconut because it's not sticky or overly sweet. For extra coconut flavor, you can toast the shreds just like the nuts.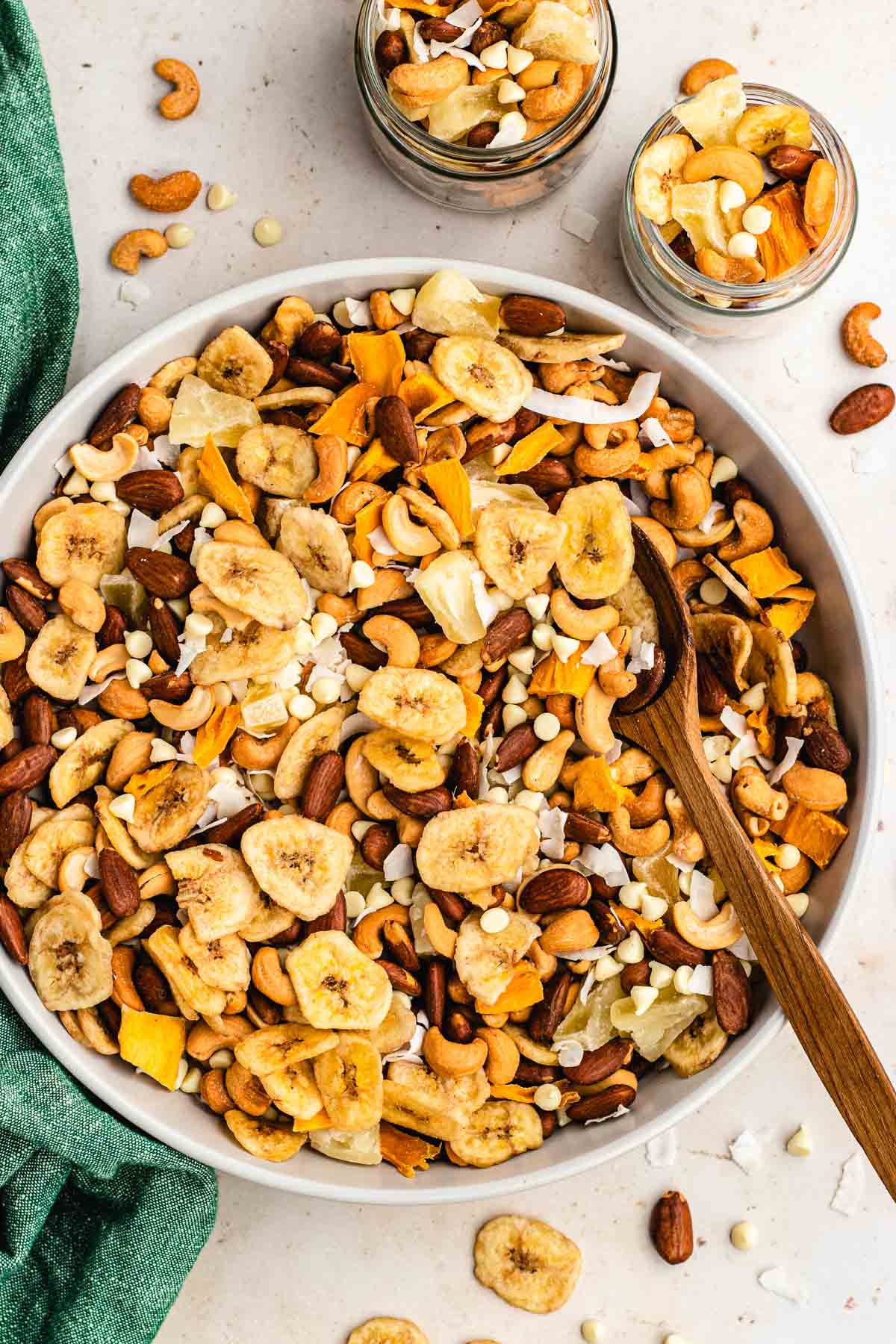 Variations
Chocolate Chips: Change up the chocolate flavors in this recipe with different kinds of chocolate chips like milk, semisweet, or dark chocolate chips. You could also try mixing in some peanut butter chips for a creamy, nutty flavor.
Fruit: There are all kinds of dried fruits you can add to this trail mix recipe! Try more tropical fruits like papaya, candied ginger, or plantain chips, or go with more traditional fruits like golden raisins, apricots, or apples. Dried berries like blueberries and cranberries would taste yummy too!
Nuts and Seeds: Swap in nuts and seeds like peanuts, sunflower seeds, pumpkin seeds, macadamia nuts, or pistachios for the cashews or almonds. You could make this a sweeter mix with some Candied Walnuts or try spicy seasoned nuts.
Mix-Ins: Try more healthy mix-ins with crunchy like dried peas, corn nuts, granola clusters, Chex cereal, or pretzel sticks. Add some savory balance with Cheddar Popcorn or make it sweeter with some mini marshmallows, yogurt covered raisins, or small candies.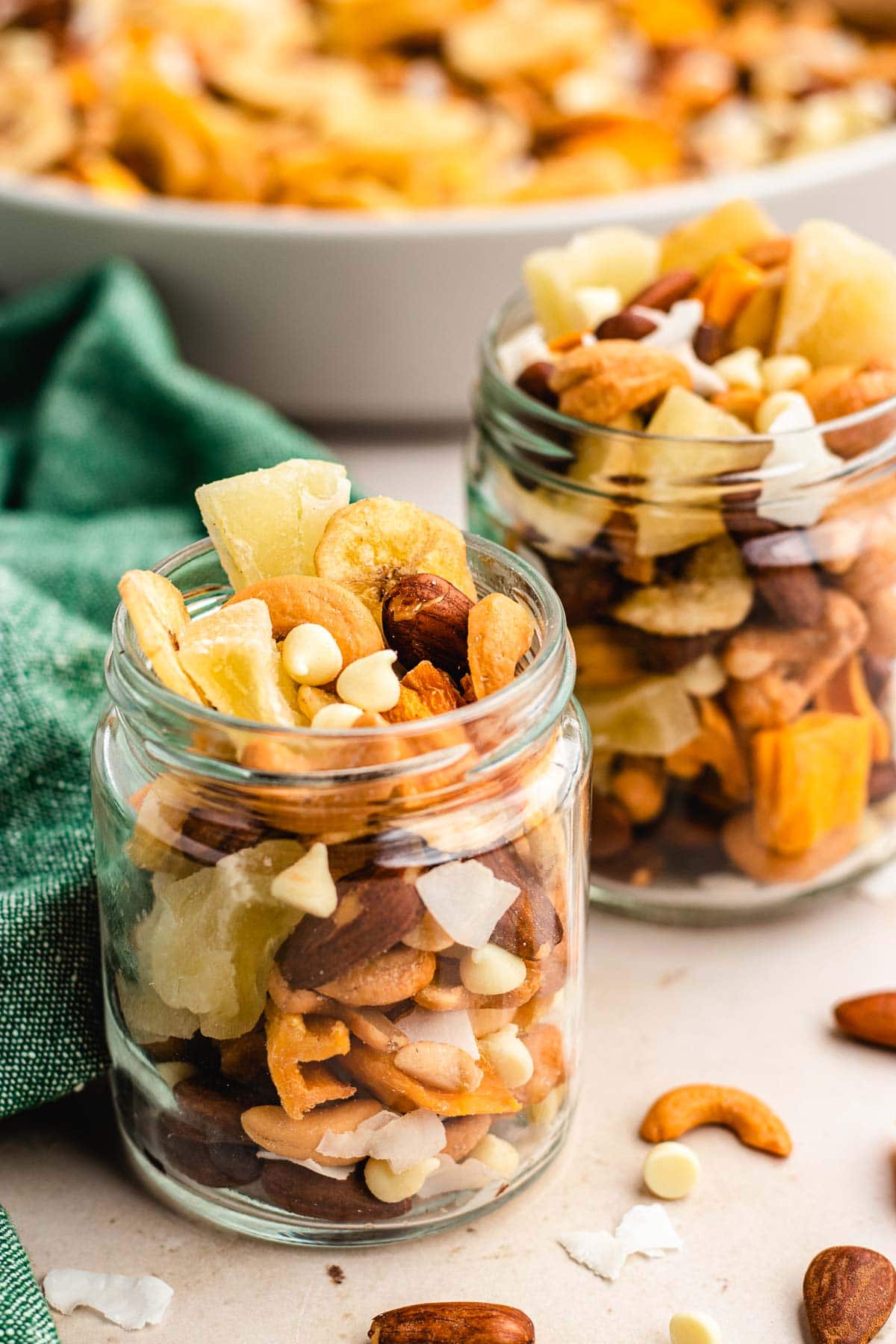 How to Roast Nuts
You can easily find toasted nuts at your local grocery store. However, if you happen to have raw cashews and almonds and want to try your hand at roasting them yourself, it's wonderfully easy.
Start by preheating your oven to 350 degrees.
Then toss the nuts in ¼ cup of oil. This is also the stage where you'd want to add any salt or other seasonings if you want them.
Once they are well coated, lay the almonds, cashews, and any other nuts you want to roast in a single layer on a rimmed baking sheet.
Pop the tray in the oven and roast for 10 minutes. Remove the tray and stir to move the nuts around the tray, then put them back in the oven for 5-7 minutes. You want their color to be noticeably darker after roasting.
Let them cool before adding them to the trail mix recipe.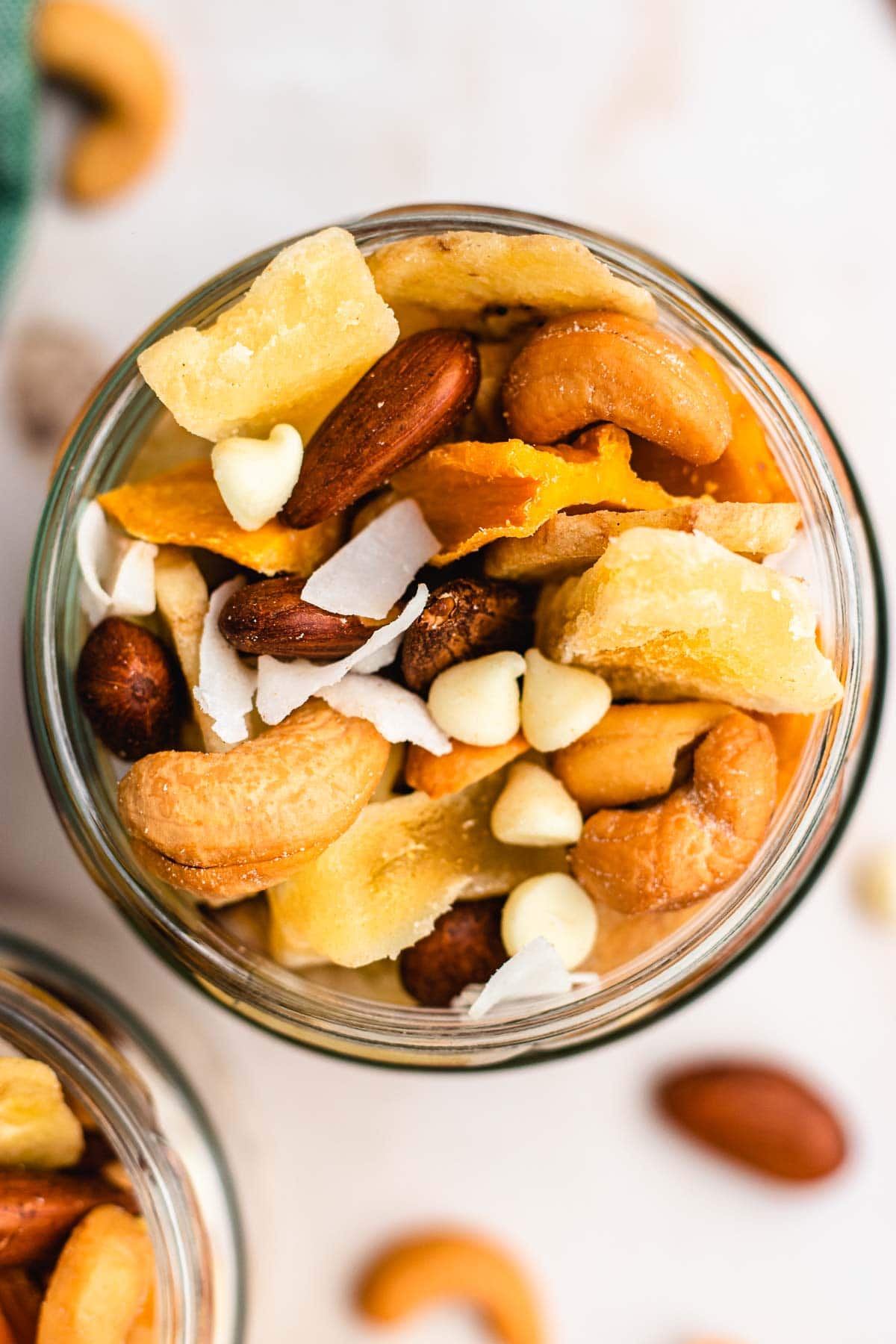 More Tasty Snack Mix Recipes
How to Store
Serve: You don't want to leave your Tropical Trail Mix uncovered for more than a couple of hours because the fruit will get hard and the nuts will go stale. If you are serving it for a party, it's better to serve a bit at a time, then fill it up as it gets eaten so it stays fresh.
Store: Transfer the trail mix to a Ziploc bag or another airtight container and store in a cool dry place out of the sun so it stays fresh longer. As long as it's sealed and stored properly, it will stay good for 2-3 months.
Freeze: It might surprise you that the fruit and nut mixture can also be frozen. Seal it tightly then put it in the freezer for up to 1 year of storage. This is great if you make the recipe in bulk and keep it in storage until the next time you're going on a family trip or hike.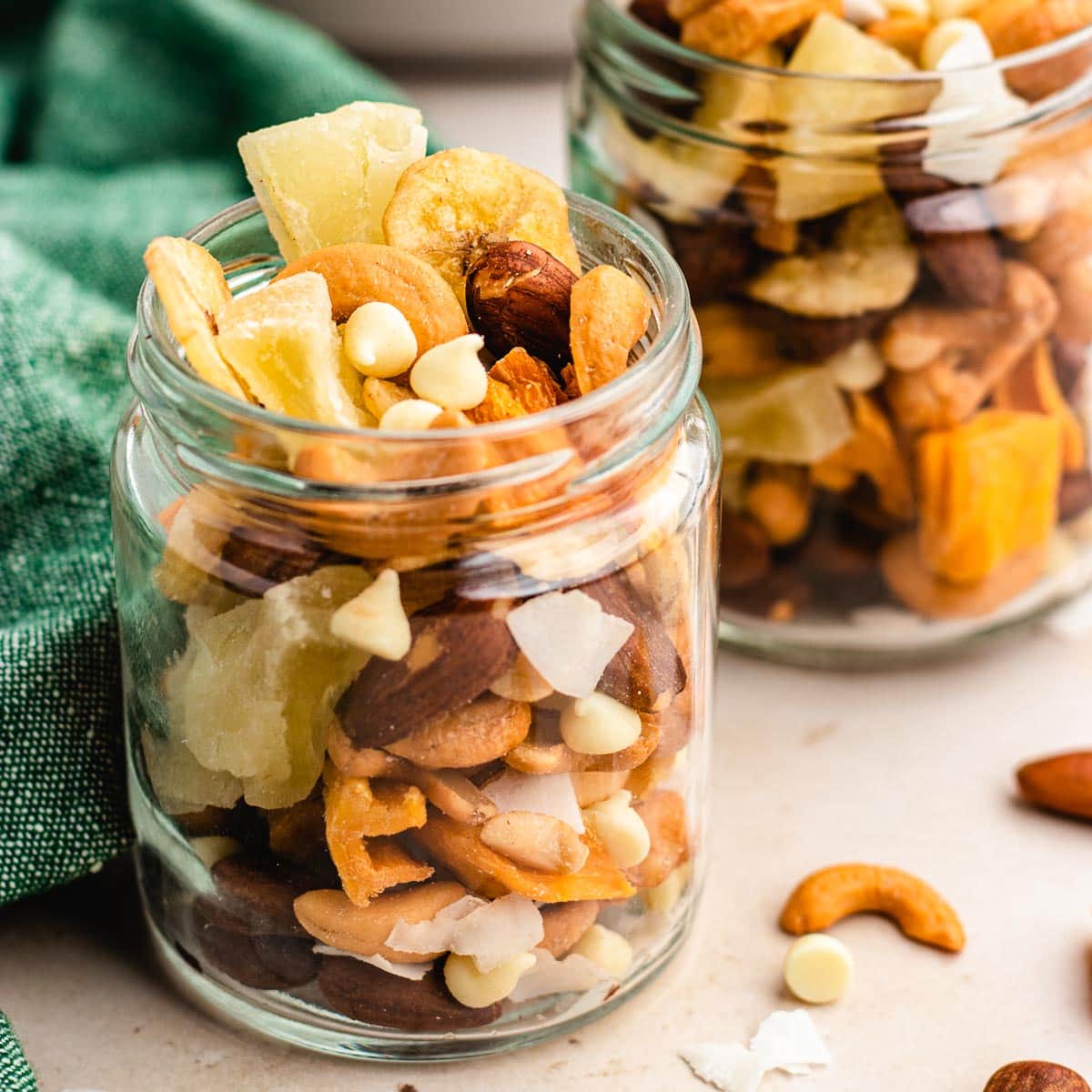 Ingredients
3

cups

roasted almonds

3

cups

salted roasted cashews

2

cups

banana chips

1

cup

sweetened dried pineapple

1

cup

sweetened dried mango

1 1/2

cups

white chocolate chips

1

cup

dried coconut flakes
Instructions
Mix all the ingredients together in a large bowl and store them in an airtight container.
Nutrition
Calories:
251
kcal
|
Carbohydrates:
23
g
|
Protein:
5
g
|
Fat:
17
g
|
Saturated Fat:
6
g
|
Polyunsaturated Fat:
2
g
|
Monounsaturated Fat:
8
g
|
Trans Fat:
0.002
g
|
Cholesterol:
2
mg
|
Sodium:
81
mg
|
Potassium:
211
mg
|
Fiber:
3
g
|
Sugar:
14
g
|
Vitamin A:
698
IU
|
Vitamin C:
2
mg
|
Calcium:
59
mg
|
Iron:
2
mg