Cranberry Trail Mix is the perfect sweet and salty, crunchy snack made with dried cranberries, dark chocolate, yogurt-covered raisins, and nuts.
This easy trail mix recipe is the perfect Treat to serve up on movie night or package in a ziplock bag to take on the go. Healthy trail mixes are so easy to make in a matter of minutes! Try out other versions like our Costco Trail Mix or Chocolate Peanut Butter Trail Mix for more easy snacks.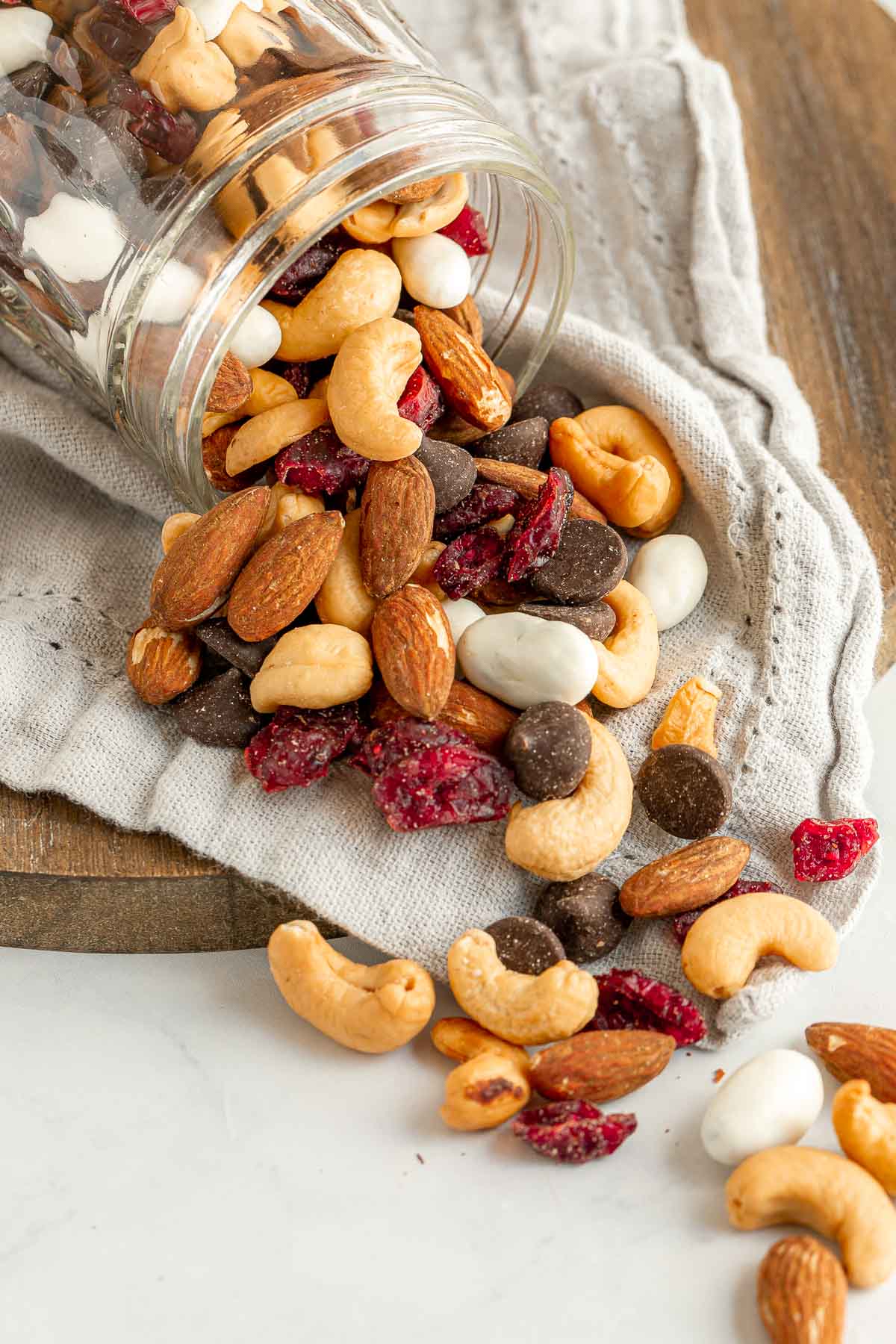 CRANBERRY TRAIL MIX
This Cranberry and Nuts Trail Mix recipe is one of the easiest tasty treats you'll ever make. With the simple ingredient list, all you have to do is toss together the cranberries, chocolate, raisins, and almond mixture for a delicious trail mix.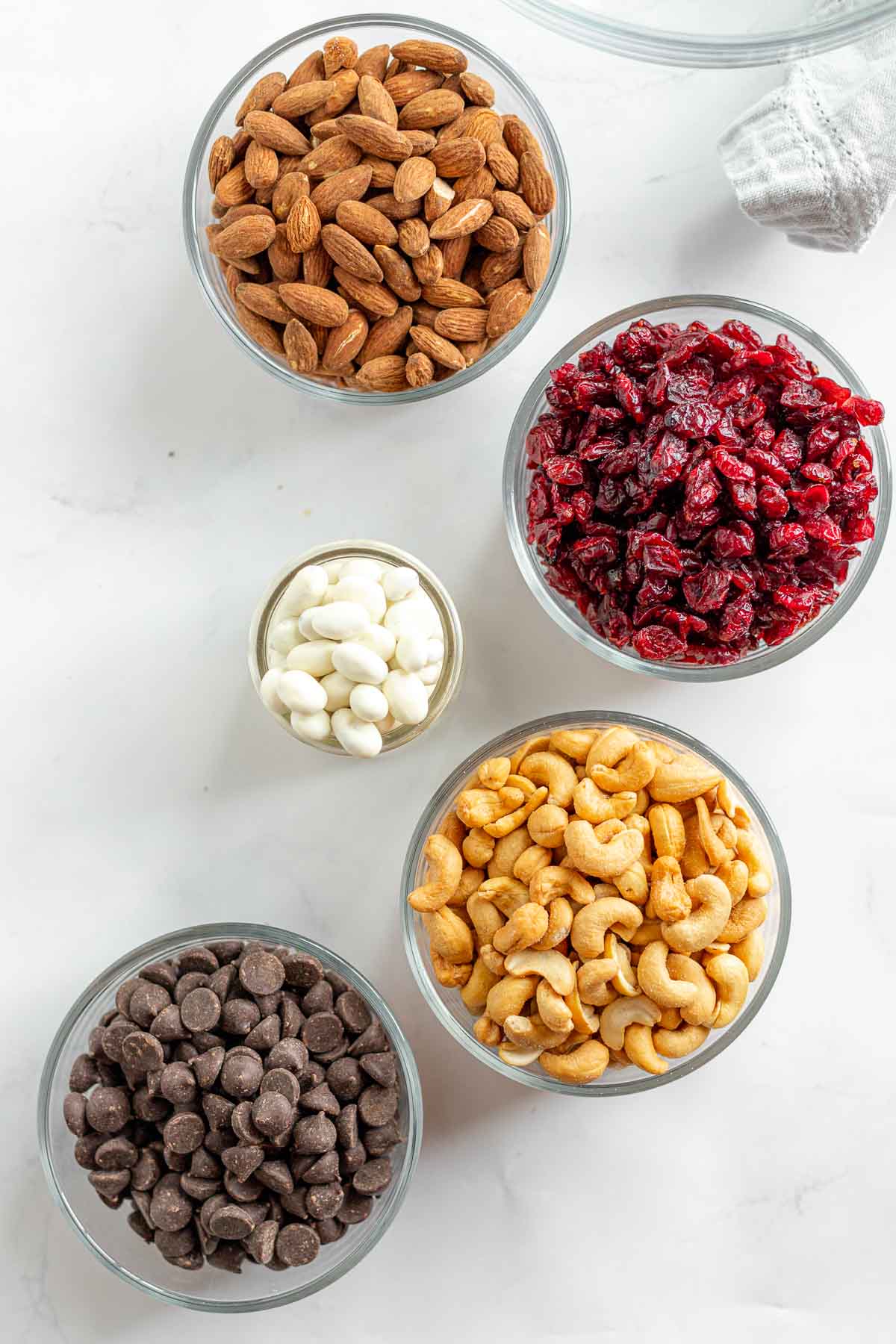 Thanks to the sweet cranberries, yogurt-covered raisins, and chocolate, this is a surprisingly kid-friendly trail mix. Since it's also a good source of protein and an overall healthy nut-based trail mix, you can feel good about giving it to them. The nuts are a nice low-carb ingredient that keep you full without lots of sugar.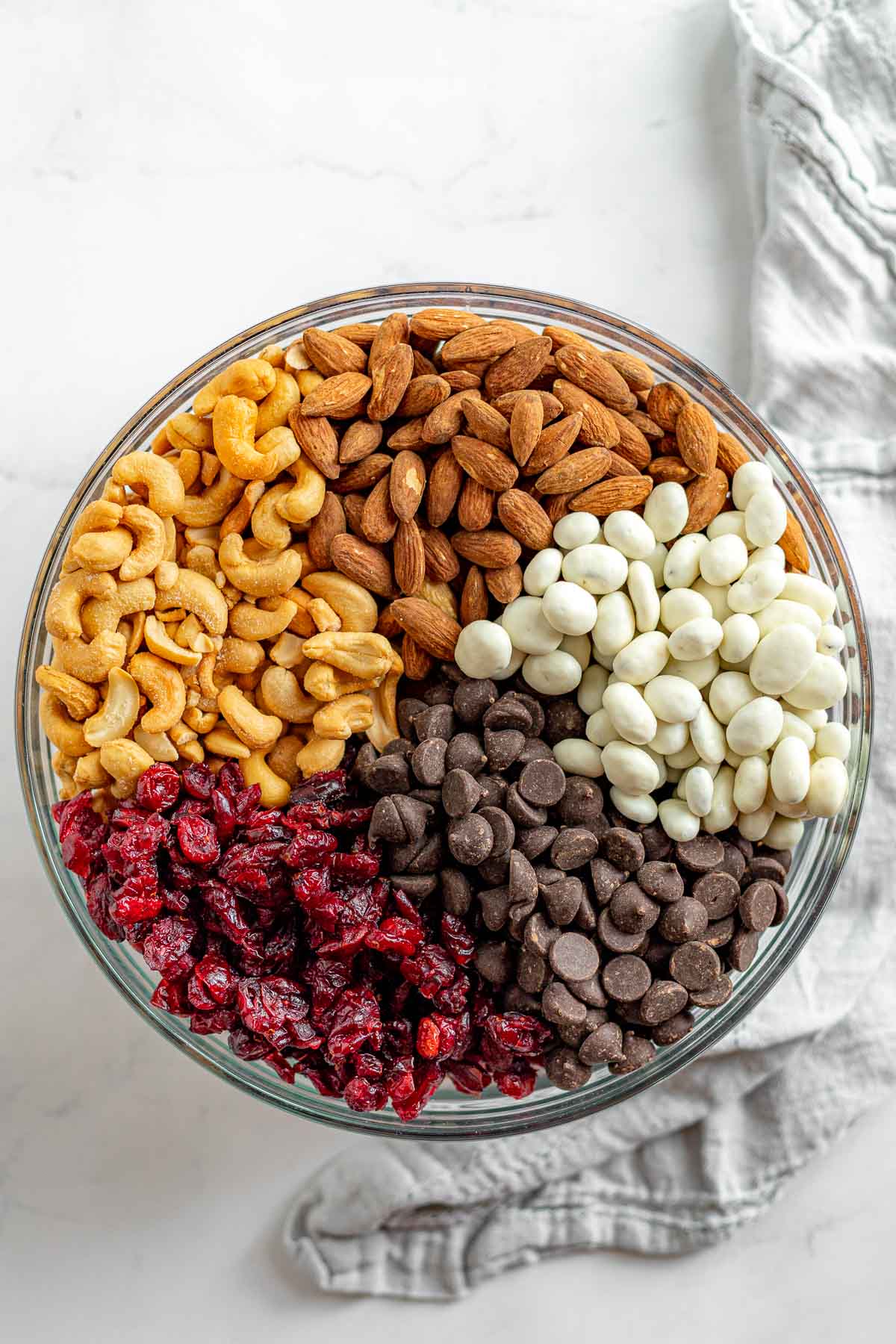 Cranberry Fruit & Nut Trail Mix is the perfect snack to take with you on-the-go. Package up the cranberry and nuts trail mix in individual ziplock bags with 1- 1 ½ cups trail mix in each bag. Then you can just grab a bag of low-carb trail mix on your way out the door. It's the perfect snack to munch on throughout the workday, bring on the hiking trail, or take on a road trip.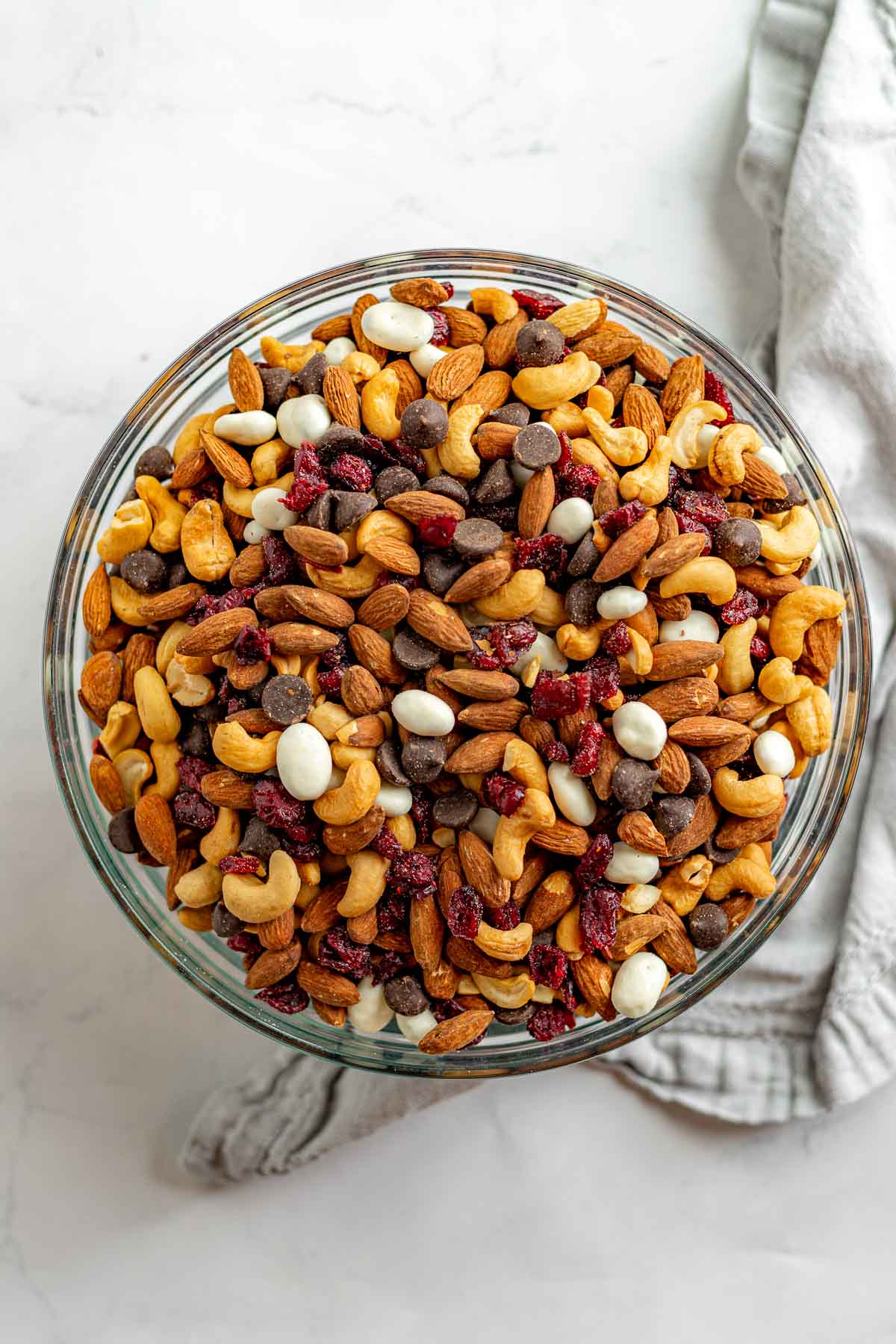 If you're looking for more portable and delicious snack recipes try out our Homemade Chewy Granola Bars or Chicago Mix Popcorn. Just like this recipe, they're super easy to make and always a hit with the whole family.
MORE SWEET AND SALTY SNACK RECIPES
HOW TO ROAST NUTS
We've used roasted almonds and cashews in this low-carb trail mix. You can easily find a roasted cashew and almond mixture at your local grocery store, but if you have raw almonds and cashews, roasting them yourself is pretty easy!
Preheat your oven to 350 degrees.
Then toss the nuts in ¼ cup of sunflower oil. Since you're making the buttery almonds and cashews yourself, you can also add salt or other seasonings you'd like at this stage. Try sprinkling on some sugar, cinnamon, salt, or other spices to add some extra flavor to the Cranberry and Nut Trail Mix.
Once they are well coated, lay the nuts in a single layer on an ungreased baking sheet.
Put the sheet in the oven to roast for 10 minutes. Remove the tray and stir to move the position of the nuts and help them bake evenly. Put them back in the oven for 5-7 minutes.
Let the toasted nuts cool down before tossing them in the trail mix.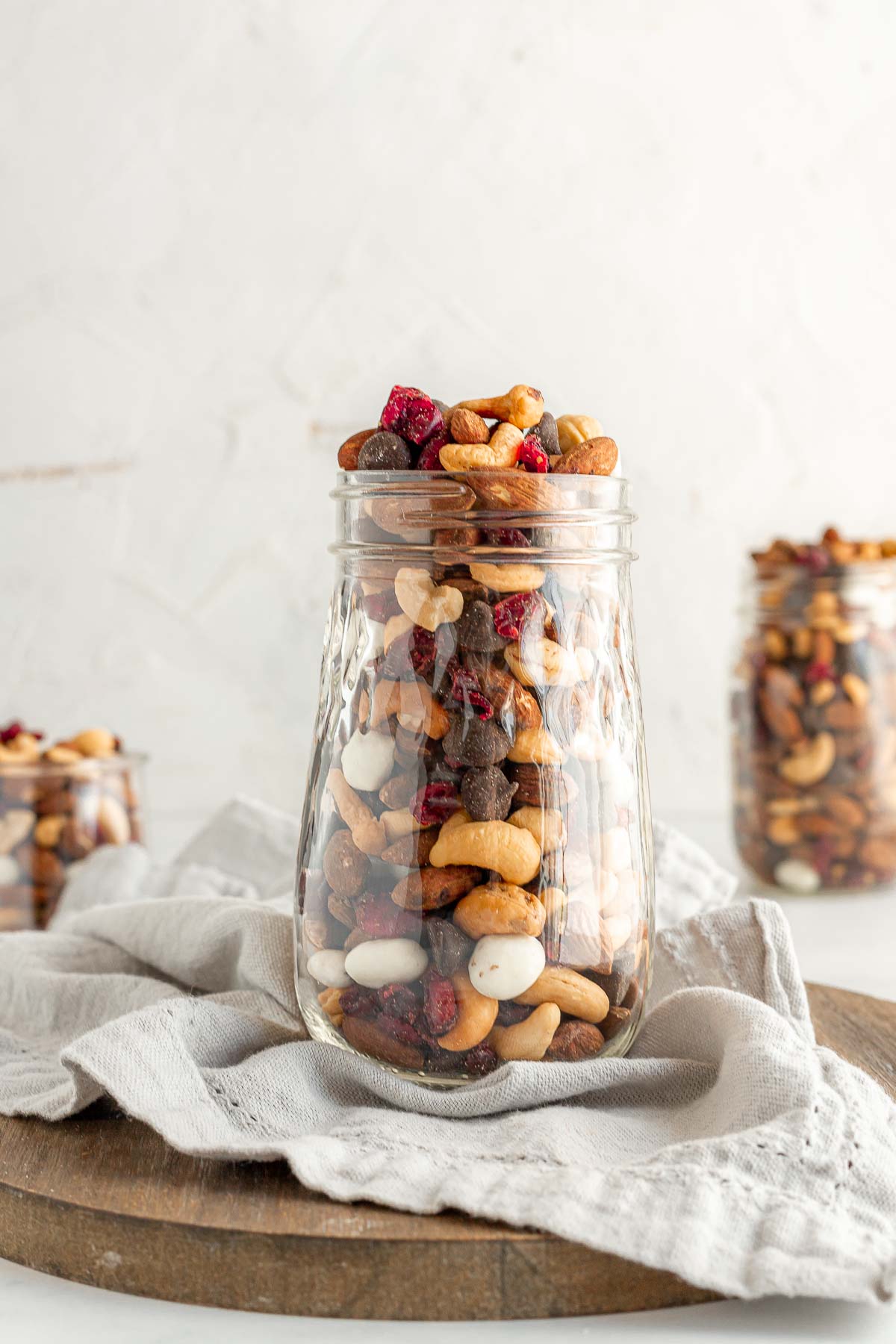 Create a free account to

Save Recipes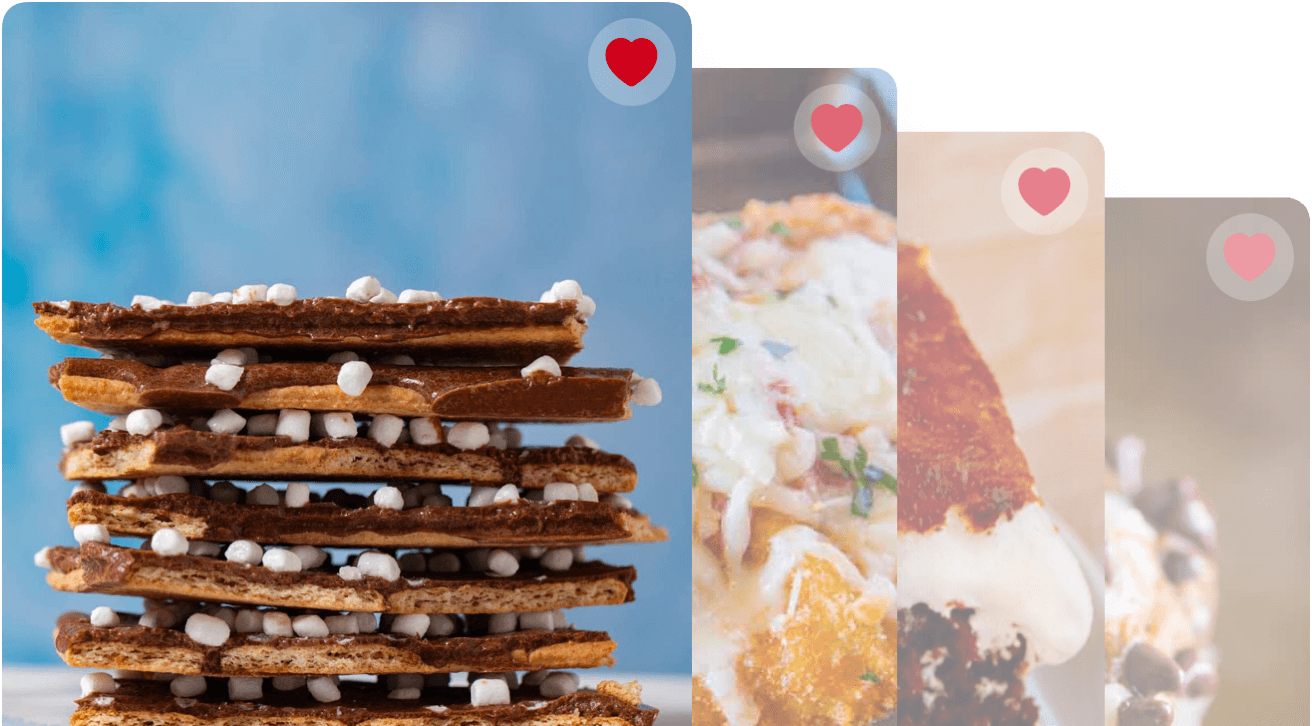 VARIATIONS ON CRANBERRY TRAIL MIX
Cinnamon sugar mix: For a touch of cinnamon sugar in the trail mix, toss the almonds and cashews in a mixture of sunflower oil, white sugar, and a pinch of cinnamon. Once they're coated, heat them for a few minutes in the oven. Then let them cool before tossing them in the Cranberry Fruit & Nut Trail Mix.
Quick cranberry-pumpkin seed trail mix: Cranberries are often used in seasonal baking. If you want to make this more of an autumn or holiday snack, try adding toasted pumpkin seeds. You can even use pumpkin-spiced seeds for some extra seasonal flavor.
Chocolate chips: Instead of dark chocolate chunks, you can try using different kinds of chocolate chips. Milk chocolate chips, semi-sweet chocolate chips, dark chocolate chips, or white chocolate chips would all taste amazing with the cranberries.
Mix-ins: Feel free to experiment with lots of different mix-in items in your low-carb trail mix. You can add a cup of raisins or golden raisins to either replace or go along with the yogurt-covered raisins. You could also add sunflower seeds, peanuts, cinnamon chips or coconut flakes.
MORE CRANBERRY SNACKS
HOW TO STORE CRANBERRY TRAIL MIX
Serve: After tossing the cranberry and nuts trail mix together, you can serve them right away or package them to store in your pantry.
Store: Kept in a sealed container, the low-carb trail mix can stay good in the pantry at room temperature for 4-6 weeks.
Freeze: You can also freeze the trail mix for up to 6 months.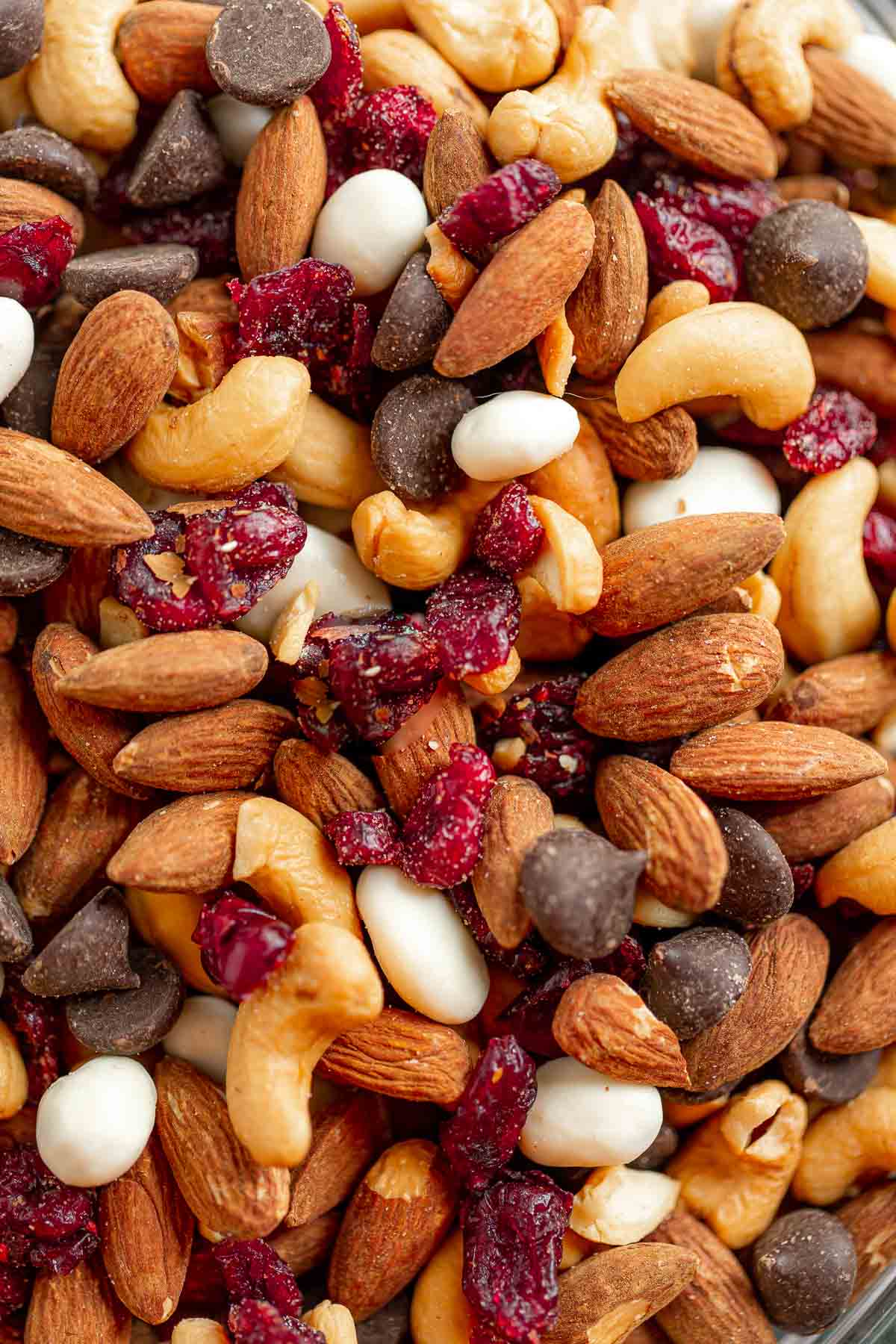 Ingredients
3

cups

roasted almonds

3

cups

salted roasted cashews

2

cups

dried sweetened cranberries

1 1/2

cups

dark chocolate chunks

, or chips

1

cup

yogurt covered raisins
Instructions
Mix almonds, cashews, cranberries, chocolate chunks, and yogurt covered raisins together in a large bowl.

Store in an airtight container.
Nutrition
Calories:
327
kcal
|
Carbohydrates:
28
g
|
Protein:
8
g
|
Fat:
23
g
|
Saturated Fat:
6
g
|
Trans Fat:
1
g
|
Cholesterol:
1
mg
|
Sodium:
115
mg
|
Potassium:
344
mg
|
Fiber:
5
g
|
Sugar:
15
g
|
Vitamin A:
11
IU
|
Vitamin C:
1
mg
|
Calcium:
70
mg
|
Iron:
3
mg