Costco Trail Mix (Copycat) is an easy snack to throw together in a matter of minutes with sweet and salty flavors from M&Ms, raisins, and nuts.
Homemade Trail Mix is the perfect easy Treat to take with you on a hike or keep you full between meals. For more easy snack recipes, try our Caramel Popcorn or Chewy Granola Bars.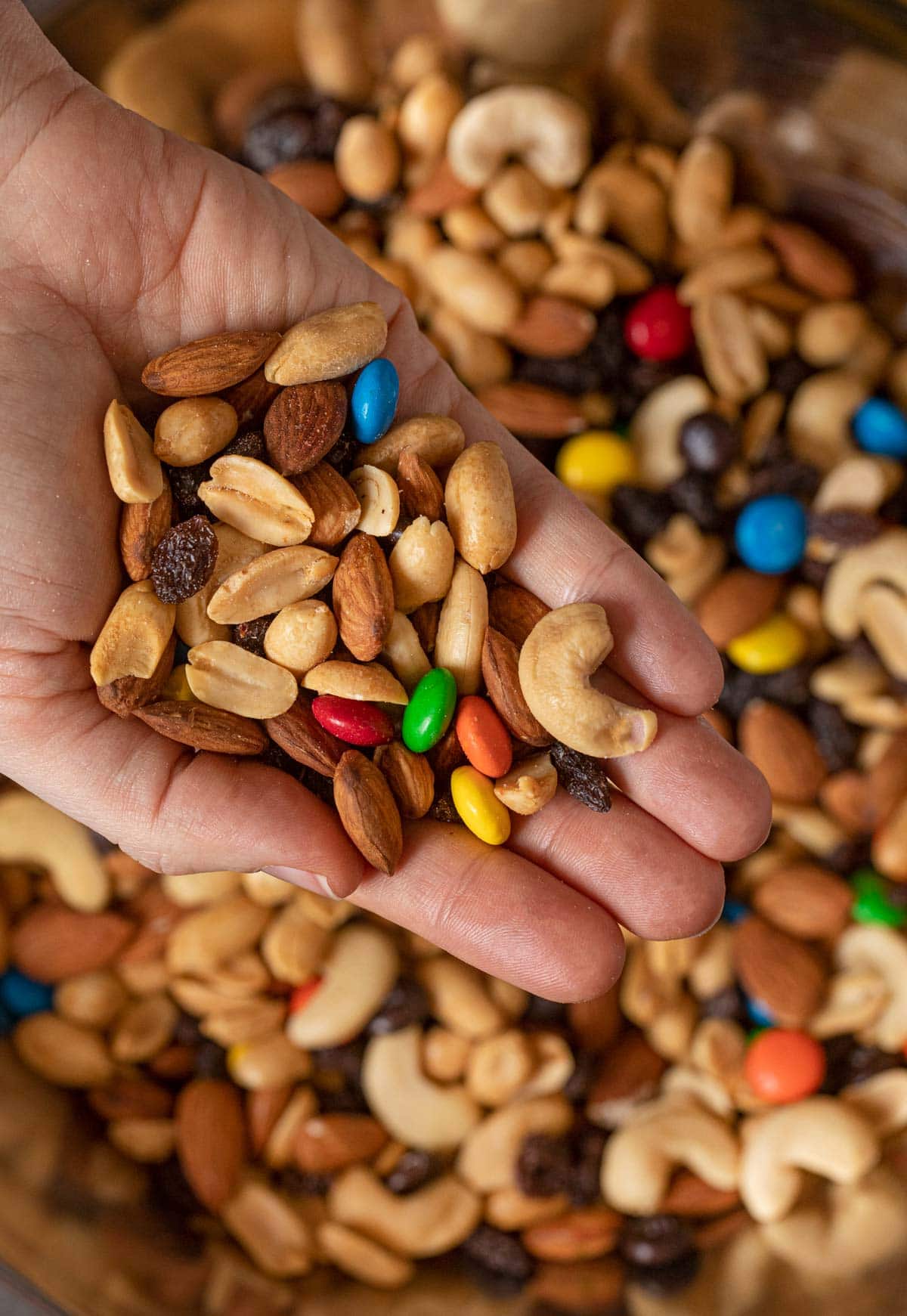 COSTCO TRAIL MIX (COPYCAT)
I'm a huge fan of Costco and a lot of their iconic snacks. But when I go there, it's usually for a big grocery shopping trip. The great thing about Costco is that you can get everything in bulk, but that's exactly why I don't go often. I don't necessarily want to be spending every weekend buying in bulk, especially when the lines can get so long.
So, when there's a specific thing that I'm craving, like their amazing trail mixes, it's a lot less time-consuming to make it myself. Especially when it comes to this Trail Mix recipe because it's so easy.
This just might be our family's favorite trail mix ever! With peanuts, almonds, cashews, raisins, and M&Ms, it's the perfect crunchy snack to keep you going throughout the day. Best of all it comes together in the blink of an eye. There's really just one step to the recipe, and that's mixing all the goodies together!
Once the Sweet and Salty Trail Mix is ready you can put it out in a bowl to enjoy handfuls throughout the day, store it in the pantry, or package it in Ziploc bags. I personally love separating this recipe into multiple plastic bags. Then you can just grab snack mix on your way out the door!
Apart from munching on this mix, you can also use it as an ingredient for dessert recipes like Rice Krispies Trail Mix Bars or Trail Mix Blondies!
MORE TASTY SNACKS
TRAIL MIX GRANOLA BARS
Costco Trail Mix is a great snack to have around the house or put in bags to take on-the-go. But, you can also use the same base ingredients to make delicious and healthy homemade granola bars.
Start by preheating the oven to 325 degrees, and line an 8×8 pan with parchment paper.
Add the nuts, raisins, M&Ms, and ¼ teaspoon salt to a mixing bowl. Use a wooden spoon to stir them together until they're well distributed.
Add ¼ cup maple syrup and 1 teaspoon vanilla extract to a separate bowl, and mix them together. (You could also use honey instead of maple syrup.)
Pour the sugar mixture on top of the nuts, and stir it all together until the trail mix is well coated.
Pour the mixture onto the baking sheet, and use the wooden spoon to flatten it all into one layer.
Pop the granola bars in the oven for 30-35 minutes.
After baking, let them cool in the pan for a full hour, and then slice them into bars.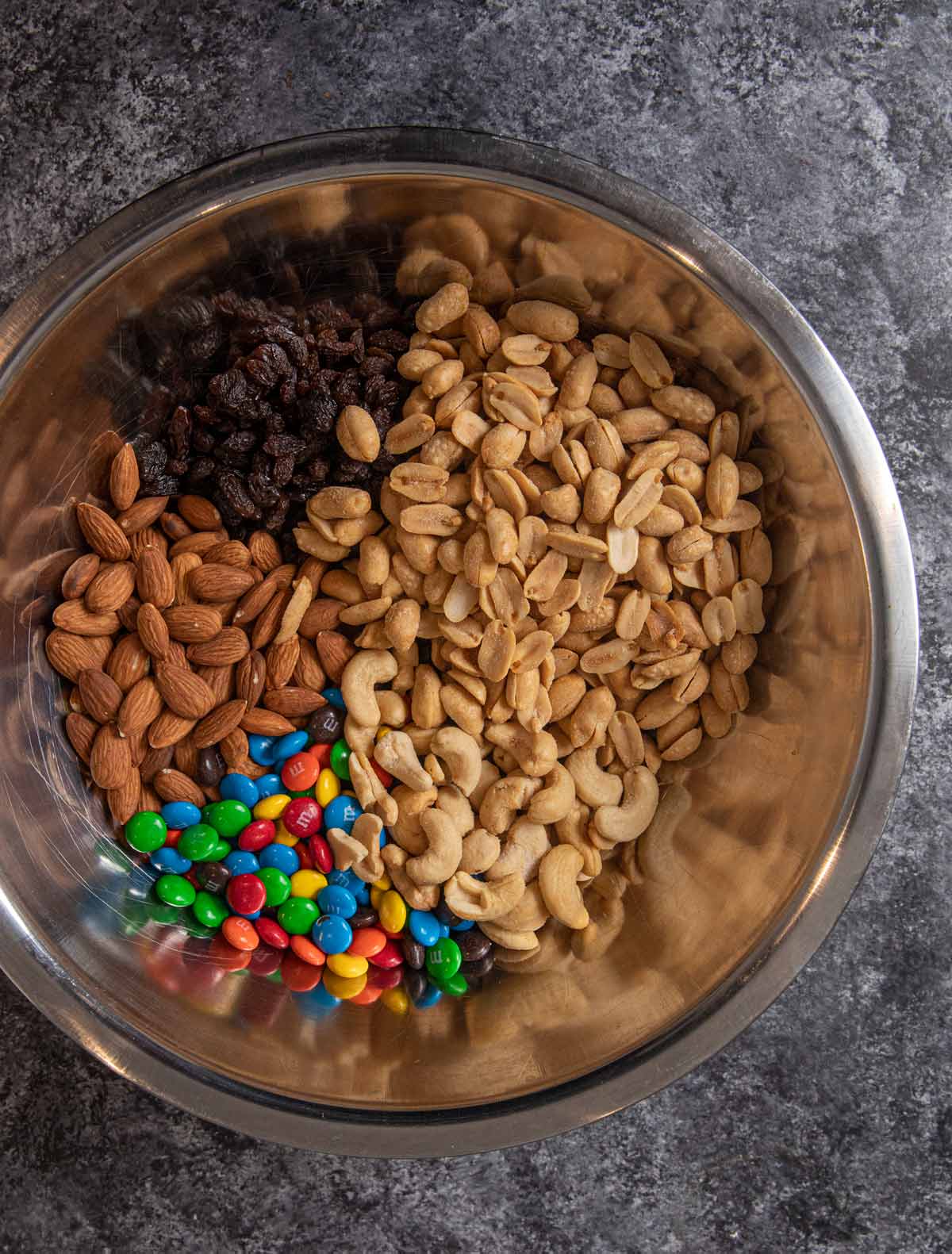 Create a free account to Save Recipes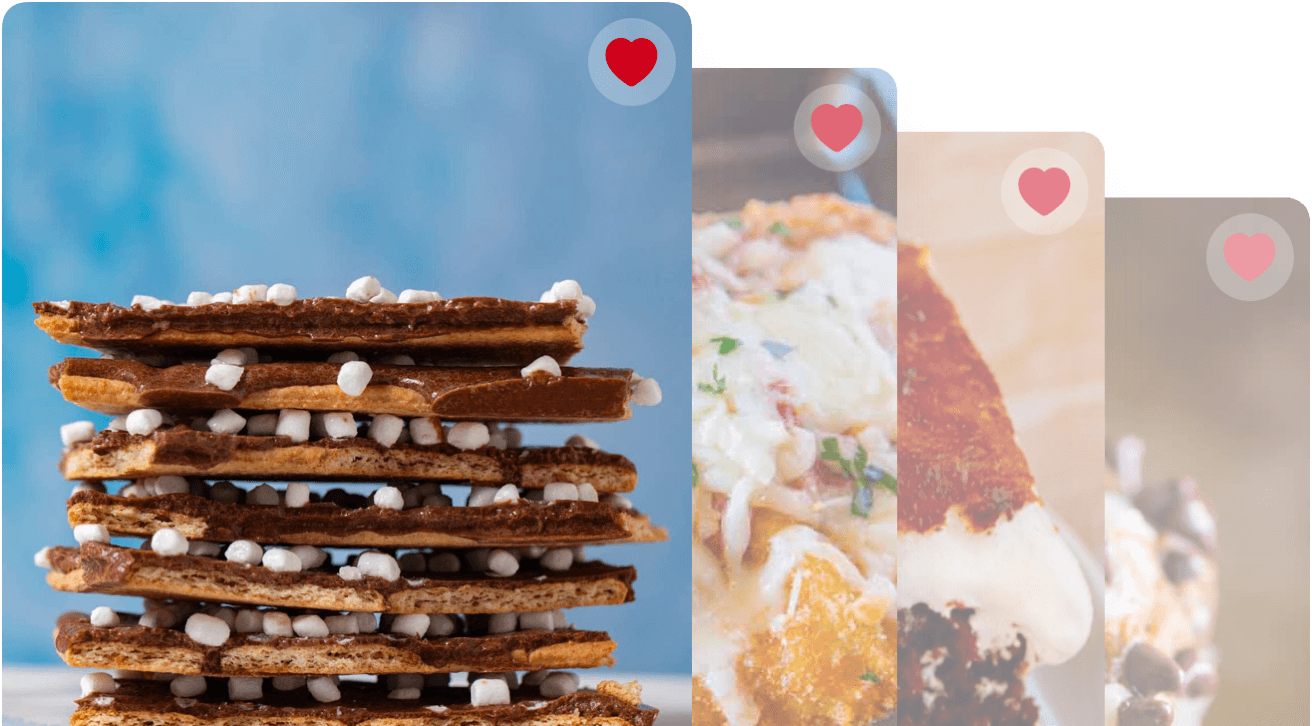 VARIATIONS ON COSCO TRAIL MIX (COPYCAT)
Chex Mix Trail Mix: There are lots of different trail mix varieties that you can experiment with by slightly changing this recipe. One classic way to make trail mix is with Chex mix cereal as the base. You can use plain Chex cereal or cereal that's been flavored with cinnamon. Use the cereal as the base then toss in the nuts, raisins, chocolate, and any other mix-ins you want to try.
Dried Fruit: You can also add different kinds of dried fruit. Along with the regular raisins, try mixing in golden raisins, dried cranberries, cherries, dates, or dried apricots.
Chocolate: For some extra sweetness add more chocolate to the recipe. Semisweet, dark, milk or white chocolate chips would all taste great.
Nuts and seeds: There are also plenty of different nut varieties like pecans, walnuts, macadamia nuts, or pistachios. You could also add some seeds to the mix like toasted pumpkin seeds, sesame seeds, or sunflower seeds.
Hawaii trail mix: To bring some Hawaii-inspired flavors to the recipe, try mixing in dried pineapple, coconut flakes, and dried bananas.
Mix-ins: There are honestly endless ideas for mix-ins you could try in your Costco Trail Mix. Here are some more of our favorites: peanut butter chips, pretzels, popcorn, peanut m&ms, or chocolate-covered peanuts.
MORE COPYCAT RECIPES
HOW TO STORE COSTCO TRAIL MIX
Storing: One of the great things about snack mixes is their long shelf life and how easy they are to store. After tossing the ingredients together, you can store the Costco Trail mix in a large Ziploc bag or another airtight container in your pantry. It will keep fresh for up to 6 months.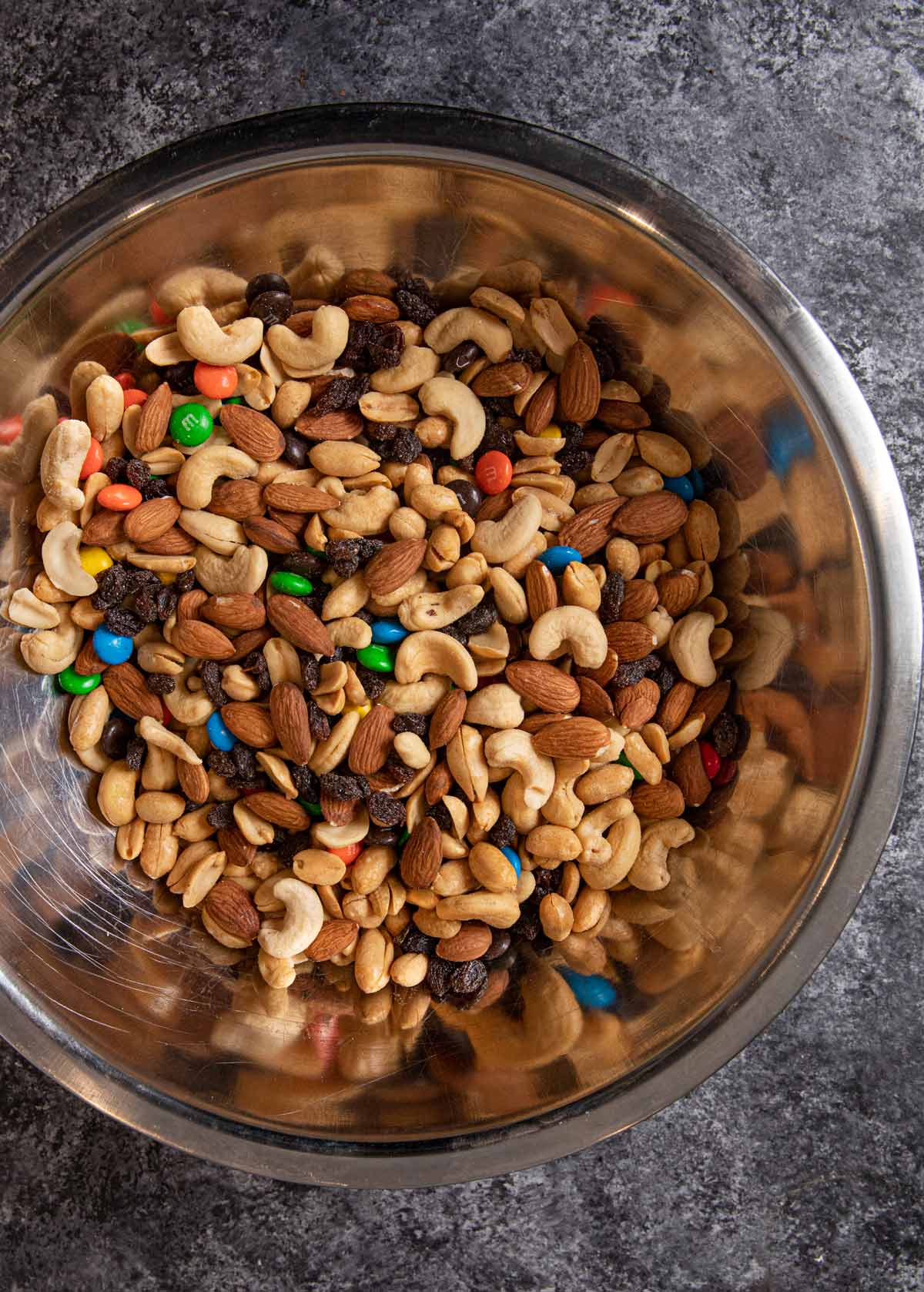 Ingredients
4

cups

salted peanuts

2

cups

raisins

2

cups

roasted almonds

2

cups

salted roasted cashews

1 1/2

cup

M&M candies
Instructions
Mix salted peanuts, raisins, almonds, cashews, and M&Ms together in a large bowl.

Store in an airtight container at room temperature.
Nutrition
Calories:
376
kcal
|
Carbohydrates:
29
g
|
Protein:
12
g
|
Fat:
26
g
|
Saturated Fat:
5
g
|
Trans Fat:
1
g
|
Cholesterol:
2
mg
|
Sodium:
191
mg
|
Potassium:
437
mg
|
Fiber:
5
g
|
Sugar:
9
g
|
Vitamin A:
29
IU
|
Vitamin C:
1
mg
|
Calcium:
79
mg
|
Iron:
2
mg