Peanut Butter Cornflake Bars are perfectly chewy, sweet treats made with just 4 ingredients. It's great for a quick snack or super simple dessert.
This super simple Bar Recipe is easy to throw together at short notice. The basic cereal bars are similar to Rice Krispies Treats but made with peanut butter and corn syrup instead of marshmallows.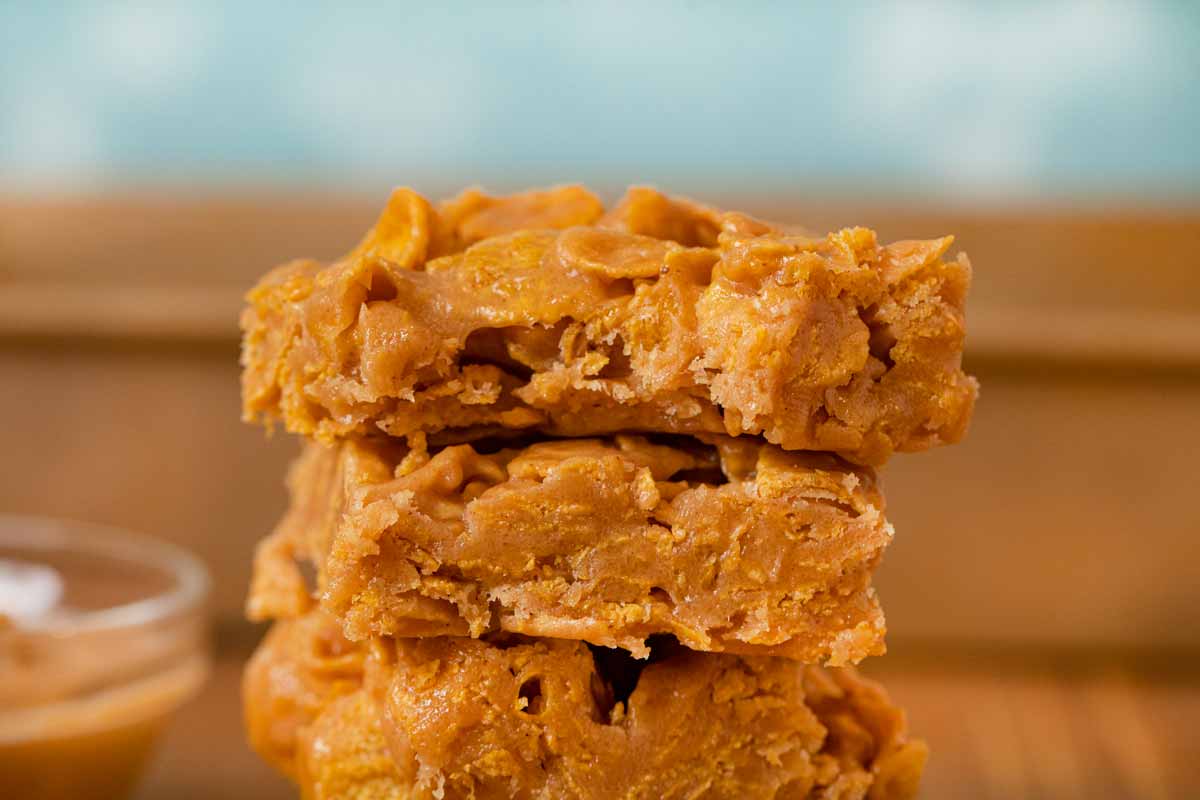 PEANUT BUTTER CORNFLAKE BARS
These easy peanut butter bars are made with just a handful of ingredients. As long as you have peanut butter, corn syrup, sugar, and corn flakes, you're good to go! The sugar and corn syrup combine with the peanut butter to make the sticky, sweet coating for the cornflakes. Once it's all combined you'll have sweet and salty perfectly chewy bars.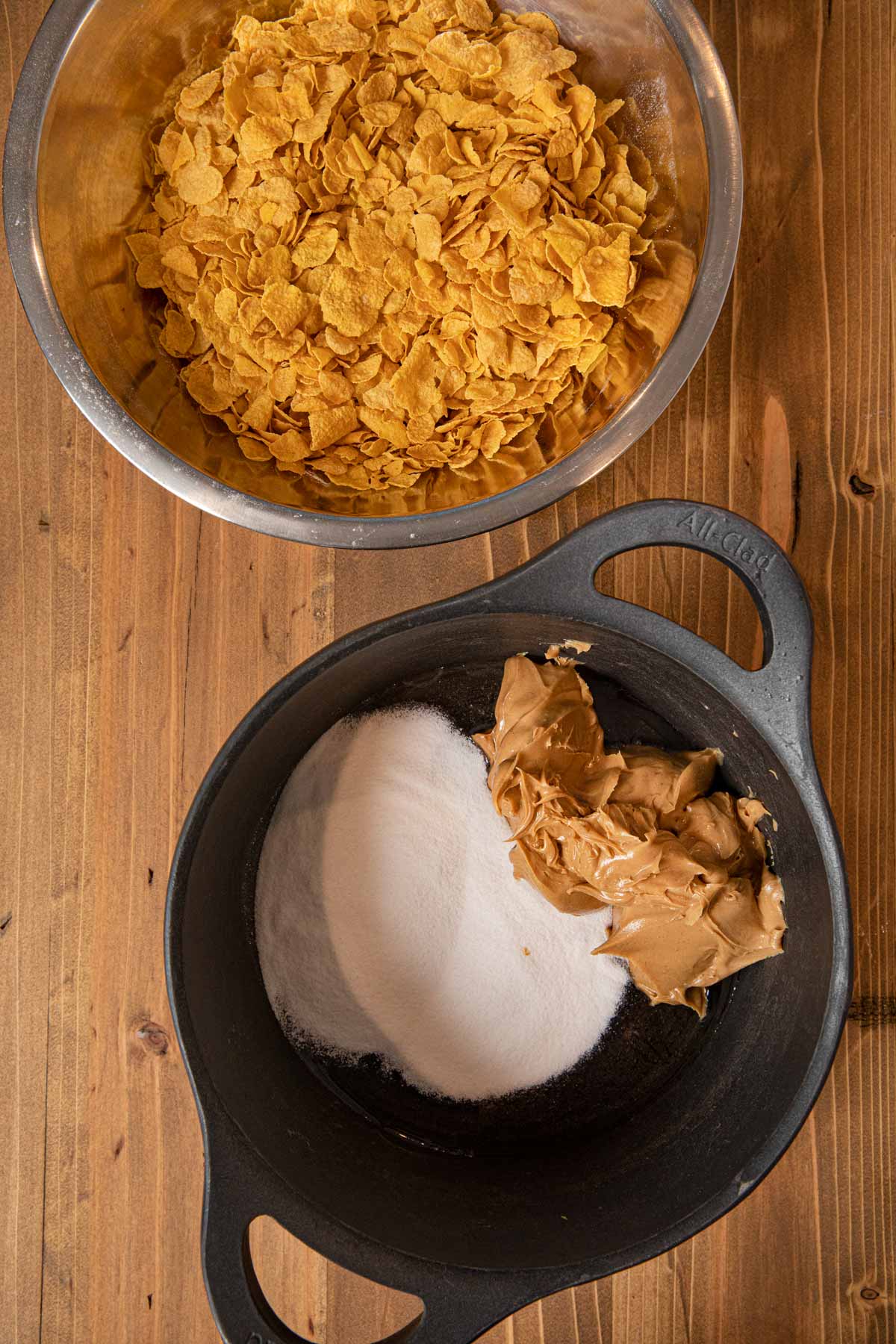 Peanut Butter Cornflake Crunch Bars are a favorite with kids. They're a great after-school snack or treat to put in a packed lunch. As long as you give the bars time to cool they slice up easily into portable peanut butter bars for a quick grab-and-go snack.
The recipe is so simple, that it's an easy one for kids to help out with. You can even melt the peanut butter and sugar together in the microwave if you're worried about your kids using the stovetop. They come together in just a few minutes so you don't have to worry about your little helpers getting bored during the process.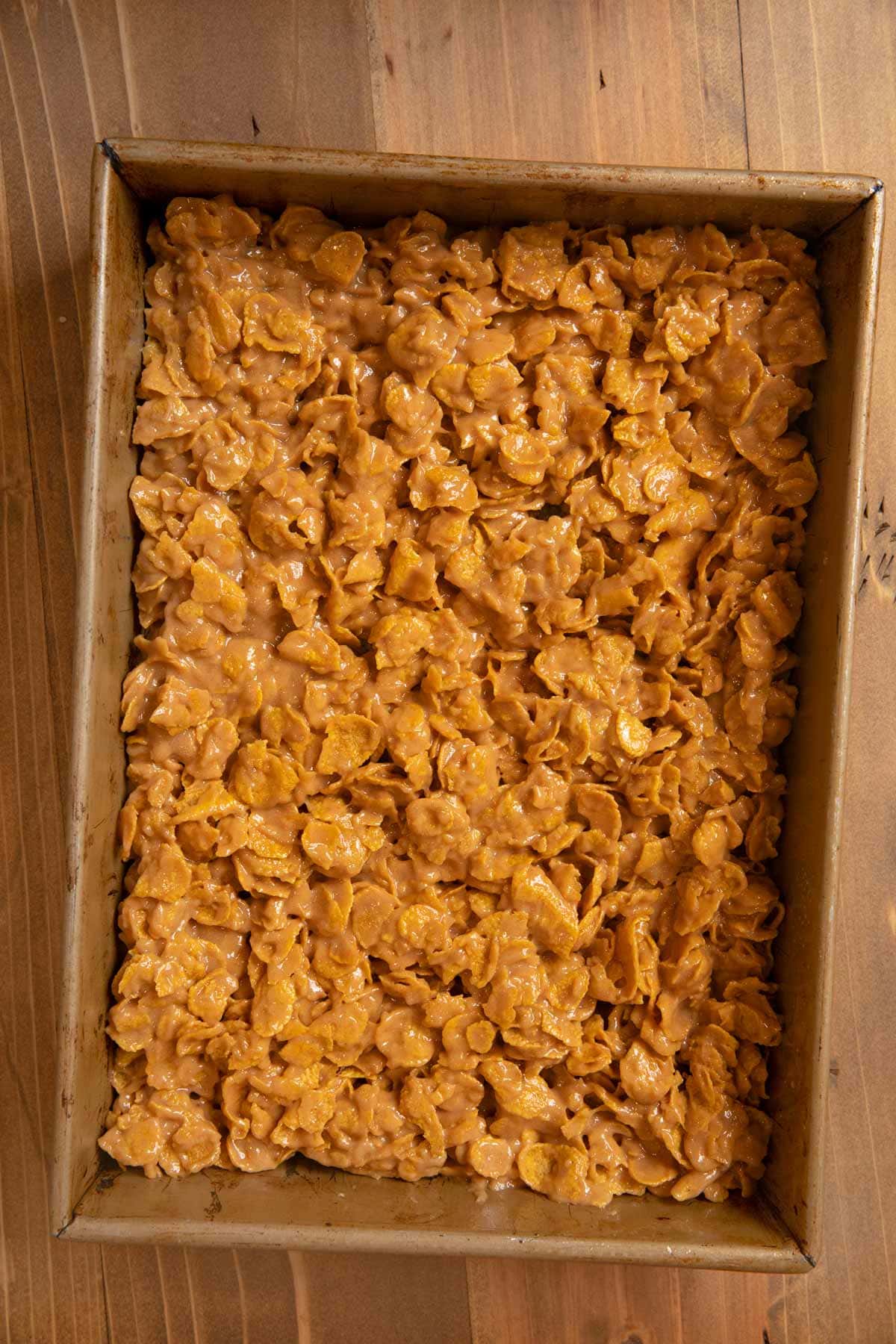 If your family loves these Peanut Butter Bars, try Oreo Rice Krispies or Chocolate Rice Krispies next. Just like this recipe, they're easy to make, kid-friendly, and perfect to serve a crowd.
MORE CEREAL BARS
TIPS FOR MAKING PEANUT BUTTER CORNFLAKE BARS
Prep: Before starting the recipe, make sure you remember to spray your pan with nonstick spray. If you don't have cooking spray, you can lightly grease it with butter. This is important to make sure the sticky ingredients don't stick to the pan.
Peanut butter mixture: Put a saucepan over medium heat and add the peanut butter, corn syrup, and sugar. Stir the ingredients until they're well combined and the sugar is dissolved, then remove from the heat. You could also do this part in a large, microwave-safe bowl. Microwave it at full power in 30-second increments, and stir between each microwaving session until it's dissolved.
Combine: Pour the peanut butter and sugar mixture into a large mixing bowl, then add the corn flakes. Mix until the cornflakes are all coated in peanut butter.
Set: Press the cornflakes into the prepared baking pan. Let it cool completely before you slice it into squares.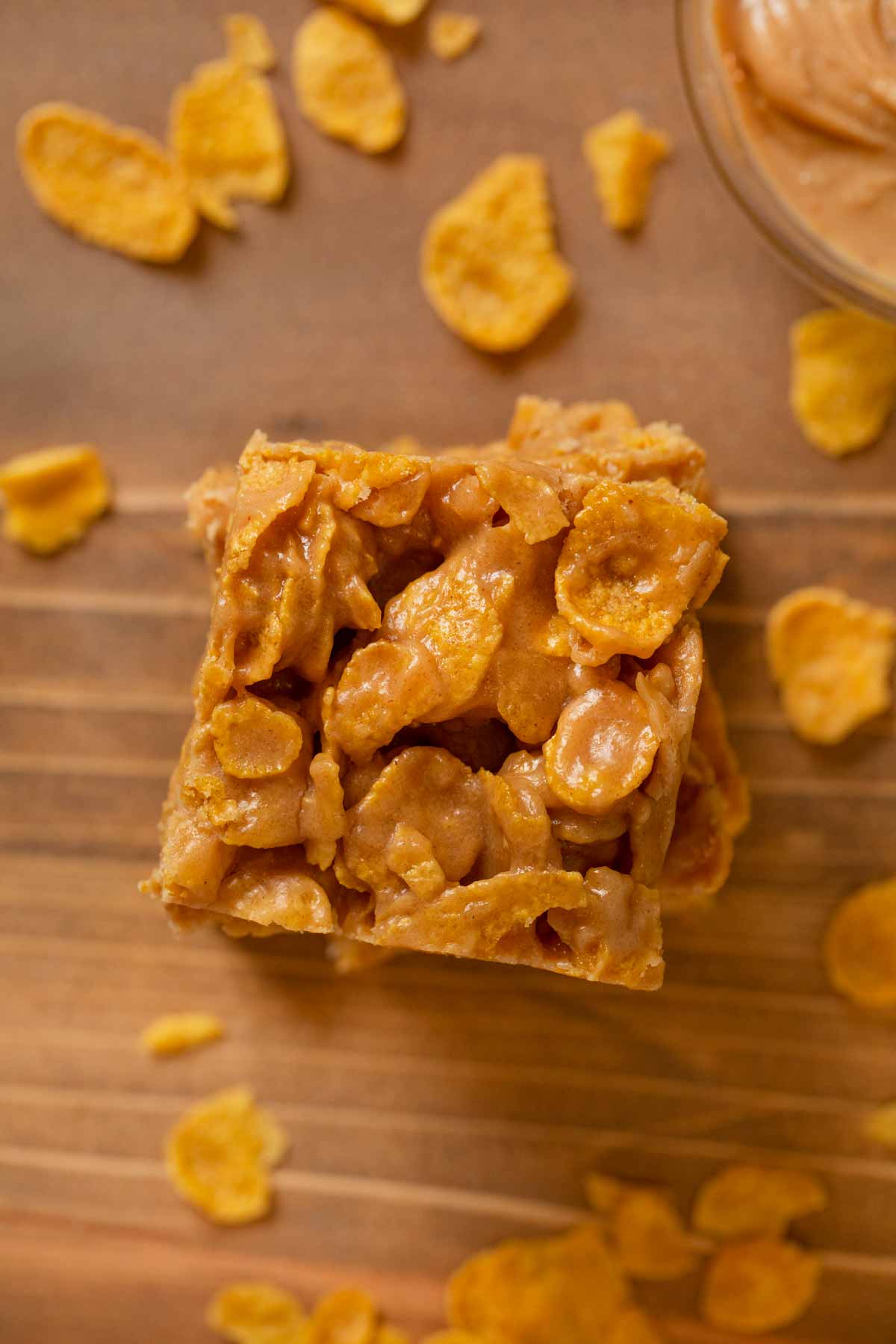 Create a free account to Save Recipes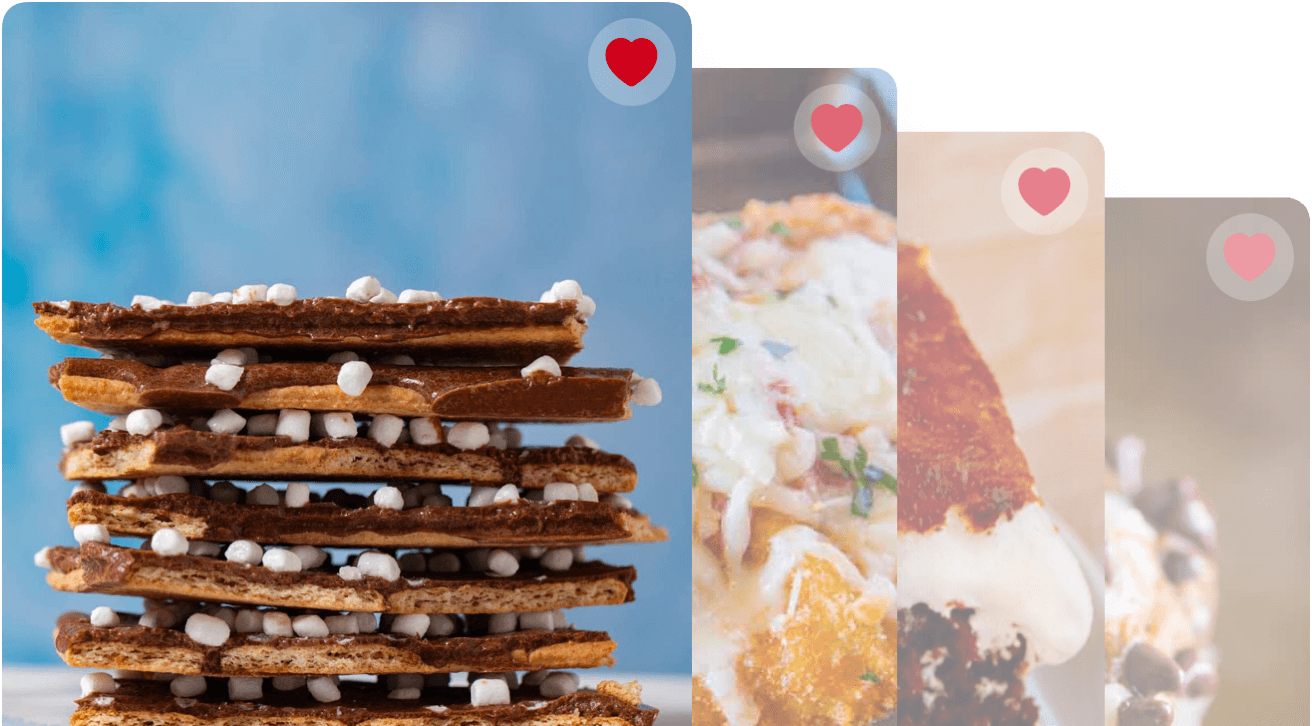 VARIATIONS ON PEANUT BUTTER CORNFLAKE BARS
Peanuts: If you want some extra crunch in your Peanut Butter Corn Flake Bars, try mixing in whole peanuts or using crunchy peanut butter to replace the creamy peanut butter in the recipe.
Peanut butter replacements: Instead of peanut butter, you can try other kinds of butter in the recipe like sunflower seed butter or almond butter.
Cereals: You could also replace the cornflakes with other simple kinds of cereal. You can use cheerios or rice Krispies to make Peanut Butter Rice Krispies.
Mix-ins: There are also lots of fun ways you can experiment with the recipe with add-ins like coconut flakes, mini marshmallows, chocolate chips, or crushed nuts. You can also add toppings like sprinkles or drizzle on melted chocolate.
BROWNIE AND BAR RECIPES
HOW TO STORE PEANUT BUTTER CORNFLAKE BARS
Serve: Give the bars time to cool down and set completely before you slice and serve them. Otherwise, they'll be too sticky and messy.
Store: You can keep the Peanut Butter Cornflake Cereal Bars covered at room temperature for up to 4 days or in the fridge for 1 week. They'll be hard to bite into if they're too cold, so take them out of the fridge to warm up for a few minutes before serving.
Freeze: You can also store the bars in a freezer bag or another airtight container in the freezer. They'll be good for up to 6 months. Separate the layers with parchment paper so that they don't stick together.


Instructions
Spray a 9x13 pan with vegetable oil spray.

To a medium saucepan add the peanut butter, corn syrup, and sugar on medium heat.

Mix well until just dissolved, then remove from heat.

In a large bowl mix cornflakes and peanut butter mixture.

Gently press mixture into baking pan.

Cool completely before slicing.
Nutrition
Calories:
194
kcal
|
Carbohydrates:
39
g
|
Protein:
3
g
|
Fat:
4
g
|
Saturated Fat:
1
g
|
Sodium:
127
mg
|
Potassium:
70
mg
|
Fiber:
1
g
|
Sugar:
31
g
|
Vitamin A:
188
IU
|
Vitamin C:
2
mg
|
Calcium:
7
mg
|
Iron:
3
mg