Coconut Macaroon Brownies are the best of both worlds! It's the perfect combination of gooey brownies and crisp, golden coconut flakes in one dessert.
If you love our Classic Chocolate Brownies, then you have to try this coconut-y variation on them. The mixture of coconuts, vanilla extract, and sweetened condensed milk poured over the chocolate brownies gives a taste similar to a Macaroon for the perfect fancy Dessert Recipe.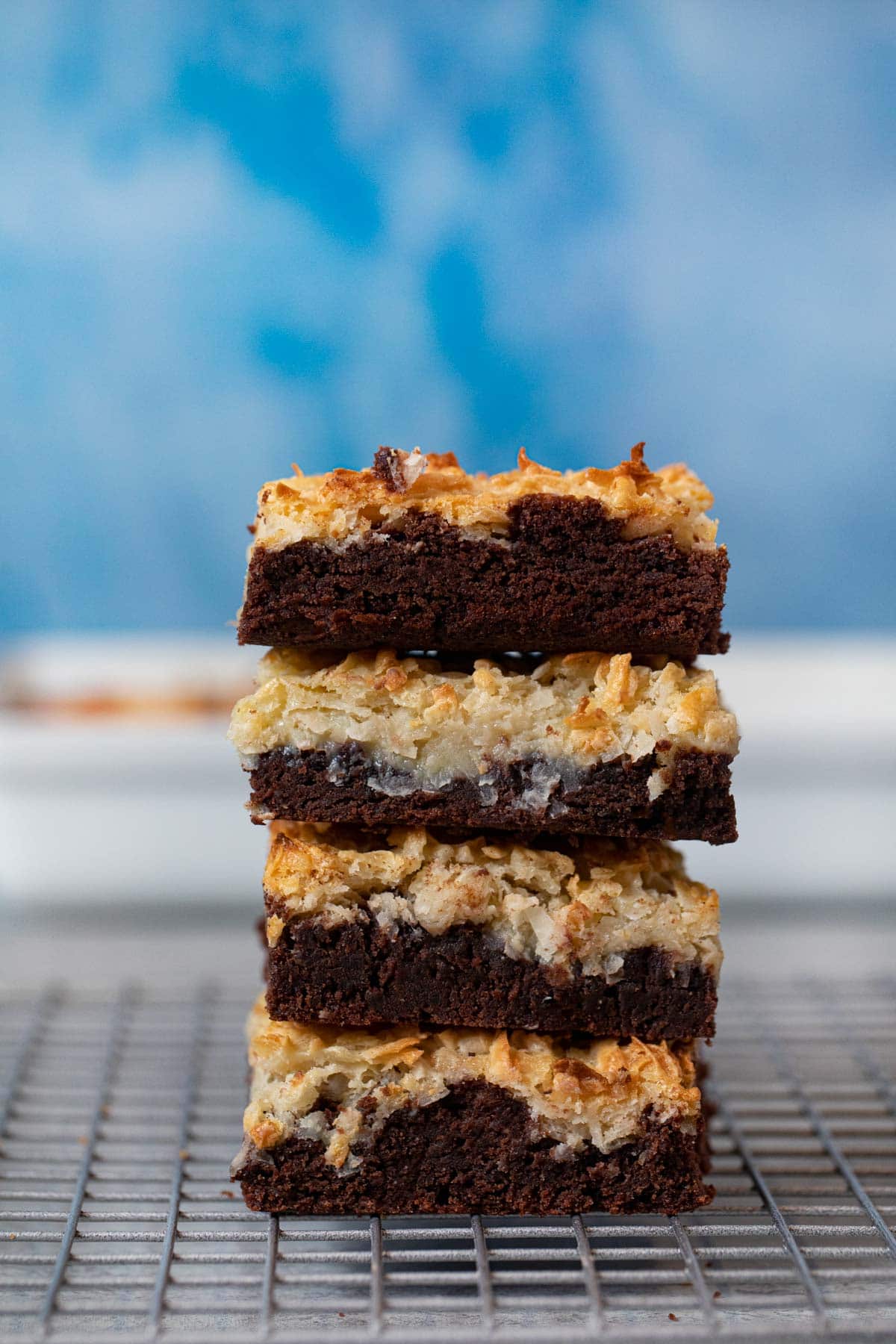 COCONUT MACAROON BROWNIES
These fudgy brownies are inspired by delicious coconut macaroons. The macaroon topping is made easily with just 3 ingredients. Once the simple mixture is combined, you just pour it over the sweet chocolate brownie base. Coconut topped brownies will bake to golden brown perfection for decadent brownies with little effort.
The chocolate base pairs perfectly with the delicious layer of sweet coconut for a rich, sweet treat everyone will love. It's almost like getting two desserts in one baking dish. With fudgy, chocolatey brownies, and sweet flaky coconut combined, this brownie recipe is pure heaven!
Chocolate Brownies are the perfect dessert to serve for a small family celebration, movie night, or anytime you have a sweet tooth. The brownie base and Macaroon topping for these brownies also make them suitable for more special occasions. Bake Coconut Macaroon Brownies for a holiday or serve them up at a party with other decadent desserts like Pecan Tassies, Chocolate Cheesecake Bites, and Peanut Butter Oreo Bars.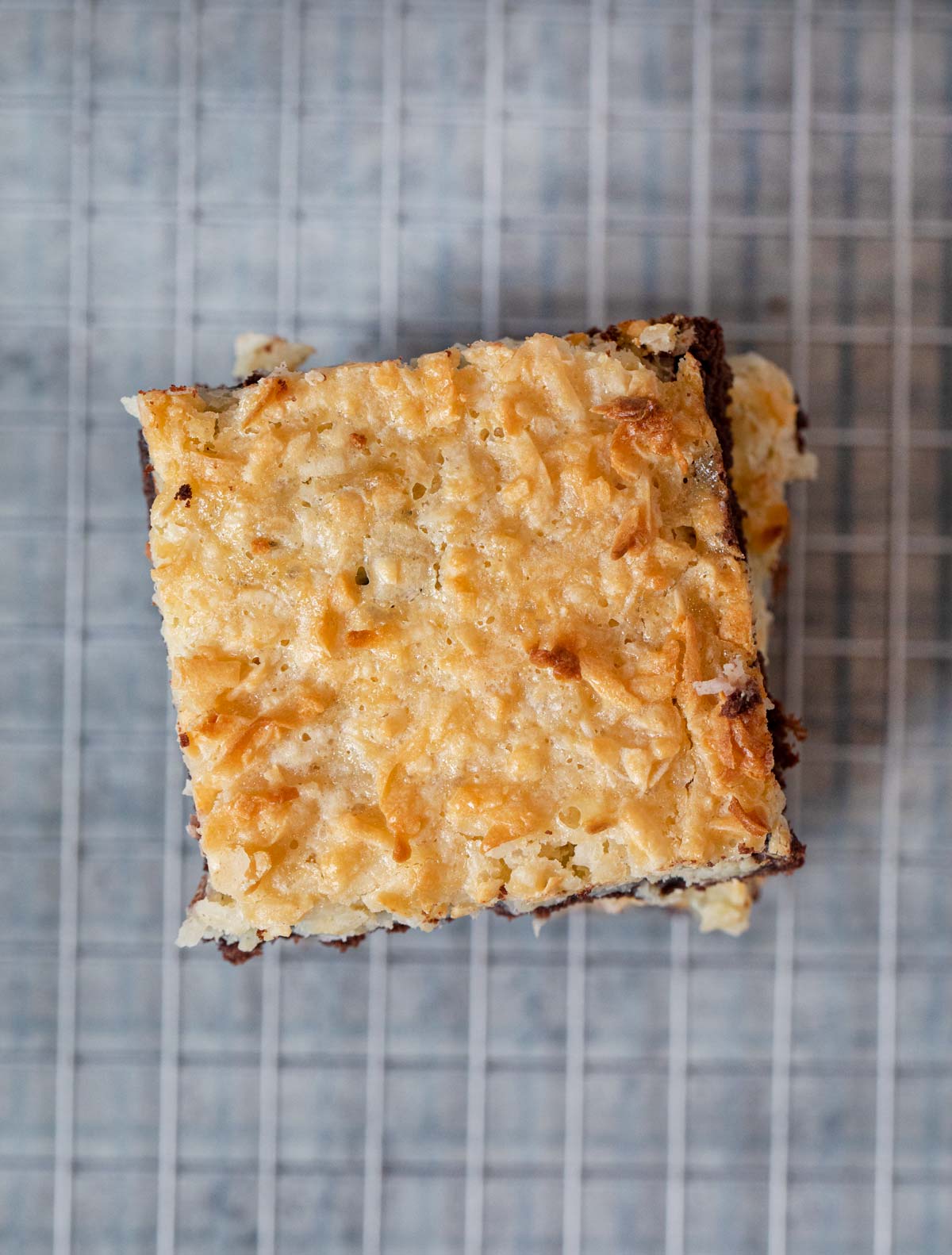 CHOCOLATE GLAZE
If you want an even stronger chocolate flavor, you can pour a Chocolate Ganache over the brownies once they've baked. If a Chocolate Ganache sounds too rich, here's a simple chocolate glaze recipe:
Glaze Ingredients: 2 tablespoons butter, 2 ounces unsweetened chocolate (chopped), 1 cup powdered sugar, 2 tablespoons boiling water.
How to make:
Cook the butter and chocolate in a pan over low heat. Stir as the chocolate and butter melt together.
Mix the sifted powdered sugar into the butter and chocolate mixture.
Add boiling water until it reaches your desired consistency.
Pour over the Coconut Brownies.
MORE BROWNIES RECIPES
TIPS FOR MAKING EASY COCONUT MACAROON BROWNIES
Prep time: Preheat the oven to 350 degrees and prep your square baking pan with cooking spray. If you don't have non-stick spray, use parchment paper cut to size for the 8×8 inch baking pan. You should also take the butter out of the fridge to soften.
Brownie batter: Add the butter and granulated sugar to your stand mixer and mix until light and fluffy. If you don't have a stand mixer put them in a large bowl. Use a hand mixer or whisk to combine the brownie ingredients in the mixing bowl. Add in the eggs and vanilla, and mix into a smooth mixture. Sift together the flour, cream of tartar, and cocoa powder in a separate small bowl. Add the dry ingredients slowly and combine the chocolate mixture on the lowest speed. Pour the chocolate layer into the prepared baking sheet. Use a rubber spatula to get any remaining chocolate batter into the pan.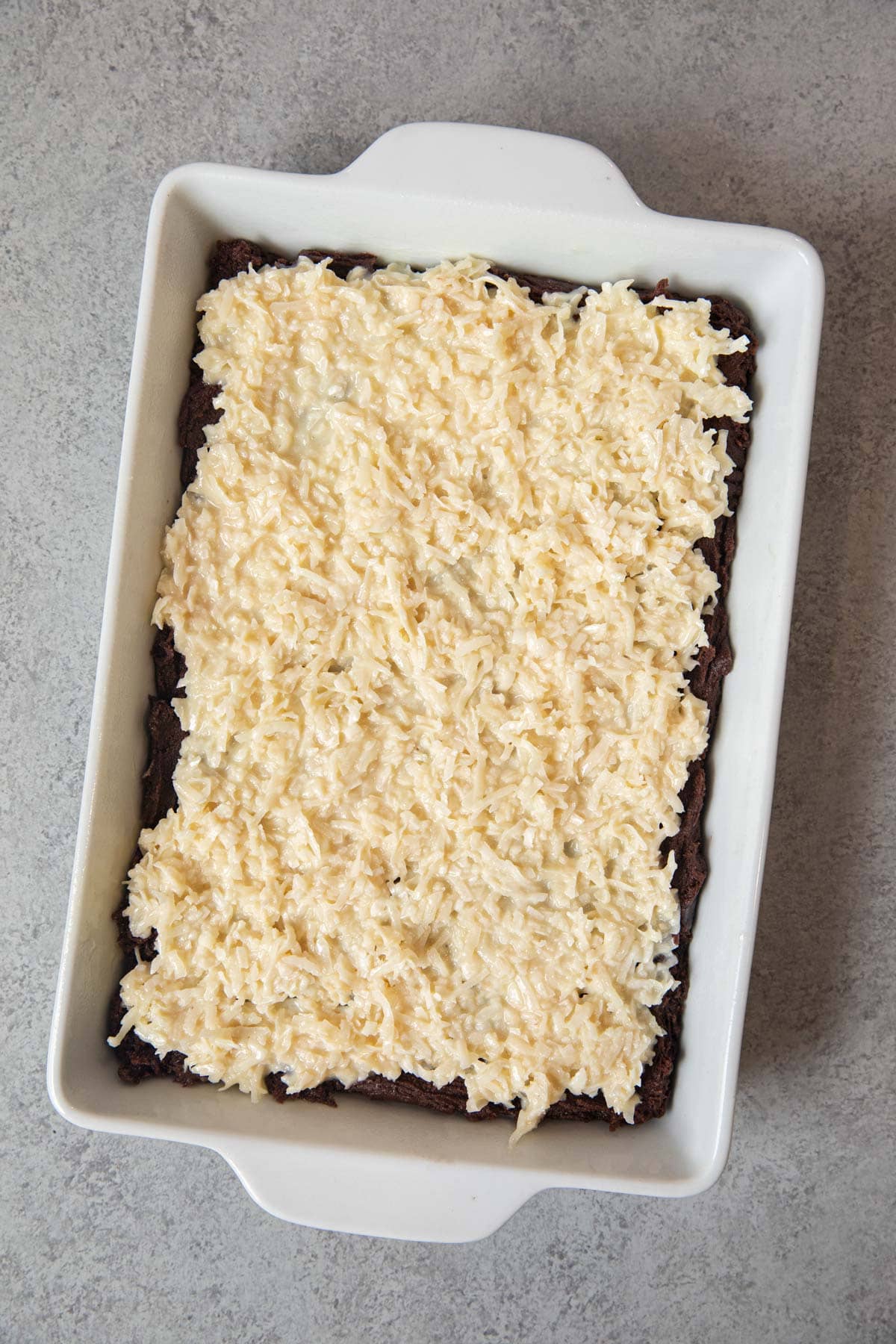 Coconut mixture: Add the shredded coconut, condensed milk, and vanilla to a mixing bowl to whisk the macaroon mixture together. Spoon the macaroon topping evenly over the brownie batter.
Baking time: Pop the pan in the preheated oven and let bake for 35-40 minutes. Use a toothpick to test if the Coconut Macaroon Brownies are done. If the toothpick comes out of the brownies with just moist crumbs and no batter on it, then they're finished. Take the brownies out and let them cool before serving.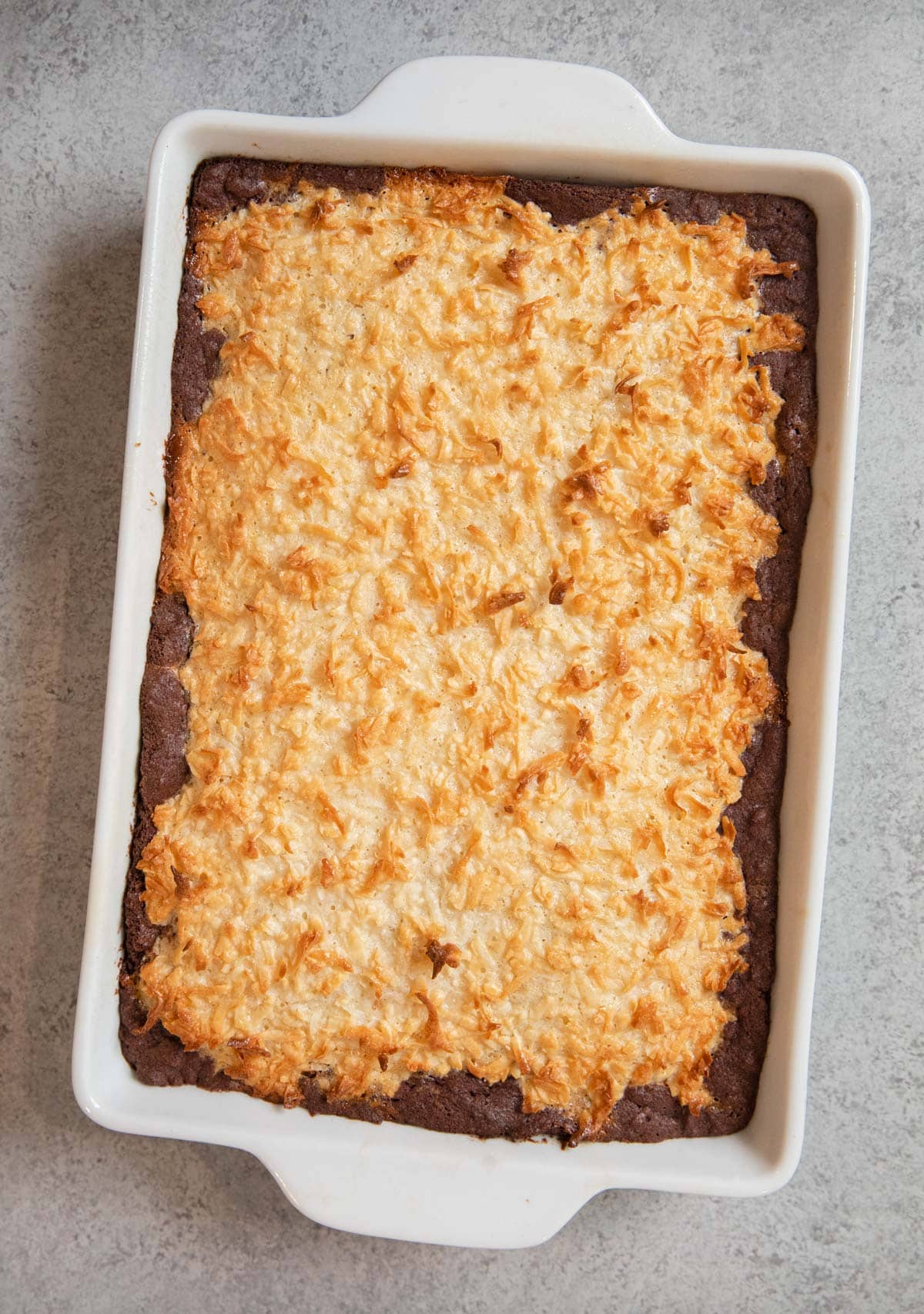 Create a free account to

Save Recipes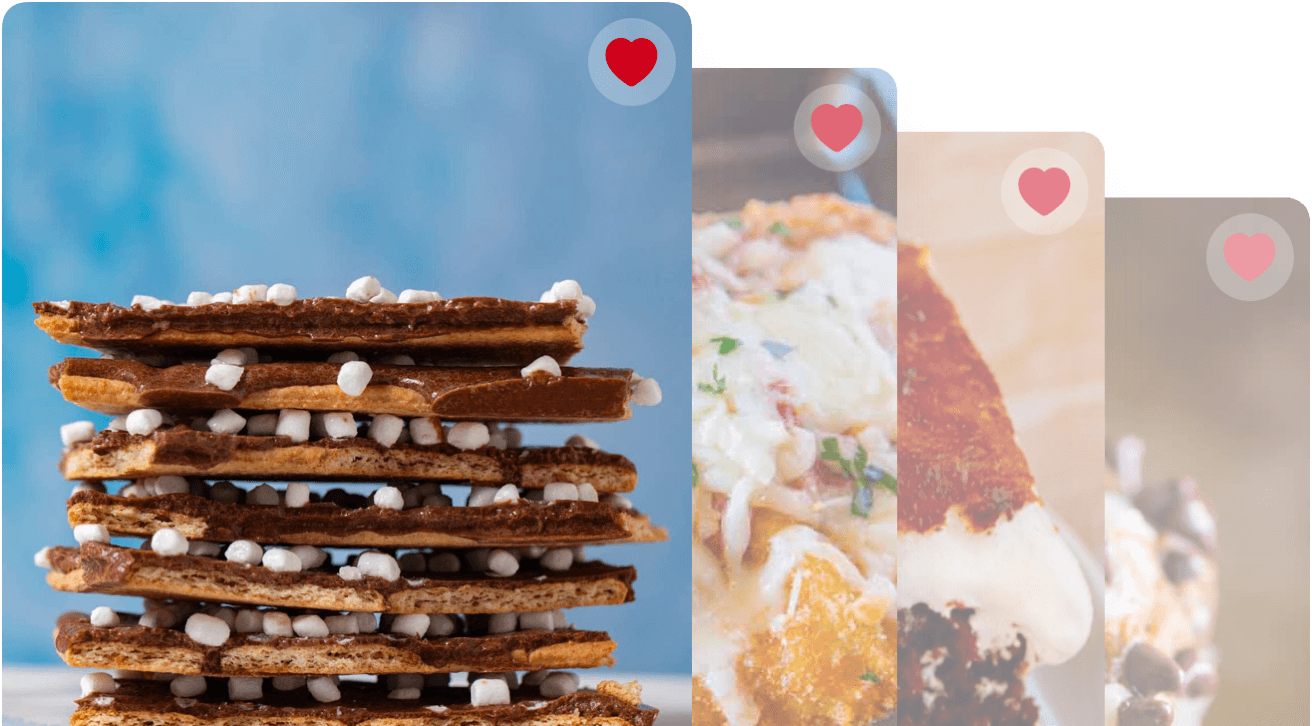 VARIATIONS ON COCONUT MACAROON BROWNIES
Flour mixture: You can replace the all-purpose flour in the recipe with wheat flour or whole grain flour. To make gluten-free brownies you could use almond flour, coconut flour, or oat flour.
Sugar: If you want to replace the white sugar try brown sugar, honey, maple syrup, or coconut sugar. The darker sweeteners like maple syrup and brown sugar will alter the taste of the brownies more.
Oil: If you want to replace the melted butter with another oil try coconut oil or vegetable oil.
Add-ins: For some crunchy mix-ins try nuts like chopped walnuts, almonds, or pecans. For a more intense chocolate flavor mix in some regular or mini chocolate chips. You can use milk chocolate, dark chocolate, semisweet, or white chocolate chips. To alter the flavor of the brownies try mixing in a couple of teaspoons vanilla extract or almond extract.
MORE COCONUT DESSERTS
HOW TO STORE COCONUT MACAROON BROWNIES
Serve: Rich, Chocolate Brownies can keep well at room temperature for up 3-4 days. Once they've cooled cover them in plastic wrap or aluminum foil to store in the pantry.
Store: To keep Coconut Macaroon Brownies for up to a week seal them and put them in the fridge.
Freeze: Brownies can stay good frozen for up to 6 months. For best results cut the cooled brownies into squares, and store them in a freezer bag separated into layers by parchment paper.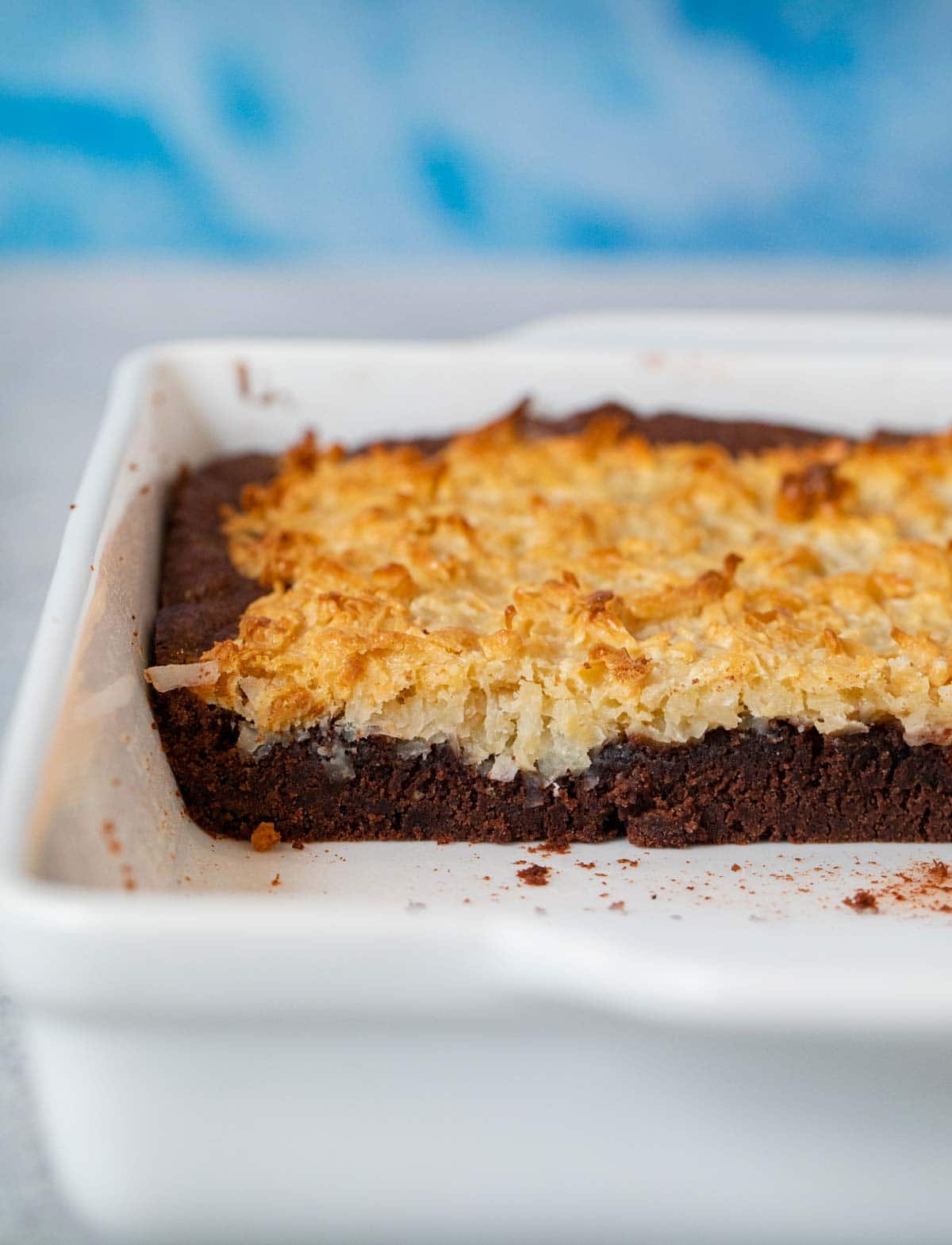 Ingredients
Brownie Base:
1/2

cup

unsalted butter

, softened

1

cup

sugar

2

large

eggs

1/2

teaspoon

vanilla extract

1 1/4

cup

flour

1/2

teaspoon

cream of tartar

1/4

cup

unsweetened cocoa powder
Coconut Macaroon Topping:
1 1/2

cups

sweetened flaked coconut

3/4

cup

sweetened condensed milk

2

teaspoons

vanilla extract
Instructions
Preheat oven to 350 degrees and spray an 8x8 baking pan with baking spray.

To your stand mixer add the butter and sugar on medium speed until light and fluffy,

1-2 minutes.

Add in eggs and vanilla until smooth.

Sift together flour, cream of tartar, and unsweetened cocoa powder.

Add to the stand mixer on the lowest speed setting.

Spread batter in baking dish.

In a medium bowl whisk together coconut, condensed milk, and vanilla extract.

Spoon evenly over brownie batter and bake for

35-40 minutes.

Cool completely before slicing.
Nutrition
Calories:
231
kcal
|
Carbohydrates:
33
g
|
Protein:
4
g
|
Fat:
10
g
|
Saturated Fat:
7
g
|
Cholesterol:
43
mg
|
Sodium:
51
mg
|
Potassium:
137
mg
|
Fiber:
1
g
|
Sugar:
23
g
|
Vitamin A:
249
IU
|
Vitamin C:
1
mg
|
Calcium:
50
mg
|
Iron:
1
mg