Iced Strawberry Brownies are the ultimate Valentine's treat. Easily made with strawberry cake mix, buttermilk, and a sweet, pink glaze.
This easy and delicious Dessert Recipe is perfect to serve for Valentine's or a Galentine's party. Serve them with other sweet treats like Valentine's Day Chocolate Oreos, and Red Velvet Cupcakes.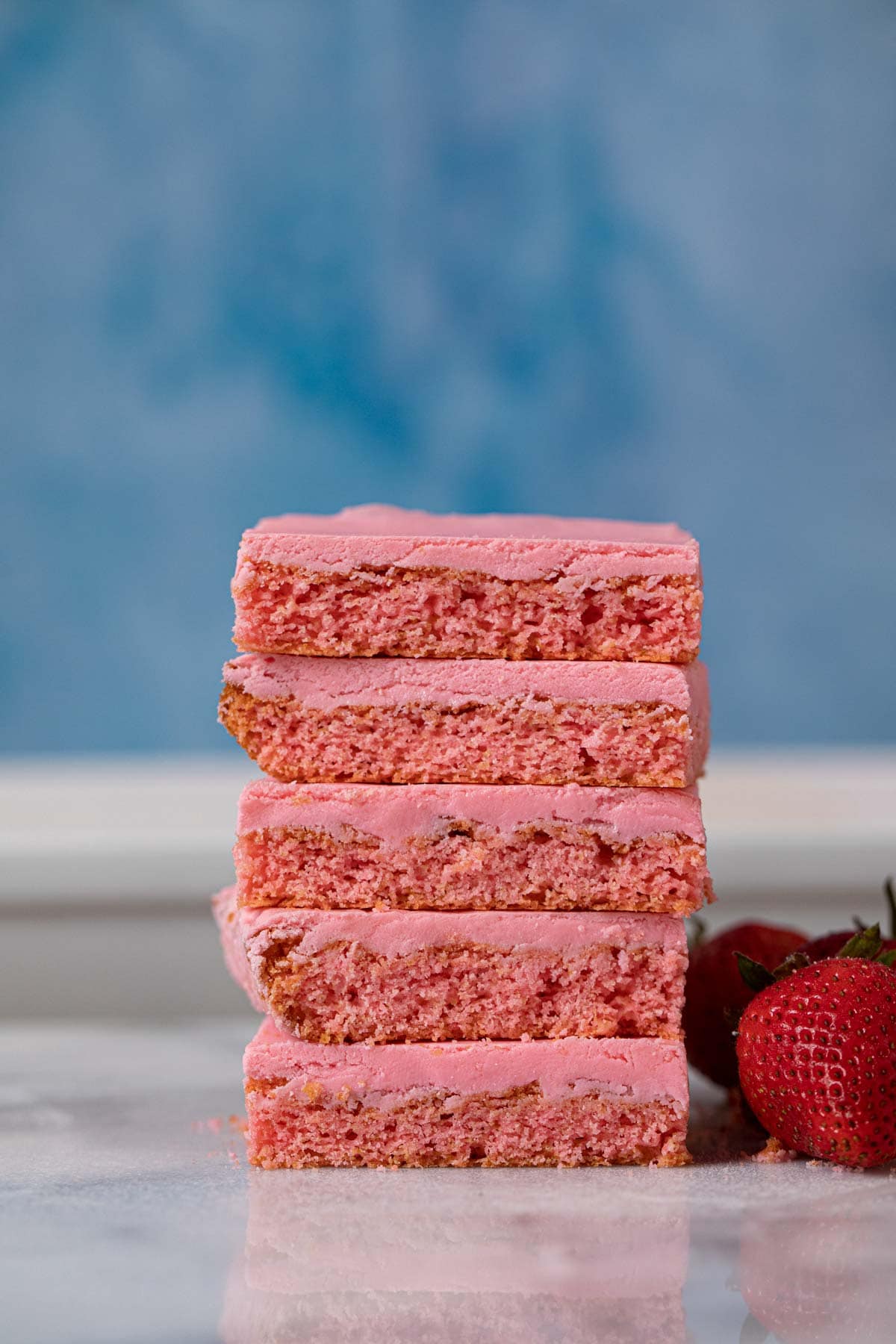 Strawberry lovers unite! These adorable, Iced Strawberry Brownies are the perfect pink treat with the delicate taste of strawberries throughout. You can put them out on a dessert tray, send them in packed lunches on Valentine's day or enjoy them as a midnight snack with a dollop of Whipped Cream. There's seriously no time of day these Cake Mix Brownies won't hit the spot!
On top of being adorable, chewy, and delicious Strawberry Cake Mix Brownies are incredibly easy to make. The simplicity of this recipe lies in using strawberry cake mix, which adds delicious flavor with minimal effort. Making baked goods with cake mix is an easy way to get delicious flavor with minimal work. We've tried Cake Mix Cookies, Cake Mix Banana Bread, and now you can make these adorable Strawberry Brownies also!
While you can simply cut the brownies into squares with a butter knife, if you want to make them into the ultimate Valentine's treat, try using a cookie cutter to make heart-shaped brownies! Carefully remove the brownies from the baking pan and use a large heart-shaped cookie cutter to make cute heart-shaped brownies that are as adorable as they are delicious.
How to Make Iced Strawberry Brownies
Iced Strawberry Brownies are simple to make with a cake mix base, minimal ingredients, and easy-to-follow steps. Check it out!
Preparation: Preheat your oven and prepare a 9×13 baking pan with non-stick cooking spray or parchment paper.
Batter: Whisk together the cake mix, eggs, oil, and buttermilk in a medium bowl. Spread the strawberry brownie batter into the prepared baking dish. You can use a standard whisk or a hand mixer set to medium speed with a paddle attachment. You could also combine the brownie batter in a stand mixer, instead of a mixing bowl, if desired.
Baking: Bake the brownies for 20 minutes, then let them cool. You can use a toothpick to test if they're done before taking them out to cool.
Icing: Mix powdered sugar, milk, and food coloring, then microwave for 20 seconds. Pour it over the brownies, and let the icing set before cutting and serving.
More Yummy Brownie Recipes
Frequently Asked Questions
Can I use fresh strawberries in this recipe?
Yes, once the brownies have cooled, slice fresh strawberries and arrange them on top for a flavorful addition.
How can I make these brownies gluten-free?
Use a gluten-free strawberry cake mix or create your own gluten-free brownie base as we do with our yummy Strawberry Bunt Cake recipe.
What other oil can I use instead of vegetable oil?
Melted butter or coconut oil can be used in equal amounts as a substitute. Note that the consistency will still be great, but not the same as using vegetable oil.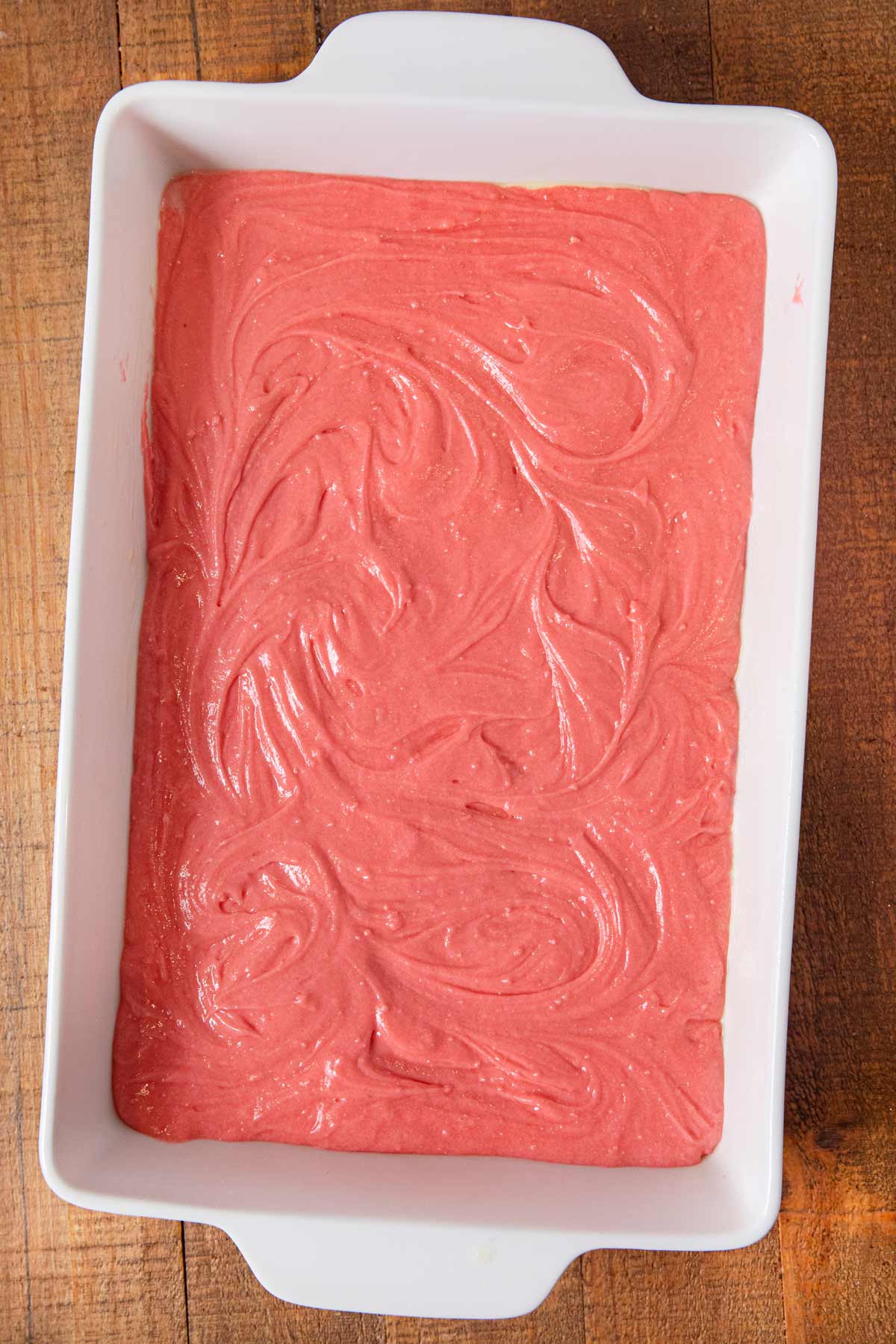 Create a free account to

Save Recipes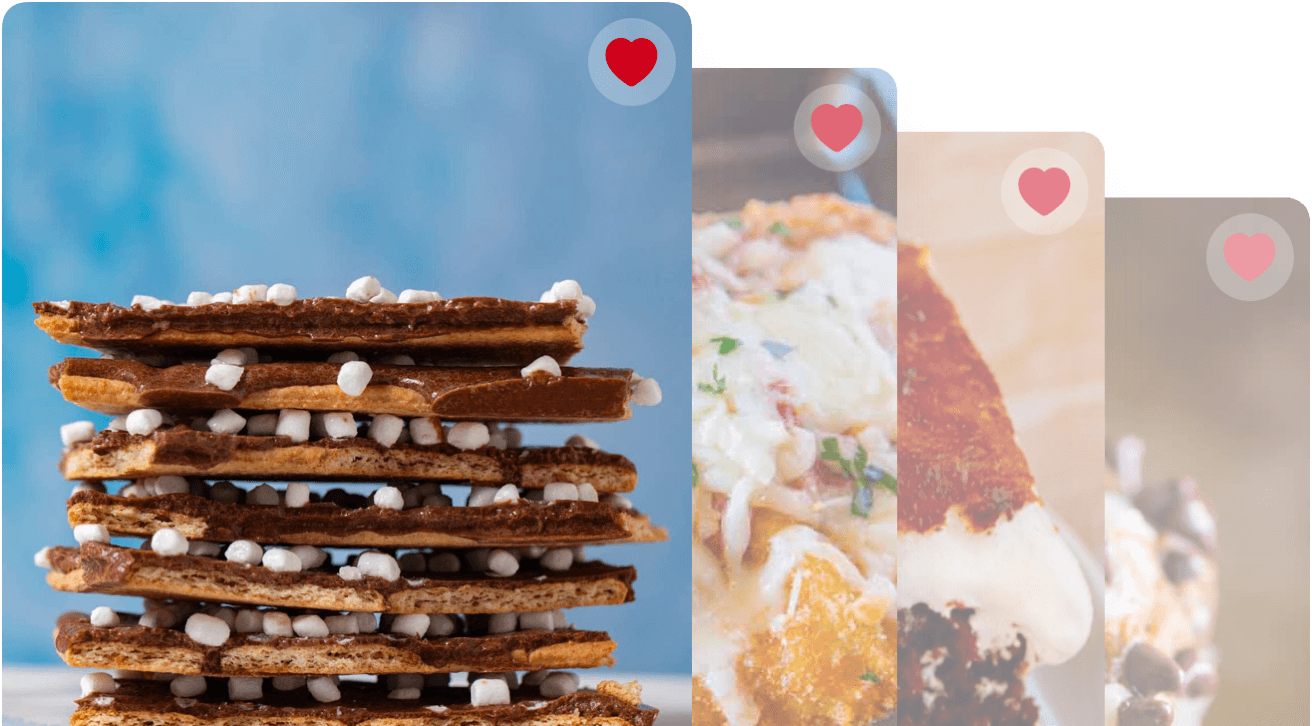 Key Ingredients in Iced Strawberry Brownies
This Iced Strawberry Brownies recipe is really easy to make and has just a few ingredients which you can easily find at your local grocery store. Check it out!
Strawberry Cake Mix: Box Strawberry Cake mix provides the base for the brownies with a delicious strawberry flavor and simplified preparation.
Eggs: Help bind the ingredients together and provide structure to the brownies. You don't have to get fancy with the eggs. You can use what you have!
Oil: Adds moisture and richness to the brownies; vegetable oil, melted butter, or coconut oil can be used.
Buttermilk: Gives the brownies a tender crumb and adds a slight tanginess to the flavor.
Can Iced Strawberry Brownies be made ahead of time?
Yes, you can prepare the brownies ahead of time. Allow them to cool completely before storing them in an airtight container for up to 3 days. For optimal freshness, make and add fresh icing just before serving. If you make the icing ahead, store it in an airtight container and microwave for about 20 seconds or until it becomes soft again.
Substitutions in Iced Strawberry Brownies
Gluten-Free Strawberry Cake Mix: Most cake mixes are made with all-purpose flour, so if you want gluten-free brownies, you'll have to purchase a gluten-free strawberry cake mix or make your own brownie base. Many large grocery stores might have a gluten-free mix which is a great alternative for those with gluten sensitivity or preference.
Melted Butter or Coconut Oil: You can use one of these in place of vegetable oil for a richer flavor or as a healthier option. The consistency won't be exact so just be aware. They will still be delicious!
Red Dye: For homemade strawberry buttercream, you can use an alternative coloring in place of red food coloring, like pure pomegranate or beet juice, or beet juice powder. There are also a lot of natural red dyes available online. Follow the instructions to get the perfect pink color.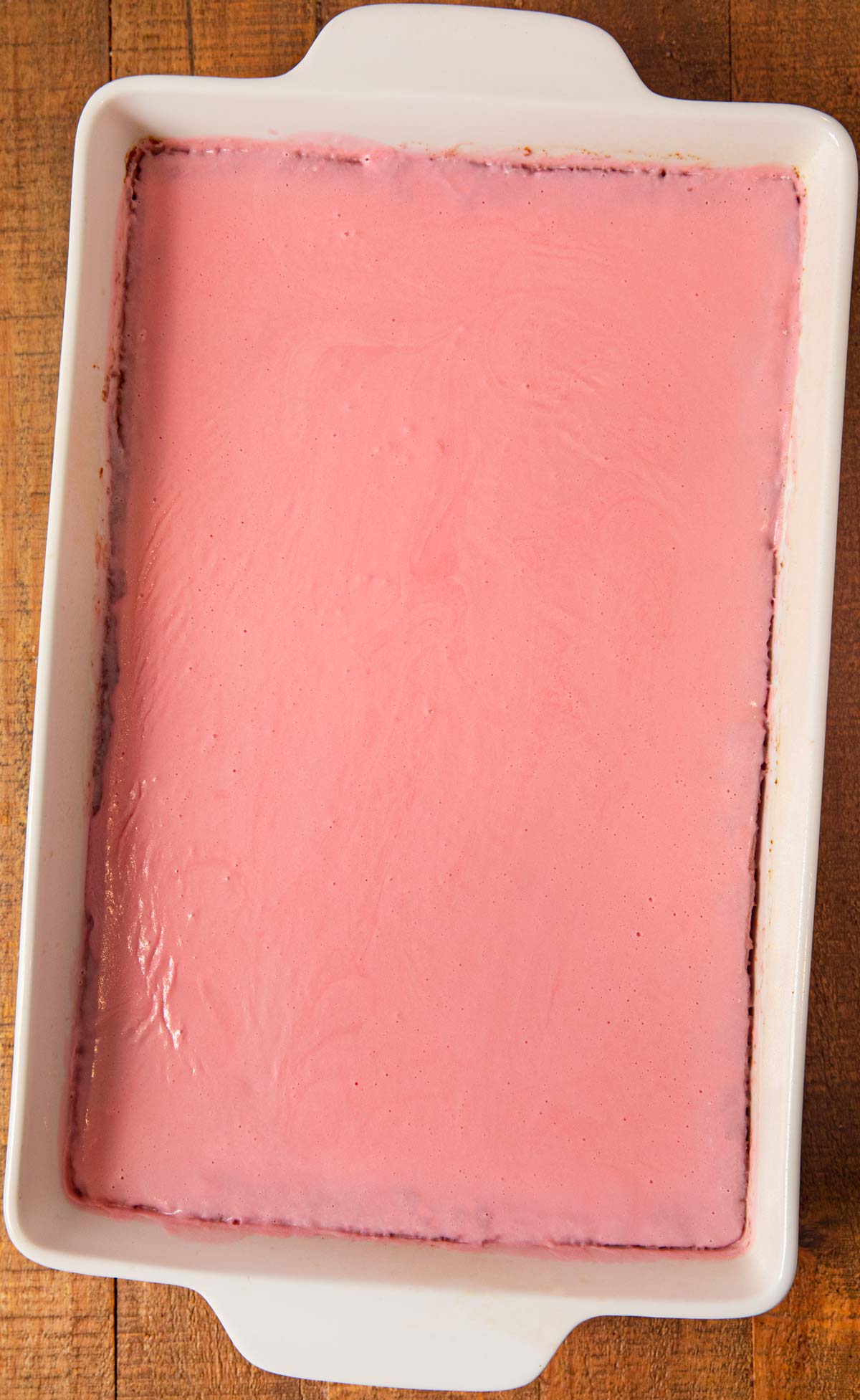 Variations for Iced Strawberry Brownies
Strawberries: Once the Brownies have cooled, slice some fresh strawberries and arrange the sliced strawberries on top of the pink brownies for an adorable, flavorful addition.
Oil: If you don't want to use vegetable oil in the recipe you can use melted butter or coconut oil in equal amounts.
Buttercream Frosting: Instead of icing, you can make an easy Buttercream Frosting. The only ingredients you need are vanilla extract, heavy cream, powdered sugar, and butter. For a creamy pink buttercream mix in a little red food coloring. You can also mix in some strawberry extract for homemade strawberry buttercream.
Add-ins: Try mixing in some chocolate chips for melty chocolate throughout your Strawberry Brownies. You can use semisweet, milk, dark, or white chocolate chips. You can also mix in fresh berries, freeze-dried strawberries, or sprinkle large-grain granulated sugar over the brownies for a fun and crunchy topping.
Chocolate Cake Mix: For a chocolate strawberry combination cut the brownie recipe in half. Prepare one half, as usual, using strawberry cake mix and the other half using chocolate cake mix. You can layer the strawberry over the chocolate in the brownie pan for one pink and one chocolate layer.
Strawberry Brownies from scratch: Instead of making cake mix brownies, you can make the base recipe from scratch. Just use the cake base from our Strawberry Bunt Cake recipe and finish according to the recipe here.
How to Serve Iced Strawberry Brownies
Serve your yummy Iced Strawberry Brownies alongside other delicious strawberry treats, such as Strawberry Pretzel Salad. Pair them with a big scoop of vanilla ice cream for a delightful dessert experience!
More Yummy Strawberry Desserts
How to Store Iced Strawberry Brownies
Serve: Strawberry Brownies can keep well at room temperature for 3-4 days. Cover them tightly and store them in the pantry.
Store: After the brownies have cooled to room temperature, you can also store them in an airtight container in the fridge for 1 week.
Freeze: Properly stored in an airtight container, Iced Strawberry Brownies can stay good frozen for as long as 6 months.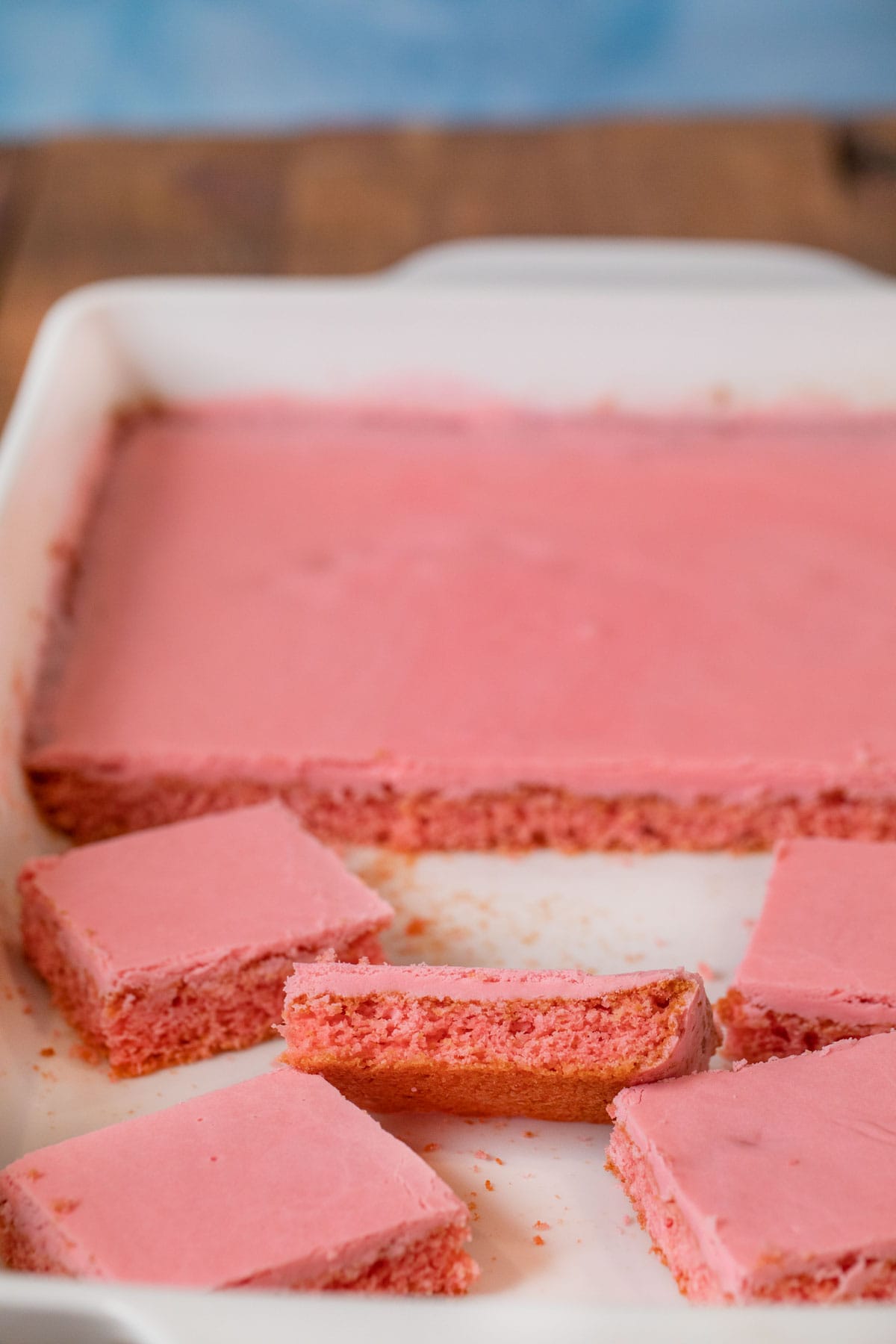 Ingredients
Strawberry Brownies:
15

ounce

boxed strawberry cake mix

2

large

eggs

1/3

cup

vegetable oil

1/2

cup

buttermilk
Icing:
1

cup

powdered sugar

2

tablespoons

whole milk

4

drops

red food coloring
Instructions
Preheat oven to 350 degrees.

Spray a 9×13 baking pan with baking spray.

Whisk together cake mix, eggs, oil, and buttermilk.

Spread evenly in baking dish.

Whisk together powdered sugar, milk, and food coloring, then microwave for

20 seconds

to loosen.

Pour icing over the cooled brownies and tilt to cover the brownies evenly.

Let cool to harden icing.
Nutrition
Calories:
197
kcal
|
Carbohydrates:
27
g
|
Protein:
3
g
|
Fat:
10
g
|
Saturated Fat:
5
g
|
Cholesterol:
24
mg
|
Sodium:
237
mg
|
Potassium:
109
mg
|
Fiber:
1
g
|
Sugar:
18
g
|
Vitamin A:
46
IU
|
Calcium:
54
mg
|
Iron:
1
mg
Photos used in a previous version of this post.