Strawberry Nutella Bread Pudding is the ultimate sweet breakfast treat with tender, buttery bread; sweet, fresh strawberries; and rich, chocolatey sauce.
If you've tried Traditional Bread Pudding, this Nutella and Strawberry version takes it to a whole new level with rich, creamy, addictive flavors. It's perfect for a weekend or holiday Breakfast, or to serve as a Dessert.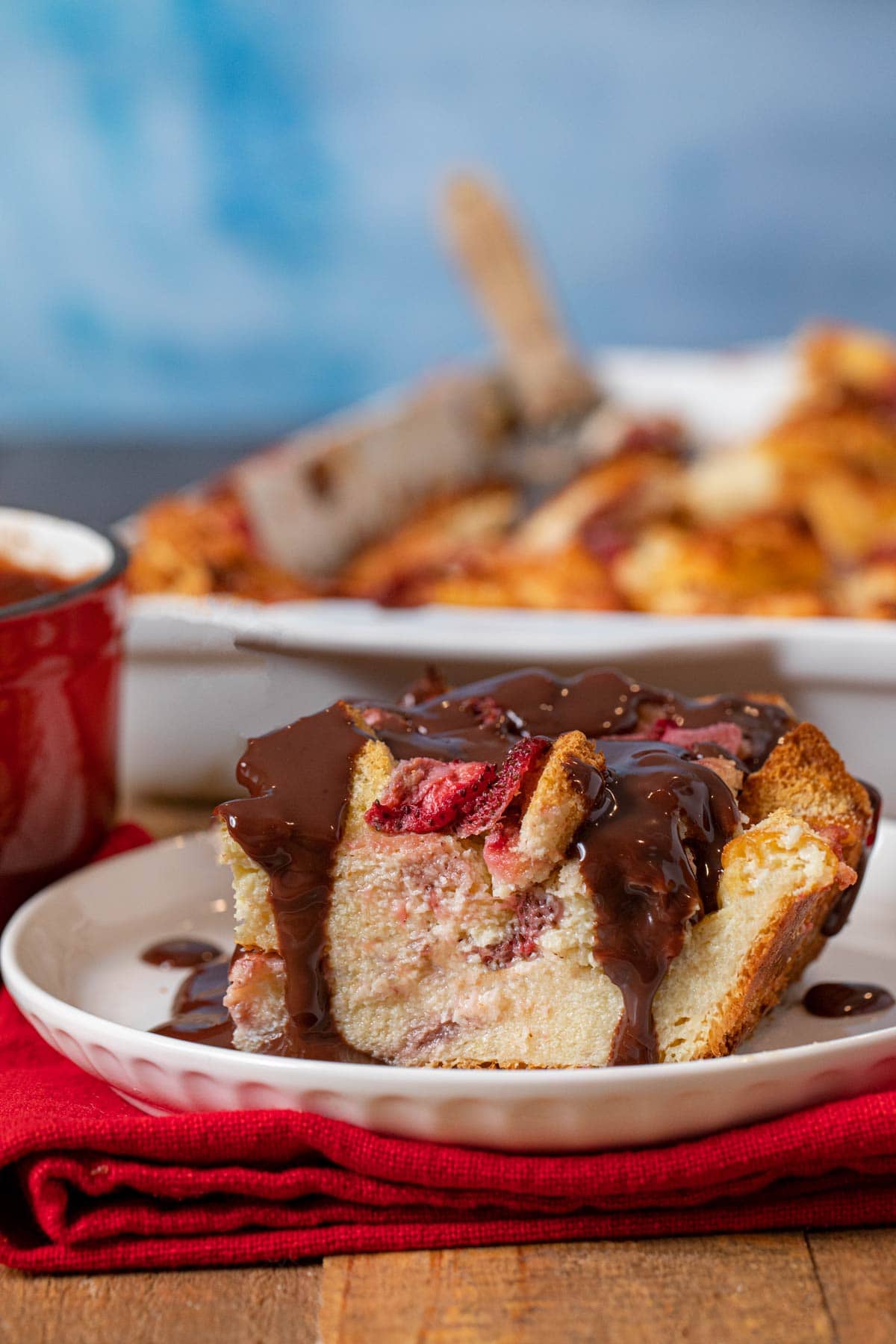 STRAWBERRY NUTELLA BREAD PUDDING
Each time there's a holiday or family get-together at our house, it's a welcome opportunity to try out new, delicious breakfast bakes. This Chocolate Bread Pudding is one of our new favorites. It's made with creamy custard, simple white bread, and tasty strawberries. Then that's topped with a rich Nutella sauce that's sure to make this Strawberry and Chocolate Pudding a huge hit with everyone.
The simple base of bread pudding is the perfect recipe to experiment with. The tender bread base is great to add your favorite treats to for even sweeter recipes. If you want to try more twists on the simple recipe try our Oreo Bread Pudding next.
It's hard to go wrong with the chocolate and nutty flavors of Nutella. Making bread pudding with Nutella takes two wonderful things and throws them together. With a delicious strawberry and hazelnut recipe that oozes chocolate, you have a pudding that's worthy of any holiday or special occasion.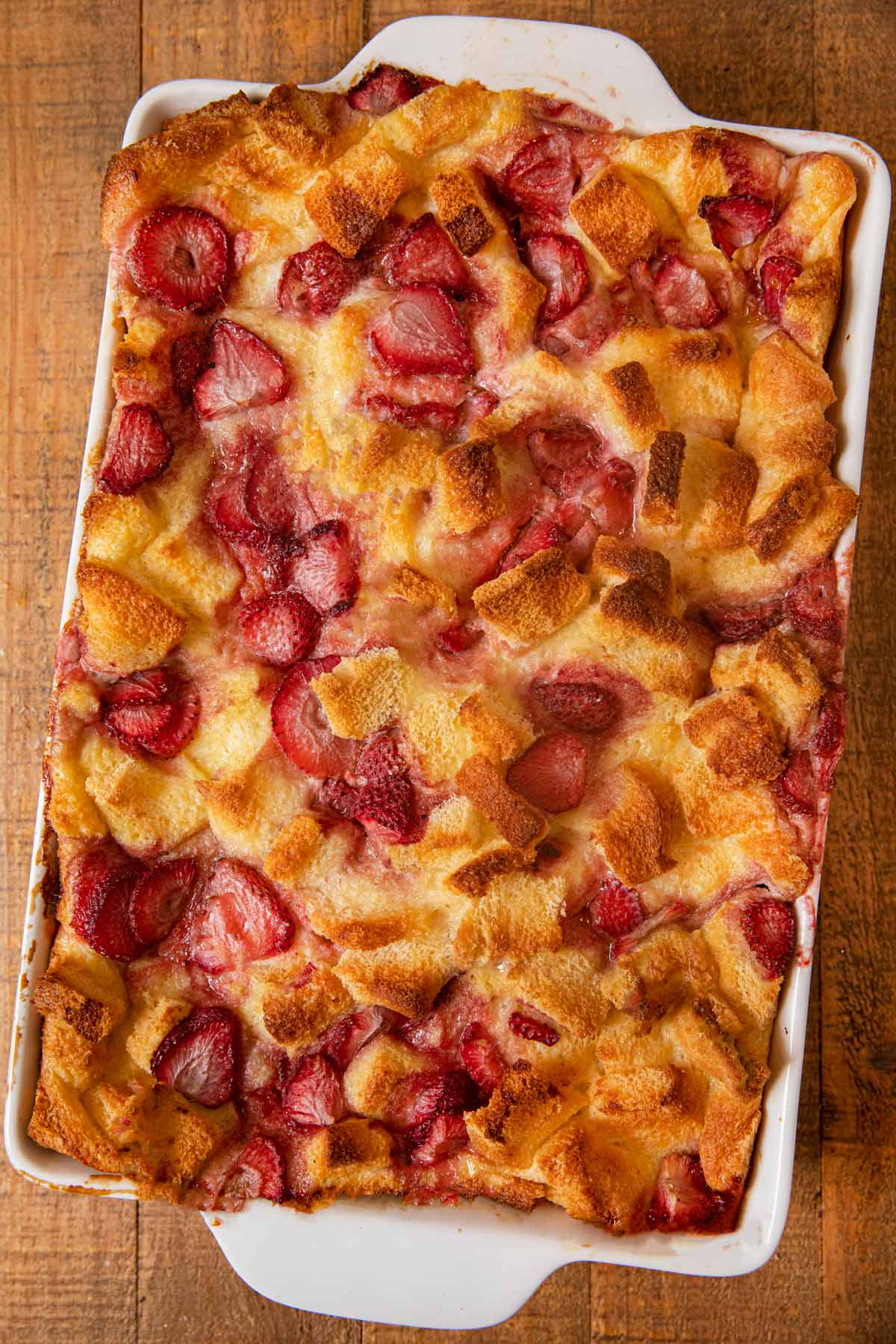 TOPPINGS FOR STRAWBERRY NUTELLA BREAD PUDDING
Whipped Cream: You can make delicious whipped cream to top off the dessert with powdered sugar, vanilla, and heavy cream.
Chocolate glaze: Instead of Nutella, you can make a regular Chocolate Glaze or white chocolate sauce to drizzle on top.
Buttermilk syrup: You could also make Buttermilk Syrup using ½ cup butter, 1 cup granulated sugar, ½ cup buttermilk, 1 teaspoon vanilla, and 1 teaspoon baking soda.
Vanilla Ice Cream: For a gorgeous dessert top off the Nutella Bread Pudding with Vanilla Ice Cream.
Strawberry Jam: You could also make some homemade Strawberry Jam to top the Strawberry Bread Pudding off with even more delicious, fruity flavor.
HOW TO PREPARE THE BREAD FOR BREAD PUDDING
Bread Puddings are made best with older bread that's slightly stale. Using stale bread will help it to absorb the custard mixture. You can still make Strawberry Nutella Bread Pudding with fresh white sandwich bread. Leave the bread out overnight, or cut it into smaller pieces and put it on a baking sheet to toast. Toast the bread pieces in the oven for 10-15 minutes to dry them out.
MORE BREAKFAST RECIPES
TIPS FOR MAKING EASY BREAD PUDDING
Prep: Start by preheating your oven and prepping the baking dish with cooking spray so the Bread Pudding won't stick to the pan. Then slice the strawberries, break the bread into cubes, and heat the butter in the microwave to melt it.
Layer: Put a layer of bread cubes, then strawberries, then more bread, topped with strawberries in even layers in the baking dish.
Custard Base: In a mixing bowl combine 4 tablespoons butter, 8 whole eggs, 4 cups milk, ¾ cups sugar, and 1 teaspoon vanilla extract. Whisk eggs and other ingredients until well combined. Pour the custard mixture from the medium bowl over the bread layers. Let the custard soak into the bread for another 15 minutes.
Cook time: Cook for 60-70 minutes. Take it out of the oven as the top of the Strawberry Bread Pudding becomes golden brown on top.
Nutella sauce: Add chocolate chips and heavy cream to a small bowl that's microwave-safe. Microwave for 60 seconds until melted, then let them sit undisturbed for 2 minutes. Next, add the Nutella and whisk until combined.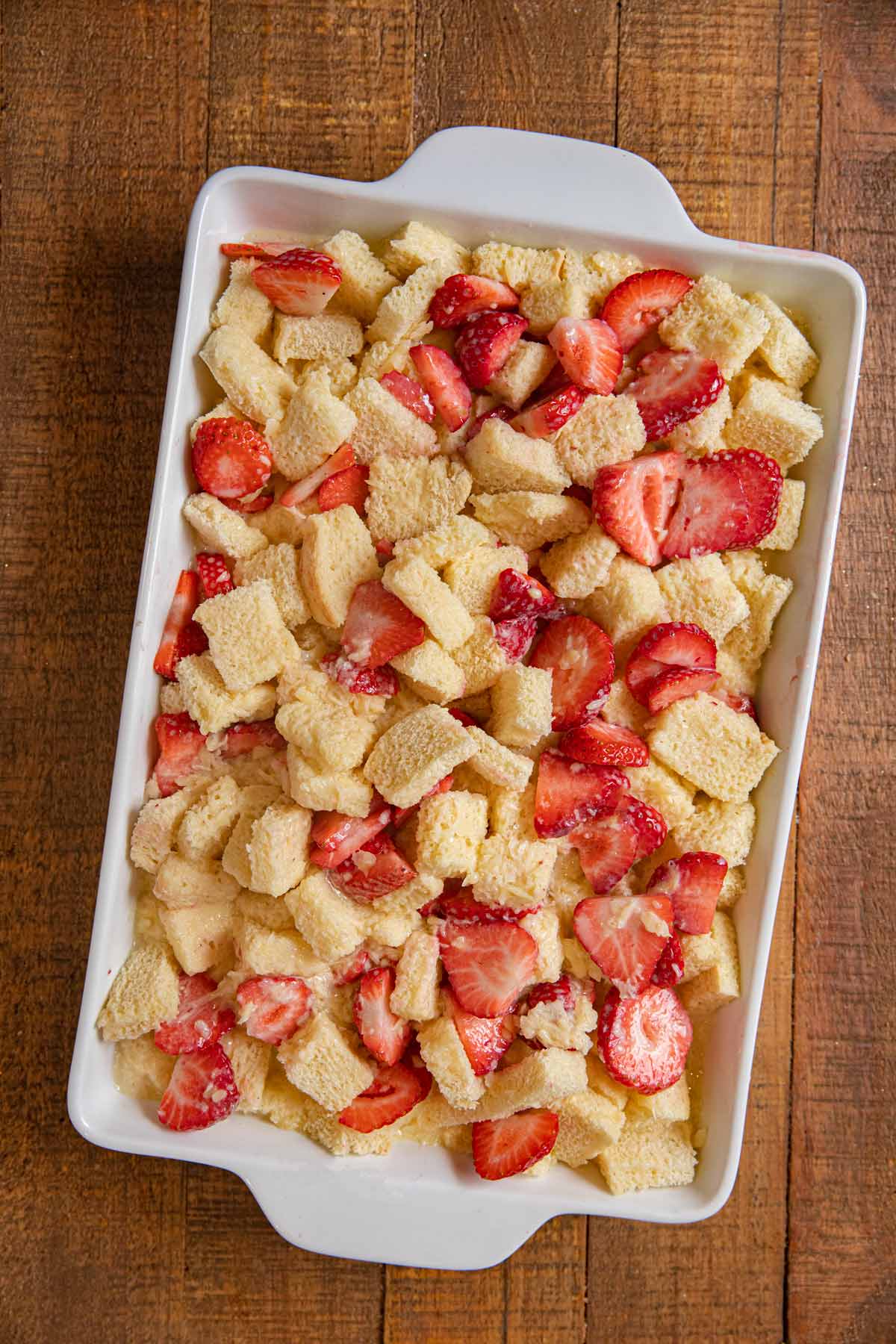 Create a free account to Save Recipes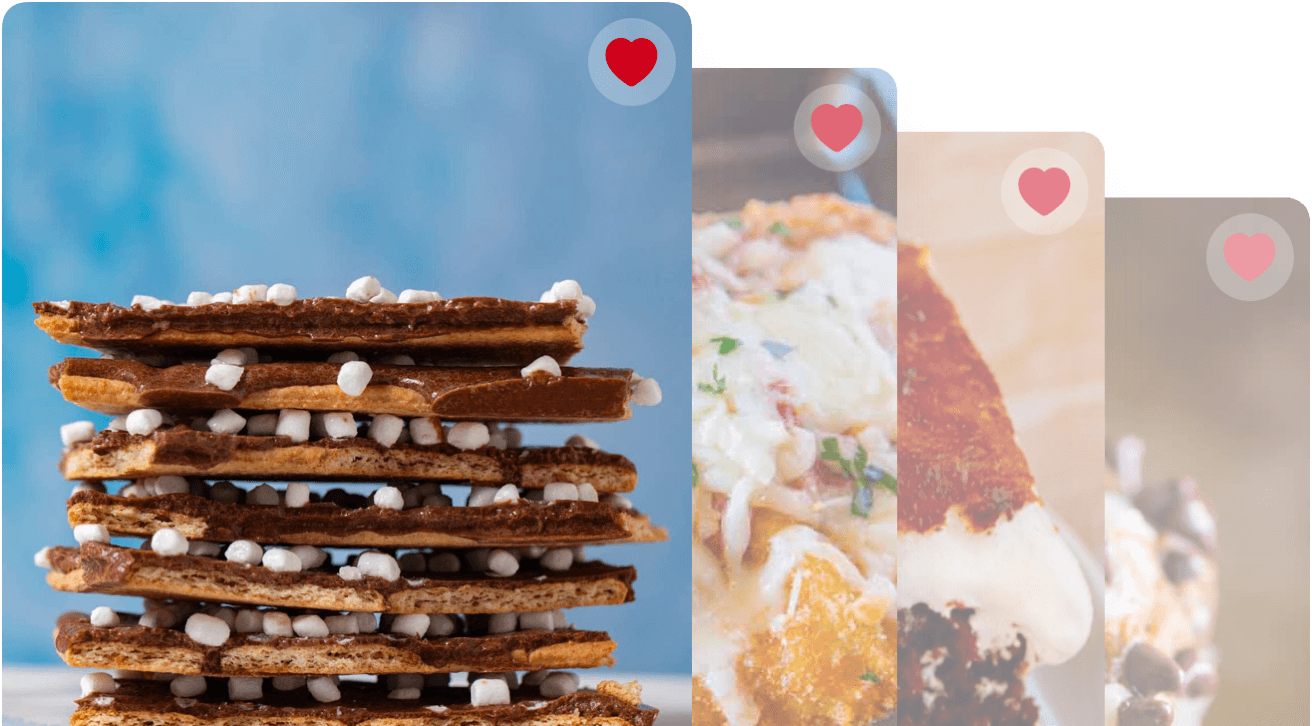 VARIATIONS ON STRAWBERRY NUTELLA BREAD PUDDING
Fruit: You can try different kinds of fruit instead of strawberries. Try using 2 cups raspberries, blueberries, or blackberries for a delicious Berry Nutella Pudding. You can use frozen or fresh berries. To make Banana Pudding slice the banana into 1/4″ pieces to put in the recipe. You can also mix in some apples. You could also replace the Nutella with apple butter, for a more fully apple taste.
Add-ins: For some add-ins sprinkle chocolate chips into the bread mixture or some coconut flakes for coconutty goodness. You could also sprinkle some sea salt on top. For a Peanut Butter Pudding mix peanut butter into the topping instead of hazelnut. For even more hazelnut flavor mix hazelnut extract or hazelnut liqueur into the custard.
Bread: You can try different kinds of white bread, whole grain bread, Challah, or French Bread slices. Another option is to slice croissants in the recipe.
Caramel Bread Pudding: For Caramel Bread Pudding, pour Carmel Syrup over the top instead of Nutella.
Sweet Potato Bread Pudding: You can also make a Sweet Potato Bread Pudding with a brown sugar topping. Just replace the strawberries with sliced sweet potatoes.
Nut-free Pudding: If you have a nut allergy use a Nutella alternative like Sunflower Chocolate Spread.
MORE BREAKFAST BAKES
HOW TO STORE STRAWBERRY NUTELLA BREAD PUDDING
Serve: You shouldn't leave Chocolate Bread Pudding at room temperature for more than 2 hours.
Store: Let the Bread Pudding sit at room temperature until it's cool, then cover it in plastic wrap or aluminum foil to store in the fridge. It will keep well for 1 week.
Freeze: You can freeze Strawberry Nutella Bread Pudding for up to 3 months.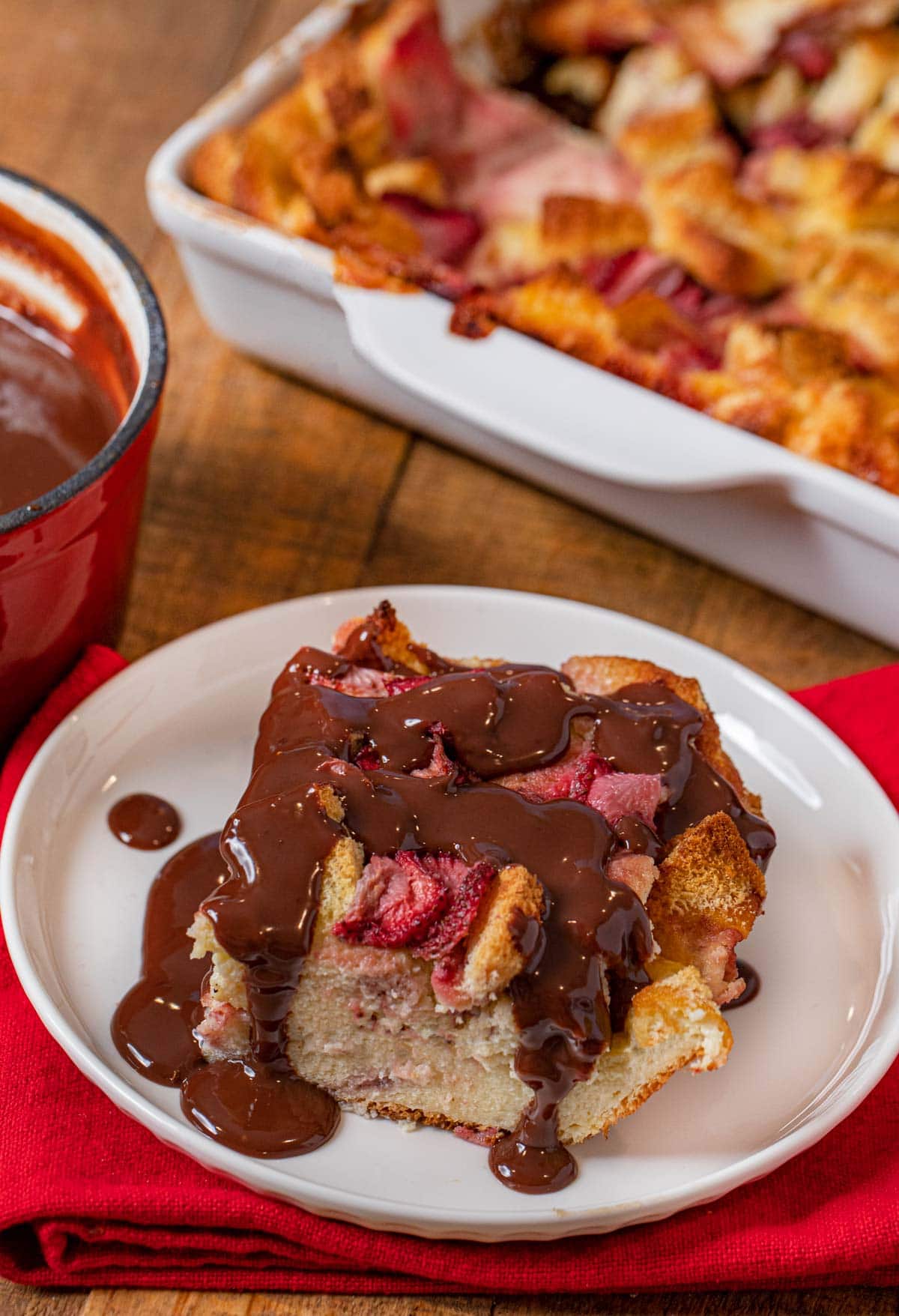 Ingredients
Strawberry Bread Pudding:
16

ounces

sandwich bread

, day old-cubed

2

cups

fresh strawberries

, sliced

1/4

cup

unsalted butter

, melted

8

large

eggs

4

cups

whole milk

3/4

cup

sugar

1

teaspoon

vanilla extract
Nutella Sauce:
1 1/2

cups

heavy cream

1

cup

Nutella
Instructions
Strawberry Bread Pudding
Preheat oven to 375 degrees and spray a 9x13 baking dish with baking spray.

Layer in the bread and sliced strawberries evenly (½ bread, ½ strawberries, rest of bread, rest of strawberries).

In a large bowl whisk together melted butter, eggs, milk, sugar, and vanilla extract.

Pour over bread mixture.

Bake for

60-70 minutes

until custard is gone and the top is slightly browned.
Nutella Sauce
Add the chocolate chips and heavy cream to a microwave-safe bowl.

Microwave for

60 seconds.

Let sit undisturbed for

2 minutes.

Add in the Nutella and whisk until all combined and smooth.
Nutrition
Calories:
460
kcal
|
Carbohydrates:
46
g
|
Protein:
10
g
|
Fat:
26
g
|
Saturated Fat:
17
g
|
Cholesterol:
138
mg
|
Sodium:
219
mg
|
Potassium:
332
mg
|
Fiber:
3
g
|
Sugar:
29
g
|
Vitamin A:
656
IU
|
Vitamin C:
11
mg
|
Calcium:
202
mg
|
Iron:
3
mg