Oreo Croissant Bread Pudding is a buttery, sweet dish with Oreo crumbs baked into the easy breading and drizzled with Oreo cream topping.
This fun take on Classic Bread Pudding is wonderfully kid-friendly and perfect for Oreo lovers. An easy Dessert Recipe in just 40 minutes!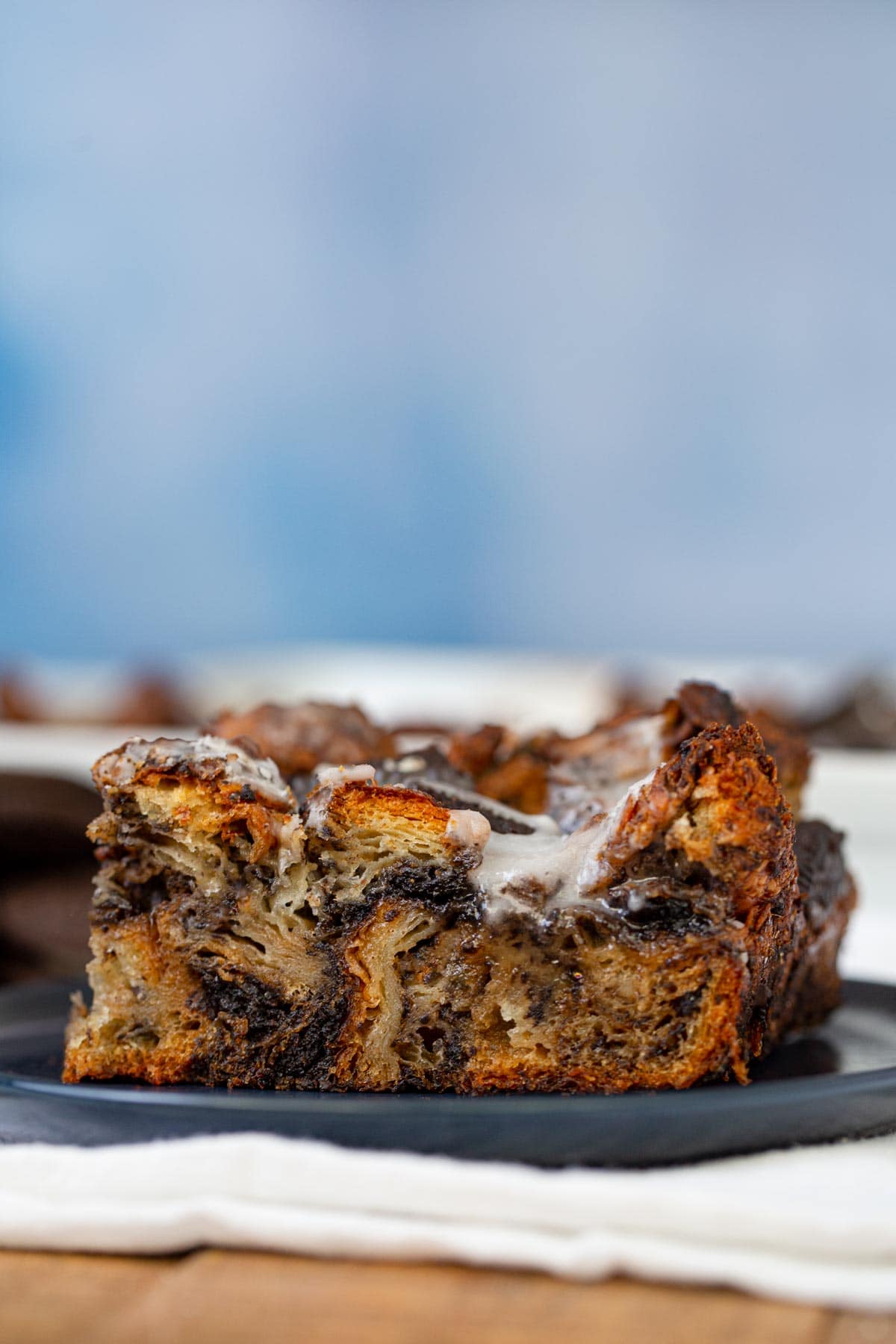 OREO CROISSANT BREAD PUDDING
Bread Pudding is an old fashioned dessert that's perfect for the holidays. This Oreo version of it is a fun way to make a classic recipe completely new. It's an easy dessert that you could serve for a special occasion, or as an after dinner treat. You could even serve it as an extra sweet Breakfast for a special occasion.
Using Croissants in this pudding makes it extra buttery, flaky, and tender. The bread does a great job absorbing the flavorful egg custard and baking into a soft, chewy pudding. The Oreo crumbs add some extra taste and texture, then the whole pudding is topped with an irresistible, easy Oreo filling glaze!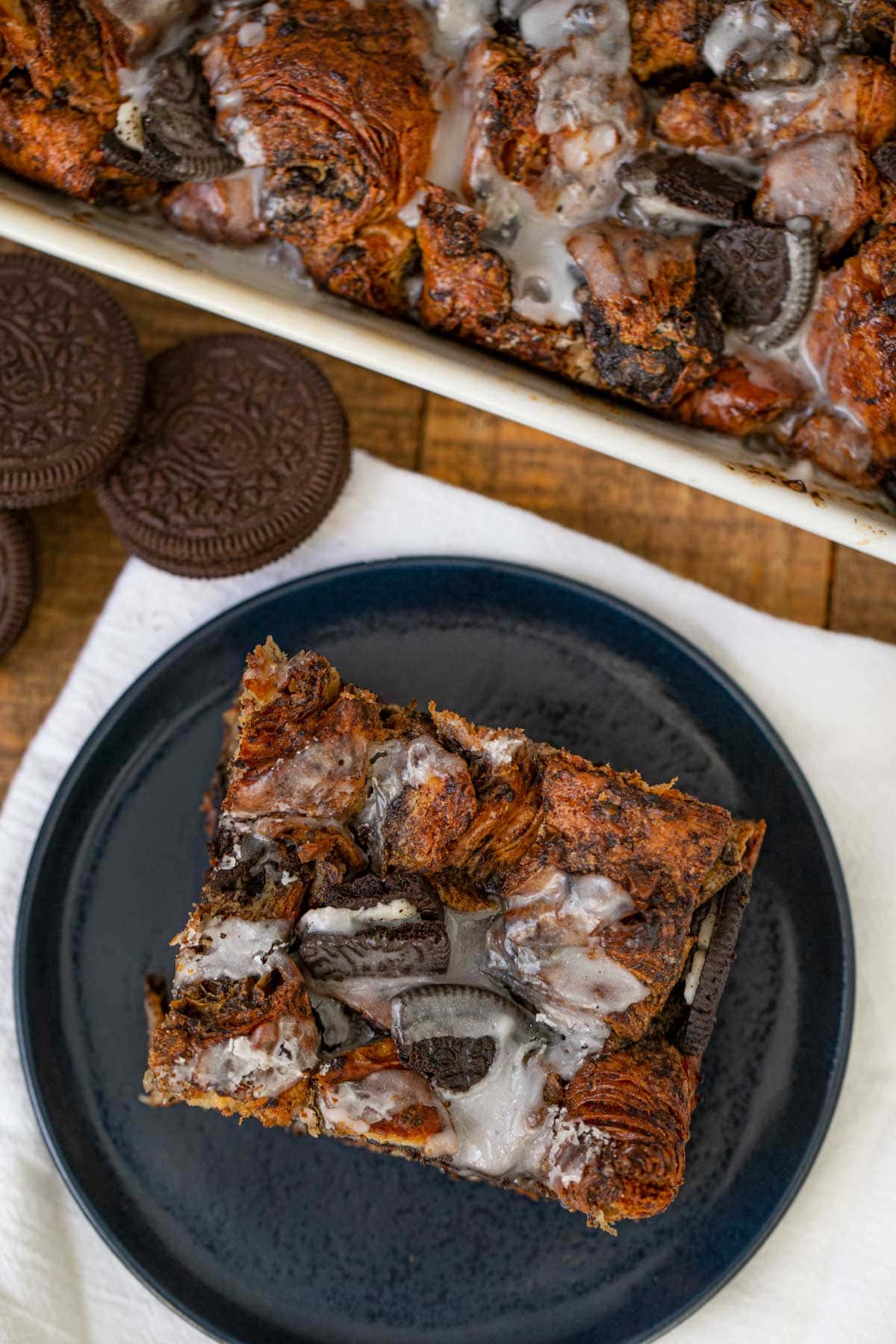 TIPS FOR MAKING BREAD PUDDING
Use a spoon to scrape the cream out of each Oreo before you break them apart to add to your mixture.
Make sure to prep your baking dish with cooking spray. Using vegetable oil or some other spray will ensure the the bread pudding doesn't get stuck to the pan while baking.
Bake the dish uncovered until the top is lightly browned. You can test your bread pudding is done by putting a toothpick in the middle. If the toothpick comes out clean take the pudding out of the oven.
For the glaze topping, whisk together the Oreo cream with water or milk. Both will work, but using milk will make a slightly creamier topping. Drizzle it over the bake and serve.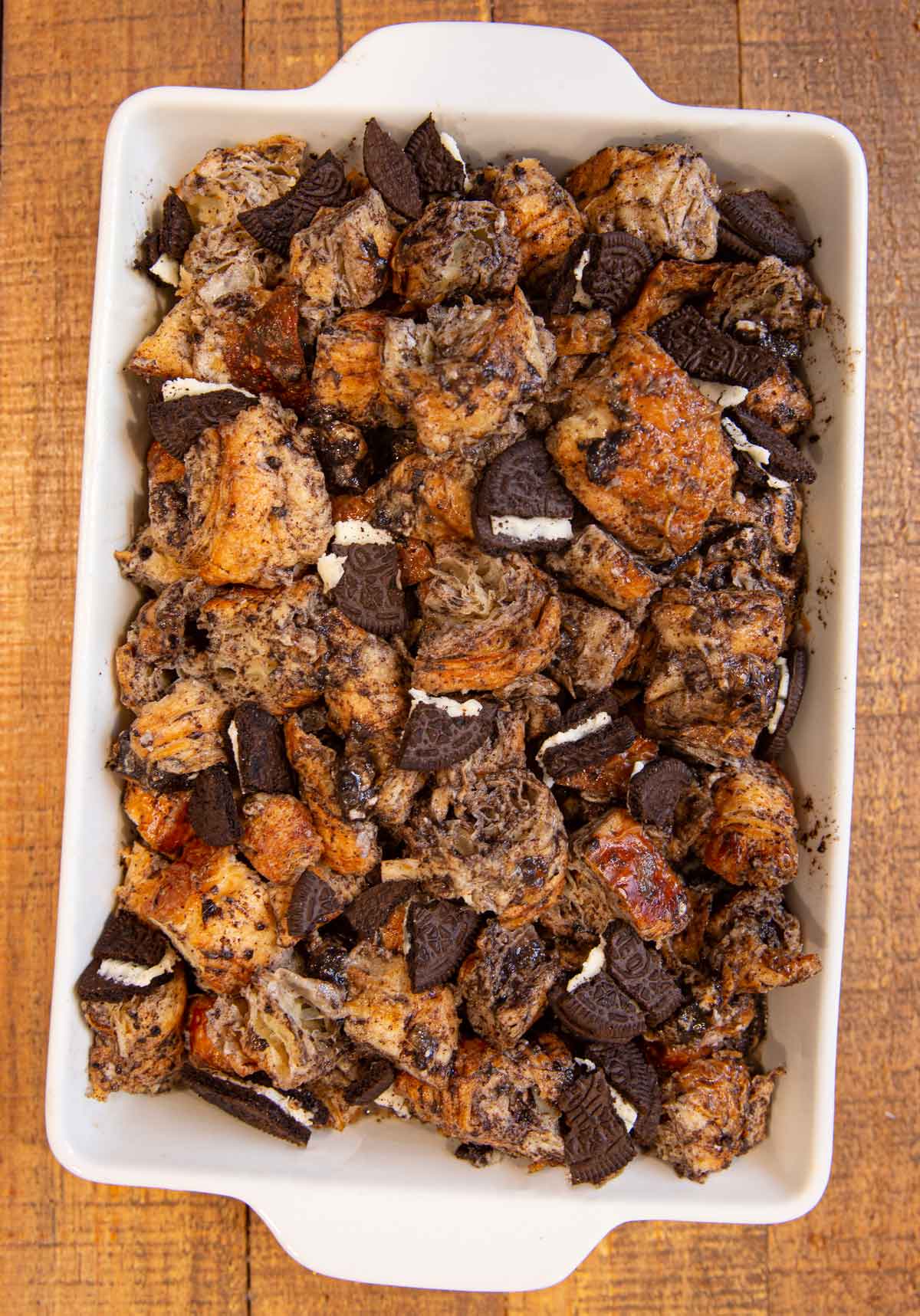 MORE OREO DESSERTS
MAKE-AHEAD OREO BREAD PUDDING
Bread Pudding is a great recipe to make ahead of time and save for later. Bake the pudding as usual, then let it cool completely before covering it to store in the fridge. To reheat the pudding uncover it and bake for 15-20 minutes at 350 degrees F.
You could also prep the recipe the night before, and refrigerate until you bake it. This method actually gives the bread extra time to absorb moisture and flavor. Prepare the bread pudding in your baking dish as usual, then cover and store before baking. Wait to add the glaze topping until after it's baked.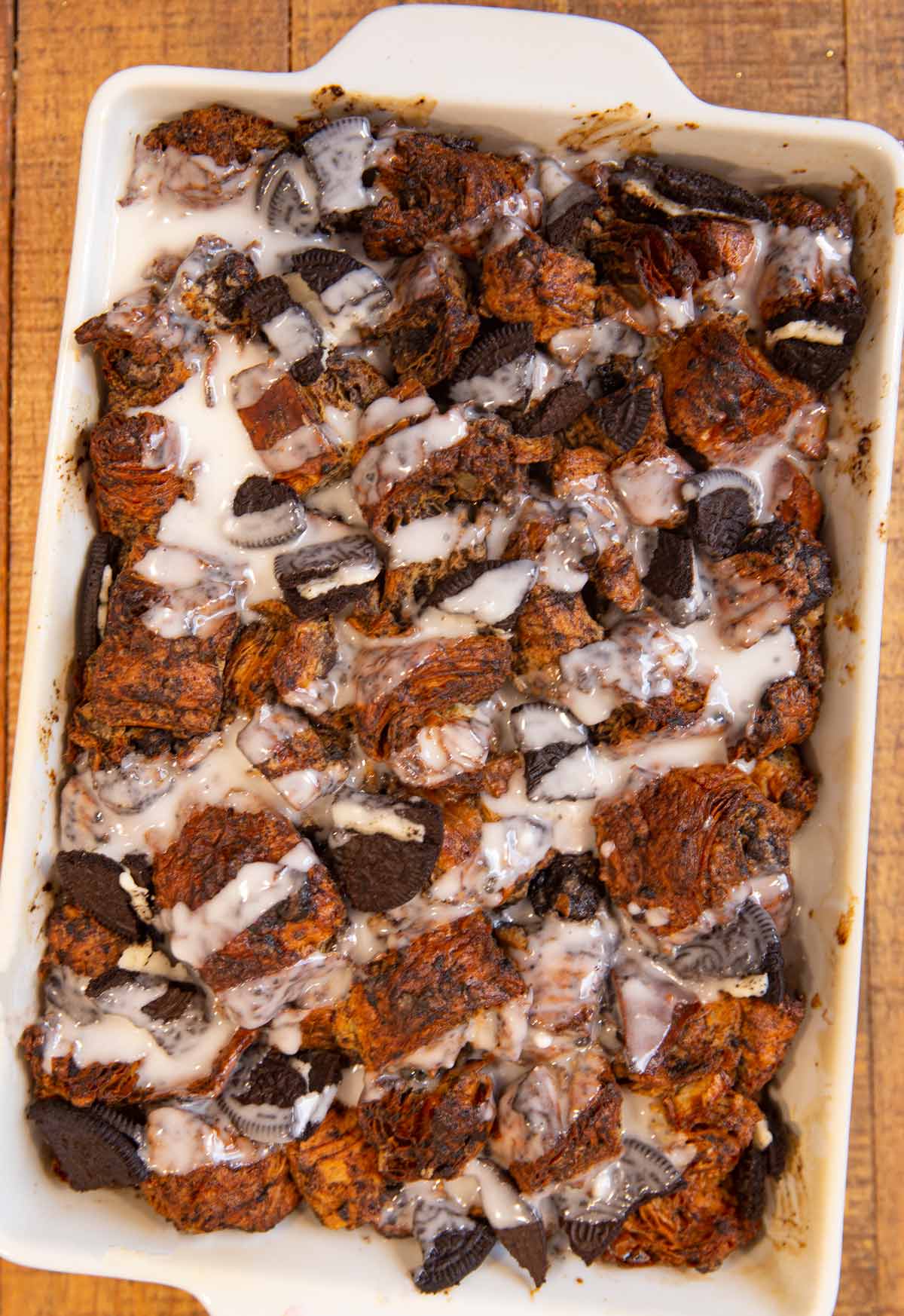 Create a free account to

Save Recipes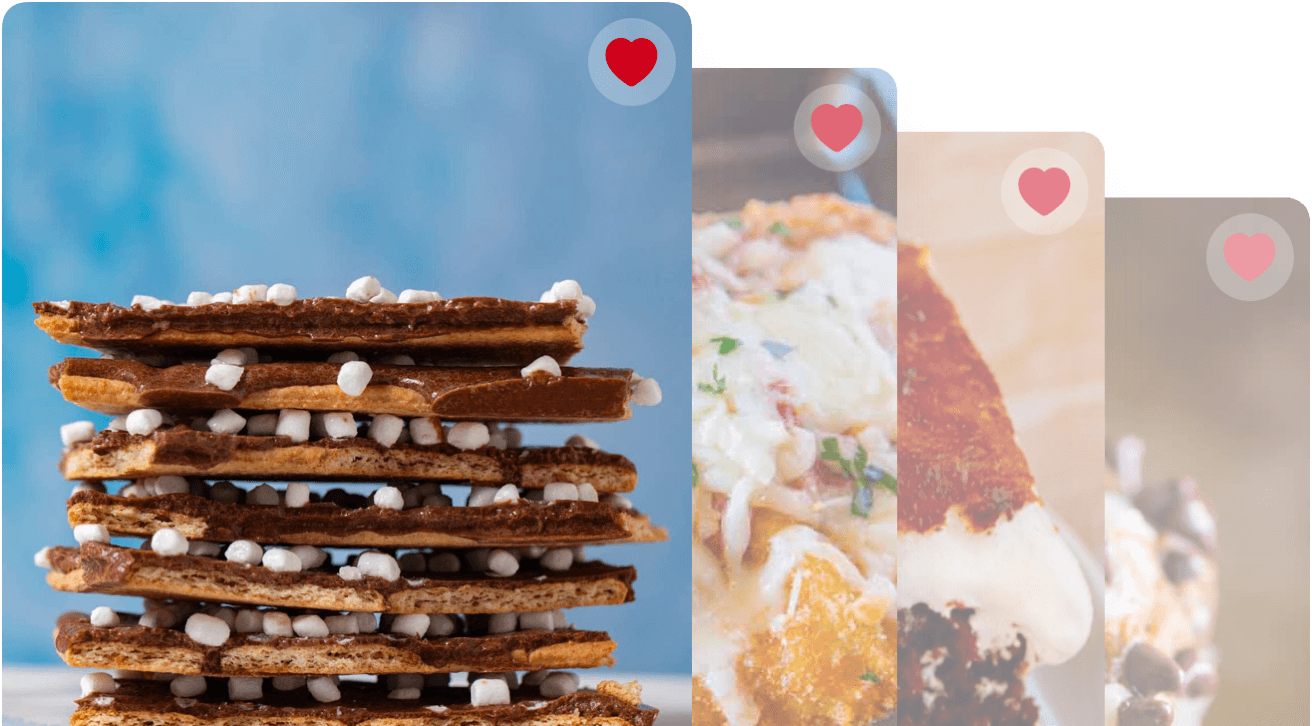 VARIATIONS ON OREO CROISSANT BREAD PUDDING
Bread: Don't have croissants? No worries! You can use Texas toast, French Bread, or Brioche in your pudding.
Oreos: If you're a fan of Oreos then you know there are plenty of different kinds to choose from. Along with classic Oreos you could try the same recipe with Golden Oreos, Mint Oreos, Red Velvet Oreos, or Chocolate Oreos.
Chocolate Chips: Instead of using Oreos you could mix chocolate chips into your bread pudding for some melty sweetness. Either use regular semi-sweet chocolate chips, or try others like white chocolate, milk chocolate, dark chocolate, or peanut butter chips.
Nutella: To make the custard more chocolate-y, add in ½ cup of Nutella to the egg mixture and mix well. Instead of whisking it all together, you could just add dollops to the mixture and mix slightly so you end up with pockets of Nutella throughout your breading.

FREQUENTLY ASKED QUESTIONS
How to you dry bread for Bread Pudding?
It's best to make bread puddings with slightly old, stale bread. Using more dried out bread helps it to absorb the custard. However, if you don't have old croissants you can still make this recipe just as well. After you buy fresh croissants you can either leave them out overnight to dry out, or toast them lightly before putting them in the recipe. To toast the bread, break it up into cubes and lay them on a baking sheet. Cook at 250 degrees F for 15 minutes to dry out the bread.
How do you reheat Oreo Bread Pudding?
You want to be careful about reheating this casserole because you don't want to dry out the croissants and the Oreos.

Microwave: The best way to do this gently is in a microwave with a damp paper towel on top (not touching the food). Place it in a container that is taller than your slice and reheat on 60% power for 1-2 minutes.

Oven: Add the slice to a baking dish taller than the slice and add a bit of water to your slice (think a sprinkling of 1-2 tablespoons all over the slice). Then cover with foil and bake at 350 degrees for 10 minutes and then uncovered for an additional 5 minutes.
What toppings can be used on Bread Pudding?
For best results you'll want to make a fresh powdered sugar drizzle for the topping if you're reheating a slice (don't worry about using more Oreo filling). Simply add powdered sugar to a bowl with 1 teaspoon of milk at a time until it's a nice thick consistency you can pour over the warmed slice.

For an even more unctuous topping try melted vanilla or Oreo ice cream (you will be so happy if you do this, it's a ridiculously delicious way to top your dessert).
MORE OREO DESSERTS
HOW TO STORE OREO CROISSANT BREAD PUDDING
Serve: Your Croissant Bread Pudding can be left uncovered at room temperature for up to 2 hours. After that, you shouldn't leave it out.
Store: Cover the Oreo Croissant Bread Pudding tightly in plastic wrap or tin foil. It will store well in the fridge for up to a week.
Freeze: You can keep the dessert bake in the freezer for up to 3 months. Let it thaw in the fridge overnight then reheat it in the oven for best results.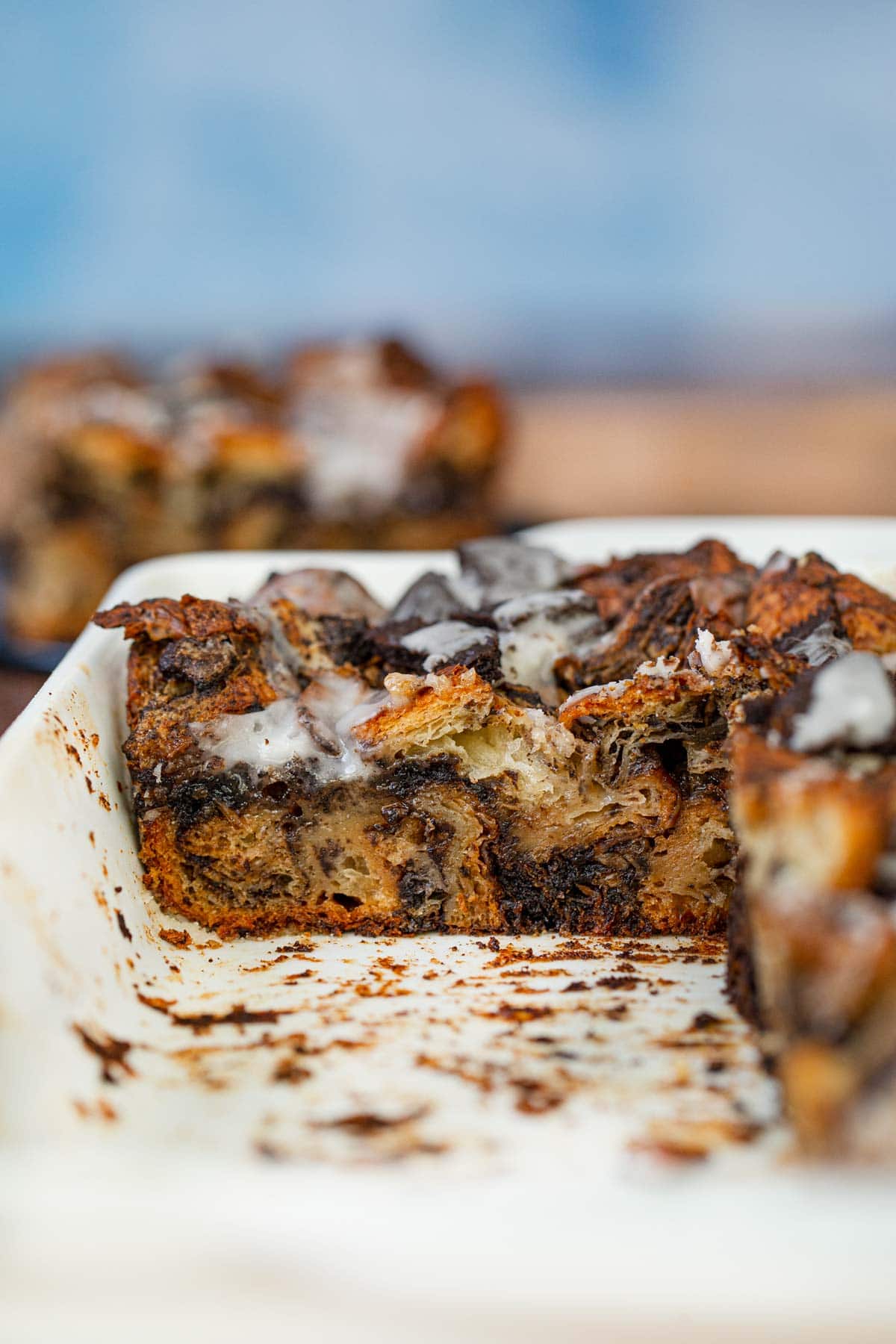 Ingredients
Bread Pudding:
18

Oreo cookies

3

large

eggs

2

cups

whole milk

2

tablespoons

sugar

1

teaspoon

vanilla

5

croissants

, stale and cut into 1 inch chunks
Oreo Creme Topping:
2

cups

powdered sugar

3

tablespoons

water

, or milk
Instructions
Pre-heat oven to 350 degrees and spray an 8×10 baking pan with vegetable oil spray.

Scrape the filling out of the Oreos then break them into chunks, some smaller and some quartered (quarter 6 of them). Reserve the Oreo Creme for your drizzle.

In a large bowl whisk together the eggs, milk, sugar and vanilla until smooth.

Add in the croissant pieces and the smaller Oreo pieces and gently combine.

Add the croissant mixture to the baking dish.

Top with remaining quartered Oreos.

Bake, uncovered, for

30-35 minutes

or until the croissants are lightly browned.

When it comes out of the oven mix the powdered sugar, Oreo creme and water (or milk) and drizzle over the bake before serving.
Nutrition
Calories:
310
kcal
|
Carbohydrates:
48
g
|
Protein:
6
g
|
Fat:
11
g
|
Saturated Fat:
5
g
|
Cholesterol:
66
mg
|
Sodium:
230
mg
|
Potassium:
138
mg
|
Fiber:
1
g
|
Sugar:
34
g
|
Vitamin A:
310
IU
|
Calcium:
66
mg
|
Iron:
2
mg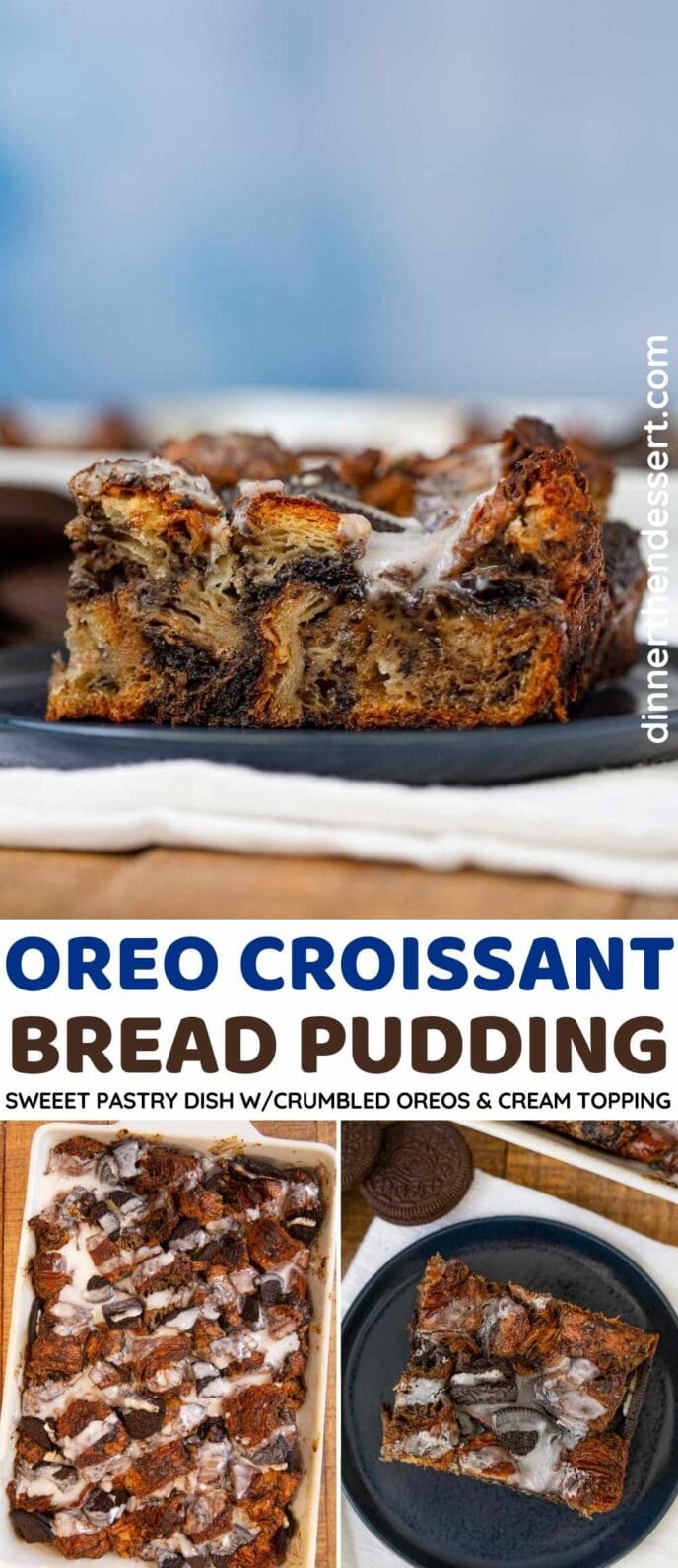 Photo used in a previous version of this post.