Thin Mints (Copycat) is the recipe to have the popular Girl Scout cookies anytime. Plus, a secret hack to make in less than 30 minutes!
While most of our Copycat Recipes are savory, sometimes we get a sweet tooth craving for our favorite big brand desserts. Like our Chocolate Caramel Pizookie recipe, these Thin Mints are a spot-on match for a popular, hard to find signature cookie. As well as these recipes: Keebler Sandies Cookies (Copycat) and Wendy's Chocolate Frosty (Copycat).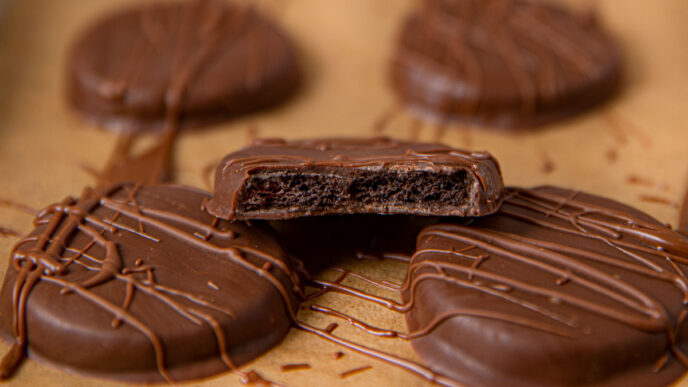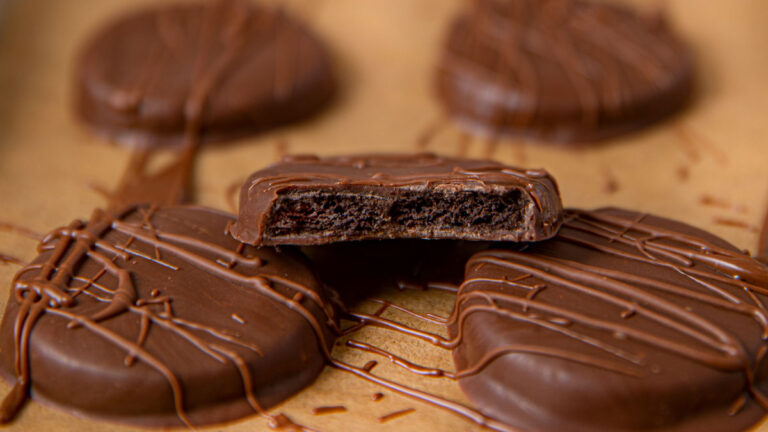 Chances are really good that you've at least heard of these super popular Girl Scout Cookies. If you are like most people, there's probably a box (or two) of these delicious chocolate-covered cookies in your freezer right now. If you've never had them, imagine a thin and crunchy chocolate wafer with a slight hint of refreshing mint flavor covered in some chocolate, and then drizzled on top with even more chocolate! It's a chocolate lovers dream come true!
It used to be that you had wait until that one magical time of year that sweet little girl scouts were visiting your office, or standing outside every grocery store, so you could get your hands on these addicting cookies.
Well, no more waiting patiently required! We've come up with this recipe for homemade Thin Mints that taste just like the real thing. Make an extra batch (or two, or ten!) to keep in your freezer for whenever a craving hits, and to share, of course!
While we came up with a great recipe for the cookie base, we also have a cookie hack below to save you time. No rolling dough or chilling needed, just another popular cookie plus the coating recipe. If you love this Girl Scout recipe, you'll love the chewy Magic Samoas Layer Bars.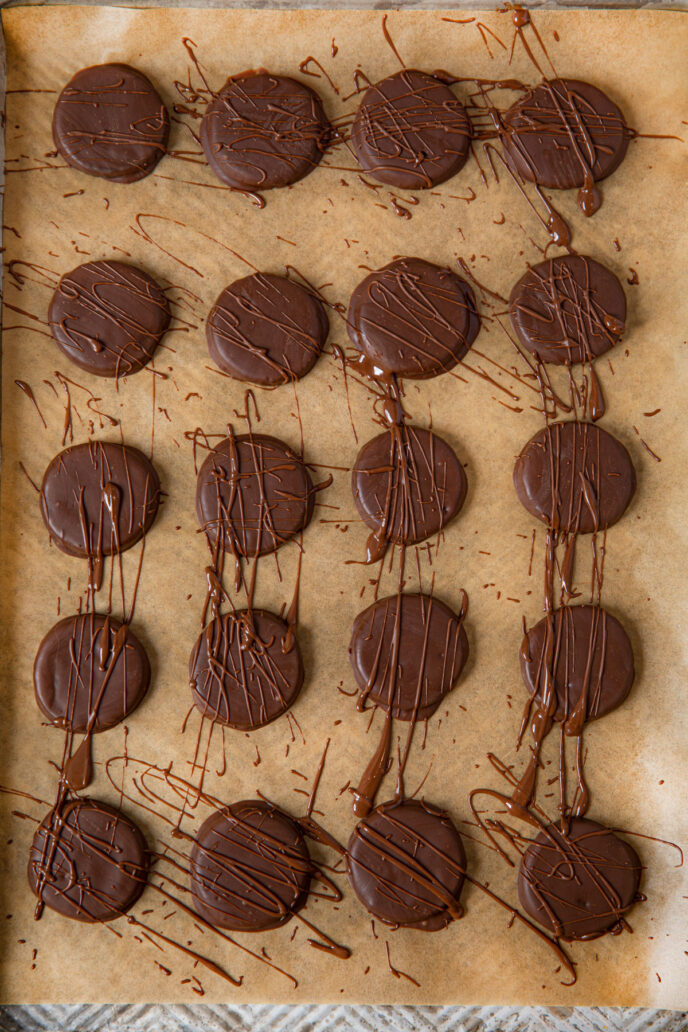 Time-Saving Cookie Hack
If you want to save a bunch of time – use Oreos! That's right, milk's favorite cookie is an easy substitute in this recipe. Simply dip Oreo halves, without the frosting, into the chocolate and mint coating and voila! Thin Mints in less than 30 minutes.
How to Make Thin Mints
Cream the Wet Ingredients Well: The butter and sugar need to be very light and fluffy before you add in the egg and extracts. Take extra time to be sure it is lightened in color.
Dry Ingredients: Sift them very well to keep the cookie light.
Refrigerate your dough: The dough must chill for an hour before you cut out the shapes or your dough will not bake in a perfect round.
Cool: Cool the cookies completely before dipping or your cookies will crumble apart and the chocolate will become a mess.
Melt Your Chocolate Gently: Be sure you don't over-microwave your chocolate or it will seize. Be sure to stir between every 30 seconds of melting time.
More Chocolate Dipped Desserts
Frequently Asked Questions
Why do I have to refrigerate the dough?  
Chilling is crucial. Chill your rolled dough for at least 1 hour and up to 2 days before cutting and baking. This way you will have the perfect little round cookies! 
Can I just use spearmint instead of peppermint? 
Use peppermint extract, not spearmint. The difference is slightly subtle but if you want them to taste like the real thing, use peppermint extract for that real peppermint flavor.
What's the easiest way to drizzle the topping chocolate? 
We find that using a fork to dip the cookies is the easiest to get coating all over the cookie and to keep your hands clean. Tap the fork on the side of the bowl to get the excess off.
Can I make the Thin Mints cookie dough ahead of time? 
Make the cookie dough ahead of time and freeze to make holiday baking on the fly easier. Your dough will last up to 3 months. Thaw in fridge overnight when you are ready to use. Bring to room temperature for 1 hour before attempting to roll out.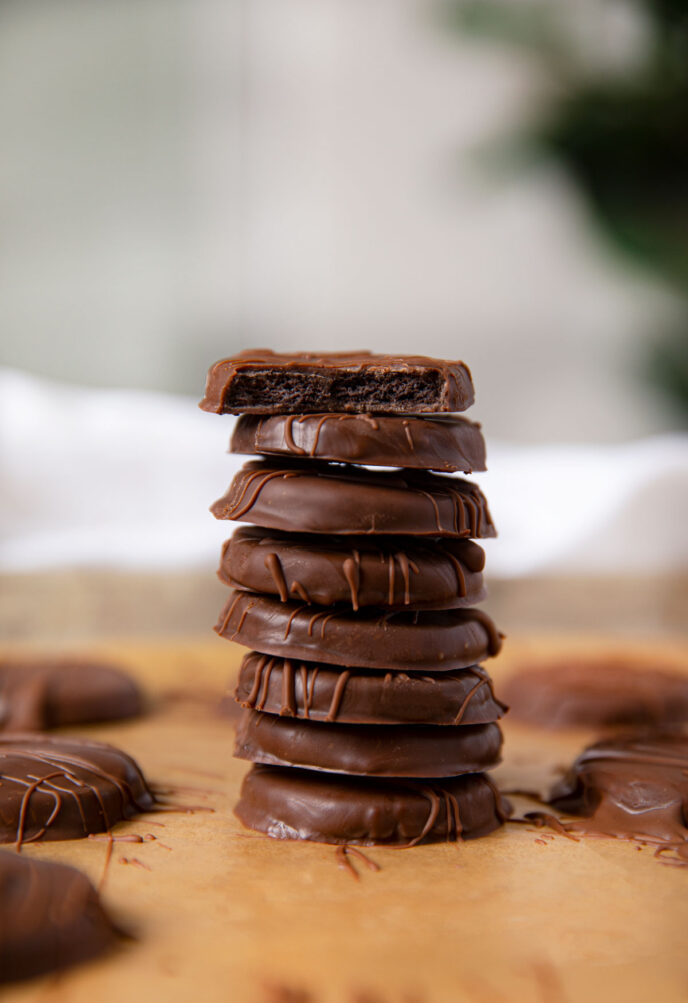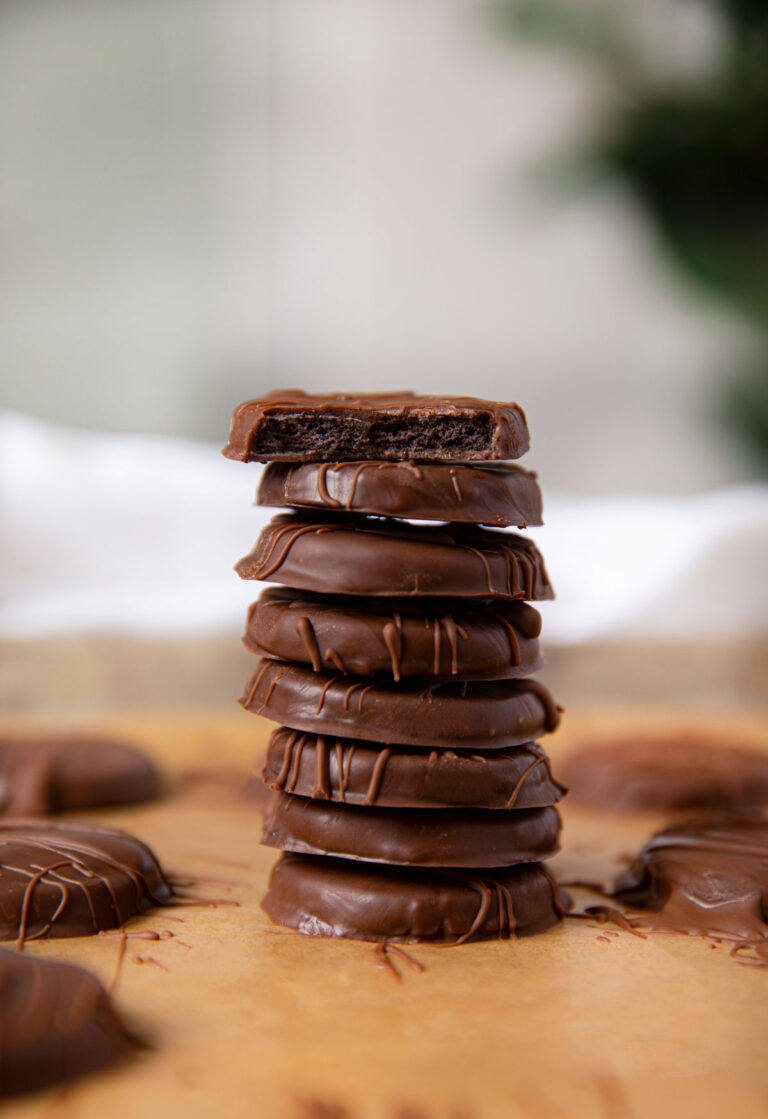 Create a free account to

Save Recipes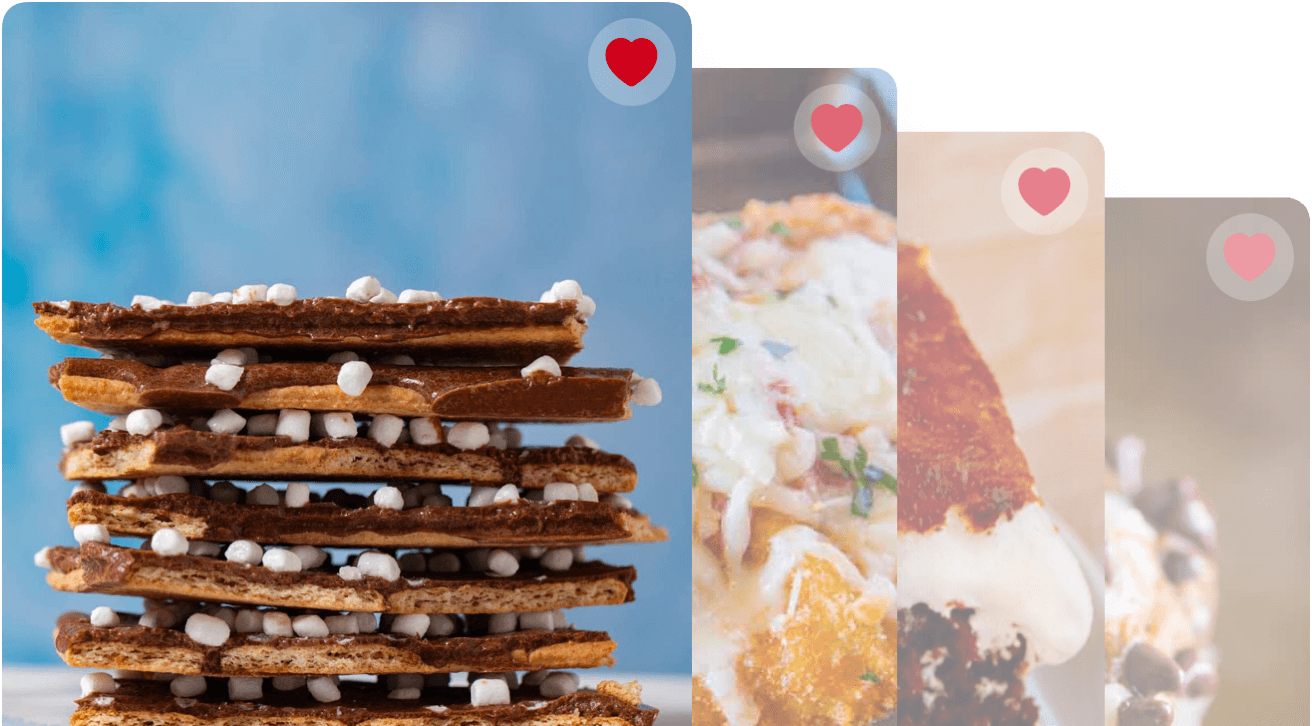 Key Ingredients in Thin Mints
All the ingredients for this recipe can be easily found at your closest grocery store in the baking section. Look for fresh eggs, regular butter that's unsalted, and a few other important things listed here.
Flour: You can use any flour of your choice. Just make sure that it fresh.
Vanilla Extract: Imitation vanilla flavor is so much cheaper at the store, but it is artificial. If you want to achieve the authentic flavors in this recipe, and others that use vanilla extract, pay a little extra to get the pure and real vanilla extract. Your tastebuds will thank you!
Cocoa Powder: Made from the roasted and ground seeds of the cacao tree, this powder is the base for all chocolates. You can use just about any brand you find.
Peppermint Extract: Be sure to find the real extract, not the artificial kind. Some people have used peppermint oil, but extract is in a suspension that will be cook better in this particular recipe.
Variations on Thin Mints
There are so many things you can do with this delicious chocolate and mint cookie. No matter what time of year it is, you can adapt this recipe for all the fun and festivities all year long!
Chocolate: The original recipe uses semi-sweet chocolate, but feel free to mix it up by using dark chocolate or white chocolate. You can use one kind of chocolate to dip and then use another to drizzle as designs.
Caramel: Make a Samoa/Thin Mint hybrid by adding a small spoon of Salted Caramel to the top of your cookie and chill so it hardens. Then dip the caramel chocolate cookie in the coating. Sprinkle the top with toasted coconut.
Holiday Cookies: Make these more minty and festive by adding crushed candy canes and white chocolate.
Gluten-Free: Substitute almond flour and ensure your chocolate is gluten free to make these friendly to dietary restrictions. You can also use coconut oil if you can't have canola or vegetable oil.
How to Serve Thin Mints
Once you've made a batch of these amazing cookies, you'll be able to share them with your family and friends! These cookies make the best surprise gift at anytime of the year. And because they are packed with the perfect blend of peppermint flavor and delicious chocolate, everyone will be asking for more. Check out some fun ways to serve them!
With Milk: Dipping these freshly baked cookies in a glass of cold creamy milk is a heavenly experience. When serving, make sure the cups are the shallow kind with wide rims, not the tall thin kind.
Campout: Make a fun backyard camping experience for the kids where they can roll up into their sleeping bags and munch on fresh Thin Mint cookies in their tent.
Gifting: Pack a plate with Thin Mint cookies and put a few Chocolate Covered Strawberries on the plate for a colorful pop and amazing gift plate your neighbors and friends will appreciate!
More Mint Chocolate Treats
How to Store Thin Mints
Serve: These cookies are good at room temperature for about a week. Keep them in a container for easy serving.
Store: You can store your cookies in the fridge for up to 2 weeks. Raw dough will keep for up 2 days in the fridge. Keep them in an airtight container to ensure they stay fresh and crisp.
Freeze: You can freeze your baked cookies or raw dough for up to 3 months in an airtight container.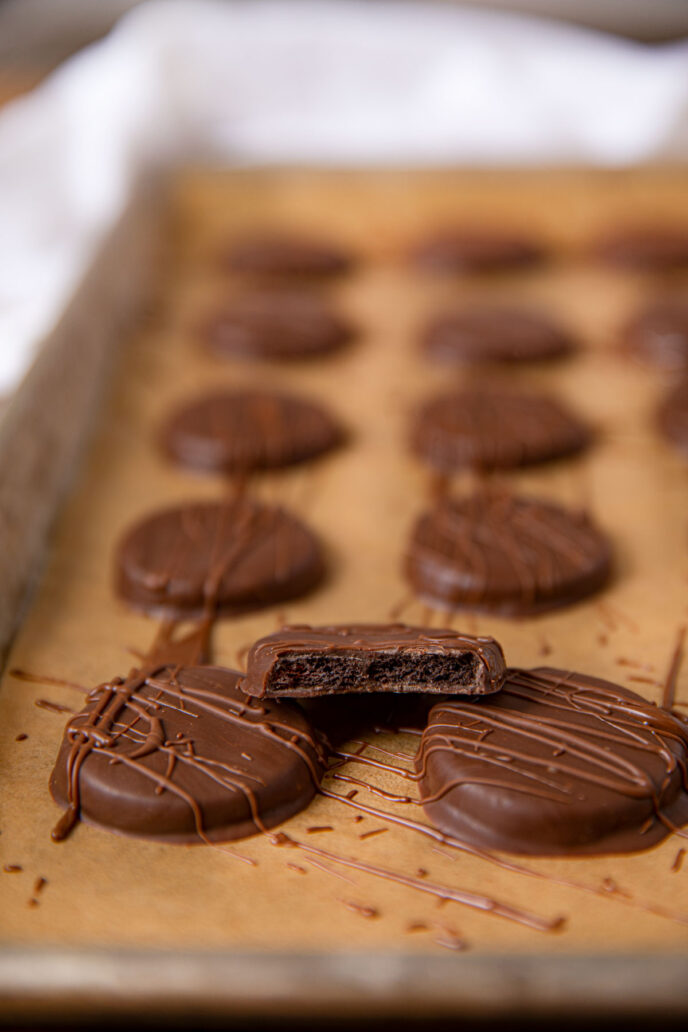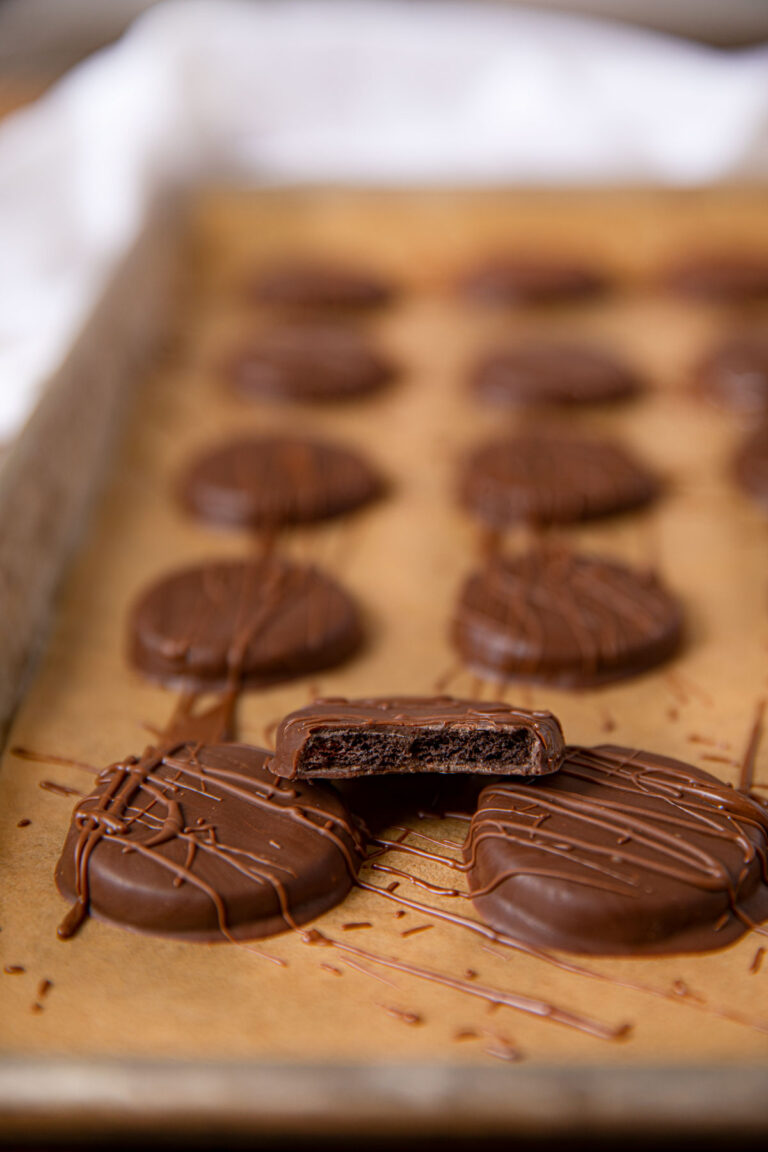 Ingredients
3/4

cup 

unsalted butter

, softened

1

cup 

sugar

1 

large

egg

, room temperature

2

teaspoons

pure vanilla extract

1/4

teaspoon 

peppermint extract

1 1/2

cups 

flour

3/4

cup 

unsweetened cocoa powder

1

teaspoon 

baking powder

1/4

teaspoon 

salt
Instructions
In your stand mixer cream the butter for

1 minute

on medium speed until light and fluffy.

Add in the sugar and beat for 1 minute until the color lightens a little.

Add in egg, vanilla and peppermint extract until fully combined.

Sift the flour, cocoa powder, baking powder and salt in a medium bowl then add it to the stand mixer on low speed until just combined.

Roll the dough to a 1/4" thickness between two pieces of parchment paper then transfer to a large baking sheet and refrigerate for

1 hour

.

When you are ready to bake the cookies preheat your oven to 350 degrees and line 2 baking sheets with parchment paper.

Using a 1 1/2" cookie cutter, cut out 36 circles (you will have to re-roll the dough 1 time to get remaining cookies).

Bake for

7-9 minutes

until they no longer glisten but are still soft.

Cool completely before making your coating.
Chocolate Coating:
Add the chocolate in a medium microwave safe bowl and cook in

30 second

increments, stirring after each 30 seconds until completely smooth.

Stir in the peppermint extract and dip each cooled cookie into the chocolate.

Using a fork, tap it very gently on the side of the bowl to ensure the chocolate layer isn't too thick, then place the chocolate dipped cookie on a parchment paper lined baking sheet.

Using excess chocolate on your fork sweep the fork back and forth quickly over the cookies to add a patten on top of the cookies then let them sit at room temperature or in a refrigerator until the chocolate hardens.
Nutrition
Calories:
151
kcal
|
Carbohydrates:
18
g
|
Protein:
2
g
|
Fat:
9
g
|
Saturated Fat:
5
g
|
Cholesterol:
16
mg
|
Sodium:
11
mg
|
Potassium:
158
mg
|
Fiber:
3
g
|
Sugar:
11
g
|
Vitamin A:
135
IU
|
Calcium:
21
mg
|
Iron:
2
mg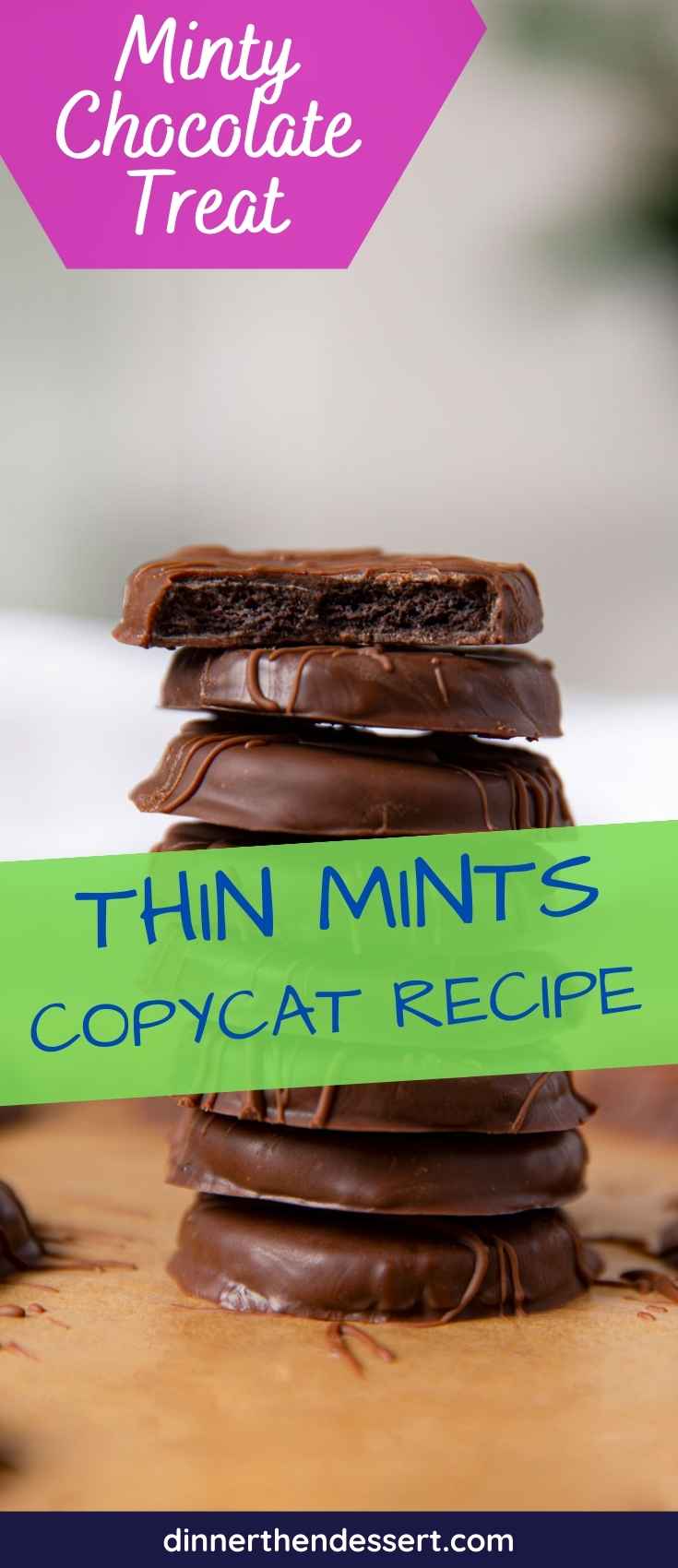 Photos used in a previous version of this post.