Chewy Chocolate Cookies are the best fudgy soft cookie recipe with intense chocolate flavor. Ready in just 20 minutes with basic ingredients!
This chewy dark chocolate cookie recipe is just as easy and tasty as Cake Mix Chocolate Cookies, but made completely from scratch. Chocolate Cookies are sure to be a new favorite Cookie Recipe for your family!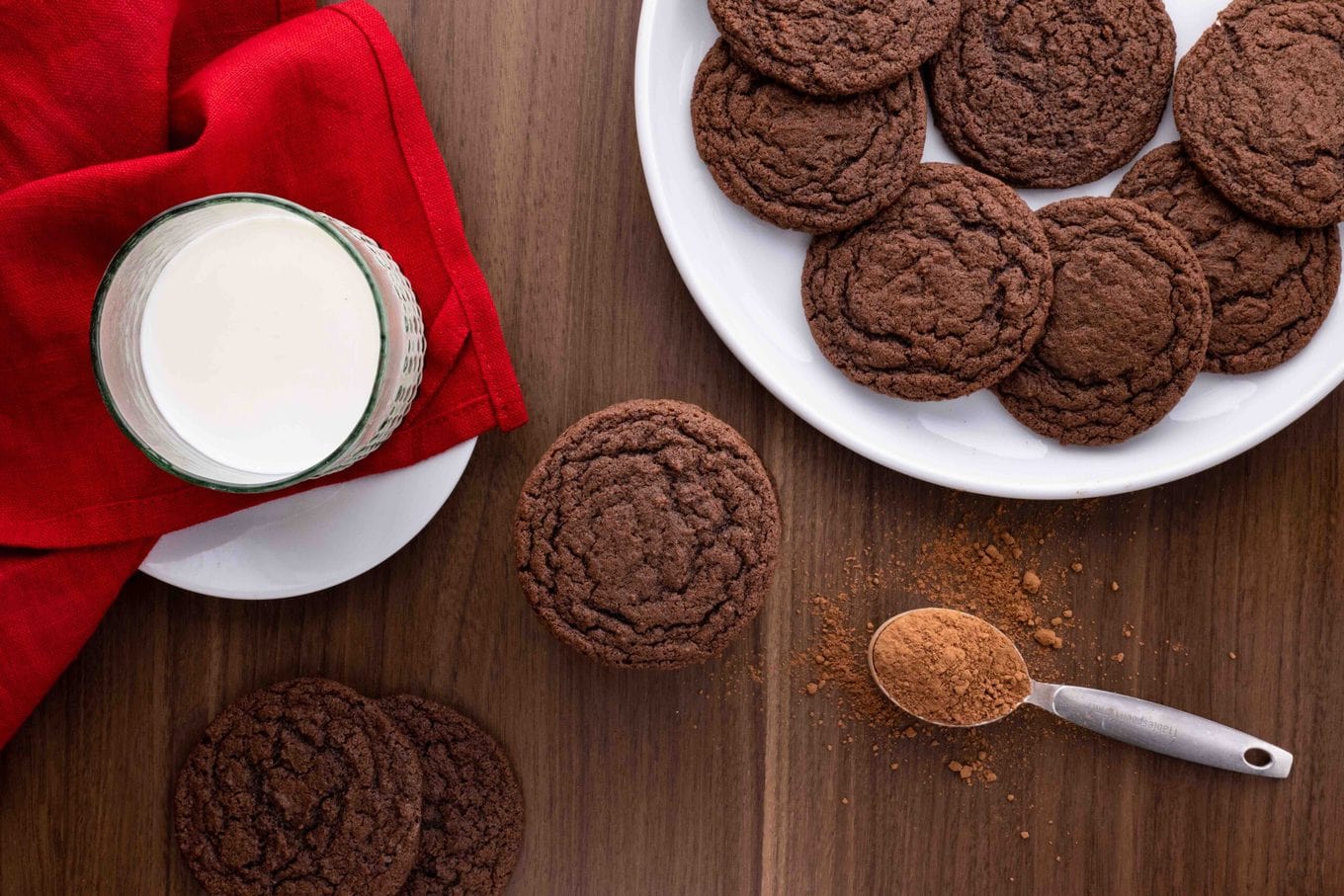 Sometimes when your inner chocolate lover comes out, a Chocolate Chip Cookie is simply not enough. You need one that is more chocolaty, more chewy and fudgy, like a soft and tender bakery style choco cookie. These homemade Chocolate Cookies have all that rich, intense chocolate flavor you are craving and they only take 20 minutes before you get to take that first warm, gooey chocolatey bite.
These chewy Chocolate Cookies are simple baked treats with basic ingredients. They are made similar to Chocolate Brownies with unsweetened cocoa powder and butter so you get rich, decadent fudgy chocolate down to the last crumb. They are so chocolatey you don't need chocolate chips or chocolate chunks but feel free to get choco-crazy with add-ins to really satisfy your cravings.
These cookies go great with a cold glass of milk, one dunk and they will be melting in your mouth. Serve them all year round or make them your new favorite cookie for Santa. For decoration, top them with Buttercream Frosting or dust with powdered sugar. For an extra special treat, there are quick instructions at the bottom of this post to make your own homemade Ice Cream Sandwiches with these amazing Chocolate Cookies.
Unsweetened Cocoa Powder: Natural vs. Dutch Process
To get richer dark chocolate color and flavor, use Dutch processed unsweetened cocoa powder. The difference between natural cocoa powder, like Hershey's or Ghirardelli, and Dutch process is that "Dutched" cocoa powder has been alkalized. Basically this means that the cocoa powder is less acidic and the cocoa is darker. They use Dutch processed cocoa powder in Oreo cookies. If you used Dutch process, swap your baking soda with baking powder.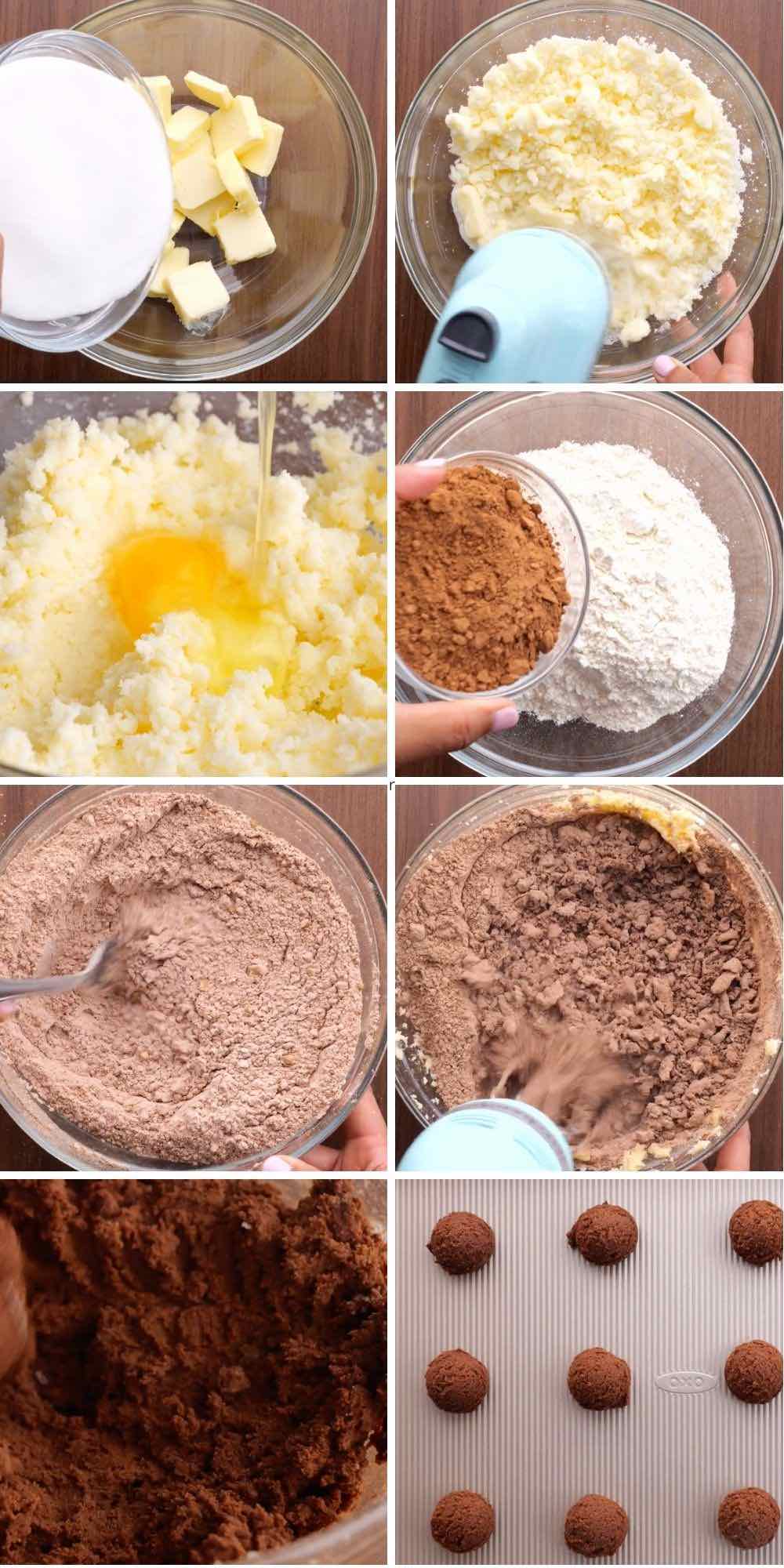 How to Make Chocolate Cookies
Prep: Preheat your oven and line cookie sheets with parchment paper.
Butter: Cream the butter and sugar, then beat in the eggs one at a time. Add the vanilla and mix until smooth.
Dough: Combine the flour, cocoa powder, baking soda, and salt, then mix into the creamed butter mixture until a dough just forms.
Scoop: Scoop large spoonfuls of dough onto the cookie sheets about an inch apart.
Bake: Bake cookies until the edges are just set. Cool for a few minutes, then finish cooling on wire racks.
More Chocolate Cookie Recipes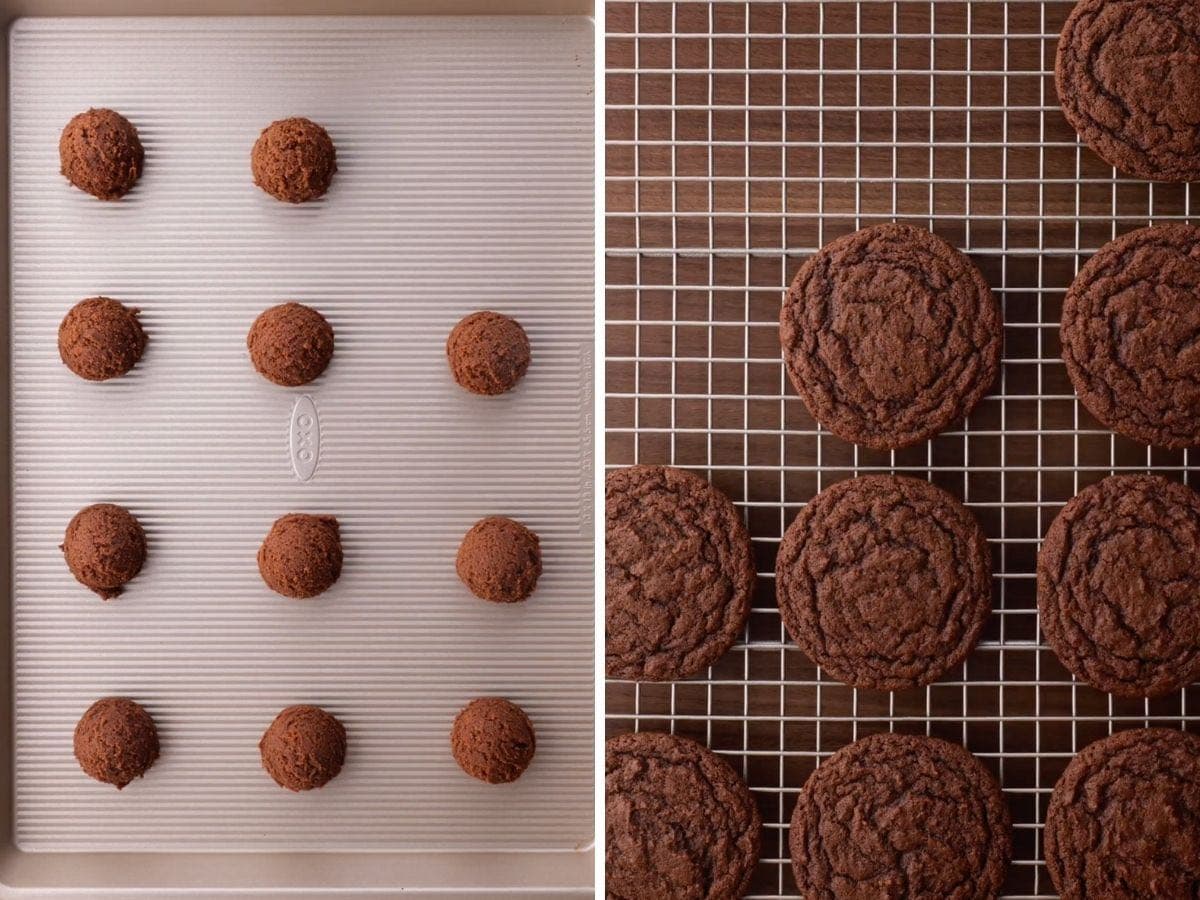 FAQs for Chocolate Cookies
How do you know when Chocolate Cookies are done baking?
The cookies should be slightly firm around the edges but still slightly soft in the center. They will continue to set as they cool on the baking sheet, so it's important not to cook them too long or they won't have that delicious soft and chewy texture.
How do you prevent your Chocolate Cookies from over-baking?
It can be easy to over bake Chocolate Cookies. To bake cookie dough evenly, line a light baking sheet with parchment paper. A dark cookie sheet heats up faster, so if you don't have a light one, stack two pans and line the top with parchment paper.
Which cocoa powder should I use?
Whether to use regular unsweetened cocoa powder or dutch-process cocoa powder depends on how intense you want the chocolate flavor. Dutch process cocoa is extra dark, yet slightly less bitter so that will give your cookies more of an Oreo taste, where regular cocoa will give them a hot chocolate flavor.
Why are my chocolate cookies flat?
One possibility is that the butter was too soft or melted, causing the dough to spread excessively during baking. Another reason overmixing the dough or handling it too much makes the dough warm which also causes spreading. Finally, if your baking soda isn't fresh they could be flat.

Create a free account to

Save Recipes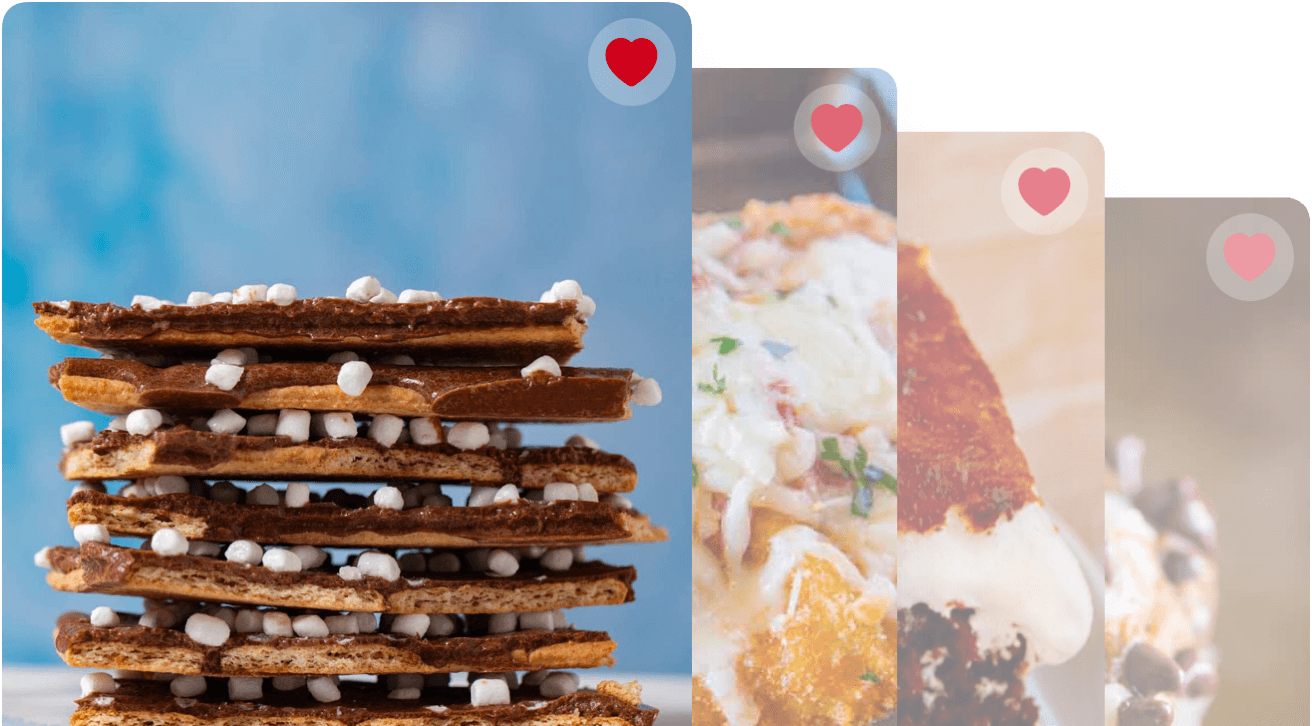 Key Ingredients
Butter: There is lots of butter in these rich, fudgy cookies. You want to use soft butter but don't use melted butter or your cookies will be flat. If the dough seems really wet, pop it in the fridge to chill before baking so they don't spread.
Sugar: Two cups of sugar seems like a lot but the extra sweetness is needed to balance the bitterness in unsweetened cocoa powder. Sugar also makes your cookies nice and chewy.
Eggs: These cookies have plenty of egg so they are rich and fudgy, almost like a brownie inside. Make sure they are room temperature so they mix easily, creating air for puffier texture.
Vanilla: Vanilla extract enhances the overall taste of the chocolate cookies and complements the chocolate flavor, bringing out the warm notes in the cocoa.
Flour: Regular all-purpose flour gives the cookies their characteristic texture and helps them hold their shape during baking. They have the right amount of gluten for soft, thick cookies.
Cocoa Powder: Unsweetened cocoa powder is responsible for the intense chocolate flavor in the cookies. It also adds a rich color and when mixed with the soft butter and eggs, it gets a fudgy texture.
Baking Soda: Baking soda is a leavening agent that helps the cookies to rise so they are fluffier despite the fudgy center and they are tender and soft.
Salt: A little bit of salt enhances the flavor of the cookies by balancing the sweetness and intensifying the chocolate taste.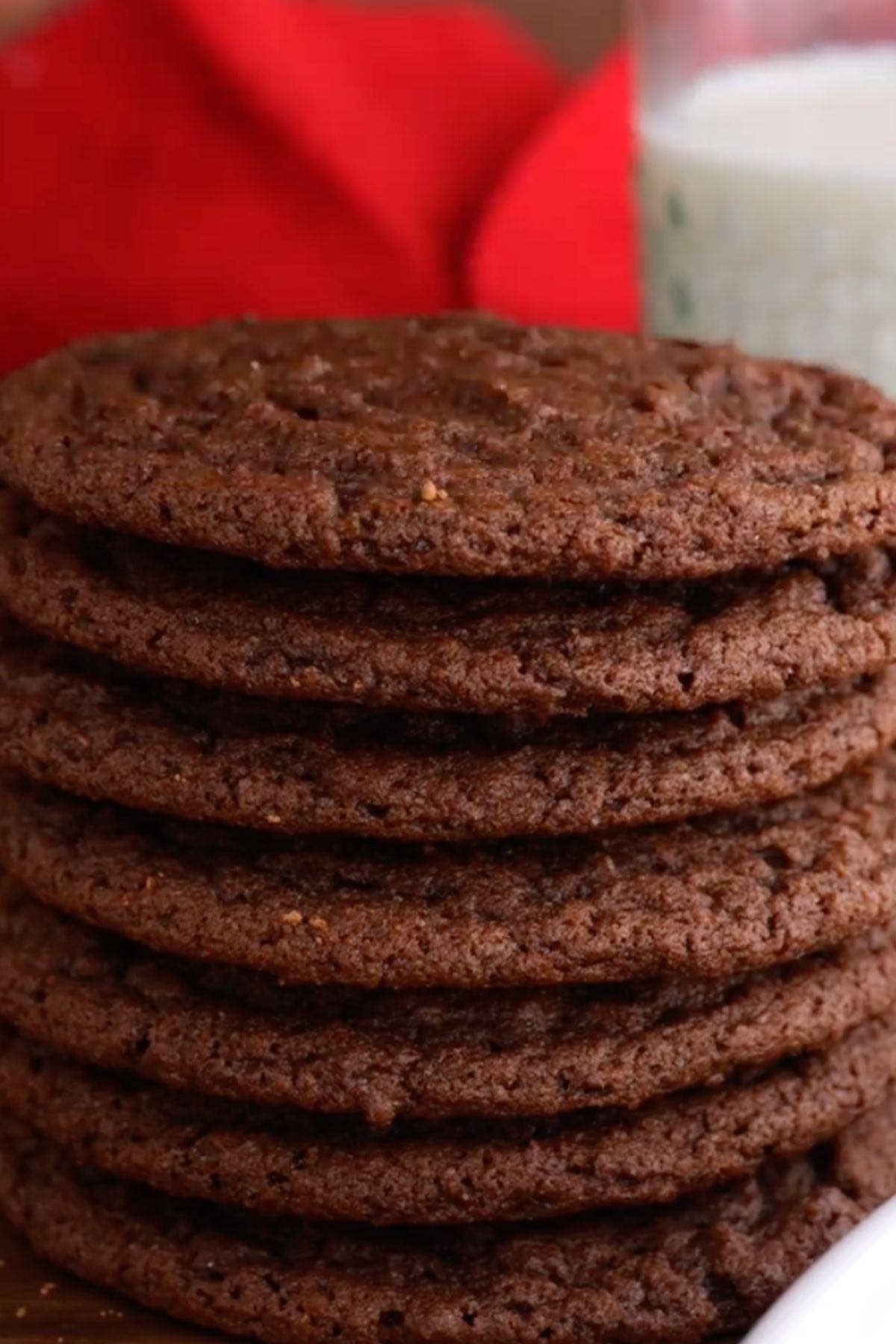 Can you make Chocolate Cookies ahead of time?
Yes, you can definitely make Chocolate Cookies ahead of time, either by baking them and freezing for a couple months or freezing the dough for even longer.
To freeze unbaked cookie dough, start by rolling your dough into even balls and place on a cookie sheet lined with parchment paper.
Freeze in single layer for at least 30 minutes, or until the dough balls are frozen.
Transfer frozen dough balls to a freezer safe bag or airtight container and freeze for up to 2 months.
Bake cookies straight from freezer for about 2 minutes longer than normal.
Variations
Chocolate Chips: Mix in your favorite kind of chocolate chips, like dark chocolate chips or semisweet chips, to give your cookie bursts of chocolaty flavor. For a creamier bite, try white chocolate chips.
Chocolate Chunk: Chop up Hershey's chocolate candy bars into large chunks and stir into your batter. It's fun to do a mixture of milk chocolate bars and Hershey's Cookies and Cream bars.
Peanut Butter: Chocolate and peanut butter taste amazing together. Mix in a handful of peanut butter chips and chopped peanuts for a delicious peanut butter cup flavor.
Other Mix-ins: For crunch in every bite, mix in chopped walnuts, almonds, or other nuts into this chocolate cookie dough. Some more tasty ideas to mix in are chocolate candy, dried berries, or Marshmallows.
Brownie Cookies: Use brown sugar to make these more like Brownie Chocolate Cookies. Replace half of the white sugar with brown sugar. For gooey brownie cookies, reduce the butter to ¾ cup and increase to 3 large eggs.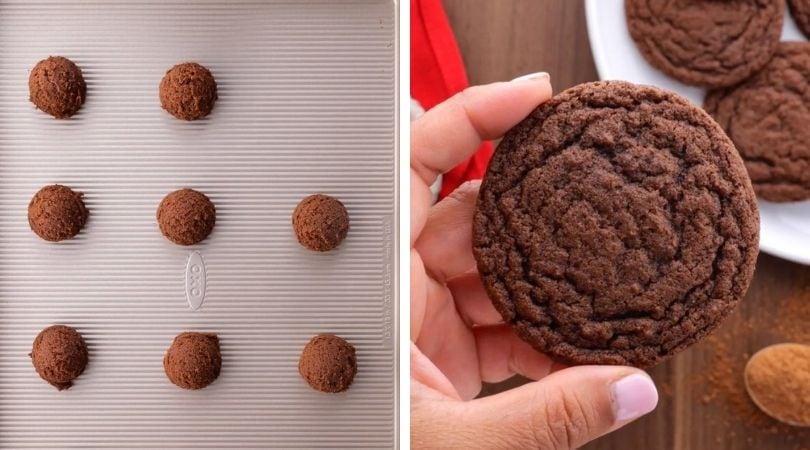 Easy Chocolate Cookie Ice Cream Sandwiches
You will need 24 small baked Chocolate Cookies, cooled completely.
Allow Vanilla Ice Cream or Chocolate Ice Cream (or another favorite flavor) to soften on the counter until it is soft enough to spread but not melted.
Place a small Chocolate Cookie in each cup of a 12 cup muffin tin.
Using a cookie scoop, top each cookie with a small scoop of ice cream (about 2-3 tablespoons).
Press the remaining cookies on top of the ice cream. Freeze for 1-2 hours, until solid.
Easy Delicious Chocolate Desserts
How to Store
Serve: Chocolate Cookies are okay at room temperature for up to 2 days. Store in an airtight container.
Store: Keep cookies longer in the refrigerator. Place in a sealed bag or container and store for up to 1 week.
Freeze: Freeze baked cookies for up to 2 months. Allow cookies to cool completely before putting in a freezer safe bag.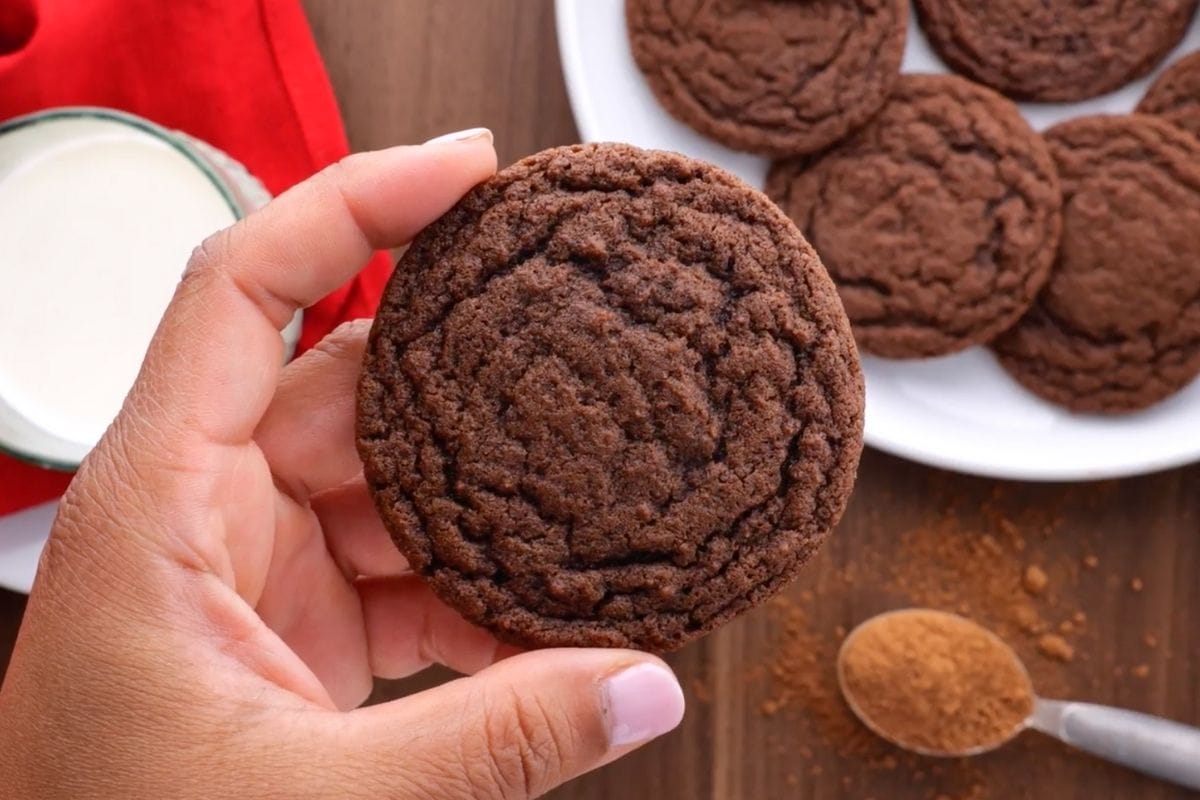 Ingredients
1 1/4

cups

butter

, softened

2

cups

sugar

2

large

eggs

2

teaspoons 

vanilla extract

2

cups

flour

3/4

cup

unsweetened cocoa powder

1

teaspoon 

baking soda

1/8

teaspoon

salt
Instructions
Preheat oven to 350 degrees.

In a large bowl, cream together butter and sugar until smooth.

Beat in eggs one at a time, then stir in the vanilla.

Combine flour, cocoa, baking soda, and salt; stir into the creamed mixture until just blended.

Drop by spoonfuls onto ungreased cookie sheets.

Bake for

8 to 10 minutes

in the preheated oven.

Cool for a couple of minutes on the cookie sheet before transferring to wire racks to cool completely.
Nutrition
Calories:
200
kcal
|
Carbohydrates:
26
g
|
Protein:
2
g
|
Fat:
10
g
|
Saturated Fat:
6
g
|
Cholesterol:
39
mg
|
Sodium:
159
mg
|
Potassium:
60
mg
|
Fiber:
1
g
|
Sugar:
17
g
|
Vitamin A:
315
IU
|
Calcium:
10
mg
|
Iron:
1
mg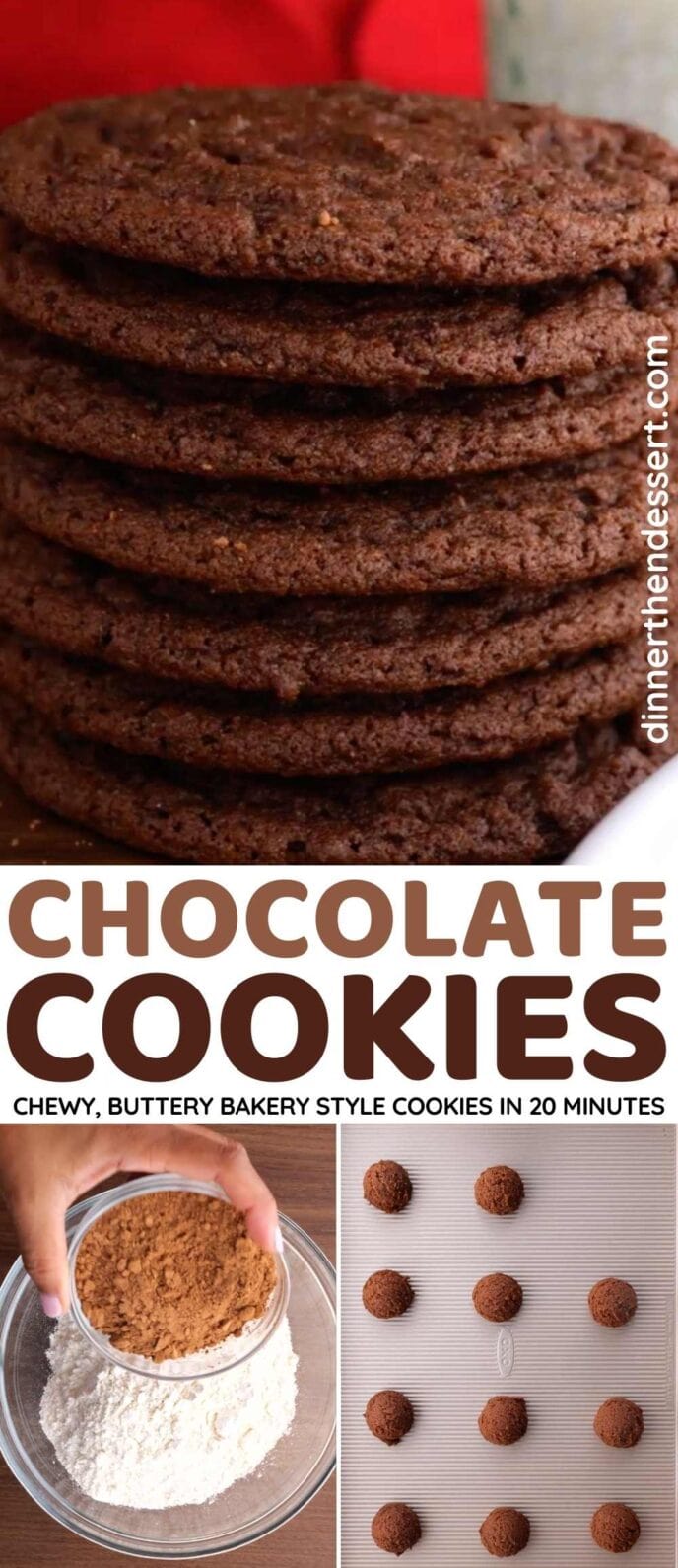 Photos used in a previous version of this post.