Super Rich Chocolate Brownies are the ultimate gooey, moist chocolate fudge brownies made with extra cocoa powder and dark chocolate chunks.
Fudgy Chocolate Brownies are one of those amazing Desserts that are easily whipped up whenever you get a craving for warm, gooey baked chocolatey goodness!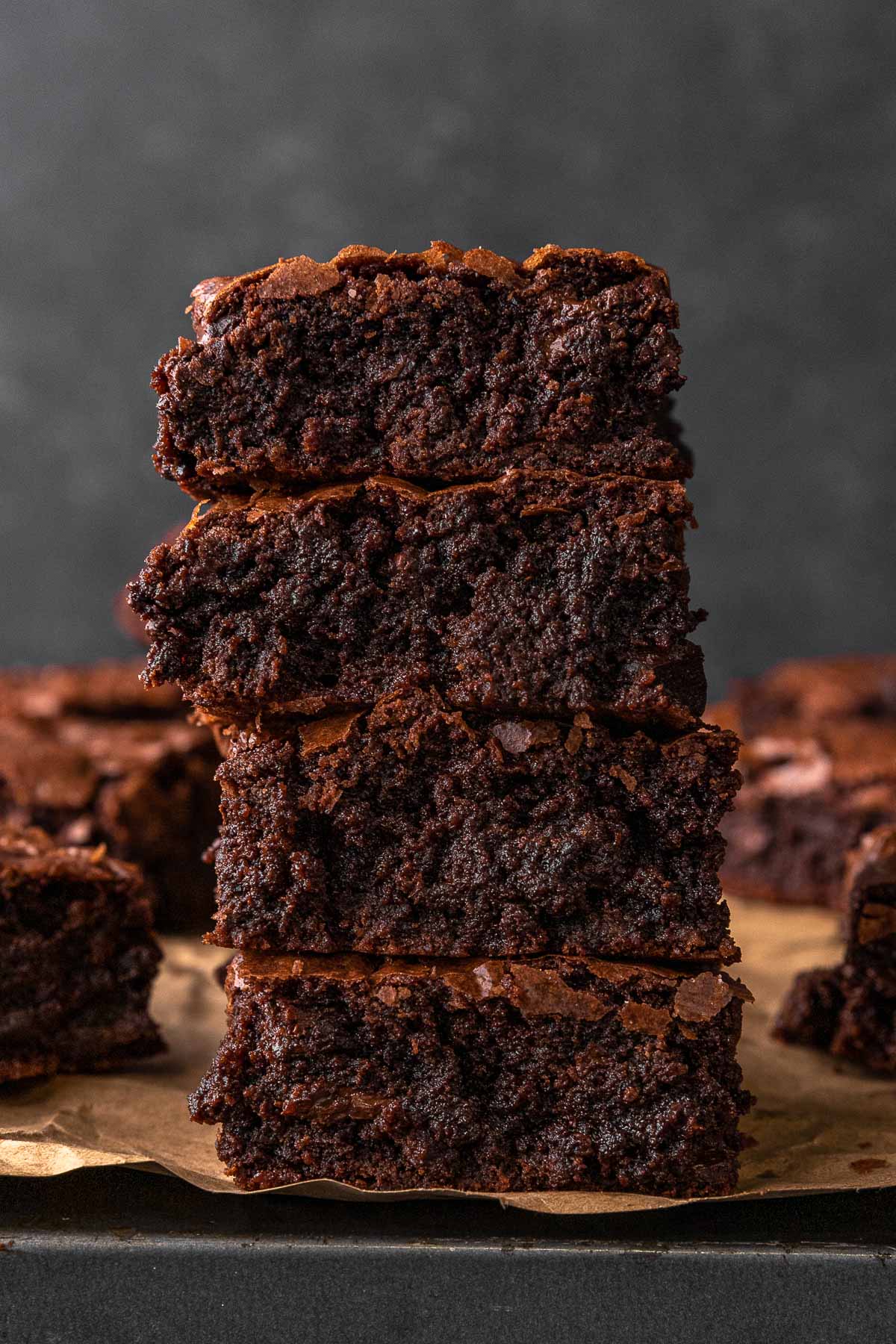 If you're new to making Brownies from scratch, then these chewy brownies are the perfect recipe to start with. These Fudgy Brownies are easy to make with basic ingredients and ready for the oven in a matter of minutes! Even new bakers can get the perfect texture for gooey brownies every time with this simple recipe.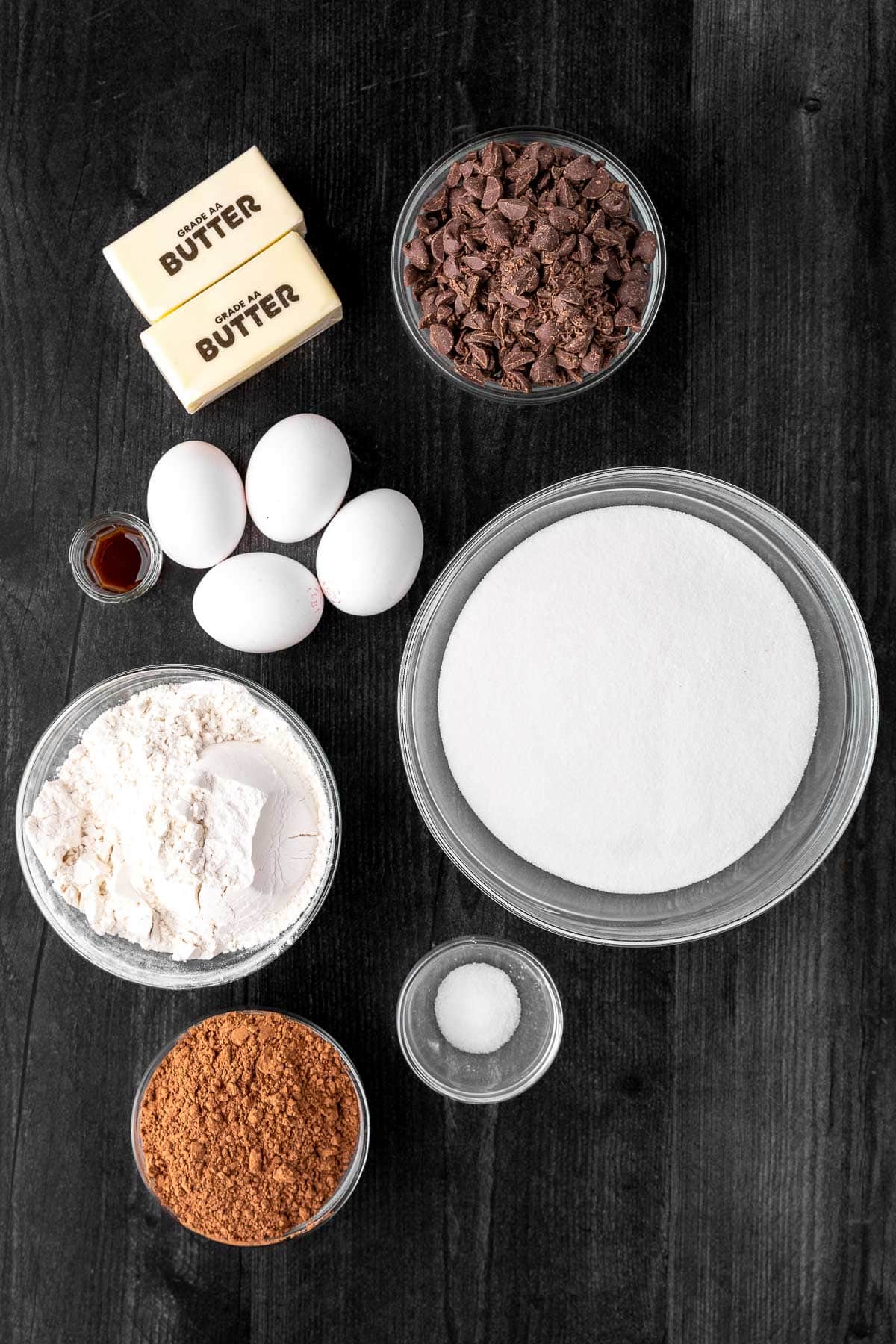 Beyond being easy to make, these intensely Fudgy Cocoa Brownies are also absolutely delicious. The gooey brownies are sure to be a hit with the choc-a-holics in your family. They take a regular chocolate brownie and add a lot more cocoa powder, then pack them with melty chocolate chunks for a serious chocolate overload. Plus, a little extra butter and eggs makes them the fudgiest, chewiest brownies ever. With a gooey middle and slightly crisp edges, it's the perfect brownie for the folks who love the brownies from the middle of the pan.
These indulgent brownies are super easy to make whenever that chocolate sweet tooth kicks into overdrive, or when you want to make dessert a lot more special without any more work. The rich, deep chocolate flavor and moist, fudgy texture make these Super Rich Chocolate Brownies absolutely amazing served with a scoop of Vanilla Ice Cream. The melty chocolate and creamy vanilla are a match made in dessert heaven!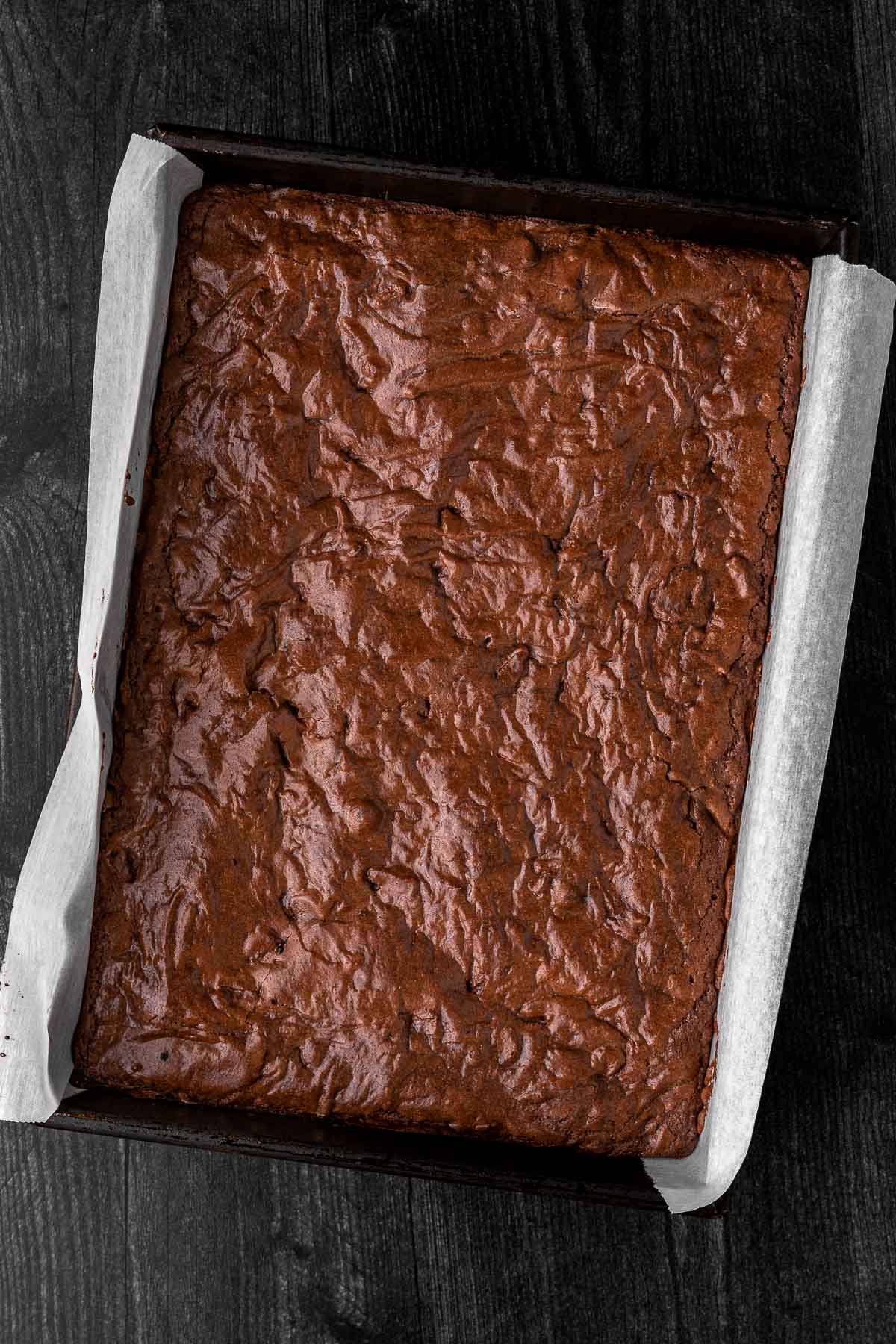 How to Make Super Rich Chocolate Brownies
Prep: Start by preheating the oven. Spray your baking dish with nonstick cooking oil spray. If you don't have spray, you can also line the dish with parchment paper to keep the brownies from sticking to the pan.
Batter: Combine the butter, sugar, vanilla, and eggs in a large bowl. Sift the flour, cocoa powder and salt in a separate bowl, then stir in the chocolate chips. Whisk the flour mixture into the butter mixture until just combined. Do not over-mix.
Bake: Pour the brownie batter into the prepared pan, spreading evenly with a spatula. Immediately bake for 40-45 minutes. The brownies are done when a toothpick inserted in the middle comes out clean with moist crumbs.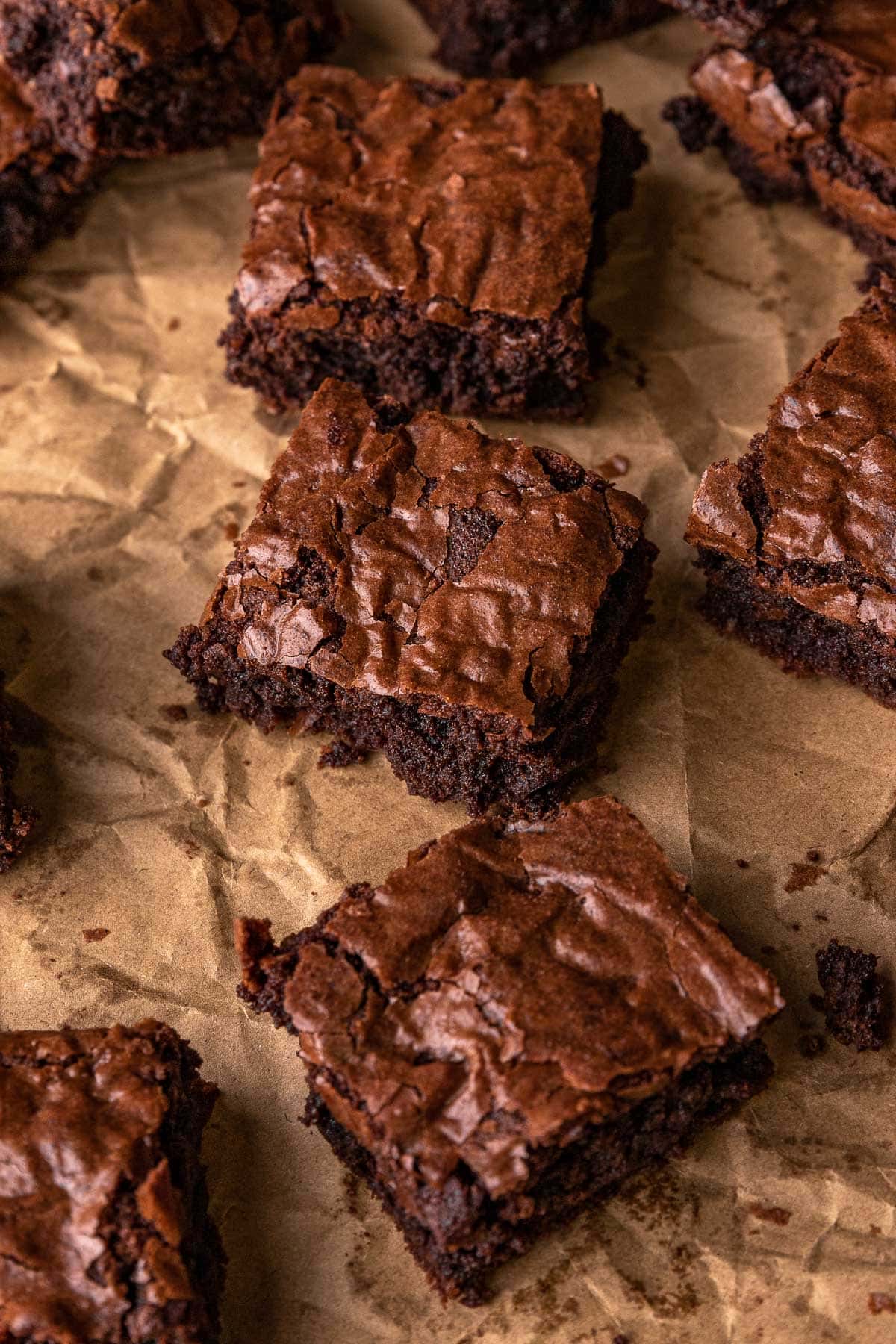 More Chocolate Brownie Recipes
FAQs for Super Rich

Chocolate Brownies
What makes brownies more fudgy?
There are a couple ways to make brownies more fudgy and gooey, such as using melted butter, adding an extra egg, increasing the sugar, replacing some of the flour with more cocoa powder. These are the ultimate fudgy brownies because they use all the tricks in one delicious gooey brownie recipe!
What is the secret of a good brownie?
The secret to a good brownie is achieving the perfect balance of moist, fudgy texture while still being slightly fluffy, underneath a sweet crispy crust. The best brownies are also going to have a deep, rich chocolate flavor that is just the right amount of sweet and buttery so you can take bite after bite.
What makes brownies shiny on top?
A shiny top on brownies is often achieved by whisking the eggs and sugar together until they become light and frothy, which creates a glossy, crackly top when baked. Another way to get that beautifully delicious shiny top is to use more sugar and egg, which is why these brownies get the effect without the extra whisking.
Do brownies taste better with butter or oil? 
While brownies taste amazing with butter or oil, you are going to get a better brownie every time if you use butter instead of vegetable oil. Butter not only gives them a better texture, but it also adds that rich buttery flavor that oil just can't replicate.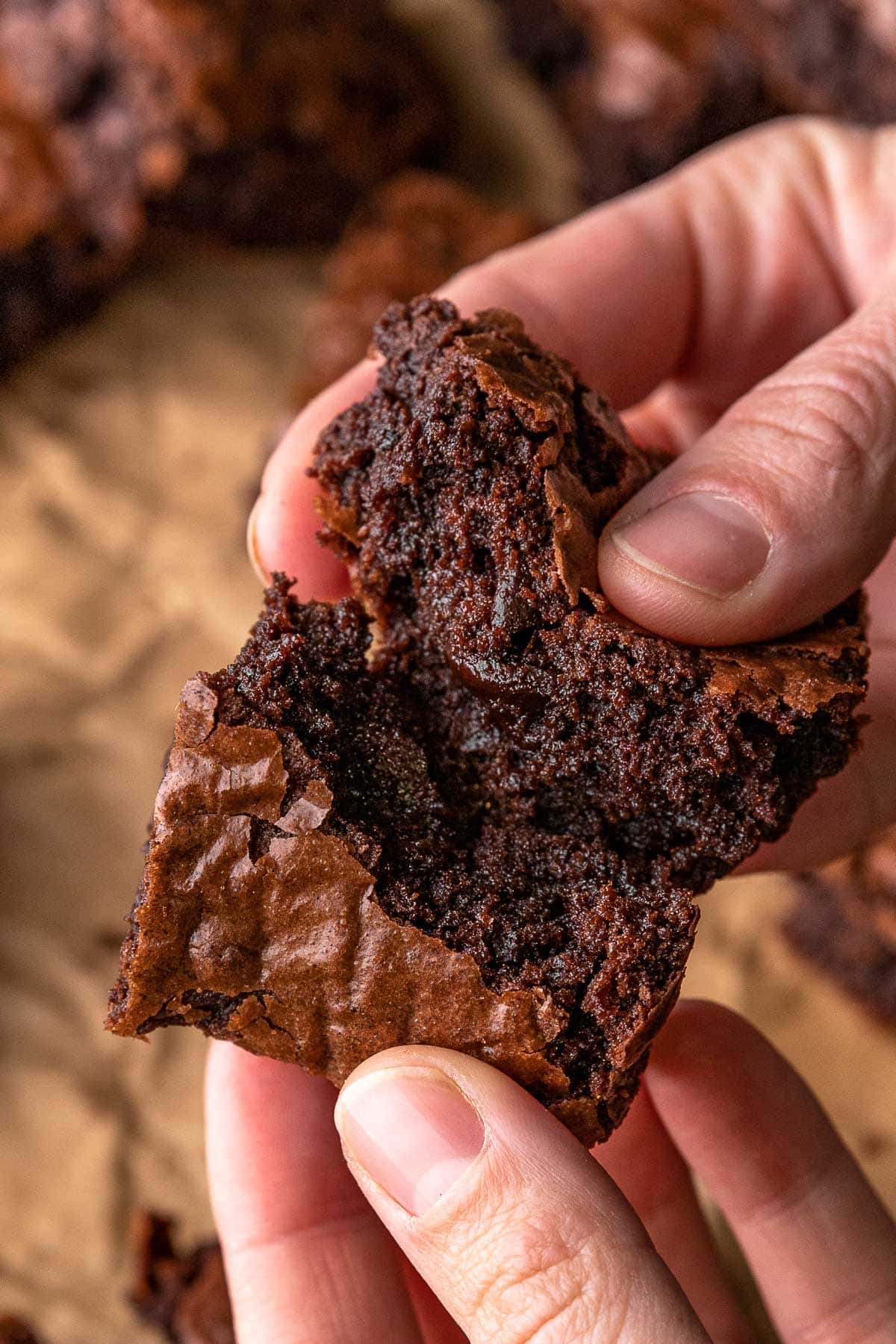 Create a free account to

Save Recipes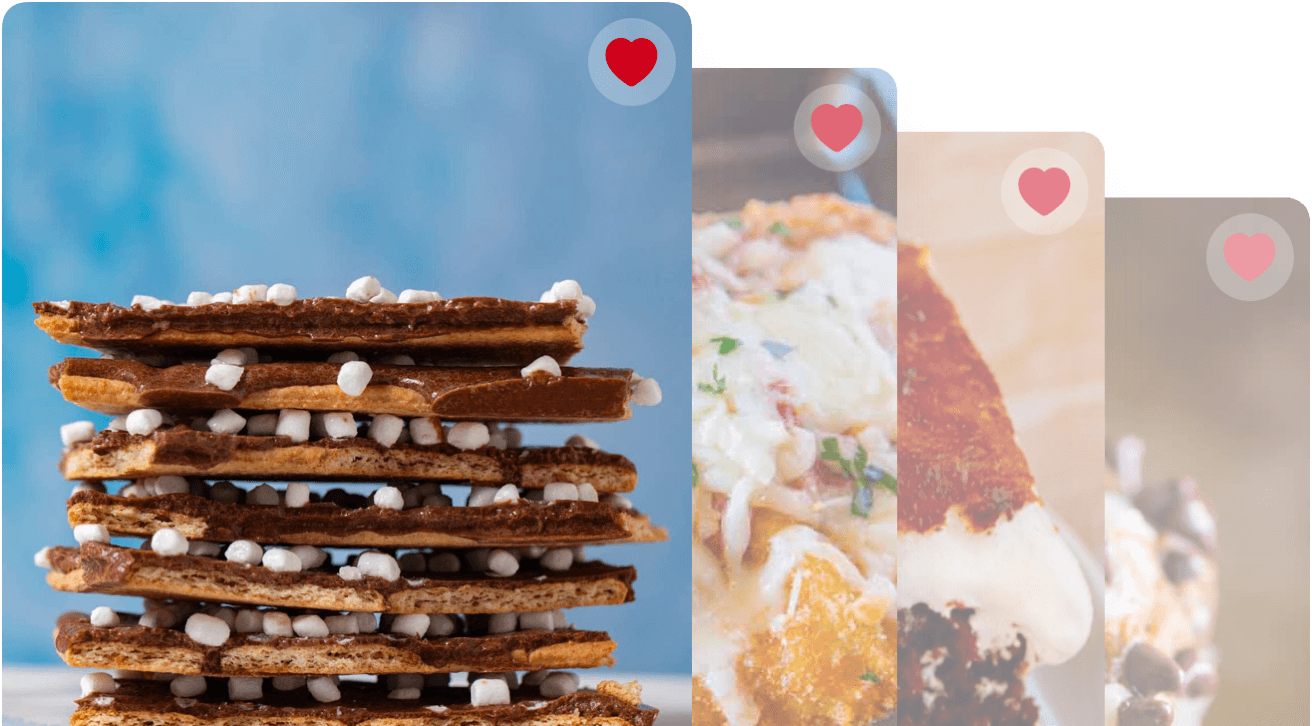 Key Ingredients
Butter: A full cup of unsalted butter is used in this recipe to add rich flavor and moisture, and using melted butter is how you get chewy, dense fudge like brownies. Creaming softened butter and sugar creates air, which is great for cakes and breads, but not for gooey fudgy chocolate brownies!
Sugar: It might seem like there is a lot of sugar in these brownies, but cocoa powder is both dry and bitter, so the extra sweetness and moisture is needed. Sugar also plays a role in creating the shiny, crackly top layer when whisked together with the eggs.
Eggs: Eggs add moisture and act as the "glue" of the ingredients, binding everything together. An extra egg makes these brownies even more thick and gooey. Egg and sugar also create a slightly crisp, crackly shiny top as the brownies bake.
Cocoa Powder: The unsweetened cocoa powder gives these brownies the intense dark chocolate flavor. The cocoa powder also takes the place of some of the flour since this recipe uses a full cup. The cocoa butter solids in the powdered chocolate help these bake into extra chewy moist brownies.
Dark Chocolate: Instead of baking chips, these brownies are made with a dark chocolate bar that is cut into chunks. Using a chocolate bar means you can control the intensity of dark chocolate, plus the chocolate melts easier so you get little liquid pools of melted chocolate versus firmer, creamy chocolate chips.
Flour: Flour provides structure and helps to hold brownies and other baked goods together while contributing to the texture. However, because these brownies are meant to be gooey and fudgy, they don't have as much flour as other recipes.
Salt: These brownies have a lot of sugar and chocolate, so they definitely need some salt to help to balance out the sweetness. Salt also helps enhance flavors so you get more of the intense chocolate taste while cutting the sugar.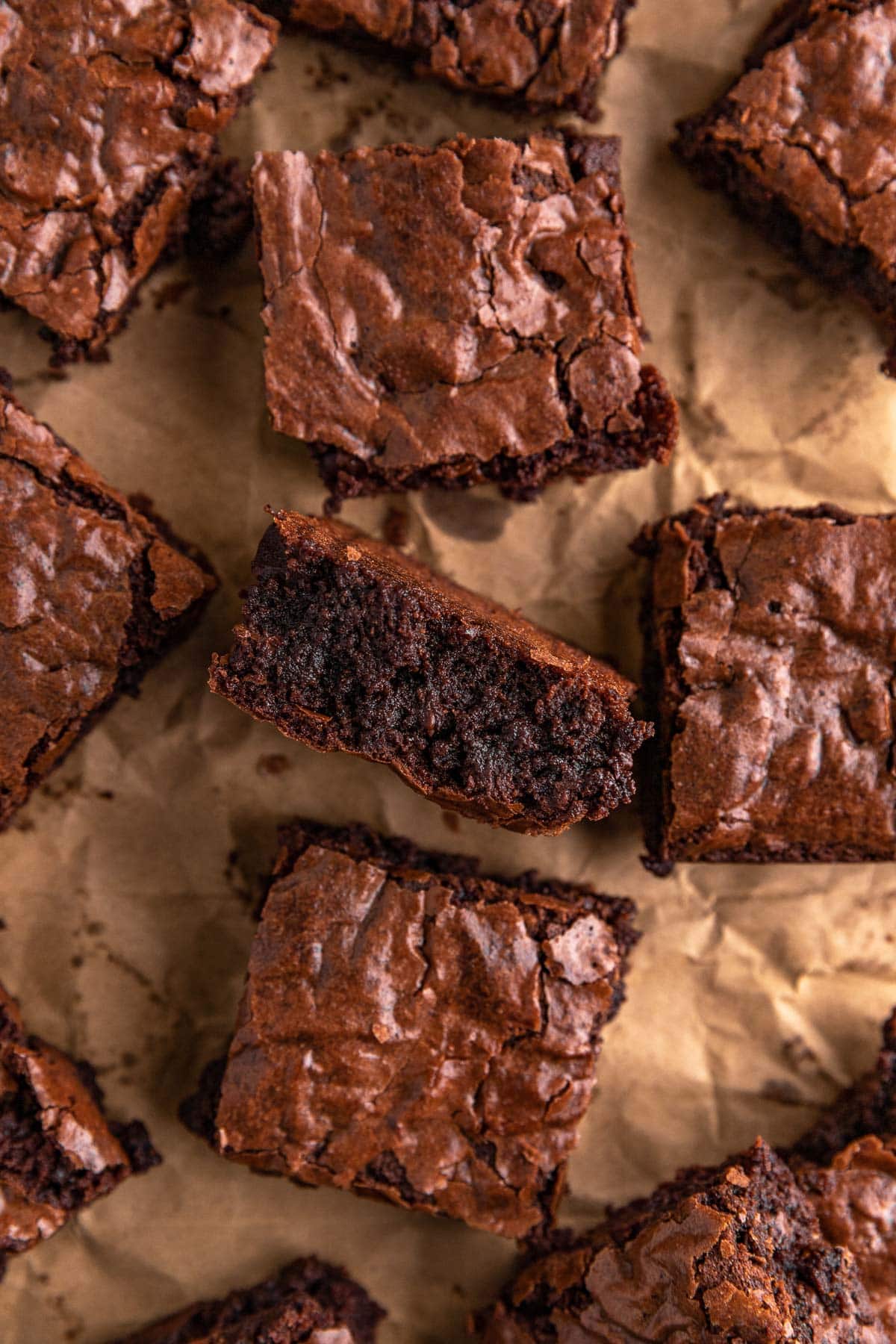 Can these brownies be made in advance?
Yes, these brownies can be made ahead of time. Once baked, allow the brownies to cool completely in the pan, then cover the pan with plastic wrap or foil and store at room temperature for up to 3 days. Alternatively, you can freeze the brownies for up to 3 months. To freeze, wrap the cooled brownies tightly in plastic wrap and then place in a freezer-safe container. Thaw the brownies at room temperature for a few hours before serving.
Variations
Mix-Ins: Play with flavors and textures with these brownies by adding things like toasted almonds or walnuts for crunch, dried strawberries, coconut flakes, or bananas for fruity sweetness, or even your favorite candy pieces like M&Ms or chopped Peanut Butter Cups.
Black Forest Cherry: Super Rich Dark Chocolate Brownies would be the perfect base to make brownies like another rich chocolate dessert, Black Forest Cake. Replace half the white sugar with brown sugar, then fold in 1 cup pitted and halved cherries. Bake as usual and serve with Whipped Cream and cherry on top.
Gluten-free: You can make this indulgent chocolate brownie recipe gluten-free by replacing the white flour with a gluten-free substitute. A pre-made all-purpose flour substitute will work best, but you can also use almond flour and add a 1 teaspoon baking powder so they rise properly.
Chocolate Topping: If the words "chocolate" and "enough" are never paired for you, why not go all out with chocolate toppings? Drizzle the tops with melted chocolate or spread a thick layer of fudgy Chocolate Ganache. Before the melted chocolate sets, add chocolate sprinkles or mini chocolate chips!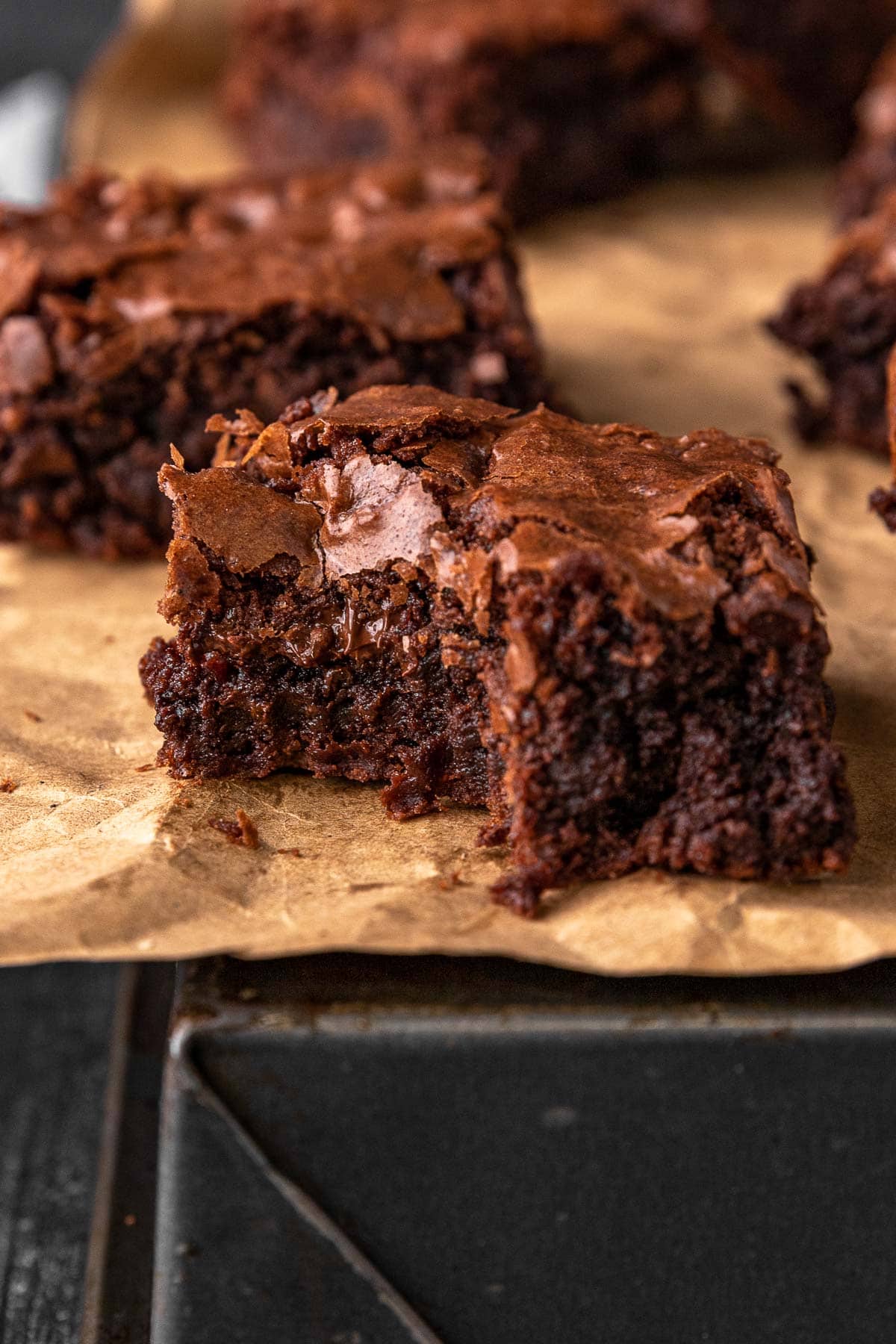 Ultra Rich Chocolate Desserts
How to Store
Serve: If you have leftover Fudgy Chocolate Brownies, cover them in plastic wrap or aluminum foil to keep at room temperature for up to 3 days.
Store: You can also keep these brownies in an airtight container in the fridge for up to 1 week. Bring them to room temperature or pop in the microwave in 20 second bursts to warm them before serving.
Freeze: Cut the brownies into chocolate bars and cool them completely before freezing. Store them in a sealed container with parchment paper between each layer. They'll stay good for up to 3 months.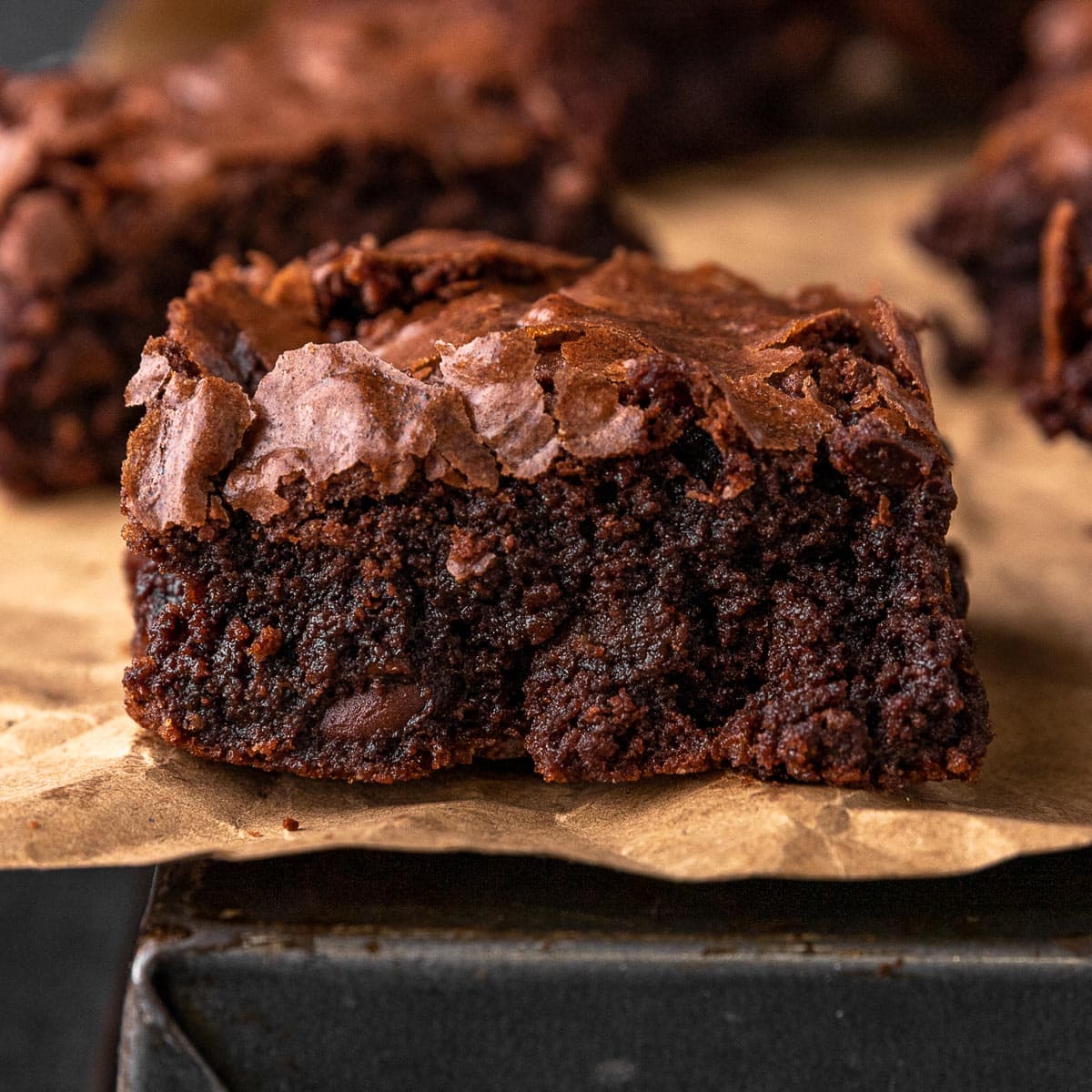 Ingredients
1

cup

unsalted butter

, melted

3

cups

sugar

1

tablespoon

vanilla extract

4

large

eggs

1 1/2

cups

flour

8

ounces

dark chocolate

, roughly chopped into chunks

1

cup

unsweetened cocoa powder

1

teaspoon

salt
Instructions
Preheat oven to 350 degrees and spray a 9×13″ baking dish with baking spray.

In a large bowl whisk together melted butter, sugar, vanilla extract, and eggs until smooth.

In a second bowl whisk together flour, cocoa powder, chocolate chips, and salt.

Add dry ingredients to wet ingredients until just combined.

Pour batter into baking dish and spread evenly.

Bake for

40-45 minutes

or until a toothpick comes out clean.
Nutrition
Calories:
387
kcal
|
Carbohydrates:
56
g
|
Protein:
5
g
|
Fat:
18
g
|
Saturated Fat:
11
g
|
Trans Fat:
1
g
|
Cholesterol:
78
mg
|
Sodium:
168
mg
|
Potassium:
181
mg
|
Fiber:
3
g
|
Sugar:
42
g
|
Vitamin A:
428
IU
|
Calcium:
27
mg
|
Iron:
2
mg