Flourless Brownies are chocolatey, gooey, and rich gluten-free treats. Made with cocoa powder, melted chocolate, butter, sugar, and eggs.
Flourless Brownies are the perfect way to enjoy a classic Dessert Recipe without any flour or gluten. They're just as delicious and fudgy as Regular Brownies, too! Just like Flourless Chocolate Cake, it's perfect for a gluten-free diet!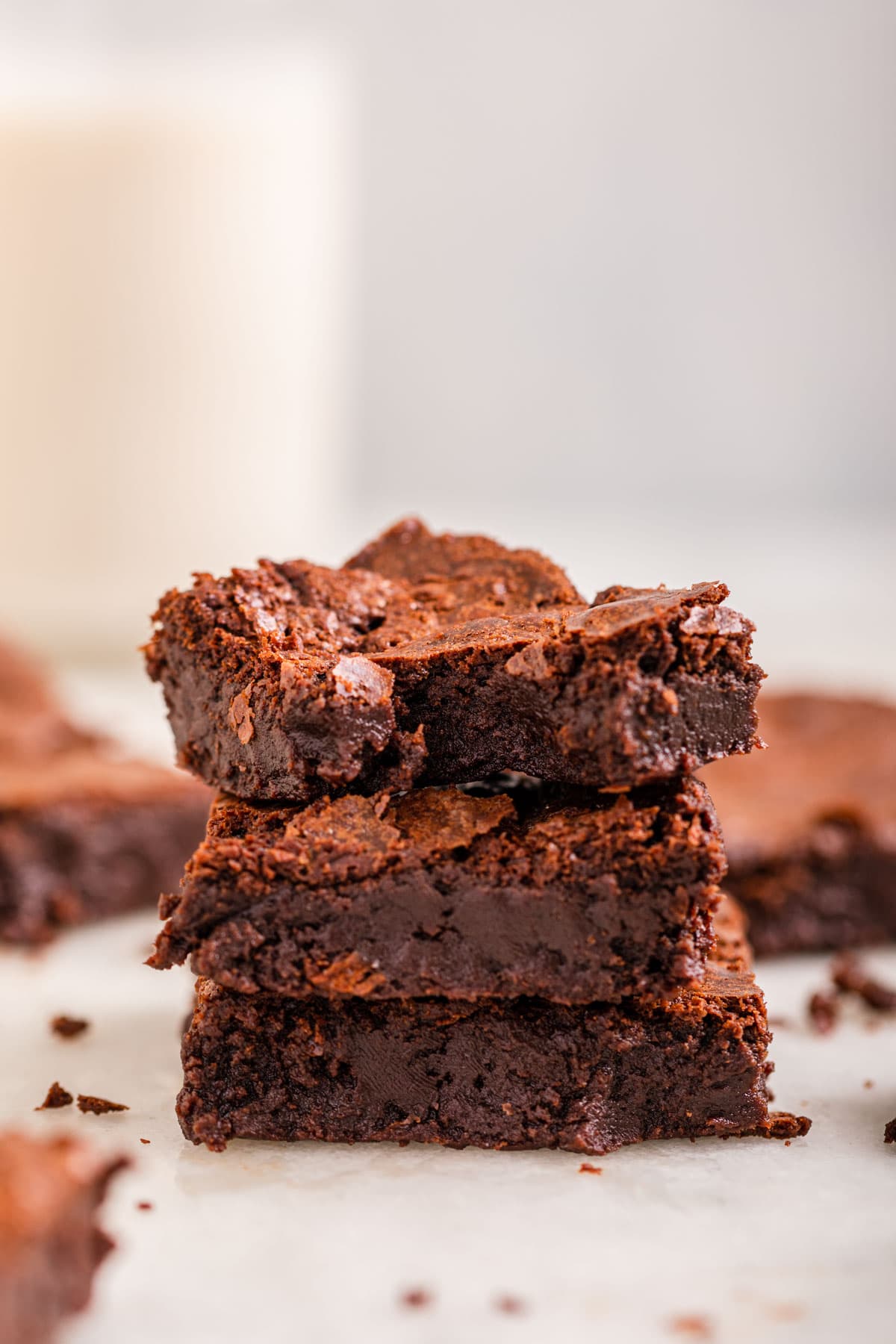 Making recipes gluten-free doesn't mean you have to sacrifice texture or taste, or go buy a bunch of expensive special ingredients like almond flour. Instead, these Gluten-Free Brownies have all the fudgy, chewy chocolatey sweetness as Double Chocolate Brownies, with half the regular ingredient list and a little less baking time. You'll be amazed at how these flour-free brownies bake with the same shiny, crackly top and dense chocolatey center. If you didn't tell people these were Flourless Brownies, they probably wouldn't even be able to tell!
This fudgy, gluten free Double Chocolate Brownies recipe is perfect to serve at a potluck or get-together. It's always great to make flourless recipes when you're serving a lot of people because you never know who will have dietary restrictions. These gluten-free brownies can be enjoyed by anyone with gluten intolerance, but they taste just as delicious as a classic chocolate brownie.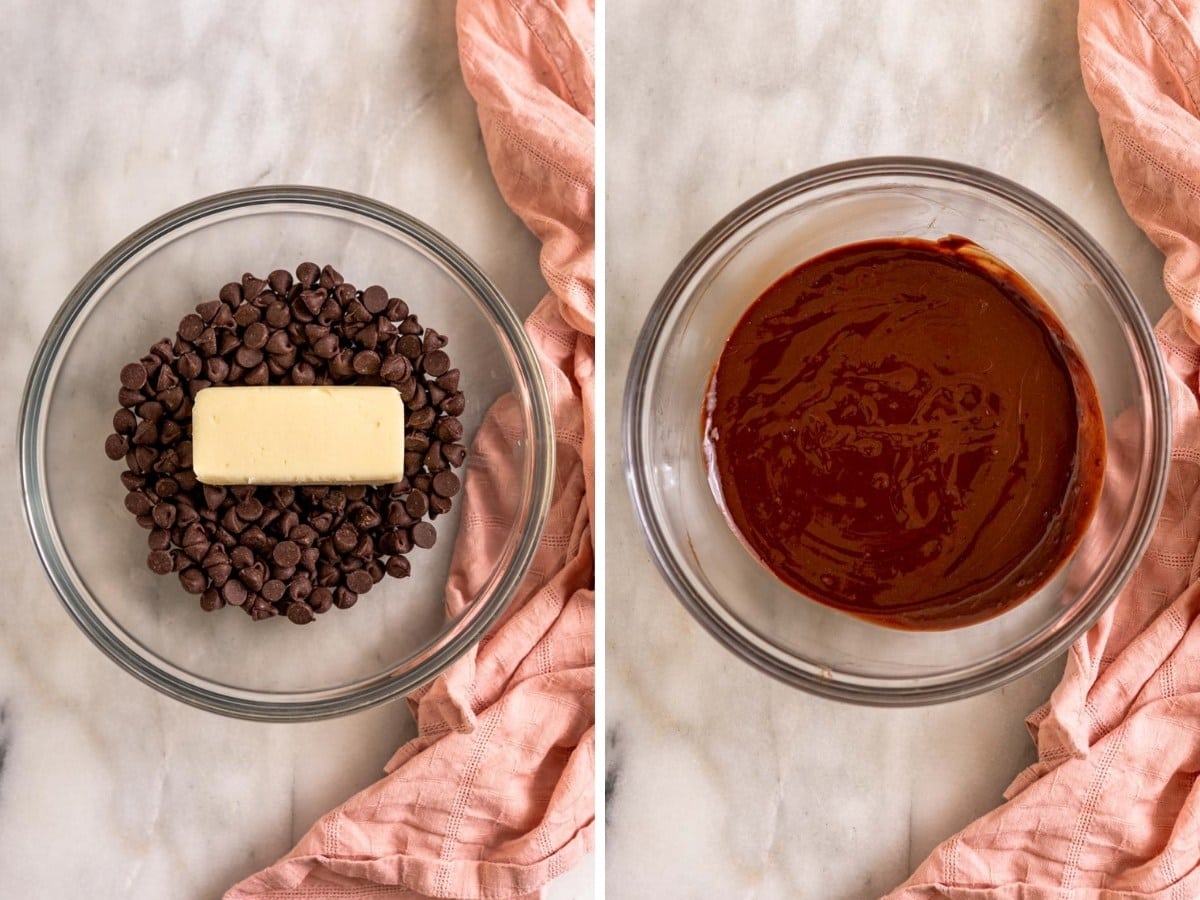 It's hard to think of a more easy yet decadent dessert than a brownie sundae, the rich chocolate flavor with the buttery vanilla flavor are a match made in sweets heaven. The chewy texture of a hot brownie and the cool, soft Vanilla Ice Cream melt together for the most amazing bite. Top everything with some fresh Whipped Cream and Chocolate Ganache for the most perfect brownie sundae that's 100% gluten-free!
What are Flourless Chocolate Brownies?
Flourless chocolate brownies are a type of brownie made without flour, resulting in a gluten-free dessert. They are made with cocoa powder, melted chocolate, butter, sugar, and eggs just like regular brownies, just with slightly different quantities. Since there is no flour in this brownie recipe, you also don't need any rising agents like baking soda. Flourless brownies are naturally gluten-free, as they do not contain any wheat flour. This makes them a good option for individuals who are sensitive to gluten or following a gluten-free diet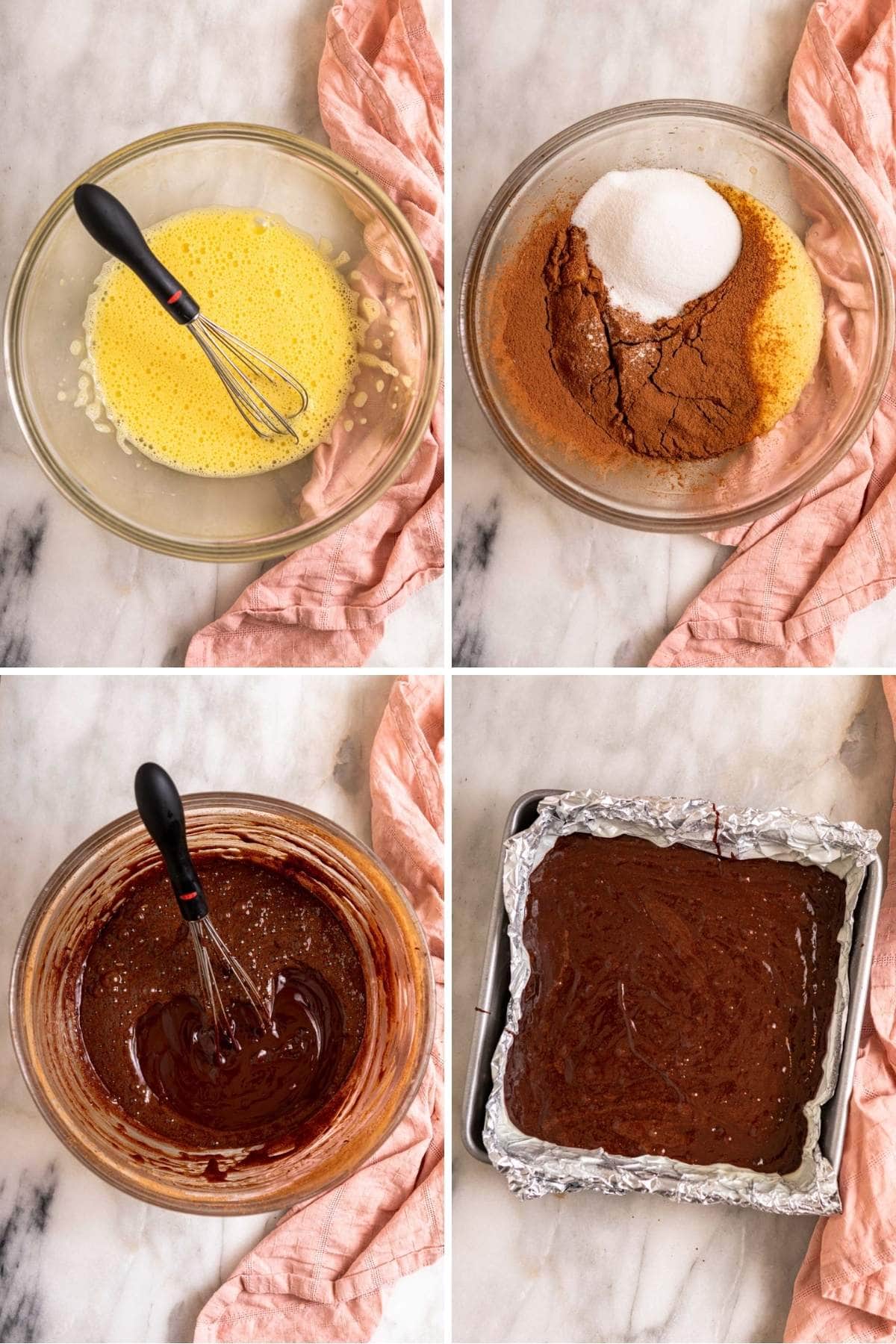 What is the difference between Flourless Brownies and Classic Brownies?
Flourless brownies are denser and fudgier than regular brownies, which tend to have a more cake-like texture. This is because the absence of flour allows the other ingredients, such as cocoa powder and melted chocolate, to take on a more prominent role in providing structure to the brownies. The flavor of flourless chocolate brownies is typically more intense and chocolatey than regular brownies. Since they are made without any flour to absorb the liquid, they tend to be more moist than brownie recipes with flour.
How to Make Flourless Brownies
Prep time: Preheat your oven and then use non-stick cooking spray to prep the baking dish so the Flourless Brownie batter doesn't bake to the pan.
Chocolate mixture: Add the butter and the chocolate chips to a microwave-safe bowl. Put the mixing bowl in the microwave and melt at 50% power in 30-second increments. Mix the melted chocolate in between microwaving sessions, and stop once it's all melted, combined, and glossy. Let it cool for 10 minutes.
Eggs: Crack the eggs into a mixing bowl and whisk them together. Continue whipping until the eggs are combined and the color has lightened. You can use a handheld whisk or electric mixer.
Flourless Brownie Batter: Sift the cocoa powder, granulated sugar, and salt into the eggs. Mix the dry ingredients with the eggs until well combined. Finish the brownie batter by pouring the melted chocolate in. Mix in the wet ingredients until smooth.
Bake: Pour the batter into your prepared baking dish, and use a spatula to spread it evenly. Bake in the preheated oven for 30-35 minutes. Test if the Grain-Free Brownies are done using a toothpick. They'll be done when a toothpick inserted in the middle comes out with moist crumbs on it. Wait for the brownies to cool completely before cutting them into squares.
More Flourless Dessert Recipes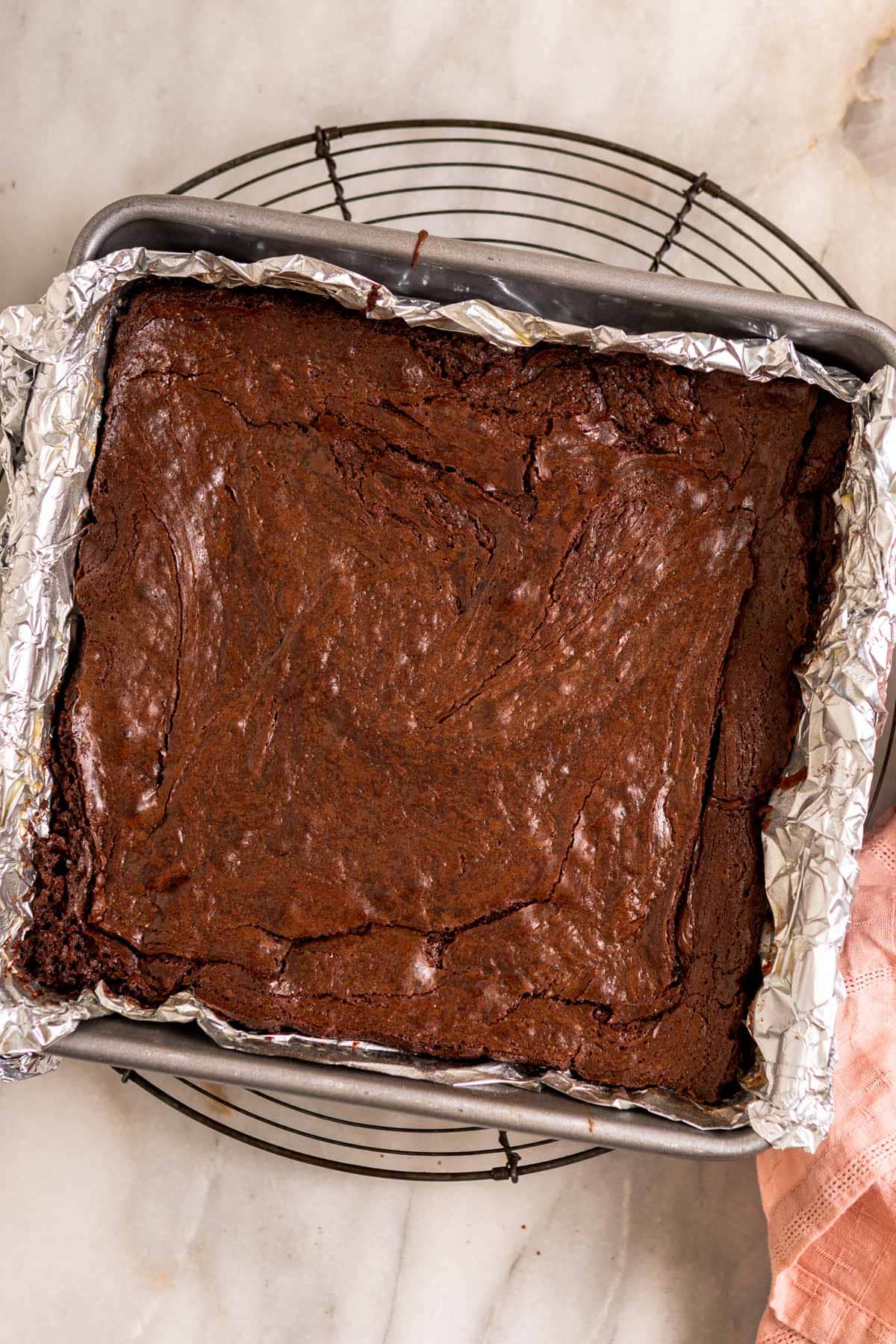 FAQs for Flourless Brownies
Why bake without flour?
For individuals who are sensitive to gluten or have celiac disease, baking without flour allows them to enjoy baked goods without experiencing the negative effects of gluten. Some people may choose to bake without flour as a way to reduce their intake of grains, instead opting for nut "flour" like almond flour which is actually just finely ground almonds.
How does this flourless brownie recipe work without flour?
Flourless chocolate brownies are made without flour, but still have a dense and fudgy texture thanks to the combination of cocoa powder, melted chocolate, butter, sugar, and eggs. The cocoa powder and melted chocolate provide structure and richness to the brownies, while the butter and eggs contribute moisture and help to bind the ingredients together. The sugar adds sweetness and helps to create a crackly top on the brownies.
Are flourless brownies gluten free?
Yes, flourless chocolate brownies are naturally gluten-free, as they do not contain any wheat flour. It's important to note that while flourless brownies are naturally gluten-free, it's still possible for them to come into contact with gluten during the production or preparation process. If you are following a strict gluten-free diet, it's always a good idea to check the labels of any ingredients you use and to be mindful of cross-contamination when preparing your food.
How do I know when these brownies are done baking?
To test if these brownies are done baking, insert a toothpick into the center of the pan just like you would regular brownies. If it comes out clean or with a few moist crumbs, the brownies are done. You can also try gently pressing the top of the brownies with your finger; they should bounce back slightly and feel set, but still soft and fudgy.

Create a free account to

Save Recipes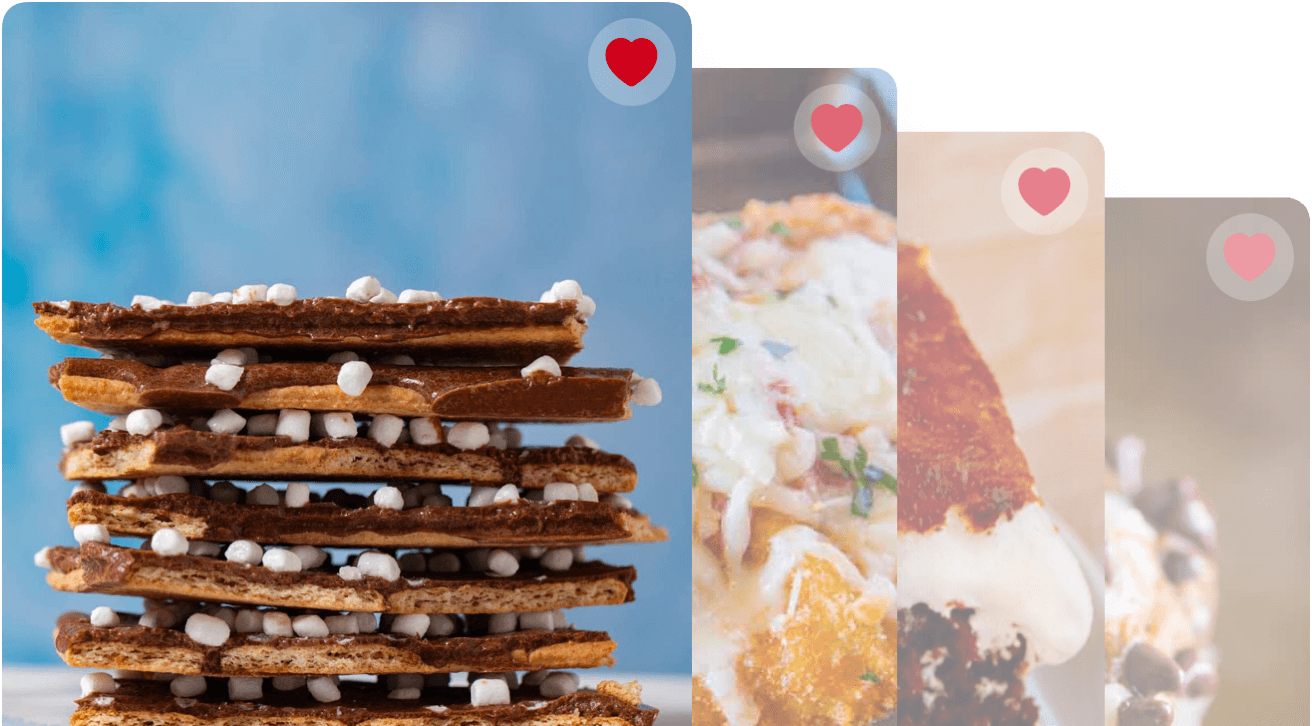 Key Ingredients
Unsalted Butter: The butter adds moisture and richness to the brownies, and helps to bind the ingredients together.
Chocolate Chips: The semi-sweet chocolate chips provide a rich, chocolatey flavor and contribute to the fudgy texture of the brownies. Cocoa butter solids in the chips bind with the butter and eggs to give the brownies structure.
Large Eggs: The eggs help to bind the ingredients together with the melted chocolate to provide structure to the brownies. They also contribute to the chewy texture and moistness.
Unsweetened Cocoa Powder: The unsweetened cocoa powder absorbs the moisture in place of the flour while giving these brownies a deeper chocolate flavor.
Sugar: Granulated sugar adds sweetness to the brownies and creates a crackly top on the brownies as they bake. You should use white sugar because the molasses in brown sugar might make these too soft.
Can Flourless Brownies be made ahead of time?
Yes, you can make and freeze this flourless chocolate brownies recipe for later. After the brownies have cooled completely, wrap them in plastic wrap and then aluminum foil, and place them in an airtight container. They will keep in the freezer for up to 3 months. To thaw, place the wrapped brownies in the refrigerator overnight, or unwrap and place on a plate at room temperature until thawed.
Variations
Vegan Brownies: To make this Flourless Brownie recipe vegan, you'll need oil and egg substitutes. Instead of butter try using virgin coconut oil. For the eggs try flax eggs or mashed banana.
Sweeteners: You can replace the regular granulated sugar in the recipe with brown sugar or coconut sugar. Coconut sugar is a good option if you're avoiding processed sugar. To make these Grain-Free Brownies also sugar-free, you can use a sugar substitute like stevia.
Peanut Butter Brownies: To make Peanut Butter Brownies add ½ cup of peanut butter over the top of the brownies before baking. Add the peanut butter in clumps evenly over the top then use an offset knife to marble it.
Dark Chocolate Brownies: To make fudgy brownies with a dark chocolate flavor, use dark chocolate chips in place of semisweet, and replace the regular cocoa powder with Dutch-process cocoa powder.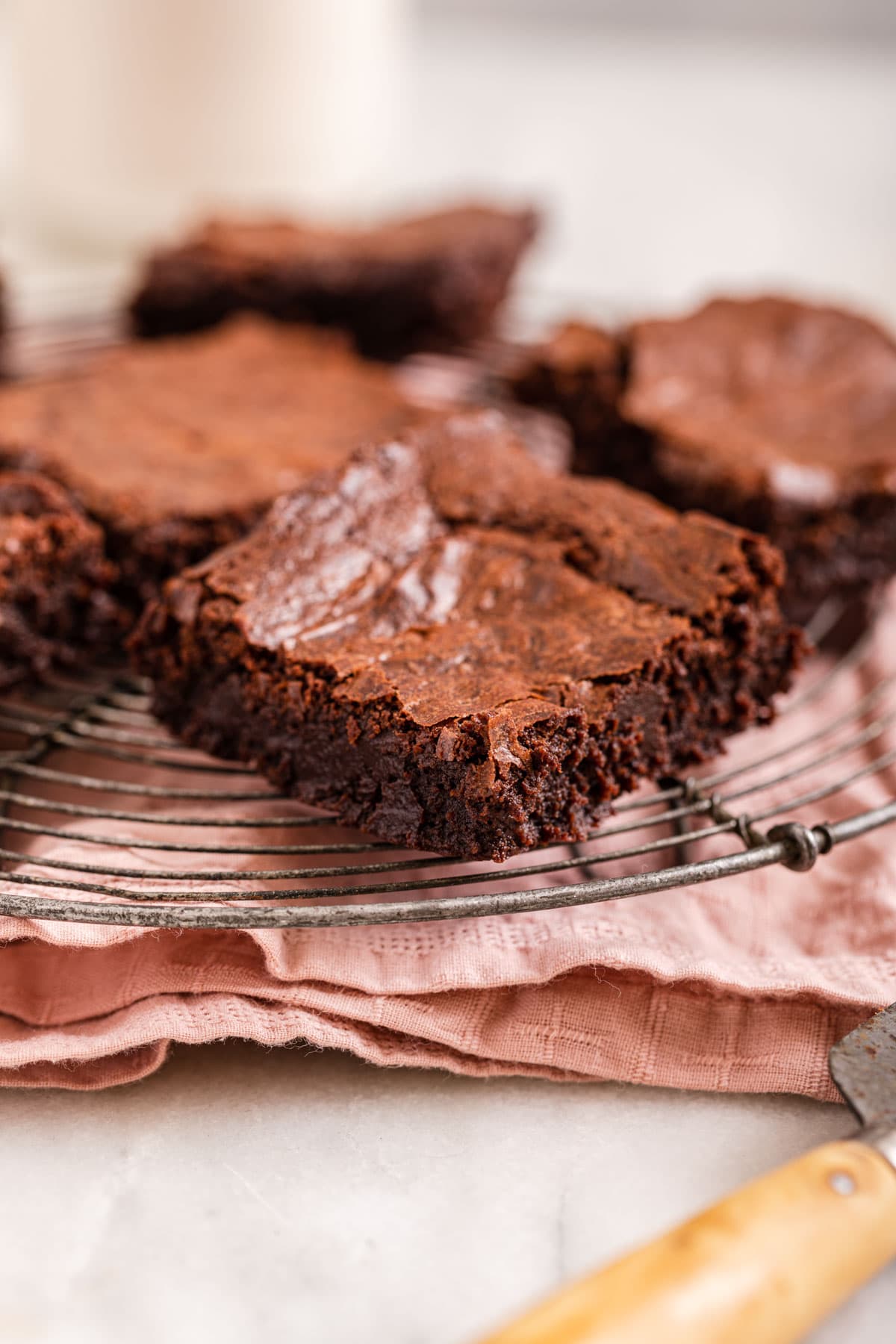 Super Rich Chocolate Desserts
HOW TO STORE FLOURLESS BROWNIES
Serve: To keep them at room temperature, let the brownies cool, then cover them in aluminum foil or plastic wrap. They'll be good at room temperature for up to 2 days.
Store: You can also store Flourless brownies in the fridge. You can cover the pan in tin foil, or slice the brownies and put them in an airtight container. If you put it in an airtight container or zip lock bag, separate the layers of brownies with parchment paper. They'll be good in the refrigerator for 3 days.
Freeze: You can also put the brownies in a freezer-friendly container, and freeze them for up to 3 months.


Ingredients
1/2

cup

unsalted butter

1

cup

semisweet chocolate chips

3

large

eggs

, room temperature

1/2

cup

unsweetened cocoa powder

2/3

cup

sugar

1/4

teaspoon

salt
Instructions
Preheat oven to 325 degrees and spray 8×8 baking dish with baking spray

Add butter and chocolate chips to a microwave-safe bowl and microwave on 50% power in

30-second

increments until smooth and glossy when stirred.

In a large bowl, whisk the eggs for a full minute, until lightened in color.

Sift the cocoa powder into the bowl with the eggs and whisk with sugar and salt.

Pour melted chocolate into the bowl and whisk until smooth.

Pour into a baking dish, spread evenly, and bake for

30-35 minutes

.

Cool completely before slicing.
Nutrition
Calories:
223
kcal
|
Carbohydrates:
21
g
|
Protein:
3
g
|
Fat:
15
g
|
Saturated Fat:
9
g
|
Polyunsaturated Fat:
1
g
|
Monounsaturated Fat:
4
g
|
Trans Fat:
1
g
|
Cholesterol:
68
mg
|
Sodium:
70
mg
|
Potassium:
159
mg
|
Fiber:
3
g
|
Sugar:
17
g
|
Vitamin A:
311
IU
|
Calcium:
23
mg
|
Iron:
2
mg