Flourless Mocha Cake with Creme Anglaise is the best coffee and cream dessert that will leave your guests thinking it came from a bakery.
You'll love this fancy Chocolate Dessert so much, you might be inspired to try other popular favorites like Molten Chocolate Cake, Rich Chocolate Cupcakes, and Chocolate Cookies next.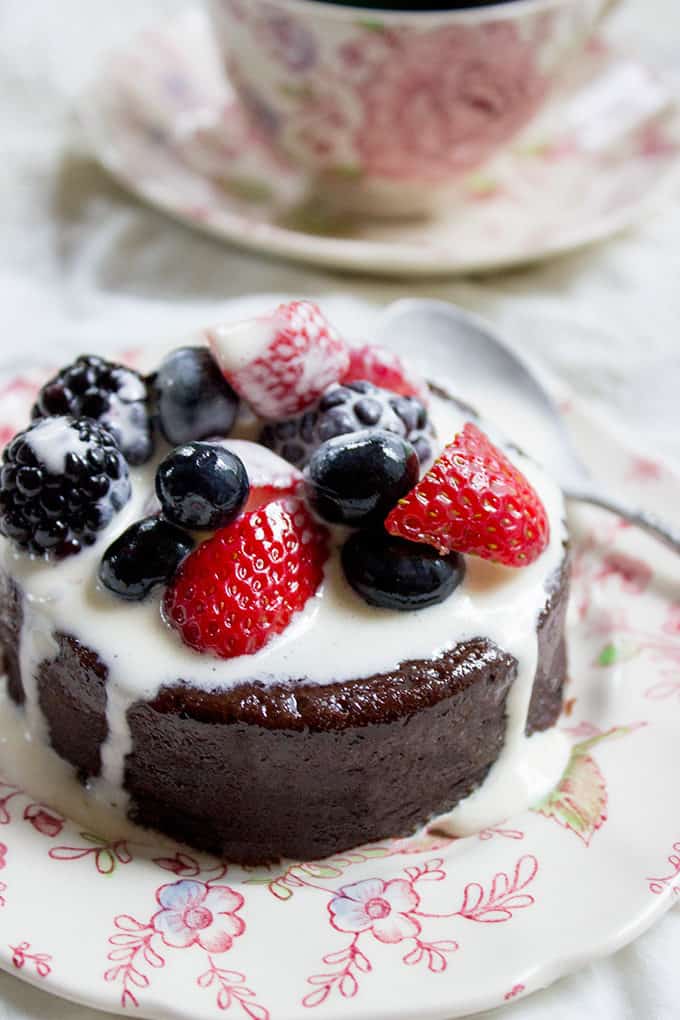 Flourless Mocha Cake with Creme Anglaise sounds like a dessert you'd order at the end of a special meal out, but with just a few high quality ingredients, you'll be serving a gorgeous plated dessert worthy of a five star restaurant in just 30 minutes of active prep time and just over an hour in the oven.
This Flourless Mocha Cake recipe is based off our go-to Flourless Chocolate Cake recipe with the addition of good quality Madagascar Bourbon Pure Vanilla Extract and Pure Coffee Extract. Just a teaspoon of each really bring out the flavor in a rich, natural way.
Flourless Mocha Cake is made even better with the addition of the Creme Anglaise. Just a few ingredients and 20 minutes on the stovetop while your cake is baking, the dish will be ready to serve in just a couple of hours. A traditional Creme Anglaise uses a vanilla bean, but in this case we used Pure Vanilla Bean Paste. Once you use it in this recipe you'll want to try using it on everything!
This recipe also makes a terrific dessert for anyone who is on a gluten free diet! There are several flourless and naturally gluten free desserts on the site, such as Flourless Peanut Butter Cookies, Flourless Chocolate Chewy Cookies, and Butter Toffee.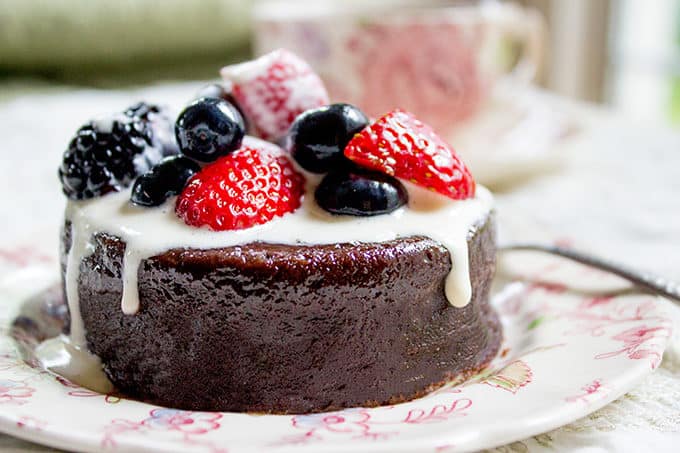 Create a free account to

Save Recipes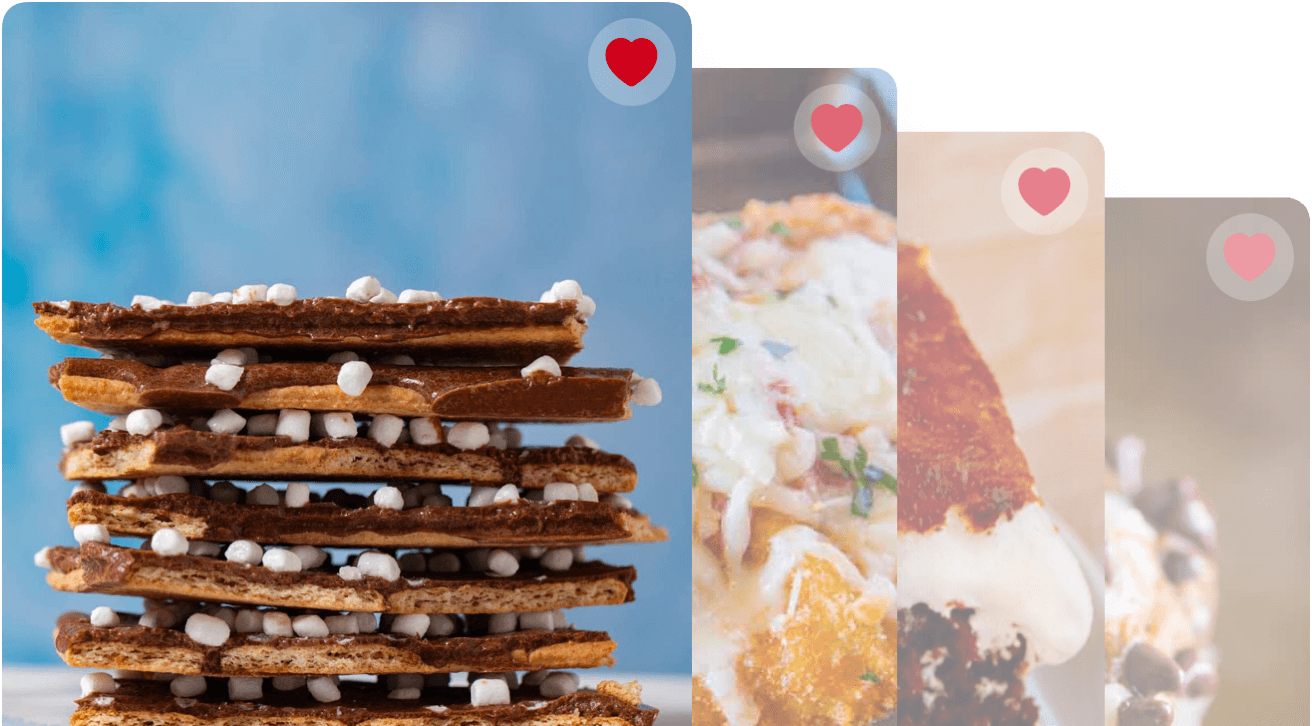 Frequently Asked Questions
How do you use Vanilla Bean Paste in recipes?
So much of the flavor from the vanilla bean is in the seeds. A small amount of the vanilla bean paste can go a long way and because of the thickness of the paste it won't thin out your recipes. Use vanilla bean paste anywhere you'd use vanilla extract in the exact same amount. It can be used in mixers for drinks, in place of extract for frosting (you'll end up with a beautiful speckled frosting without thinning it out), or with roasted duck or sweet potatoes for a more savory recipe.
What should I serve with Flourless Mocha Cake?
Fresh berries are a terrific choice with chocolate cake, as pictured in this recipe. You can also garnish with candied orange peel, fresh mint sprigs, or a dusting of cocoa or cinnamon.
Why do I need a water bath for Flourless Mocha Cake?
The steam in the oven helps keep the cake moist, and the water bath will ensure that your cake bakes evenly without drying out along the edges. It is a similar method to setting the filling in a cheesecake, which is also made without flour.
How to Store Flourless Mocha Cake with Creme Anglaise
Serve: Serve Flourless Mocha Cake with Creme Anglaise after it's cooled but still warm. Do not leave the Creme Anglaise at room temperature longer than 2 hours.
Store: Store Flourless Mocha Cake without topping, covered tightly at room temperature up to 2 days, or refrigerated up to 5 days. Make sure to store the Creme Anglaise separately in an airtight container in the refrigerator, up to 5 days.
Freeze: It is not recommended to freeze the Creme Anglaise, but the Flourless Cake can be frozen, wrapped tightly, up to 1 month. Defrost at room temperature and make a fresh batch of Creme Anglaise for serving.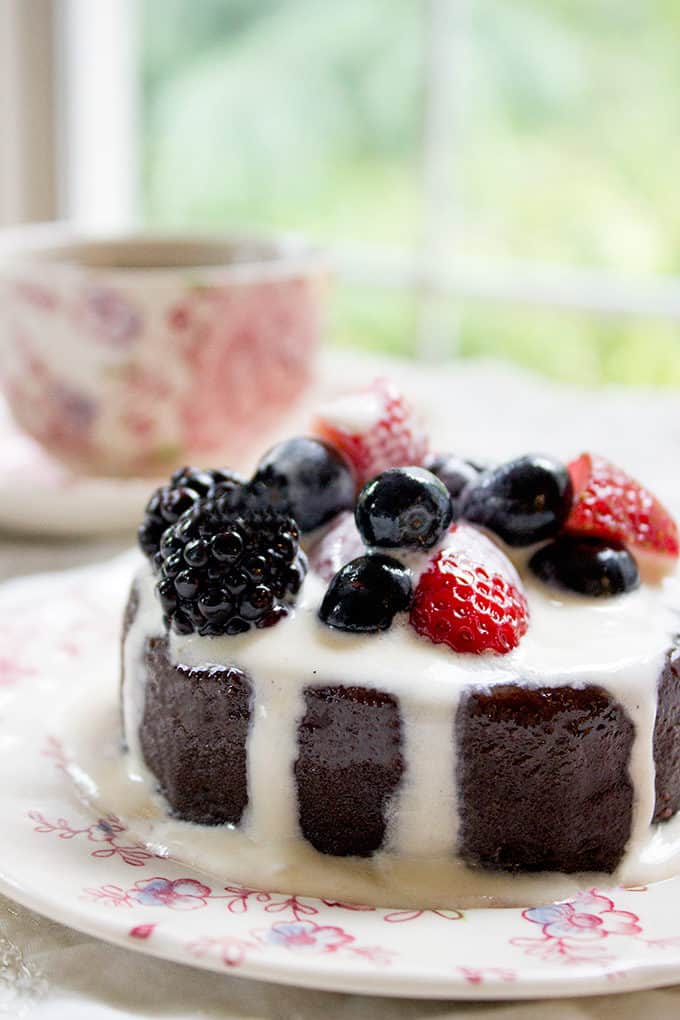 Ingredients
Flourless Mocha Cake:
12

ounces

dark chocolate

, semisweet, milk or bittersweet can be used too (whichever you prefer)

1

teaspoon

coffee extract

1

teaspoon

vanilla extract

2

sticks

butter

, cut into pieces

5

large

eggs

, room temperature

1 1/4

cups

sugar
Creme Anglaise:
2

cups

light cream

1

tablespoon

vanilla bean paste

1/3

cup

sugar

5

large

egg yolks
Instructions
To make the cake:
Preheat the oven to 350 degrees.

Add 1 inch of hot water to a pan with at least two inch sides that is larger than your springform pan (I use a 10-inch springform pan).

Add the chocolate and butter to a microwave safe bowl.

Microwave for

30 seconds

, in three intervals (wait a minute or so before each one) but don't mix.

Let sit for

one minute

, then stir the butter and chocolate until smooth.

In a larger second bowl, mix the eggs and sugar with a whisk.

Make sure the chocolate is not too hot or wait another minute or two.

Whisk in the chocolate into the egg mixture slowly until fully combined.

Sit your springform pan on top of a sheet of foil and press it up against the sides so there is a barrier between the pan and the water.

Add the batter, cover the top with foil and put it in your pan with water.

Bake in a water bath for

75 minutes

.

Remove from oven and from water bath.

Uncover and let cool completely.
To Make the Creme Anglaise:
In a large bowl, whisk the egg yolks and sugar until combined.

In a medium saucepan heat the light cream and and the vanilla bean paste until it is at a light simmer, just before boiling.

Turn the heat off the saucepan and ladle a ¼ cup of the cream mixture into the egg and sugar mixture, whisking quickly.

Working ¼ cup at a time keep whisking it in until you do that about 4 times, then slowly add in the rest while whisking.

You want to whisk quickly to avoid the eggs curdling.

Put the mixture back into the saucepan and heat slowly on medium-low until just below boiling (170-175 degrees).

Using a spoon, check for thickness by running your finger along the back. If the coating on the back of the spoon leaves a distinct line where your finger was, you're good to go.

To ensure the smoothest creme anglaise, pass it through a strainer.

Serve the cake with fresh berries and creme anglaise poured over.
Nutrition
Calories:
445
kcal
|
Carbohydrates:
41
g
|
Protein:
6
g
|
Fat:
28
g
|
Saturated Fat:
15
g
|
Cholesterol:
194
mg
|
Sodium:
50
mg
|
Potassium:
274
mg
|
Fiber:
3
g
|
Sugar:
34
g
|
Vitamin A:
620
IU
|
Vitamin C:
0.2
mg
|
Calcium:
68
mg
|
Iron:
3.9
mg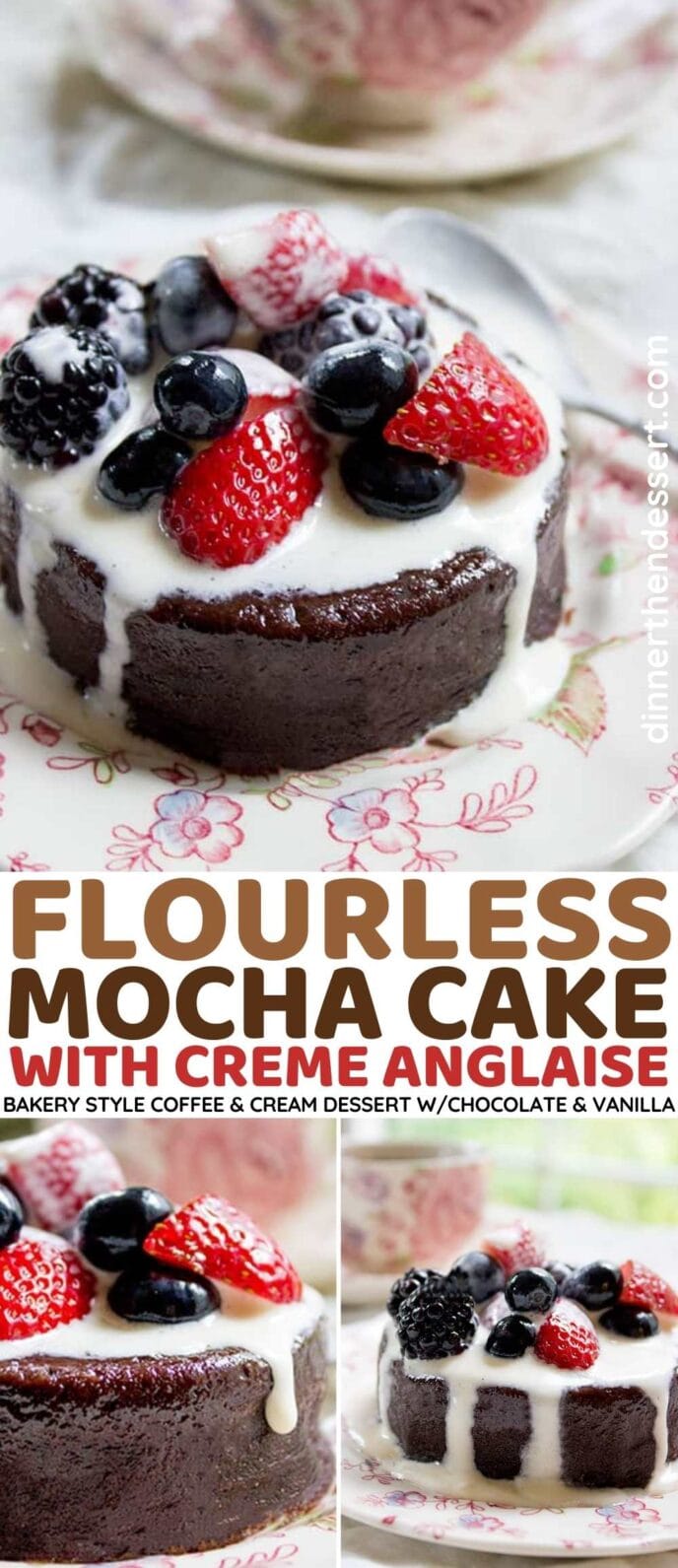 Photo used in a previous version of this post.