Flourless Chocolate Cake with just 4 ingredients and 5 minutes of prep time. Perfect for Passover, Easter or anytime you want the richest, easiest cake.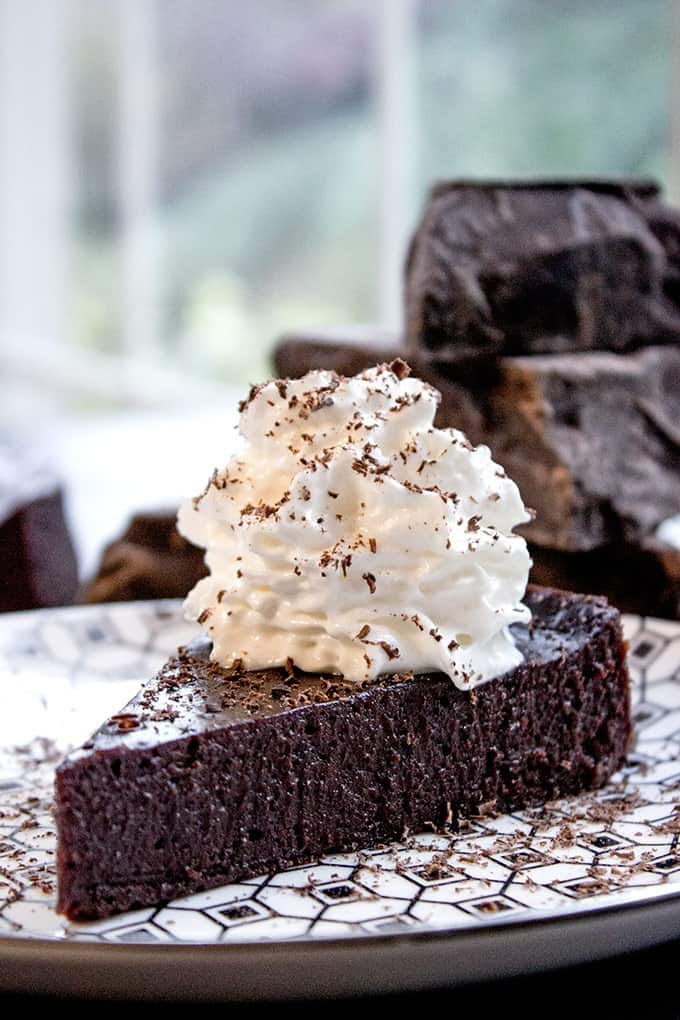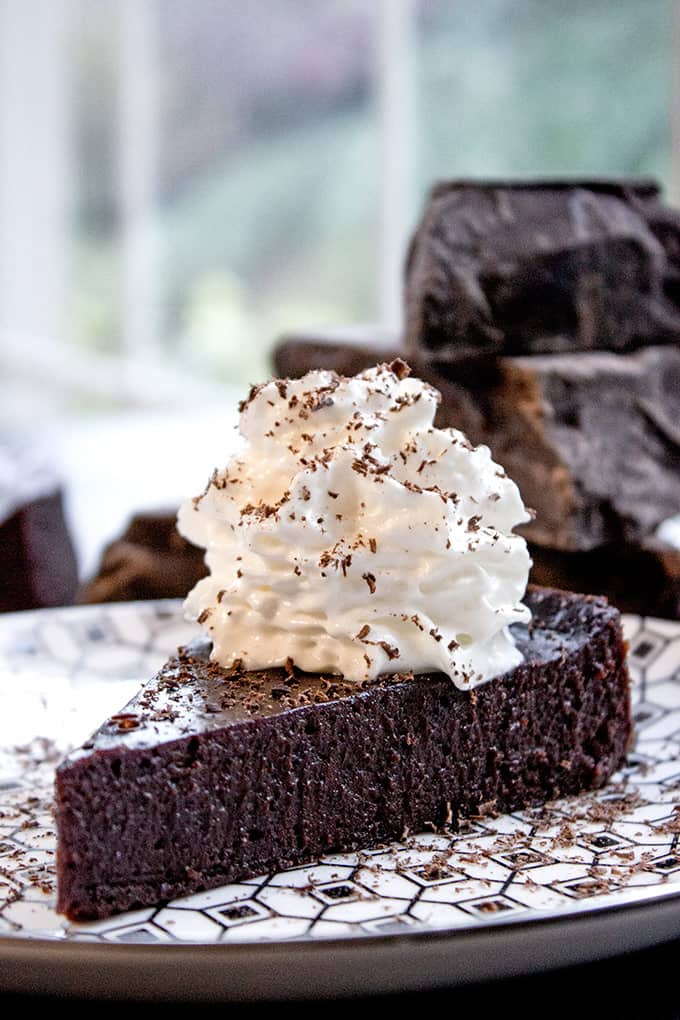 Flourless Chocolate Cake is enough of a description to sell me on this recipe, but the fact that it is only 4 ingredients and no stand mixer to clean makes it a total no brainer. This cake isn't like your normal cake from a box mix with icing, it is more like a cross between fudge and ganache with the texture of cheesecake.
With something so rich I find a small slice is usually plenty and the best part is that leftovers are just as good. This cake not only doesn't go stale but the silky texture of it is completely transformed in the fridge to a firm, dense texture that is just addicting.
Looking for something to kick it up a bit? Here are some optional topping ideas:
Chopped berries or your favorite fruit.
A tropical twist with toasted coconut flakes and chopped mango.
Fruit sauces like the strawberry sauce I made for my Banana Split Ice Cream Burgers.
Whipped cream with chocolate shavings.
Whipped coconut cream.
Ice cream or sorbet, like my 3 Ingredient Strawberry Sorbet.
Peanut butter! But put it in a little bowl and microwave it for 15-20 seconds so it is runny.
Caramel Sauce like my Salted Caramel Sauce.
For Passover: If you are enjoying a dairy meal, this cake will fit right in as is. If you are having a meat meal, you'll need to swap out margarine and non dairy chocolate for the butter and chocolate.
I'm also hoping to have a couple more Passover recipes for you all in the next few weeks. I haven't been well versed in Passover for most of my life but about five years ago I was given the title Balabusta by my husband's grandmother. At first I thought she was calling me a ball buster ? but it turned out to be a totally sweet compliment meaning I was a good homemaker and cook.
I made this recipe for her and she would always hold her fingers almost completely together and say "I'll take the tiniest slice" which was never where it ended so this recipe always makes me smile now and has become a family tradition.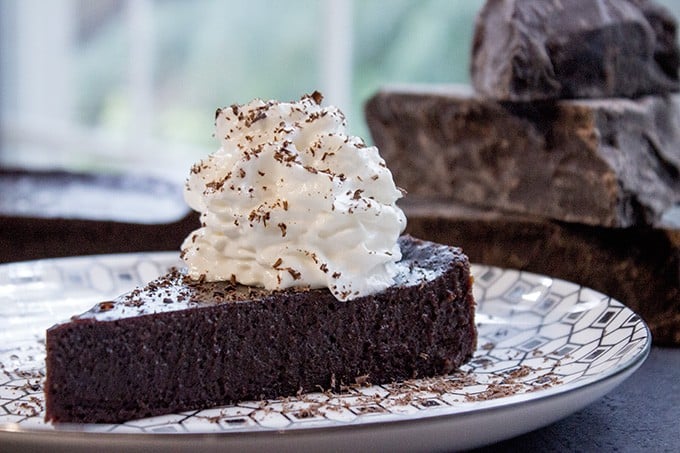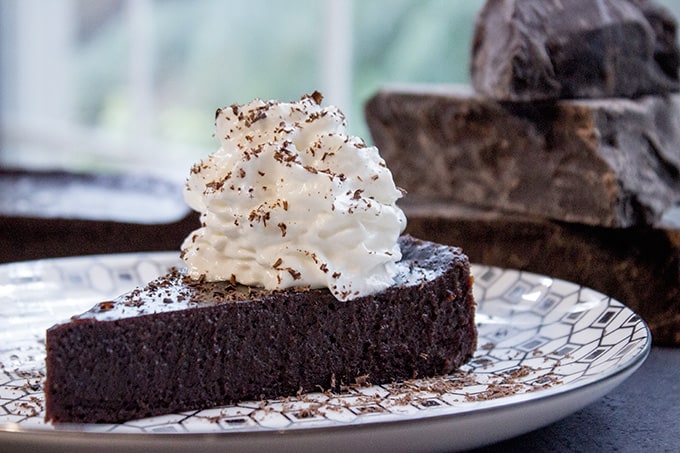 Recipe
Save

Recipe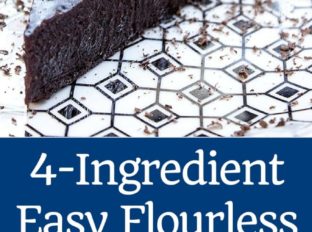 Flourless Chocolate Cake (4 ingredients!)
Yield:

16

servings

Course: Dessert
Cuisine: American
Author: Dinner, then Dessert
Flourless Chocolate Cake with just 4 ingredients and 5 minutes of prep time. Perfect for Passover, Easter or anytime you want the richest, easiest cake.
Ingredients
12

ounces

dark chocolate

, semisweet, milk or bittersweet can be used too (whichever you prefer)

2

sticks butter

, cut into pieces

5

large eggs

, room temperature

1 1/4

cups

sugar
Instructions
Note: click on times in the instructions to start a kitchen timer while cooking.
Pre-heat the oven to 350 degrees.

Add 1 inch of hot water to a pan with at least two inch sides that is larger than your springform pan. (I use a

10-inch springform pan

.)

Add the chocolate and butter to a microwave safe bowl.

Microwave for 30 seconds, in three intervals (wait a minute or so before each one) but don't mix.

Let sit for one minute, then stir the butter and chocolate until smooth.

In a larger second bowl, mix the eggs and sugar with a whisk.

Make sure the chocolate is not too hot or wait another minute or two.

Whisk in the chocolate into the egg mixture slowly until fully combined.

Sit your springform pan on top of a sheet of foil and press it up against the sides so there is a barrier between the pan and the water.

Add the batter, cover the top with foil and put it in your pan with water.

Bake in a water bath for 75 minutes.

Remove from oven and from water bath.

Uncover and let cool completely.
Nutrition Information
Yield: 16 servings, Amount per serving: calories
All images and text © for Dinner, then Dessert, Inc.
Save

Recipe