Homemade Peanut Butter Cups are a no-bake candy recipe with 3 ingredients. Creamy chocolate peanut butter cups made in a lined muffin pan for easy clean up!
Easy Candy Recipes like Salted Caramels and Chocolate Fudge are great for snacking, gifting, and baking in your favorite Desserts!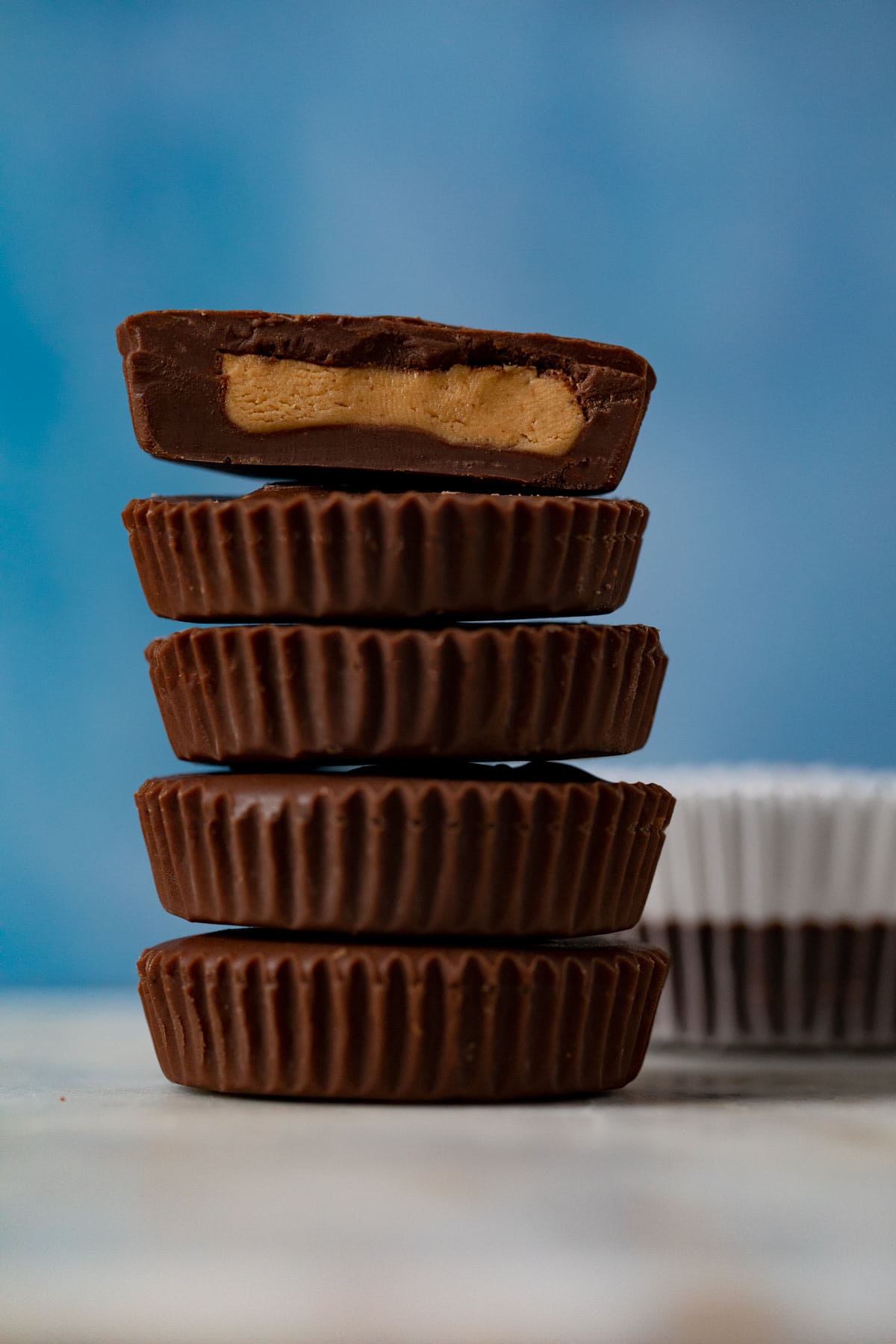 HOMEMADE PEANUT BUTTER CUPS
Homemade Reese's Peanut Butter Cups have the same creamy, sweet peanut butter layer and melty chocolate coating you love without all the extra oils or preservatives you get in store-bought candy. Making candy always tastes so much better, plus you get to control the ingredients so you can make your favorites exactly how you like them!
Ready in less than 20 minutes, this Peanut Butter Cups recipe is sure to be your go-to snack for every chocolate peanut butter craving. You can make regular-sized Chocolate Peanut Butter Cups or use a mini-muffin pan for bite-sized snacks for a party. Freeze them just like you would store-bought Reeses for chocolate peanut butter treats all year long.
With only 3 ingredients, these easy Chocolate Peanut Butter Cups are a budget friendly candy recipe. Unlike baking recipes, you can use any creamy peanut butter you like for this recipe, including all-natural peanut butter. The oils in all-natural peanut butter will make these peanut butter cups even more creamy. You can use any chocolate, like dark chocolate, or use dairy-free chocolate without adjustments for Vegan Peanut Butter Cups.
These Homemade Chocolate Peanut Butter Cups are perfect for edible holiday gifts! With this Peanut Butter Cup recipe and special holiday mold, you'll never have to wait all year for Reese's Peanut Butter Eggs and Christmas Trees again. (We all know the Reese's shapes are the best!) If you want to make fun halloween treats, use a pumpkin mold and our pumpkin peanut butter layer in the variations!
MORE NO BAKE CHOCOLATE DESSERTS:
Chocolate Peanut Butter Cups are a fun activity for kids to make, especially mixing and shaping the peanut butter filling. Since there's no eggs or flour, you don't have to worry if half the filling makes it into their belly and not the paper cups. Use these Chocolate Peanut Butter Cups in baked goods like Brownies instead of the store-bought candies. They also make a great Ice Cream topping too!
To make large batches of chocolate candy like Peanut Butter Cups, easily melt the chocolate in a slow cooker. It keeps the chocolate liquidy without burning. Add chocolate chips to mason jars and nestle in a slow cooker filled ⅓ full with water. Set your slow cooker on low and stir chocolate occasionally. In about an hour you will have a melted chocolate ready for all your chocolate dessert recipes!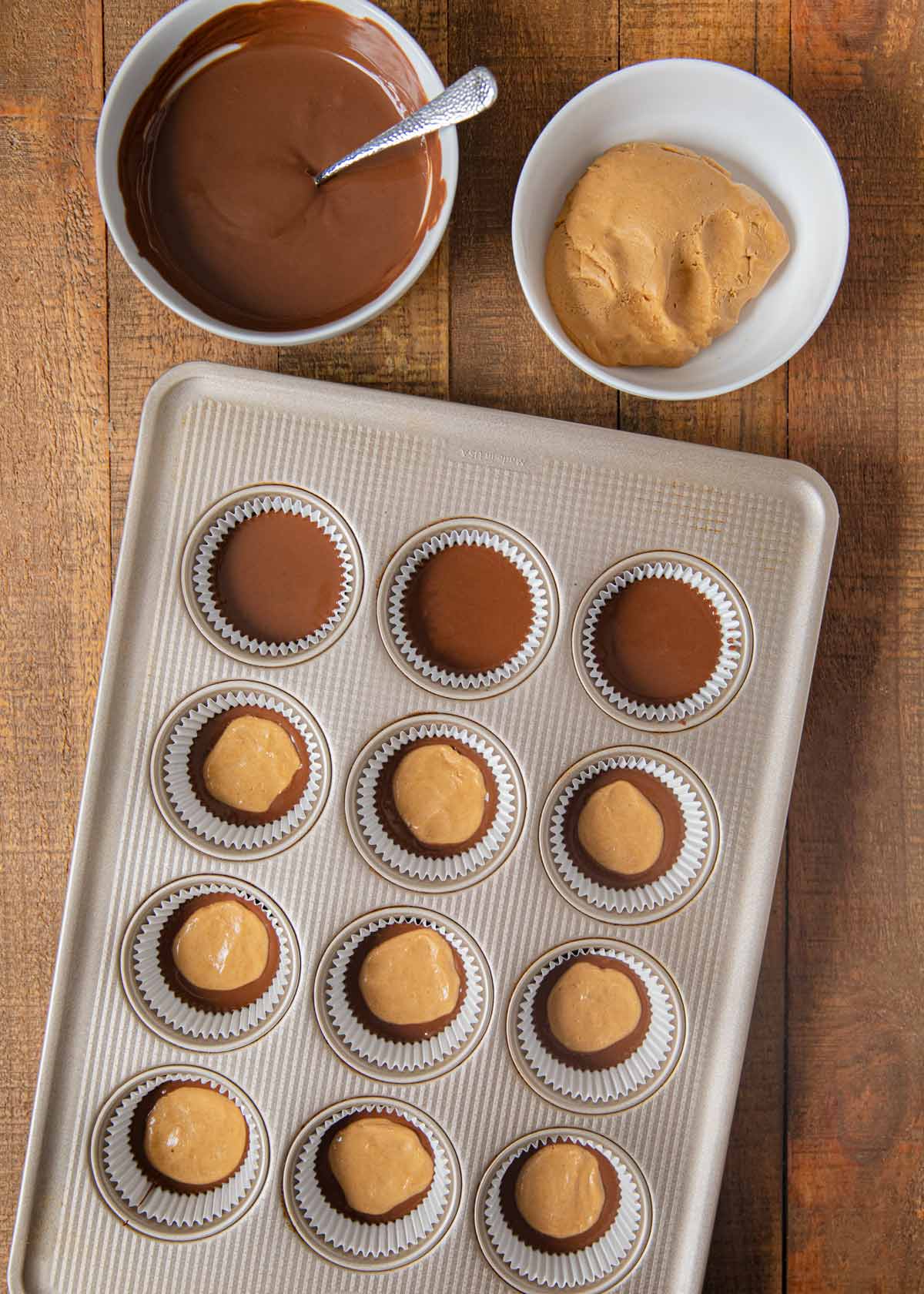 Create a free account to

Save Recipes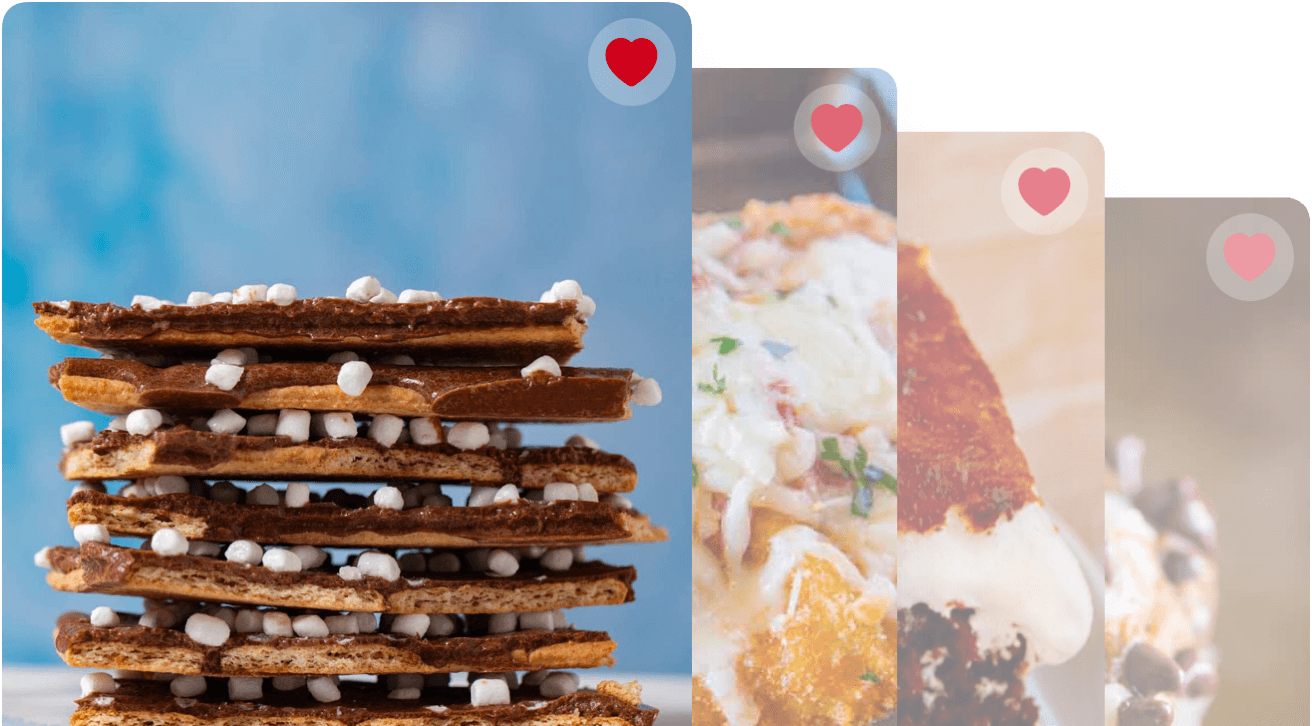 VARIATIONS ON CHOCOLATE PEANUT BUTTER CUPS
Chocolate: Make Dark Chocolate Peanut Butter Cups by swapping in dark chocolate chips for the semisweet chocolate. You can use white chocolate chips or milk chocolate chips, or add a ½ cup butterscotch chips, peanut butter chips, or caramel chips for extra flavor.
Peanut Butter: Instead of creamy peanut butter, you can use almond butter, other nut butters, or chunky peanut butter. Use sunflower butter or cookie butter for a nut-free peanut butter cup. Try half hazelnut spread and half peanut butter for a truly decadent peanut butter treat!
Pumpkin Filling: Add ⅓ cup Pumpkin Puree to the smooth peanut butter and swap the confectioner's sugar with ¼ cup maple syrup for a fun, fall-flavored peanut butter cup. Use sugar-free chocolate for a healthy peanut butter cup!
Mix-Ins: Fold in a couple heaping spoonfuls of mini Reeses Pieces, M&Ms, chopped peanuts, crushed cookie pieces, or mini chocolate chips to the peanut butter mixture.
Flavoring: You can a ½ teaspoon of flavoring like vanilla extract to the peanut butter filling or melted chocolate. Don't more than a teaspoon or your filling or chocolate will be too liquidy. Add orange extract and sea salt for a fancy peanut butter cup!
Cookies: Give your Peanut Butter Cups a crispy cookie layer with graham crackers, vanilla wafers, or Oreo cookies (just the cookie part), under the peanut butter layer.
Snowman Jars: Make easy Snowman gift jars for the holidays. Use white chocolate chips to make White Chocolate Peanut Butter Cups. Fill a mason jar with peanut butter cups. Glue 2 or 3 black felt "coal buttons" on the front of the jar and tie a flannel "scarf" around the rim of the lid. The easiest cute edible holiday gift!
MORE TASTY HOLIDAY SNACK RECIPES
HOW TO STORE CHOCOLATE PEANUT BUTTER CUPS
Serve: Keep Chocolate Peanut Butter Cups in the refrigerator for about 15-20 minutes until set. Once set, you can serve peanut butter cups at room temperature or chilled.
Store: Store Peanut Butter Cups in an airtight container and refrigerate for up to 1 month. You can keep at room temperature for about 2-3 weeks, depending on the air temperature.
Freeze: Once Homemade Peanut Butter Cups are set, you can freeze in a sealed freezer safe bag for up to 6 months. Eat frozen or soften at room temperature before enjoying!


Instructions
Place 12 cupcake liners in a muffin tin.

In a large mixing bowl, whisk together peanut butter and powdered sugar until well combined.

Place the chocolate in a microwave-safe bowl and microwave in

30-second

increments, stirring each time, until melted.

Put 1 tablespoon of the melted chocolate evenly over the bottom of each muffin cup.

Take 1 tablespoon of peanut butter mixture and form it into a disk slightly smaller than the cupcake liner.

Press the peanut butter disk gently into each cupcake liner on top of the chocolate. Don't smush.

Spoon an additional 1 tablespoon of chocolate over the peanut butter in each liner and smooth over the tops.

Place in the refrigerator for

15 minutes

to cool.
Nutrition
Calories:
270
kcal
|
Carbohydrates:
19
g
|
Protein:
7
g
|
Fat:
19
g
|
Saturated Fat:
7
g
|
Cholesterol:
1
mg
|
Sodium:
101
mg
|
Potassium:
267
mg
|
Fiber:
3
g
|
Sugar:
14
g
|
Vitamin A:
11
IU
|
Calcium:
23
mg
|
Iron:
2
mg