Rice Krispies Trail Mix Bars are the best kid-friendly snack. Easy, no-bake marshmallow cereal bars perfect for lunchboxes, picnics and snacking.
These snack bars are just as easy and gooey as regular Rice Krispies, but with added ingredients to provide sustained energy. These bars will be your go-to Snack Recipe for all your lunchboxes and outdoor adventures.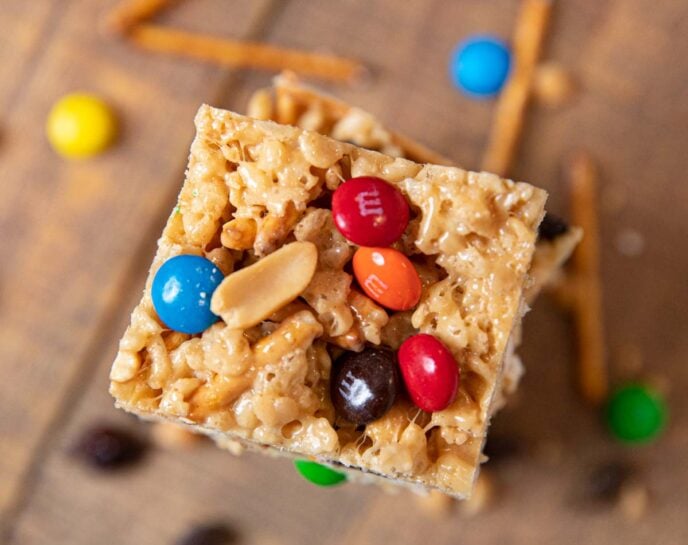 RICE KRISPIES TRAIL MIX BARS
Rice Krispies Trail Mix Bars are the perfect snack or dessert for anytime you are on-the-go. The sweet marshmallows and M&M's are paired with salty pretzels and peanuts for an amazing sweet and salty flavor combination. You can whip up a whole tray in just 20 minutes and have 12 servings of delicious snacks for your kids for the whole week. Your family will love this gooey, delicious snack!
Rice Krispies Trail Mix Bars are amazing year round, but they are a great summertime snack because there is no need to turn on the oven and heat up your kitchen. They are perfect to throw in your backpack for outdoor walks or hikes, and the peanuts and peanut butter provide protein to keep you full for longer.
These Rice Krispies Trail Mix Bars are an easy snack that kids can make. Your kids can melt the marshmallow mixture in the microwave if you don't want them to use the stovetop. There are so many ways to change up this recipe that kids can experiment with their own add-ins and make it their own!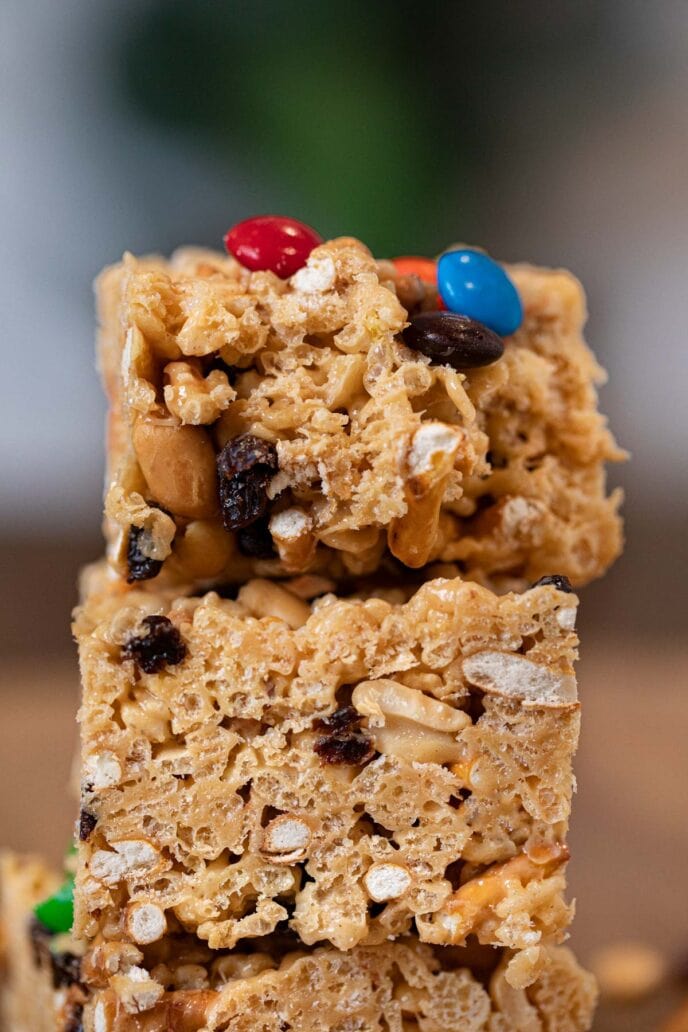 Rice Krispies Trail Mix bars are best at room temperature because refrigerating them makes them hard to bite into. If you do refrigerate them, make sure to leave them out on the counter until they get soft and chewy again before serving.
These Rice Krispies Trail Mix Bars are awesome on their own, but you can indulge your sweet tooth by adding a layer of Chocolate Ganache. Refrigerate the bars for 30 minutes before cutting them to allow the ganache to set.
MORE MARSHMALLOW CEREAL BAR RECIPES
Make them in the Microwave
To make Rice Krispies Trail Mix bars in the microwave, add your marshmallows and butter to a large, microwave safe bowl, and microwave on high for 2 minutes. Stir the butter and marshmallow mixture and put it in the microwave for another minute. Fold in cereal and trail mix until combined and press into a pan.

Create a free account to Save Recipes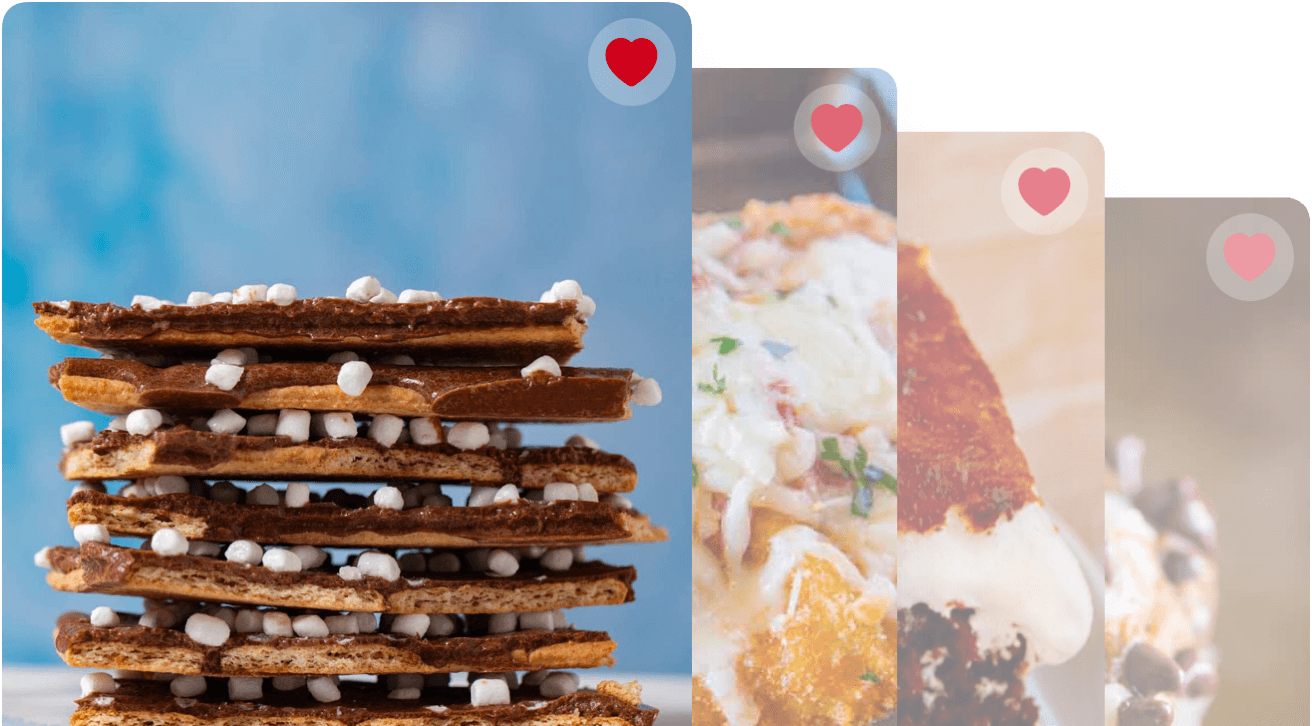 VARIATIONS ON RICE KRISPIES TRAIL MIX BARS
Chocolate chips: Drizzle with melted milk or dark chocolate or fold in ½ cup chocolate chips. Wait 5 minutes after adding in Rice Krispies so the chocolate chips don't melt.
Dried Fruit: Swap the raisins with dried cherries or cranberries, depending on your preference and what is in your pantry.
Nuts and Seeds: Add in your favorite nuts, such as sliced almonds or chopped cashews. You can also add in ½ cup of toasted pumpkin seeds.
Chocolate: Add cocoa powder into the melted butter and marshmallow mixture before stirring into the cereal.
Vanilla: Add ½ teaspoon of vanilla extract for added flavor.
Marshmallows: Fold in ½ cup of mini marshmallows 5 minutes after you add the Rice Krispies so that they don't melt. You can also try this recipe with Homemade Marshmallows.
MORE KID-FRIENDLY DESSERT RECIPES
HOW TO STORE RICE KRISPIES TRAIL MIX BARS
Serve: Rice Krispies Trail Mix Bars can be stored at room temperature in an airtight container for up to 4 days. Make sure to put parchment paper in between layers to prevent them from sticking.
Store: Refrigerate Rice Krispies Trail Mix Bars for up to a week in an airtight container. Serve them at room temperature.
Freeze: You can freeze Rice Krispies Trail Mix Bars for up to 6 weeks in an airtight container.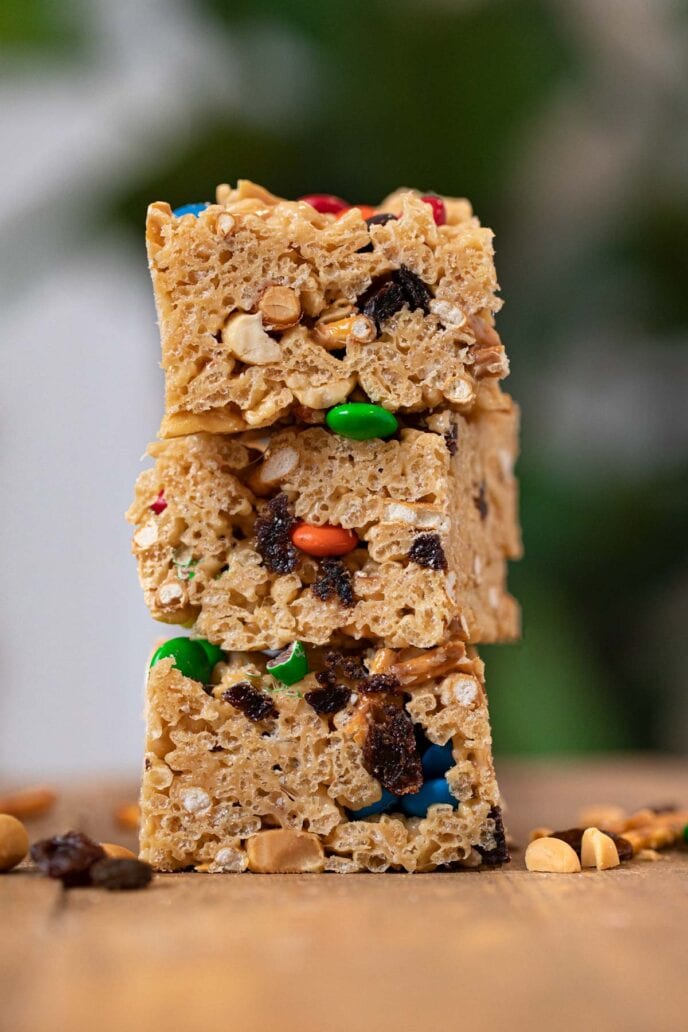 Instructions
Spray a 9x13 baking pan with cooking spray.

In a large pot gently melt and stir the butter and peanut butter on medium low heat until smooth and creamy.

Add in the marshmallows and stir until they just start to melt.

Add in the Rice Krispies, pretzels and raisins and stir to coat.

Just as it is starting to cool add in the M&Ms and gently press it into your baking pan.
Nutrition
Calories:
132
kcal
|
Carbohydrates:
19
g
|
Protein:
2
g
|
Fat:
5
g
|
Saturated Fat:
2
g
|
Cholesterol:
4
mg
|
Sodium:
97
mg
|
Potassium:
62
mg
|
Fiber:
1
g
|
Sugar:
10
g
|
Vitamin A:
302
IU
|
Vitamin C:
3
mg
|
Calcium:
12
mg
|
Iron:
2
mg