Cosmic Brownies have all the fudgy brownie goodness of the iconic treats complete with thick chocolate ganache and rainbow chip sprinkles!
Take a trip down memory lane in this copycat Brownie Recipe for the well-loved Little Debbie's lunch box snack! Try other brownie favorites like Fudge Brownies, the amazing Slutty Brownies, and the fun Oatmeal Monster Brownies!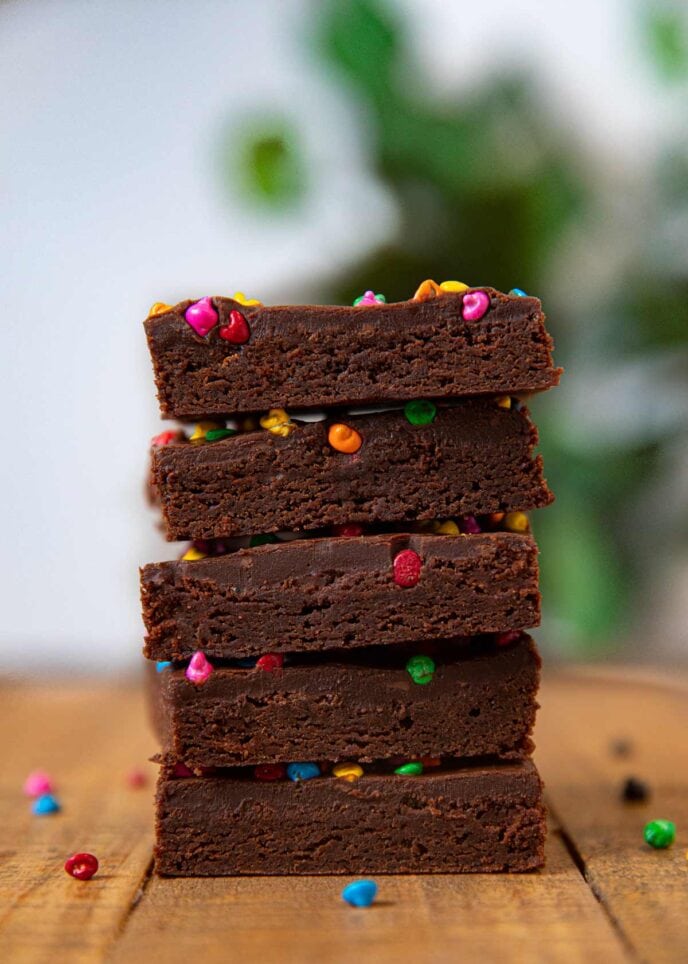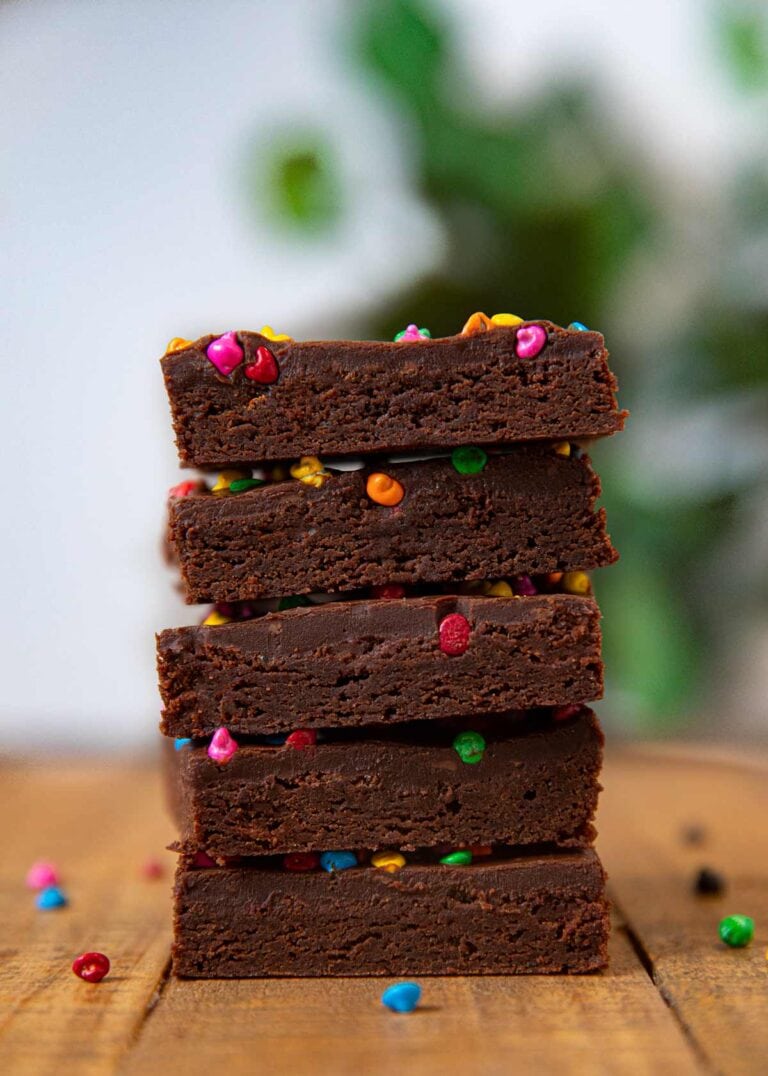 Relive your childhood with this delectable Cosmic Brownies recipe. This homemade version of the classic Little Debbie treat boasts a rich, fudgy brownie base, smooth chocolate ganache frosting, and colorful candy chips. The use of real ingredients instead of corn syrup and hydrogenated oils ensures a satisfying snack without any guilt. These brownies are easy to make, perfect for special occasions or an everyday treat, and sure to impress anyone with a sweet tooth.
Little Debbie Cosmic Brownies have been the go-to snack for road trips, lunch boxes, camping trips, and so much more for decades. What school-goer hasn't tried to swap a homemade cookie for one of these chocolatey, fun treats at least once? Kids and kids at heart can't resist the chewy, fudgy brownie center, thick chocolate frosting, and crunchy rainbow chips!
This recipe is simple with pure, wholesome ingredients. The steps are easy to follow, and the ingredients are readily available. The combination of chewy brownie, silky chocolate ganache, and vibrant candy-coated chips creates an irresistible harmony of textures and flavors. With this recipe, you can enjoy a homemade version of this classic lunchbox snack without compromising on taste or texture.
By ditching the processed additives found in store-bought brownies, you can feel good about indulging in this homemade treat. The fudgy brownie base and rich chocolate ganache are the perfect canvas for the colorful candy chips, adding a playful touch to this nostalgic dessert. For those who love this Cosmic Brownies recipe, consider trying the Caramel Stuffed Brownies for a slightly different take on a classic chocolate treat. The fudgy, dense texture will leave you craving more.
How to Make Cosmic Brownies
Creating this childhood favorite at home is a breeze! It is so delicious and deliciously easy, you may never buy a store-bought box of these iconic treats again. Check it out!
Step One: Preheat oven to 350°F and prepare a 9×13-inch baking pan. Combine cocoa powder, melted butter, sugars, eggs, and vanilla extract in a bowl.
Step Two: Sift flour, cornstarch, and salt into the wet mixture, whisking until just combined. Spread the brownie batter into the pan and bake for 16-18 minutes. Let cool completely.
Ganache:
Step Three: In a microwave-safe bowl, mix semisweet and milk chocolate chips with heavy cream. Microwave for 1 minute, then let sit for 2 minutes.
Step Four: Stir the chocolate mixture until smooth and glossy. Spread the ganache over the cooled brownies.
Step Five: Sprinkle rainbow candy-coated chips on the wet ganache and let it set before cutting and serving.
How to Get the Perfect Consistency for Cosmic Brownies
To get the perfect soft and chewy brownies and rich chocolate frosting, you just need to follow a couple of simple baking rules:
First: Make sure that you don't over-mix the brownie base when you combine wet and dry ingredients. Sifting the dry ingredients first ensures less mixing when you combine, so always sift or whisk dry ingredients in a separate bowl.
Second: If it's your first time (or fiftieth time) making a chocolate ganache, you want to be careful it doesn't seize up. Seizing up and becoming grainy happens when cold milk meets hot melted chocolate. Bring the heavy cream and chocolate up to the same heat together, never add cold heavy cream to melted chocolate
Third: When it comes to brownies you want to underbake them so they are nice and soft. Use the toothpick method and if it comes out with moist crumbs, your Cosmic Brownies are perfect. If the toothpick comes out completely clean, they are over-baked and will be less fudge-like.
Frequently Asked Questions
Can I use a different type of chocolate for the ganache?
Absolutely! You can use dark chocolate, milk chocolate, or a mix of both for a customized flavor.
Can I use a different type of candy for the topping?
Of course! Feel free to get creative with your favorite candies or even use sprinkles.
How should I store the brownies?
Store the brownies in an airtight container at room temperature for up to 3 days, or in the refrigerator for up to a week.
 
Can I freeze Cosmic Brownies?
Yes, you can freeze the brownies for up to 3 months. Wrap them individually in plastic wrap and store them in an airtight container or freezer bag.
 
What other frostings can I use?
You can skip the ganache and top your brownies with cream cheese frosting or rich chocolate frosting for a different flavor profile.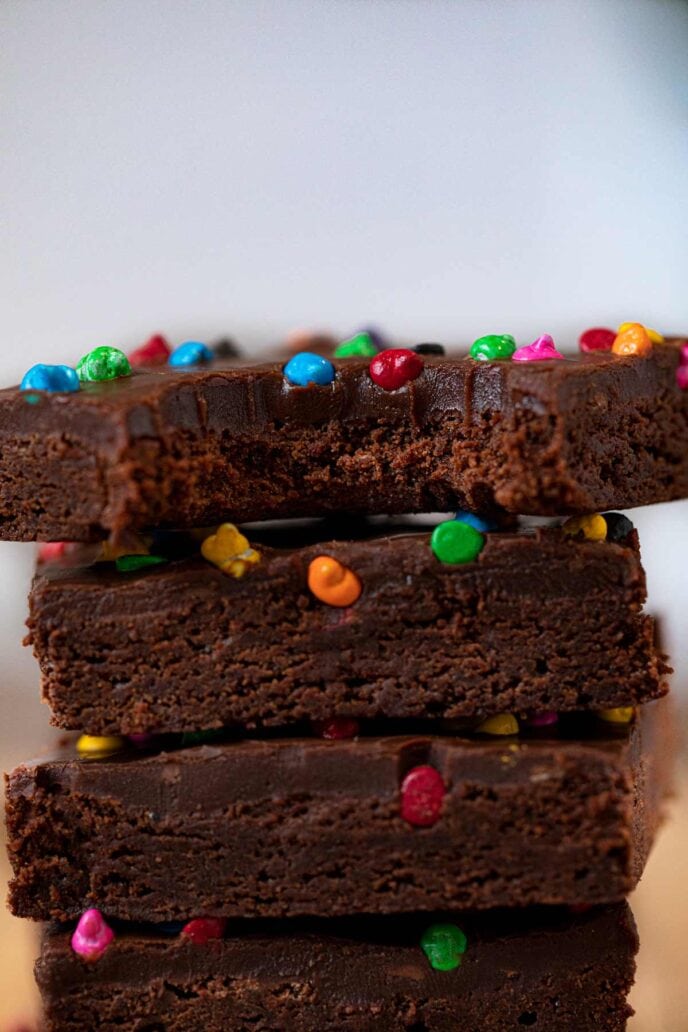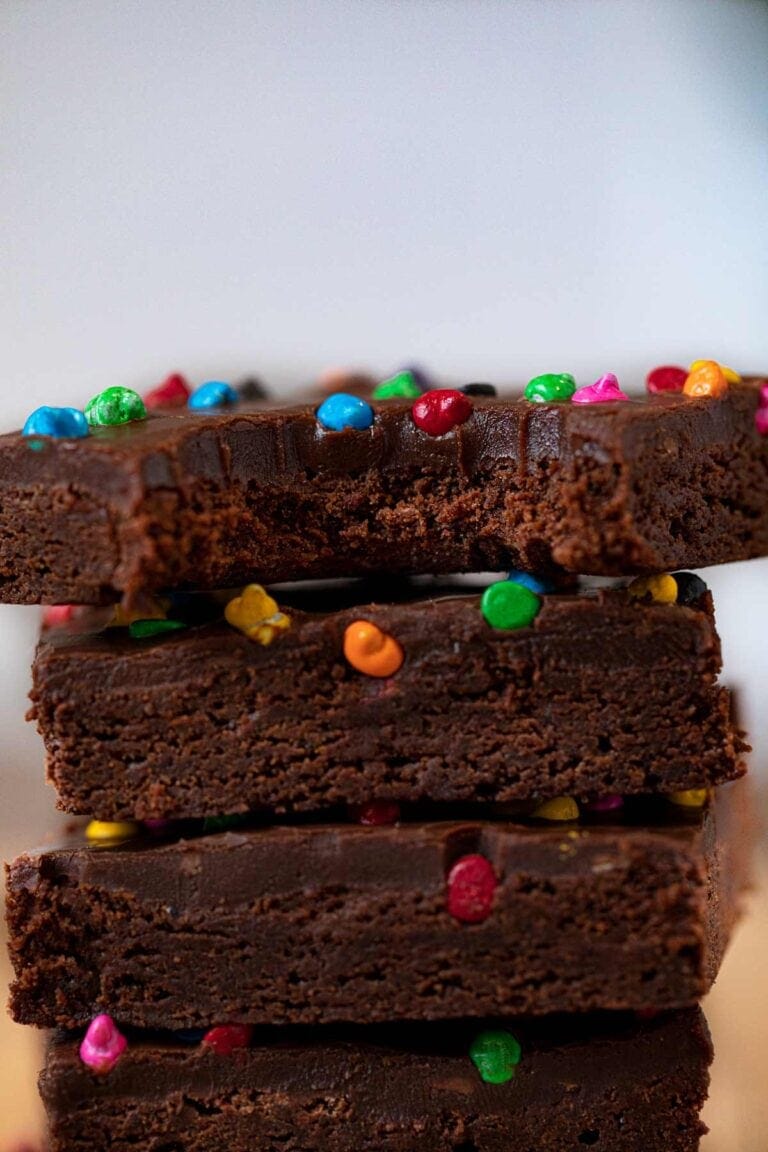 Create a free account to Save Recipes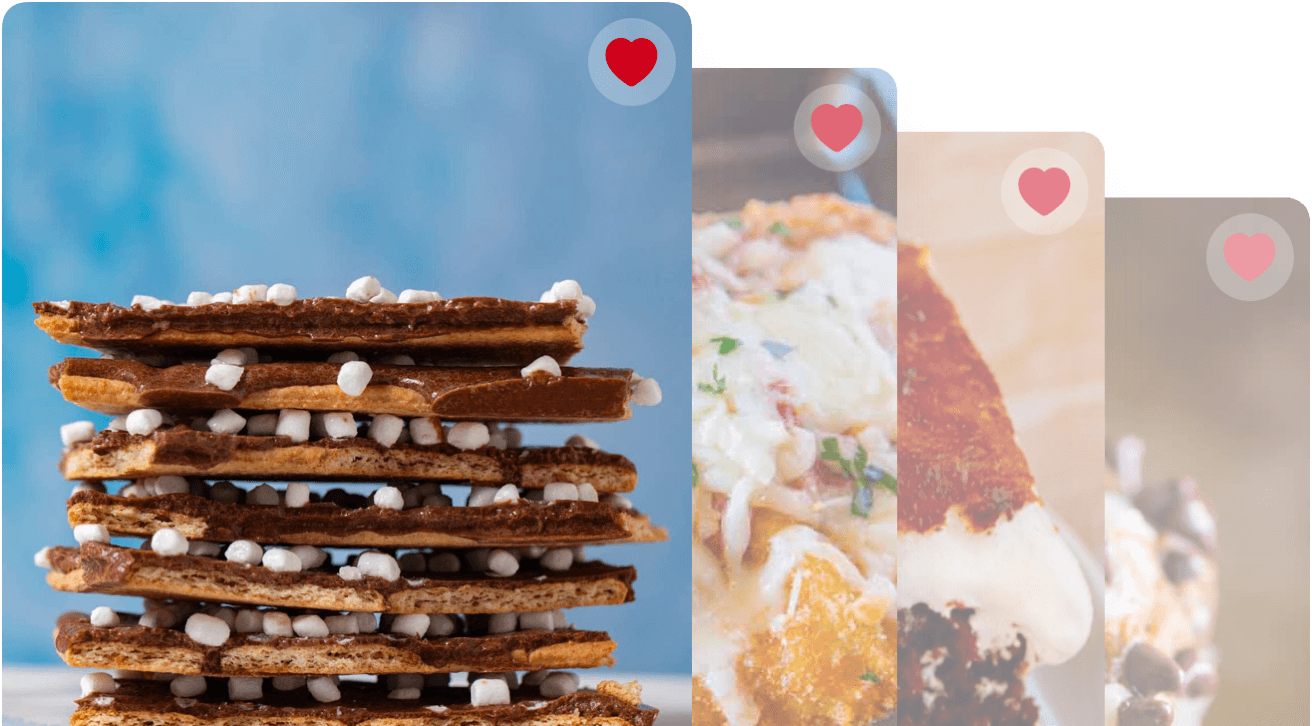 Key Ingredients in Cosmic Brownies
This recipe is easy to make and uses simple ingredients you can get from your local grocery store, if you don't already have them at home! Check it out!
Unsalted Butter: This ingredient provides a rich, creamy base for the brownies and helps create a tender, fudgy texture.
Cocoa Powder: The use of unsweetened cocoa powder ensures a deep, chocolatey flavor in the brownie base.
Brown Sugar: Brown sugar adds a subtle molasses flavor and extra moisture to the brownie, contributing to its chewiness.
Chocolate Chips: A combination of semisweet and milk chocolate chips creates a luxurious ganache frosting, perfect for topping the fudgy brownie base.
Candy-Coated Chips: These colorful chips add a fun, nostalgic touch and a delightful crunch to the Cosmic Brownies.
Can Cosmic Brownies Be Made Ahead of Time?
Yes, Cosmic Brownies can be made ahead of time, making them a convenient choice for parties or busy mornings getting ready for school. Prepare the brownies as directed, and once they have cooled completely, store them in an airtight container at room temperature or in the refrigerator. The ganache frosting can also be made ahead and stored separately in the refrigerator. When you're ready to serve, simply reheat the ganache and frost the brownies. Add the candy-coated chips just before serving for optimal crunch and presentation.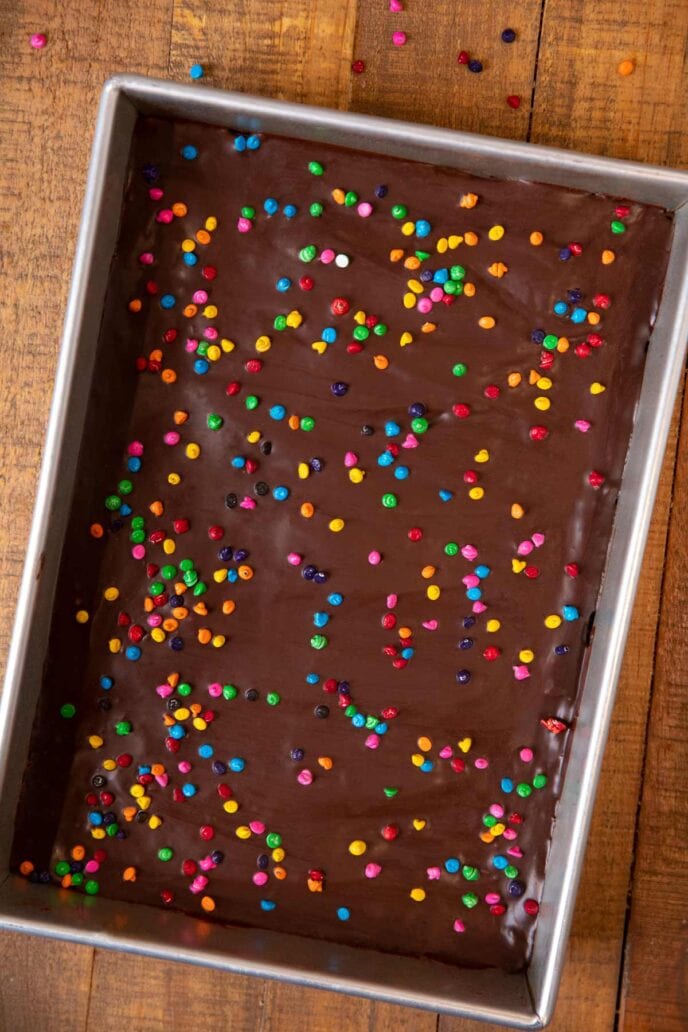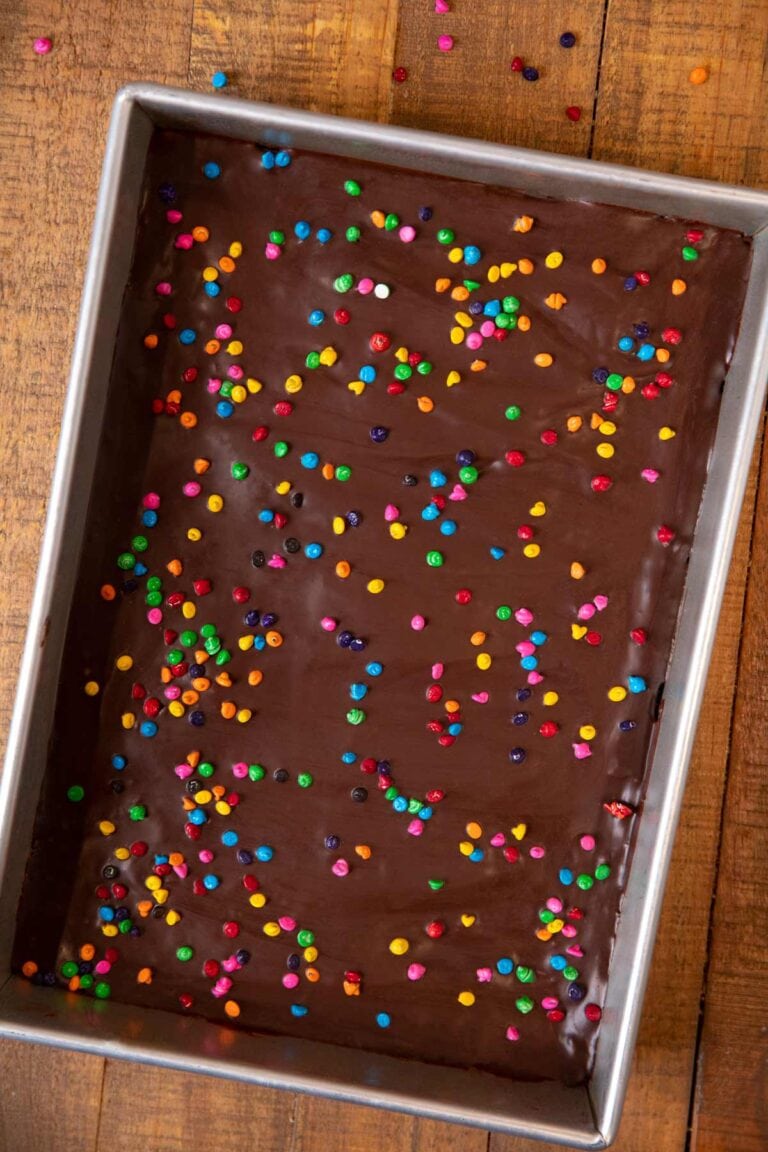 Substitutions in Cosmic Brownies
For those with dietary restrictions or specific preferences, there are several possible substitutions for this recipe:
Gluten-Free Flour: Replace the all-purpose flour with a gluten-free flour blend to make these brownies suitable for those with gluten sensitivity.
Dairy-Free: Substitute the butter with a dairy-free margarine or coconut oil, and use dairy-free chocolate chips and a dairy-free cream alternative for the ganache.
Egg-Free: Replace the eggs with a flax or chia egg substitute, or use a commercial egg replacer to make these brownies egg-free. You can also try applesauce instead of egg. Replace one egg with ¼ cup of applesauce. Note that the consistency might not be the same as the kind made with eggs, and that is normal.
Natural Sweeteners: For a more wholesome treat, consider substituting the sugar with coconut sugar or another natural sweetener of your choice.
Variations on Cosmic Brownies
Nuts: You can use English walnuts (aka regular walnuts) for a traditional fudge brownie, or try chopped almonds, peanuts, or pecans for a salty crunch in the sweet chocolate frosting.
Turtle Brownies: For a newer Little Debbie treat, bake the brownies in a muffin tin (or cut them into round disks) and top them with Salted Caramel Sauce and chopped peanuts instead of chocolate ganache.
Coffee: A couple of tablespoons of brewed coffee or a teaspoon of espresso powder will make these brownies even fudgier and chocolatier!
Mix-Ins: Add mix-ins you love to the brownie base like semi-sweet chocolate chips, mini marshmallows, peanut butter chips, chopped nuts, or Oreo cookie chunks.
Toppings: Instead of the rainbow chips, you can sprinkle the ganache with rainbow or chocolate sprinkles, mini chocolate chips, or mini M&Ms.
How to Serve Cosmic Brownies
You want to cool Cosmic Brownies completely before topping them with the Chocolate Ganache so they will set properly. Once the brownies are set, feel free to pop them in the microwave to make them melty fudge goodness perfect with Vanilla Ice Cream! You can also skip the ganache and top your brownies with Cream Cheese Frosting or Rich Chocolate Frosting instead.
How to Store Cosmic Brownies
Serve: Keep Cosmic Brownies covered with plastic wrap at room temperature for up to 4 days. If the room temperature is too hot and melting the frosting, refrigerate.
Store: You can keep Cosmic Brownies in the refrigerator in an airtight container for up to 1 week. Use parchment paper between layers so the frosting doesn't stick.
Freeze: Wrap Cosmic Brownies individually in wax paper before freezing for a quick go-to treat. Place brownies in a sealed container and freeze for up to 6 months.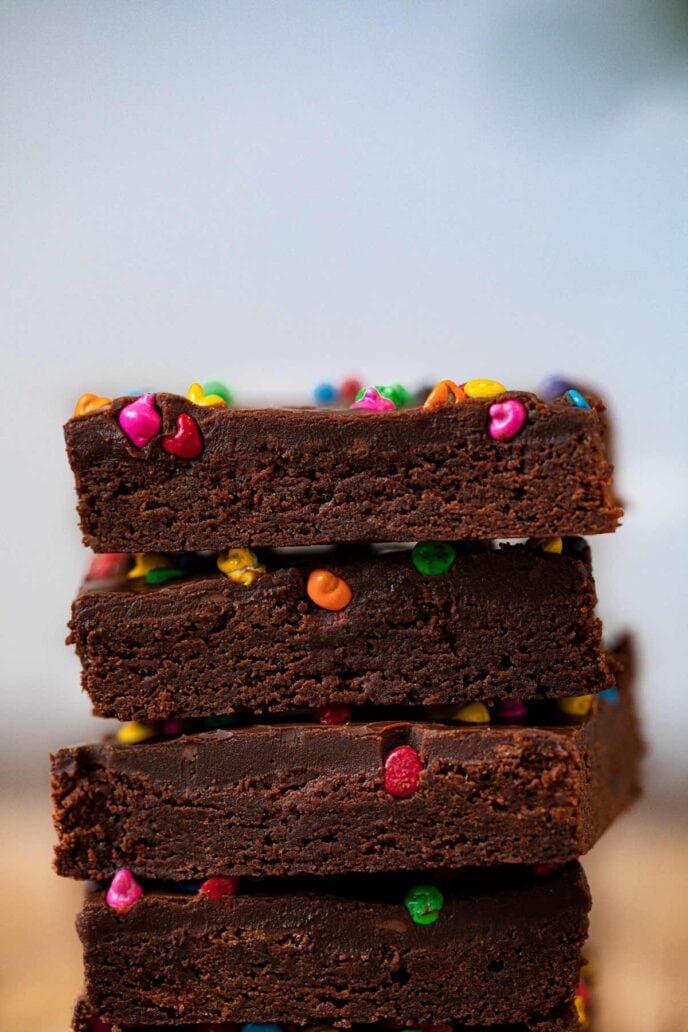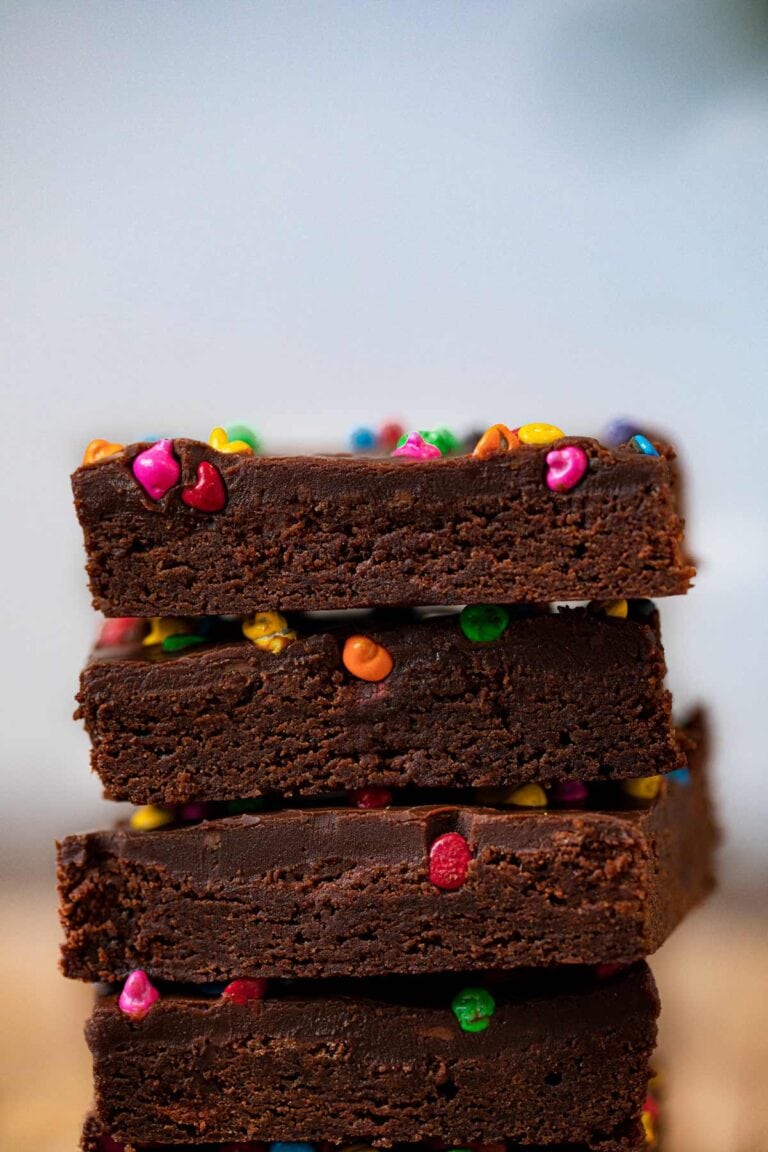 Ingredients
Fudge Brownies
12

tablespoons

unsalted butter

, melted

3/4

cup

unsweetened cocoa powder

1

cup

sugar

1/2

cup

brown sugar

, packed

2

teaspoons

vanilla extract

2

large

eggs

1 1/4

cup

flour

1

teaspoon

cornstarch

1/2

teaspoon

salt
Chocolate Ganache Frosting
1

cup

semisweet chocolate chips

1/2

cup

milk chocolate chips

1/2

cup

heavy cream

1/3

cup

candy coated chips

, rainbow
Instructions
Preheat oven to 350 degrees and spray a 9×13 baking pan with baking spray.

Whisk together cocoa powder and melted butter until smooth.

Whisk in sugar, brown sugar, eggs and vanilla.

Sift together flour, cornstarch and salt then whisk it into the wet ingredients until just combined.

Spread into baking pan and bake for

16-18 minutes

.
Chocolate Ganache
Add chocolate chips and heavy cream to a large microwave safe bowl and microwave for

1 minute

.

Let sit for

2 minutes

then stir until smooth and glossy.

Spread over brownies and sprinkle rainbow chocolate chips while ganache is still wet.
Nutrition
Calories:
224
kcal
|
Carbohydrates:
28
g
|
Protein:
2
g
|
Fat:
12
g
|
Saturated Fat:
7
g
|
Cholesterol:
36
mg
|
Sodium:
111
mg
|
Potassium:
107
mg
|
Fiber:
2
g
|
Sugar:
20
g
|
Vitamin A:
280
IU
|
Calcium:
24
mg
|
Iron:
1
mg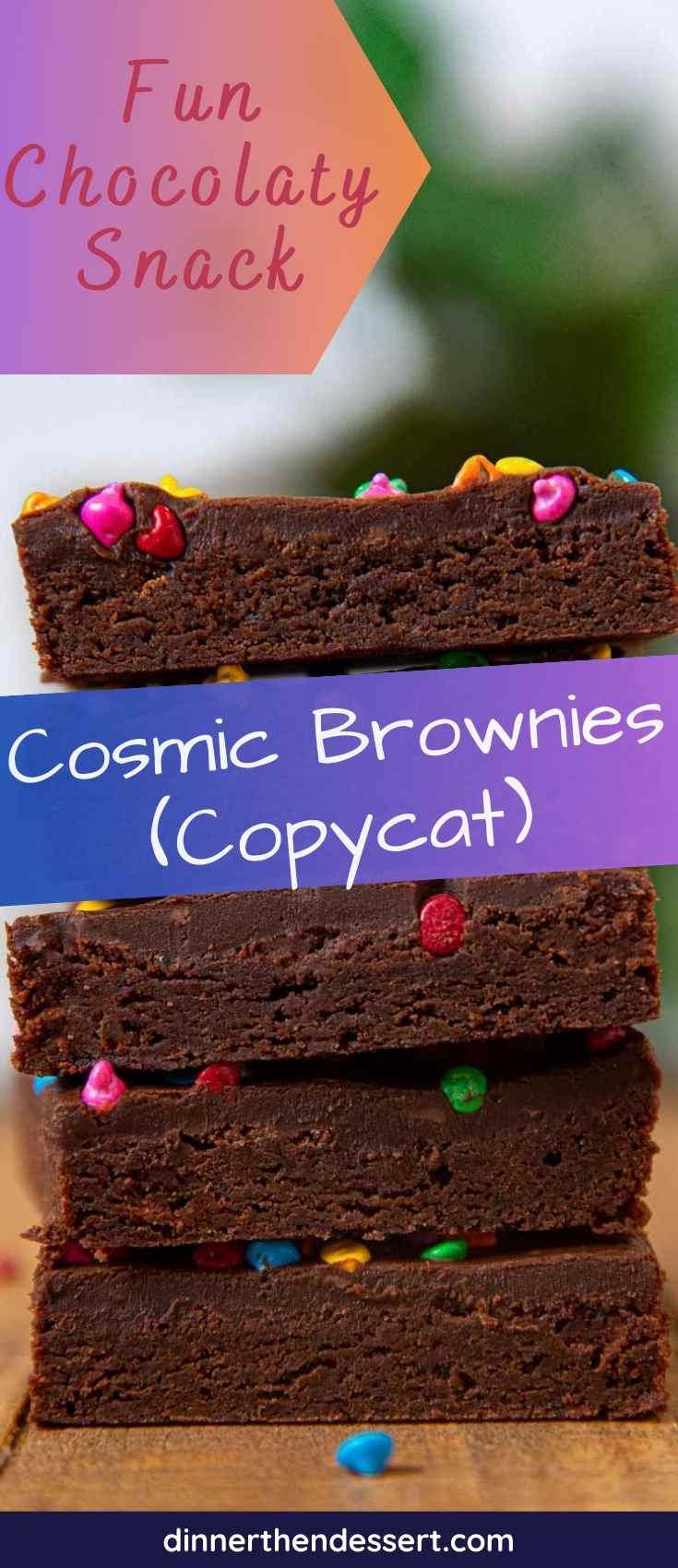 Photos used in a previous version of this post.