Domino's Marbled Cookie Brownie (Copycat) is the gooey, chocolatey treat satisfies any sweet tooth. Fudge brownie with chocolate chip cookie batter.
This newest Copycat Recipe is for all you chocolate lovers out there. Like our Luby's Fried Cheesecake, this decadent recreation is perfect for when you're craving the dessert from your favorite restaurant but don't want to go out dinner for it.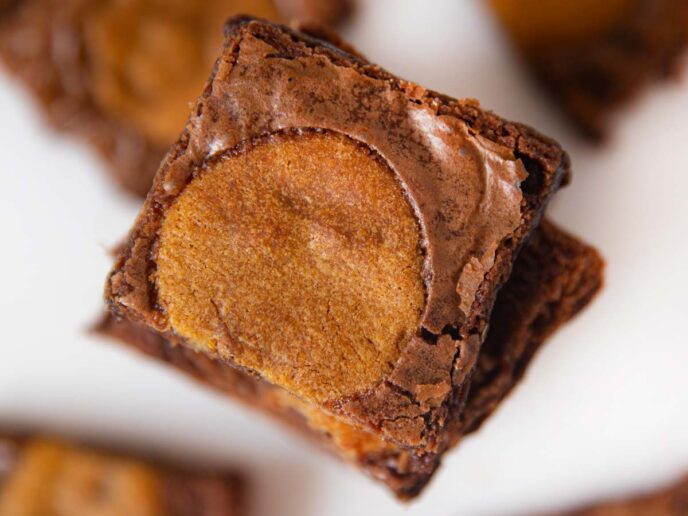 DOMINOS MARBLED COOKIE BROWNIE
You ordered a bunch of pizzas from Domino's for the Super Bowl, and now that they are mostly gone, guests are looking around for a sweet treat. Whoops, you forgot to order one! Or maybe you thought, everyone will be too full for dessert. Either way, there's no way you are going to place another delivery charge just to wait at least an hour.
Never fear – this copycat of Domino's Marbled Cookie Brownie could be your game winning last ditch play. Be the MVP of your party with this easy copycat recipe. Plus it will be ready long before a delivery driver could head your way on a day as busy as the Super Bowl.
A while back, I was sad to learn that Domino's cancelled their Cinnastix (and replaced them with an almost as good knot version). However, this brownie-cookie hybrid is a good replacement. While I love their crunchy Lave Cakes (recipe coming soon), this fudgy brownie cookie is much easier to make and easier to share.
MORE DELICIOUS BROWNIE RECIPES:
This Brownie Cookie is not too expensive, but sometimes you just want the dessert and nothing more. Instead of having to order more to get the deal, you can just make it at home. This recipe is similar to my Slutty Brownies but without the Oreos, and they are every bit as melt-in-your-mouth chocolatey goodness.
Sometimes we like to do a homemade pizza and movie night and this Cookie Brownie is the perfect treat to end a fun family night. Plus when we make it at home, we can cut out any of the not so great preservatives and switch up the flavors. I fully recommend serving Vanilla Ice Cream and Hot Fudge to make brownie sundaes.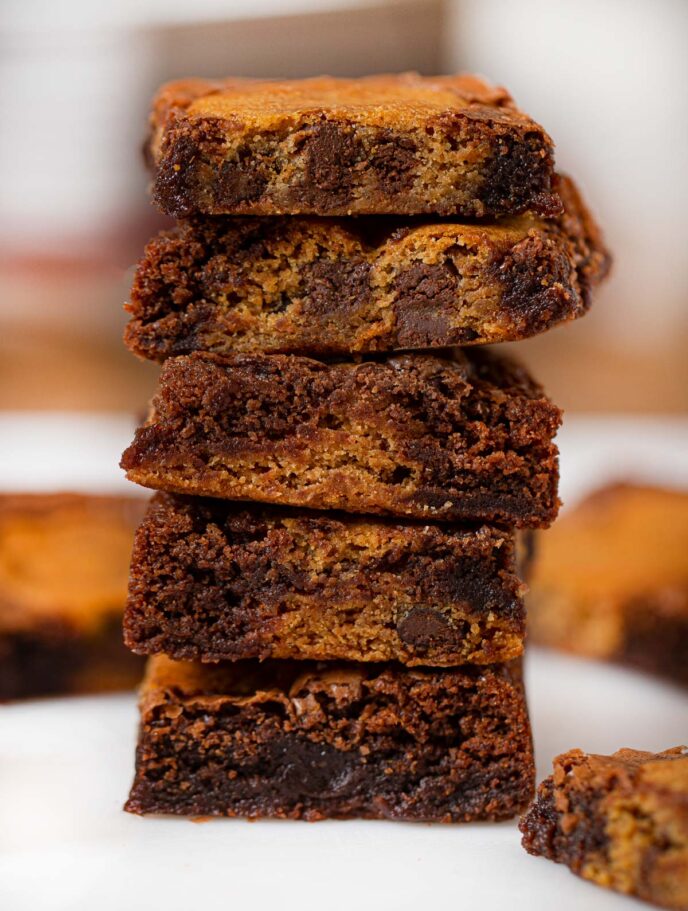 Create a free account to Save Recipes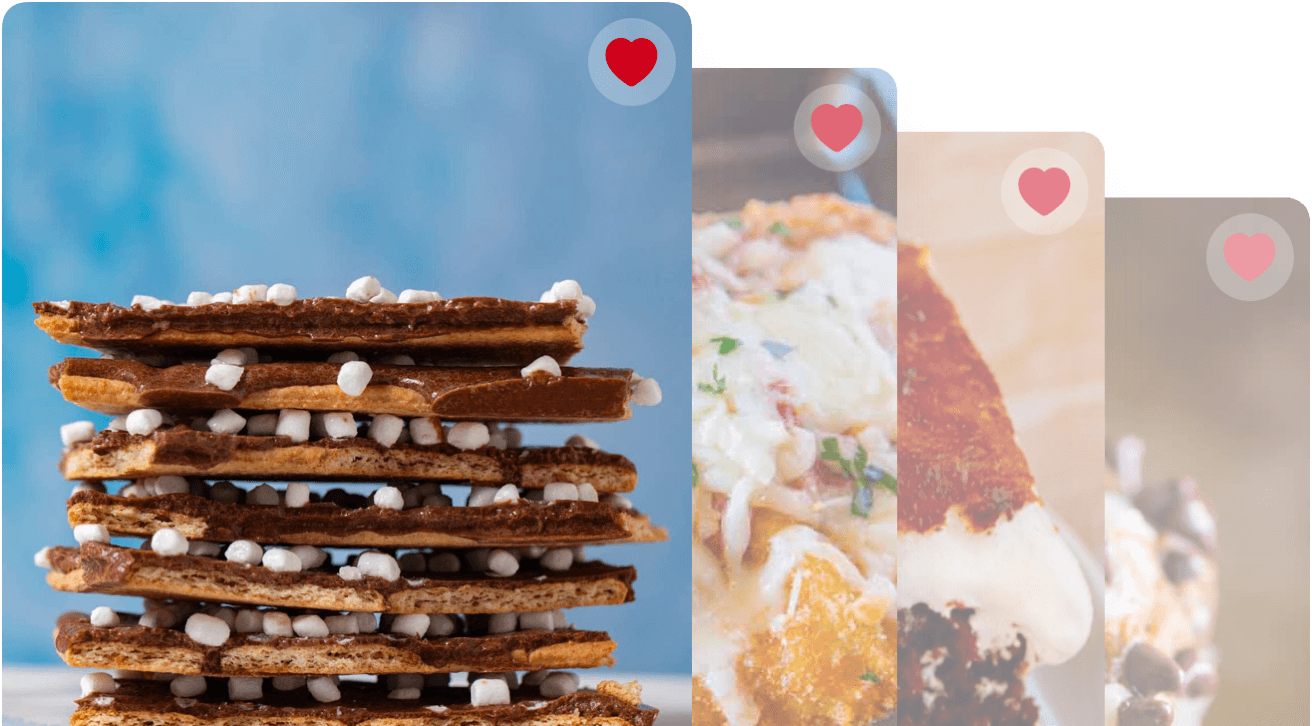 VARIATIONS ON DOMINOS MARBLED COOKIE BROWNIE
Brownie Layer: Try using swapping in a Peanut Butter Brownie batter to give this a peanut butter chocolate flavor.
Chocolate: Instead of semi-sweet chocolate chips, you can use dark chocolate chips or white chocolate. Mix in some cocoa powder for even more chocolate goodness.
Cookie Swirl: The sky's the limit on what kind of cookie dough to swirl into your brownies. Our Brown Sugar Cookies would be absolutely delicious.
Nuts: Mix in your favorite chopped nuts, like walnuts, pecans, or almonds into the cookie dough and brownie batter.
Salted Caramel: After the Marbled Cookie Brownie is done baking, drizzle some Salted Caramel Sauce in a criss-cross pattern before cutting and serving.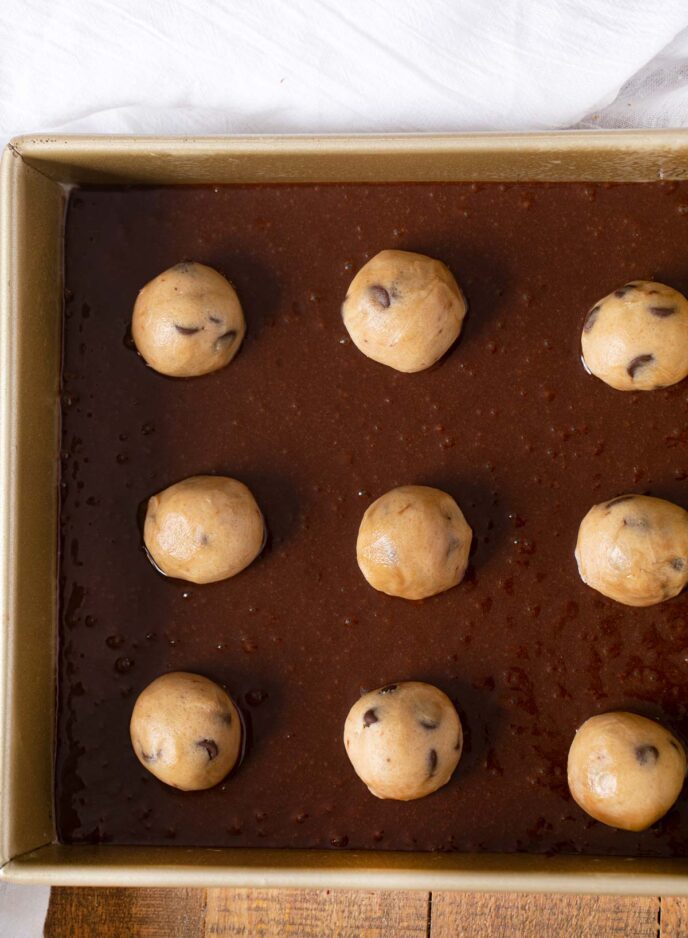 FAQ's About Dominos Marbled Cookie Brownie
Is this the same as a Brookie? Technically this could be considered a Brookie, however the big difference is the cookie dough is swirled into the brownie batter in a brookie instead of adding balls of cookie dough like in this copycat.
How big is Dominos Marbled Cookie Brownie? The order you get at Dominos is about an 8×8 pan size, and is supposed to is 9 servings.
Is Dominos Marbled Cookie Brownie Vegan? Unfortunately no, this is not vegan. But if you can make it vegan by substituting the butter and eggs for vegan options. Also, make sure to use vegan cacao chips instead of chocolate chips.
More Chocolate Chip Cookie Recipes:
HOW TO STORE DOMINOS MARBLED COOKIE BROWNIE
Serve: This cookie brownie will stay good at room temperature, covered in plastic wrap, for about 2 days.
Store: Keep your Marbled Cookie Brownie fresh longer in a sealed container in the fridge for up to a week.
Freeze: This recipe can be frozen for up to 3 months in an air-tight container. Allow to cool completely before storing to keep the brownies from getting frostbite.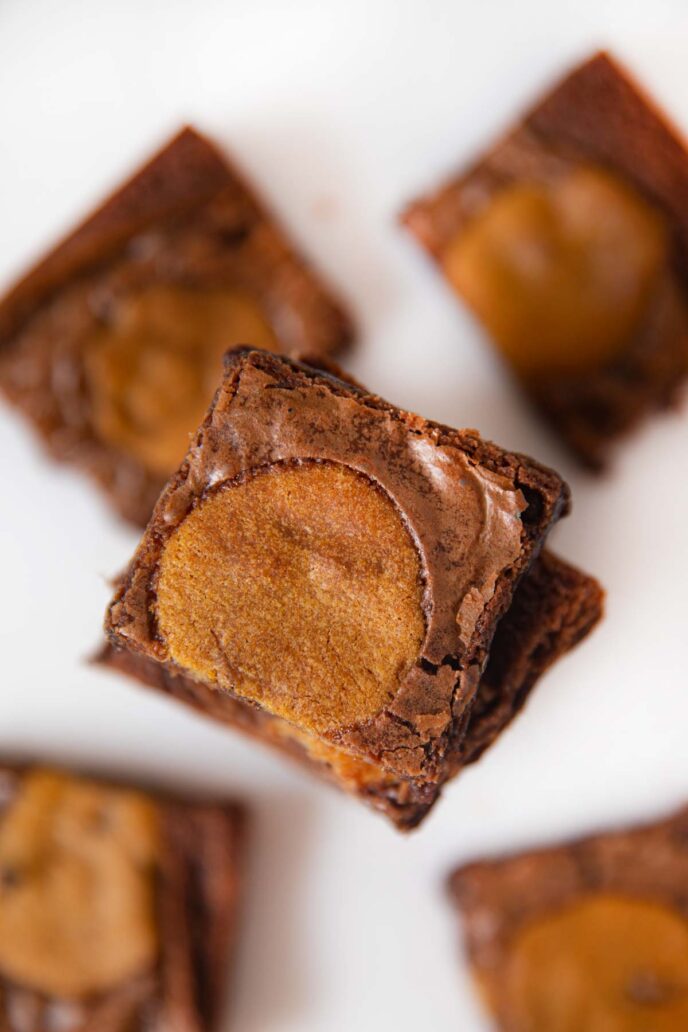 Ingredients
Brownie Layer
1/4

cup

unsalted butter

, melted

1/2

cup

sugar

1

large

egg

2

teaspoons

vanilla extract

1/4

cup

flour

1/4

cup

unsweetened cocoa powder

1/8

teaspoon

salt

1/8

teaspoon

baking powder
Instructions
Pre-heat the oven to 350 degrees and spray an 8x8 baking pan with baking spray.
Cookie Layer:
In the stand mixer cream together the butter, sugar and brown sugar until light and fluffy.

On low speed add in the egg, vanilla extract until smooth.

Add the flour, baking soda and salt on low speed until just combined then fold in the chocolate chips.

Freeze the cookie dough while you make the brownie batter.
Brownie Layer:
Whisk together the butter, sugar, egg and vanilla extract until smooth.

Whisk in the flour, cocoa powder, salt and baking powder until just combined.
To Finish:
Pour brownie batter into the baking dish.

Remove cookie dough from fridge and roll into 9 balls, then place into the baking dish.
Nutrition
Calories:
312
kcal
|
Carbohydrates:
40
g
|
Protein:
4
g
|
Fat:
16
g
|
Saturated Fat:
9
g
|
Cholesterol:
69
mg
|
Sodium:
116
mg
|
Potassium:
133
mg
|
Fiber:
2
g
|
Sugar:
27
g
|
Vitamin A:
375
IU
|
Calcium:
28
mg
|
Iron:
2
mg