Luby's Fried Cheesecake in a crispy tortilla shell is made with their classic rich cheesecake filling and topped with a fresh strawberry glaze. The perfect Luby's Copycat Recipe!
We love Copycat Recipes on the site but when we make copycat desserts it comes straight from the heart like our Roy's Hot Chocolate Souffle that won my heart over on a recent family vacation.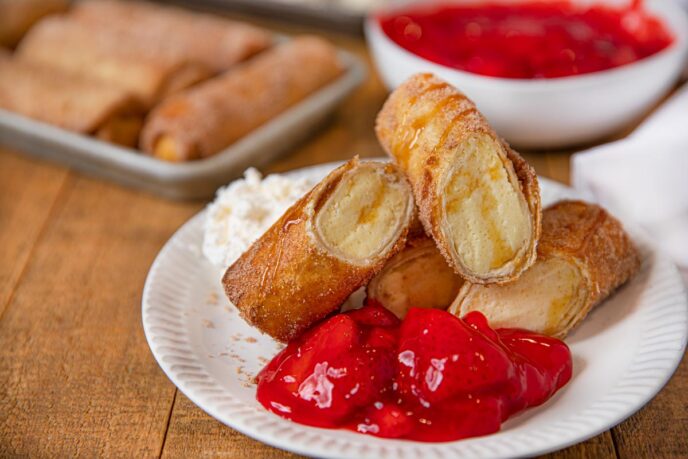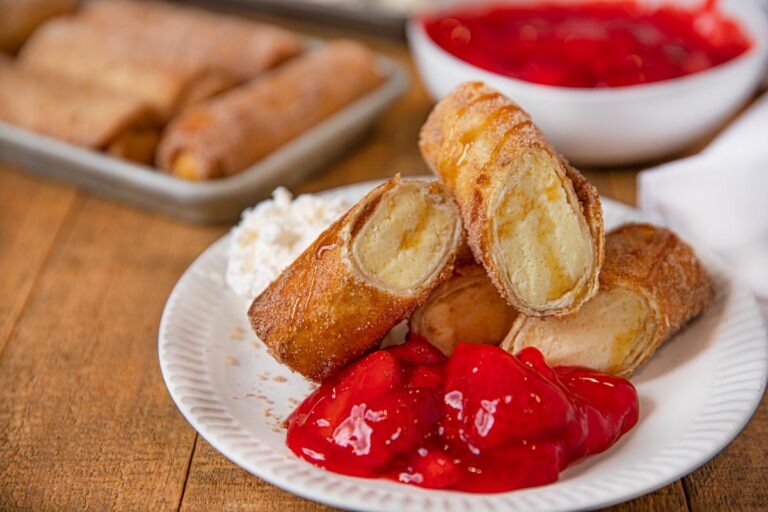 Luby's Fried Cheesecake with Strawberry Glaze (Copycat)
Luby's Fried Cheesecake has been on my short list for desserts since last year. It was something I was hoping to post this spring because I've experimented with it a couple times over the the holidays. When I received a heart melting email from a reader last night (this reader had originally requested this copycat earlier in the year), I went to the kitchen, started baking and decided it was time that this recipe appeared on the site, for David F.
Luby's Cheesecake is a well known dessert by the Texas based chain and this take on the famous dessert is easy as long as we make a quick adjustment and follow some quick steps.
You may not be familiar with Luby's but you could be familiar with this dessert by it's other names, Cheesecake Egg Rolls and Cheesecake Chimichangas. Either way we're making a cheesecake (crust free), then we're taking chunks of the cooled cheesecake and rolling it in a tortilla (tightly but not enough to cause it to tear) and frying it crisp. Once fried we're rolling it in cinnamon and sugar.
You could of course stop there and it would be a delicious dessert but Luby's serves it topped with caramel sauce with a side of their fresh strawberry glaze.
MORE DELICIOUS CHEESECAKE RECIPES:
How to Make Luby's Fried Cheesecake:
Make Luby's Cafeteria Cheesecake – but skip the crust! No crust is in fried version.
Let the Cheesecake cool!
Scoop out the filling from your pan.
Add the filling to warmed tortillas and roll.
Secure with toothpicks or brush with egg wash and freeze seam side down to allow for frying without unraveling.
Make your fresh strawberry glaze for topping!
Fry the cheesecake rolls then roll in cinnamon sugar while hot!
Serve with caramel sauce, strawberry topping and whipped cream.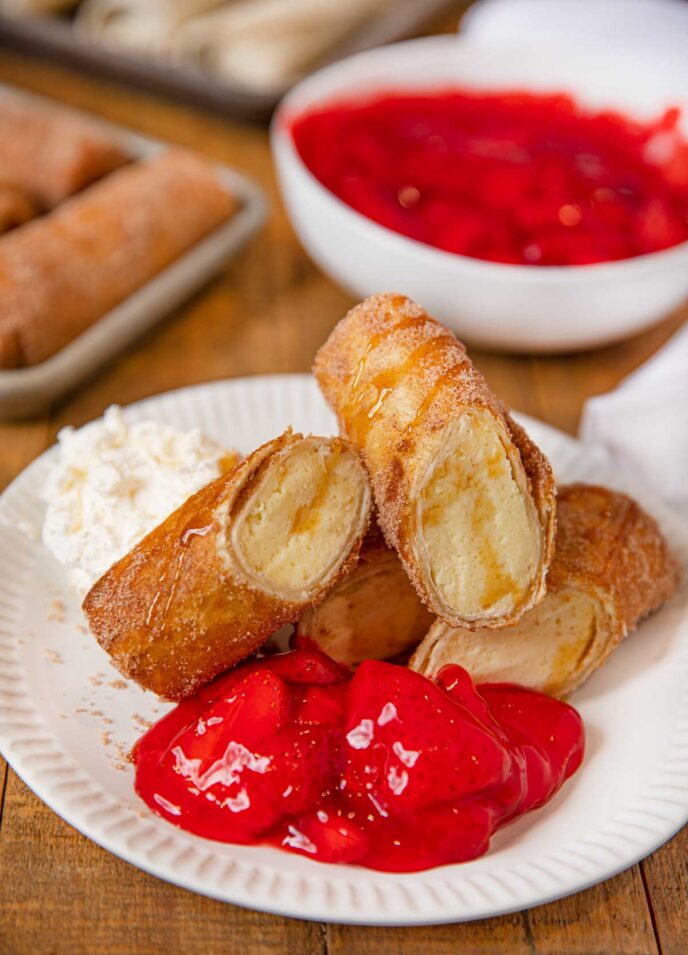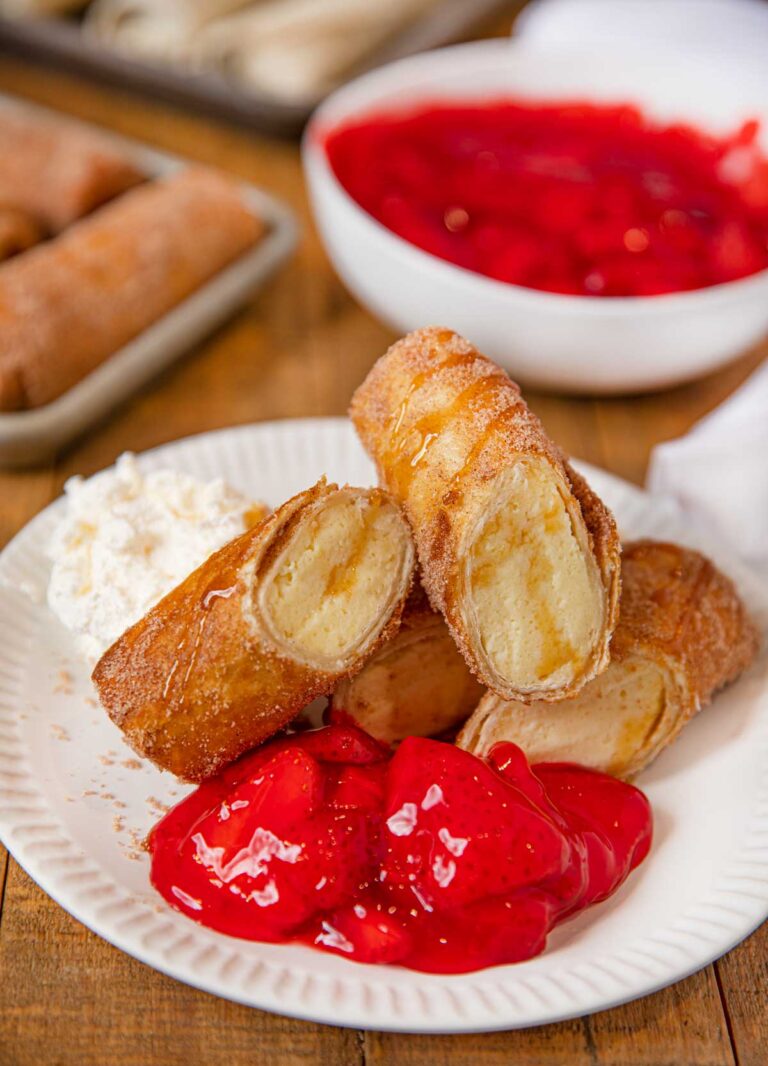 Create a free account to

Save Recipes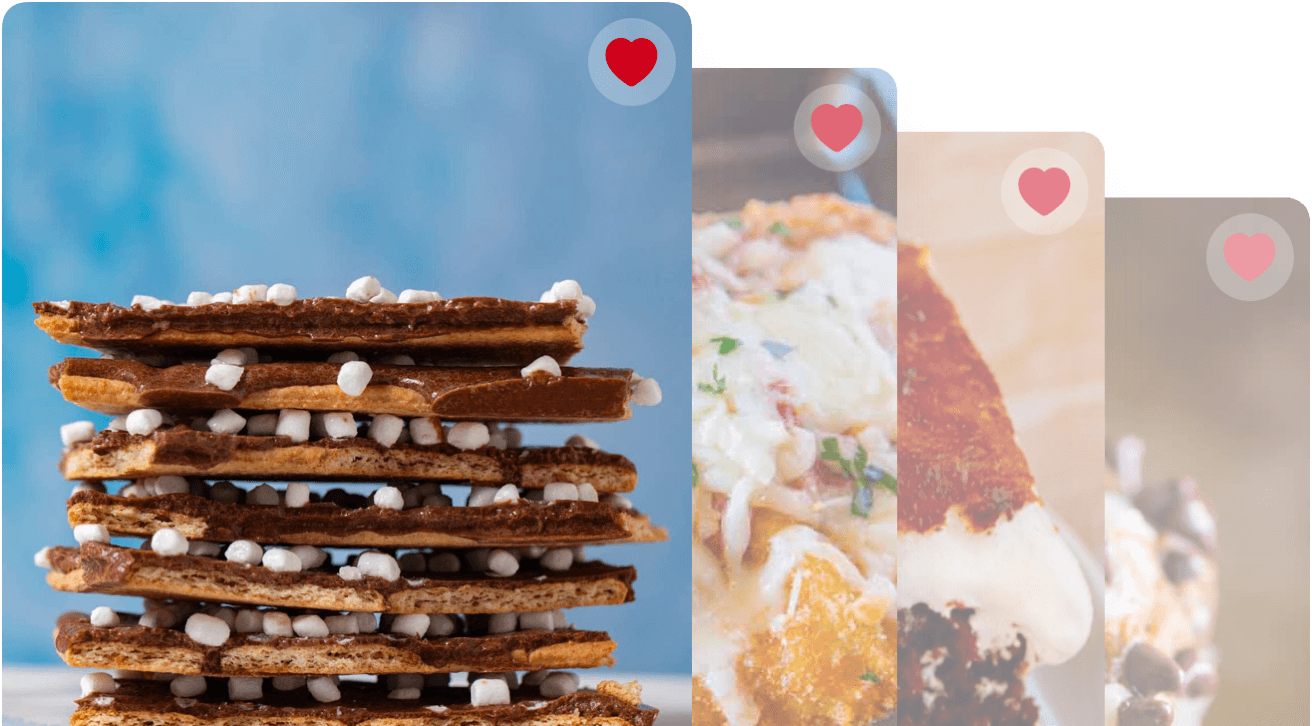 Some helpful tips on the making the cheesecake:
You must use softened cream cheese. If your cream cheese is cold you'll have small bits you won't get rid of in your batter.
Don't skip the flour, it adds stability to the cheesecake that we need because we've added sour cream for the tangy and rich flavor.
Don't worry about a water bath I normally wax poetic about, since we are scooping the filling out so cracks don't matter.
Cover the cheesecake with foil to help prevent browning and to prevent a thick skin from forming on top of the cheesecake.
Make sure your tortillas are fresh and warm them quickly with a damp paper towel in the microwave to make pliable.
Using cold cheesecake will help the stability of your filling.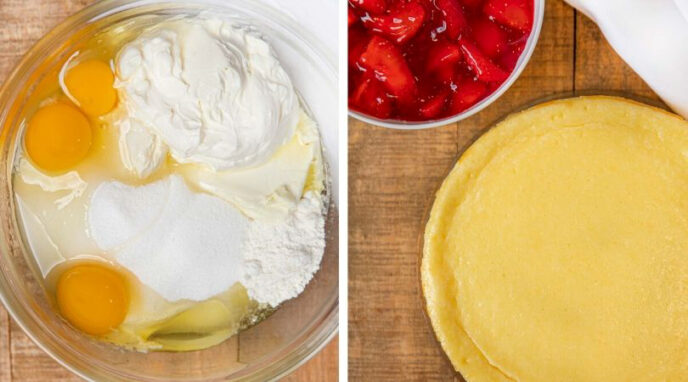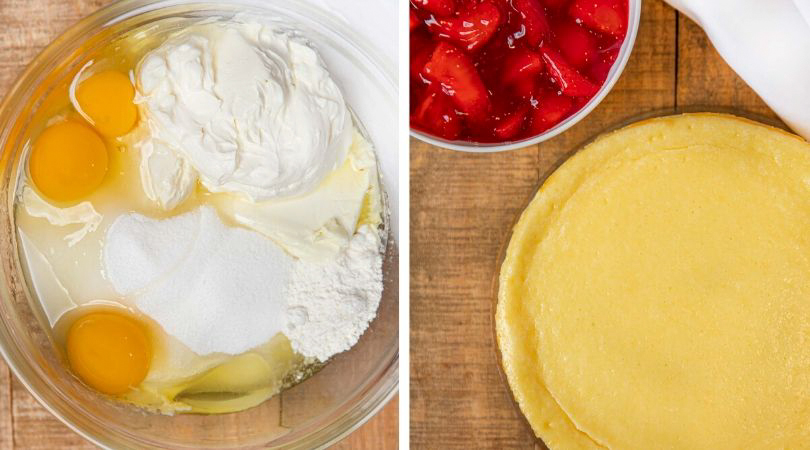 Flavor Variations:
Fruit Toppings: You can use any fruit topping you'd like though strawberry is the original. You can also use canned pie filling in a pinch.
Cheesecake Flavors: Use any of our other cheesecake flavors for the filling to mix things up! Oreo Cheesecake would be a delicious filling!
Chocolate Chips: Add chocolate chips to your cheesecake batter before baking.
Cinnamon Sugar: Instead of a strawberry glaze, roll the fried cheesecake in cinnamon sugar.
SOME DELICIOUS TOPPING IDEAS:
Serving and Storing this Fried Cheesecake:
Serve: This is best served immediately while the shells are crispy and hot, as they sit they will soften. Do not leave the cheesecake out for more than two hours for food safety reasons.
Refrigerate: I recommend frying as many as you will eat immediately. The filling can be refrigerated for up to 1 week before rolling and frying. Strawberry glaze can be refrigerated for 48 hours.
Freeze: You can make and roll the fried cheesecake before frying and freeze it without issue. When you're ready to fry the cheesecake make sure there is no ice anywhere on the rolled tortillas as it will cause oil to splatter. I don't recommend freezing the egg rolls after frying.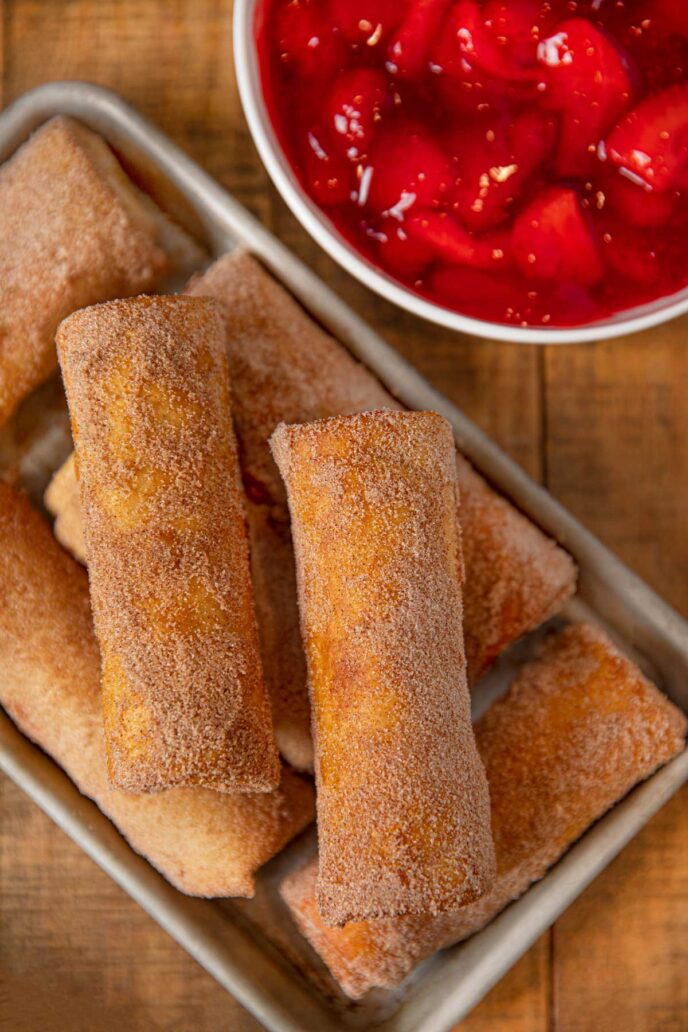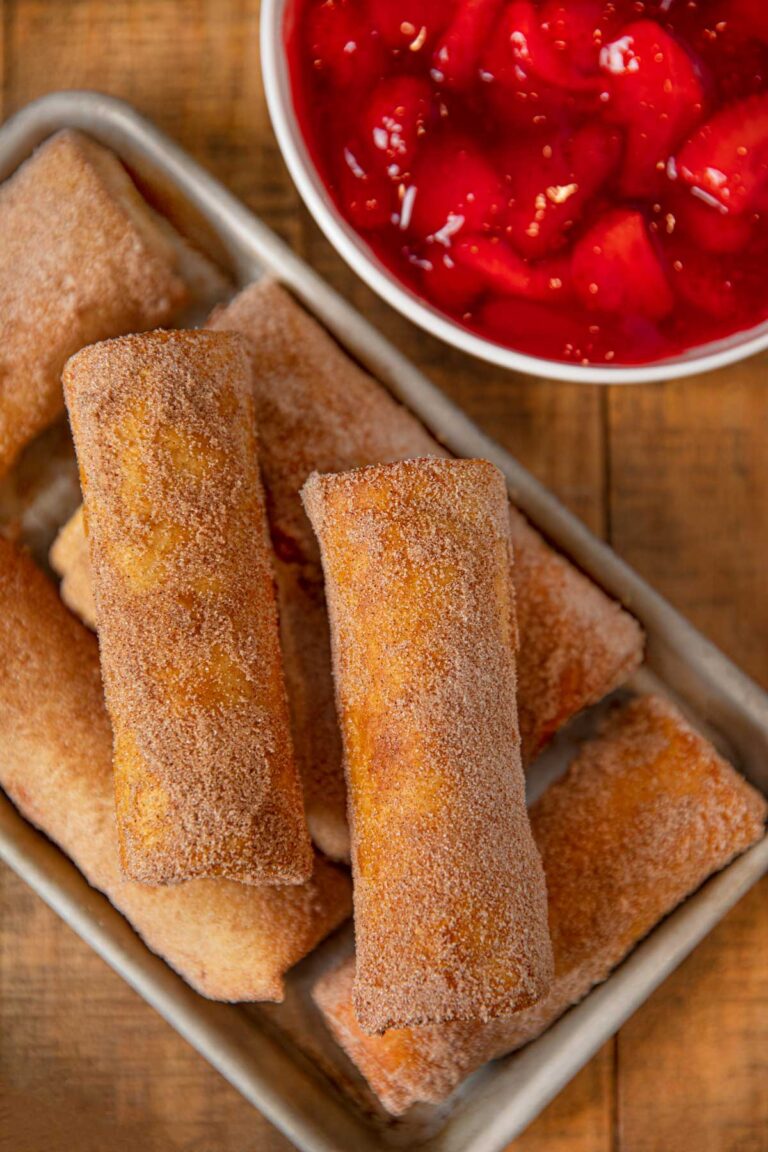 Ingredients
Cheesecake Filling:
20

ounces

cream cheese

, softened

1

cup

sugar

3

large

eggs

1

cup

sour cream

2

tablespoons

flour

1/2

teaspoon

vanilla extract

1/2

teaspoon

fresh lemon juice
Strawberry Glaze:
2

cups

water

1 1/2

cups

sugar

1.5

ounces

strawberry gelatin

, (half a 3 ounce package)

3/4

cup

cornstarch

2

teaspoons

red food coloring

1

pound

strawberries

, hulled and sliced
Instructions
Cheesecake Filling:
Preheat oven to 350 degrees and spray a springform pan with baking spray.

Whisk together the cream cheese, sugar, eggs, sour cream, flour, vanilla and lemon juice until smooth and completely combined.

Add the mixture to your springform pan and bake for

30 minutes

.

Cool completely.
Strawberry Glaze:
In a medium pot add 1 ½ cups of the water, sugar and gelatin and whisk well until combined, then bring to a boil on medium heat.

Whisk the remaining water with the cornstarch and pour it slowly into the pot while whisking.

Whisk constantly until you see the sauce thickening (about

4-5 minutes

).

Remove from heat, whisk in food coloring.

Let cool completely before adding in the strawberry slices.
Fried Cheesecake:
Add a 1" wide by 3" long piece of cheesecake (try to keep the cheesecake intact if possible) to the center of your flour tortillas then fold the edges in and roll like a burrito.

Secure with toothpicks (or if you have time to freeze before frying you can brush egg on the seams and freeze seam side down to seal the tortilla closed).

When ready to fry heat 3 inches of oil to 350 degrees.

Mix your sugar and cinnamon in a shallow bowl.

Carefully put the cheesecake egg rolls into the hot oil (3-4 per frying batch) and fry until golden brown (about

3-4 minutes

).

When the cheesecake comes out of the fryer immediately roll it into the cinnamon sugar mixture then let it cool on a cooling rack.

Serve drizzled with caramel sauce and strawberry topping and whipped cream if desired.
Nutrition
Calories:
490
kcal
|
Carbohydrates:
79
g
|
Protein:
7
g
|
Fat:
17
g
|
Saturated Fat:
9
g
|
Cholesterol:
77
mg
|
Sodium:
457
mg
|
Potassium:
185
mg
|
Fiber:
2
g
|
Sugar:
45
g
|
Vitamin A:
568
IU
|
Vitamin C:
15
mg
|
Calcium:
109
mg
|
Iron:
2
mg