Cream Cheese Brownies are a delicious mix of cheesecake and brownies, they're also crazy easy; from cocoa powder, cream cheese, sugar and butter.
I've made some great chocolate desserts you may have tried, including Easy Chocolate Cake, Peanut Butter Brownies and Cookie Dough Brownies, and now I've whipped up a recipe for Cream Cheese Brownies.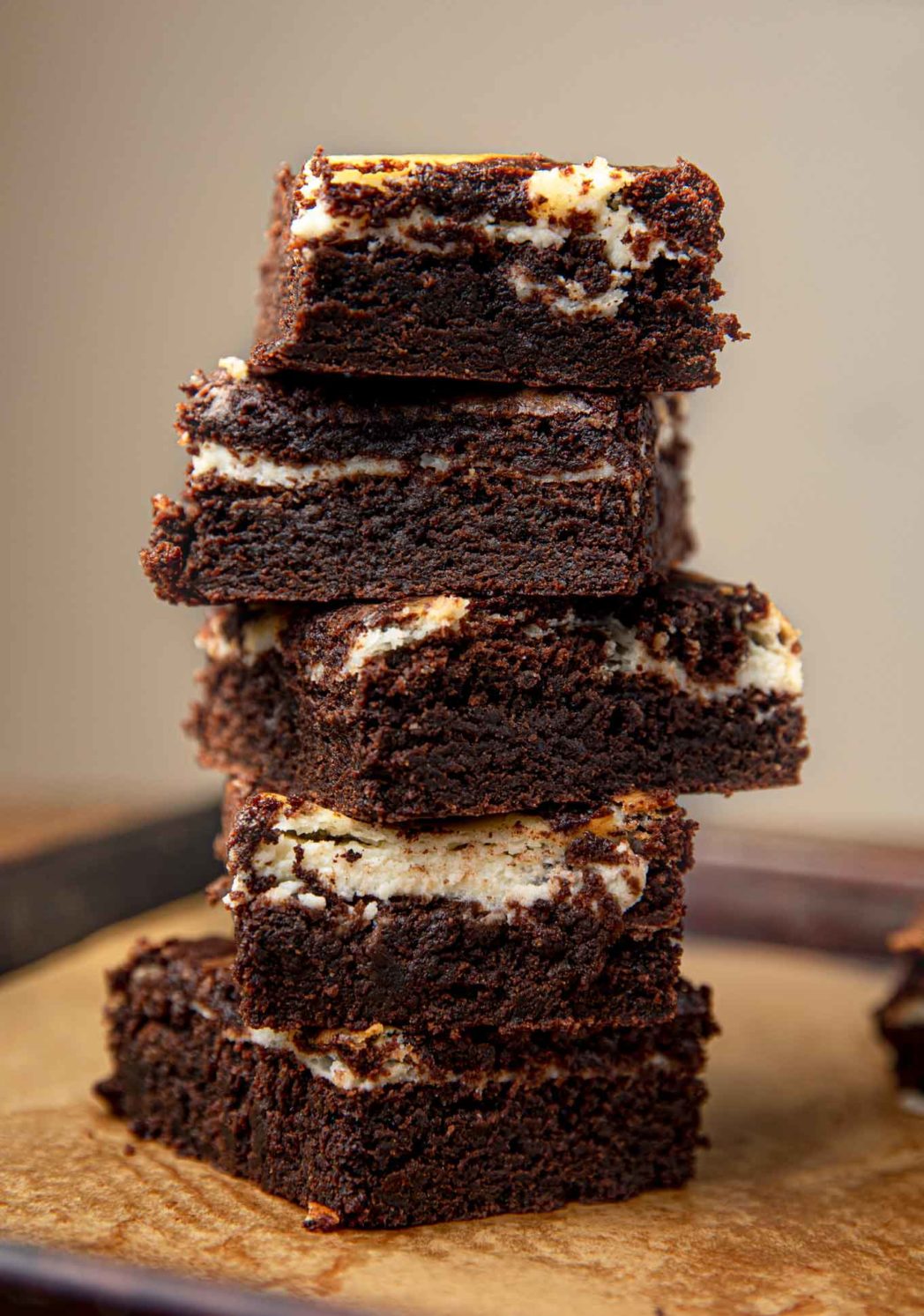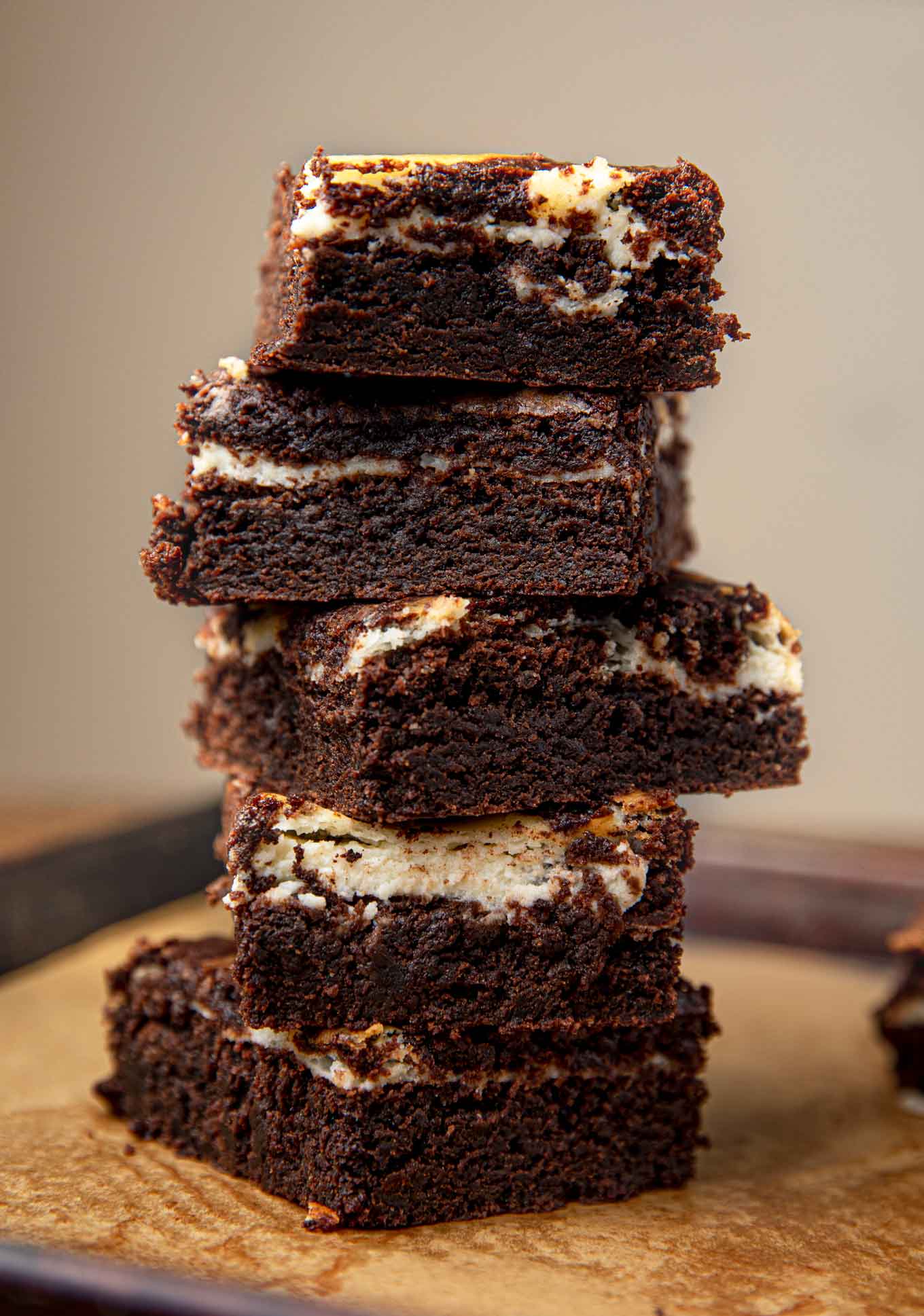 CREAM CHEESE BROWNIES
You may not immediately think of cream cheese when you think of brownie ingredients, but cream cheese is not just for making cheesecake anymore. This rich, fudgy brownie recipe is sure to be a big hit. The cream cheese makes them creamy and pairs perfectly with the chocolatey goodness, as well as keeping them from drying out in the oven.
PS if you love fun brownies you have to try my Fudge Iced Brownies, they're exactly like the cafeteria brownies we were all nostalgic about as kids, with awesome cocoa icing.
Homemade Cream Cheese Brownies are really easy to make and they keep really well, so you can make them ahead of time and enjoy them later. They are absolutely delicious and make a great holiday snack for your next get together.
When cooking your brownies, a good baking hack to remember is the toothpick test. Once the Cream Cheese Brownies come out of the oven, take an ordinary toothpick and insert it into the middle of the brownies. When you pull it out, check to see if the toothpick has batter on it or not. If it doesn't, it means that the brownies are cooked all the way through and ready to set on a wire rack to cool. If it comes out covered in batter it means that they need to bake a little bit longer.
HOW TO MAKE CREAM CHEESE BROWNIES
Preheat the oven to 350 degrees F.
Butter and cocoa powder the bottom and sides of the baking pan.
In a large bowl add the melted butter and sugar.
Whisk until sugar is dissolved and the butter mixture has cooled.
Add in the vanilla and eggs and whisk until well combined.
Sift together the flour, baking soda, cocoa, and salt and add to the large wet mixture.
Whisk until just combined and pour all but one cup of the batter into the baking pan.
Stir together sour cream, sugar, cream cheese, and 2 tablespoons of flour.
Add the cream cheese filling to the pan.
Add remaining brownie batter on top in spoonfuls around the pan.
Create a marbling effect by swirling the batter with a knife.
Bake for 25-30 minutes.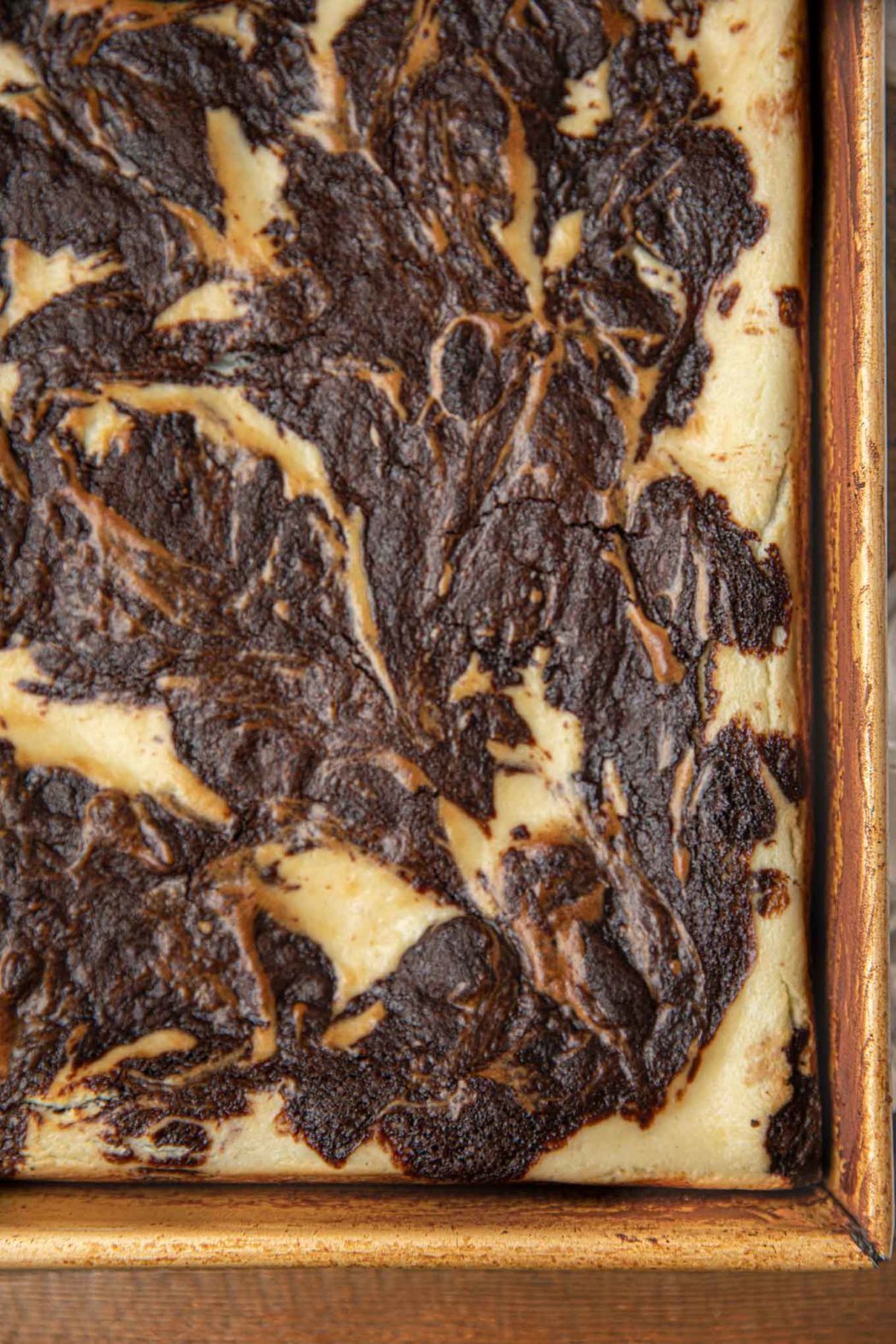 Create a free account to Save Recipes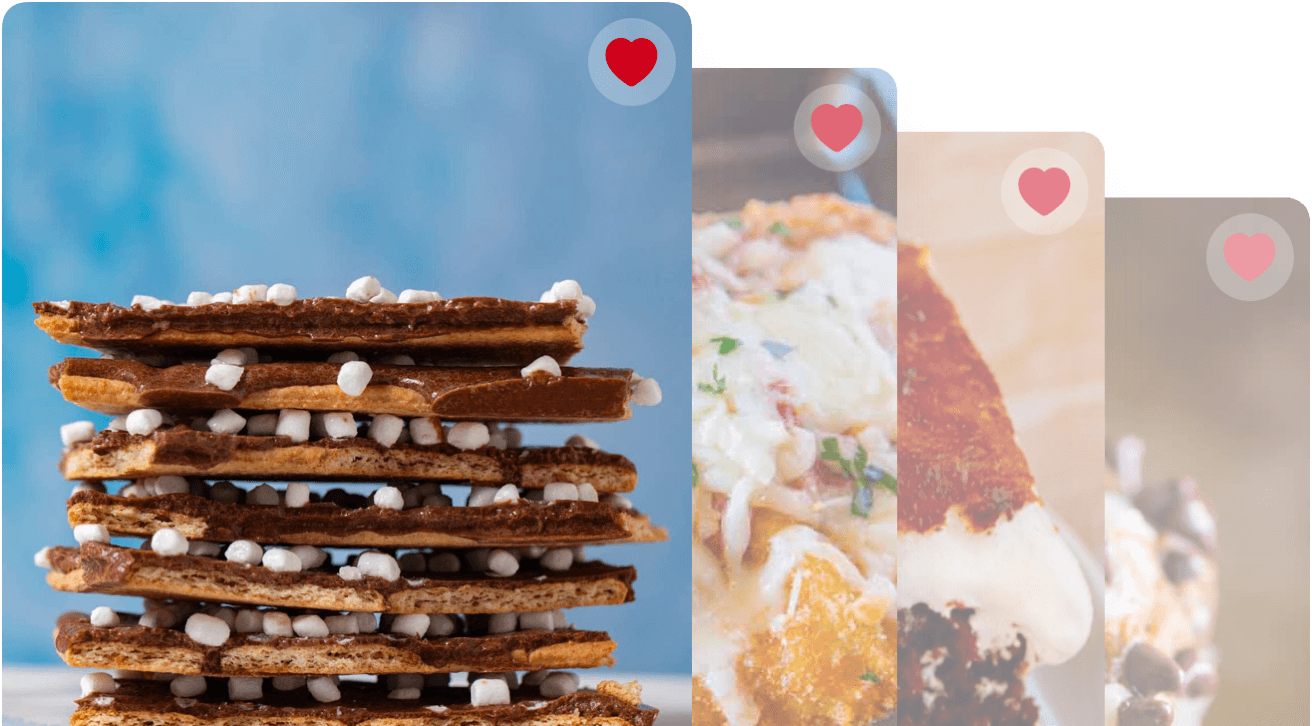 CREAM CHEESE BROWNIE VARIETIES
Chocolate: If you don't want to use unsweetened chocolate for your Cream Cheese Brownies, you can experiment with semisweet chocolate, white chocolate or dark chocolate. Changing the level of chocolate in your cocoa powder can radically change the flavor without changing anything else in the recipe.
Toppings and add-ins: You can stir some chocolate chips or pieces of fudge into the batter if you want a chunkier, heartier brownie. Make sure you chop the fudge down into small, bite sized pieces and stir them in thoroughly.
Frosting: Cream Cheese Brownies are amazing with a little frosting on top. You should try my recipes for Peanut Butter Frosting, Cream Cheese Frosting and Rich Chocolate Frosting.
Ice Cream: Homemade Vanilla Ice Cream is delicious when served next to a piping hot Cream Cheese Brownie fresh from the oven. Plus, your dinner guests will be impressed when you tell them you made both the brownies and ice cream from scratch.
HOW LONG ARE CREAM CHEESE BROWNIES GOOD?
Serve: Cream Cheese Brownies can last about 2 days uncovered at room temperature. If you want to extend the shelf life, wrap them up in parchment paper or aluminum foil and they'll last up to 3 days without going really stale.
Store: If you refrigerate your brownies wrapped in aluminum foil or plastic wrap, they can last up to 4 days.
Freeze: You can freeze Cream Cheese Brownies for up to 6 months, if you keep them in an airtight container. The uncooked batter can last up to 10 months if it is frozen.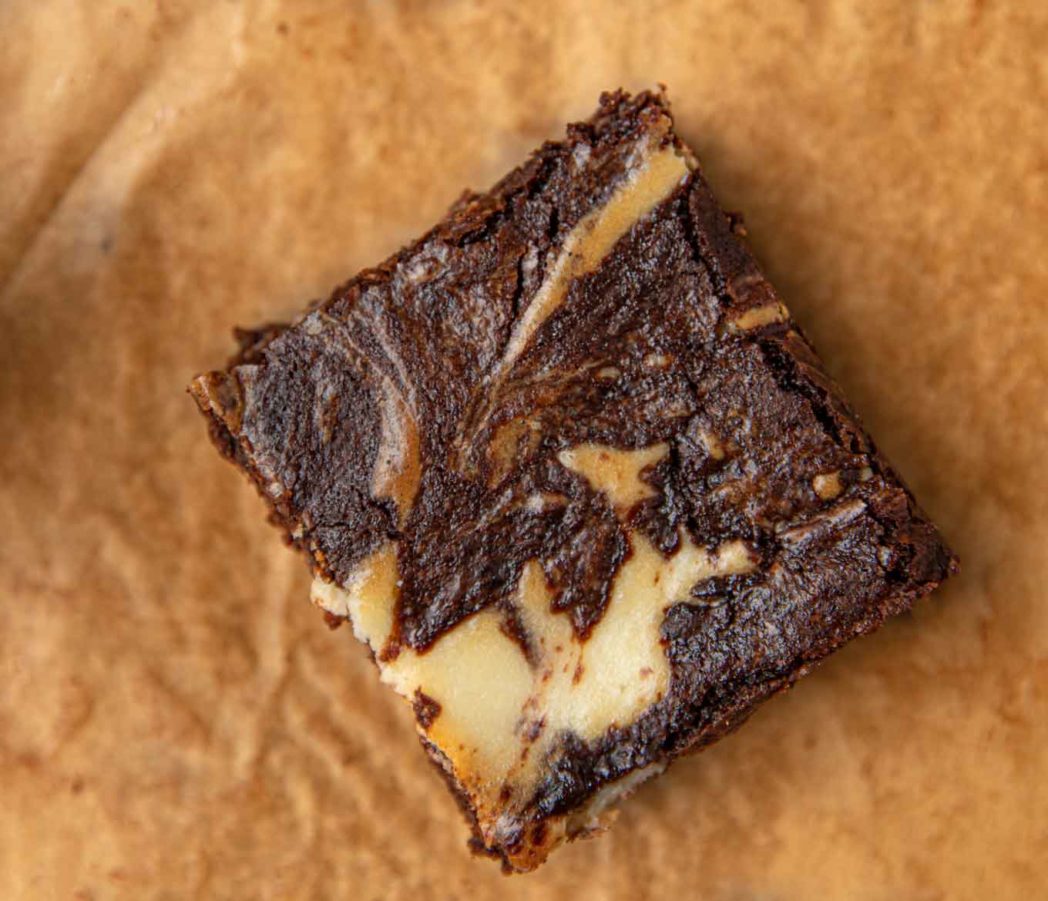 Ingredients
Brownie Batter
16

tablespoons

unsalted butter

, melted

2

cup

sugar

1

tablespoon

vanilla extract

4

large

eggs

1

cup

flour

1/2 

teaspoon

baking soda

2/3

cups

unsweetened cocoa powder

1

teaspoon

salt
Cream Cheese Filling
8

ounces

cream cheese

, room temperature

1/2

cup

sour cream

1/3

cup

sugar

2

tablespoons

flour

1/2

teaspoon

vanilla extract
Instructions
Preheat the oven to 350 degrees.

Butter and cocoa powder the bottom and sides of a 9x13" baking pan.

In a large bowl whisk together the melted butter and sugar then add in the eggs and vanilla until well combined.

Sift together the flour, baking soda, cocoa, and salt.

Add the dry ingredients to the wet ingredients, whisking until just combined, then add it to your baking pan, reserving just one cup of batter.

Whisk together cream cheese (make sure cream cheese is room temperature), sour cream, sugar, flour and vanilla until smooth.

Dot the cream cheese mixture with a spoon onto the brownie batter then dot the remaining brownie batter on top.

Swirl the batters together with a knife and bake for

25-30 minutes

.
Nutrition
Calories:
251
kcal
|
Carbohydrates:
31
g
|
Protein:
4
g
|
Fat:
13
g
|
Saturated Fat:
8
g
|
Cholesterol:
61
mg
|
Sodium:
251
mg
|
Potassium:
106
mg
|
Fiber:
2
g
|
Sugar:
20
g
|
Vitamin A:
448
IU
|
Vitamin C:
1
mg
|
Calcium:
34
mg
|
Iron:
1
mg