Chocolate Covered Potato Chips are an easy 10 minute snack recipe with 2 ingredients. The perfect combination of crunchy, salty, and sweet!
Whether it's Chocolate Covered Pretzels, Potato Chip Clusters, or these treats, dipping salty Snack food in chocolate is always an amazing idea. It checks pretty much every box: salty, sweet, chocolaty, perfectly crisp, and one of the easiest Desserts you'll ever make.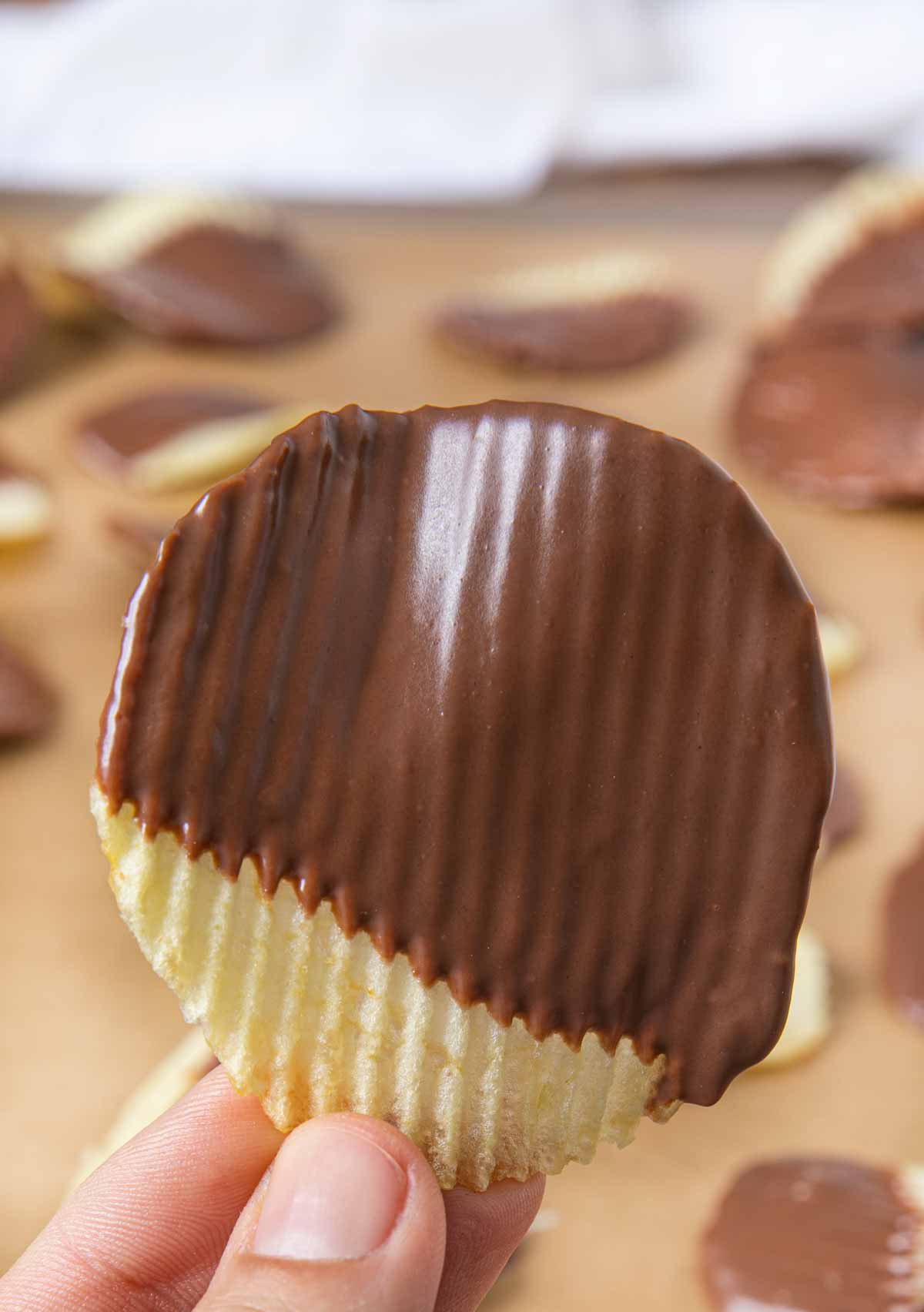 If sweet and salty is your favorite flavor profile, these delicious Chocolate-Covered Potato Chips are the perfect snack for you! The salty flavor of the ruffled potato chip is surrounded by sweet chocolate for a simple, yet amazing treat. They are the best sweet, salty party snack for any occasion because they are easy to make but they look like you ordered them from a chocolate shop! You can make a bunch at a time too. Chill them for a cool, chocolaty salty snack all summer long or add them to gift baskets for a gourmet treat.
When we say these are easy, we mean easy! The ingredient list for this simple indulgent treat is just two items: chocolate chips and potato chips. You don't even need to bust out a double boiler, the microwave works just fine and you can dip the chips in the same bowl you melt the chocolate in. Spread out some parchment on a cookie sheet, or just over your counter if there's room, and you have a fancy chip drying station. It really couldn't be much easier!
Not only are these sweet and salty treats a quick and easy recipe, they are also super versatile. Ruffled potato chips are the most popular choice because the ridges fill up with a little more sweet chocolate but you can also use kettle chips, baked chips, or even different flavors of chips. When it comes to the chocolate coating, you can use any flavor of chocolate you like, do a combination of white and regular chocolate, add festive sprinkles, or other tasty sweet toppings. The possibilities are almost endless!
Chocolate Covered Potato Chips are the perfect blend of sweet and salty, and they have just the right amount of crunch to make them absolutely addicting. These salty potato chips with a thick, sweet layer of chocolate are an irresistible snack but also make delicious crunchy, chocolate treats to add to your holiday gift baskets and party table. For gift baskets, coat the whole chip so that they stay fresher longer. If you have some broken chip pieces, why not add them to your favorite Sweet and Salty Trail Mix for an upgraded lunch box or after-school snack?
How to Make Chocolate Covered Potato Chips
Melt: Add the chocolate chips to a microwave safe glass bowl. Microwave in 30 second increments, stirring between each time, until fully melted and smooth.
Coat: Dip each potato chip ¾ of the way into the melted chocolate. Gently tap on the side of the bowl to remove excess chocolate.
Cool: Place the coated chip on a baking sheet lined with parchment paper. Let the chocolate fully cool and set before serving or storing.
More Chocolate Covered Treats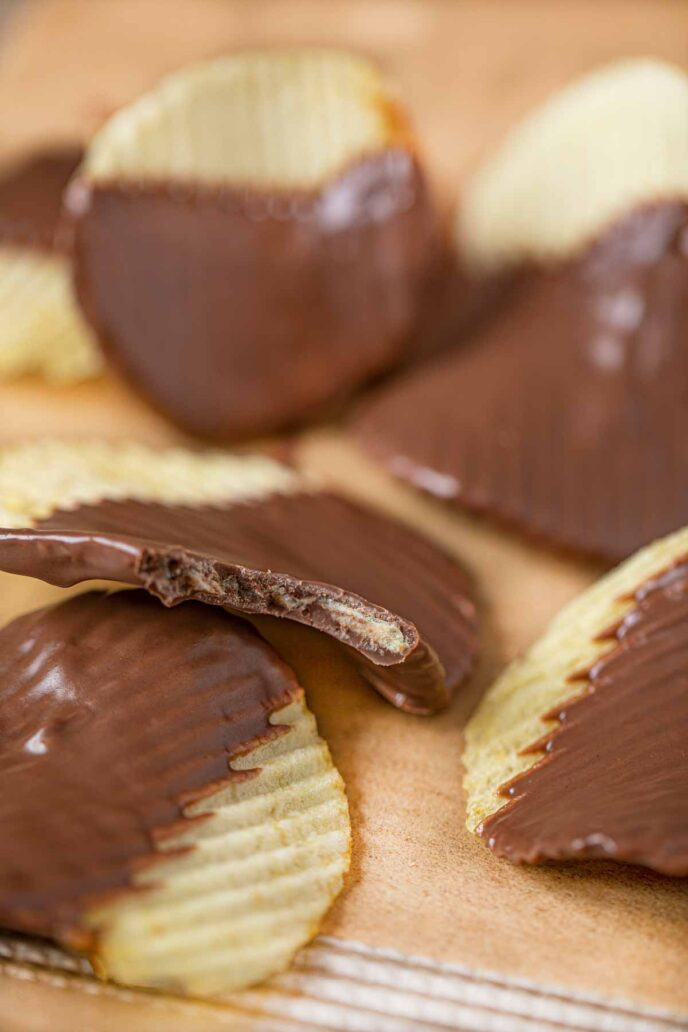 FAQs for Chocolate Covered Potato Chips
Who invented chocolate covered potato chips?
The specific person or company credited with inventing chocolate-covered potato chips is unclear, although a few lay claim to their creation. However, the combo of chocolate and potato chips is believed to have originated in the United States, where there is a lot of love for sweet and salty flavor combinations.
How to keep chocolate covered potato chips fresh?
To keep chocolate-covered potato chips fresh, store them in an airtight container at room temperature, away from direct sunlight and moisture. Proper storage will help maintain their crunch and prevent the chocolate from becoming soft or sticky.
Are chocolate chips good for coating?
Chocolate chips are great for coating treats that you make at home because they melt easily and they set pretty quickly. The only downside is that the chocolate doesn't get the same smooth, glossy finish as tempered chocolate. But they taste just the same with or without the shiny coating.
Can I use different types of potato chips for this recipe?
Absolutely! You can experiment with different types of potato chips for this recipe to add variety and explore different flavor combinations. Whether you prefer ridged, kettle-cooked, or even flavored potato chips, feel free to use your favorite variety to create your unique twist on chocolate-covered potato chips.
How do I prevent the chocolate from seizing or becoming grainy?
To prevent chocolate from seizing or becoming grainy, it's important to handle it carefully. Avoid introducing moisture to the chocolate, as even a small amount can cause it to seize. Use dry utensils, make sure the bowl and any equipment are completely dry, and melt the chocolate in short bursts in the microwave so it doesn't get too hot, use or a double boiler, stirring continuously until smooth.

Create a free account to Save Recipes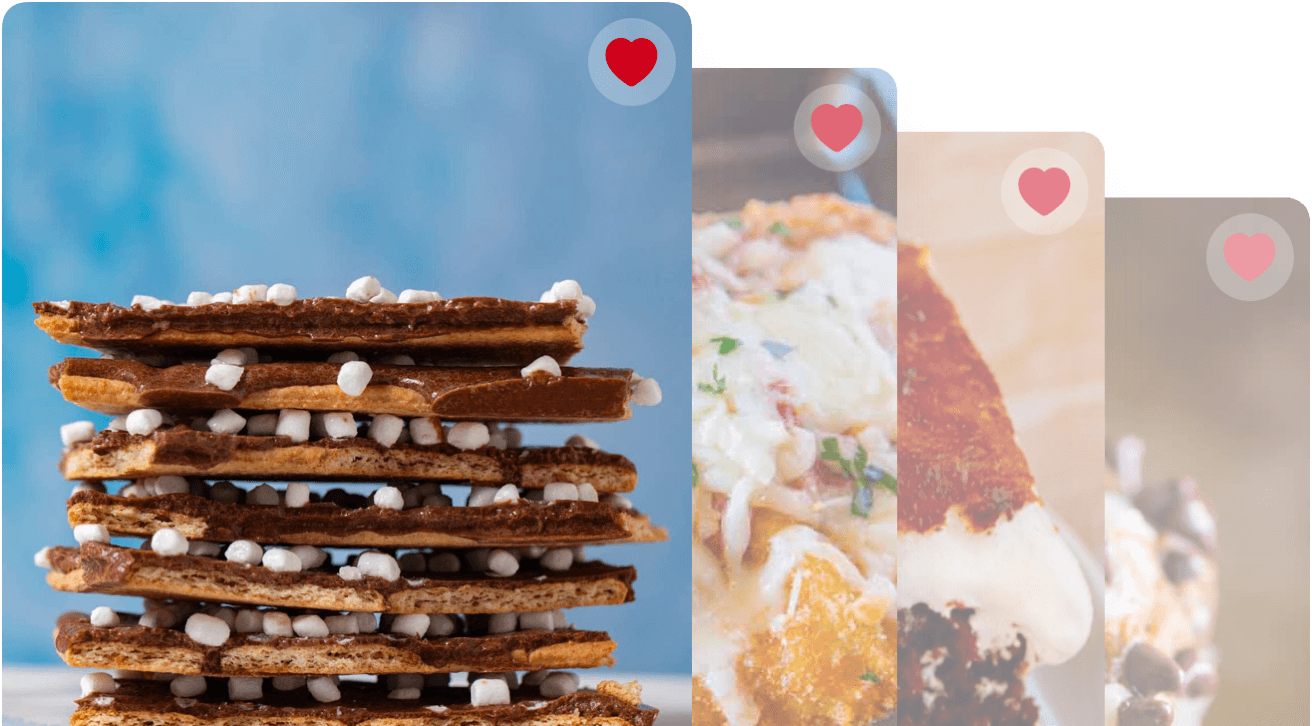 Key Ingredients
Chocolate: Chocolate chips are easy to melt and will stay melted for a good amount of time so you don't have to keep warming the chocolate in between dipping. Semi-sweet chocolate has a balance of sweetness and bitterness that pairs perfectly with the salty potato chips.
Potato Chips: Opt for ridged potato chips, such as Ruffles, to ensure they hold up well when coated with chocolate. The ridges add an extra crunch and create pockets for the chocolate to settle, for a little more chocolaty goodness in every bite.
Can Chocolate Covered Potato Chips be made ahead of time?
Absolutely! Chocolate Covered Potato Chips can be prepared in advance to save time and effort. They will last at room temperature for about 5 days, but if you are serving them for guests, they are freshest in the first 2 days. Keep them fresh longer by refrigerating them for about 1-2 weeks. They can also be frozen, but unless you coat the whole chip, it's best to enjoy them still frozen or the exposed chip will be soggy after thawing.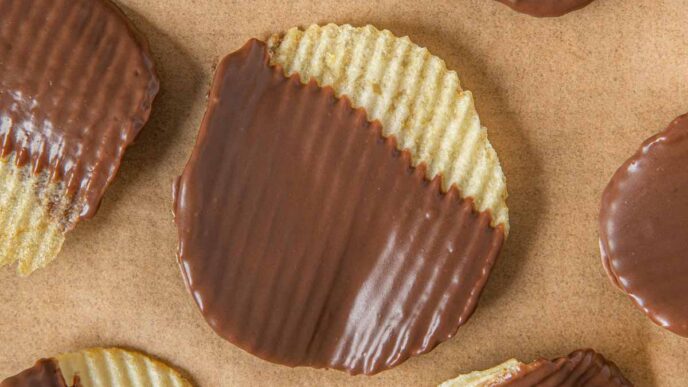 Variations
Chocolate: Switch up the chocolate flavor with dark chocolate, milk chocolate, or white chocolate. You can do a white chocolate drizzle for a little contrast, or do black-and-white chips by doing half white and half dark chocolate.
Toppings: Before the chocolate sets, add some tasty toppings such as crushed nuts or Toffee Bits, rainbow sprinkles, or chunky sea salt. Use different colored sprinkles during the holidays for an extra festive touch.
Caramel: Add a layer of caramel to the chips for an extra special treat. Dip the chips in Caramel Fondue (it sets better than caramel sauce) then chill in the fridge until the caramel coating is hard. Dip in the chocolate until the caramel is covered and let the chocolate set.
Peppermint: During the wintertime, make some fun, festive Chocolate Peppermint Potato Chips. Add some peppermint flavoring to the melted chocolate and then sprinkle crushed candy canes on the chips before the chocolate sets.
Spices: You can add some baking spices to the chocolate to add some more amazing flavor. Make Mexican-Chocolate inspired treats with chili powder, cayenne, and cinnamon. During the fall, add a little Pumpkin Pie Spice. For a topping, add a dusting of cinnamon powder or dip them in a cinnamon-sugar mixture.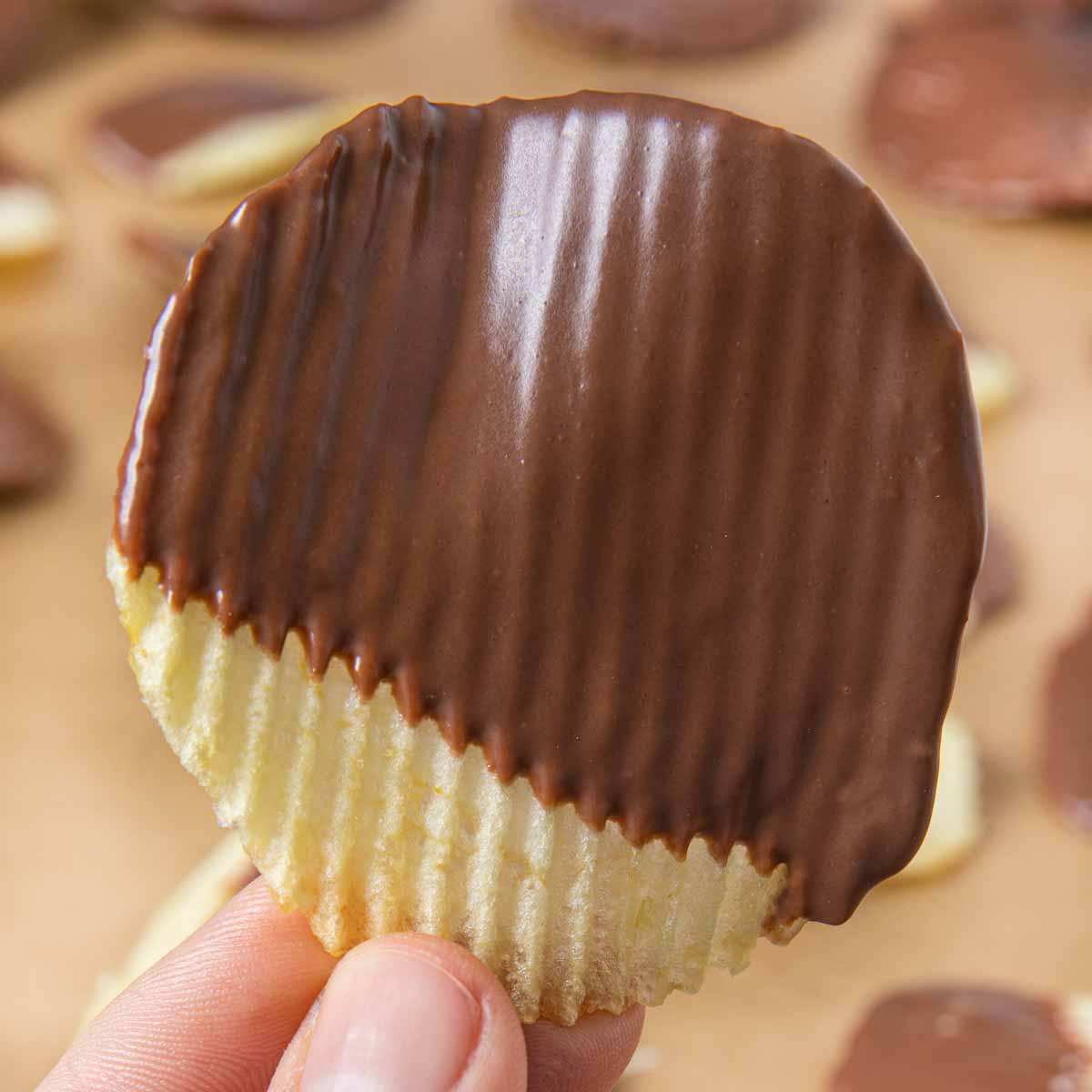 How to Store
Serve: You can easily store your Chocolate Covered Chips for up to 5 days at room temperature. Keep them in an airtight container with wax or parchment paper between layers to prevent melting and sticking.
Store: Partially coated Chocolate Covered Chips will stay good in the fridge for about 1 week in an airtight container, and fully coated chips will last about 2 weeks. Let them cool and set completely before storing so they don't stick together.
Freeze: Freezing is not a good idea unless you plan to consume them frozen and they are fully coated. The thawing process will cause any exposed chip to become soggy. If you do want to freeze them, they will last about 1 month.


Instructions
Microwave chocolate in

30 second

increments and stir between each time until fully melted.

Dip each chip almost all the way in, then tap gently to remove excess chocolate.

Allow to cool and dry on a baking sheet lined with parchment paper.
Nutrition
Calories:
178
kcal
|
Carbohydrates:
16
g
|
Protein:
2
g
|
Fat:
12
g
|
Saturated Fat:
4
g
|
Cholesterol:
1
mg
|
Sodium:
86
mg
|
Potassium:
371
mg
|
Fiber:
2
g
|
Sugar:
5
g
|
Vitamin A:
7
IU
|
Vitamin C:
3
mg
|
Calcium:
13
mg
|
Iron:
1
mg