Chocolate Covered Potato Chips are an easy 10 minute snack that's crunchy, salty, sweet and chocolate-y in one bite with just 2 ingredients!
So I've made Chocolate Covered Pretzels for a lot of different family parties and gatherings, and I wanted to make something with a similar amount crunch and creaminess. Chocolate Covered Potato Chips are the perfect blend of sweet and salty, and they have just the right amount of crunch to make them absolutely addicting. I'm a huge fan, and I recently added them to my Dessert Recipe Page, which has a ton of other tasty treats that you should check out when you need some ideas.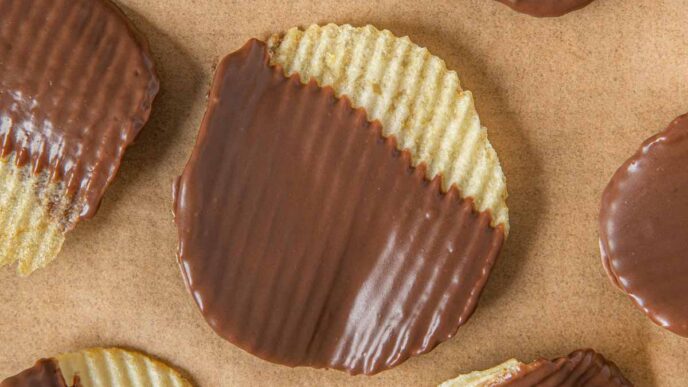 CHOCOLATE COVERED CHIPS
Gourmet Chocolate Covered Potato Chips are the incredibly, shareable dessert appetizer that you didn't know you needed in your life. They check pretty much every box for me: they're crunchy, they're chocolatey, they're perfectly crisp, and they're one of the easiest desserts I've ever made.
I served these at Thanksgiving dinner last year after we'd cleared all of our plates, and they were a great way to end the night because they're surprisingly light. After eating all of the rich, filling food, it was wonderful to have something a little bit lighter with a ton of flavor.
If you love playing games after dinner, these are great to have out on the table for everyone to munch on as they start craving something sweet. Plus, if no one can manage another bite, you can seal them up and enjoy them for another few days.
MORE CHOCOLATE DIPPED DESSERTS:
HOW TO MAKE CHOCOLATE COVERED POTATO CHIPS
Microwave chocolate in 30 second increments and stir between each time until fully melted.
Dip each chip almost all the way in, then tap gently to remove excess chocolate.
Allow to cool and dry on a baking sheet lined with parchment paper.

Create a free account to

Save Recipes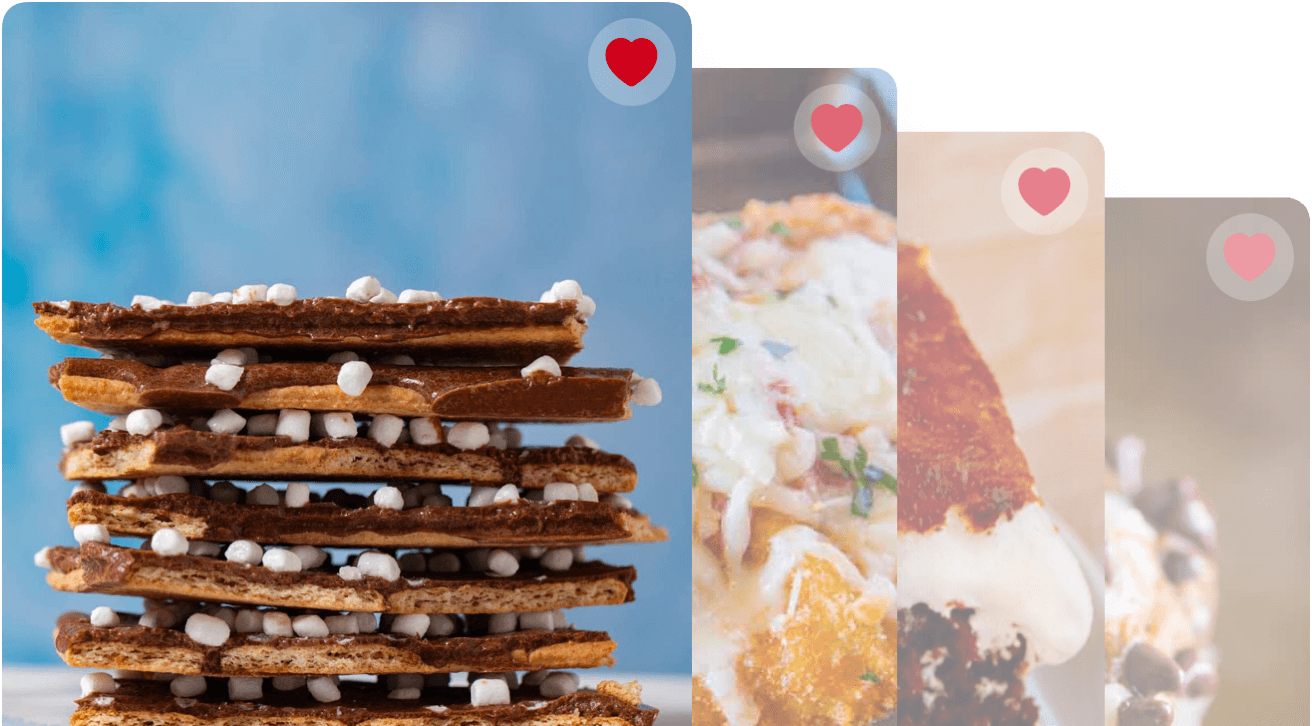 VARIATIONS ON CHOCOLATE COVERED CHIPS
Chocolate: You aren't just limited to using semi sweet chocolate. I really like using white chocolate, but you can also choose dark chocolate or milk chocolate. If you want to be extra fancy, try my recipe for Homemade Chocolate Ganache. Make sure you don't layer the chocolate on too thickly though, or the weight can make the chip break once it's dry.
Toppings: You can really customize these chips to fit your personal tastes. I personally love dusting the tops of the Chocolate Covered Chips with a little sea salt, or a drizzle of peanut butter or caramel. You can make really beautiful patterns with these toppings, so if you're planning to serve Chocolate Covered Potato Chips for a holiday party you can make them look fancy.
EASY CHRISTMAS CANDY RECIPES
WHAT KIND OF CHIPS TO USE:
The kind of chip you use can really alter the whole presentation, which means you can experiment with all sorts of variations. I used Ruffles for the photo, but one of my other favorites to use are kettle chips or even baked chips.
When I tried this recipe with baked chips, I did end up sprinkling sea salt over the top to still get that nice mixture of salty and sweet. Otherwise, the flavor of the chip can get overpowered by the chocolate, and the play between the two main tastes is what makes the chip so delicious.
Just be sure you're not using a flavor that has too much seasoning dusted on as it will mix into the melted chocolate and cause it to become grainy as you continue to dip chips into the chocolate.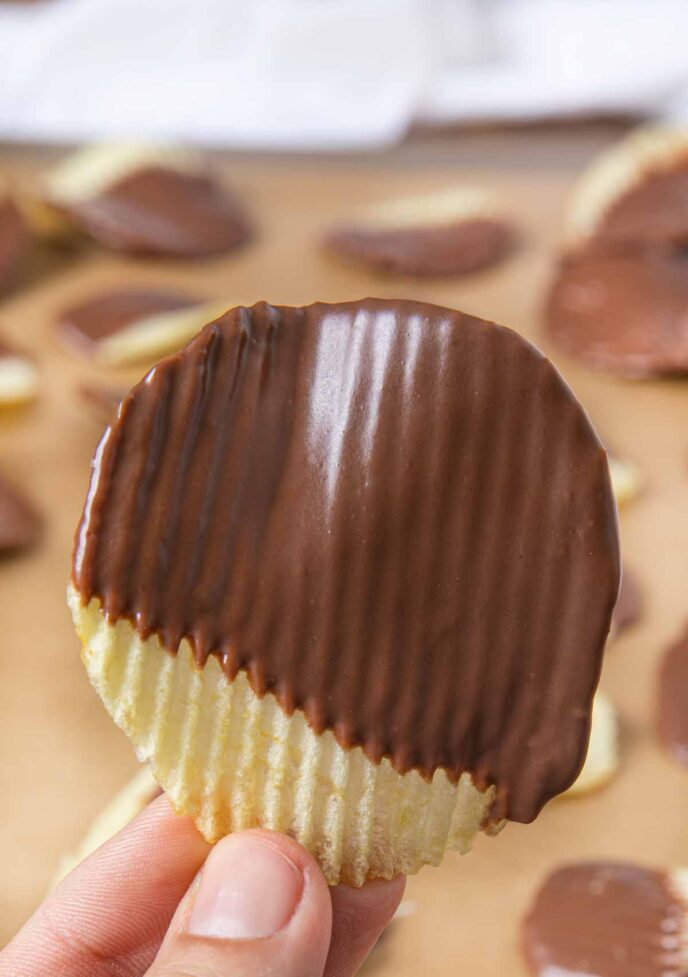 CHOCOLATE COVERED CHIPS FAQS
Who invented chocolate covered potato chips? In 1885, "Chippers" were served in North Dakota at Wildman's Candy. There are a few other companies claim to have invented them, but the actual origins aren't known.
How to keep chocolate covered potato chips fresh? Keep them in the fridge in an airtight container. Make sure to keep any excess moisture out.
Are chocolate covered potato chips gluten free? Yes, as long as the chips you select are specifically marked "gluten free."
HOW LONG ARE CHOCOLATE COVERED CHIPS GOOD?
Serve: You can easily store your Chocolate Covered Chips for up to 5 days at room temperature. You need to keep them in an airtight container, and you can also keep them on a layer of wax paper to keep them from sticking to things if they melt a little.
Store: Chocolate Covered Chips are good in the fridge for up to 5 days in an airtight container. Always make sure to let them cool down to room temperature completely before storing them.
Freeze: I don't recommend freezing these unless you plan to consume them frozen and they are fully dipped. The thawing process will cause the chips to become soggy.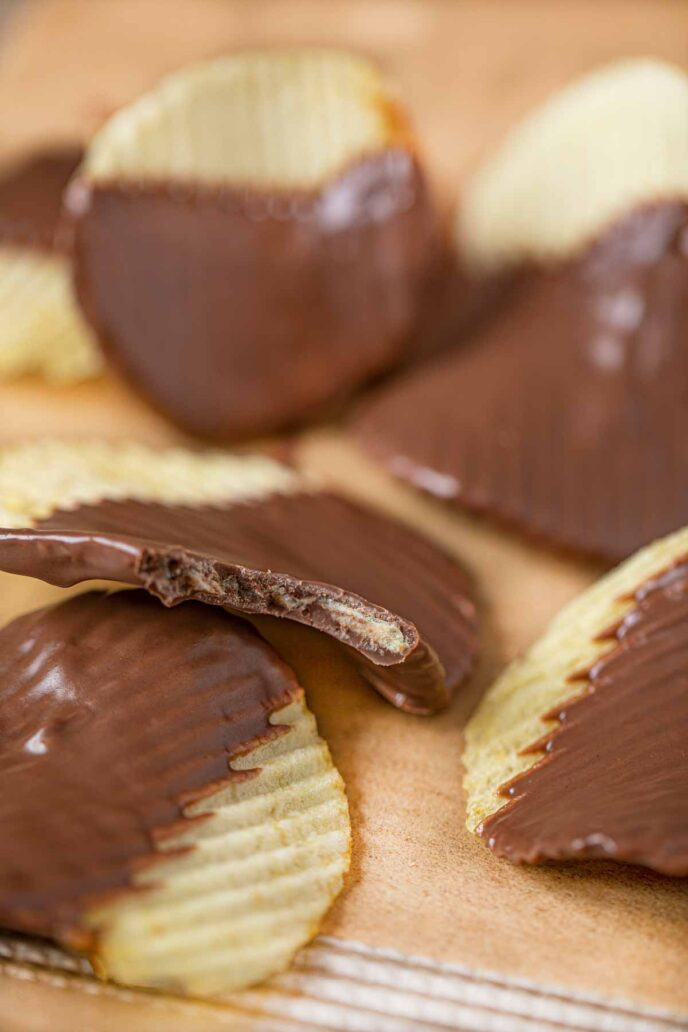 Instructions
Microwave chocolate in

30 second

increments and stir between each time until fully melted.

Dip each chip almost all the way in, then tap gently to remove excess chocolate.

Allow to cool and dry on a baking sheet lined with parchment paper.
Nutrition
Calories:
178
kcal
|
Carbohydrates:
16
g
|
Protein:
2
g
|
Fat:
12
g
|
Saturated Fat:
4
g
|
Cholesterol:
1
mg
|
Sodium:
86
mg
|
Potassium:
371
mg
|
Fiber:
2
g
|
Sugar:
5
g
|
Vitamin A:
7
IU
|
Vitamin C:
3
mg
|
Calcium:
13
mg
|
Iron:
1
mg