Easy Toffee Bits are made on the stovetop with just 3 simple ingredients. The sweet, buttery treats are great dessert mix-ins or toppings.
Homemade Candy Recipes like this are perfect to put out as a treat or use as an ingredient to your holiday baking. For more easy candies, try making Chocolate Fudge, Chocolate Peanut Butter Balls, or Peppermint Bark.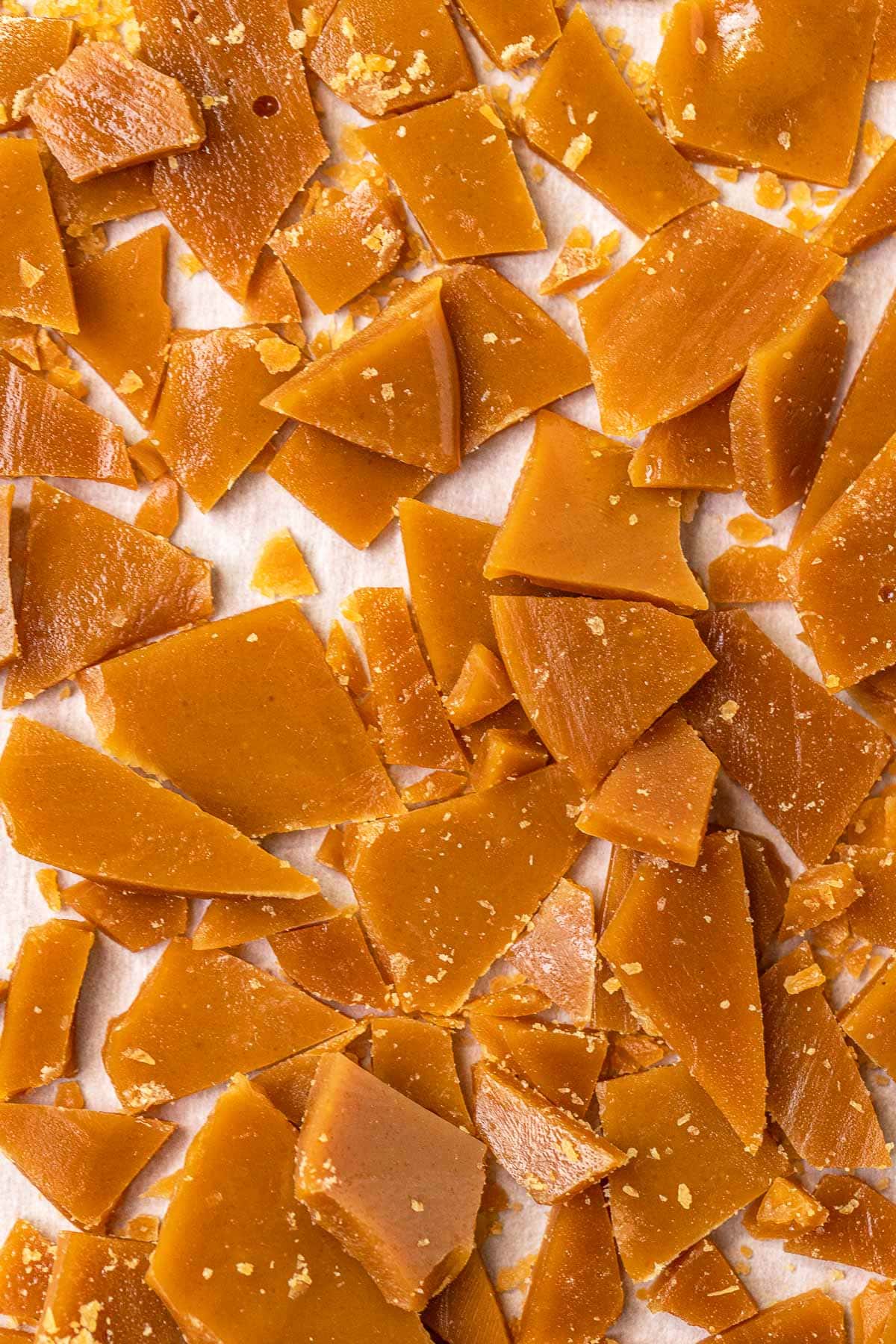 Toffee is a sweet treat made by caramelizing brown sugar in butter. You only need 3 ingredients, but the combination of brown sugar, butter, and a little salt makes the most amazing buttery, caramely, and rich flavor. Toffee makes a delicious candy or a baking ingredient to use in your favorite indulgent desserts.
Homemade Toffee Bits are super easy to make, and the fresh candy bits taste so much better than store-bought heath toffee bits. I like to make a big batch of this recipe, sometimes even doubling it up and dividing it into two baking sheets. Then I have lots of toffee bits to use for a variety of desserts.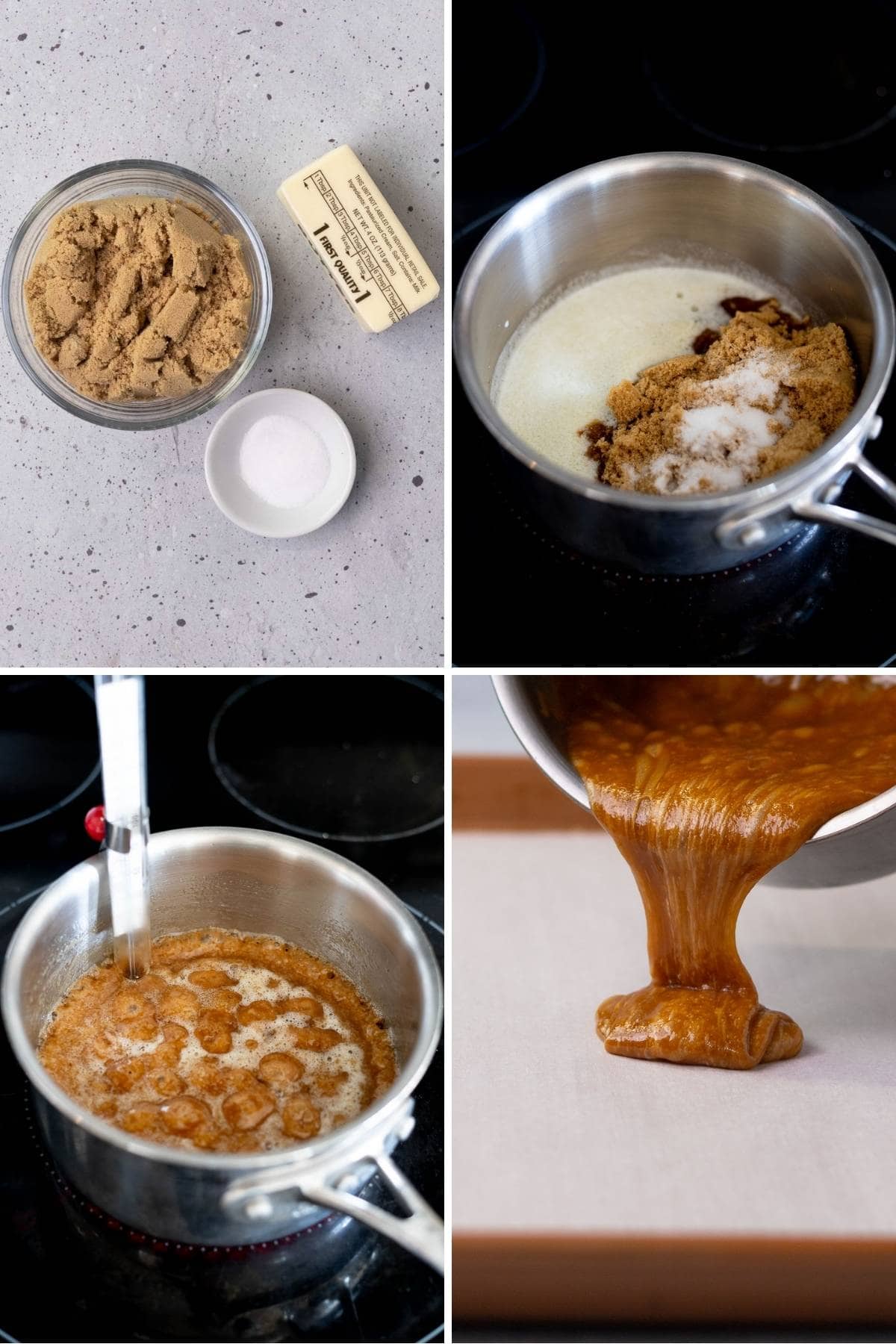 Try adding toffee to your favorite cookie recipes. The golden-brown chips taste amazing in Chocolate Chip Cookies, Cinnamon Crackle Cookies, or Buttery Holiday Cookies. Cookies with toffee bits are always a holiday favorite that you can bring to cookie exchanges, or give as a gift.
You can also use toffee as a topping to add Vanilla Ice Cream or caramel apples. Practically any of your favorite treats are even more amazing with buttery toffee added to them.
HOMEMADE CANDY RECIPES
KEY INGREDIENTS
Butter: Toffee is made by melting the butter then adding brown sugar to it. The butter melts the sugar so that it can all combine into one beautiful and delicious light brown mixture.
Brown sugar: This recipe is made with a wonderfully easy mix of three ingredients. The brown sugar makes up a majority of the sweet, caramel-like flavor. Just make sure you constantly stir while cooking or the sugar can burn.
Salt: Adding just a little bit of kosher salt is an easy way to give the homemade toffee bits a more complex flavor. Just make sure you use kosher and not table salt!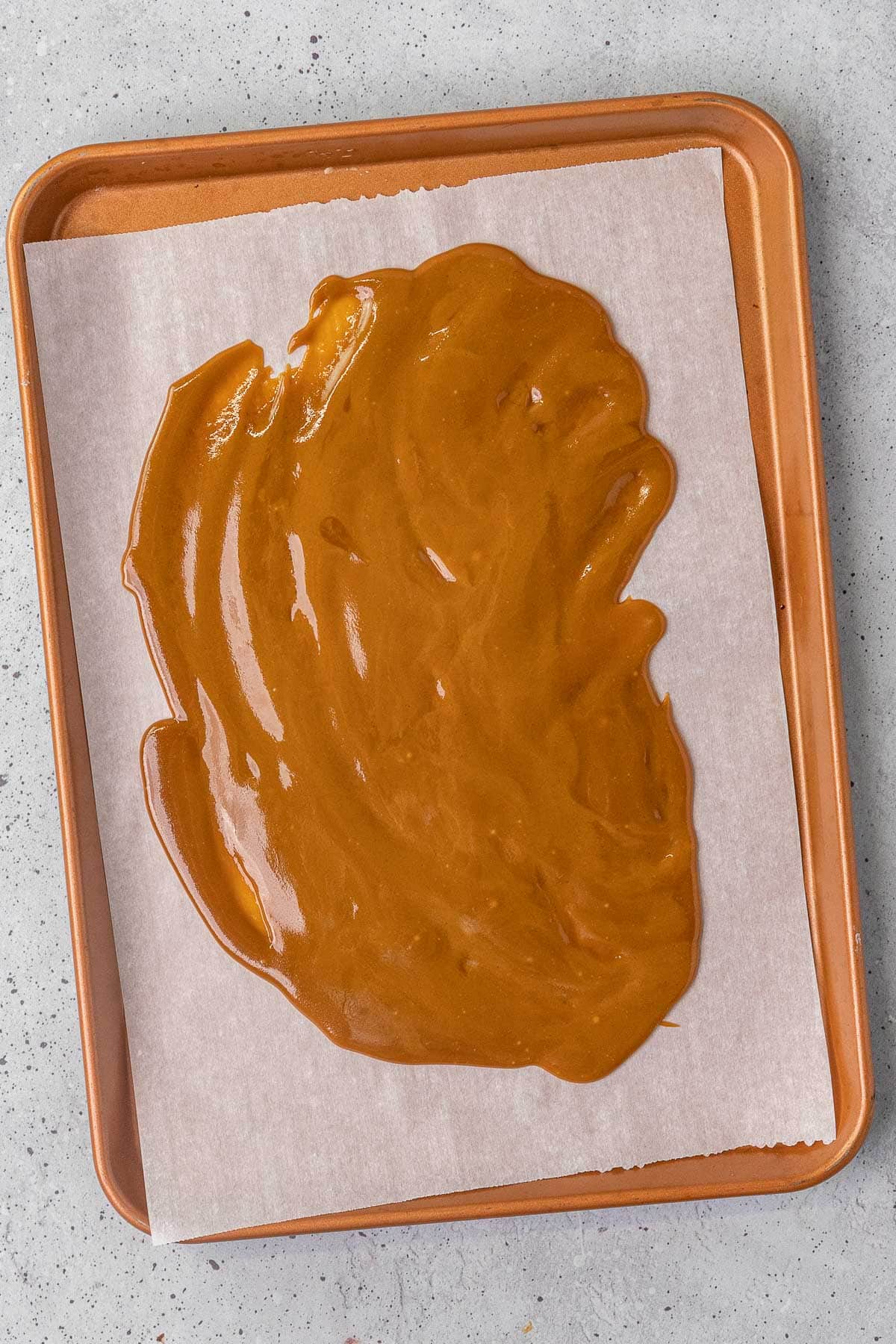 TIPS
Prep time: Before you start the recipe, get out a cookie sheet and line it with parchment paper. It's easier to have this done in advance because you don't want to let the mixture cool before you pour it into the pan.
Cook: Add the butter to a heavy saucepan over medium heat. Let the butter melt. Then add the brown sugar and 1 teaspoon salt. Stir the butter-sugar mixture constantly as it cooks together. Use a candy thermometer to see when it reaches 300-350 degrees. That should only take 8-10 minutes.
Set: Then you can pour the homemade toffee recipe into the prepared baking pan. Use the back of a spoon, an offset spatula, or a butter knife to spread the toffee evenly. Let it all harden for 30 minutes.
Break: Once the toffee is hardened, hold up the sheet pan and drop it back onto the countertop from a few inches above. Then transfer the dislodged toffee pieces into a zip lock bag to mash them into bits. Or, leave them on the baking sheet and use a mallet to break them. Store the toffee in an airtight container until you use them.

Create a free account to Save Recipes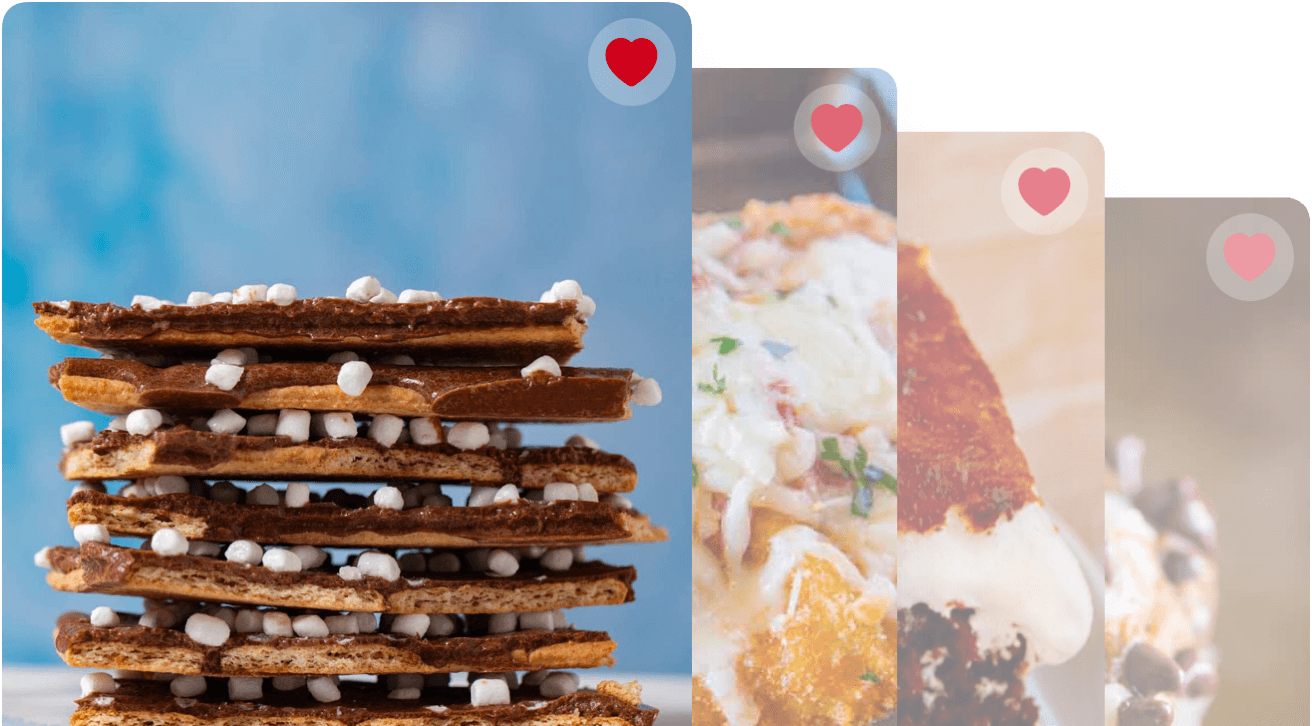 VARIATIONS
Almond Toffee Bites: To add some nutty flavor to the homemade candy, mix chopped almonds into the buttery mixture while it's still melted. Then pour it into the pan and let it harden as usual. You may want to break the Homemade Almond Toffee Bites into slightly larger pieces than you typically would for Toffee Bits. Just break them up into the same size you would candy bark, and eat them as a sweet snack.
Mini toffee candies: Instead of breaking the easy toffee into bits, you can make them into sweet, homemade candy disks. Line mini muffin pans with paper liners. Then instead of pouring the toffee mixture into a sheet pan, spoon the melted mixture into the mini muffin liners. Let it harden before taking the candies out. The little homemade candies are perfect to put out at holiday parties.
Toppings: Before the toffee hardens you can sprinkle toppings like sanding sugar, flaky sea salt, or sprinkles over the top.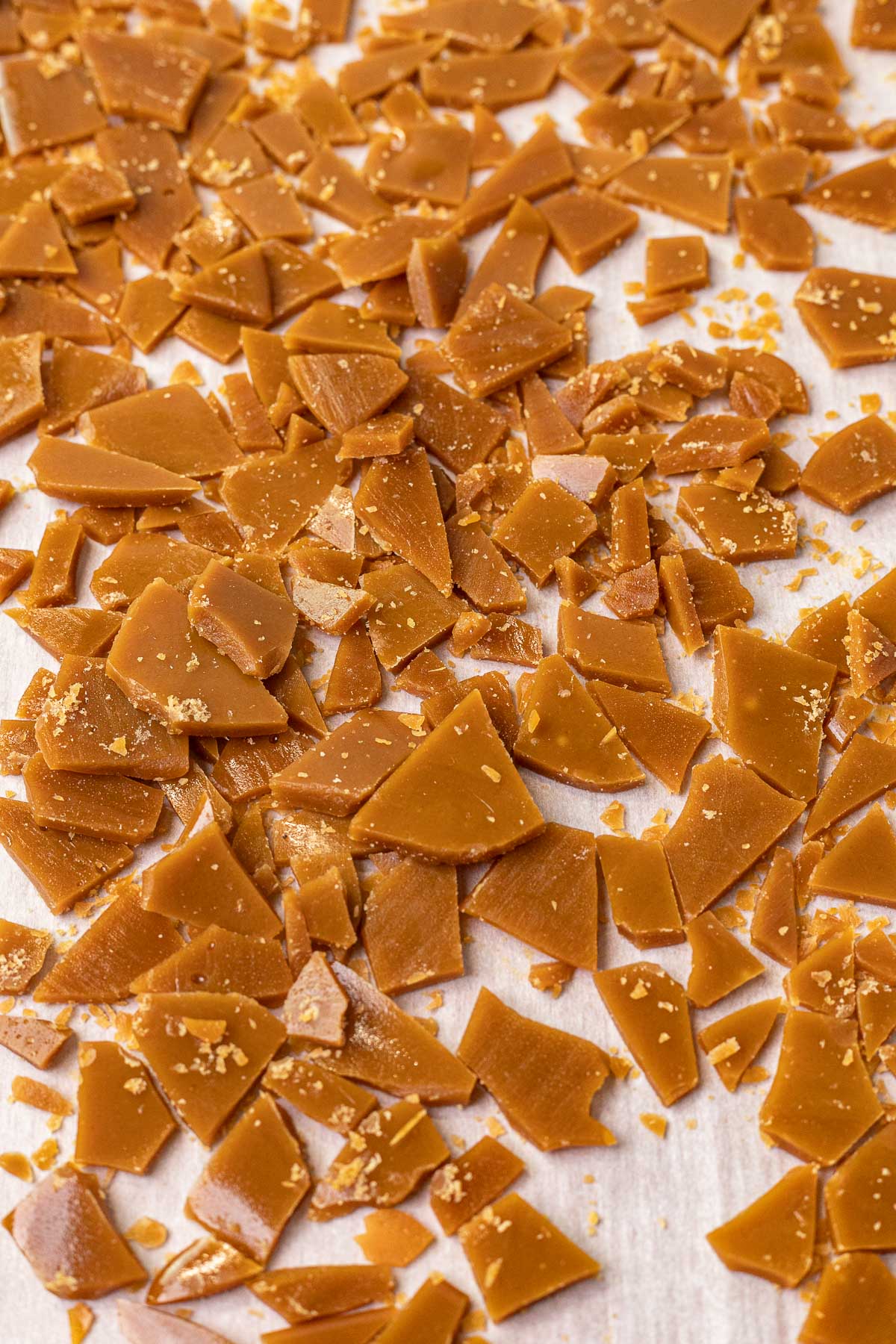 TOFFEE RECIPES
HOW TO STORE
Serve: Make sure to let the toffee cool completely before you break it into bits and store it. Kept sealed in a dry, cool place, the amazing toffee can keep for 1-2 weeks.
Store: You can also put the airtight container in the fridge. Then the Easy Toffee Bits can stay good for as long as 6 months.
Freeze: Or, seal and freeze toffee for up to 3 months. Let it thaw in the fridge, then leave it out at room temperature for a few minutes before serving.


Ingredients
1/2

cup

unsalted butter

1

cup

brown sugar

, packed (about 200g)

1

teaspoon

kosher salt
Instructions
Line a baking sheet with parchment paper.

Add butter to a medium saucepan on medium heat.

When melted add in the brown sugar and salt, stirring constantly until it reaches 300-305 degrees, about

8-10 minutes

.

Pour the mixture into the lined baking sheet and spread in a 1/4" thick layer with a knife, back of a spoon, or offset spatula.

Drop the sheet pan from a height of a few inches onto a sturdy surface.

Add to a large zip lock bag and smash gently with a smooth mallet, or just gently smash on the baking sheet.

Store in a cool place in a covered container.
Nutrition
Calories:
103
kcal
|
Carbohydrates:
13
g
|
Protein:
1
g
|
Fat:
6
g
|
Saturated Fat:
4
g
|
Polyunsaturated Fat:
1
g
|
Monounsaturated Fat:
1
g
|
Trans Fat:
1
g
|
Cholesterol:
15
mg
|
Sodium:
150
mg
|
Potassium:
20
mg
|
Sugar:
13
g
|
Vitamin A:
177
IU
|
Calcium:
13
mg
|
Iron:
1
mg