Peanut Brittle is the PERFECT party dessert, made with butter, peanuts, and corn syrup, it's sweet, crunchy, and ready in under 60 minutes!
Homemade candy isn't as intimidating as it sounds, in fact you'll love making easy homemade dessert gifts including these Chocolate Truffles, Chocolate Fudge, Buckeye Balls and Oreo Balls.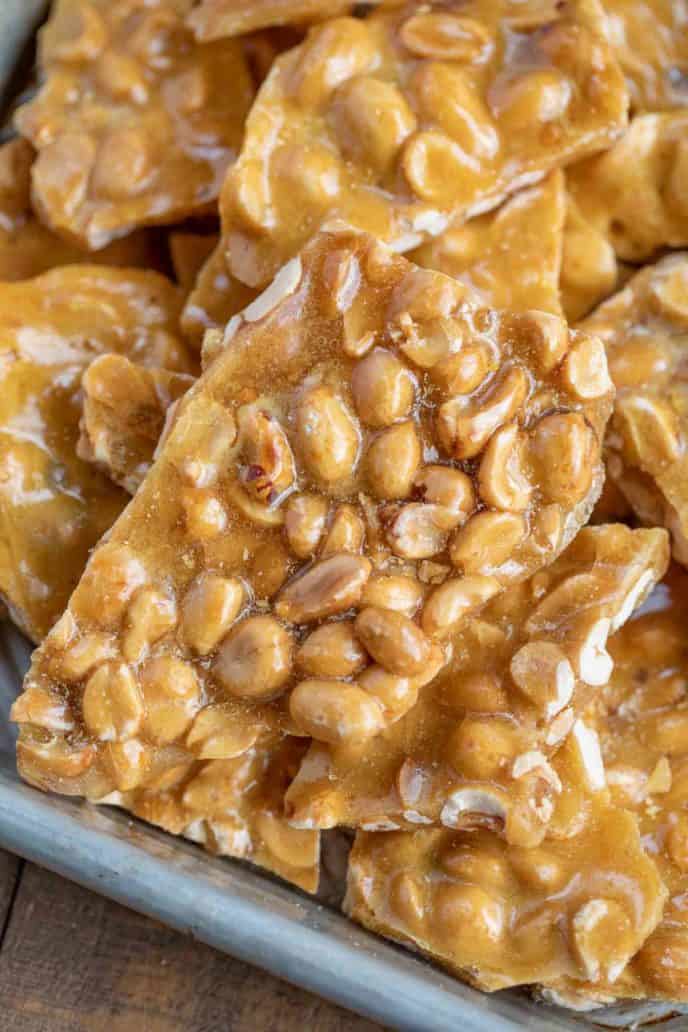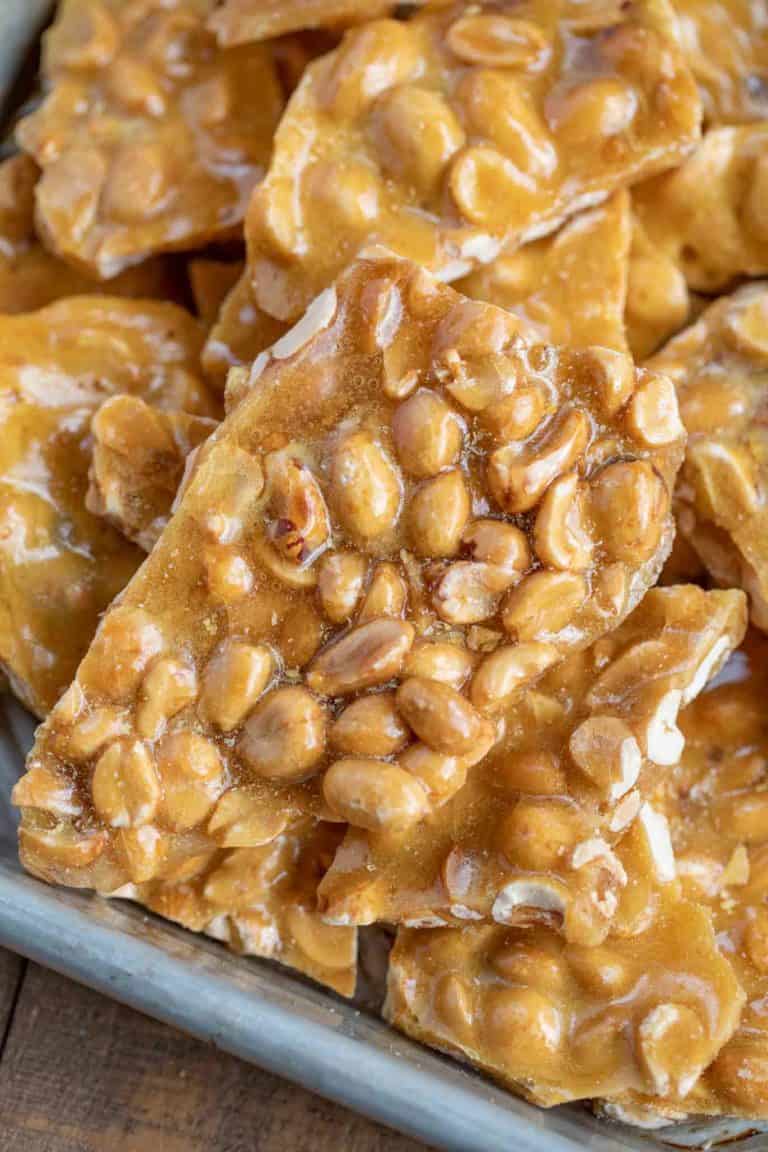 PEANUT BRITTLE
Peanut Brittle is a go-to holiday party dessert, because it's incredibly EASY to make, and a classic recipe that everybody loves. You can also give brittle out as party gifts by wrapping it in plastic with a ribbon.
Plus it's kid friendly, because they love helping to decorate the brittle, and breaking it into pieces after it sets. You can make this brittle with almonds, pecans, or walnuts instead of peanuts. You can also add any toppings you'd like, like chocolate chips, or a sprinkle of cinnamon sugar.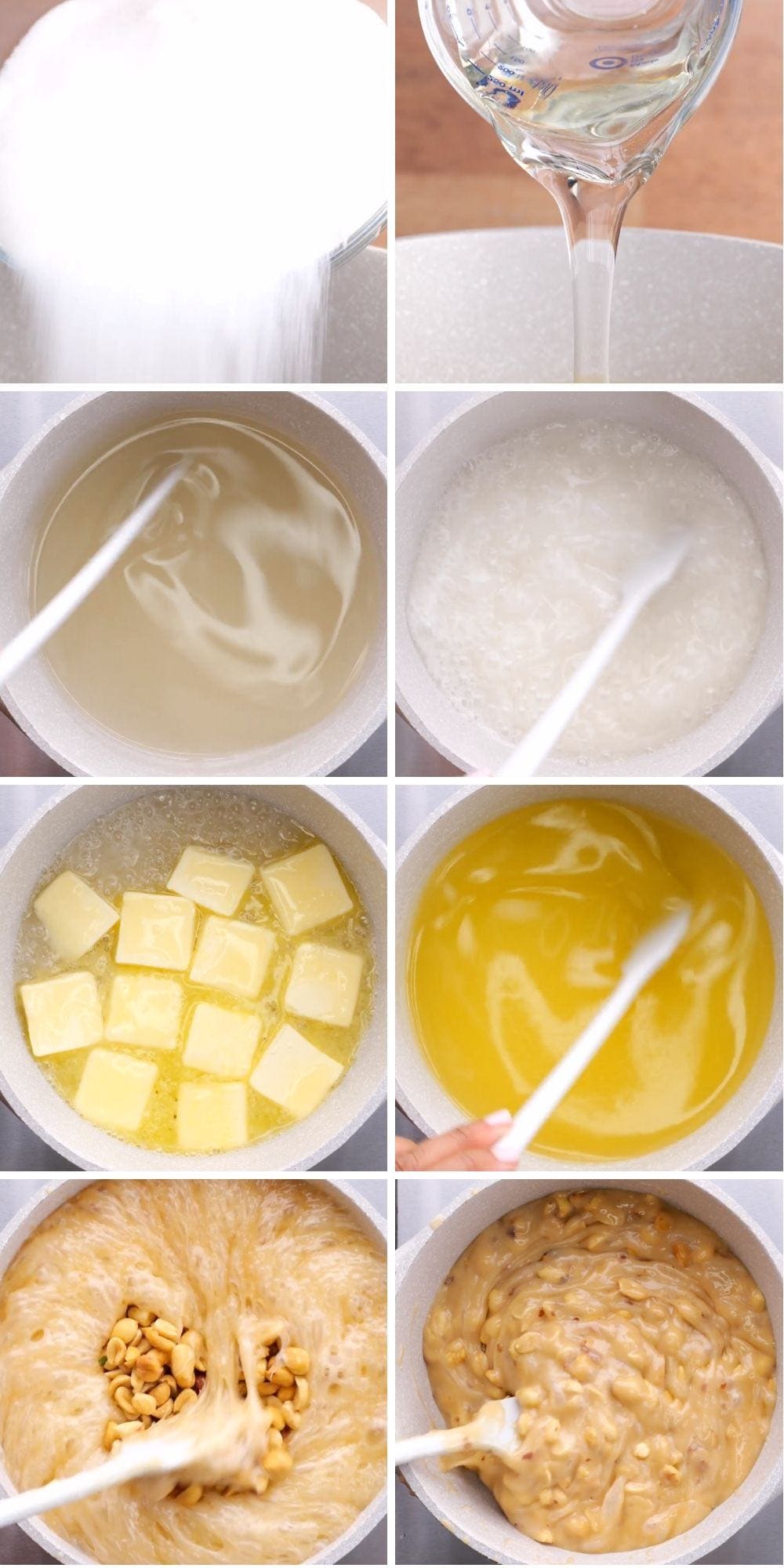 FREQUENTLY ASKED QUESTIONS ABOUT PEANUT BRITTLE
Why do you put baking soda in peanut brittle?
Baking soda helps give the brittle a lighter texture, keeping it from turning out too dense.
How long does brittle take to harden?
Peanut brittle can take 20-30 minutes to harden fully. Leave it alone on the counter, there is no need to refrigerate to set it.
What flavorings can be used in Peanut Brittle?
You can add a splash of vanilla extract or almond extract to add extra flavor to this peanut brittle.
Can you use alcohol in Peanut Brittle?
For an adult peanut brittle recipe, add a splash of rum or bourbon to the hot sugar!
Should I use salted or unsalted butter for Peanut Brittle?
Always use unsalted butter for all recipes so you can control the amount of salt that goes into a recipe. Keep in mind that the flavor will be different if you use salted.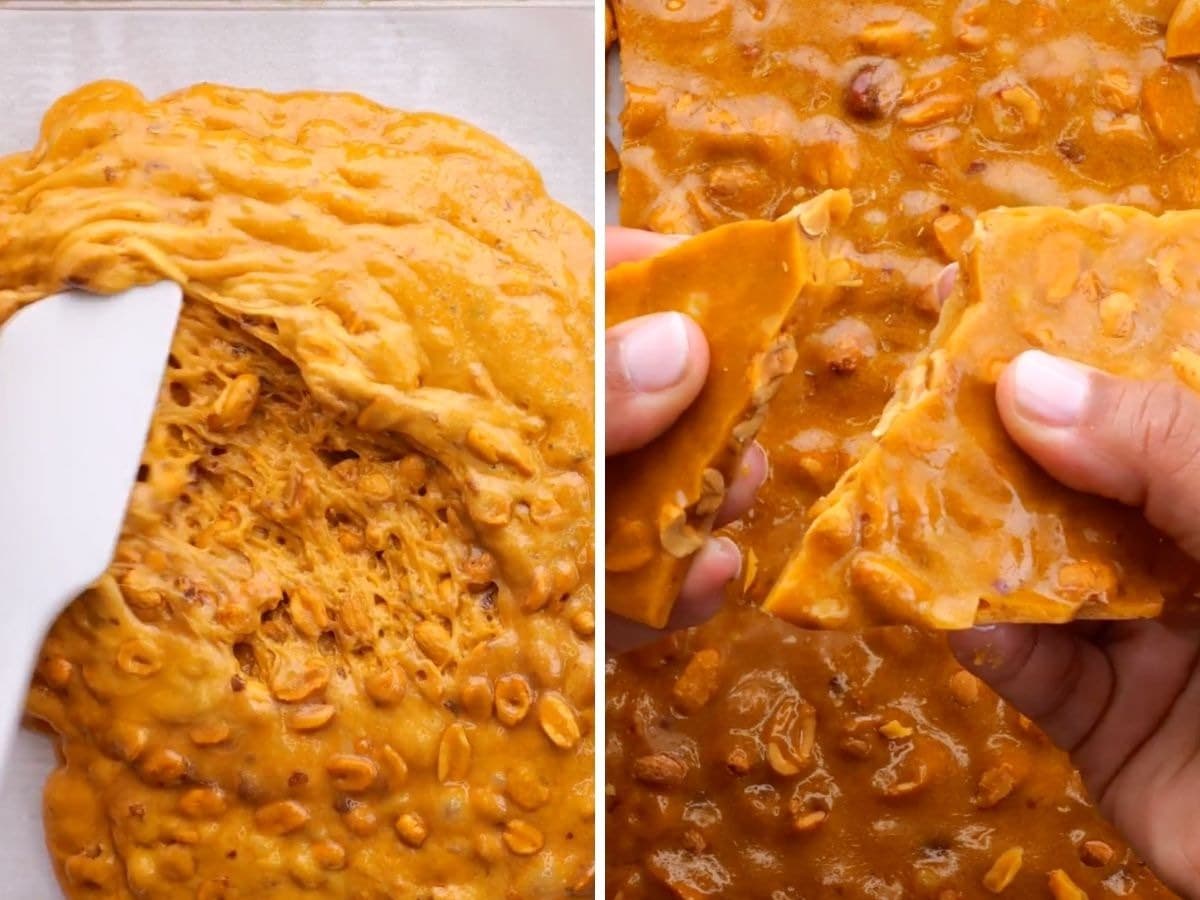 Create a free account to Save Recipes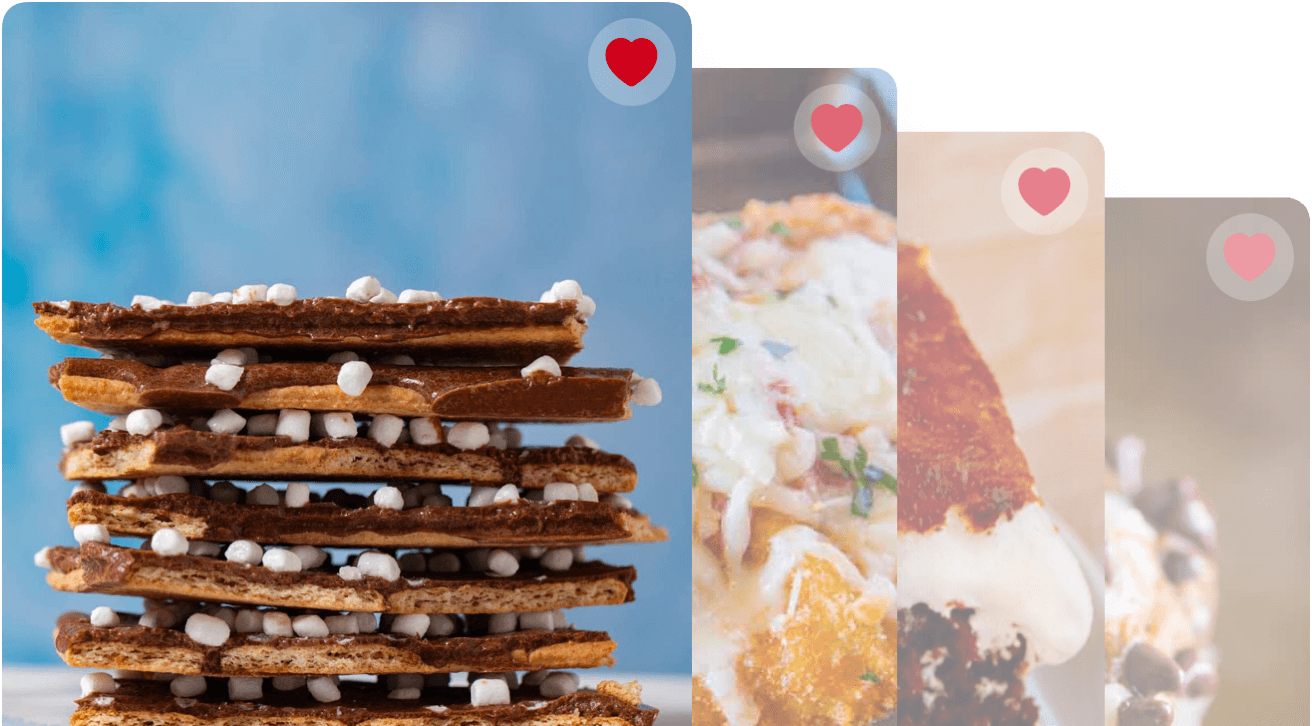 MORE EASY DESSERT RECIPES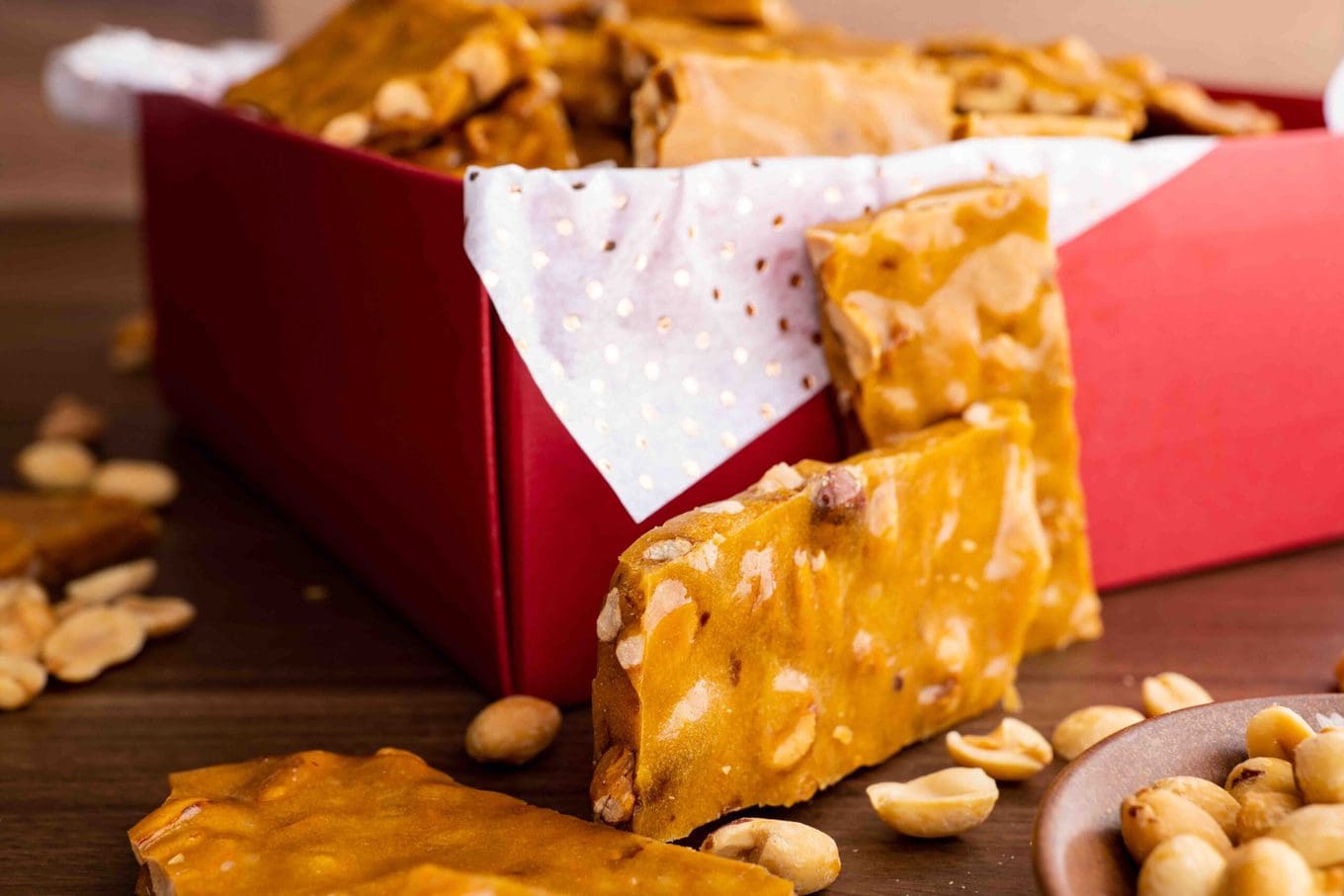 TIPS FOR MAKING PEANUT BRITTLE
If your peanut brittle didn't set right, it's most likely because you removed it from the heat too soon. Try cooking it for longer and trying again, or starting over using a timer. Your candy thermometer has to read 305 degrees before it'll be ready to take off of the heat, because that's when the sugar reaches the hard crack stage.
Prep your ingredients ahead of time and have them next to the pan. This peanut brittle recipe depends on reaching specific temperatures (this is why a candy thermometer is so important to use, do not eyeball it), so it's important to move fast once you reach it.
I like to use a dutch oven for this recipe but you can use a large saucepan if that's what you have.
Once you pour it onto the baking sheet, try topping your brittle with extra peanuts (or chopped peanuts), marshmallows, coconut flakes, candies, drizzled peanut butter, caramel sauce, or pecans.
Once the brittle has cooled (do not rush this step), break it with your hands by bending it slightly. If you're having trouble, you can use a kitchen hammer or other heavy tool to lightly tap the brittle until it breaks into pieces.
We're greasing the baking sheets, but I want to stress that you should also line them with parchment paper (THESE are a lifesaver). This peanut brittle recipe is very sticky when it's warm, and this helps to ensure that the sticky brittle will come off the pan completely.
Usually I would advise you not to stir the sugar too much to avoid it from becoming grainy, but the corn syrup actually helps keep the sugar smooth and helps it set properly, so stirring it while it's cooking should not ruin your brittle.
Be very careful when boiling the sugar for this brittle, as it is VERY hot and can burn if it gets on your skin. I do NOT recommend having the kids help with this part, only adults!
HOW TO STORE PEANUT BRITTLE
Serve: Peanut brittle can remain at room temperature for serving.
Store: After you break it, peanut brittle will last several weeks at room temperature stored in an airtight container. Store it with a piece of parchment paper between each layer, to keep the brittle from sticking together. Don't store your brittle in the refrigerator or it won't stay crunchy.
Freeze: Peanut brittle will last frozen, stored in an airtight container, for several months. This is a great way to make peanut brittle ahead of time for the holidays and keep it until you're ready! Defrost on the counter several hours before you're ready to serve it.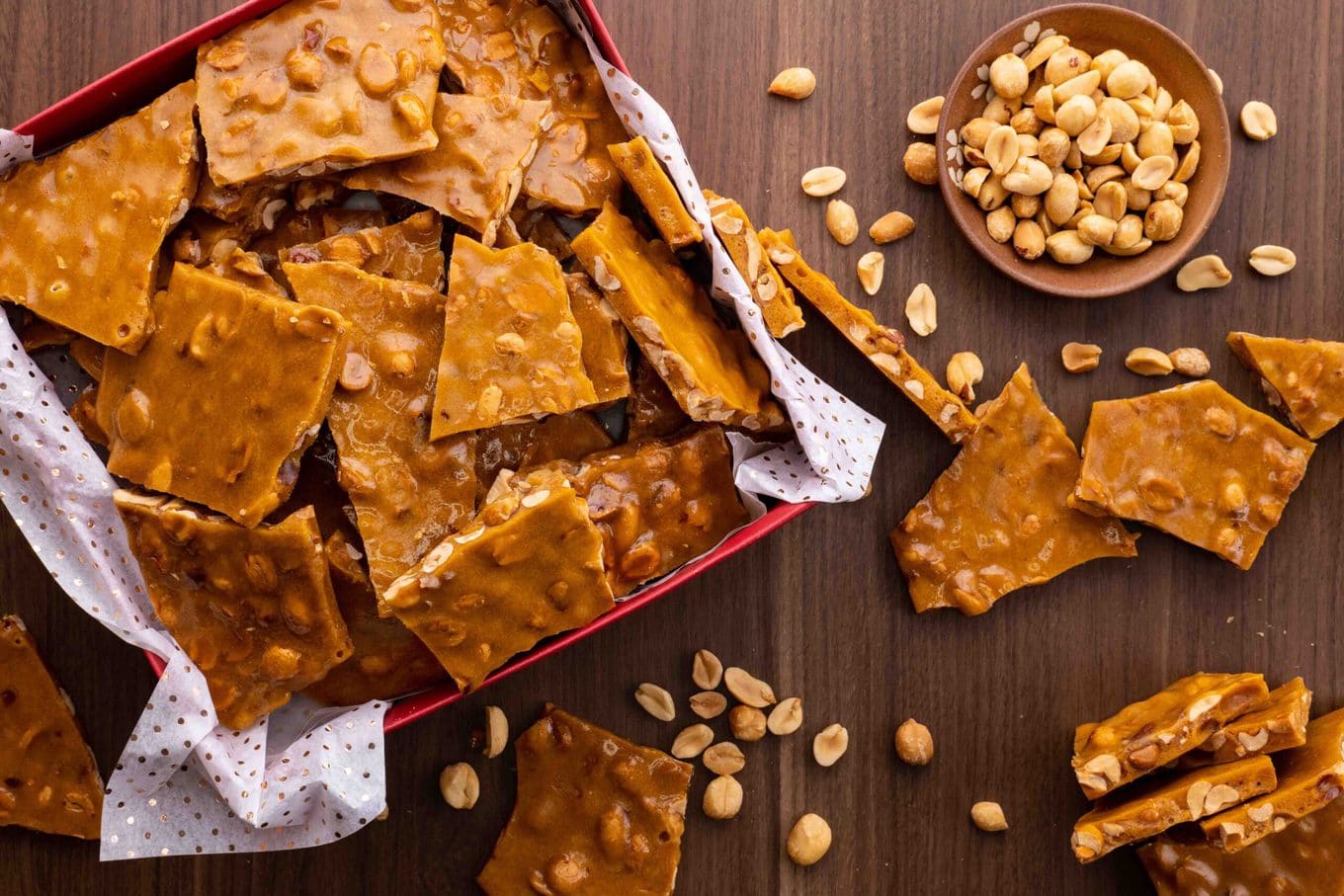 Instructions
Spray 2 medium (15×10) baking sheets with vegetable oil and line with a parchment paper.

Add the sugar, corn syrup and water in a large dutch oven on medium heat and bring to a rolling boil, stirring until the sugar is fully dissolved (

5-8 minutes

).

Add the butter, stirring occasionally until it reaches 280 degrees on a candy thermometer (

15-18 minutes

).

Add in the peanuts, stirring nonstop for another

8-10 minutes

until it reaches 305 degrees, turn off the heat and mix in the baking soda and immediately pour onto the baking sheets to cool completely.
Nutrition
Calories:
487
kcal
|
Carbohydrates:
60
g
|
Protein:
5
g
|
Fat:
27
g
|
Saturated Fat:
11
g
|
Cholesterol:
40
mg
|
Sodium:
113
mg
|
Potassium:
164
mg
|
Fiber:
1
g
|
Sugar:
56
g
|
Vitamin A:
475
IU
|
Calcium:
21
mg
|
Iron:
0.6
mg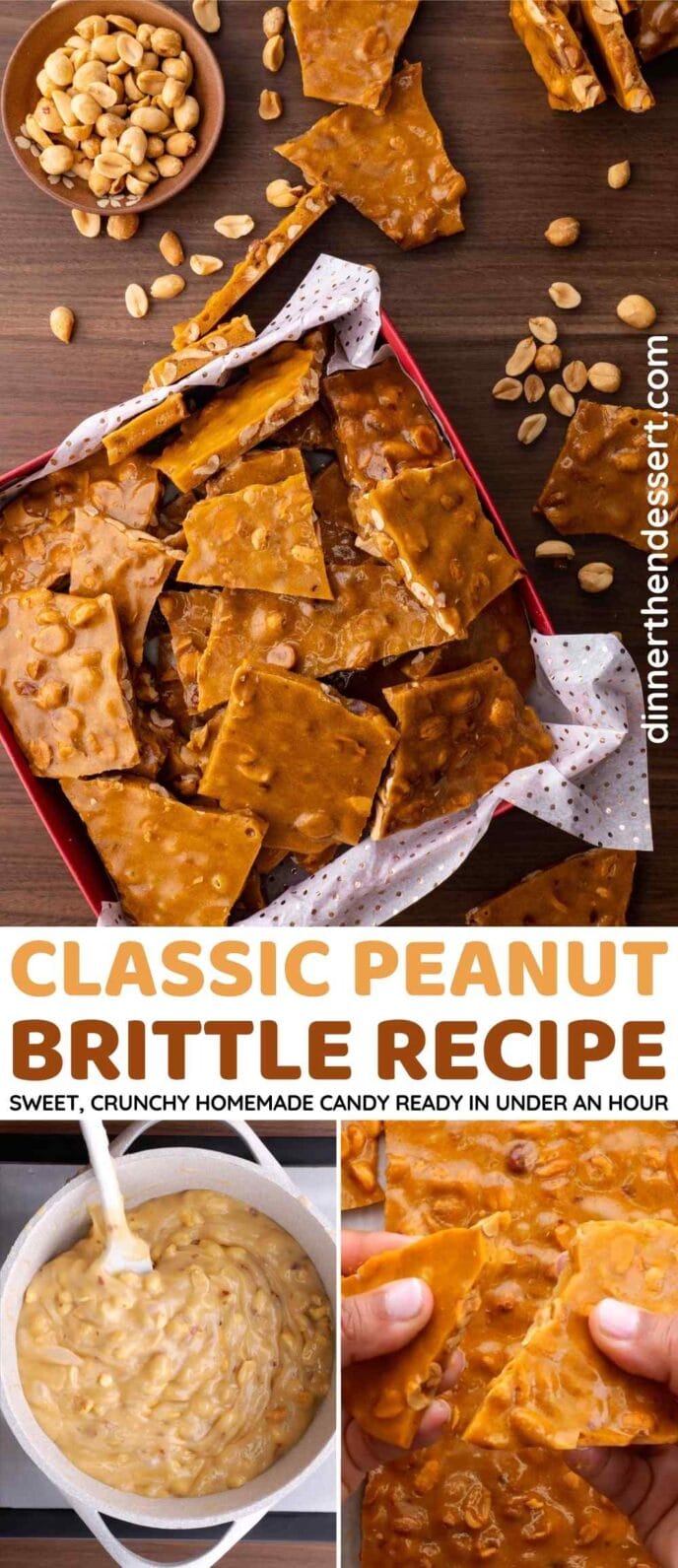 Photos used in a previous version of this post.