Butter Toffee is rich, unbelievably easy homemade toffee made with easy ingredients like chocolate, sugar, butter, and chopped almonds.
This simple Homemade Candy Recipe is perfect for the holiday season or anytime you have a sweet tooth to satisfy. You can put English Butter Toffee out with other homemade treats like Peanut Clusters and Walnut Fudge.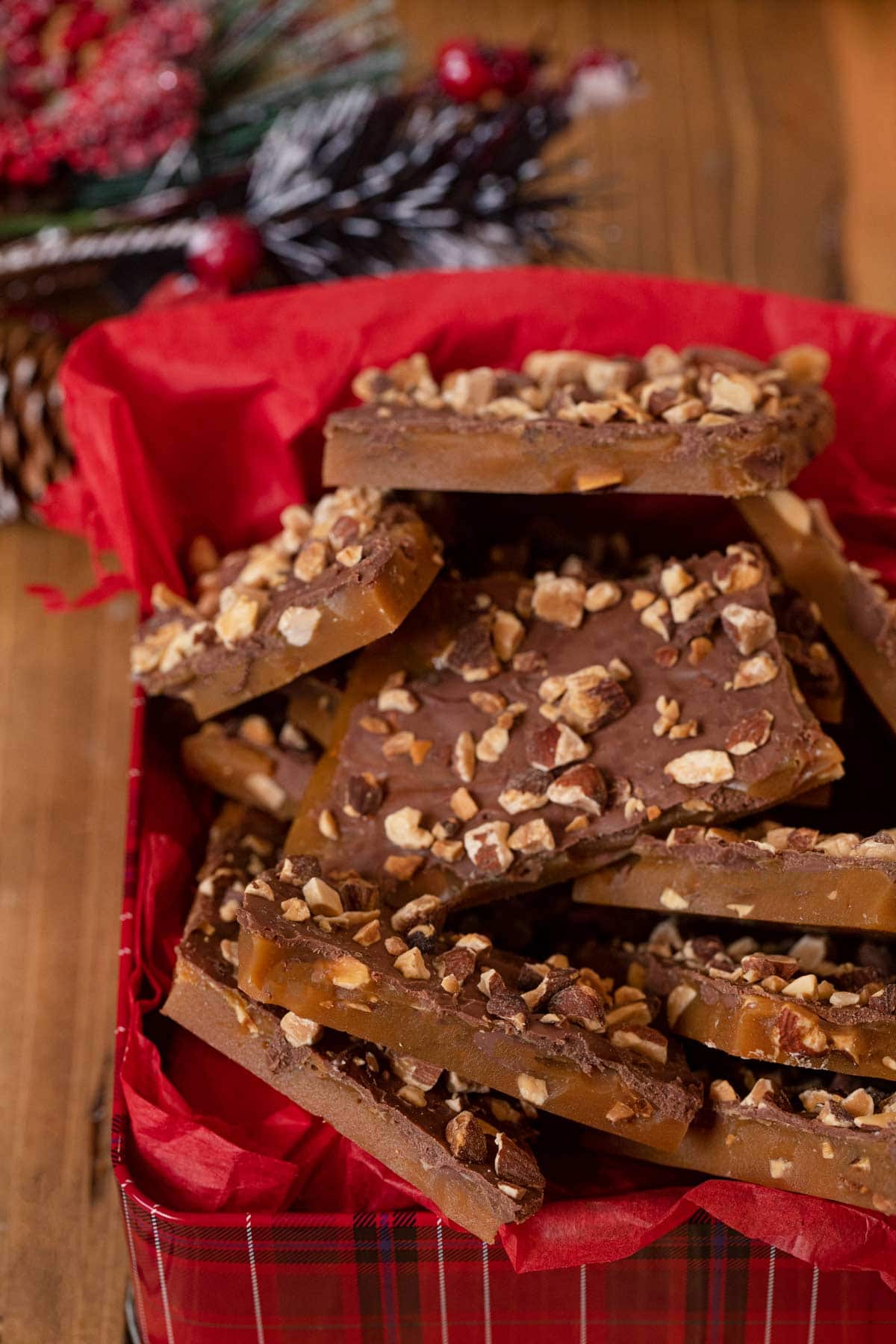 BUTTER TOFFEE
Butter Toffee makes an easy and delicious dessert that's sure to become a favorite! Made with simple, sweet ingredients and topped off with almonds for crunchy goodness, this treat is an instant classic that you're sure to love!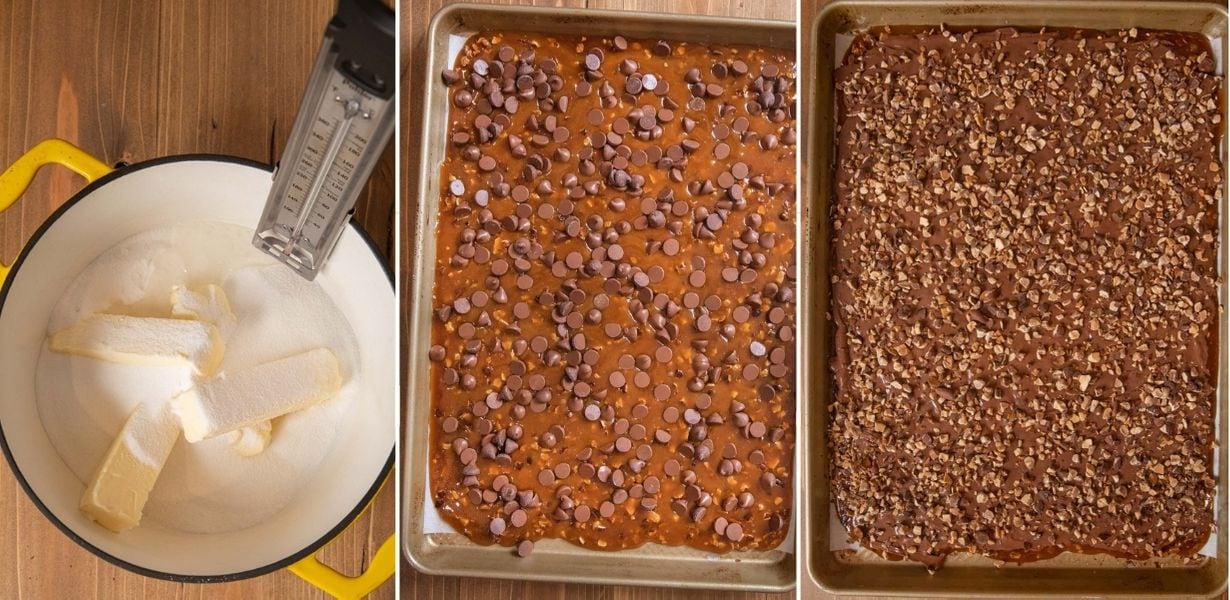 It's one of those easy desserts that's great to have around the house to snack on or enjoy in the evening with other treats. You can serve English toffee over the holidays with other favorite treats like Ginger Cookies and Hot Chocolate.
You can even keep some of it frozen and take the toffee out in small batches. That way it doesn't get eaten all at once, and there's more to enjoy throughout the season.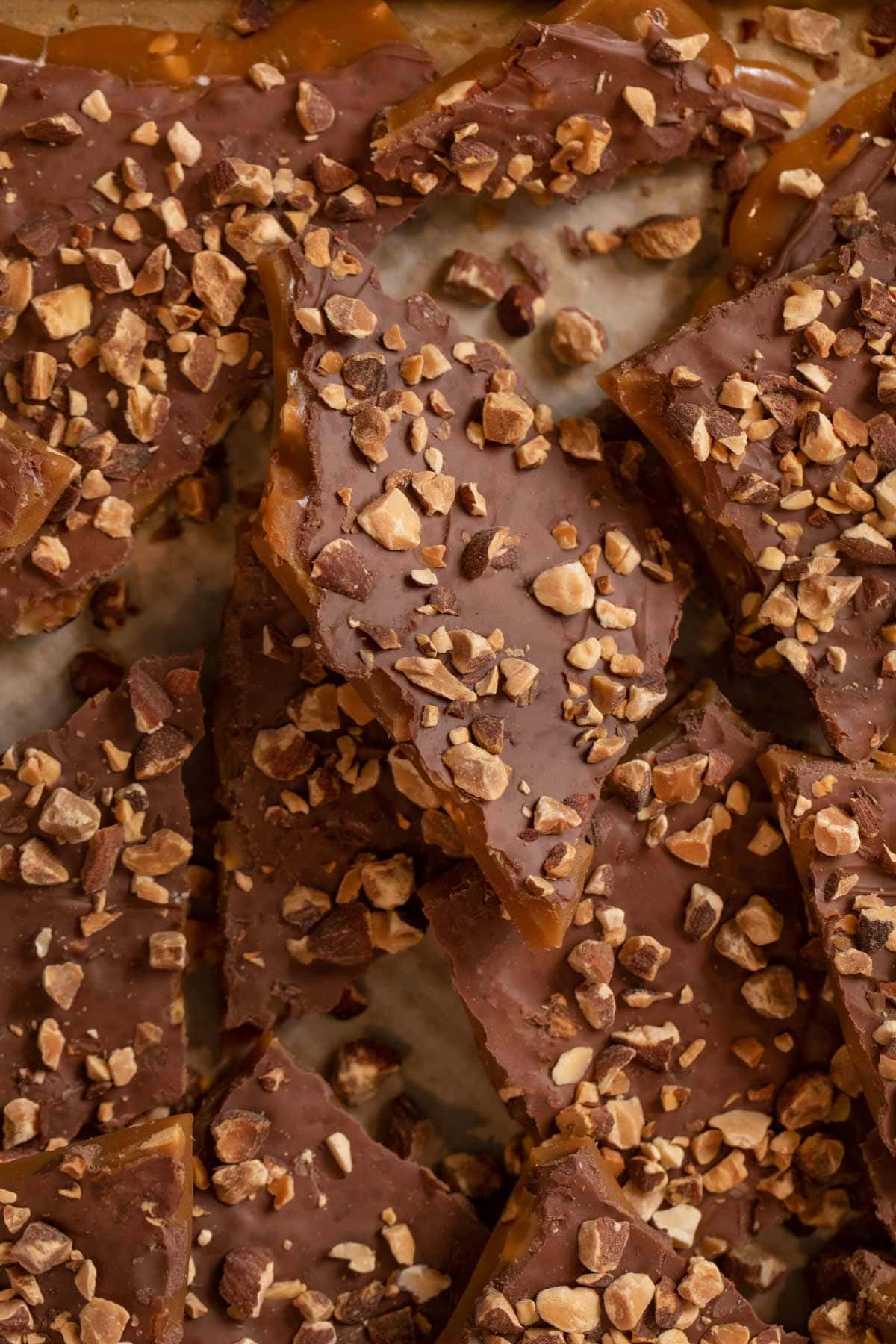 HOLIDAY GIFTS
Sweet, English Toffee is the perfect treat to package up as a holiday gift. You can put it in the freezer after you make it to store until you're ready to package the gifts.
Wrap the broken apart toffee bits in cellophane bags with a bow on top or put them in a gift box. If you put them in a box, make sure to separate the layers with parchment paper, or decorative tissue paper. That way they won't meld together in transit.
It's an easy treat that you can make several batches of, so it's great to make in bulk and give to all your neighbors, family, and friends. It's pretty much guaranteed to be a favorite with everyone!
MORE TOFFEE-INSPIRED TREATS
TIPS FOR MAKING BUTTER TOFFEE
Almonds: Chop your almonds roughly with a knife, or put them in a food processor. Pulse the food processor until the almonds reach the texture you want. Preheat the oven to 350 degrees, and lay the almonds out on a baking sheet. Toast them for 5-7 minutes. Halfway through the roasting time, take them out to stir the almonds, then put them back in. Put the almonds in a mixing bowl to cool while you prep the rest of the recipe.
Prep: To butter your baking sheets, remove the wrapper from your butter and spread it over two pans. Then line the sheets with parchment paper.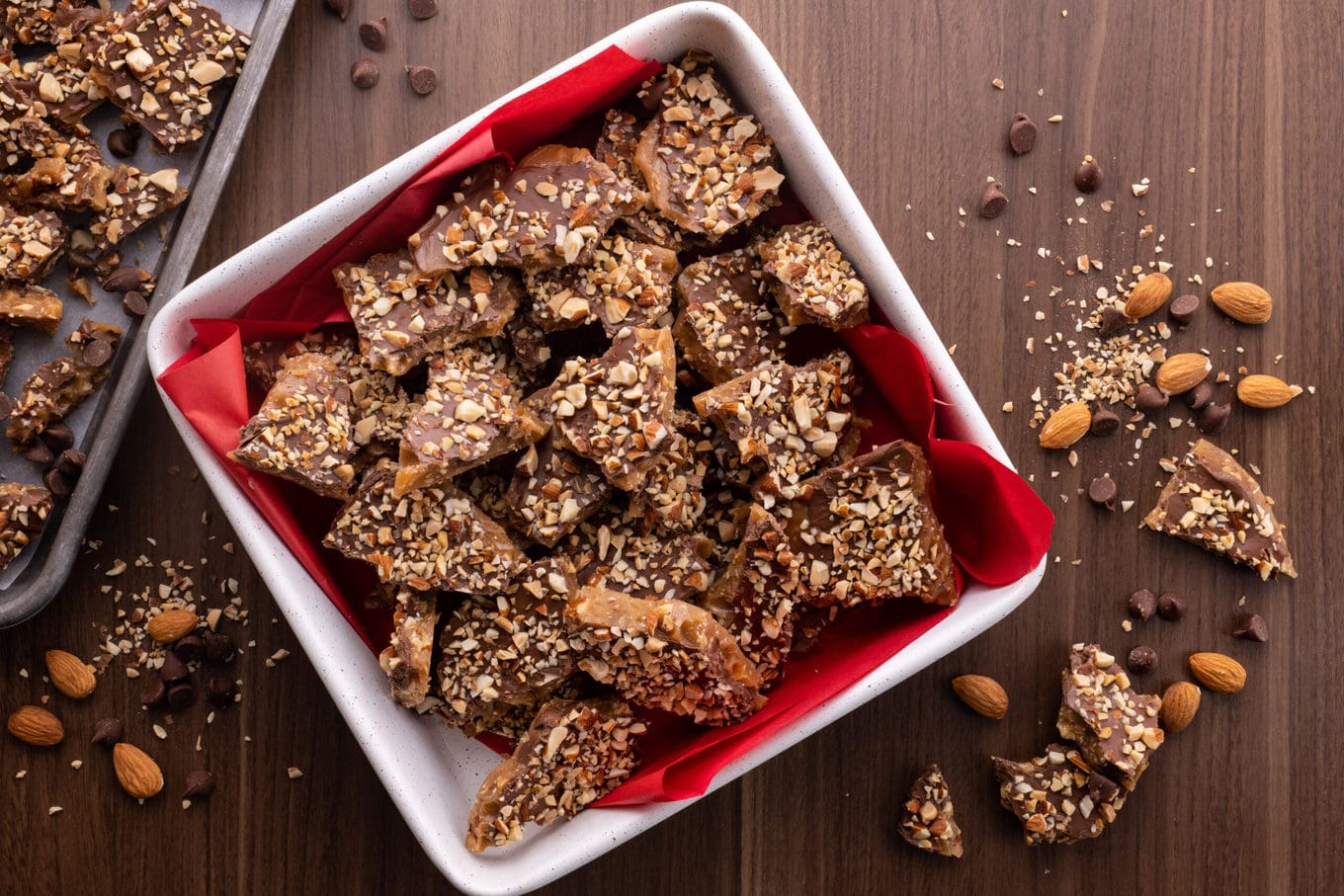 Toffee mixture: Set your stovetop heat to medium. Add in your sugar, butter, water, and corn syrup. Stir the hot toffee mixture as it all melts together into a golden brown liquid. Reduce the heat and continue letting it cook for 25-35 minutes. Come back to stir the hot toffee mixture every few minutes. You'll know it's done when your candy thermometer reads 300 degrees. Turn off the heat and stir in 1 cup nuts.
Finish: Pour half the Butter Toffee into each of your prepared baking sheets and spread it out evenly. Top the pans off with chocolate chips and let it sit for 5 minutes so that the chocolate can melt. Spread the softened chocolate out with an offset rubber spatula. Sprinkle the remaining almonds over the top to finish. Let the toffee harden for 4 hours before serving. Break it apart into pieces with your hands, a knife, or kitchen mallet.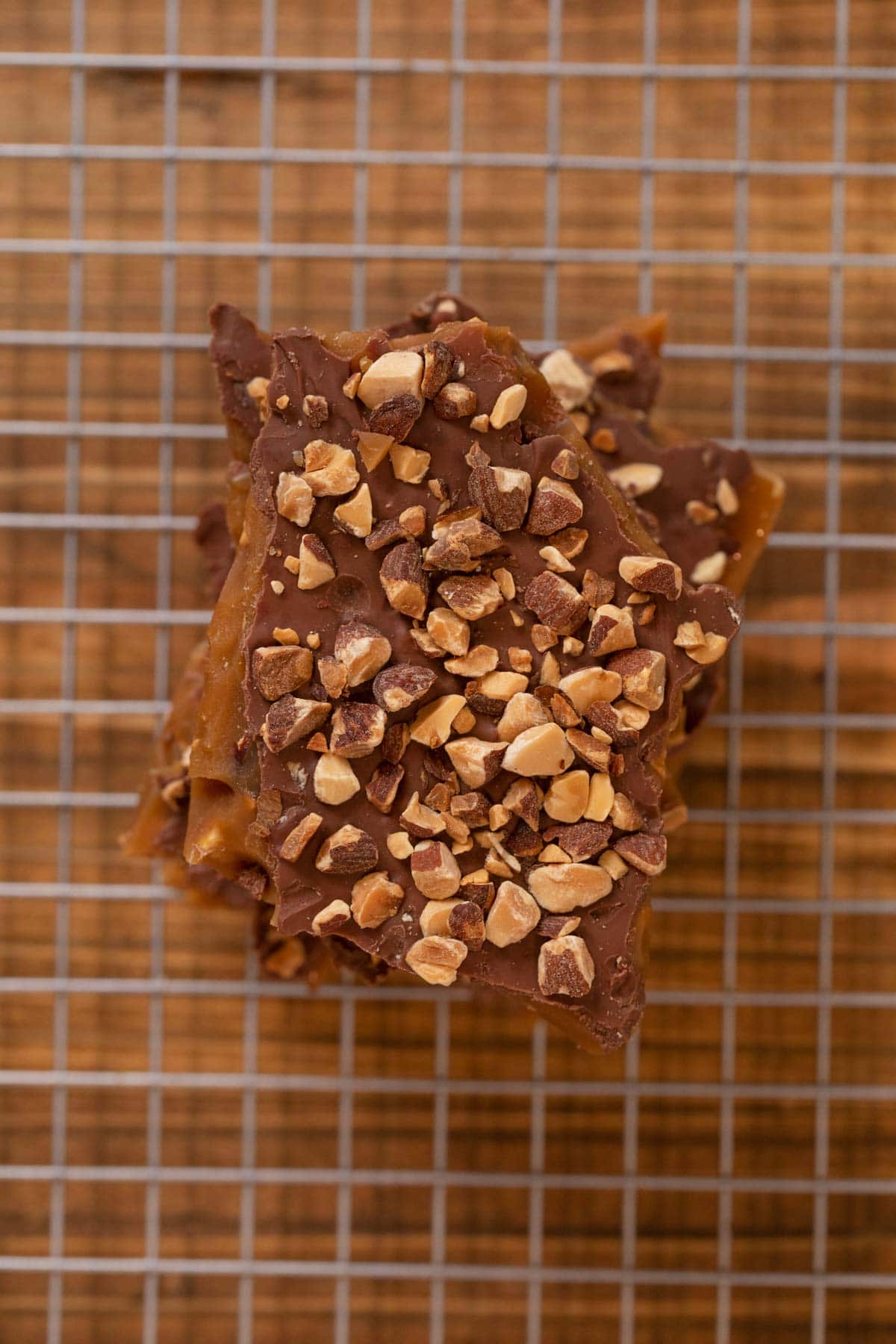 Create a free account to

Save Recipes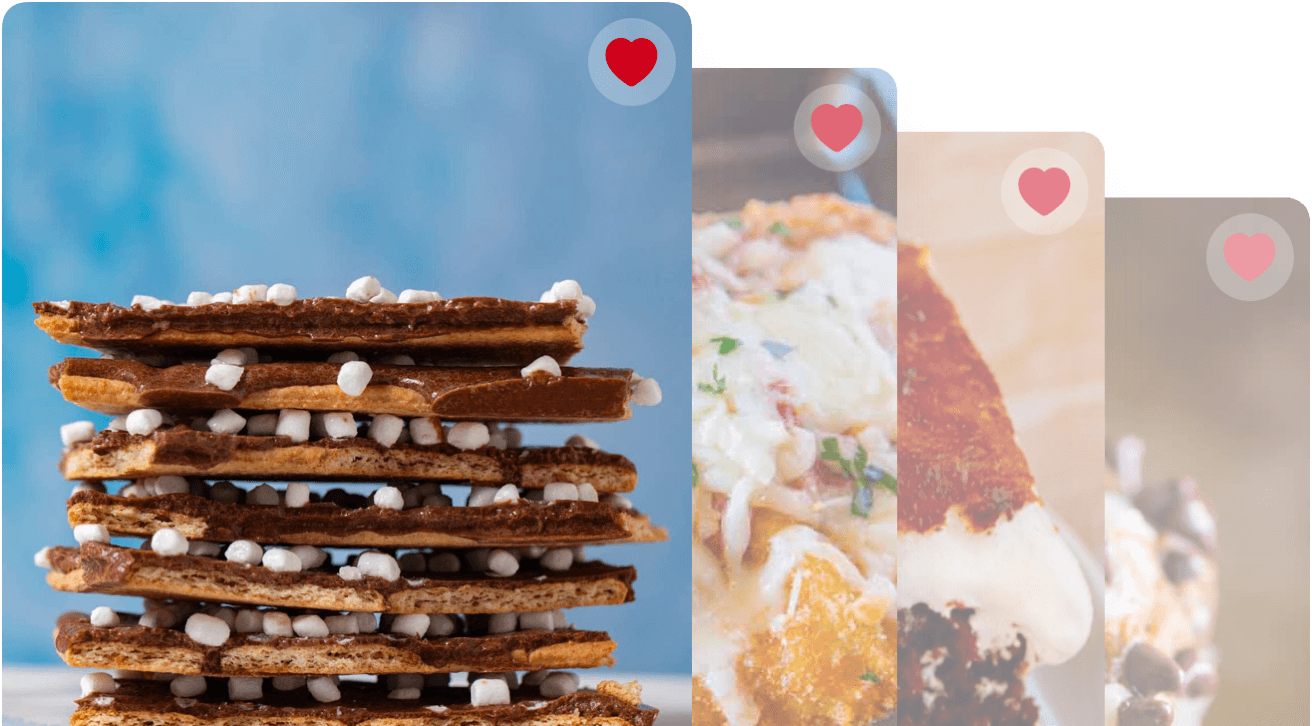 FREQUENTLY ASKED QUESTIONS
How do I make Butter Toffee Pretzels?
To make Butter Toffee Pretzels put mini pretzels in a mixing bowl. Once the toffee mixture is cooked together pour it over the pretzels. Toss together the pretzel mixture until the toffee is coating the pretzels, then lay them out on a baking sheet and drizzle melted chocolate over the Butter Toffee Pretzels.
What other flavors can I add to this recipe?
For some extra flavor try mixing in a few drops of vanilla extract with the toffee mixture. You could also top the candy off with toffee bits at the same time you add the almonds.
Can I use different nuts for this toffee?
Instead of almonds, you can use other tree nuts like pecans, walnuts, or hazelnuts.
MORE CANDY RECIPES
HOW TO STORE BUTTER TOFFEE
Store: Kept covered or in an airtight container, Butter English Toffee can stay good at room temperature or in the fridge for 2 months. If you keep it in your pantry, make sure it's in a dry, cool place.
Freeze: The delicious dessert can also be kept in the freezer for up to 3 months.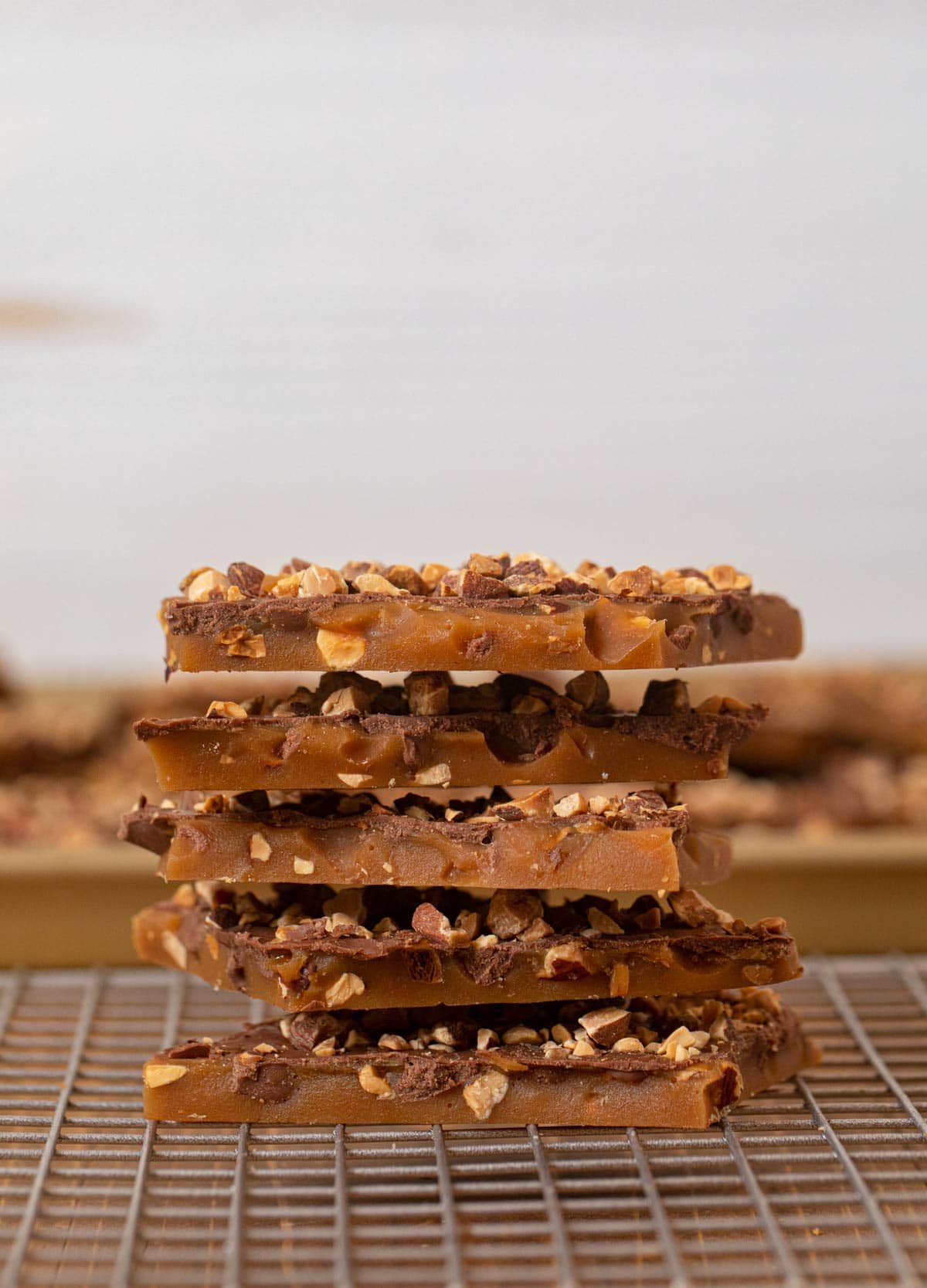 Ingredients
3

cups

almonds

, finely chopped (divided)

2

cups

milk chocolate chips

, about 12 ounces

2 1/3

cups

sugar

2

cups

unsalted butter

, (use the wrappers to grease pans)

6

tablespoons

water

2

tablespoons

light corn syrup
Instructions
Preheat oven to 350 degrees.

Add almonds to the baking sheet and toast for

5-7 minutes

, stirring once halfway through.

Remove almonds to a bowl and let cool.

Butter (using the butter wrappers) and line two baking sheets with parchment paper.

Add the sugar, butter, water, and corn syrup to a large pot on medium heat until just melted, stirring the whole time.

Reduce heat to medium-low and cook (stirring every few minutes) for

25-35 minutes

until a candy thermometer reads 300 degrees.

Stir in 1 cup of almonds.

Add half the butter toffee mixture to each pan and spread evenly.

Top each pan with 1 cup of the chocolate chips evenly.

Let sit for

5 minutes

to melt, then spread with an offset spatula.

Sprinkle almonds over the top while chocolate is still melted.

Let fully harden for at least

4 hours

before eating or storing in covered containers for holiday gifts.
Nutrition
Calories:
394
kcal
|
Carbohydrates:
35
g
|
Protein:
5
g
|
Fat:
28
g
|
Saturated Fat:
13
g
|
Cholesterol:
43
mg
|
Sodium:
14
mg
|
Potassium:
131
mg
|
Fiber:
3
g
|
Sugar:
31
g
|
Vitamin A:
506
IU
|
Vitamin C:
1
mg
|
Calcium:
69
mg
|
Iron:
1
mg
Photos used in a previous version of this post.