German Chocolate Fudge is an easy, decadent holiday candy recipe perfect for gifts! Rich, creamy chocolate fudge with a sweet, chewy, coconut pecan topping!
This rich, decadent German Chocolate version of our go-to Easy Chocolate Fudge really takes the cake as the ultimate Christmas Candy Recipe!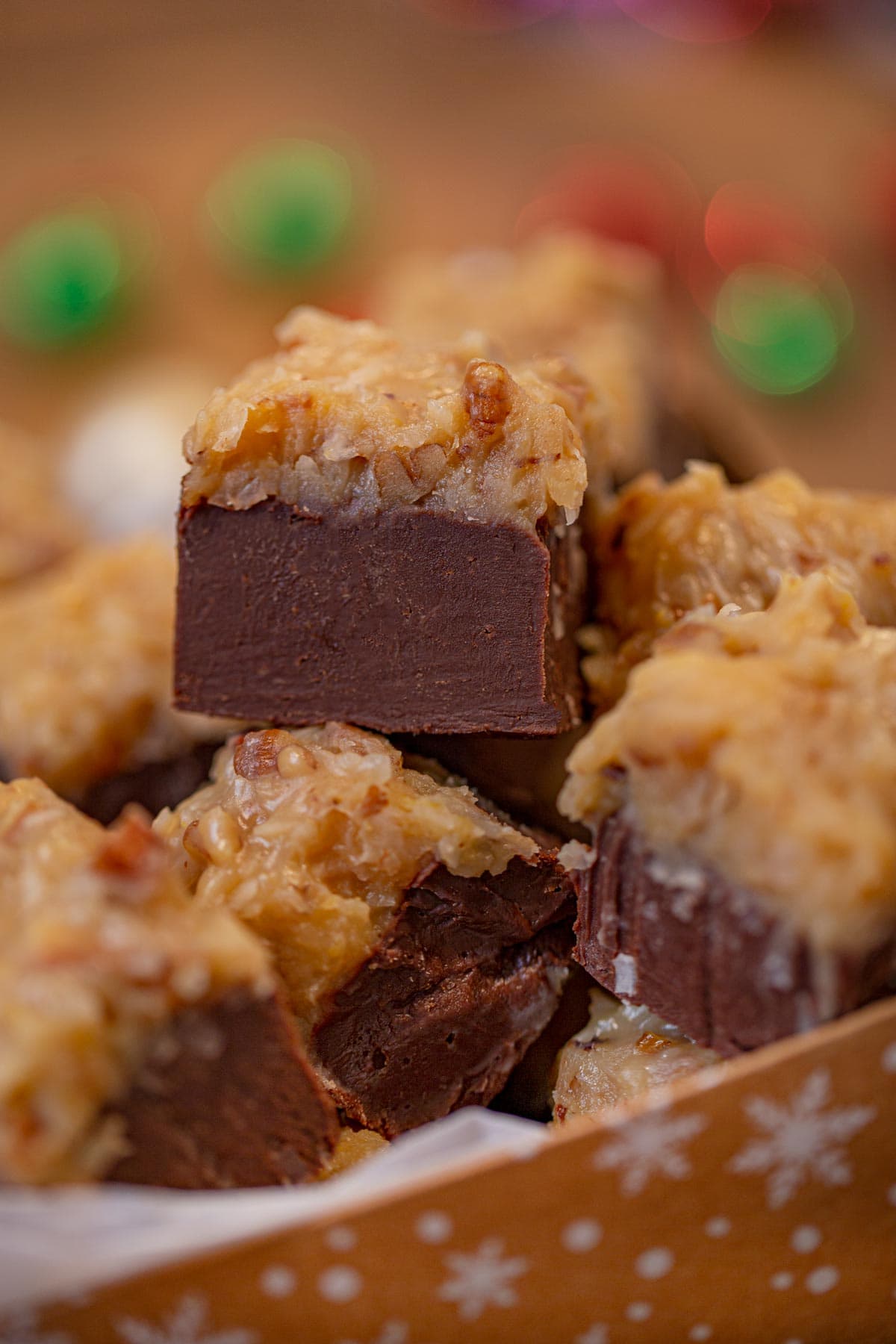 GERMAN CHOCOLATE FUDGE
German Chocolate Cake is one of those cakes that as kids we tend to pass up and as adults we wonder why we missed out on so many years of pure decadent dessert bliss. After one bite of this new recipe, you'll be wondering where German Chocolate Fudge has been all your life! It's the perfect treat for Christmas, birthdays, and other special occasions.
This German Chocolate Fudge recipe has all the flavors of a rich chocolate cake and topped with the same coconut pecan frosting that makes German Chocolate so special. It may seem like a lot of ingredients to make German Chocolate Fudge, but most of them are used in the fudge and the frosting, and you are likely to have them on hand.
To shave a little time and work off making German Chocolate Fudge, use canned frosting instead of homemade. Normally we are all about Homemade Frosting, they are so easy and flavorful, but in a pinch a can of German Chocolate Frosting will work for this fudge. You could also make Rich Chocolate Frosting instead and just sprinkle the top with chopped pecans and coconut shreds.
MORE EASY CHRISTMAS FUDGE RECIPES
Change this German Chocolate Fudge up by layering the coconut pecan frosting between the chocolate fudge. You could even do two layers of pecan frosting like a real slice of German Chocolate Cake! It's a little trickier to do the layers, since the fudge starts to set fast, but check out the technique in this post to nail it.
If you have read ahead in the recipe before starting, which pro-tip you should always do, you know this recipe calls for a candy thermometer. While a candy thermometer is helpful in fudge and candy making, there's no need to rush out and get one. Use the cold-water method below to determine when your syrup is ready.
Cold Water Method for Candy Making
Have a cup of cold water and teaspoon handy before you start the sugar mixture. Once the sugar syrup starts to boil, drop a small spoonful of the mixture into cold water. It should drip from the spoon and form a thread in the water at this point. Repeat every 3-4 minutes until a syrup forms a ball in the water but flattens if you remove it from the water. Your sugar syrup is at ready.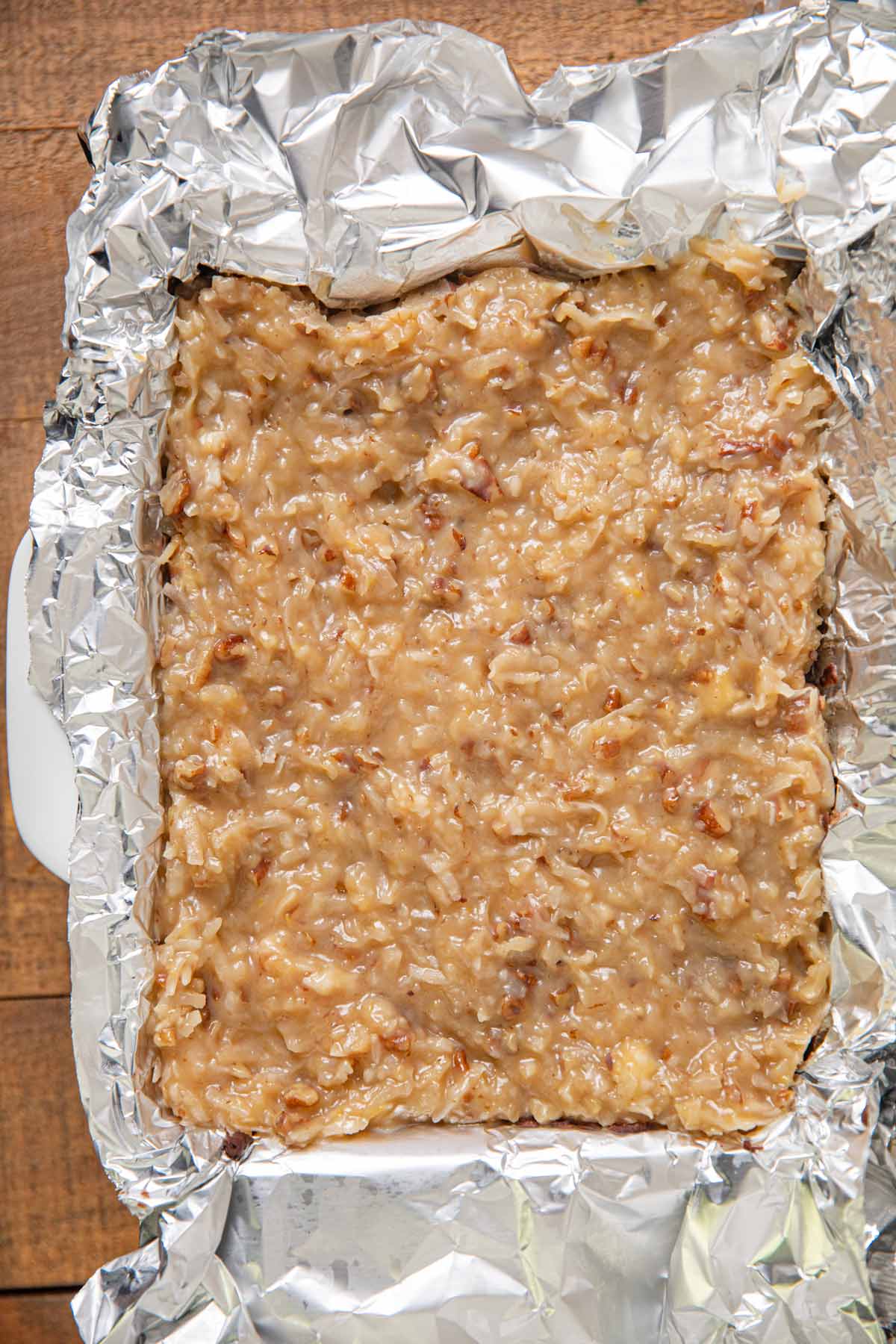 Create a free account to

Save Recipes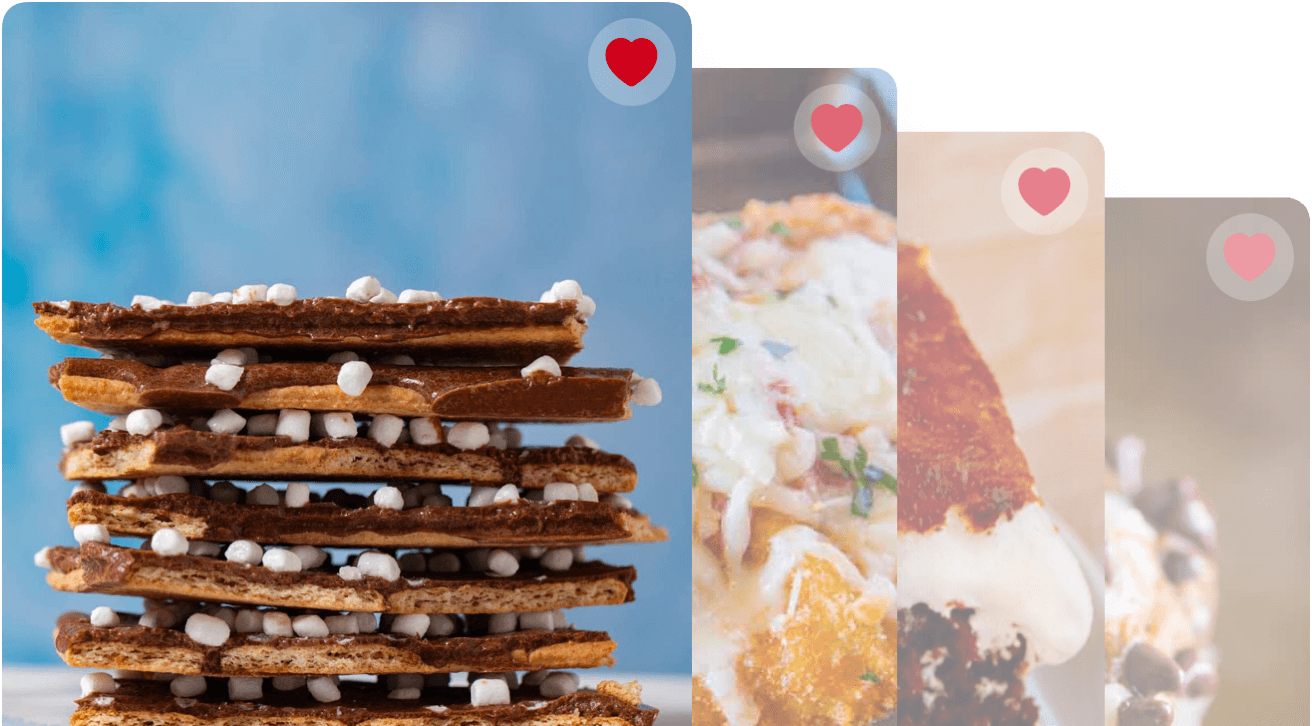 VARIATIONS ON GERMAN CHOCOLATE FUDGE
Chocolate: For a not-too sweet fudge, you want to use a mixture of chocolate chips instead of all milk chocolate chips. Try dark chocolate chips or white chocolate chips with the semi-sweet chocolate chips too.
Nuts: Use any nuts you like for this recipe like walnuts, hazelnuts, or almonds. Toast the nuts on a baking sheet for 5-8 minutes in a skillet for deeper flavor.
Toppings: Spread a thin layer of Chocolate Ganache or Salted Caramel Sauce and chill on fudge for a few minutes, until slightly set, before adding frosting.
Layered German Chocolate Fudge
You will need two pots for this recipe to make the fudge and the frosting at the same time.
Once fudge and frosting are ready, pour half the fudge mixture into the pan, shaking pan to flatten.
Spoon half the coconut pecan topping evenly over the bottom layer of fudge.
Top with the remaining fudge and gently spread to cover filling. Allow to cool 5 minutes.
Spread remaining pecan coconut frosting over top evenly and refrigerate to chill and set.
MORE HOLIDAY CANDY RECIPES
HOW TO STORE GERMAN CHOCOLATE FUDGE
Serve: Chill German Chocolate Fudge for at least 4 hours in the refrigerator before cutting to serve. Keep fudge at room temperature for up to 3 days in a sealed container, with parchment paper between layers.
Store: Store German Chocolate Fudge in the refrigerator for up to 2 weeks in an airtight container. Layer parchment paper if stacking to keep fudge pieces from sticking to each other.
Freeze: Once fudge is set and cut, store flat in a sealed container to keep pieces from freezing together. You can individually wrap each piece to freeze too. Keep frozen for up to 6 months and thaw overnight before serving.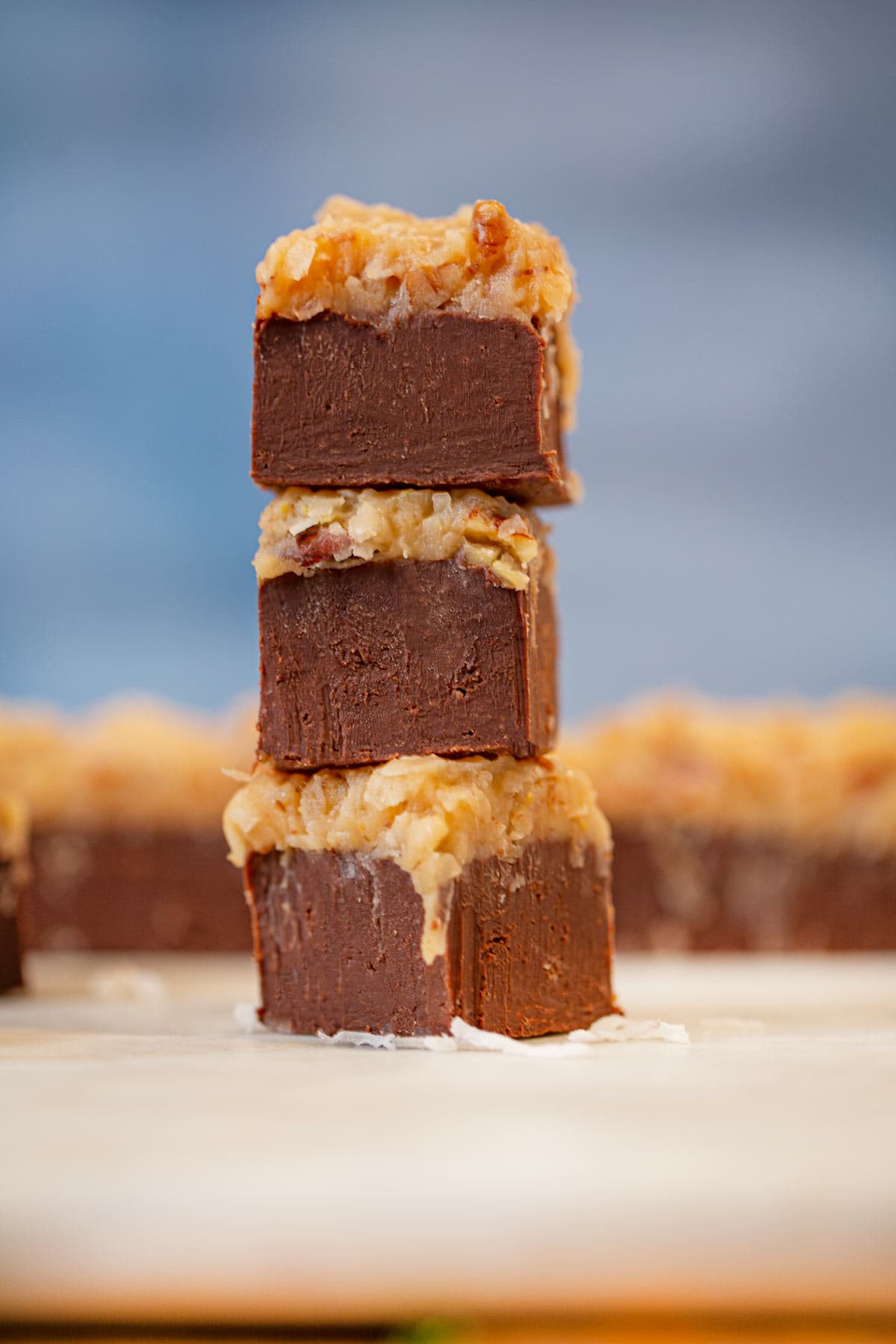 Ingredients
Coconut Pecan Topping:
1

cup

evaporated milk

1

cup

sugar

3

egg yolks

1/2

cup

unsalted butter

2

cups

sweetened flaked coconut

1

cup

pecans

, chopped
Instructions
Line a 9x9" baking pan with heavy duty foil and spray with vegetable oil spray.

Add evaporated milk and sugar to a large pot and stir until sugar is dissolved.

Raise heat to high and stir constantly for

8-10 minutes

, until sugar mixture reaches between 230-234 degrees on a candy thermometer.

Add in the butter, semi-sweet chocolate chips, milk chocolate chips and vanilla extract and whisk until glossy and smooth,

2-3 minutes

.

Pour mixture into prepared pan and clean the pot.

Add evaporated milk, sugar and egg yolks into cleaned pot on medium-high heat.

Whisk until smooth then cook until mixture thickens, about

5-7 minutes

.

Add in the butter, coconut and pecans and whisk together.

Cook

30 seconds

until thick and bubbly.

Let mixture cool for

5 minutes

then spread it over the fudge and let the fudge set for a minimum of

4 hours

.
Nutrition
Calories:
317
kcal
|
Carbohydrates:
40
g
|
Protein:
3
g
|
Fat:
17
g
|
Saturated Fat:
10
g
|
Cholesterol:
39
mg
|
Sodium:
37
mg
|
Potassium:
125
mg
|
Fiber:
2
g
|
Sugar:
37
g
|
Vitamin A:
294
IU
|
Vitamin C:
1
mg
|
Calcium:
61
mg
|
Iron:
1
mg