Rocky Road Fudge made with just 6 ingredients including milk chocolate, walnuts, chocolate chips and marshmallows takes just 10 minutes to make and is the perfect holiday treat!
Fudge is an easy candy you can make at home in just minutes and if you're looking for any other fudge recipes look at our classic Chocolate Fudge Recipe, Chocolate Walnut Fudge and my all time favorite Peanut Butter Fudge recipes!
 Rocky Road Fudge
Rocky Road Fudge is a play on the classic chocolate fudge recipe with just three classic ingredients of butter, milk chocolate and sweetened condensed milk with a few additional ingredients mixed in for fun with almost no extra effort. With just a bag of semi-sweet chocolate chips, a bag of chopped walnuts and a bag of mini marshmallows you have a whole new flavor of fudge to share with friends and family.
It is one of the easiest fudge recipes because everything goes into the microwave and it is no-bake. You just melt it together in the microwave, pour it into the prepared pan and top with your toppings (just wait a couple minutes before adding on the toppings so they don't melt).
In fact what we like to do is make giant batches of my classic chocolate fudge recipe then take some of it and add in extra ingredients like these to make fun flavors so I can have a variety to share with friends and family during get-togethers, parties and for gifts.
What is Rocky Road Flavor:
Rocky Road flavors refer to the texture on top of the fudge from the chocolate chips, marshmallows and walnuts looking like a car driving on a rocky terrain. This flavor is most classically found in chocolate ice creams and in chocolate candy bars.
More Mix-in Flavor Ideas:
Oreo Pieces
Different Nuts – I sometimes like to use pecans, almonds or peanuts if I have those on hand.
Cereal Marshmallows – if you want this to be less squishy and sticky you can swap out the miniature marshmallows for cereal ones.
Caramel Pieces – Not traditional for Rocky Road but still delicious
Candy Pieces – Any of your favorite candy bars cut up in chunks like Snickers, Reese's, Mars Bars, Twix or more.
Extracts – We love anything from Vanilla, Almond, Coffee and even citrus ones like Orange being added to fudge for easy different flavored fudge desserts.


Create a free account to

Save Recipes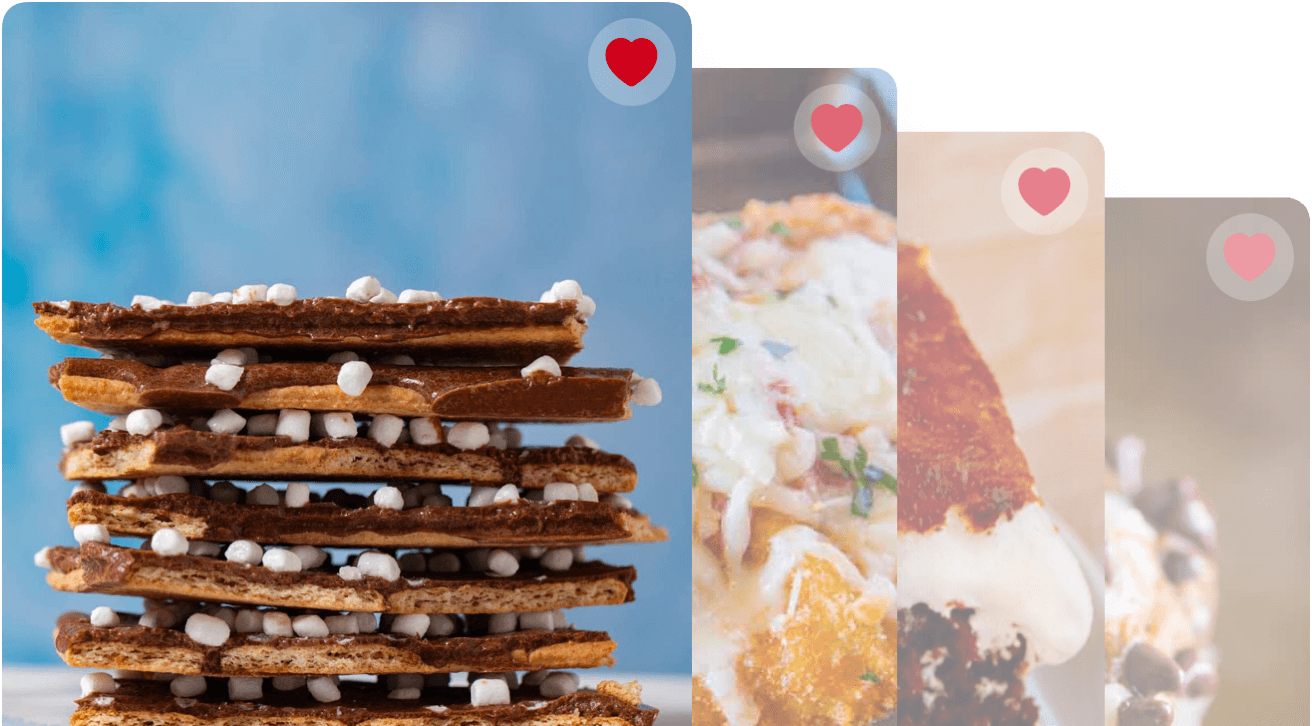 HOW LONG SHOULD IT TAKE FOR FUDGE TO SET?
Don't make fudge right before you need it, fudge is best made the day before serving so it can set in the fridge for 3-4 hours at least.
HOW DO YOU FIX CRUMBLY FUDGE?
Crumbly fudge is due to too much moisture having evaporated from the mixture and generally cannot be undone without the final texture being ruined. Even if more of any ingredient is added a gritty texture will always remain.
It's best to start over.
HOW DO YOU STORE CHOCOLATE FUDGE
An airtight container with parchment paper between layers is essential for this rocky road fudge due to the marshmallows and the chocolate chips.
If you don't keep them apart they'll melt into each other marring the marshmallows with chocolate marks and if they warm too much they'll melt into each other.
You can store in a closed container for up to 1 week on your counter or up to 2 weeks in your refrigerator.
Tips for Rocky Road Fudge:
If you'd prefer to avoid your microwave you can always make this fudge on your stove. Simply melt the ingredients on a double boiler and make sure to do it on medium-low heat while stirring constantly to avoid any chocolate from burning.
While mix-in ingredients are easy to customize I don't recommend substituting the sweetened condensed milk. This ingredient is required for the stability and texture of this recipe.
If you want to make the fudge easier to remove from your pan you can line with foil, parchment paper or use a disposable aluminum pan instead of a baking pan you can bend it and discard it to remove the fudge.
Do not put warm fudge in the freezer to set faster than recommended as this will negatively affect the texture of your fudge.
Looking for More Holiday Treats?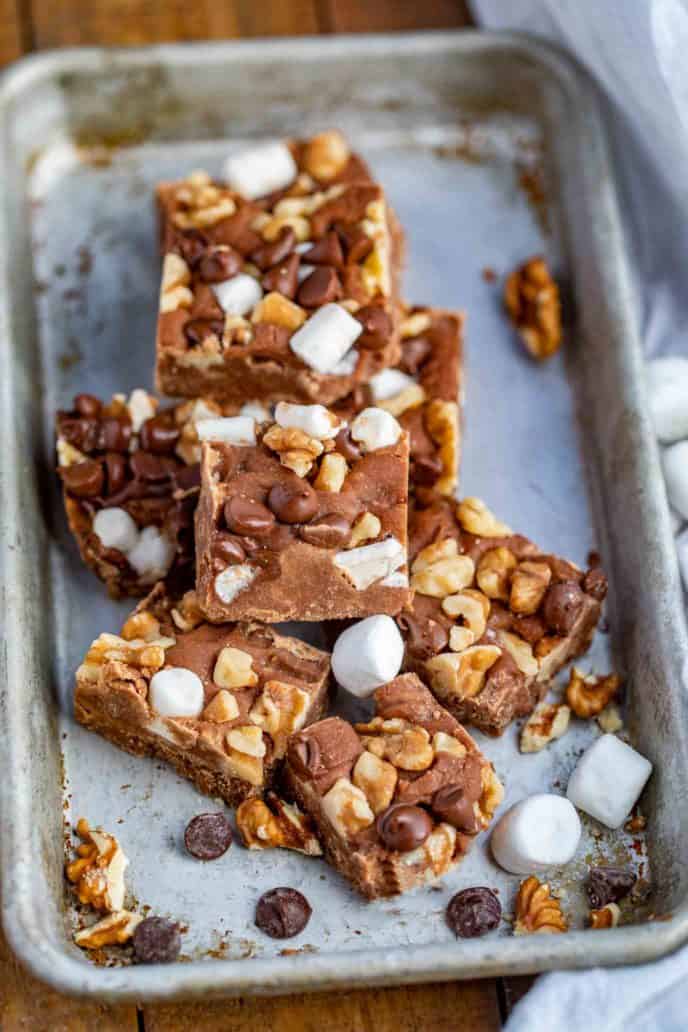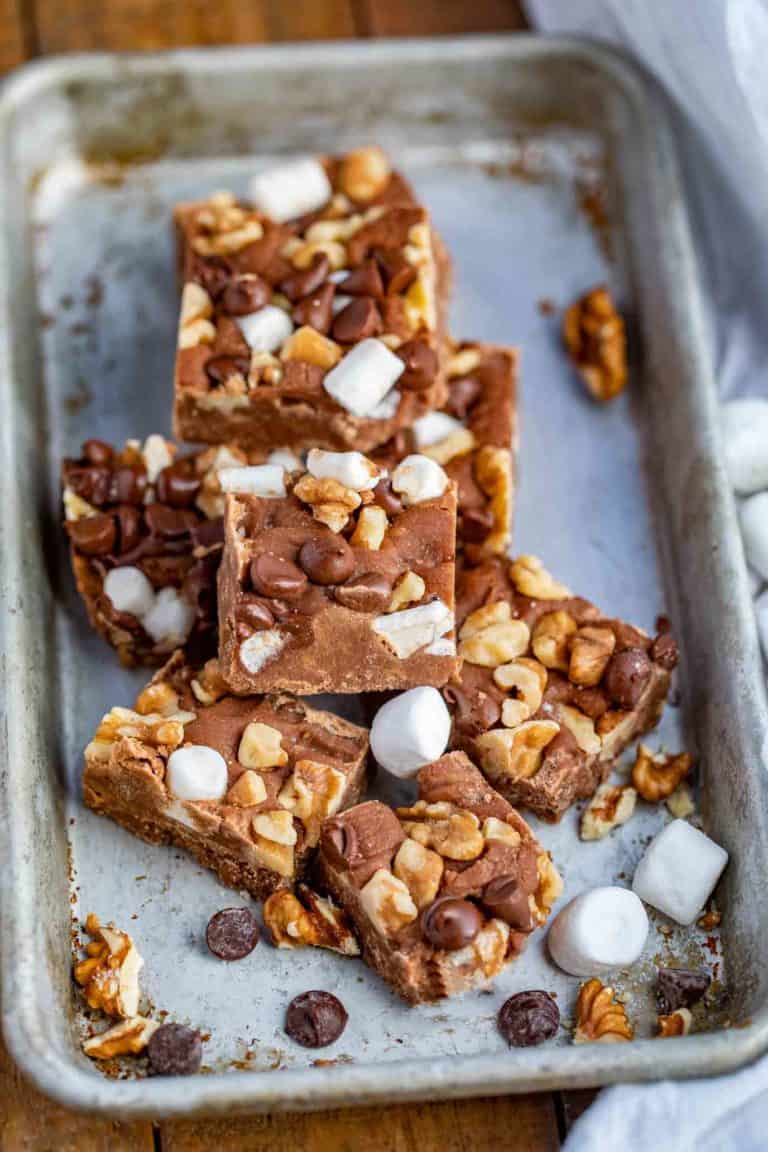 Ingredients
1/2

cup

unsalted butter

4

cups

milk chocolate chips

, about 2 bags

2

cans

can sweetened condensed milk

, (14 ounce cans)

1

cup

walnuts

, chopped

1

cup

semisweet chocolate chips

2

cups

miniature marshmallows
Instructions
Wipe down a piece of foil with the wrapper of the stick of butter, then line a deep 8x8 pan (if you don't have a deep one use 9x9) with it.

Add the butter to a large microwave safe bowl and melt gently then mix well with the remaining ingredients.

Melt in the microwave until smooth in

30 second

increments (2 minutes total), then pour into the greased aluminum lined pan.

Wait five minutes then top with walnuts, semisweet chocolate chips and marshmallows and refrigerate until set, about

3-4 hours

.
Nutrition
Calories:
378
kcal
|
Carbohydrates:
46
g
|
Protein:
5
g
|
Fat:
19
g
|
Saturated Fat:
10
g
|
Cholesterol:
26
mg
|
Sodium:
67
mg
|
Potassium:
186
mg
|
Fiber:
1
g
|
Sugar:
41
g
|
Vitamin A:
275
IU
|
Vitamin C:
1.1
mg
|
Calcium:
139
mg
|
Iron:
1.1
mg