Christmas Fudge is the perfect holiday treat and edible gift with creamy chocolate, butterscotch chips, almonds, walnuts, and candied fruit.
Homemade Candy Recipes are always great during the holiday season. They are fun to make, fun to eat, and fun to give. What's not to love? Recipes like Gumdrop Fudge, Walnut Fudge, Gingerbread Fudge, and this one are surprisingly easy to make and sure to put you in the Christmas spirit.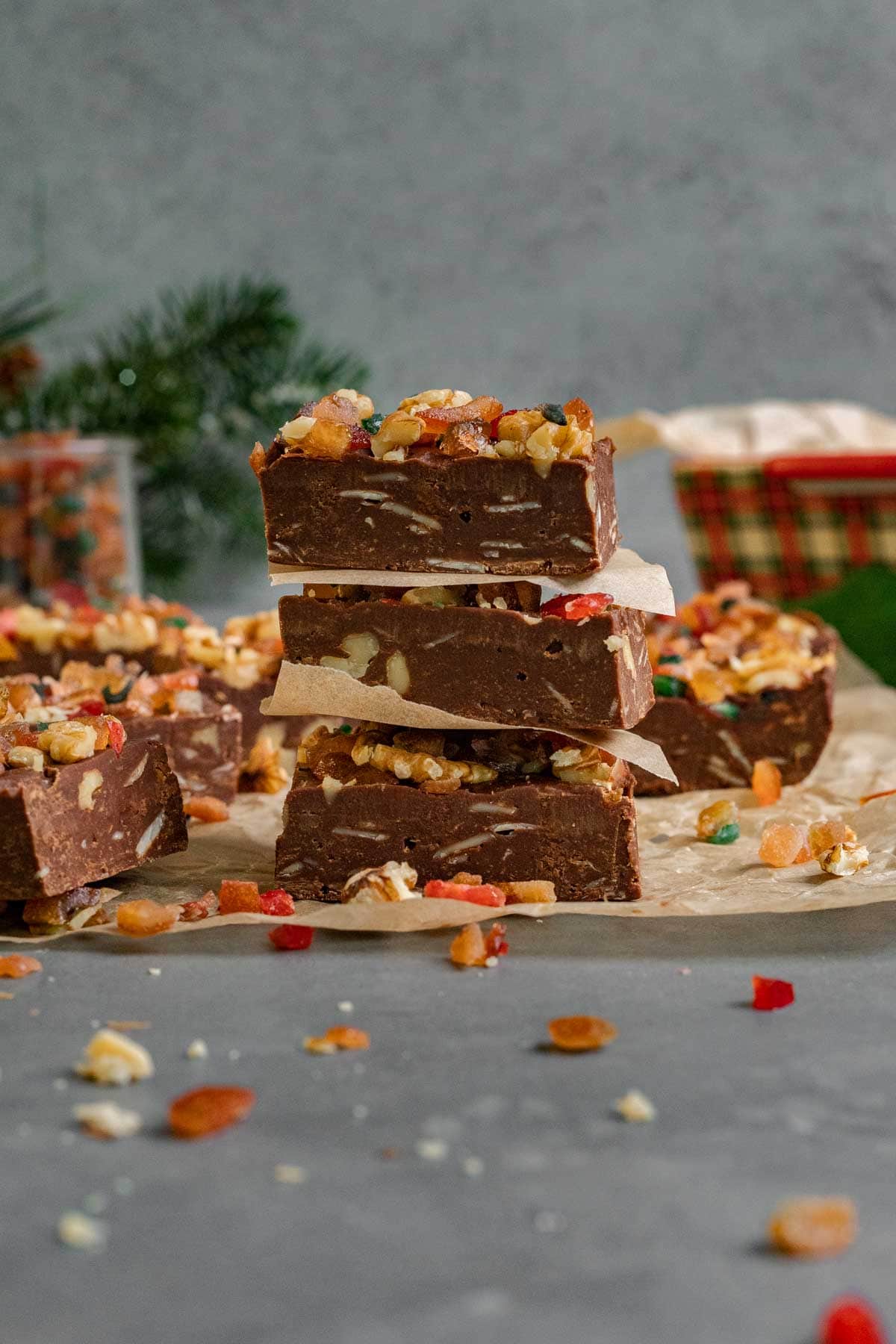 CHRISTMAS FUDGE
This rich homemade fudge is the perfect blend of textures and flavors. The creamy fudge has a nice soft consistency, but the added almonds and walnuts give a crunchy contrast. Candied fruit makes a beautiful, colorful addition and add some sweetness. Meanwhile, butterscotch chips add even more creaminess and a buttery flavor than a traditional Chocolate Fudge Recipe. On top of all that, you can give the fudge mixture a boozy kick with cognac.
The fun ingredients set this chocolate fudge apart and make it ideal for the holidays. To make the fudge squares look extra festive, you can use red and green candied fruit. That way, it only has holiday colors. Even if you use multi-colored fruit, the bright candies bring a lot of cheer to the fudge mixture.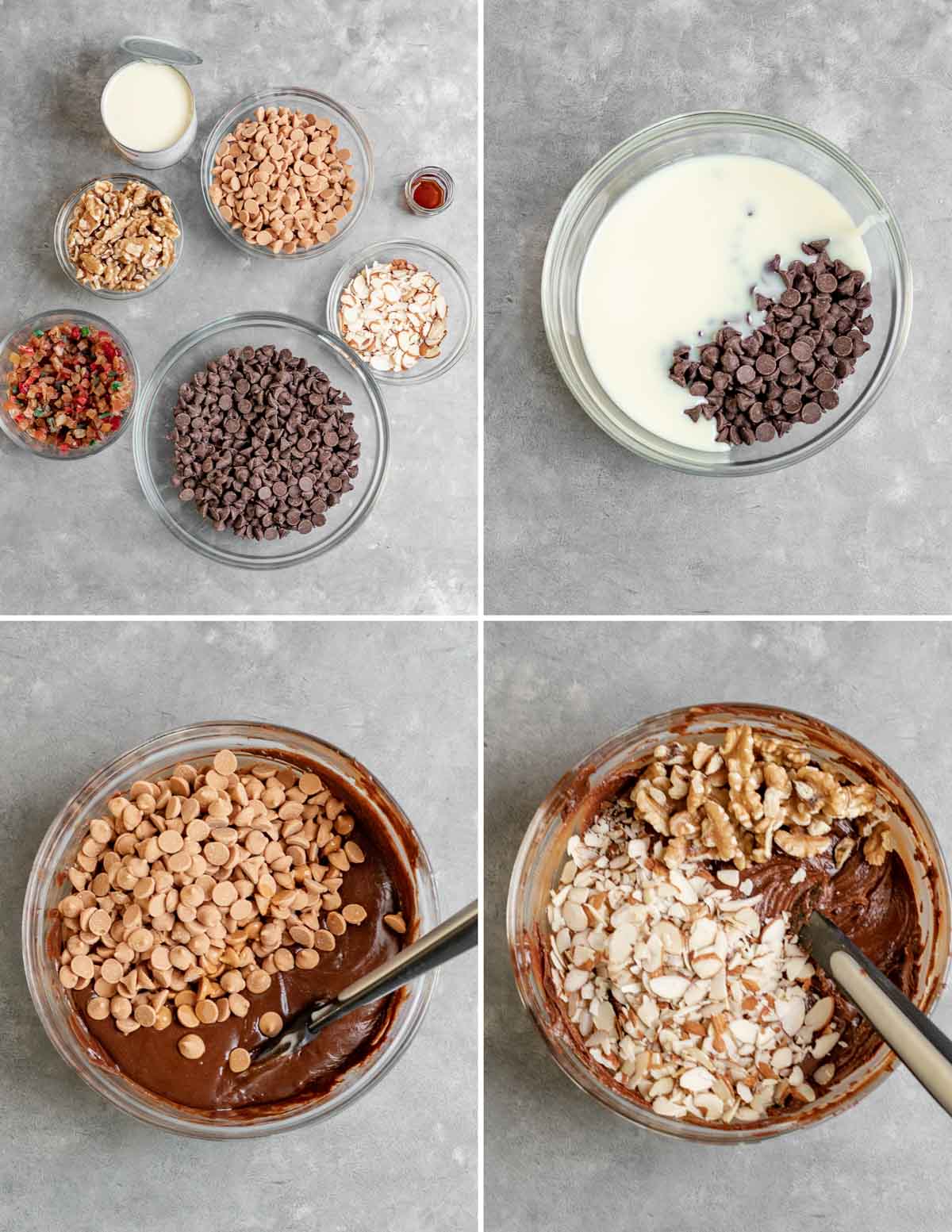 If you haven't tried homemade fudge before, you might be surprised by just how easy this is to make! Assembling the recipe takes almost no time and it's all done in the microwave.
Instead of heating the fudge on the stove and worrying about a candy thermometer, like you have to in more traditional fudge recipes, just heat the chocolate and cream mixture in the microwave. Then melt in the butterscotch chips and vanilla. After they come together, you just stir the mix-ins into the bowl and pour it into a lined baking pan to set. It honestly couldn't be easier!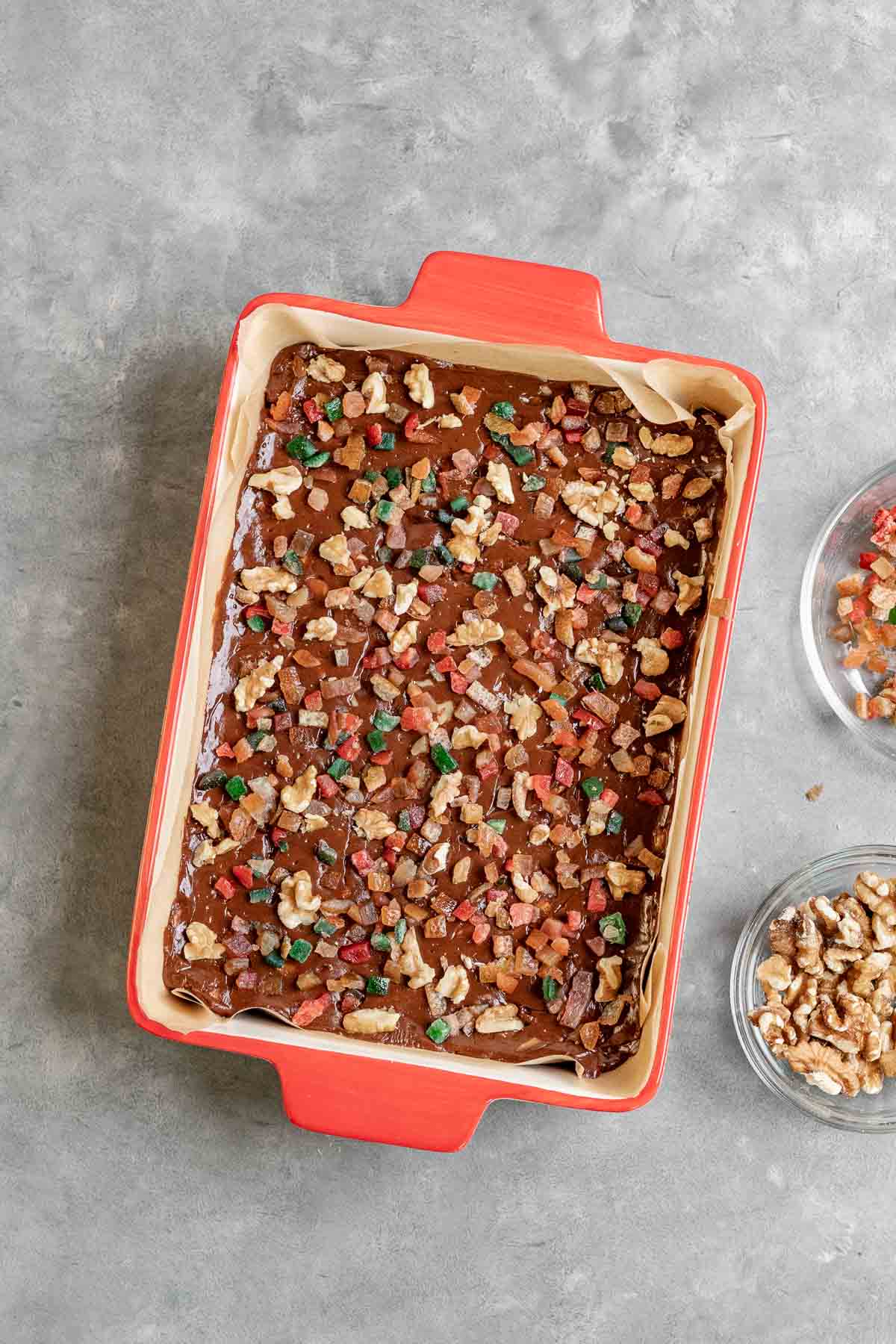 MORE FUDGE RECIPES
CHRISTMAS FUDGE AS A GIFT
These rich candies make the perfect homemade gift to give to friends, family, neighbors, or give as a hostess gift. It's sure to be a hit with anyone who receives it! The important part is packaging them so that the candies won't lose their shape or get stuck together. Here are some tips for packaging the gift:
Wait for the Christmas Fudge to set, and then cut it into squares.
Place the squares in a tin or gift box with parchment paper or festive tissue paper lining it. To add more than one layer of fudge, put the paper between each layer so that they don't stick.
If you're giving the gift in person, add a festive bow, and you're done.
However, if you're shipping the fudge, find a shipping box of a similar size to put the gift box in so that the fudge doesn't shake around too much in transit.
Lay gel cooling packs next to the fudge container to keep them from melting.
It's also best to use express shipping, and let the person you're shipping it to know that there is food coming in the mail.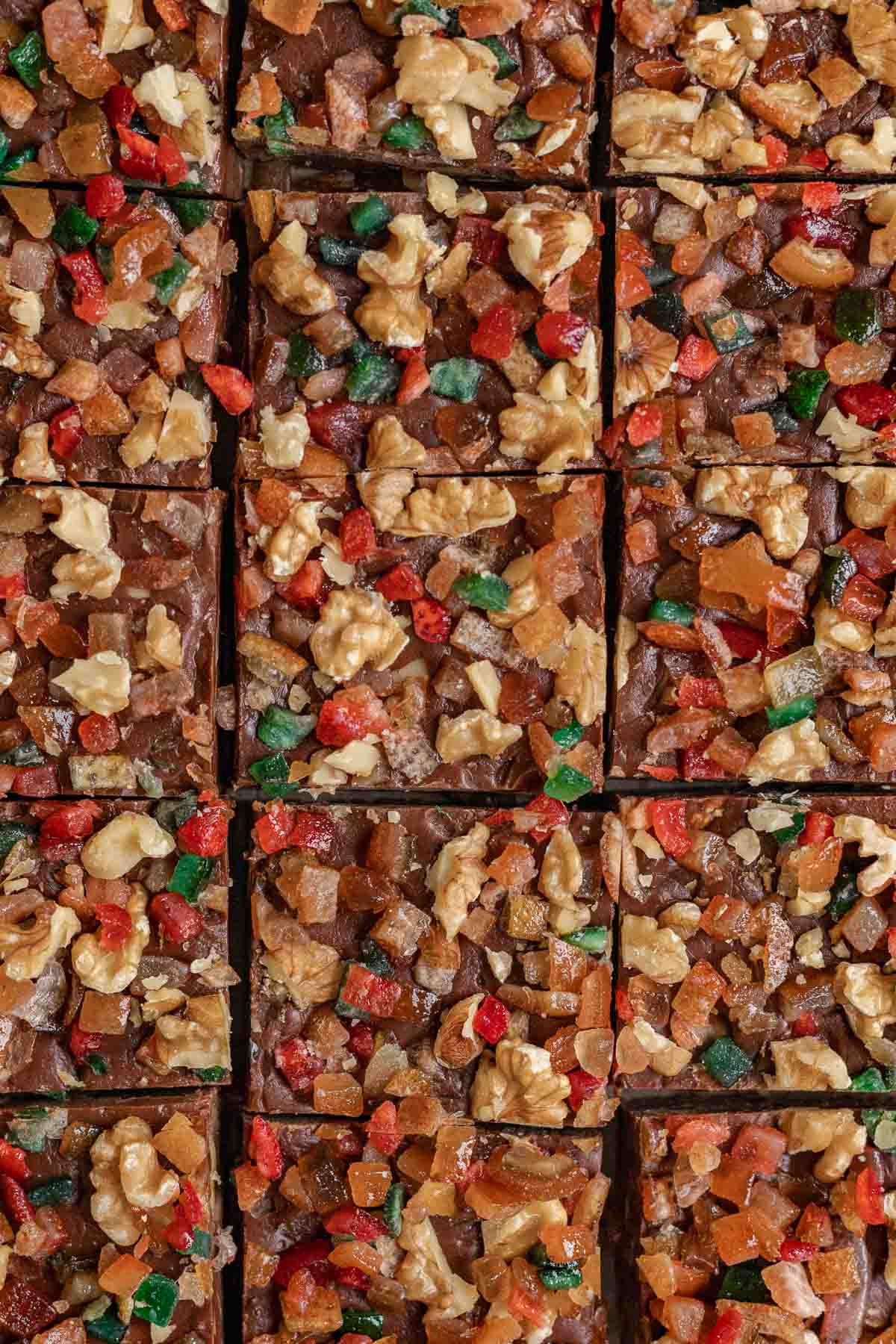 Create a free account to

Save Recipes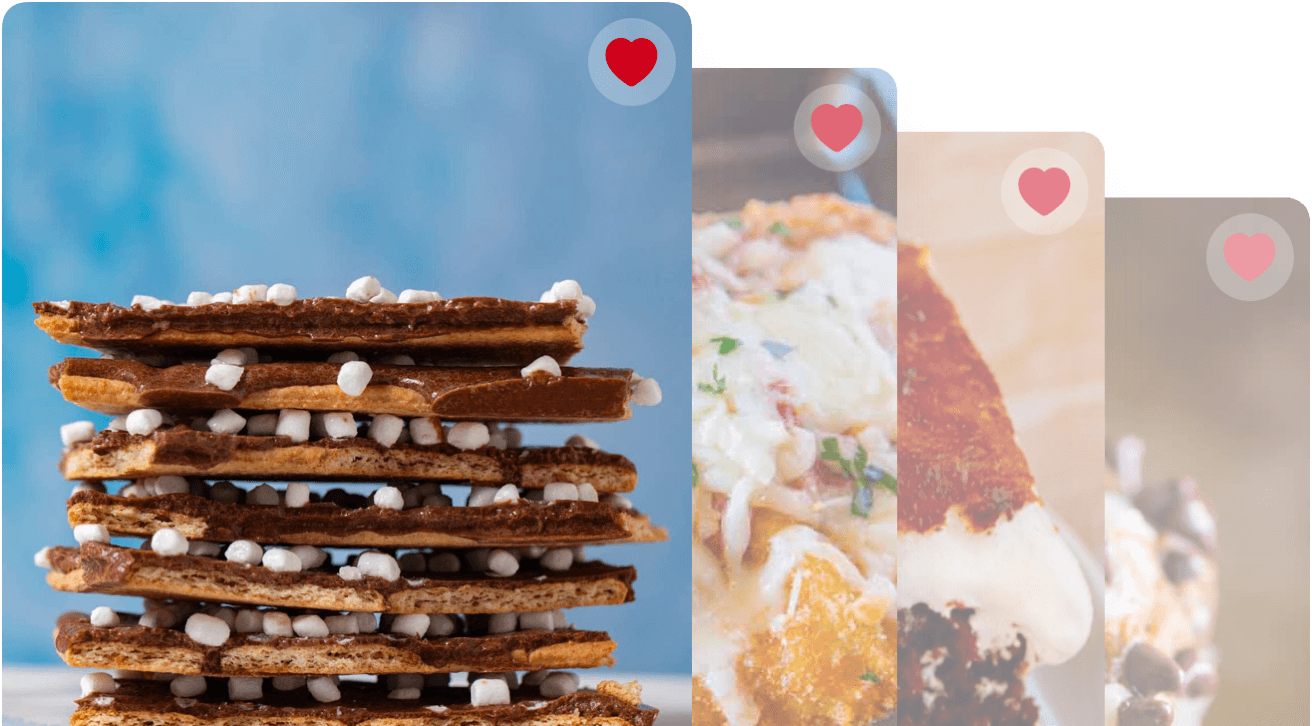 VARIATIONS ON CHRISTMAS FUDGE
White Chocolate Fudge: If you prefer a white fudge mixture, you can just use white chocolate chips in place of the semisweet chips. Or, for an eye-catching Christmas Swirl Fudge, divide the recipe in half, using white chocolate chips for one half and semisweet chocolate for the other. Then pour the white chocolate fudge layer over the semisweet, and use a butter knife to marble or swirl the layers together.
Peppermint Fudge: To add some peppermint flavor to your holiday fudge, mix in 1 teaspoon peppermint extract. You can also add crushed candy canes in place of the candied fruit.
Spicy Chocolate Fudge: Add a bit of heat by mixing in chili powder, nutmeg, and a bit of cayenne. This will give the fudge a similar taste to a Mexican Hot Chocolate.
Decorations: For a beautiful Christmas Fudge top it off with large-grain sugar, festive sprinkles, coconut flakes, or a dusting of powdered sugar before it sets.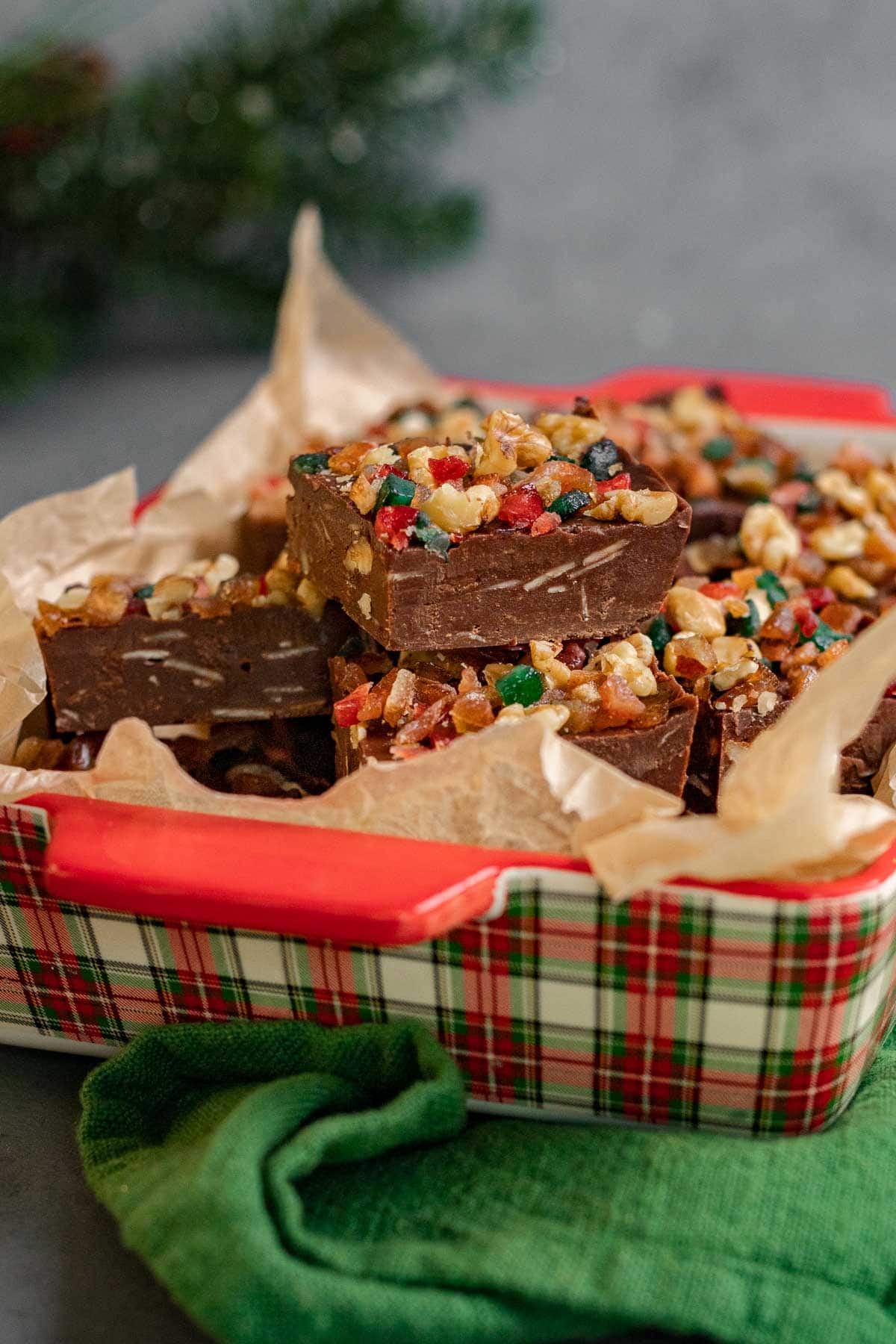 MORE SEASONAL TREATS
HOW TO STORE CHRISTMAS FUDGE
Serve: After you've given it time to set, you can keep Christmas Fudge at room temperature for up to a week. Cover the dish in foil, or transfer the candies to an airtight container to keep them fresh.
Store: You could also seal and store it in the refrigerator for up to 2 weeks.
Freeze: For long-term storage, you can freeze the fudge for up to 3 months. To make sure they don't stick together, wrap each piece in parchment paper and then plastic wrap before sealing them all in a freezer bag.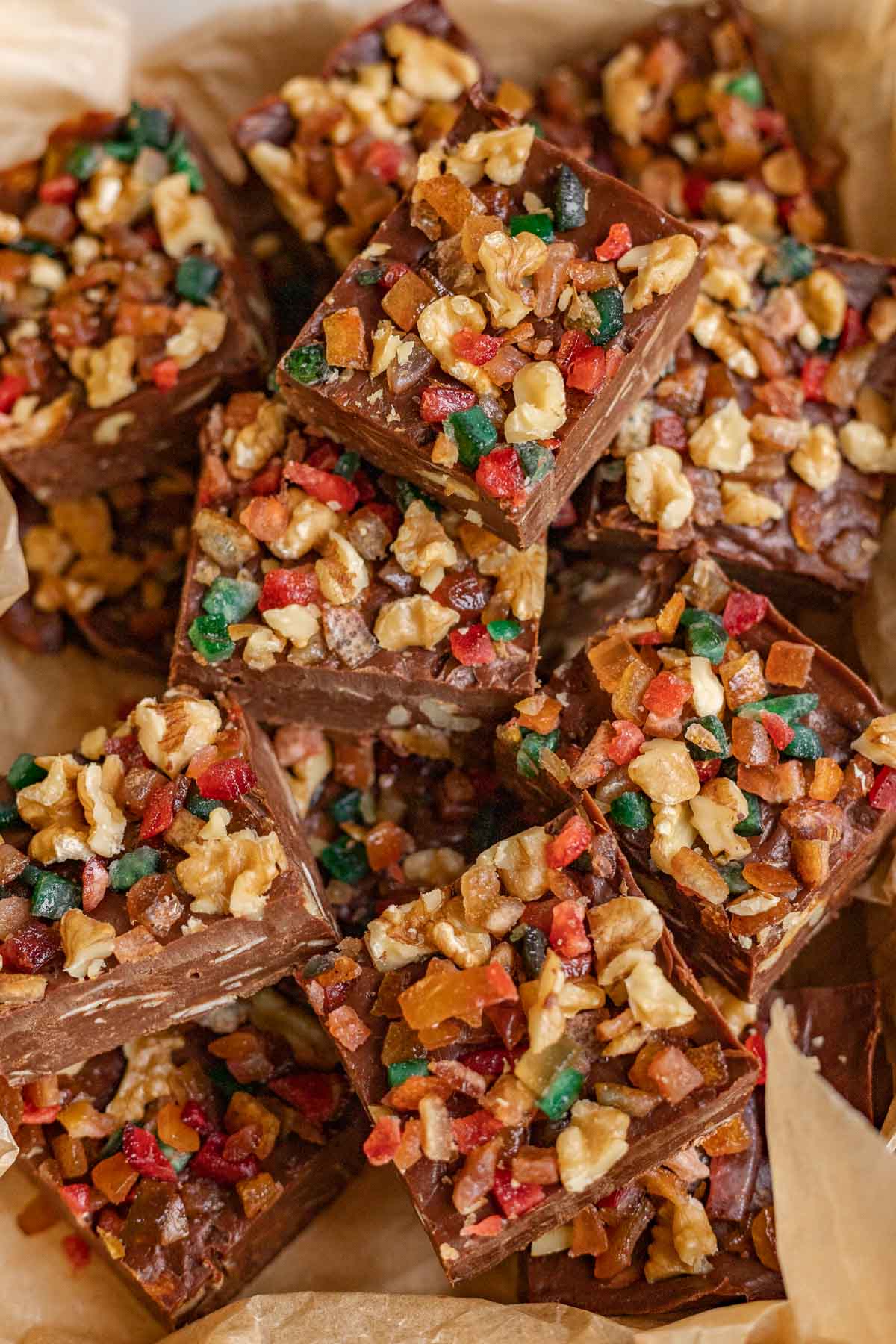 Ingredients
2

cups

semi-sweet chocolate chips

14

ounces

sweetened condensed milk

1

teaspoon

vanilla extract

1

tablespoon

cognac

, optional

1 1/2

cups

butterscotch chips

1

cup

walnut halves

, divided

1/2

cup

almonds

, chopped

1

cup

candied fruit
Instructions
Line an 8x8 baking pan with foil.

Add the semi-sweet chocolate chips and condensed milk to a microwave-safe bowl and microwave for

1 minute

.

Stir well.

Add in cognac (optional), vanilla extract, and butterscotch chips, and stir well until creamy.

Microwave for

30 seconds

more until smooth (if needed.)

Stir in chopped almonds and ¾ cups of the walnuts.

Pour mixture quickly (while hot) into the baking dish.

Top with the remaining walnut halves and candied fruits.

Chill

2 hours

until firm before slicing.
Nutrition
Calories:
262
kcal
|
Carbohydrates:
35
g
|
Protein:
4
g
|
Fat:
12
g
|
Saturated Fat:
5
g
|
Trans Fat:
1
g
|
Cholesterol:
7
mg
|
Sodium:
70
mg
|
Potassium:
189
mg
|
Fiber:
2
g
|
Sugar:
28
g
|
Vitamin A:
71
IU
|
Vitamin C:
1
mg
|
Calcium:
82
mg
|
Iron:
1
mg