Chocolate Peppermint Fudge is an easy holiday treat made with chocolate chips, condensed milk, peppermint extract and candy cane pieces.
If you're looking for edible holiday gifts that you can share with friends and family this season, Homemade Candy like this recipe is always a smart choice. For more delicious homemade fudge try Gingerbread Fudge and Dark Chocolate Orange Fudge.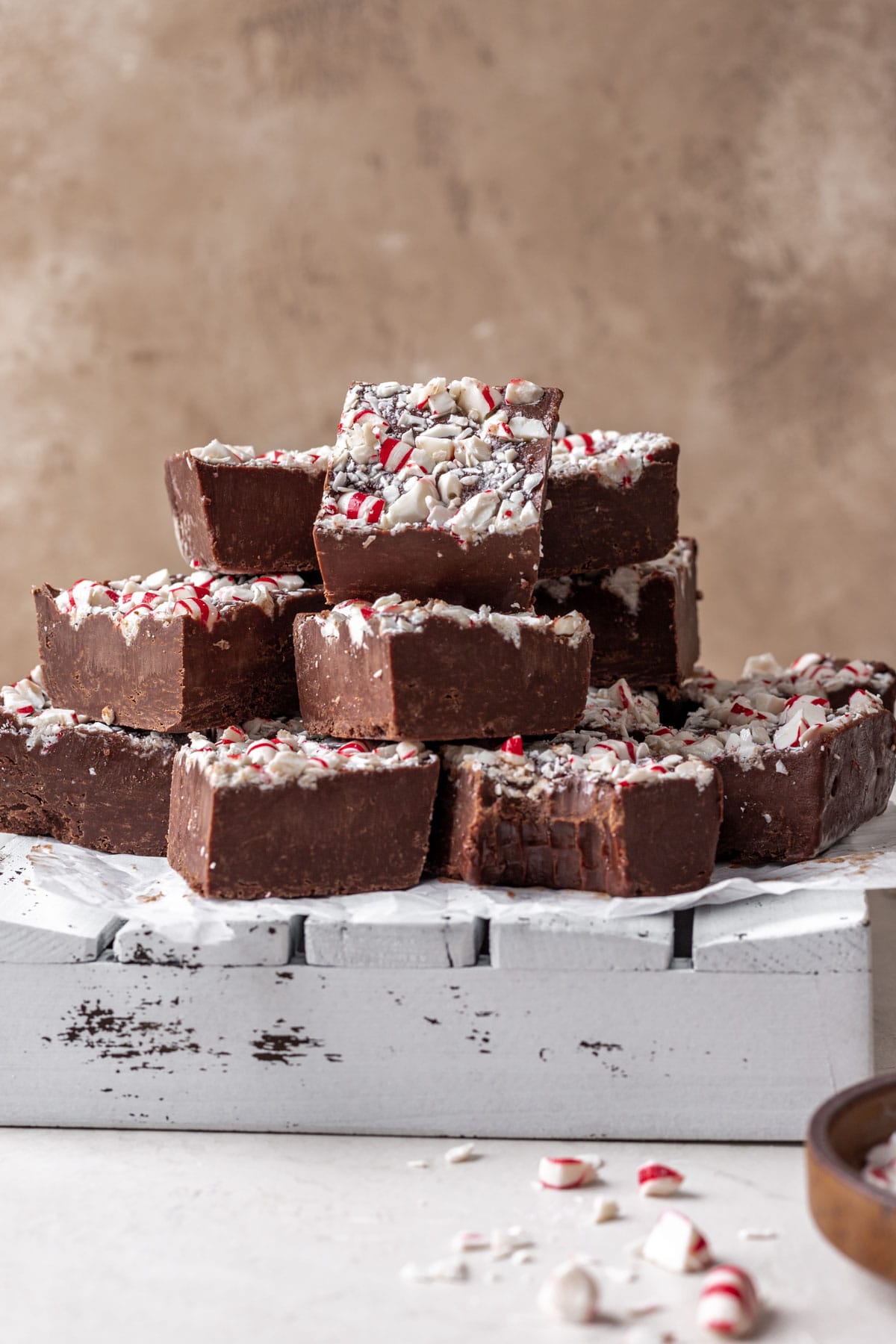 This festive fudge recipe is one that the entire family is sure to love. Not only does it have an amazing chocolate flavor and creamy texture, but you also get crunchy peppermint candy bites and amazing peppermint flavor throughout. The flavor combo is perfect for the holiday season and tastes absolutely amazing together.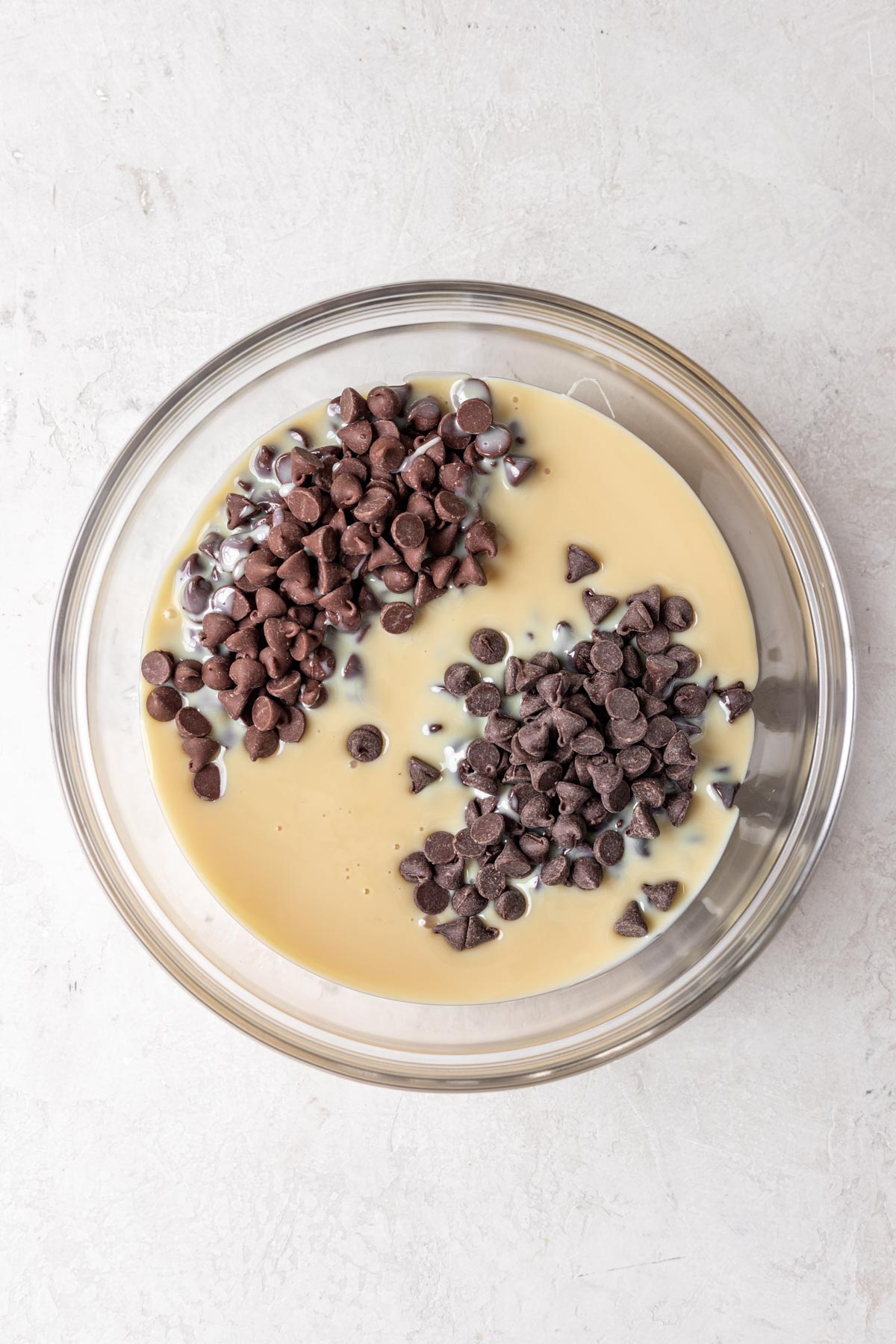 The favorite holiday treat is also incredibly easy to make. Just melt the chocolate, and sweetened condensed milk together in the microwave then mix in the peppermint flavor. After that, all you have to do is pour it all in a dish, top it off with crunchy candy cane bits, and wait for the chilling time. It's one of the easiest homemade candy recipes ever, but still so delicious!
One of the best things about this Chocolate Peppermint Fudge is that it is pretty much a fail-proof fudge recipe! You don't need a candy thermometer and you won't be worrying about your milk scalding, knowing what a "soft ball" stage is or accidentally shaking the pan. Using the microwave and sweetened condensed milk, instead of the classic milk and sugar in a pan method, guarantees smooth rich fudge every time.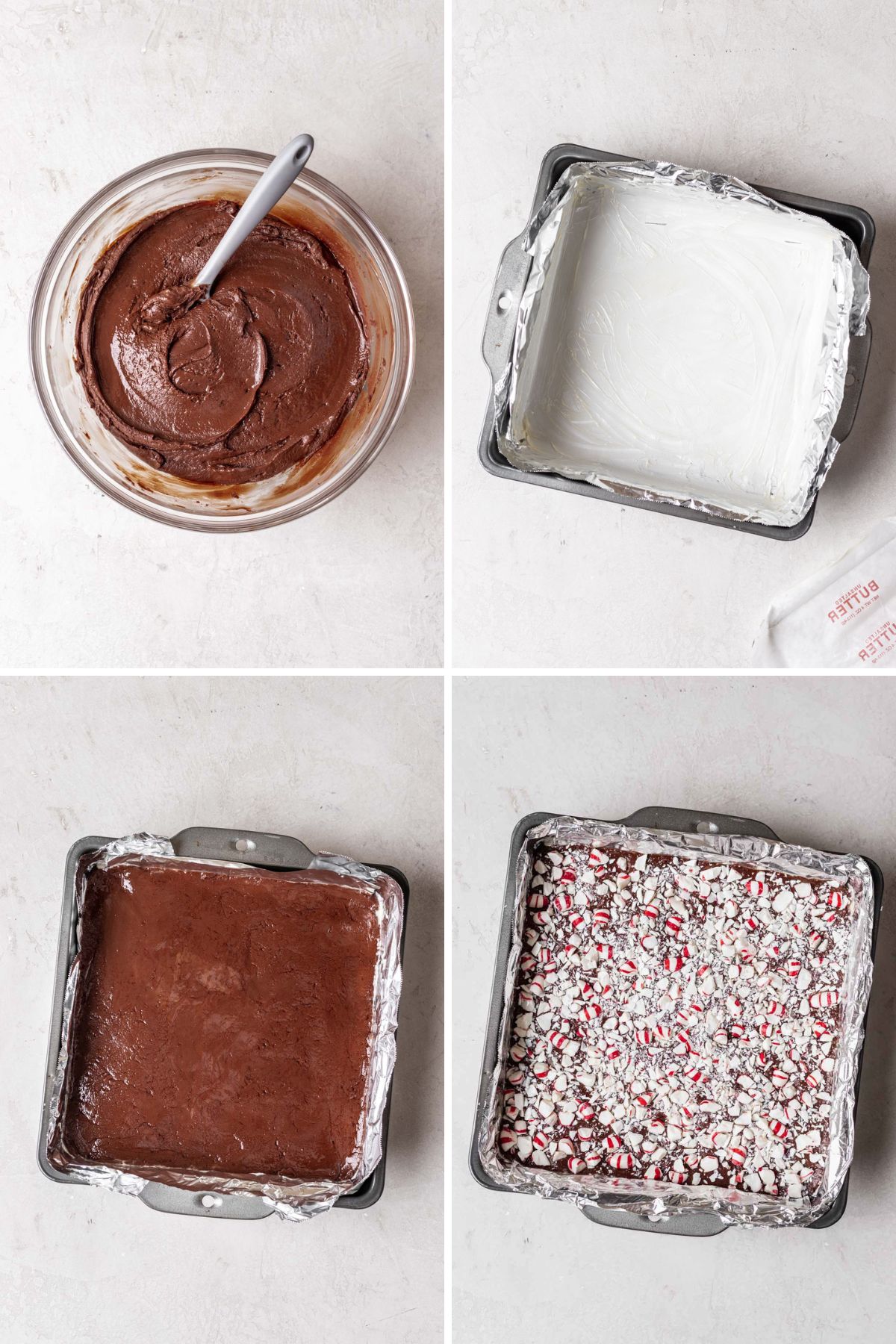 Chocolate Peppermint Fudge is sort of like a combination of two fudge recipes. There's the regular Chocolate Fudge base, and the fresh Peppermint Fudge flavor all brought together for one candy recipe perfect for the holiday season. Enjoy the Chocolate Candy Cane Fudge at a holiday party, give it as a holiday gift, or even put out a tray of them on Christmas morning for the family to enjoy while they open presents.
How to Make Chocolate Peppermint Fudge
Prep time: Start by wiping down a piece of aluminum foil with a butter wrapper to grease it. Another option is prepping the foil with nonstick spray. Line an 8×8 baking pan with the foil. Alternately, you can use lightly greased parchment paper.
Chocolate mixture: Add the chocolate chips and condensed milk to a large heatproof bowl. Melt in the microwave for 30-second increments until smooth. You can also melt the chocolate on the stove top. In the variations section, there are stove top instructions.
Peppermint: Mix the peppermint extract into the chocolate-milk mixture. Pour the fudgel into the prepared pan. Cover the fudge with the crushed candy cane pieces, gently pressing them into the top so they stick.
Chilling time: Refrigerate the Peppermint Chocolate Fudge for 3-4 hours until it's fully set. Lift the fudge out of the pan using the foil. Using a large sharp knife, cut the fudge into even, bite-size squares.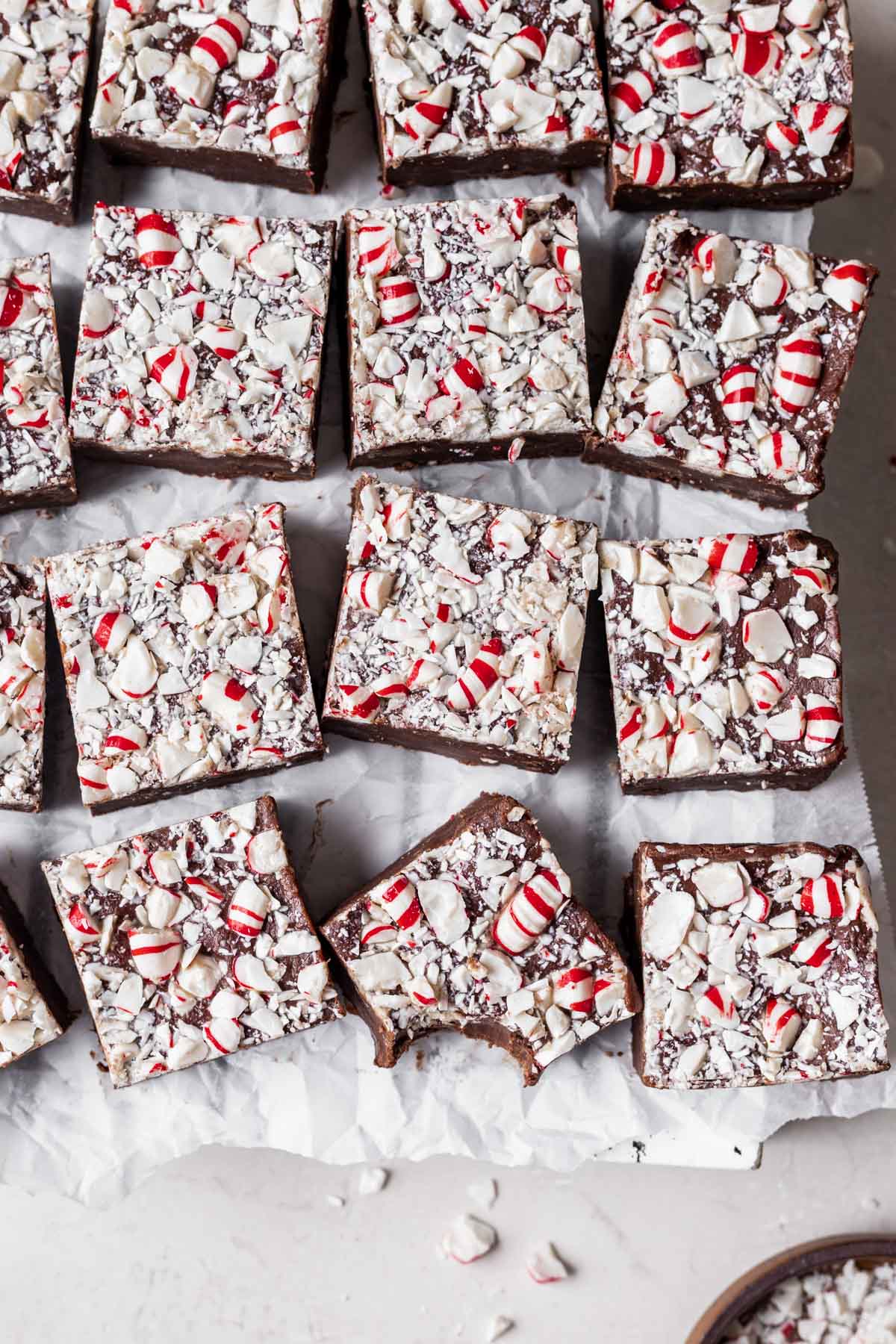 More Incredible Festive Fudge Recipes
FAQs for Chocolate Peppermint Fudge
What is the secret to good fudge?
The secret to good fudge is completely dissolving the sugar at the right temperature that prevents any large sugar crystals that make it grainy from forming. Using ingredients like condensed milk and chocolate chips, instead of regular sugar and milk, takes the guesswork out and ensures perfectly smooth fudge every time.
How is fudge different from chocolate?
While chocolate and fudge are both a kind of confection or candy, chocolate is an ingredient to flavor fudge and not all fudge is chocolate flavored. The main ingredients for fudge are sugar, butter, and milk, and from there it can be flavored with chocolate, or a variety of other flavors like maple, peppermint, peanut butter, vanilla, etc. Chocolate on the other hand is made with cocoa beans, cocoa butter, sugar, and sometimes milk.
What makes fudge hard?
In traditional fudge recipes, heating the fudge too much can turn it into a hard candy instead of creamy semi-soft fudge. The ideal temperature to prevent hard fudge is between 234-237 degrees F. The great thing about this easy recipe is you don't need to worry about hard fudge or reaching the correct temperature!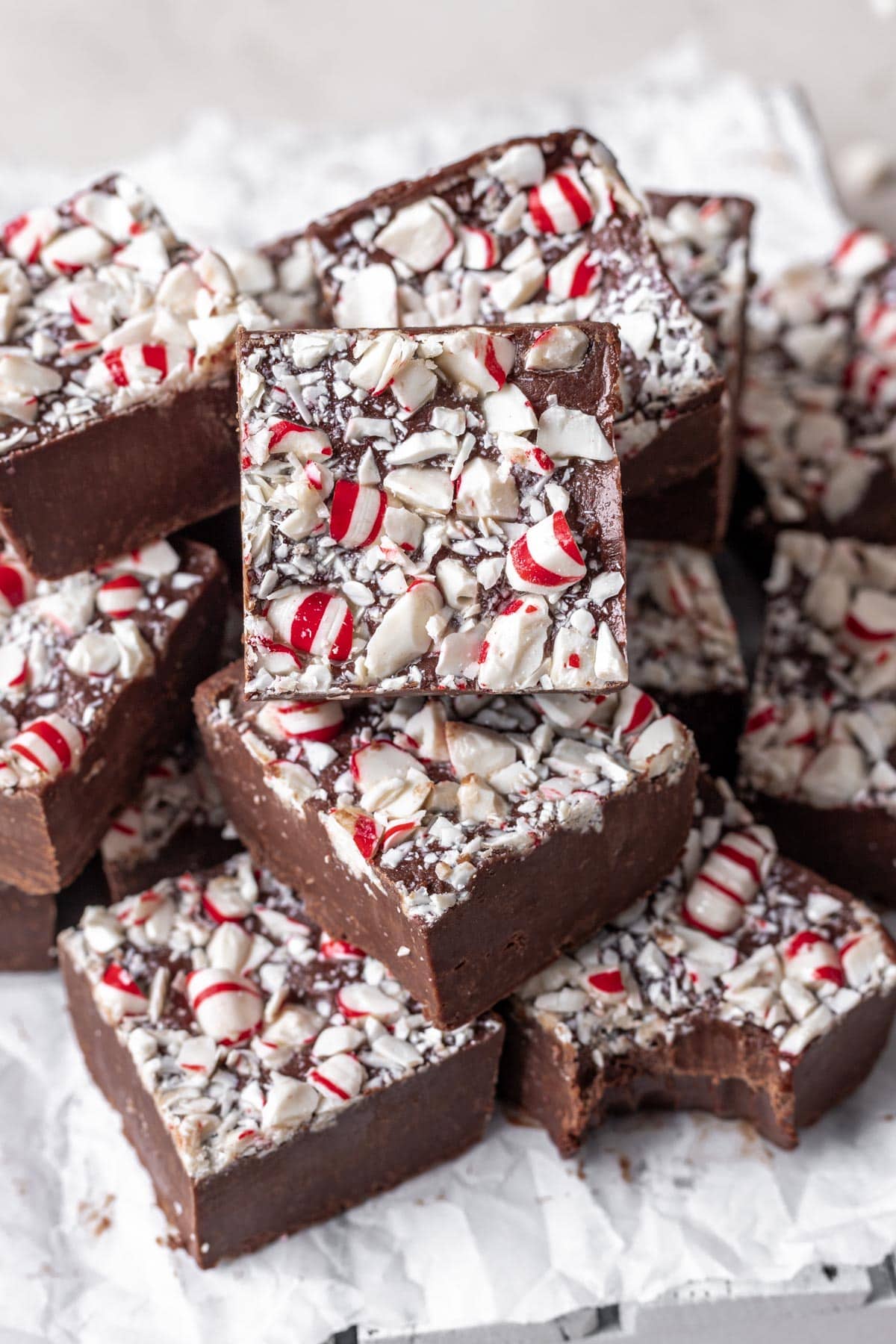 Create a free account to

Save Recipes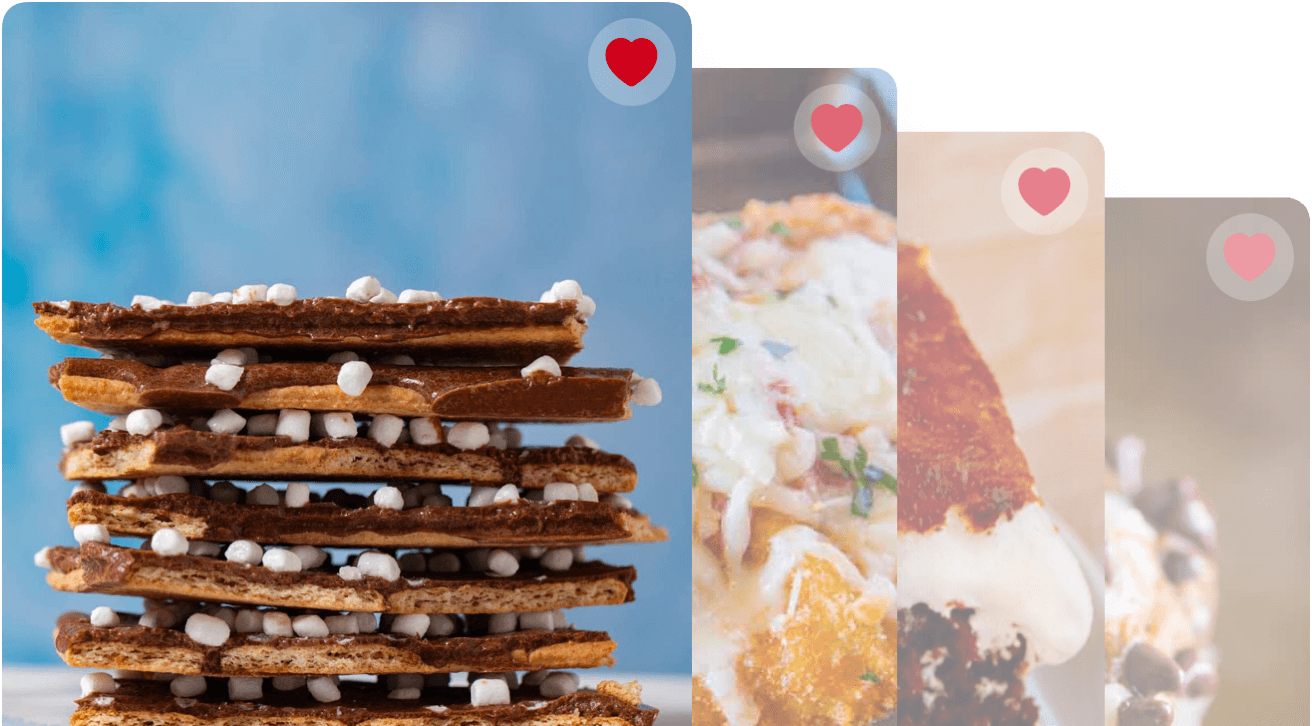 Key Ingredients
Chocolate Chips: For this recipe, there is a combination of milk chocolate and semisweet chocolate chips. The milk chocolate makes it a little more sweet and extra creamy than if you'd just used semisweet chips which are less sweet and have less milk fat in them.
Sweetened Condensed Milk: Sweetened condensed milk is perfect for this recipe because it makes the fudge smooth and creamy, but unlike regular milk, you don't have to worry about it curdling in heat. It also takes the place of sugar and the sugar is already completely absorbed into the milk so you don't have to worry about grainy gritty fudge.
Peppermint: To give the chocolate fudge a delicious peppermint flavor, all you have to do is mix a little peppermint extract into the fudge mixture. Make sure your bottle says peppermint extract because regular mint extract is actually a blend of spearmint and peppermint.
Candy Canes: Crushed candy canes are added as a topping for a beautiful, festive pop of color and some nice crunch to the otherwise smooth fudge. If candy canes aren't in season, you can also just use regular peppermint candies and crush those up instead.
Can Chocolate Peppermint Fudge be made ahead of time?
You will need about 3-4 hours to fully set your fudge, so it's actually best to make this fudge a day or two in advance of when you want to serve it. That way it's completely set and the flavors have a bit of time to deepen. However, the chocolate mixture can't be made ahead of time, you need to finish making the fudge once you start the process.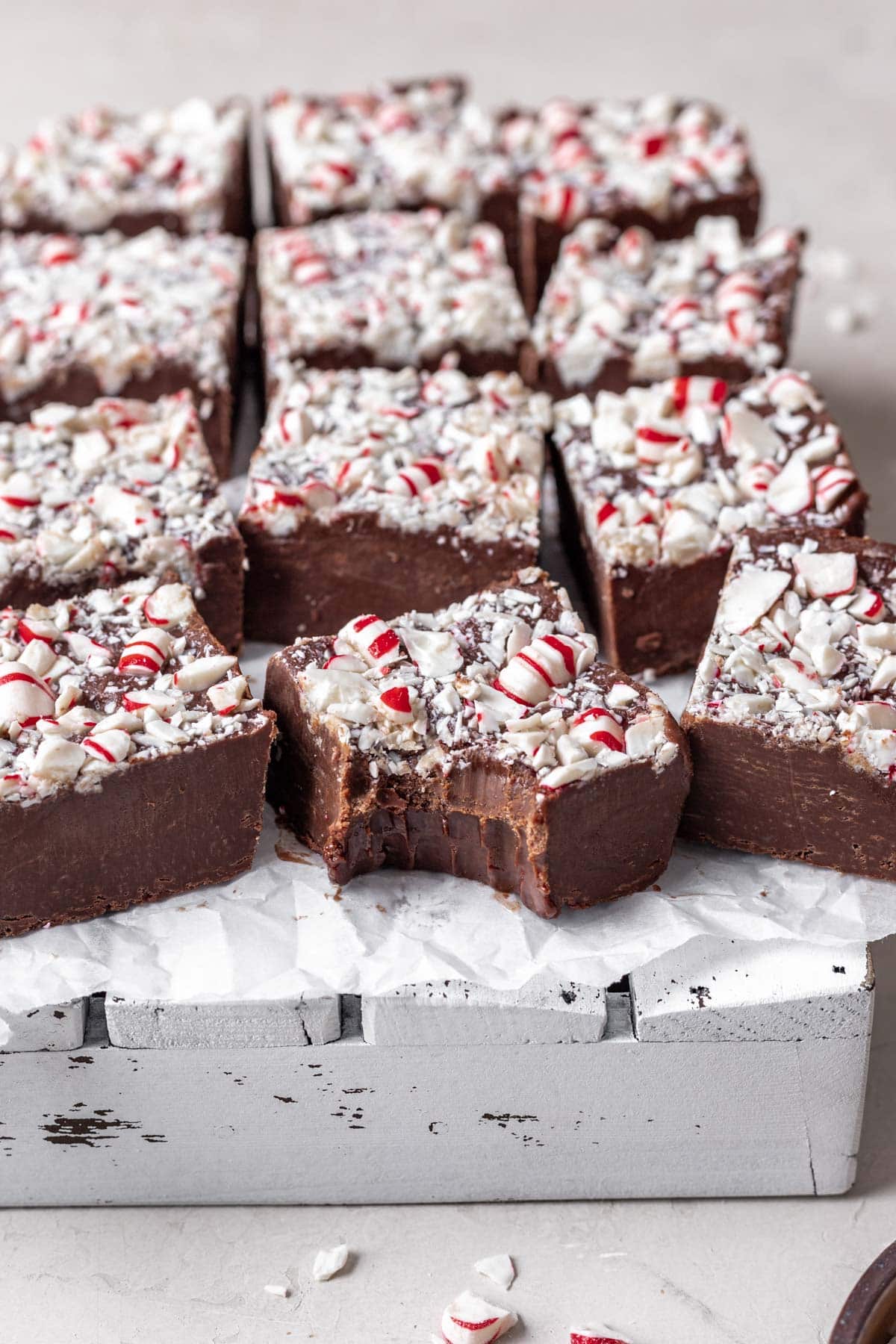 Variations
White Chocolate: You can use the same basic recipe to make White Chocolate Peppermint Fudge. Just replace the semisweet and milk chocolate with white chocolate chips. Prepare the white chocolate peppermint fudge exactly the way you would the original recipe. Similarly, you can make dark chocolate fudge by using dark chocolate chips.
Toppings: There are lots of sweet toppings you could add over the fudge before it sets. Try powdered sugar, coarse sanding sugar (especially in festive colors), colorful sprinkles, or a white chocolate drizzle to liven up the fudge.
Peppermint Mocha: Turn this delicious fudge into everyone's favorite holiday coffee drink! Add 2 teaspoons of strong espresso to the chocolate mixture. Top the set fudge with a drizzle of Chocolate Ganache and let set before serving the Peppermint Mocha Fudge.
How to Melt Chocolate on the Stove Top
You can make your own double boiler to melt the chocolate instead of using a microwave.
Equipment needed: A medium heat safe bowl and a sauce pan that is slightly smaller than the bowl. You want the bowl to be able to rest about ⅓ of the way down into the pan but not further than that.
Add about an inch or two of water, but you don't want it touching the bottom of the bowl when it is sitting on the pan.
Heat the water to simmering then place the bowl with the chocolate chips and condensed milk over the pan.
Stir as frequently as the chocolate mixes. Be super careful that no water boils up and splashes into the chocolate or it will seize and harden.
Once the chocolate is mostly melted and hot, remove the bowl from the heat and stir until the chocolate is fully melted and the mixture is smooth.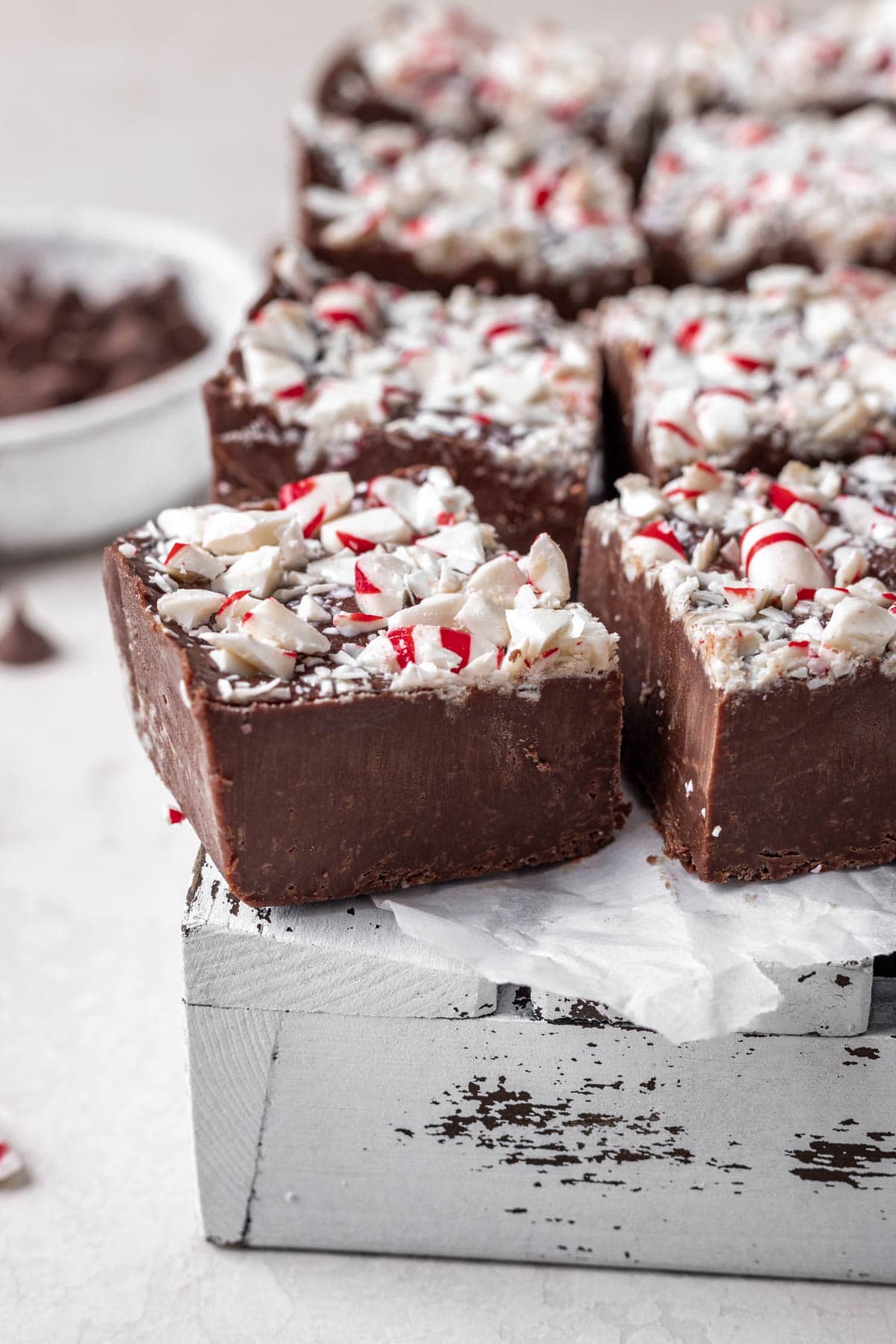 More Easy Chocolate Peppermint Treats!
How to Store
Serve: Make sure to let the fudge set in the fridge for several hours before serving. As long as it's set, it can stay good at room temperature for up to 1 week. Just cover the candies in plastic wrap, or place them in an airtight container to keep them fresh.
Store: You can also seal and refrigerate fudge for up to 2 weeks.
Freeze: If you make the Chocolate Peppermint Fudge ahead, you can store it in the freezer for 3 months. Just put it in an airtight freezer bag with the layers separated by parchment paper so that they don't freeze together.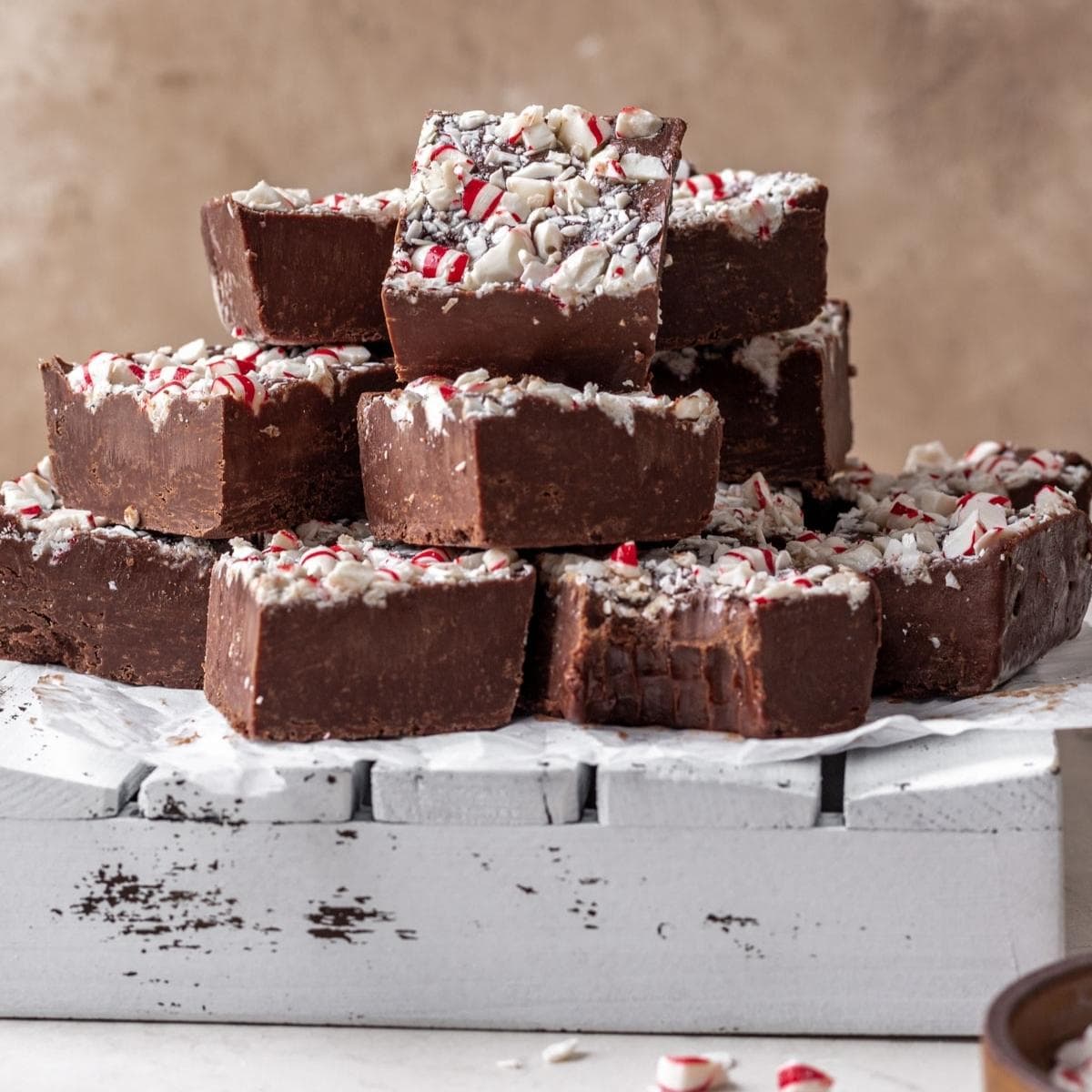 Ingredients
2

cups

milk chocolate chips

, about 1 bag

1

can

sweetened condensed milk

, 14 ounce cans

1/4

teaspoon

peppermint extract

1/2

cup

peppermint candies

, crushed
Instructions
Wipe down a piece of foil with the wrapper of the stick of butter, then line an 8×8 pan with it.

Add the chocolate chips and condensed milk to a large microwave-safe bowl and melt gently in

30-second

increments until smooth.

Add in the peppermint extract.

Pour into the greased aluminum-lined pan, top with peppermint candies, and press them in gently.

Refrigerate until set, about

3-4 hours

.
Nutrition
Calories:
186
kcal
|
Carbohydrates:
27
g
|
Protein:
2
g
|
Fat:
8
g
|
Saturated Fat:
5
g
|
Polyunsaturated Fat:
0.1
g
|
Monounsaturated Fat:
1
g
|
Trans Fat:
0.03
g
|
Cholesterol:
8
mg
|
Sodium:
32
mg
|
Potassium:
104
mg
|
Fiber:
1
g
|
Sugar:
24
g
|
Vitamin A:
81
IU
|
Vitamin C:
1
mg
|
Calcium:
69
mg
|
Iron:
1
mg