Peppermint Oreo Fudge is sweet and creamy with Oreo chunks and peppermint pieces throughout. Easy white chocolate fudge ready for the fridge in 10 minutes.
This Peppermint Oreo Fudge takes our recipe for Peppermint Fudge and adds chewy pieces of Oreo to it for some extra chocolate-y flavor. It's an easy Candy Recipe that your whole family will love.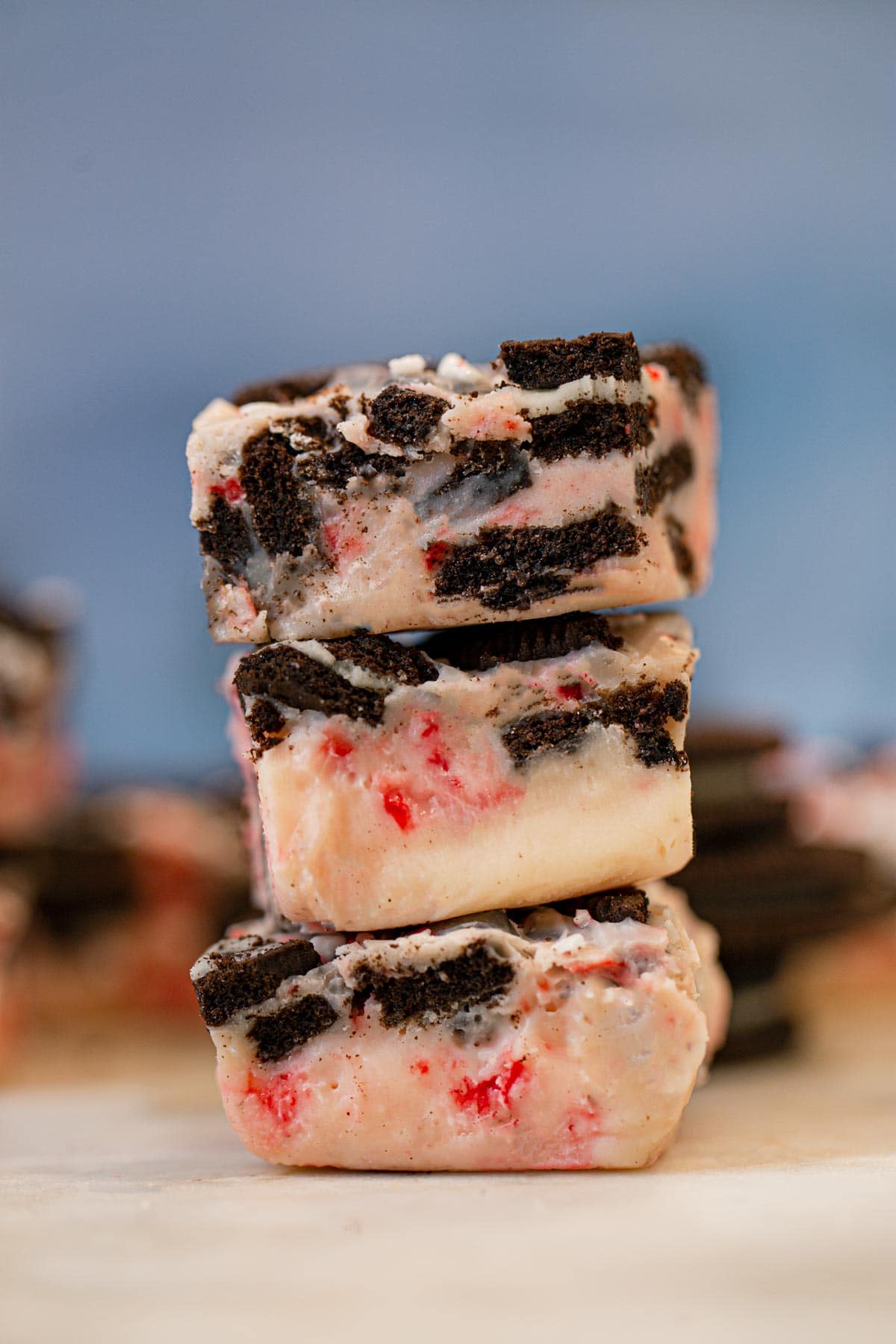 PEPPERMINT OREO FUDGE
This easy fudge recipe is great for the holidays. You can put out a tray at your next family get-together, or wrap up some as an edible gift. The Oreo cookies make the fudge especially kid-friendly, while the white chocolate and peppermint make it a seasonal delight. Have a few pieces with a cup of Homemade Hot Chocolate for the perfect Christmas Eve treat to share with your family.
If you want to give fudge as a holiday gift, be sure to separate the pieces with parchment paper in your package. That way none of the candies will stick together. You could even wrap each piece of fudge in an individual piece of wax paper and tie it with a ribbon for a cute, homemade candy wrapper.
If you've never made fudge yourself, then you may be thinking it's more complicated than it really is. The basics of fudge making is just a matter of combining chocolate and sweetened condensed milk over heat. Just add in a few more ingredients for flavoring, beat it all together while it cools, then put it in the fridge to harden. It's as simple as that!
MORE FUDGE RECIPES
HOW TO MAKE THE PERFECT FUDGE
The hardest part about cooking fudge is bringing the chocolate and condensed milk mixture to the right temperature. Under cooking the mixture will make fudge that doesn't set well. On the other hand over-cooking will make dry crumbly fudge.
To avoid any guess work use a candy thermometer. Add the chocolate chips and condensed milk to your saucepan over low heat. As you stir the mixture, test the temperature using a candy thermometer. The ideal temperature to bring the fudge to is about 235 degrees F.
Once you've heated the fudge to the right temperature, it's time to start adding the other ingredients. Turn off the heat and stir in the peppermint extract. Mix in your peppermint candies and Oreos as the mixture cools. Then all that's left to do is add the fudge to your dish, sprinkle the rest of the Oreos and peppermint over the top, and let it set in the fridge.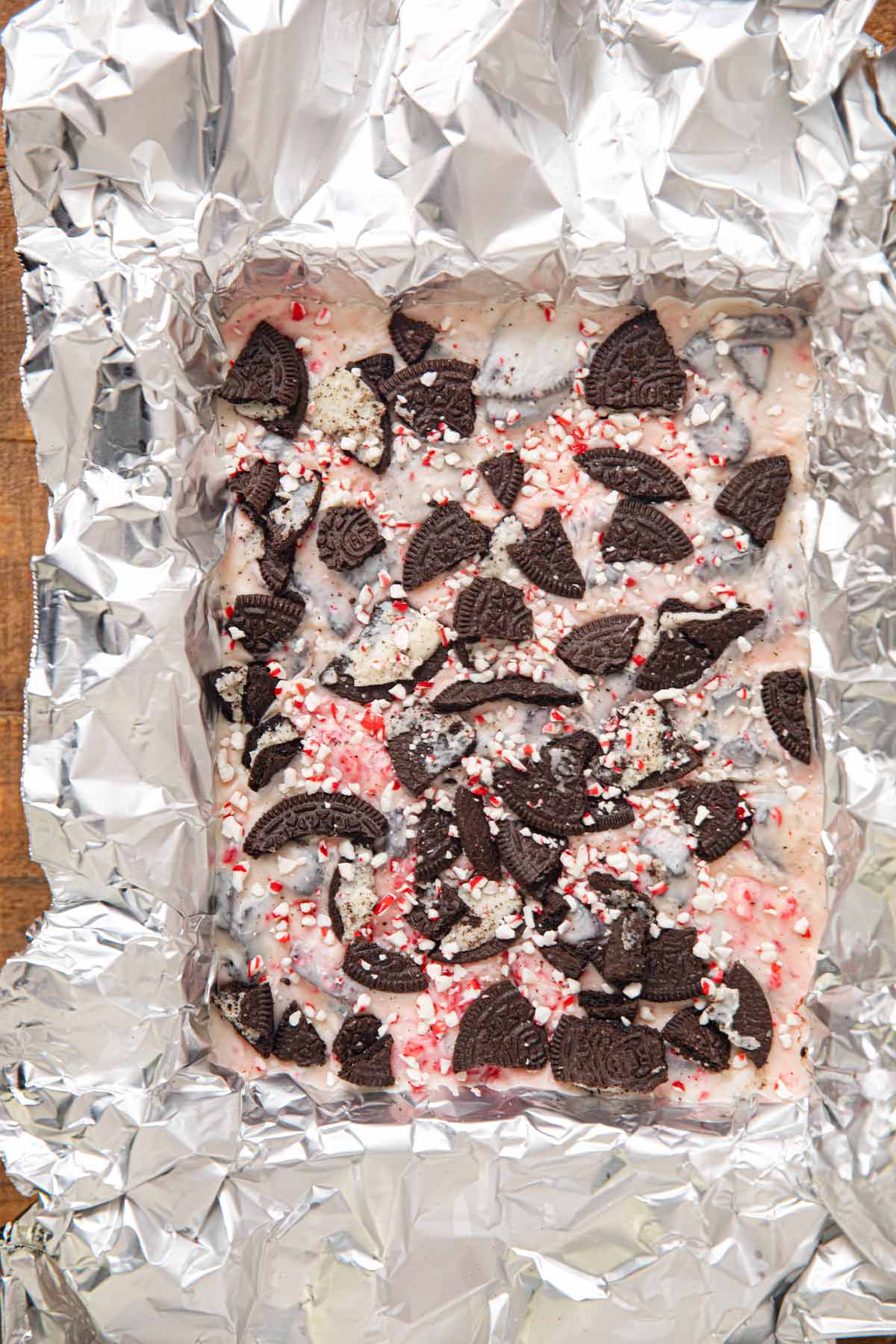 Create a free account to Save Recipes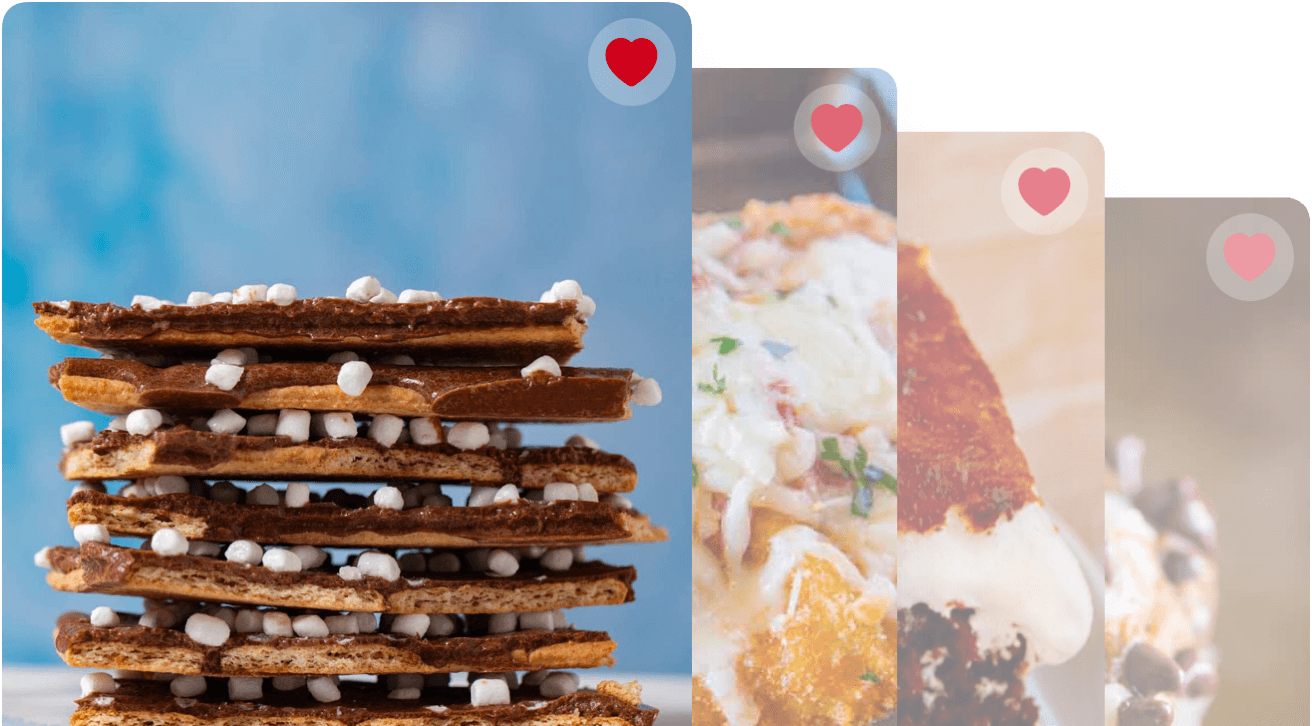 VARIATIONS ON PEPPERMINT OREO FUDGE
Chocolate Fudge: If you'd like to make a more classic chocolate fudge, use semisweet chocolate chips instead of the white chocolate chips. You could also try milk chocolate or dark chocolate chips depending on how deep of a chocolate flavor you want the fudge to have.
Oreos: You can easily change up this recipe depending on what kind of Oreo cookies you use. Vanilla Oreos, double chocolate Oreos, red velvet Oreos, or seasonal Oreos with red filling could all make a fun change.
Vegan: To make your Peppermint Oreo Fudge Vegan swap out the sweetened condensed milk and the white chocolate chips. Instead of the milk you can use condensed coconut milk, and you should be able to find a dairy-free white chocolate at your grocery store.
Toppings and Add-ins: There are lots of ways you can experiment to make this recipe fit with different holidays depending on what add-ins you use. Try mixing in nuts, mini chocolate chips, or marshmallows. You can also decorate the fudge by drizzling melted chocolate over the top or adding sprinkles.
Food Coloring: To add to the candy cane theme of this fudge, try swirling in some red food coloring with the white chocolate for a more festive look.
MORE HOLIDAY RECIPES
HOW TO STORE PEPPERMINT OREO FUDGE
Serve: Once the fudge is set, it can be kept at room temperature for up to a week. Make sure to store it in an airtight container in a relatively cool place.
Store: Peppermint Oreo Fudge will stay good in the fridge for 2 weeks. If you cut the fudge into squares, store them in a ziplock bag or airtight container separated by parchment paper.
Freeze: This is a great recipe if you want to get some of your holiday desserts done in advance. You can make Peppermint Oreo Fudge months in ahead and store it in the freezer for up to 6 months.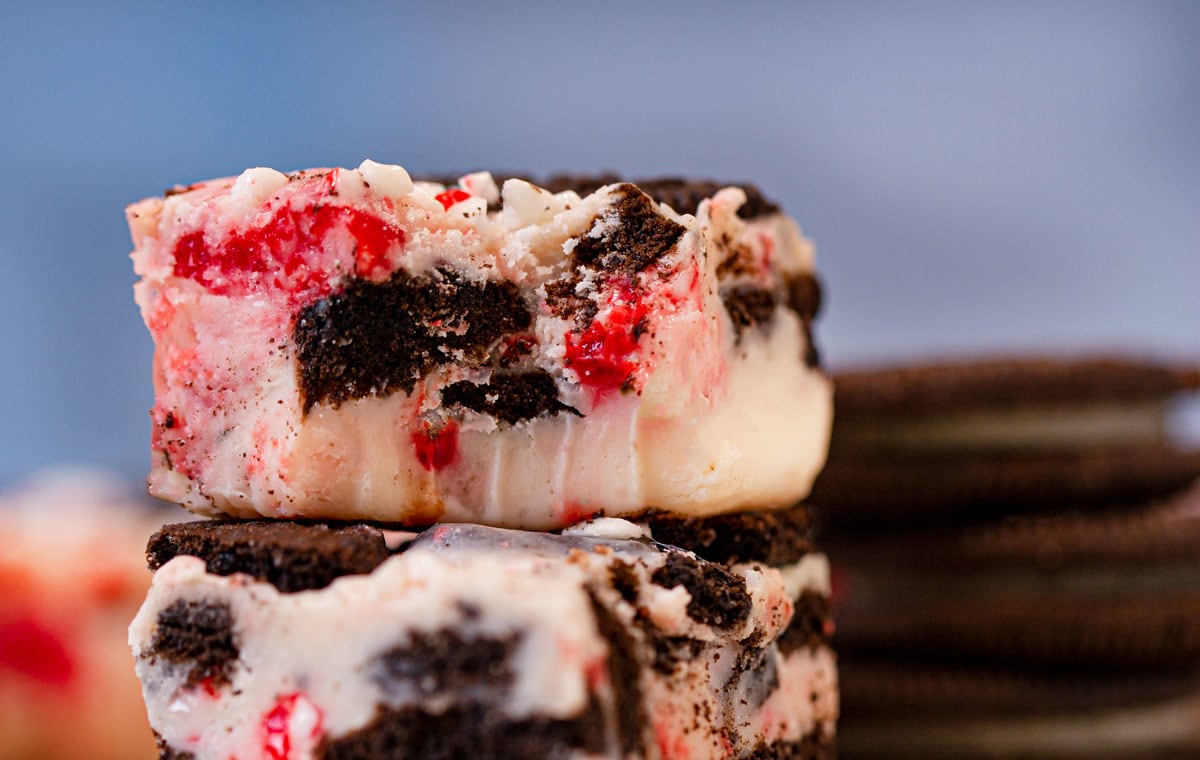 Instructions
Line an 8x8 pan with foil and spray with vegetable oil spray.

Add white chocolate chips, sweetened condensed milk and salt to a large saucepan on low heat.

Stir until chocolate is melted.

Turn off heat and add in peppermint extract.

Mix in all but a small handful of the crushed peppermint candies and most of the Oreos.

Spread into baking dish.

Sprinkle on the remaining peppermint candies and Oreos into the baking pan.

Refrigerate for

4 hours

before slicing.
Nutrition
Calories:
278
kcal
|
Carbohydrates:
40
g
|
Protein:
3
g
|
Fat:
12
g
|
Saturated Fat:
7
g
|
Cholesterol:
12
mg
|
Sodium:
86
mg
|
Potassium:
155
mg
|
Fiber:
1
g
|
Sugar:
35
g
|
Vitamin A:
53
IU
|
Vitamin C:
1
mg
|
Calcium:
105
mg
|
Iron:
1
mg