Oreo Peppermint Bark Bread is a rich dessert quick bread take on the holiday classic candy with a marble loaf, crushed Oreos and peppermint candies.
During the holiday season everyone is ALL about Peppermint Bark, the ultimate in Candy Recipes during the Christmas season. Earlier in the year we shared an Oreo version of the classic and this quick bread recipe is the ultimate holiday dessert you NEED to try. Or gift. Or bake and enjoy all by yourself.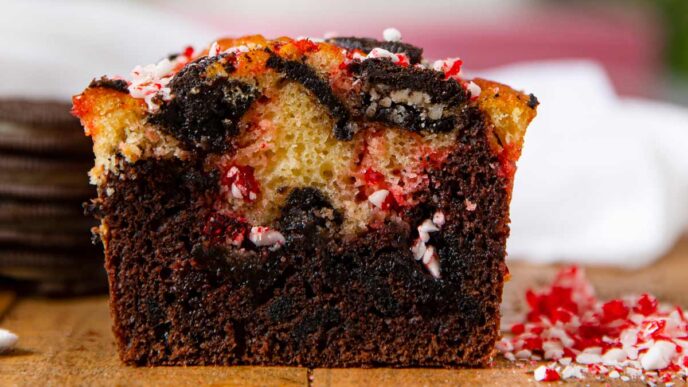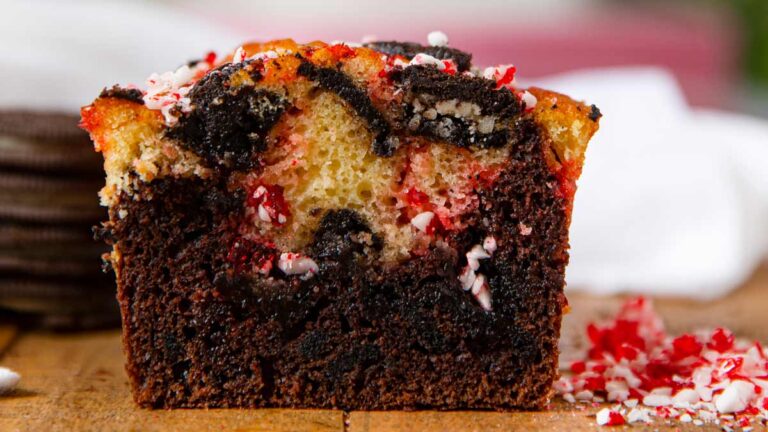 Oreo Peppermint Bark Bread
Peppermint Bark is the kind of Christmas candy and for good reason. Chocolate, vanilla, peppermint, all mixed into one delicious bite. What could make it better? Oh wait, Oreos! And they're not only on the top of the bread, they're mixed into the vanilla cake layer AND into the chocolate cake layer.
This cake is rich, moist and EASY! It looks like it took all day to make, but it has 11 easy ingredients and you probably have all of them in your cupboards at this very moment (assuming you're looking at this during the holidays). Missing peppermint? Go grab a couple candy canes off the tree.
This recipe actually used pre-crushed candies you can buy in a bag, that makes baking with peppermint candies easier if you're doing it in bulk. If you only plan to make 1 or 2 small recipes with peppermint candies I'd say just buy a box of candy canes. Less expensive and just a couple seconds in a ziplock bag with a heavy book!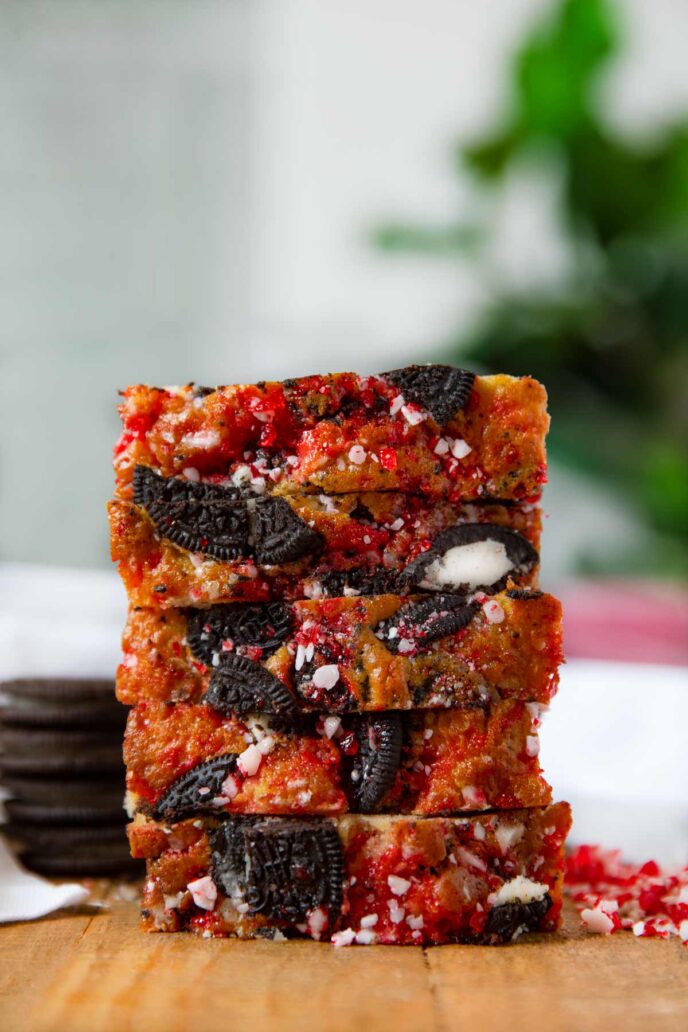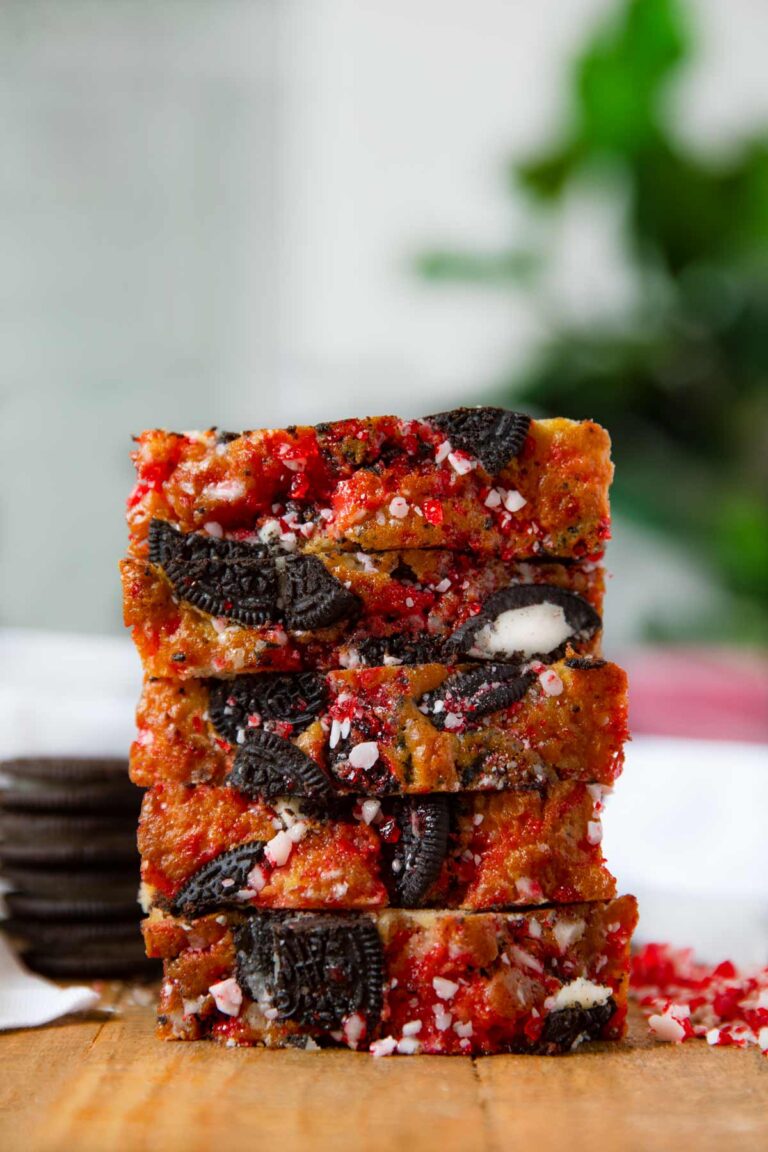 Gifting Peppermint Bark Bread:
You can bake this Peppermint Bark Bread in a full 9×5 loaf pan as a gift for a loved one with a loaf pan they can keep as a part of your gift. You can also buy disposable loaf pans or mini loaf pans and make this recipe for gifts for coworkers, neighbors, teachers and more.
We've been baking this recipe since before Halloween and every batch we've made has been finished within the same day, you will love the flavors. My favorite part? The Oreos! When they bake into the cake they soften so they have a delicious cake-like texture too.
MORE PEPPERMINT BARK RECIPES:
How to Make Oreo Peppermint Bark Bread:
Make your Marble Loaf: Make the Chocolate and Vanilla layers.
Add Oreos: Add ⅓ of the Oreos to each batter and mix well.
Layering order: Add the Chocolate and Oreo layer first, then add in half your peppermint candy. Top with the vanilla layer with Oreos and finish with the rest of the Oreos and the rest of the peppermint candies.
Bake: This is a fairly large bread so it will take an hour to bake, don't rush it and place a baking sheet under your loaf pan in case anything boils over.
Garnish: Garnish with more peppermint candies as soon as it comes out if desired (most of the ones you added before will have melted).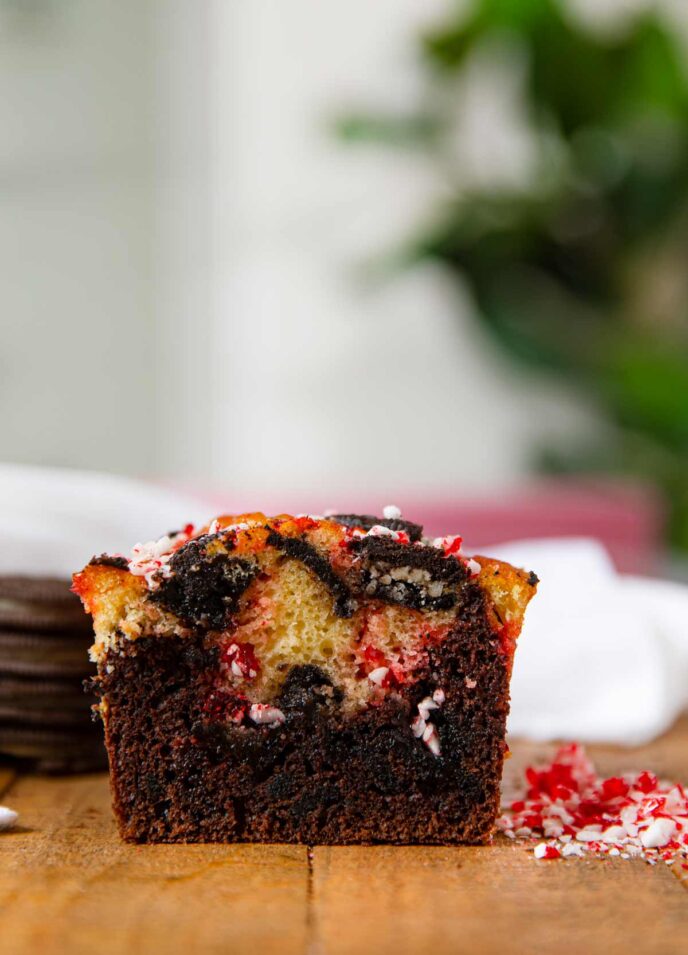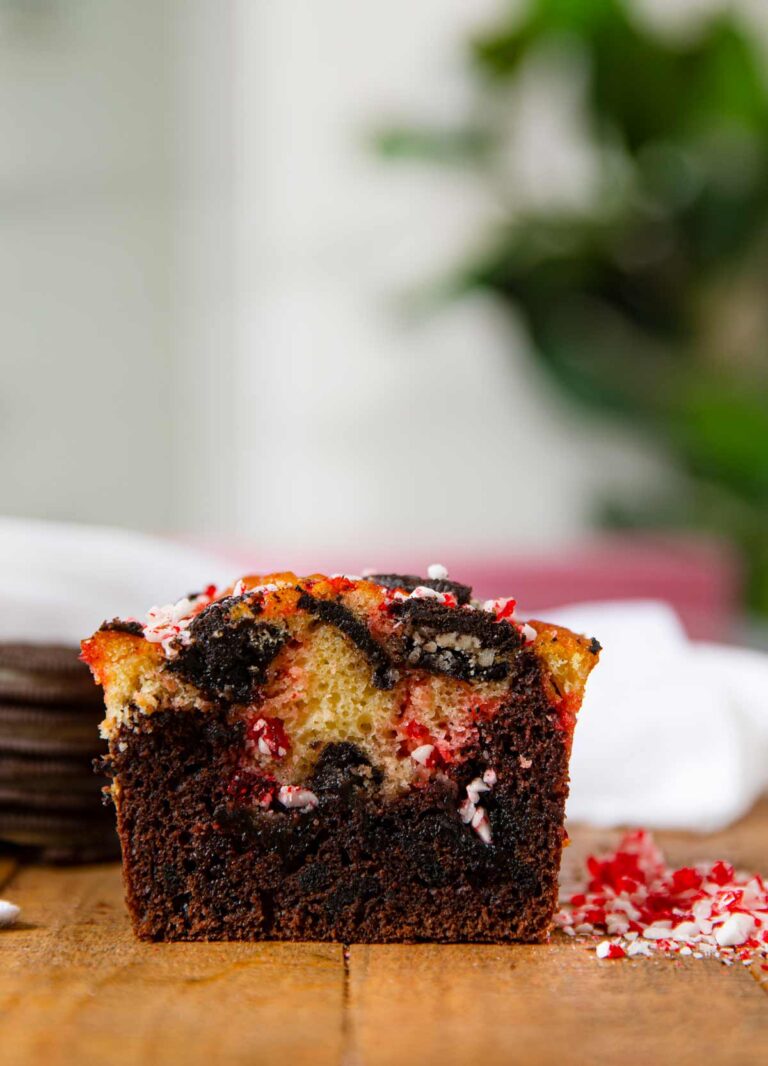 Create a free account to

Save Recipes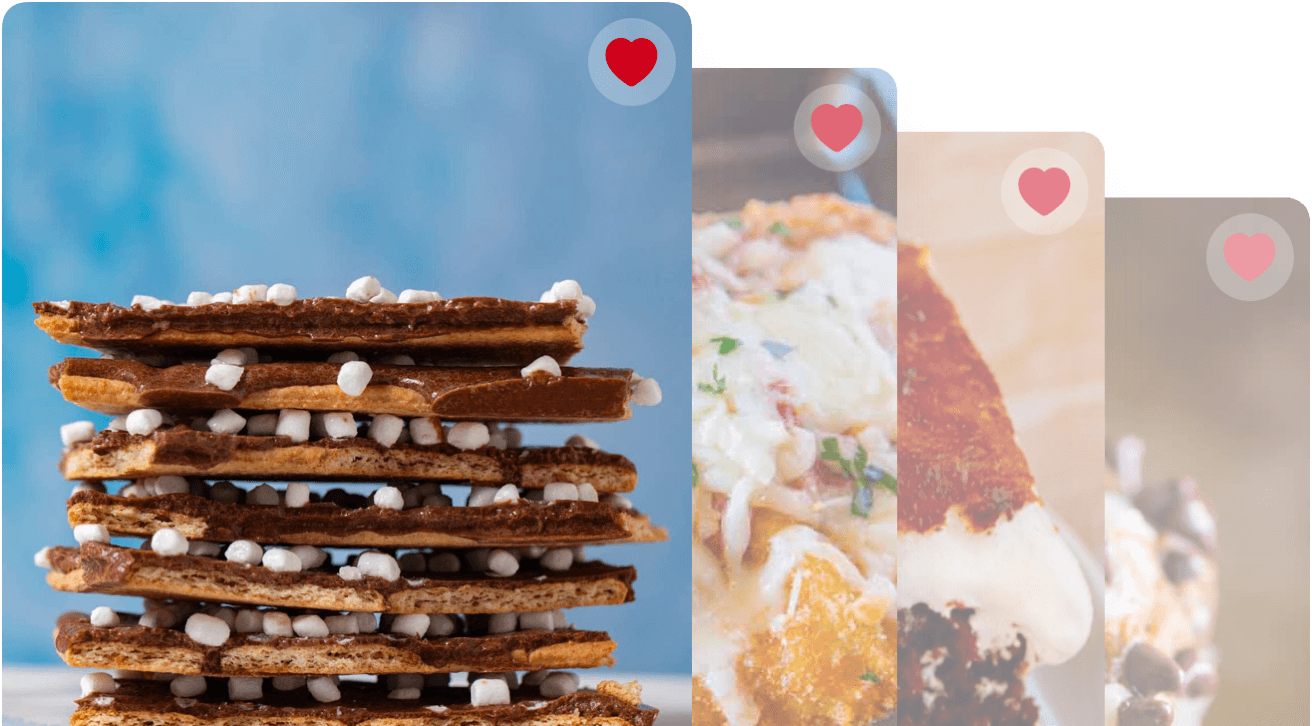 VARIATIONS ON OREO PEPPERMINT BARK BREAD:
Oreos: You can choose any flavor of Oreos you'd like to add, you don't have to make it in the classic flavor we used. Other good options would be Peppermint, Red Velvet or Chocolate.
Toppings: Add a drizzle of white chocolate or semisweet chocolate to the top once it's cooled.
Gluten-Free: Unfortunately Oreos are not Gluten-Free but you might be able to find an alternative cookie to add into this recipe as a substitute. You'll also want to swap out the flour and use a Gluten-Free all-purpose flour.
BAKING TIPS:
Make sure to sift the flour, cocoa powder, baking powder, and salt. It'll help to combine them completely before adding them in with the other ingredients.
Don't over-mix the batter as it will cause the cake to be dense and it can also cause issues with rising.
Allow the bread to cool in the pan for 10 minutes and then remove it and continue letting it cool on a wire rack.
For ease with getting the bread out of the pan, make sure to spray with a baking spray or line with parchment paper.
MORE DELICIOUS OREO RECIPES
HOW TO STORE AND SERVE:
Serve: This bread will keep at room temperature, covered, for about a week.
Store: You can extend the freshness of the bread by storing it in the refrigerator for up to 2 weeks.
Freeze: This bread freezes well if you make sure to wrap it in a sealed container or freezer-safe storage bag. It will keep in the freezer for up to 3 months.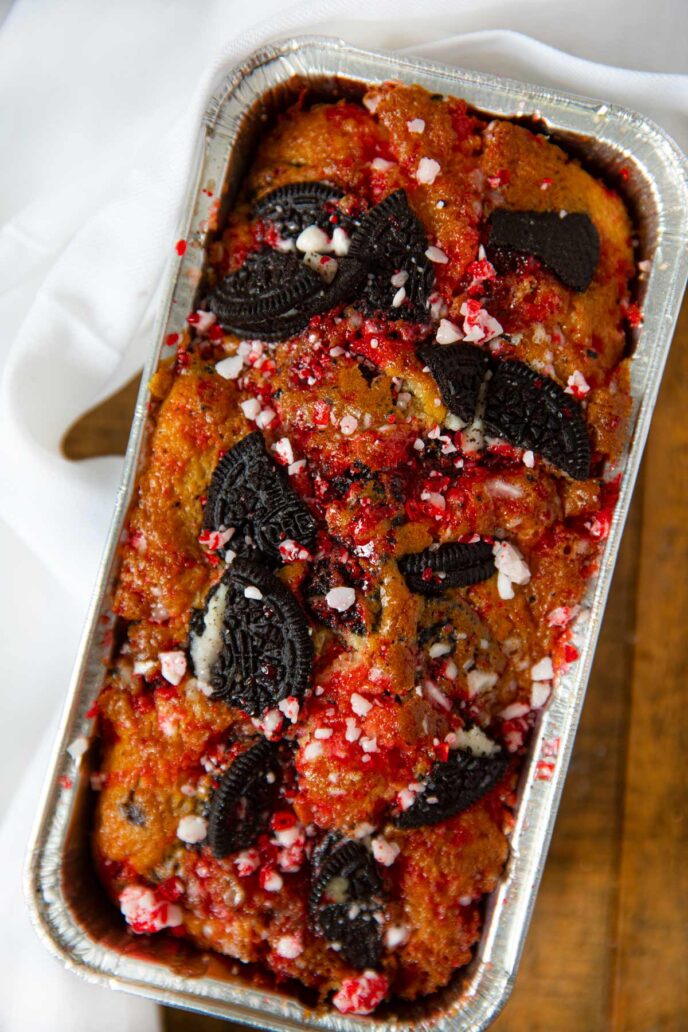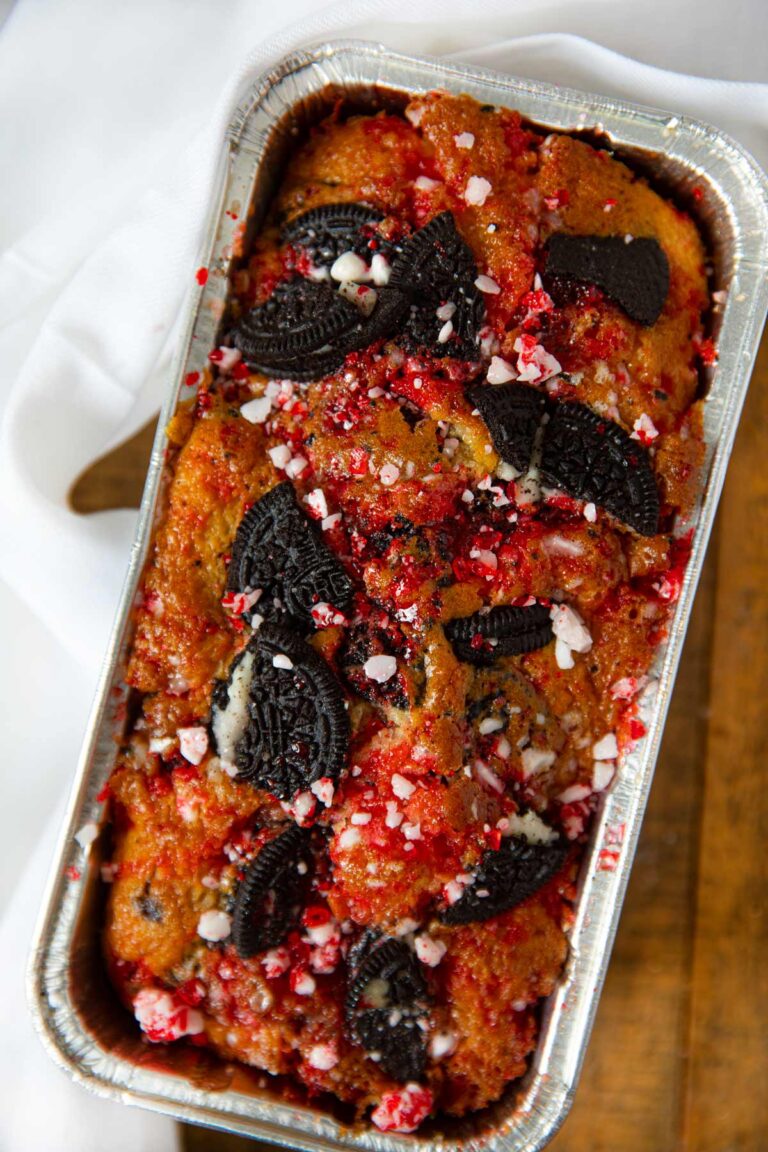 Ingredients
2

cups

flour

2

teaspoons

baking powder

1/4

teaspoon

salt

15

tablespoons

unsalted butter

, softened and divided

4

tablespoons

unsweetened cocoa powder

1 1/3

cups

sugar

2

large eggs

1

teaspoon

vanilla extract

1/2

cup

milk

15

Oreo cookies

, quartered and divided

1/2

cup

peppermint candies

, crushed
Instructions
Preheat oven to 350 degrees.

Grease a 9 inch by 5 inch loaf pan and line it with parchment paper; grease the parchment paper as well.

Melt 3 tablespoons of butter in the microwave, using 30 second increments until fully melted. Mix the cocoa powder into the melted butter until well combined.

Mix the flour, baking powder, and salt in a separate bowl.

Using a mixer, combine the remaining 12 tablespoons of softened butter with the sugar.  Add the eggs and vanilla and mix well.

Gradually mix in the flour mixture to the batter.

Mix the milk into the batter.

Take half of the batter and mix it into the butter-cocoa mixture until fully combined.

Mix a third of the Oreos into the cocoa batter and another third of the Oreos into the yellow cake batter.

Pour the cocoa batter into the loaf pan. Top with half the peppermint candies.

Gently spoon the yellow cake batter into the loaf pan.

Top with the remaining Oreos and peppermint candies.

Cover the loaf pan with aluminum foil and bake for

30 minutes

.

Uncover and bake for an additional

30 minutes

.

Let cool before removing from loaf pan.
Nutrition
Calories:
406
kcal
|
Carbohydrates:
57
g
|
Protein:
5
g
|
Fat:
18
g
|
Saturated Fat:
10
g
|
Cholesterol:
65
mg
|
Sodium:
136
mg
|
Potassium:
176
mg
|
Fiber:
2
g
|
Sugar:
34
g
|
Vitamin A:
496
IU
|
Calcium:
58
mg
|
Iron:
3
mg