Peanut Butter Fudge is a smooth, buttery and rich old-fashioned recipe, with only 6 ingredients that is fridge ready in 10 minutes and perfect for holiday gifts!
Candy making can be easy and fun and this peanut butter fudge is just one of many no-bake recipes we love to make and share. If you love fudge you should also try our Chocolate Fudge, Chocolate Walnut Fudge and if you want other candy favorites try out Chocolate Truffles, Oreo Truffles, Buckeye Balls, or Chocolate Covered Caramels!
 PEANUT BUTTER FUDGE
This Peanut Butter Fudge Recipe is a classic holiday season dessert favorite without the baking and with Easter right around the corner we are already starting to bake up all our holiday dessert favorites.
This peanut butter fudge recipes pulls almost all your ingredients straight from your pantry, nothing fancy is needed. It's as simple as butter, brown sugar, milk, peanut butter (not the natural kind, use the processed variety here), vanilla extract and powdered sugar.
I bet you have everything you need in your kitchen right now.
Chocolate Peanut Butter Fudge
And if you want to make this a double decker fudge, you can make peanut butter chocolate fudge using my chocolate fudge recipe. Grab a bag of chocolate chips, some condensed milk and butter and make a layer of chocolate fudge first, then top it with this peanut butter fudge when they're both still warm.
Don't let Chocolate Peanut Butter Fudge be the only fun alternative recipes you make from this fudge. I've also made Peanut Butter Banana Fudge which was… AMAZING.
Peanut Butter Banana Fudge:
18 ounces white chocolate chips

14 ounce can sweetened condensed milk

3.4 ounce package instant banana cream pudding

7 ounce jar marshmallow creme
In a saucepan add the white chocolate and condensed milk together and melt on low heat. Add in the banana pudding mix and whisk until combined then stir in the marshmallow creme until fully combined and pour into the pan to firm up. Use the peanut butter layer first then top with this banana layer second.
Note: When doing the double layer fudges I suggest using a 9×13 pan since you'll be making twice as much fudge.
If you'd like to stick to classic Peanut Butter here we can also add in some fun flavors through mix-ins:
Peanut Butter Fudge Mix-Ins:
Chopped Peanuts
Peanut Butter Chips
Toffee Chips
Reese's Pieces Candy
Chopped Reese's Cups
Chocolate Chips
Shaved Chocolate


Create a free account to

Save Recipes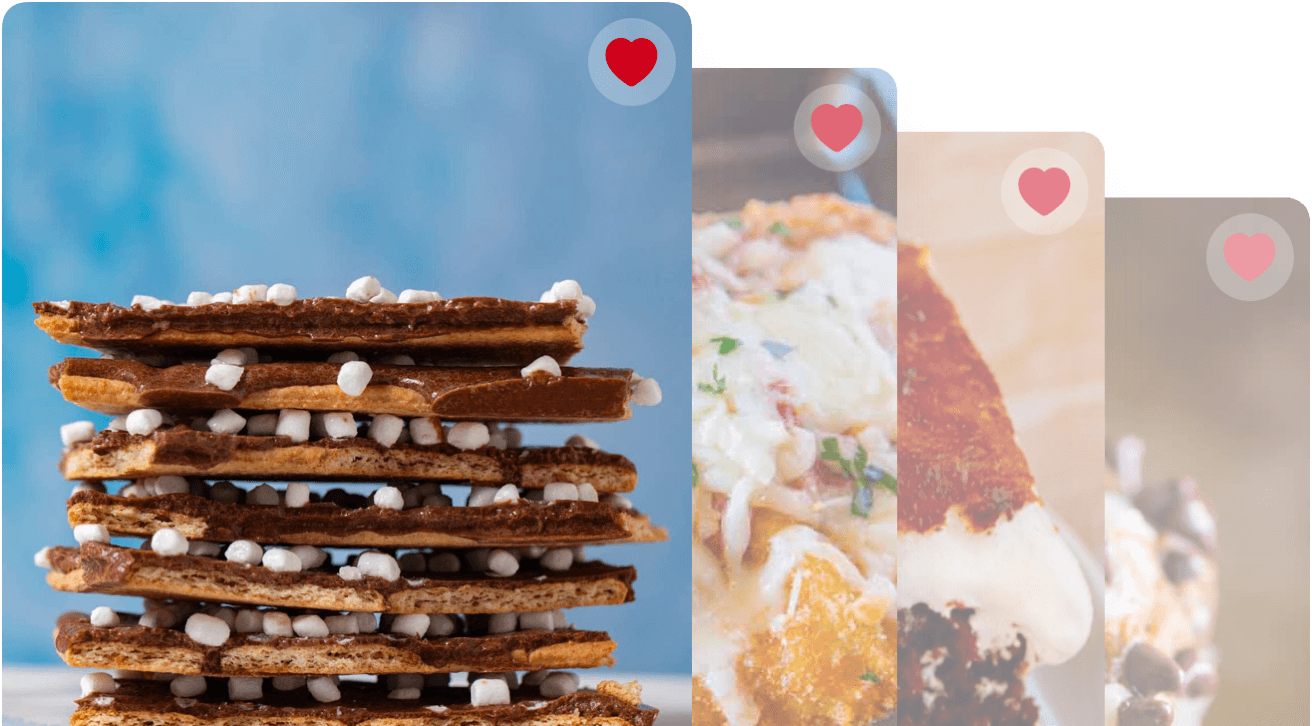 HOW LONG SHOULD IT TAKE FOR FUDGE TO SET?
Once you've poured fudge into the pan the hardest part is waiting for it to set. Be sure to let it set for at least 3-4 hours in the fridge on a shelf with plenty of space around it.
If it isn't completely cooled throughout the texture will not be right.
HOW DO YOU FIX CRUMBLY FUDGE?
This fudge is pretty easy to make, but if you're getting a grainy crumbly texture you've cooked the mixture for too long. This means that too much of the moisture was removed in the cooking process.
Once your mixture comes to a boil immediately press the timer button in my recipe card, this will ensure you do not overcook your mixture.
Also please be absolutely sure you are using medium heat and a heavy bottomed/good quality pot or saucepan. If you are using a very light or thin pot you may burn it because it can't manage the direct heat of the flames well.
HOW DO YOU STORE Peanut butter FUDGE
You can store fudge in an airtight container for up to two weeks without issue in the the refrigerator and up to one week outside of the refrigerator.
Be sure to keep it in a room that is not hot. Heat will cause the fudge to lose it's texture and firmness and will cause pieces to stick together. Parchment paper between layers will help prevent sticking as well.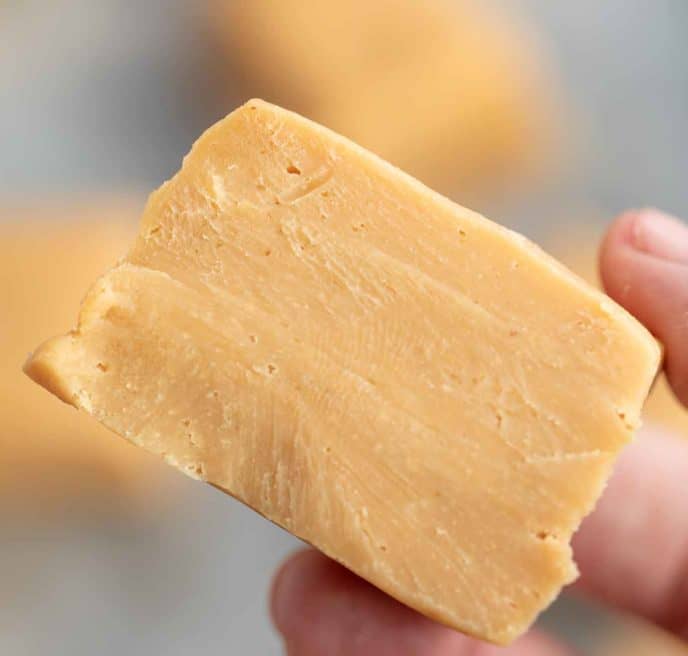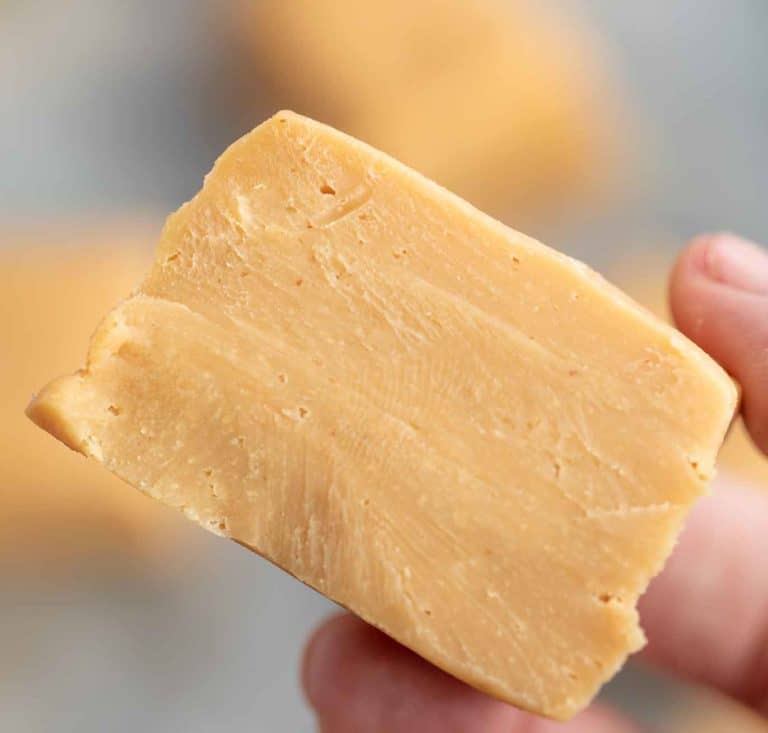 CAN I FREEZE PEANUT BUTTER FUDGE?
Yes,  Peanut Butter Fudge can be made and frozen ahead of time. I recommend wrapping very well in plastic wrap then in aluminum foil to prevent ice from getting to the fudge.
When you are ready to serve the fudge, defrost in the refrigerator at least 24 hours before using then slice as needed.
You can keep frozen for up to three months.
TIPS FOR MAKING PEANUT BUTTER FUDGE
To add some extra flair you can drizzle melted white chocolate on top and sprinkle with chopped peanuts or peanut butter chips.
To make fluffernutter fudge wait for the fudge to cool for five minutes then add a bag of marshmallows to it and add to a 9×13 pan. This will make it much lighter and chewier.
Most people line pans with aluminum foil, but greased parchment paper (especially precut sheets of parchment paper) will help keep your pans non-stick and move things along faster making mass Christmas dessert baking go by much faster.
Do not speed up the setting process by adding unset fudge to the freezer. The mixture needs time to set up properly and the freezer temperature will form condensation in the mixture that will create a texture that is not correct.
Do not use natural stir varieties of peanut butter or chunky varieties of peanut butter for this recipe. This is best made using regular creamy peanut butter at room temperature.
You do not need a candy thermometer for this recipe. Once you bring the recipe to a boil set the timer in the recipe card for 2 minutes and whisk constantly then turn off the heat immediately.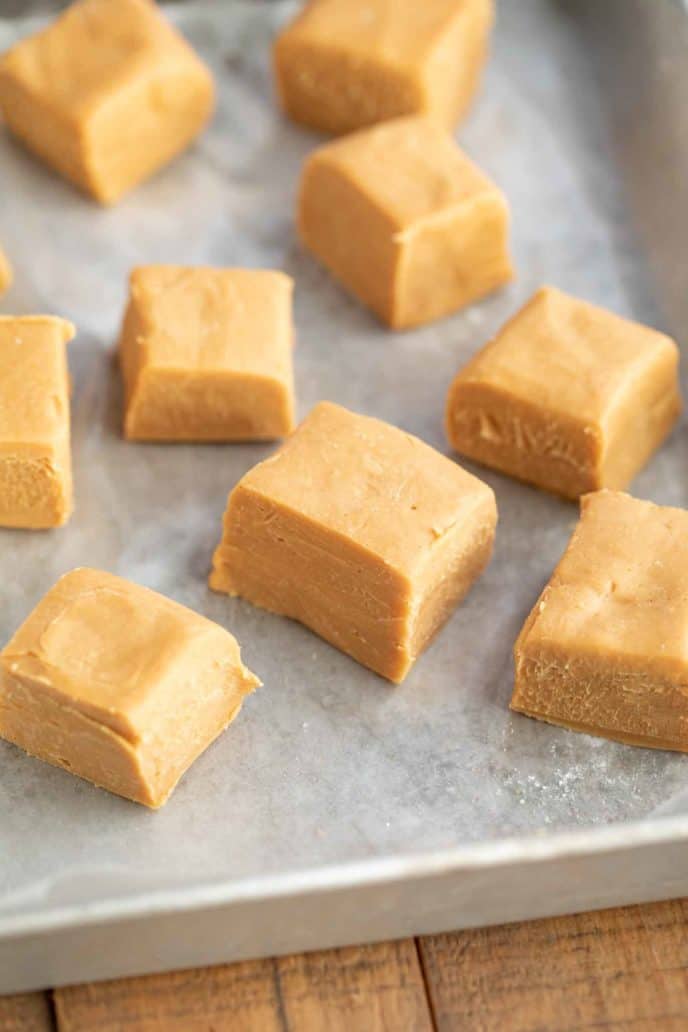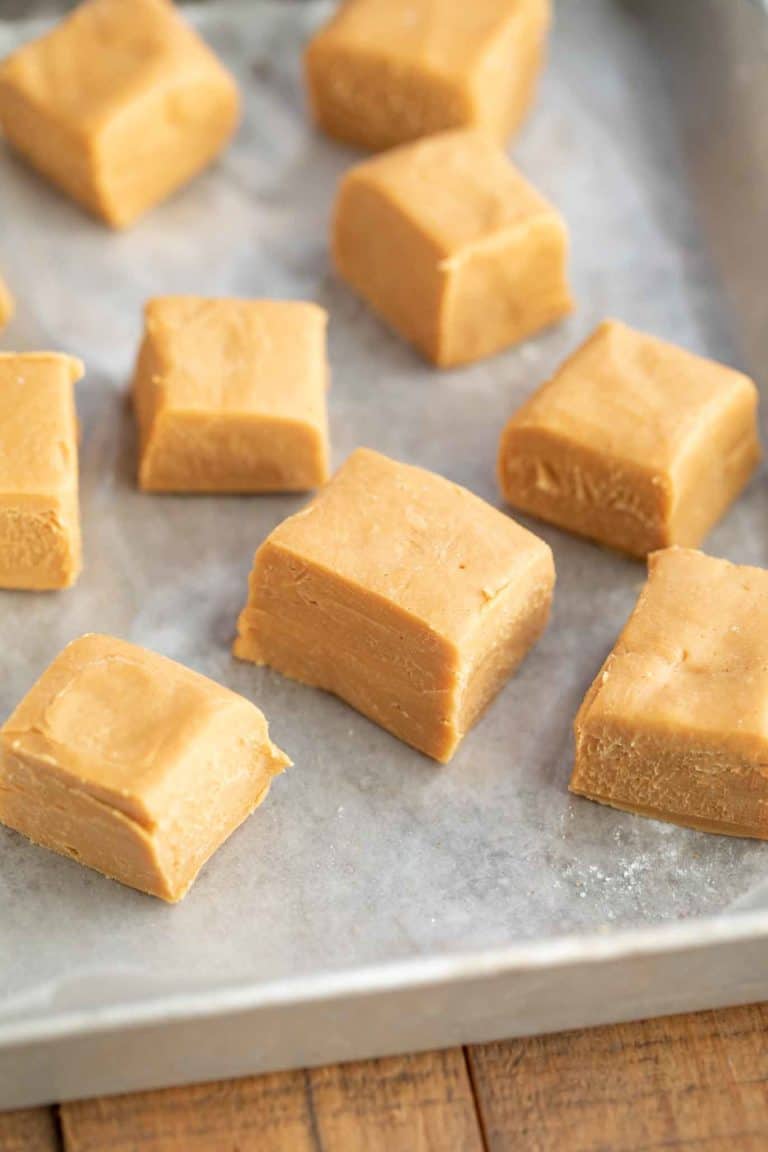 Instructions
Wipe down a piece of foil with the wrapper of the stick of butter, then line an 8x8 pan with it.

Melt the butter in a large pot over medium heat, then whisk in the brown sugar and milk and bring to a boil (start timing when you see small bubbles) for

2 minutes

whisking constantly.

Turn off the heat, whisk in the peanut butter and vanilla, then move the mixture to your stand mixer and beat in the powdered sugar before pressing it into the greased aluminum lined pan and refrigerate until set, about

3-4 hours

.
Nutrition
Calories:
229
kcal
|
Carbohydrates:
35
g
|
Protein:
2
g
|
Fat:
9
g
|
Saturated Fat:
3
g
|
Cholesterol:
10
mg
|
Sodium:
57
mg
|
Potassium:
100
mg
|
Sugar:
33
g
|
Vitamin A:
125
IU
|
Calcium:
27
mg
|
Iron:
0.3
mg